December isn't December without this sweet homemade chocolate liqueur!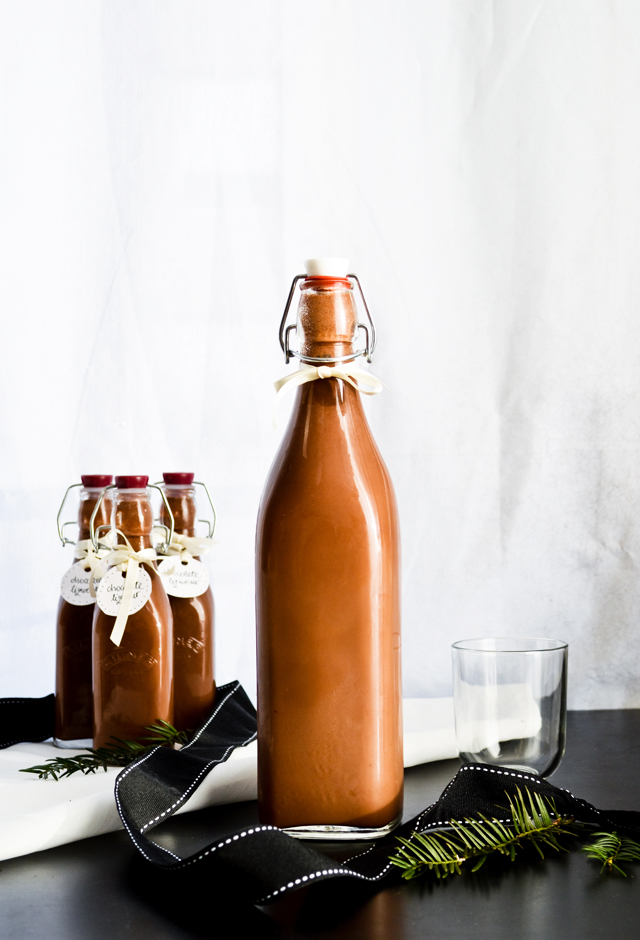 Merry Christmas everyone! I hope you all had a relaxing day and spent it surrounded by the people you love. And with some good food and drinks.
That's exactly what I did. With the added bonus of a cat in my lap. But these days, it's not just coffee I crave, it's liqueur. Crave might be a strong word, but I have been dreaming about this for so long and the days of celebration are finally here.
This homemade chocolate liqueur is all I wanted three days ago, on a late Tuesday afternoon, when I stood in a never-ending line at the grocery store, all annoyed and just ready to get out of there. We had to do some quick food shopping that day and the situation was absolutely crazy.
The shopping mall we (Rok and I) went to was so packed I couldn't find a single shopping cart or basket. They were all taken! That has never happened to me before. I guess it served me right for going there in the first place, but I did honestly need a few things. So when we stood in line trying to not drop any food on the floor, and I was grumpier than Grumpy Cat, I just wanted a cold shot of homemade chocolate liqueur.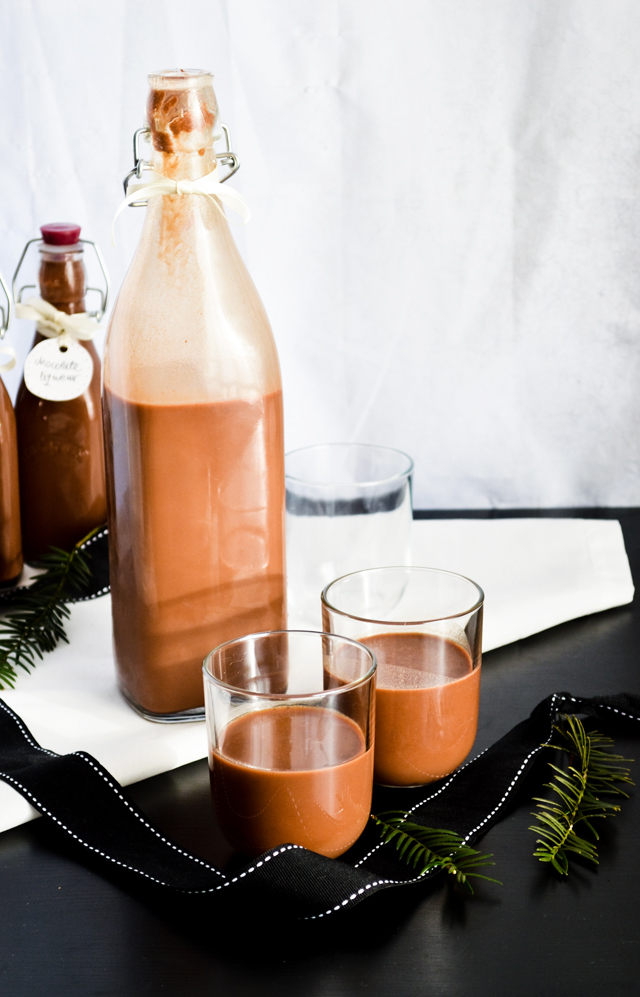 December is supposed to be such a great month and it totally is, but people just go a little crazy I think. The stress of it all, the shopping, the spending, it seems excessive. I think we all get completely sucked into it, when at the end of the day what really matters is just being with someone you care about and who cares about you.
And so I have this dream. If I could I would buy a tiny house in the middle of nowhere, with a big fridge and freezer, and Rok and I would pack everything up, take the cats and move there every December to really de-stress, away from everything. That would be perfect. A girl can dream, huh?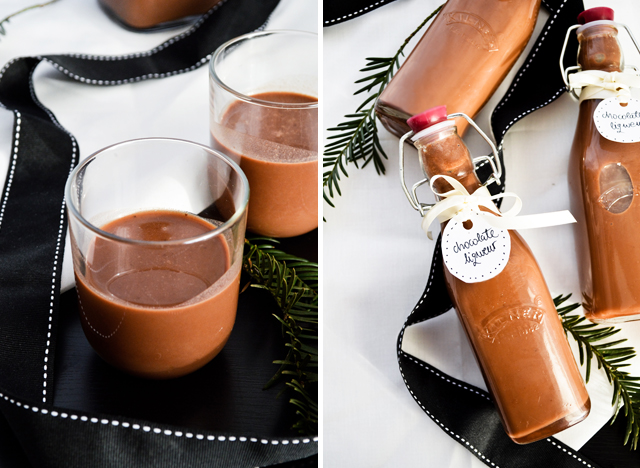 But these are all trivial problems at the end of the day. And besides, the situation has calmed down by now. Apart from a few cafes, everything is closed and people aren't running around all frantic. And Rok doesn't go back to work until January 5, so we have all this time to just enjoy. And drink liqueur.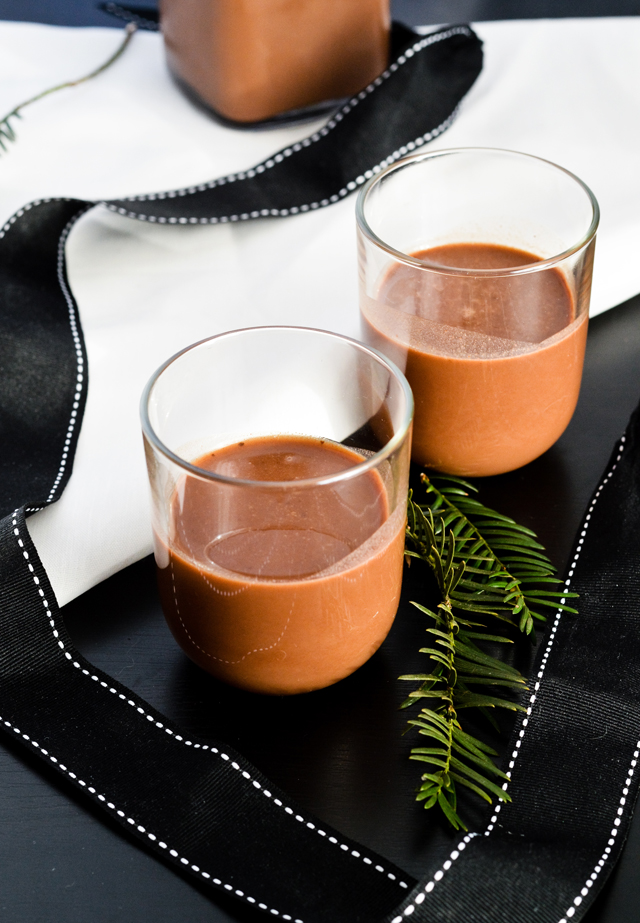 Speaking of homemade chocolate liqueur, the star of this post, my mom told me a story from her childhood once. Her parents always bought chocolate liqueur for the holidays and my mom absolutely loved it. So much in fact that they had to hide it from her. It tasted like chocolate pudding which is why she loved it, but liqueur is full of alcohol and definitely not something you want your child to get their hands on.
They put it on the highest shelf of the kitchen cupboards, so my mom wouldn't get to it. I think she still did though, along with her brothers, at least that's what she hinted to, especially when she got older. But that's what the liqueur does to you, haha. You can't say no to that. Well, you actually can, but I see no need for that.
Homemade chocolate liqueur really reminds me of my mom, which is why I love to make it. It tastes good too, but it's the memory that makes it that more special.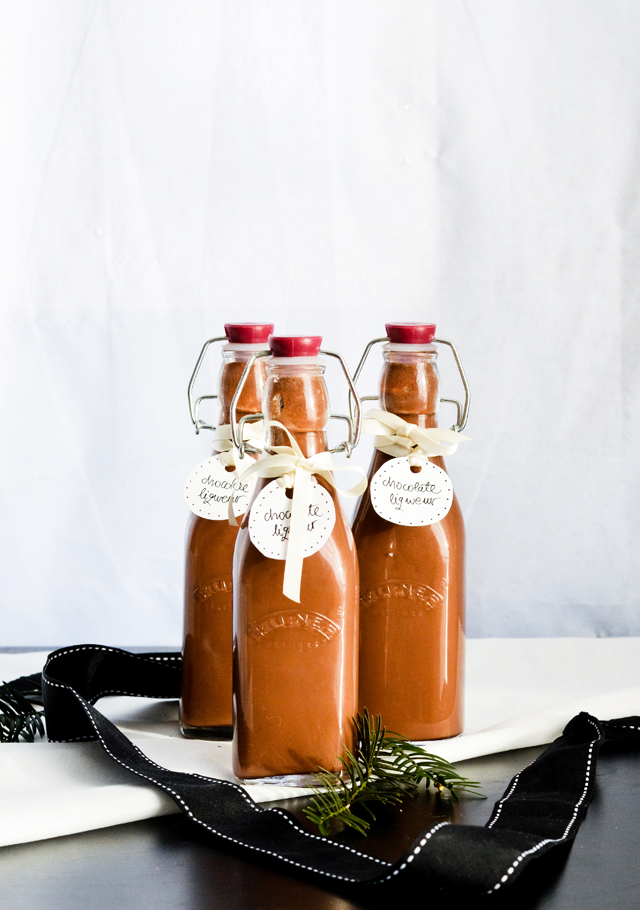 This is a great drink to celebrate with and it can be a great last-minute gift. You just make one batch, split it into several small bottles and then give them away one by one.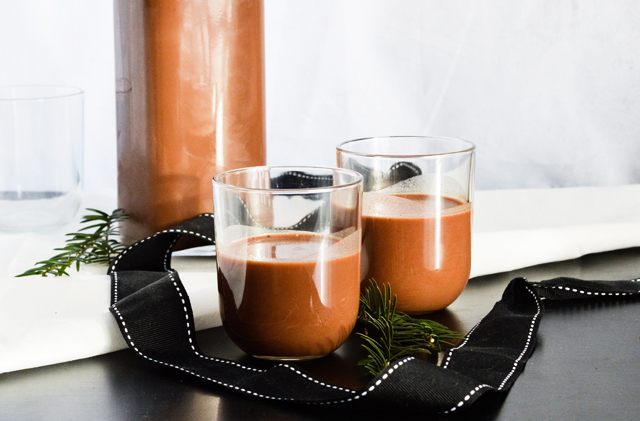 Print
Homemade chocolate liqueur
A wonderful winter treat, great as a gift too!
Recipe makes 1.75 liters (1.85 quarts | 7 cups) of chocolate liqueur.
Author:
Prep Time:

10 min

Cook Time:

20 min

Total Time:

30 minutes

Yield:

7 cups

1

x
Category:

Drinks
1

liter (1 quart | 4 cups +

2 1/2 TBSP

s) milk

1 teaspoon

vanilla extract

1

kilo (2 1/5 pounds) white granulated sugar

200 grams

(

1 1/2 cups

) powdered chocolate

2 teaspoons

unsweetened cocoa powder

300

ml (1 1/4 cups) dark rum
Instructions
In a large saucepan combine 750 ml (3 cups 2 TBSPs) milk, vanilla extract and all the sugar. Cook over medium heat, stirring occasionally, until the sugar dissolves and milk begins to simmer.
Meanwhile, combine the rest of the milk with powdered chocolate and cacao. Whisk until smooth.
Add the chocolate mixture to the milk and let simmer for about 20 minutes, whisking occasionally.
Remove saucepan from stove and let cool to lukewarm.  Whisk in the rum. Strain the chocolate liqueur and pour into prepared bottles.
Notes
I used rum with the alcohol content of 40% (ABV = 80 proof), you can of course use a lighter or stronger rum, and adjust the amount to your own taste.
If you don't have powdered chocolate, you can use good quality milk chocolate. (Stir melted chocolate into warm milk and follow the recipe.)
Because alcohol has a different density than milk the two separate in the bottle. You'll notice that your chocolate liqueur is suddenly of two different colors if it's been standing in the fridge for a while. Shake the bottle or simply stir the liqueur with a straw before serving.
This liqueur will keep for months, if properly stored in a cool place (I keep mine in the fridge).