Super easy to make, pretty to look at, affordable, insanely drinkable, great for parties, perfect choice for the drinks table and so much more. That's red wine spritzer for you. Usually loved by everyone and goes with everything, this is the top summer drink.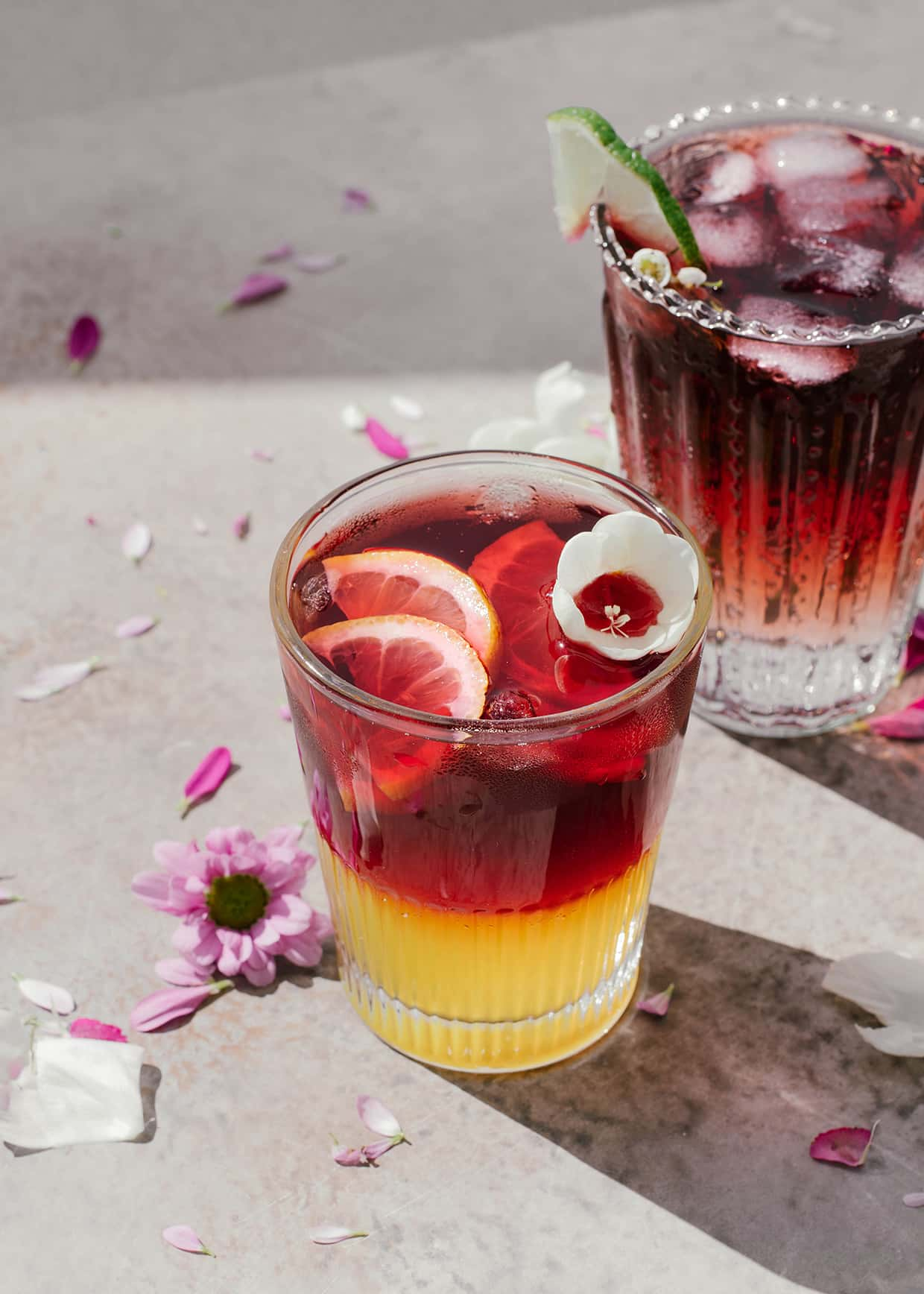 My first thought when I think of Summer is that of scorching heat, the smell of hot asphalt and freshly cut grass, views of empty streets and overpacked café patios. And on those café tables are drinks, iced coffees, iced teas, sodas, cocktails and most important of all – the spritzers (or spritzes, as some say).
After all, summer is the spritzer season.
Although every Slovene just might argue with me on this one as there is no spritzer season here. Spritzer-ing is a way of life for us. In fact, I think that next to beer, a spritzer is one of those first drinks you try as a typical Slovenian teenager entering the world of adult beverages.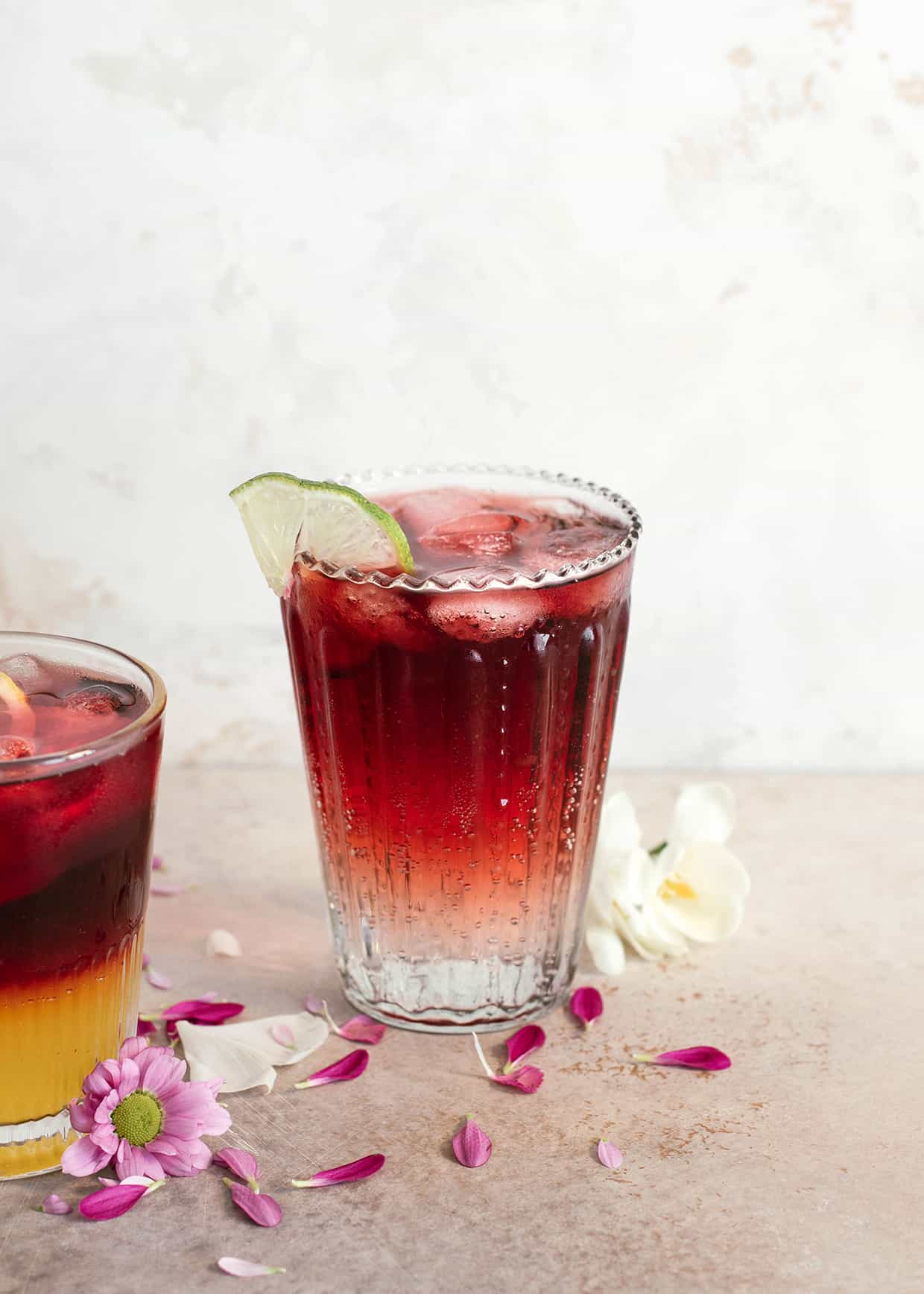 Before the fancy Aperol spritz, before the Hugo (still my favorite) there were the white and red wine spritzers. Actually, I think a white spritzer might've been the original, but from my observations red wine spritzers are just as popular.
For me, the image of a spritzer is the image of my grandparents playing bocce behind their friends' house, with spritzers on the table and me on the bench as I watch them play and occasionally talk to the resident parrot (they did indeed have a parrot and it sat on the balcony overlooking the "bocce area").
Classic old-school no-fuss spritzers are cheap and insanely drinkable. Also surprisingly refreshing when the summer heat just gets to be too much. Which is why they're so widely popular. I remember waitressing during my Uni days and spritzers were always highly requested.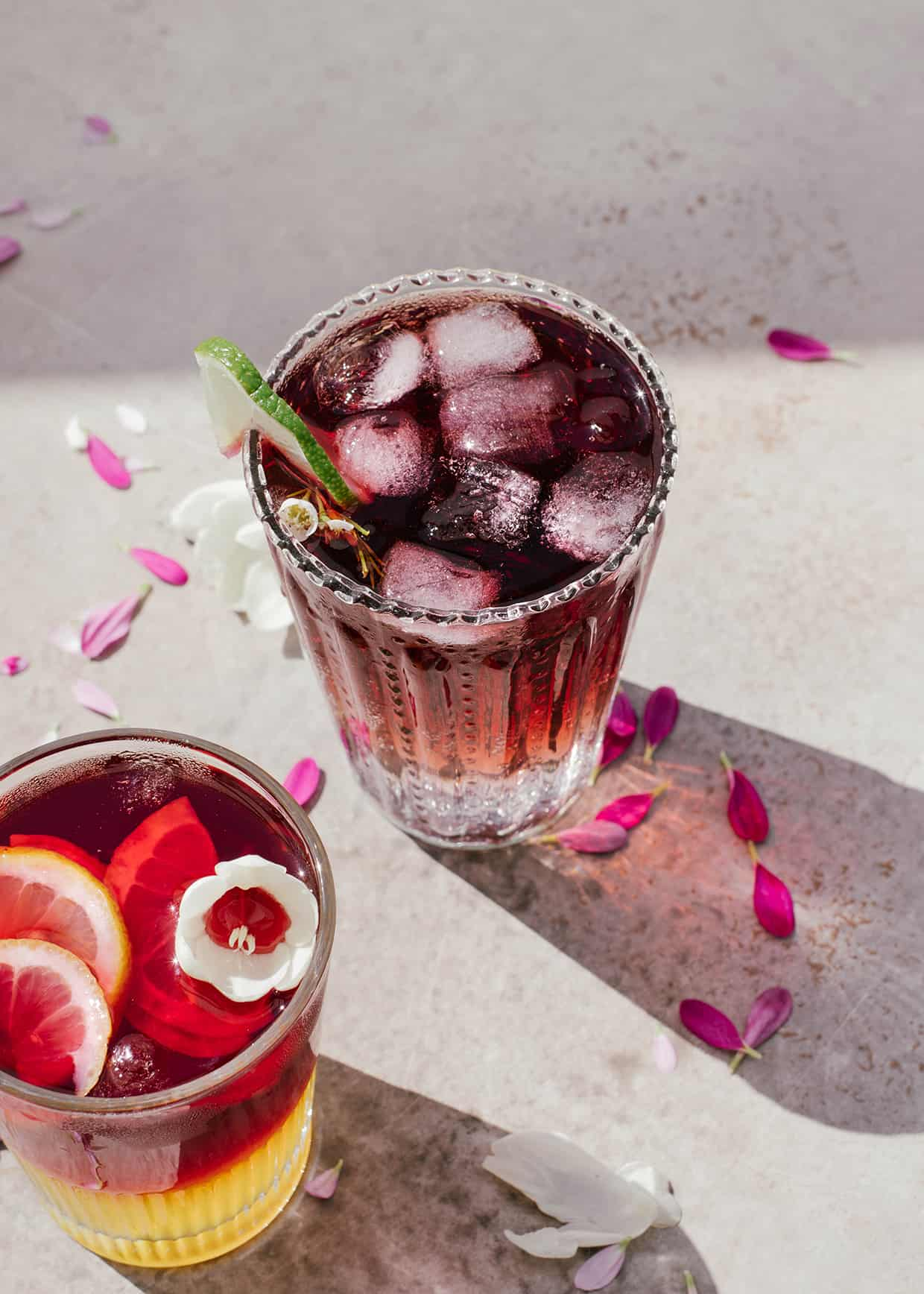 The anatomy of a spritzer
A classic Slovenian spritzer is made with one part wine and one part mineral water. And not just any mineral water. It has to be Radenska, which is sourced in Slovenia.
Size-wise spritzers aren't big. They should be made with 100ml wine and 100ml mineral water, which amounts to less than a cup in volume. In Slovenia we say that that's deci-deci. Meaning deciliter-deciliter, so 100ml wine and 100ml mineral water.
A spritzer has to be served cold. So cold that the outside of the glass gets wet, with water droplets sliding down the sides. And you have to serve it ice-free. With no garnishes either!
I know that that goes against the spritzers I'm sharing in this recipe. The 3 ways of making a red wine spritzer that I'm sharing today all make slightly bigger spritzers. And with a few garnishes involved, so that they are more presentable.
But bottom line is that a red wine spritzer is a simple drink, which is why I love it so much. Nothing fancy, no insane prep involved, you just mix up a few things and that's it.
Best wine for a red wine spritzer
Well, wine in a spritzer can be either white or red. Personally I prefer to drink white wine but the look of a red wine spritzer is one I've always adored. That's why I'm sharing these today with you.
The type of wine, beyond the basic distinction of white vs. red, isn't really important. People choose whatever they like on their own and that's what you should do. As a rule, you should get cheap wine. This way you won't regret diluting something super nice and expensive. And if possible, go for drier varieties,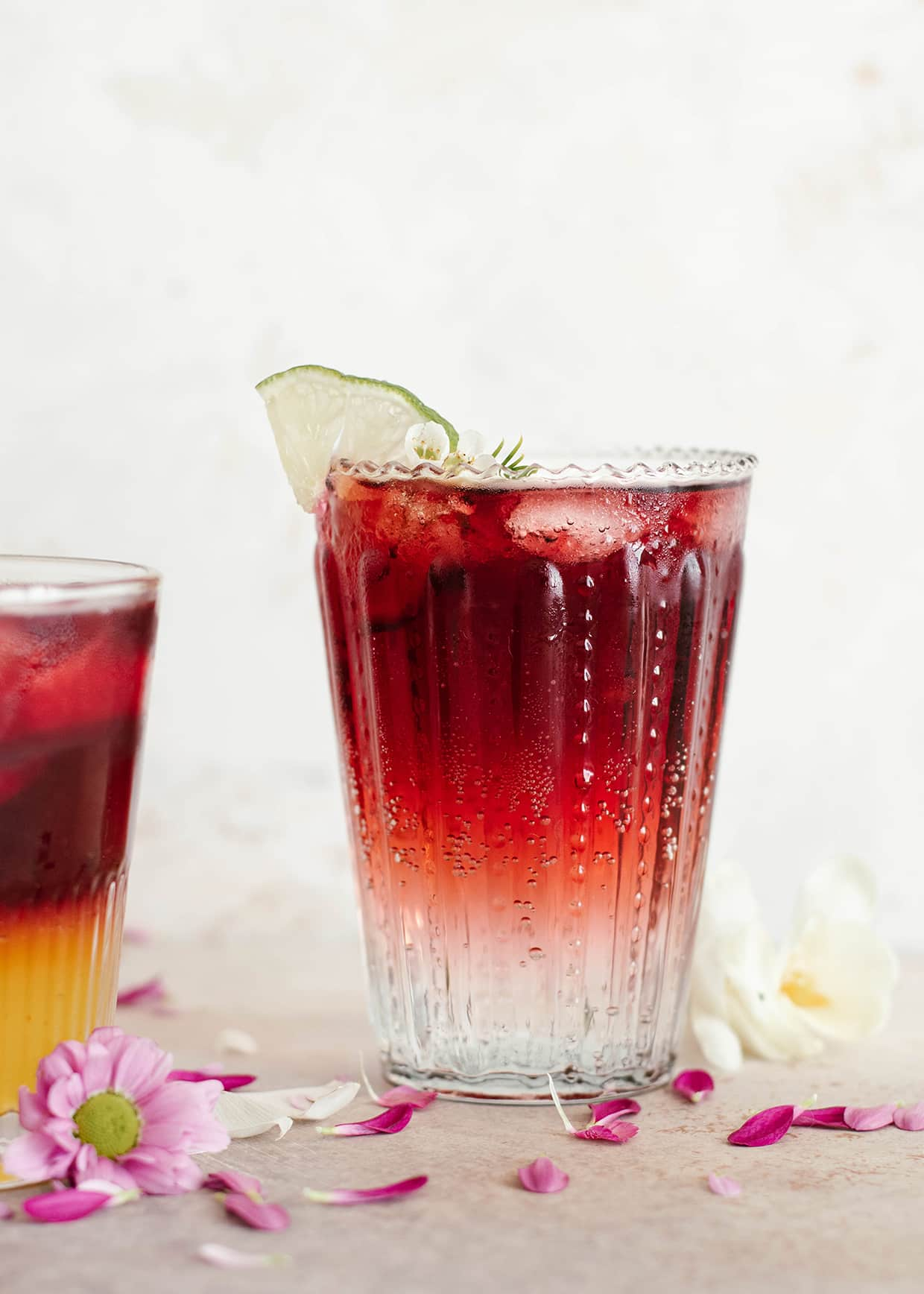 Sparkling water, mineral water or soda
As an unwritten rule, we make spritzers with mineral water in Slovenia. As mentioned before, the only acceptable mineral water over here is Radenska. We're mighty small as a country but very proud, so it's Radenska or nothing.
It was discovered back in 1833 and you can read a short history of that here. And if you ever find yourself in this little corner of the world, know that you can actually visit the spring where Radenska was first discovered.
Other popular choices for mineral water would be S.Pellegrino and Topo Chico.
But just like the fancier Aperol spritz and Hugo, a classic 2-ingredient red wine spritzer can be dressed up too. So if you're not in the mood for mineral water, here are my three ways to make a red wine spritzer.
Red wine spritzer with Coca Cola
With its deep red, almost black color, this one looks the most serious of them all but it is a very popular choice taste-wise. It's basically Coca-cola for adults. A slice or two of lime is and added bonus.
You may also know this concoction under the name Kalimotxo or Calimocho, which is very popular in Spain. In Slovenia, people will often use the term bambus (bamboo) for this same drink.
Red wine spritzer with Sprite
What's not to love about this combination? If you don't want to deviate too far from the old-school spritzer, then this is the best choice. Sprite is sweet and citrusy and it plays so well with wine. It also makes the spritzer two-toned, added bonus for parties.
Red wine spritzer with orange soda
This sweet bubbly mix of orange soda and red wine almost tastes like sangria. And it's a combination that makes by far the prettiest spritzer. A sunset in a glass and a definite party in the mouth. You can pick any orange flavored soda, but Fanta is my all-time favorite.
Why is a Fanta spritzer two-toned?
Well, soda is sweeter and denser than wine, so the alcohol will float to the top. Once you thoroughly stir it though, the spritzer will turn deep red, but it looks fun in the beginning. Wow factor guaranteed as you serve it, which is why so many people love it.
Another funny thing. This Fanta red wine spritzer is actually called a Mishmash in Slovenia. If you look in the dictionary, the word mishmash is defined as a confused mixture which totally applies to this drink.
Spritzer for everyone
The beautiful thing about a spritzer is that you can't mess it up. You can always add more soda or mineral water to it. And you can also always add more wine, if you feel that you don't have enough.
A popular way to serve spritzers for a crowd is serving it in pitchers. You keep the ratio the same (so 1 part wine, 1 part soda), just serve it cold, ice-free ideally, in a pitcher. Spritzer served in pitchers is still a popular family-gathering-party thing in Slovenia.
Really, when in doubt, just go with red wine spritzers. They're perfect for grill-season and so easy to make.
Red wine spritzer – 3 ways
Easy to make, super affordable and insanely drinkable!
Ingredients
24

oz

(

720

ml

)

soda

,

I use mini cans of Fanta, Coca-cola, Sprite

1

bottle

(

750

ml

)

red wine

ice

citrus slices
Instructions
Take six glasses (around 10 fl oz or 300ml each) and add some ice to each one. Divide soda between the glasses. Top up with wine (1/2 cup or 125ml per glass). 

Add sliced citrus, if desired, and serve. 
Notes
I like to buy mini cans of soda when I only want to make a few spritzers, so that everything gets used up. 
You want about an equal amount of soda and wine in each spritzer, regardless of what size the glass is. If you find the ratio too strong, you can make the spritzer less boozy by adding more soda. Also account for the ice you're adding, as that dilutes the drink too. 
Instead of serving each spritzer individually, you can make bigger mixes in pitchers and serve like that. 
Email recipe
Pin Recipe