I am happy, so happy, to report it rained! It's still hot out by my standards but there is nothing like rain and the freshness it leaves behind. I just love it.
I also love a good drink, especially when it's as easy to make as a spritzer is. And summer is the spritzer season, although every Slovene just might argue with me on this as there is no spritzer season for many, it's more a way of life.

In case you need new drink ideas, I made three spritzers for you. All are made with red wine and soda.
It's actually been a while since I've had one of these, because these days if I do drink wine it's mostly just white wine (mulled in the winter), unless it's Prosecco and it's mixed in a cocktail. But red wine spritzers are a very nostalgic thing for me.
Back when I was a teenager, which isn't that long ago, the first real drink I had at a party was a red wine spritzer. And I think besides beer and Red Bull vodkas, spritzers were the most common drink for everyone. We'd go to the store and buy a cheap 2-euro bottle of Merlot and a bottle of Coca Cola and we'd end up with about 2 liters of spritzer which a lot of people can share.
I'm almost embarrassed to talk about this now, but at the same time I have fond memories of all those weekends when, as every average teenager, I'd message my people on MSN and Myspace and we met up hours later at a park, all happy that we were done with school for that week.
I feel funny thinking about MySpace. Anyone remember it, and Tom?! I remember not wanting to switch to Facebook, and then I finally caved and signed up soon after graduating and now no one even seems to care about Facebook anymore.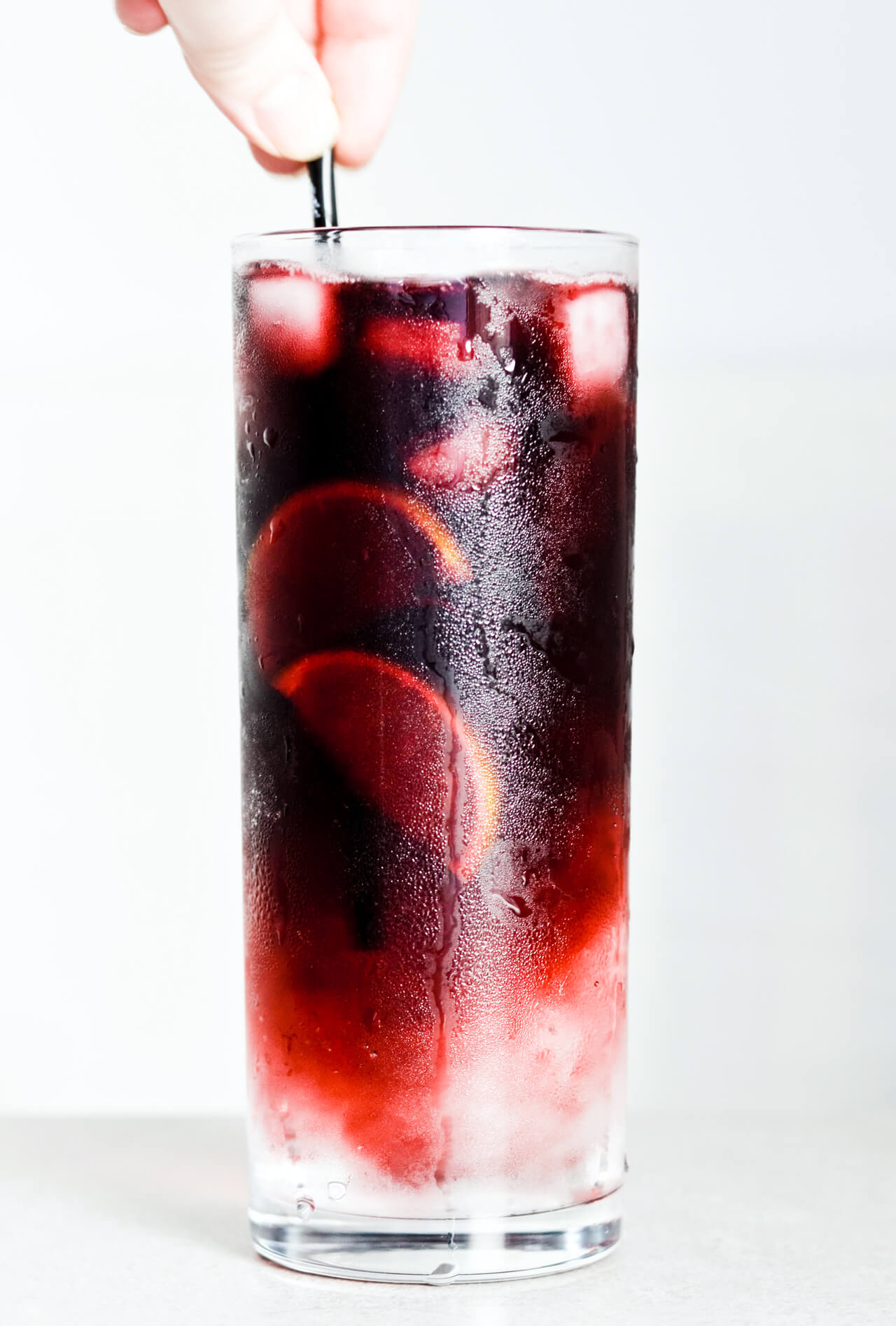 Okay, enough with the memories. I really want to tell you about  these spritzers. They are super easy to make, they're cheap while still tasty and drinkable. They're perfect for any laid-back party where all that matters is that there's good music, good food and an abundance of drinks. And I love how pretty these can be when using soda that is of a different color than wine.
All three spritzers are made with one part Merlot (you can use any other red wine) and one part Coca Cola, Sprite or Fanta (any orange soda works here). And while spritzer is the common name, Slovenes also have specific names for some of the drinks.
Here a red wine-Cola spritzer is also called a Mishmash  and a red wine – orange soda spritzer is called a Bambus (Bamboo). Although, depending on the region and bar, people might have other names for these very drinks, so I personally don't use them at all.
And if I'm talking about spritzers, it's worth mentioning that the most typical Slovenian spritzer is made with 1 part white wine and 1 part mineral water, nothing else. My favorite one is still Hugo, although I think I'll make myself red spritzers more often from now on.
I also like to add slices of oranges, limes or lemons to each glass. Cherries are also very fitting for a Coca Cola spritzer. These additions are purely optional, but I think they make every drink better.
Print
Red wine spritzer – 3 ways
Get that party started with these easy red wine spritzers!
Recipe makes 3 very large or 6 regular drinks.
Author:
Prep Time:

5 min

Total Time:

5 min

Yield:

3

-

6

servings

1

x
Category:

Drinks
Scale
Ingredients
one

250

ml | 8.5 fl oz bottle Sprite
one

250

ml | 8.5 fl oz bottle Coca Cola
one

250

ml | 8.5 fl oz bottle orange soda, such as Fanta

1

bottle (750ml | 25.4 fl oz) red wine, such as Merlot
orange slices, lime slices, cherries or lemon slices
Instructions
Take either three 500ml | 1 pint glasses or six 250ml | half pint glasses. Add ice to each one. Top with soda (1 bottle for large glasses, 1/2 for smaller ones), then pour in wine. Add orange slices to orange soda spritzer, lime slices to Sprite spritzer and cherries or lemon slices to Coca Cola spritzer.
Serve without stirring so everyone can see the colors.
Notes
To make lighter spritzers you can easily add more soda. Also try experimenting with sodas of different flavors! If you want a colorful effect with Coca Cola, you can use white wine instead.
You can also serve spritzers in jugs (and save some money by buying larger bottles of soda instead of small ones).