Apple mulled white wine offers a new twist on the old classic. A Winter favorite!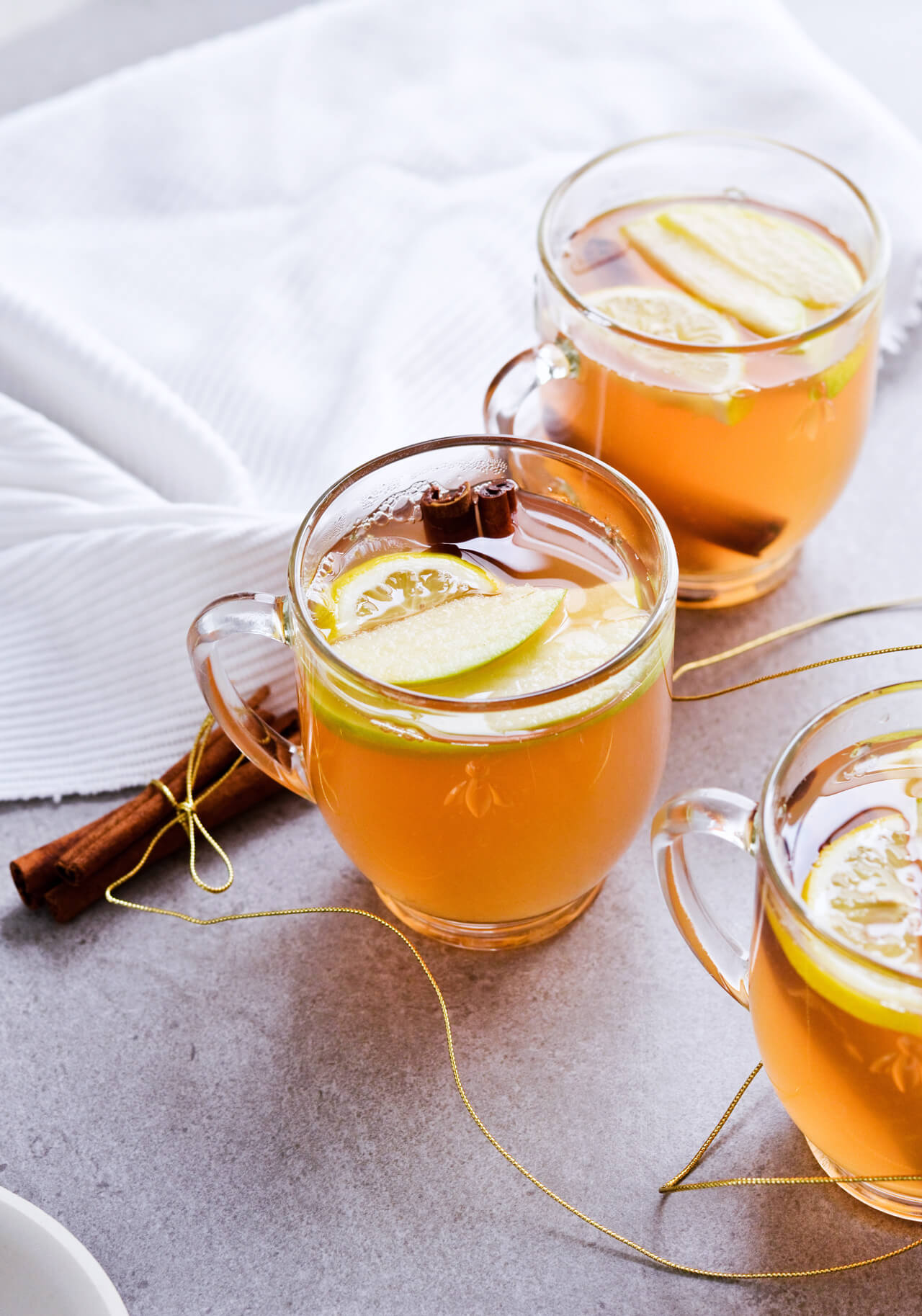 When it's stinky cold out, I'm always in the mood for apple mulled white wine. A lot of people love red mulled wine, but I love the sweet white stuff. Unlike my classic citrus mulled wine, this one is all about apples.
The great thing about mulled wine is that you feel more like you're drinking tea and not like you're having alcohol at 3 in the afternoon. Especially if you let it boil for a few minutes and some, if not most, of that alcohol evaporates anyway.
The process for making mulled wine is very simple.
You just combine all the wine, aromatics and fruit in a big pot. Like a stove-top potpourri, but you can drink it in the end.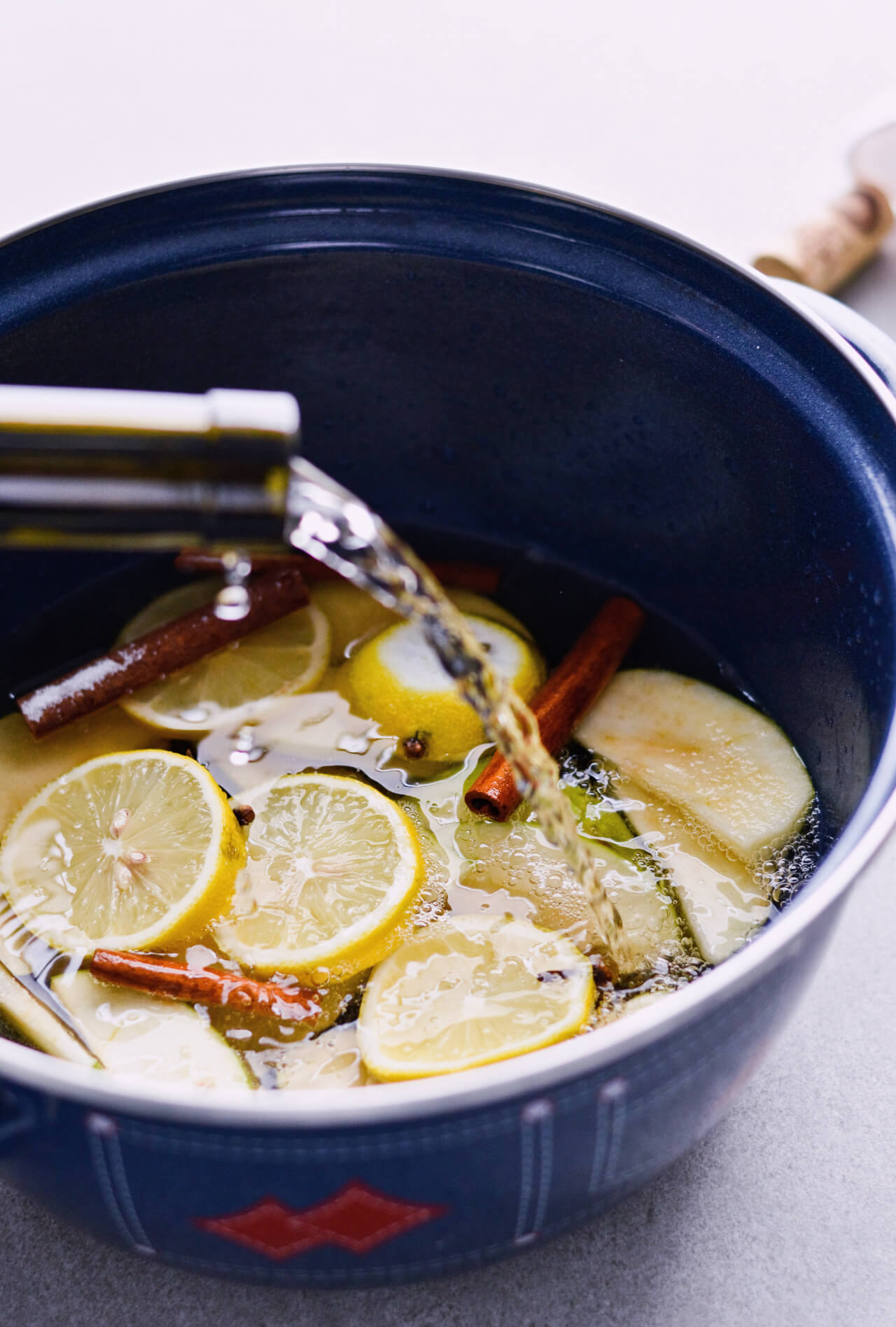 You can always add more spices or different fruit, but there's something so comforting in a simple apple lemony flavor. It tastes like home.
You have to serve a drink like this one warm. However, you don't need a lot of time for it, because what's really great is that you only need about 30 minutes all together to make mulled wine, so as long as your pantry is stocked, you don't even need to plan this. It does keep well for a day, so if you want to be more on the safe side (time-wise), you can definitely make it ahead and reheat it when needed.
You can serve apple mulled white wine at a holiday party or even make it for a quiet solo evening at home. Whatever the situation, one thing is certain – it'll be better with a cup of mulled wine in hand.
Apple mulled white wine
A fruity twist on a winter classic, this apple mulled white wine is the perfect cold-weather, festive drink!
Ingredients
1

bottle

(

750

ml

)

white wine

1

cup

(

240

ml

)

apple juice

1

apple

(halved and thinly sliced)

1/2

cup

(

100

g

)

granulated sugar

4

cinnamon sticks

1

organic lemon

6

cloves
Serve with
1

apple

(halved and thinly sliced)

4

cinnamon sticks

1

organic lemon

(sliced)
Instructions
Combine wine, apple juice, sliced apple, sugar and cinnamon sticks in a large non-reactive pot. Stick cloves into the lemon, then slice the lemon and add to the pot as well.

Place on the stove, set over medium-high heat, and slowly bring to a light simmer. Let simmer for about 20 minutes, until the apples are tender. (Taste to see if you want more sugar. If you want the wine to taste less alcoholic, turn up the heat and let the wine boil for a few minutes.)

Remove from heat and pour wine into heat-resistant glass mugs. Garnish each drink with cinnamon sticks, apple and lemon slices and serve warm.
Notes
The amount of sugar you need really depends on the apples and juice used. Because I use Granny Smith apples, which aren't really sweet, I need more sugar. But if your apples are super sweet, you can easily use less sugar. The same goes for juice, as each brand is different.
You can store mulled wine in the fridge overnight, but I prefer to drink it on the day it's made. Before storing, remove all the spices and fruit. Reheat on the stove before serving.
The mugs I use are my favorite, from La Rochere.
Email recipe
Pin Recipe