A velvety mix of peanut butter, semisweet chocolate and unsweetened cocoa, this peanut butter cup hot chocolate takes care of every sweet craving you might have in one magical cup. It's sweet, but not disgustingly so and extra chocolatey with a hint of peanut butter. Done quickly on the stove, it can be made ahead and reheated whenever you need it.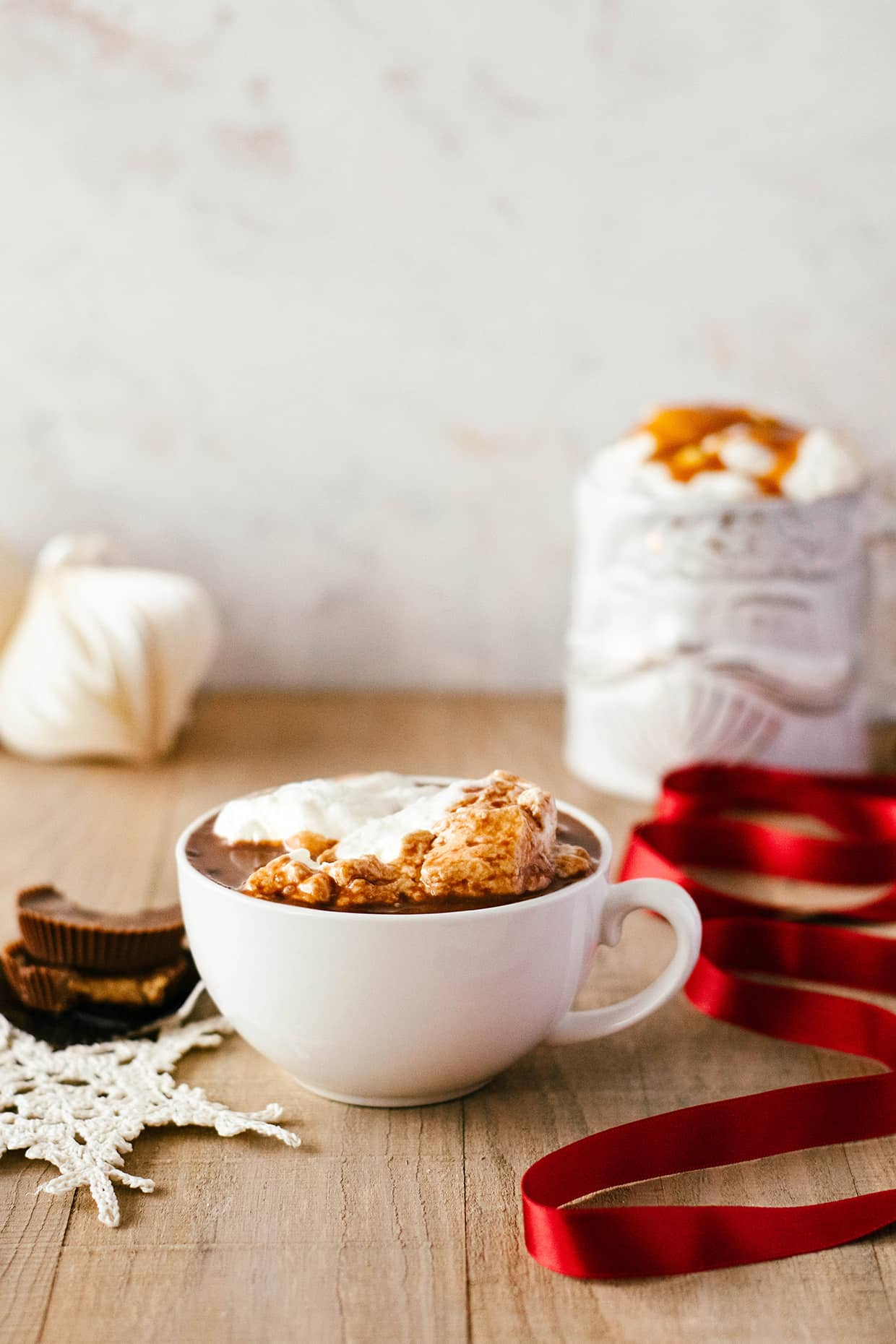 Maybe you're wondering if you need another hot chocolate recipe. Well, yes you do. Because it's peanut butter cup hot chocolate! This recipe is for all those situations when a cup of hot cocoa just won't do. A crazy proposition, I know. Almost as crazy as this hot chocolate. Crazy good that is.
I love making this on really dreary days, especially cold ones, because it instantly puts me in a good mood. There's just something quite comforting about a whisk in hand, stirring glossy hot chocolate in a large saucepan.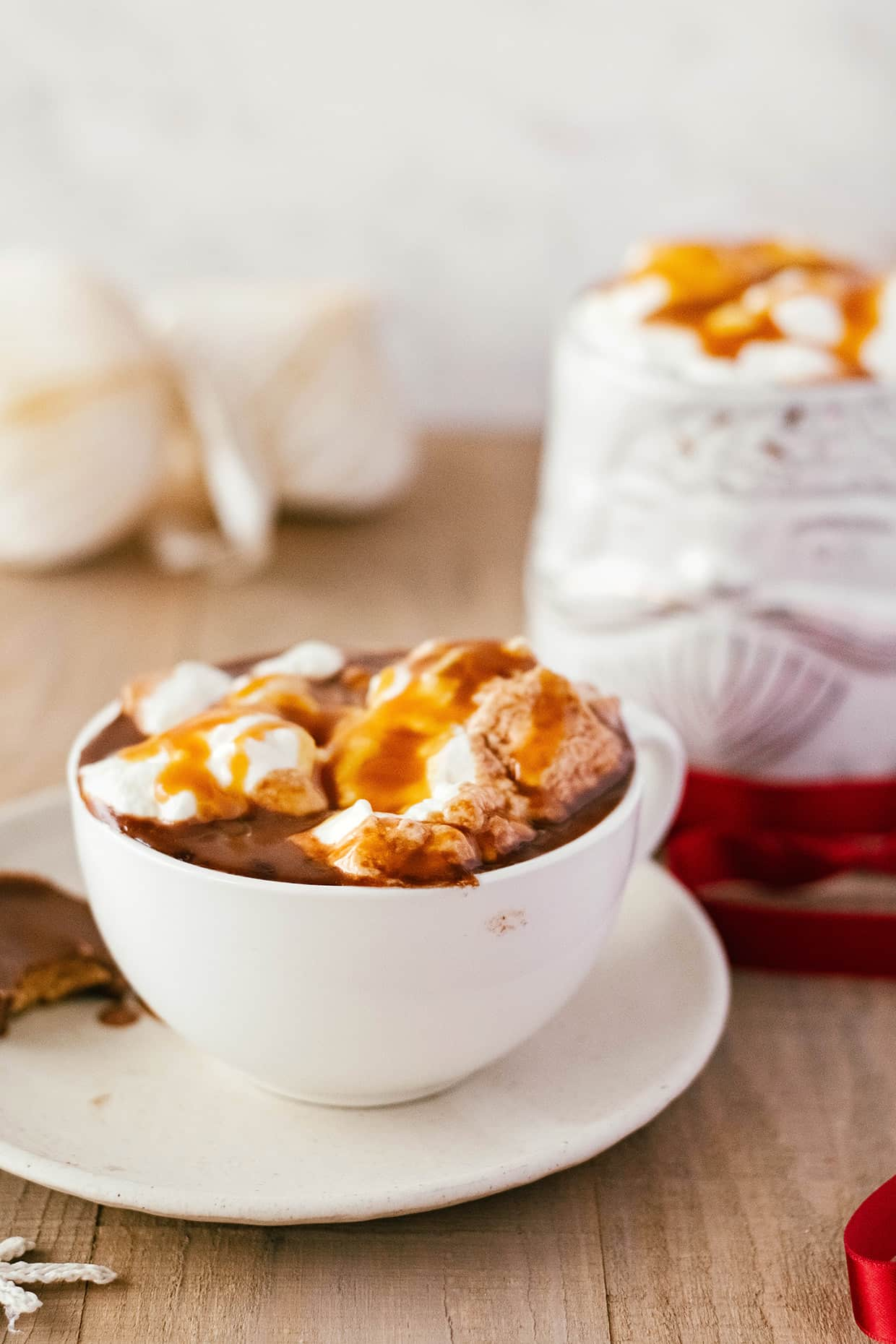 What does this hot chocolate taste like?
Like a giant drinkable peanut butter cup! But with less sugar and more chocolate. It's a velvety mixture of the best semisweet chocolate, some unsweetened cocoa, creamy peanut butter and whole milk.
I know some recipes use cream for making hot chocolate, but I find that whole milk is more than good enough. With the amount of chocolate we're using and the extra thickness of peanut butter, you'll find that it doesn't need cream at all. But of course, if you want it, do add some.
This recipe makes a pretty balanced hot chocolate, not too sweet, not too bitter. The best part is that once you're done cooking it, you can taste-test it and add the amount of sugar you want, since I'm not using any in the recipe.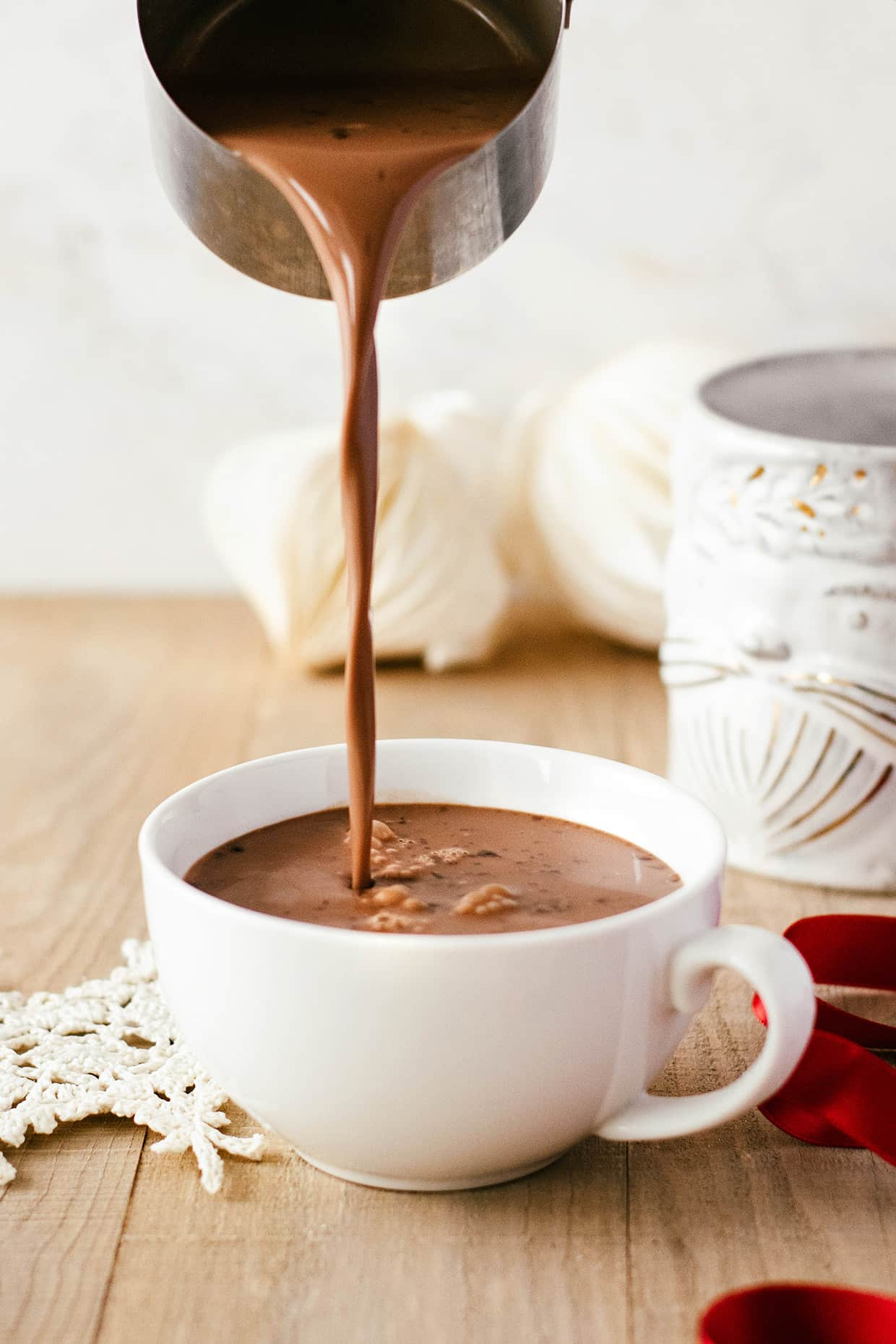 Best chocolate for making peanut butter cup hot chocolate
Both bittersweet and semisweet chocolate work in this recipe, but you might have to adjust the amount of sugar needed. I'm using 40% baking chocolate, which is already pretty sweet.
I love it because it makes the most perfect, smooth hot chocolate without me having to add much to it.
What is baking chocolate
Baking chocolate, sometimes called cooking chocolate, is made specifically for baking or cooking. Compared to "normal" chocolate, baking chocolate usually has a higher percentage of cocoa solids, cocoa butter and is made with less sugar.
It can be sold in large blocks, normal sized bars or chips (callets).
It's also sometimes sold under the term "coverture", meaning it's supposed to be used for covering things (like cakes or desserts) because it's simple to melt and has a nice, glossy finish.
The purest baking chocolate is unsweetened chocolate that is bitter and very dark in color. It is 100% cacao and is great for making brownies or cakes. Kind of how we use unsweetened pure cocoa in some recipes.
But that's not what I am using in this recipe. I am using a semisweet variety (40% cocoa) that tastes a lot like normal chocolate, but it's a bit more chocolatey. It just tastes richer. And it's so easy to melt and make this peanut butter cup hot chocolate.
Here's a list of comparable baking chocolates from different brands, so pick the one most accessible to you:
Nestlé dessert chocolat lait
This is a French baking chocolate and it's the one I'm using. Its cocoa content is 40% (minimum), making it the perfect semisweet option. It's creamy and really tasty.
Valrhona Jivara Milk chocolate
This comes in bars or in a bag of chips with a minimum of 40% cocoa, so it's pretty much like the chocolate I'm using in the recipe.
Ghirardelli semi-sweet chocolate
I can't find the cocoa percentage for this, but it's likely less than 60% which is the percentage for their bittersweet chips. It comes in bars or chips.
Guittard semisweet baking chips
Another great option, these contain 46% cocoa. A tiny bit less sweet than the 40% I'm using, but it's pretty similar.
Callebaut chocolate
You can't really go wrong with Callebaut. They have a variety of options available. Their semisweet callets have 54.4% cocoa, so if you're getting these consider adding more sugar to the mix when making hot chocolate. They also have milk chocolate baking chips (callets) with 33.6% cocoa, which would be lovely too.
Tips and tricks
Mixing in the peanut butter just might be the trickiest thing about this recipe. As you know natural peanut butter is thick and oily, so when you add it to water, it'll fight you! It gets all lumpy and weird, but keep stirring and whisking and it will emulsify.
Boiling water really helps with emulsifying the peanut butter. Once you do that, you whisk in the cocoa. And only then do you add the pot back to the stove. I like to whisk in peanut butter and cocoa off the stove because I like to take my time and not risk burning the mixture by adding heat. The water is hot enough to melt peanut butter and cocoa.
As mentioned I'm using baking chocolate. If you can't find this, use normal semisweet chocolate. Always chop it finely, because the smaller the bits of chocolate, the faster it will melt.
This peanut butter cup hot chocolate is like a liquid peanut butter cup, but with better chocolate and less sugar. You make it with a mix of creamy peanut butter, unsweetened cocoa and the best semisweet chocolate, all melted in plenty of milk. It's perfectly sweet, but not cloyingly so. An addition of whipped cream makes it extra delicious.
This is a smooth hot chocolate that you'll want to keep drinking. Lucky for you, this recipe makes plenty. Leftover hot chocolate keeps well in the refrigerator and can be reheated quickly when you feel like having a sip. And if you want another peanut butter chocolate combo, try this cake.
Peanut butter cup hot chocolate
Smooth and rich, with a hint of peanut butter, this hot chocolate is the perfect winter drink. Easy to make and reheat. 
Ingredients
Hot chocolate
1

cup

(

240

ml

)

water

1/2

cup

(

130

g

)

creamy peanut butter

4

tablespoons

(

25

g

)

unsweetened cocoa powder

4

cups

(

960

ml

)

whole milk

8

oz

(

225

g

)

semisweet baking chocolate

,

finely chopped

sugar

, to taste
For serving (optional)
2

cups

(

480

ml

)

whipping cream

,

cold

4

tablespoons

powdered sugar

caramel sauce

, to taste
Instructions
First make hot chocolate:

Bring water to a boil in a medium saucepan. Remove from heat and stir in peanut butter. Keep whisking until the peanut butter dissolves. Add cocoa powder and continue whisking until you get a smooth mixture. 

Place the mixture back on the stove, set on medium heat, and slowly pour in milk. Keep whisking until milk and the peanut butter mixture are completely combined. 

When the milk is warm (but not boiling!), add the finely chopped chocolate. Keep stirring until all the chocolate melts. Scrape the sides and the bottom of the pot with a spatula to make sure you're getting all the bits mixed in. 

The mixture should look like a chocolate soup. Taste the chocolate to see if you want to add some sugar. Add it tablespoon by tablespoon, stirring after each addition, until you get to the sweetness that you like. Remove hot chocolate from the stove and keep covered until serving time. 

To make whipped cream, combine whipping cream and sugar in a bowl. Beat on medium speed until medium peaks form. 

Serve hot chocolate with cream and some caramel sauce. Store leftover chocolate covered in the refrigerator and reheat on the stove before enjoying again. 
Notes
How much sugar you add to your hot chocolate depends both on your personal taste and the chocolate you're using. The sweetness of semisweet chocolate differs from brand to brand.
I'm using natural peanut butter without any sugar added. You can use sweetened peanut butter and balance it out with more cocoa powder if needed. 
I'm using 40% baking chocolate. It's semisweet and perfect for cooking. 
Email recipe
Pin Recipe