These dark chocolate peanut butter cookies are built on the classic peanut butter blossoms. The usual chocolate kisses are replaced with chunks of dark chocolate, giving you a more balanced cookie that isn't too sweet. I roll them in Demerara sugar to give them a nice golden sheen and crunch.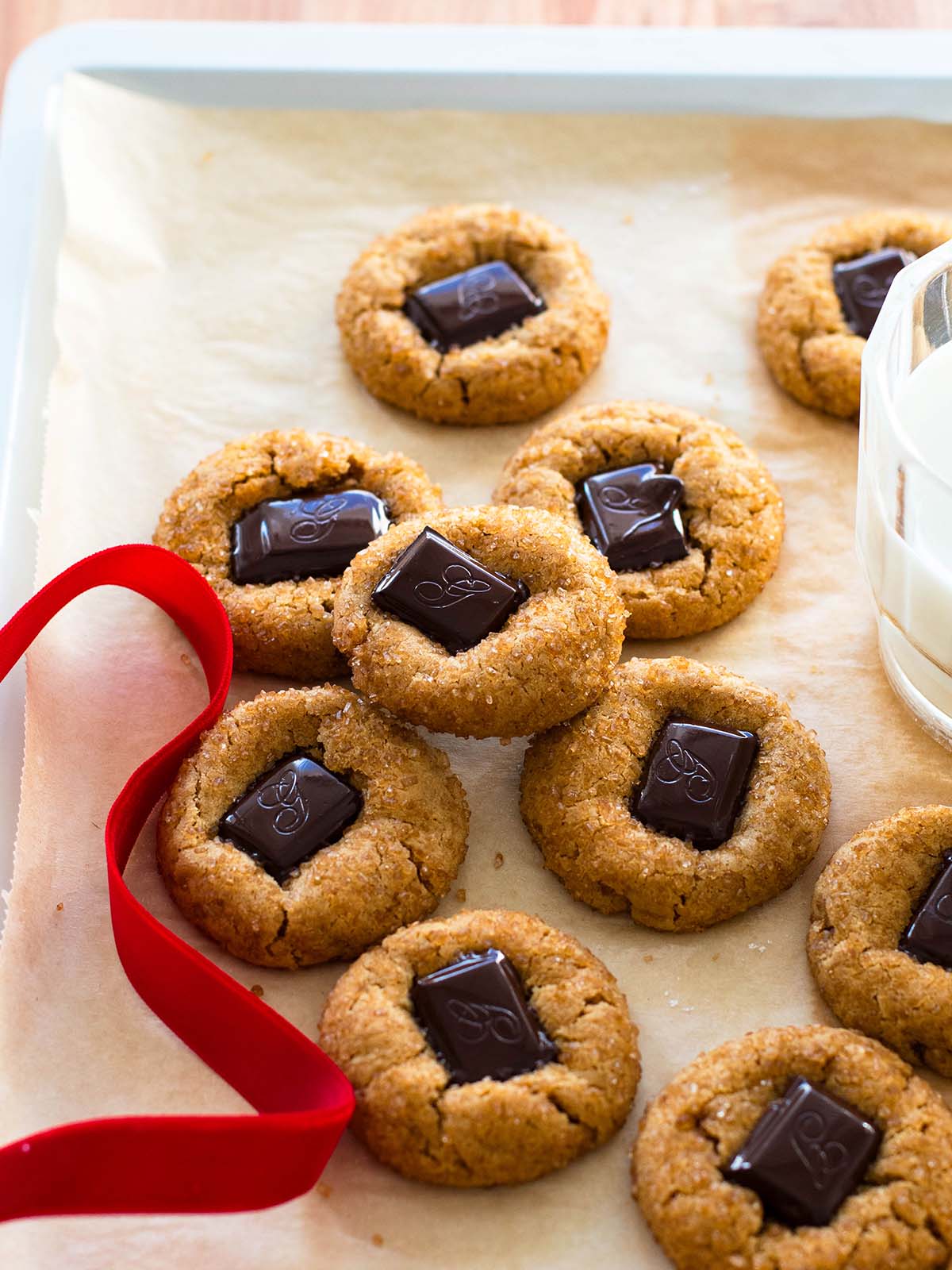 I know peanut butter blossoms are very familiar to some, but I didn't grow up with them. Most, if not all, Slovenians didn't. Peanut butter was a thing I would see on American TV shows, but as a household and a country, we were the Nutella people.
But these days, peanut butter is as common, as used and loved as Nutella or any other common spread. I love it too, in both savory and sweet dishes. And I think chocolate peanut butter cookies are at the top of that list. Salty and sweet peanut butter and slightly bitter dark chocolate work so nicely together.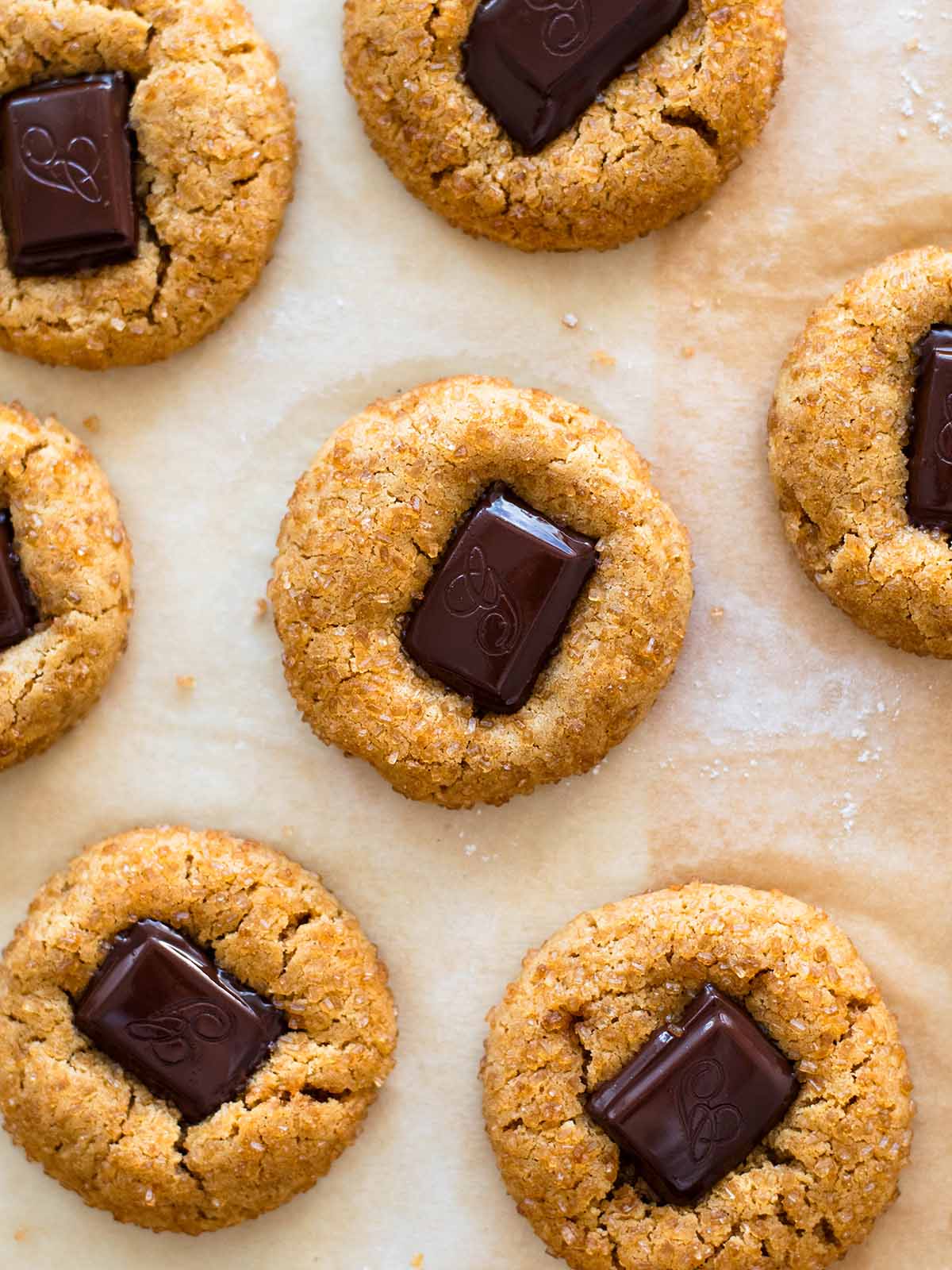 About the recipe
Peanut butter blossoms or Hershey kiss cookies are peanut butter cookies with Hershey kisses stuck in the center. They were popularized by Freda Smith at a Pillsbury Bake Off contest in 1957. You can still find the original recipe from Pillsburry and it's the basis of the newer peanut butter and kisses cookies.
The original recipe uses shortening instead of butter, which is a sign of the times I think. These days the newer recipes use butter. Like this one from the NY Times, who say it's adapted from the Gerraro family that served this cookie at a wedding in 2009. I can just imagine that everyone loved it, because peanut butter blossom cookies are so delicious.
The Pillsbury recipe also uses 2 tablespoons of milk as opposed to 1 tablespoon of milk that NY Times use. I've tried both versions and I actually like both. The difference is subtle. But more milk makes a chewier, moister cookie. Whereas less milk makes a slightly sturdier, slightly more cakey cookie.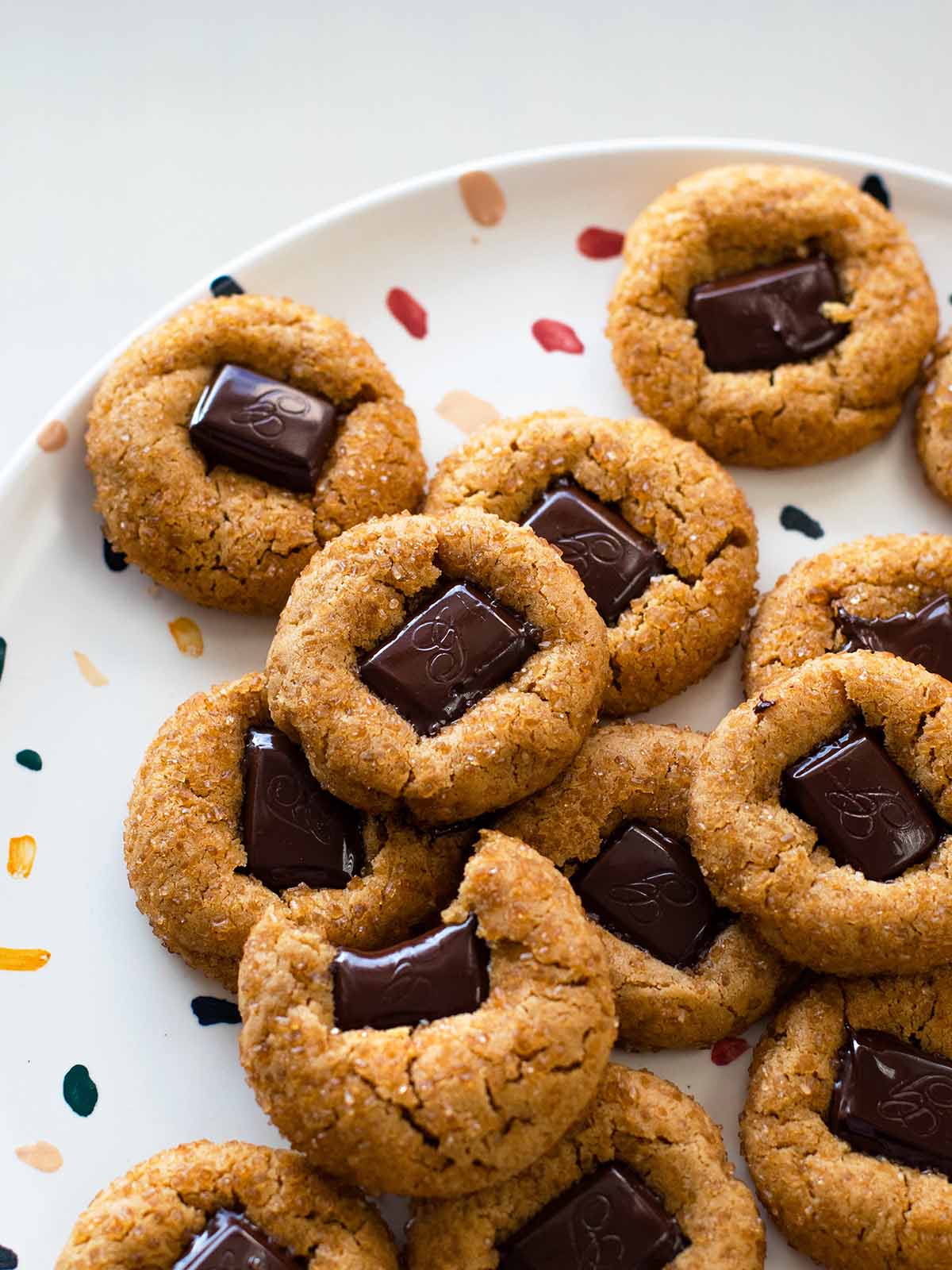 My version
I make my dark chocolate peanut butter cookies almost like NY Times. Only I use dark chocolate pieces instead of milk chocolates. I think dark chocolate gives a more balanced flavor than milk chocolate. You get that mix of rich, sweet peanut butter flavor and a slight bitterness and depth of the chocolate. It's a dream combination.
Another thing I've changed is that I roll my cookies in Demerara sugar, to give them a golden finish once they bake. Demerara also gives some crunch and a light caramel flavor (amazing in coffee too!), which I personally love.
A good substitution for Demerara are turbinado sugar or golden sugar. Both of these have finer granules than Demerara, which are less crunchy but still really nice.
I like to use 1 to 1 1/2 tablespoons of milk, as I find this to be plenty. A lot depends on the type of peanut butter used, there's a difference even between brands.
I always go with the sweet creamy peanut butter for this recipe, instead of the all-natural kind. The "cheap" versions normally contain a bit of oil and sugar and it definitely makes a better cookie. Using all natural peanut butter can make a dense and drier cookie.
Another thing about the NY Times recipe is that it tells you to put the chocolates on the cookies and then return them to the oven, which is an unnecessary step.
The trick is in adding the chocolate right after you pull the cookies out of the oven and then letting them sit like this until they are completely cool. The residual heat from the cookies will melt the dark chocolate into little pools of heaven, which will then slowly harden again as they sit on the baking sheet.
If you're like me, you won't be able to wait for all of them to cool. There's absolutely nothing better than eating a fresh, slightly warm peanut butter cookie with melted gooey chocolate in the center.
And don't bite into it, you'll just mess it up. Instead, you should just stick the whole thing in your mouth and slowly chew through every burst of flavor. It is incredible.
How to make
You start by making a very easy peanut butter dough. It's a soft, smooth dough that is easy to roll out. It keeps in the refrigerator for 2-3 days, so you can make it ahead of time. I always chill it for a few hours before rolling.
Once the dough is ready, you roll out 30 balls. The NY Times recipe calls for 60, which I assume makes really small cookies, but I prefer the two-bite size my recipe makes.
Then you roll the balls in sugar and bake for 10 minutes.
The cookies should be puffy in the center but nicely baked and dry around the edges. As you take them out, add the chocolate on top immediately. Press each chocolate in lightly. The cookies will crack a bit, which is okay.
The heat from the cookies will melt the chocolate. Wait until the chocolate is hard again, before transferring the cookies to a container.
Flavor variations
If you want to double down on the chocolate and peanut butter combination, you can use peanut butter cups instead of the chocolate. It's a version I would make for a huge peanut butter lover, as it's otherwise very sweet.
A different sweet combination would be a white chocolate version. You can use pieces of white chocolate in place of dark chocolate. It's a bit different but so good if you're a fan of white chocolate.
For a festive take, you can roll the cookies in sparkling sugar of various colors. This can be so fun for the holidays.
More cookie recipes to explore
Dark chocolate peanut butter cookies
Peanut butter blossoms made with dark chocolate for a better flavor balance and rolled in Demerara sugar for a nice golden finish. These are chewy, rich and easy to make.
Ingredients
1 3/4

cups

(

230

g

)

all-purpose flour

1

teaspoon

baking soda

1/2

teaspoon

sea salt

8

tablespoons

(

113

g

)

unsalted butter

,

softened

1/2

cup

(

130

g

)

smooth peanut butter

,

use the sweetened commercial kind

1/2

cup

(

100

g

)

granulated sugar

1/2

cup

(

110

g

)

light brown sugar

1

tablespoon

(

15

ml

)

milk

1

teaspoon

vanilla extract

1

large

egg
To finish
1/2

cup

(

100

g

)

Demerara sugar

,

or Turbinado sugar

30

pieces

dark chocolate

,

I use 50% cocoa chocolate
Instructions
Sift flour, baking soda and salt in a bowl. Set aside. In a large bowl, or bowl of you stand mixer, cream together butter, peanut butter, granulated sugar and brown sugar.

Whisk in milk, vanilla extract and egg. Gradually add flour, in 2-3 additions, and beat until the dough comes together. It should be smooth and soft. Cover the bowl and refrigerate the dough for about 1 hour, so it's easier to roll.

Preheat oven to 375°F (190°C) and line two cookie sheets with parchment paper. Set aside.

Divide the dough into 30 equal pieces, then roll them into balls. Roll each in Demerara sugar and place on your cookie sheet about 2 inches (5 cm) apart. Bake for 10 minutes, until golden brown around the edges, but still puffy in the center.

Remove cookies from oven (and put the other sheet into the oven) and immediately top each with a chocolate piece. Press it into the center of the cookie very lightly, just so the cookie cracks a bit.

Allow the cookies to cool at room temperature until the chocolate is completely hard again, then store them in airtight containers for up to a week.
Notes
The Demerara sugar gives the cookie shell a nice caramel-like flavor and golden sheen. If you don't have it, use Turbinado or golden sugar instead. You can also use regular sugar or sparkling sugar for a festive finish.
If you don't like dark chocolate, you can use milk chocolate instead. White chocolate makes a good version of this cookie too.
Sweetened commercial peanut butter (like Jif, Skippy, etc.) is the kind that works best in a recipe like this. All natural peanut butter can make the cookies a bit drier and denser, so you might need to use more milk if using that. 
Email recipe
Pin Recipe
Recipe first published on December 22, 2017. Republished with new text and photographs on December 7, 2023. Last updated on December 7, 2023. SaveSave