People will love you forever if you make them these orange infused sweet ricotta peach cookies! They are a labor of love, but a truly impressive dessert that you'll want to keep eating.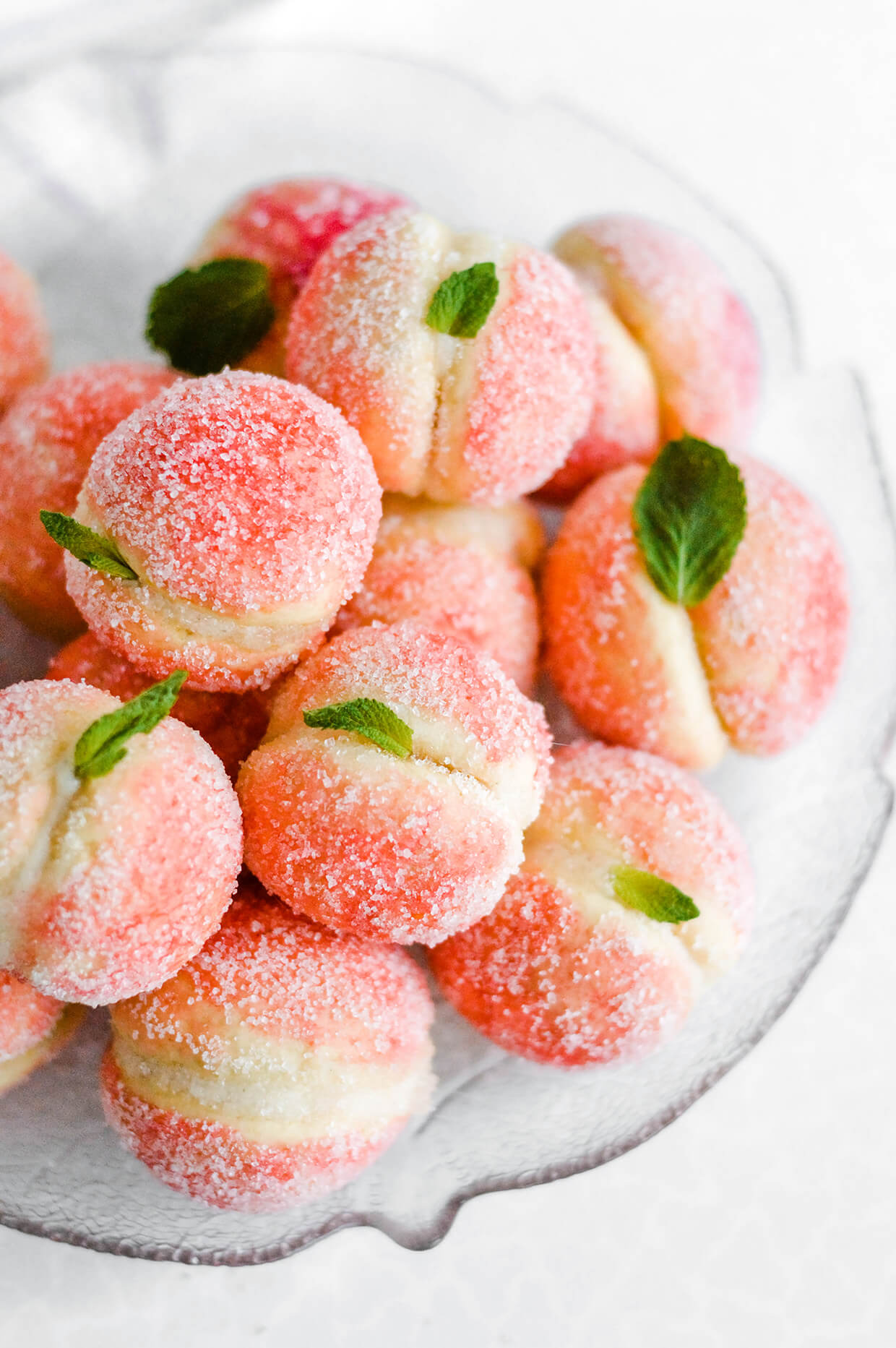 Out of all the recipes on this site, year after year these orange infused ricotta peach cookies (or cakes) win the popularity contest. You guys love them so much and I can't blame you, at all, because I absolutely love them too. It's true, these are a labor of love, they will need some of your energy and time, but they are so worth the effort. Not only because they are precious to look at or to give to people, but because they are so darn delicious.
These peach cookies are made the same way as the mushroom cookies, although the shape and fillings differ. Both are Slovenian favorites, although the peaches have quite a few versions and everyone has their own recipe for them. Originally, Slovenian peaches are filled with a mixture of cookie crumbs, jam and ground nuts. Even our old family cookbook (more like a recipe notebook, ripped at the edges because it's so old) has this version written in it. And if you find them at a store in Slovenia, that's what they'll be filled with. In my opinion, this nutty mixture is a perfectly delectable filling and you'll never see say no to a peach like that, if I can get my hands on it.
But as I was flipping through Southern Italian Desserts, I found an Italian version for these peach cookies. Forget about the nuts, the chocolate, the jam, theirs are filled with ricotta. RICOTTA! That was just the biggest revelation for me. Why not do that?  The thought alone made my mouth water.
There are even more versions of these out there, mainly in Central, Southern and Eastern Europe. There's a lot of historical overlap over here in Europe, in terms of who belonged to what country, empires were formed and destroyed, countries split… so it only makes sense that all of us in this area share a food history too. And that can be seen in recipes like this one, because so many people from so many different countries know about and make their own peach cookies. (This is a side note for all you history fans, but historically Slovenia has been a part of, among others, the Roman Empire, Habsburg Monarchy, Austrian Empire, … we were invaded by the Nazis, eventually ended up in Yugoslavia and now we're an independent country, part of the EU. Crazy right?)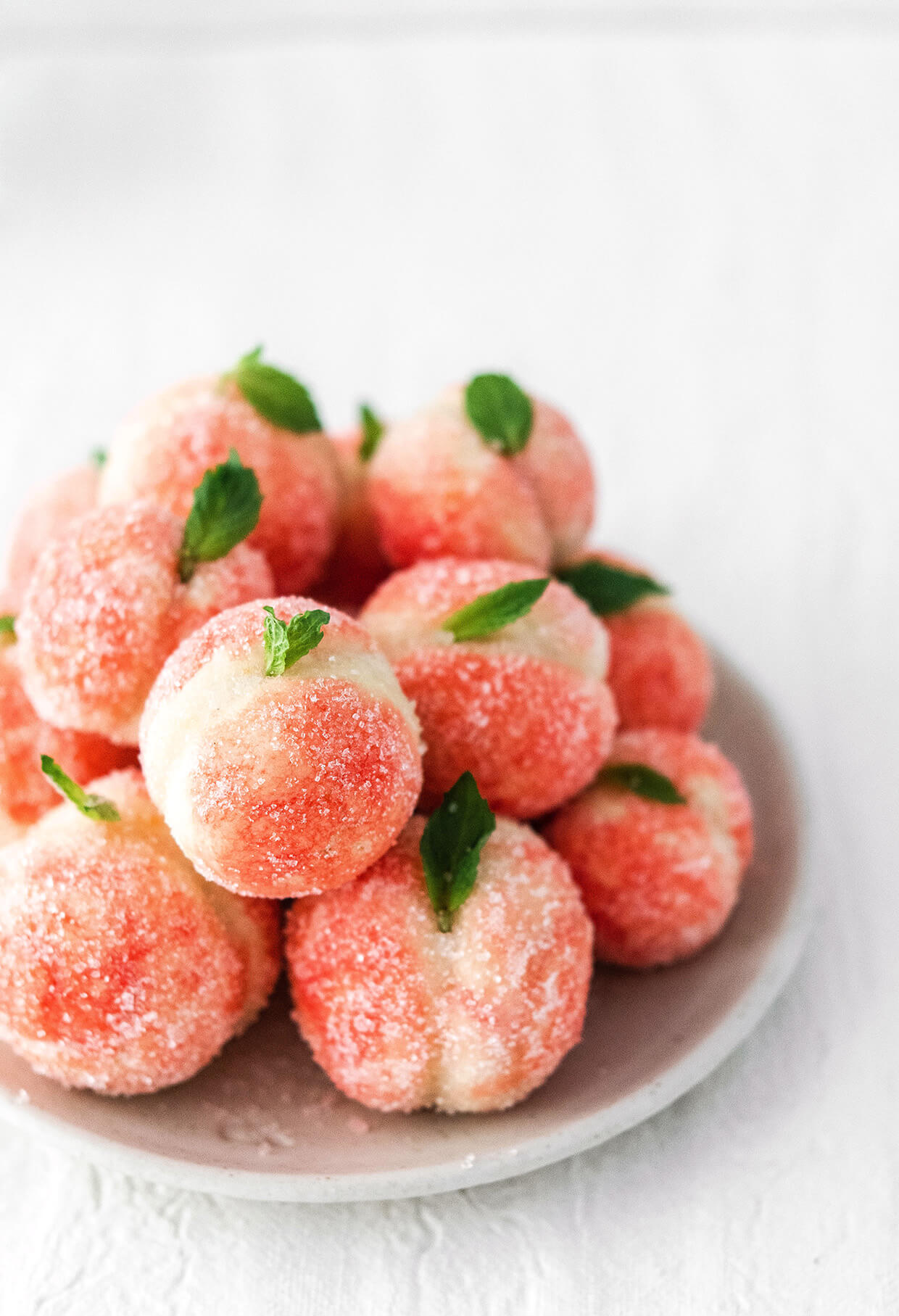 But let's focus on these Orange infused sweet ricotta peach cookies:
These peach cookies, or peaches as they're often called, are more cakes than cookies. They are small in size, almost bite-sized, so naturally I call them cookies. And they start of as cookies, as you roll and bake them as you would a cookie. But once you put the ricotta filling in, they are transformed into mini cookie-cakes, that are so good you'll keep asking for more.
Truly, these are simply divine. Their shell is coated with crunchy sugar crystals, that give the appearance of peach fuzz, which is why we call them peach cookies. Structurally, these are made of two cookie halves, each crunchy on the outside, but soft on the inside. Part of the inside is scooped out, to make room for the fluffy ricotta filling. This is what glues the halves together and what makes these cookies incredibly juicy and flavorful. The ricotta is infused with plenty of orange zest, that gives the whole cookie an incredible citrus aroma. We also add vanilla and sugar to it, to make it that more delicious. If you know ricotta, you know it's very mild in flavor, so adding a few of these things really brings it to life.
For me, these Orange infused sweet ricotta peach cookies embody the essence of the warmer season. They make me think of breezy mornings, picnics in the park, the endless turquoise sea, bushy green trees, orange blossoms, birds chirping in the air, ice-cold drinks in the sunset and baskets full of peaches. I just adore them so much.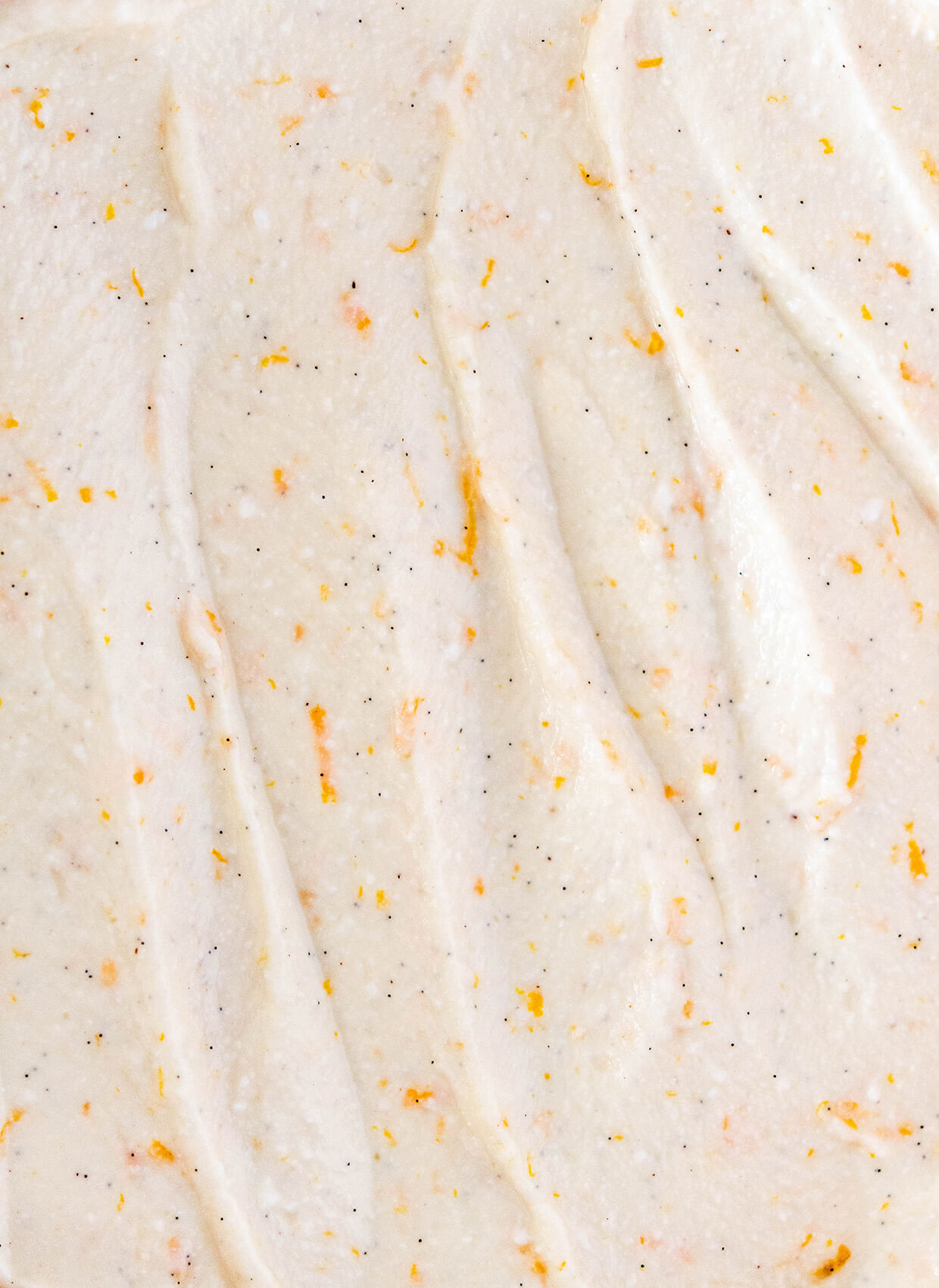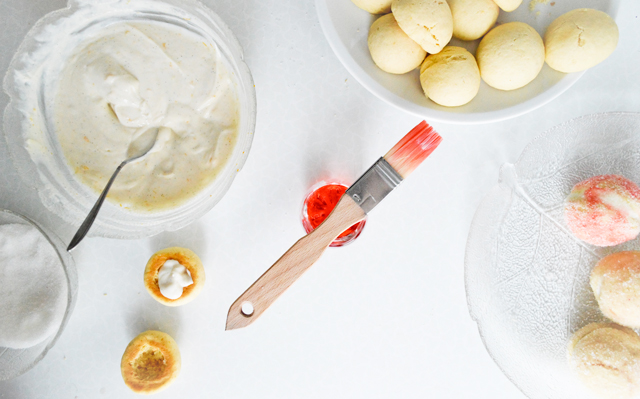 A few notes and tips before you make these:
When I first shared the recipe for these, I lived in a different apartment with a different, much older kitchen. A kitchen so old I don't even want to remember it, but when you rent, it's hard to find a perfect-anything. But I mention this, because not only was the kitchen old, the oven there was crappy-old and I suspected for a long time it never worked right. I mean, it worked, as in I was able to bake with it… but I always felt like it never held a consistent temperature. It wasn't so much about the oven having cold spots, it was more that the temperature would rise and drop and rise on its own… without me doing anything to the oven. That's what I suspected anyway, as I never tested this with a thermometer (which I now regret).
I mention this, because as I was making peach cookies this week in my new kitchen (new rental, a brand new kitchen), I FAILED. Seriously, the cookies came out of the oven all cracked! And I always say that a crack here or there is normal (it is), but these were all deeply cracked on top and I was stunned. What have I done wrong?? 
So, I went on a testing spree.
A) Should I refrigerate the dough for a few hours, instead of a few minutes? I did that, no difference in end result.
B) Did I not roll the balls well enough? I tried rolling them really, really well and they all still cracked. Normally, I'd have a few crackly tops, but now a whole batch.
C) Did I use too much baking powder? I made a batch of dough with less baking powder, which I now actually prefer, but the tops still cracked.
D) What else? THE TEMPERATURE!The fact that I used to make these in a different oven completely slipped my mind. But that's where the problem was. I tried baking them at a higher temperature, which only proved that they will crack 100%. And then I lowered the temperature and finally – A SUCCESS! I cannot even begin to tell you how happy that made me.
But now what? So many of you have successfully made these over the years. You send me pictures and happy messages and in turn you make me happy, knowing that these were a success for you. But, what if your oven is different too?
Here come the tips and tricks and oven-things…
The oven temperature: In my original recipe, I tell you to bake these at 350°F (175°C) and that used to work for me in my old electric oven. I now have a more modern electric oven and while I haven't had issues with other recipes and while I use a separate oven thermometer along with the oven… the peach cookie recipe needs an adjustment. I now bake these peaches at a temperature between 320°-330°F  (160°-165°C). Bellow are two photos, one of cookies baked at a temperature that's too high and one (bottom) of cookies baked at 320°F. The top cookies are WAY too cracked, whiled the bottom are great. The few minor cracks are more a consequence of me not rolling the balls well enough, but those cracks are hidden with sugar. However, that doesn't mean that 350°F wouldn't work in a different oven (and it has for so many of you).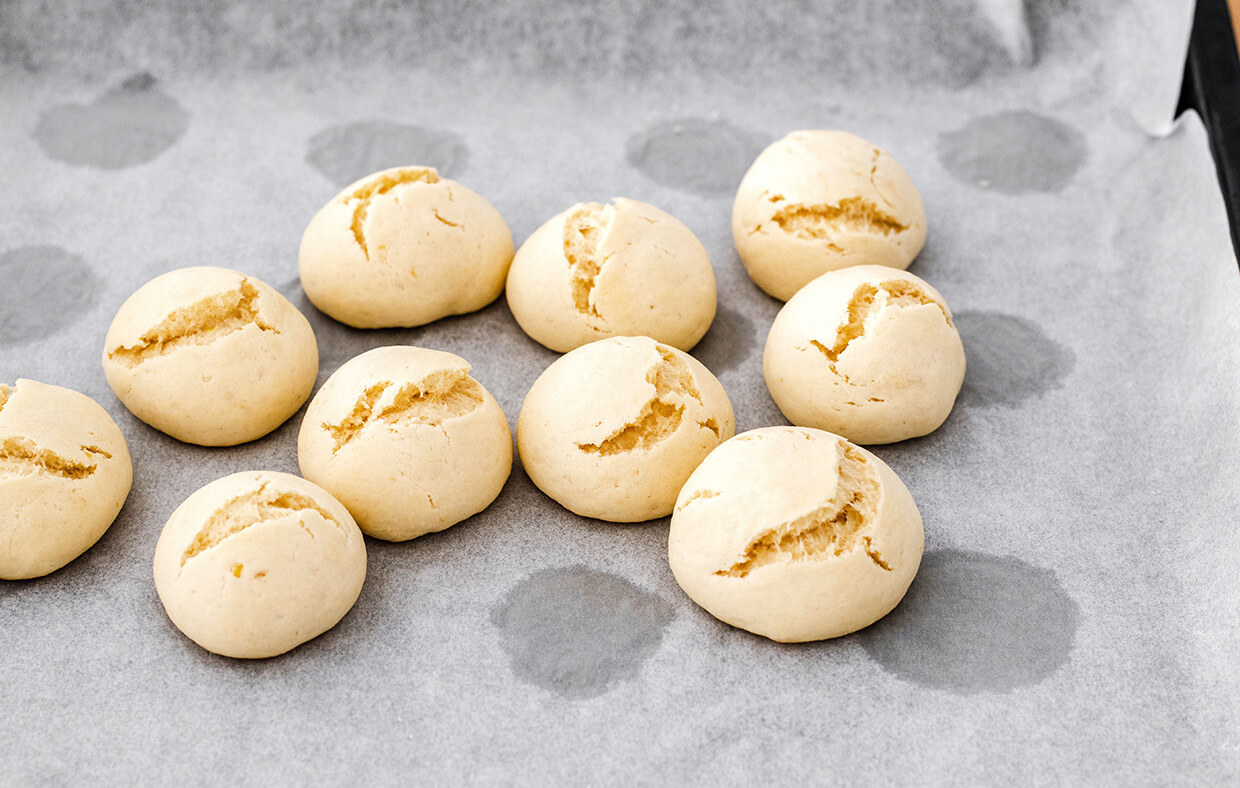 So what should you do, if you're making these for the first time? If you don't have an oven thermometer and you don't know how your oven acts, I advise you to make about 6 balls and place them on a baking sheet. Scatter them all over, so that you cover all sides of the oven. Set the temperature to 350°F and bake them for 10 minutes. The bottoms should be golden brown, the tops pale and smooth. If they crack horribly, you'll know to reduce the temperature. If they're fine, you'll know you can bake the rest of the cookies the same way.
There's no way that I can be 100% sure about how your oven works, and I'll further test this recipe (possibly in a different oven too), but baking a test batch first is the safest way to go. In the end, you'll still end up with plenty of cookies, whether the test batch bakes perfectly or not.
Here are a few articles you can read that talk about oven issues: Food52's take in cold spots in the oven,  What's so great about 350°F by The Atlantic and another 350°F article by My Recipes. 

Now about the other things…
Like ricotta: You can make the filling a day ahead of time. Store it in an airtight container in the refrigerator and stir it with a spoon before using.
When rolling the cookies, make sure you roll them really well. Raw cookie balls should be the size of a big hazelnut, almost like a baby mozzarella ball. Warm them with your hands and roll them so that there are no visible cracks or dough-folds, because those will crack later on.  You want smooth balls. 
About the cookies and assembly: As you're scraping out the center, make sure you leave a small edge around the hole. These edges will be smeared with ricotta and these are what holds the cookie together. Also, as you fill the cookies, make sure you put in enough filling – it needs to reach that edge of the hole you made into the cookie. Once you press the two halves together, some of the filling will come out. This is good as it is the glue that keeps the two cookies together and you just need to wipe away any filling that sticks out of the "peach". Just swipe your finger all around "the seam".
Also know that while you are filling and coloring the cookies, the ricotta filling will get warm and consequently softer. This is why you need to chill these cookies before you serve them. The ricotta needs time to set. Once it sets, the cookies will hold together really well.
Put the mint leaves on right before you serve these, as they'll wilt otherwise.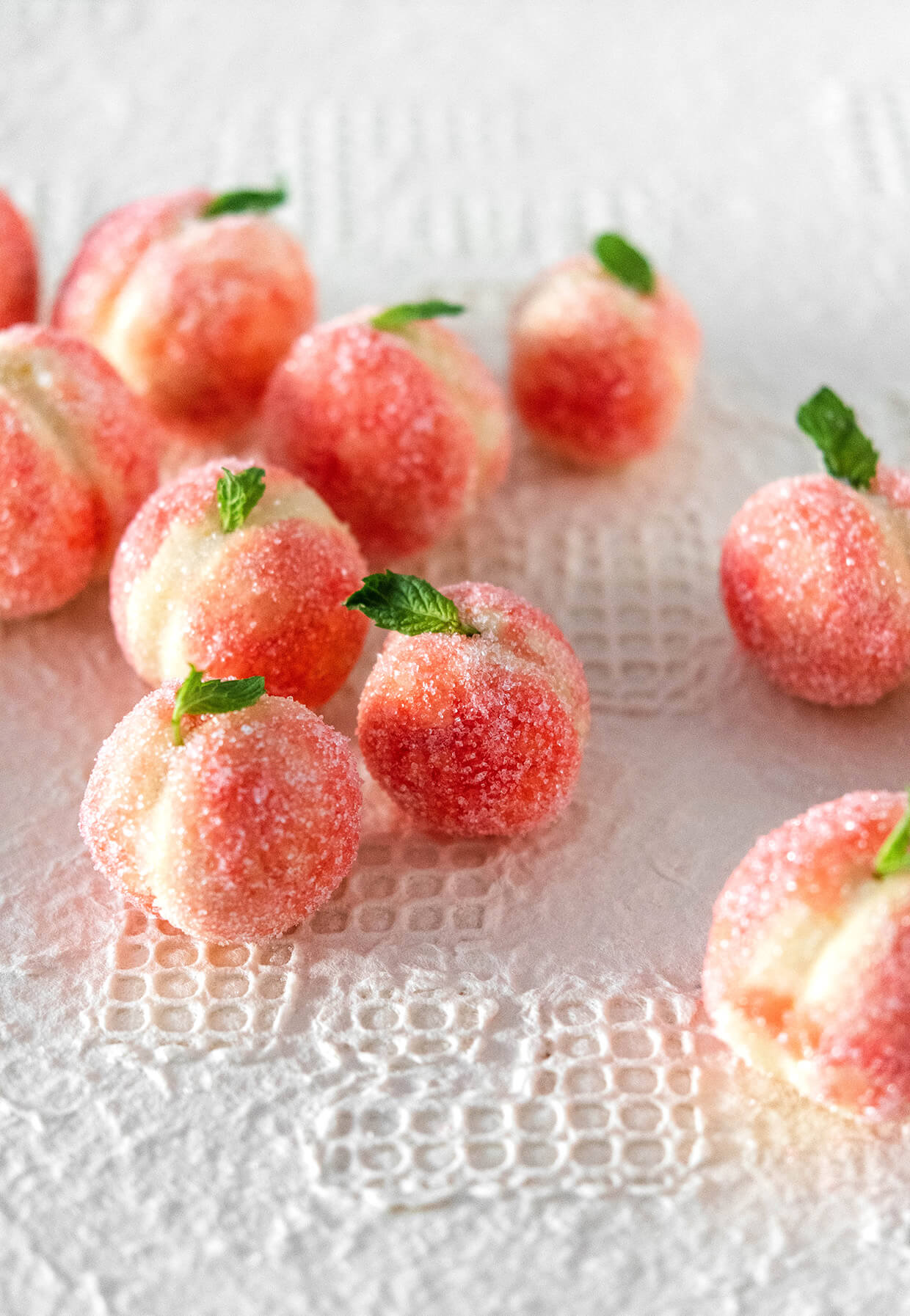 And my final words… I hope that you find my wordy explanations helpful and that you successfully make these cookies. They take some time and definitely some practice, but they are so worth it. I know some people might find them a bit old-school, but I adore them so much. Old-school or not, they are cute and delicious. Honestly, these orange infused ricotta peach cookies are one of my favorite cookies to eat (and make, even if they give me a headache sometimes, haha) and I think they'll be yours too.
Print
Sweet ricotta peach cookies
These orange infused sweet ricotta peach cookies really capture the essence of spring and summer. They're pretty and so delicious.
Author:
Yield:

22

-

24

cookies

1

x
Category:

Dessert

Cuisine:

Italian, European
Scale
Ingredients
Ricotta filling
2

heaping cups (

17.6 oz

| 500g) ricotta cheese

1/2 cup

(110g) granulated sugar

1 teaspoon

vanilla bean paste
zest of

1

organic orange
Cookies
4 cup

s (540g) all-purpose flour (spooned and leveled)

2 teaspoon

s baking powder

3

large eggs

3/4 cup

(155g) granulated sugar

1/2 cup

(120ml) full-fat milk

1

stick (1/2 cup | 115g) unsalted butter, melted and cooled to room T
small pinch of salt
zest of

1

organic lemon
The rest
1 cup

granulated sugar, for coating the cookies
liquid food coloring in red or pink
rum (optional)
mint leaves or other leaf decorations (optional)
Instructions
Make ricotta filling
In a medium bowl, whisk the ricotta with sugar until smooth and creamy. Stir in orange zest and vanilla. Chill the mixture, covered with plastic wrap, while you make the cookies.
Cookies
Preheat the oven to 350°F (175°C – see notes for more options) with a rack in the center of the oven. Line two baking sheets with parchment paper and set aside.
Sift flour and baking powder into a large bowl. In another bowl, whisk the eggs and sugar until combined. Whisk in milk, melted butter, salt and lemon zest until smooth. Fold the dry ingredients into wet in 2-3 additions, until well incorporated. Finish mixing the dough with your hands and press it into a ball. If it's very sticky add another tablespoon or two of flour until it sticks together, but not more than that. The dough should be smooth and soft. Let rest in the fridge for 15 minutes (or even a few hours).
Roll the dough into 2 logs, slice each log into into 44-48 pieces and shape each one into a smooth ball. Transfer them to the prepared baking sheets, placing them 2.5cm (1 inch) apart, as they will rise during baking. Press down each ball slightly, so the bottom flattens. Bake the first round for about 10 minutes, until bottoms are golden brown (the tops will remain pale). Rotate the pan halfway through baking. As you take the first tray of cookies out, put the second one in the oven.
While the cookies are still warm, cut a circle in the bottom of each cookie and scoop out enough of a cookie for it to hold some filling. (Be careful, don't pierce the cookie too deep or you risk breaking it.) Set aside. Do the same with the second tray. Next, find a pair for each cookie, you want the halves of the peach to be of similar size.
Assemble cookies:
Fill each cookie hole with enough ricotta filling that it covers it completely (about a teaspoon). Press the two flat sides of each half together, so the filling comes out at the "seam" and swipe away the extra filling. Brush each peach with food coloring (you can add a splash of rum to it), gently roll it in sugar and place on a large plate. Continue with the rest of the cookies.
Chill cookies, covered with plastic wrap, for a few hours before serving. This will harden the ricotta and moisten the cookies. Decorate the cookies with small mint leaves before serving, to mimic peach leaves. (These cookies keep for about 4 days and taste best on the first two days. Leave them out at room temperature for about 10-15 minutes before serving.)
Notes
On OVEN TEMPERATURE
While I've always baked these at 350°F (175°C) without any issues, I now have a different oven and I need to bake these at a lower temperature to avoid all of the cookies cracking. I now bake them at 320-330F (160-165C). If you're unsure what to do, bake a test batch first by placing 6 cookie balls on a baking sheet and baking at 350F. If they come out smooth, you're good to go. But if all come out cracked, try a lower temperature.
ON FOOD COLORING
Dilute the food coloring with water according to the instructions on the package, if it needs diluting at all. Once diluted you can add flavor to it. Rum is a traditional choice, but you can get food flavoring in strawberry or lemon or peach. All 3 fit this cookie well. (I've tried LorAnn oils which are extremely concentrated and a single drop already gives a lot of flavor.)
The food colors I most often use are from Rainbow Dust and Wilton. I hear people have great experiences with Americolor too.
I've experimented with natural food dyes but none gave these peaches enough color. My goal was to make "white peaches" which are pinkish and white, while regular peaches are more red and yellow in color. The one thing I haven't tried yet is beet powder. Its vibrant pink color could do the trick, so you can always try this too instead of using artificial coloring (and I promise to update you all on this as soon as I try this version myself).
You can also skip the coloring completely and moisten the cookies with some sweetened water instead. But since I make these rarely, I don't see that much harm in artificial food dye. The one I use is strawberry flavored which adds a whole new dimension to these cookies. (I buy it locally, don't think it's sold outside of Slovenia.)
TIP FOR MELTING BUTTER
The fastest trick for me is this: I put the butter in a 500ml (1 pint) Pyrex measuring jug and melt it in the microwave in 10-20 second increments. Once it's almost completely melted, I take it out and keep stirring it with a spoon, until it cools to room temperature.
[update] KEEPING THE SHAPE
As you fill these cookies, make sure you put in enough filling – it needs to reach the edge of the hole you made into the cookie. Once you press the two halves together, some of the filling will come out. This is good as it is the glue that keeps the two cookies together and you just need to wipe away any filling that sticks out of the "peach". Also know that while you are filling and coloring the cookies, the ricotta filling will get warm and consequently softer. This is why you need to chill these cookies before you serve them. The ricotta needs time to set.
This recipe is adapted from a family recipe and from Southern Italian Desserts.
SaveSave
SaveSave
SaveSaveSaveSave