People will love you forever if you make them these orange infused sweet ricotta peach cookies!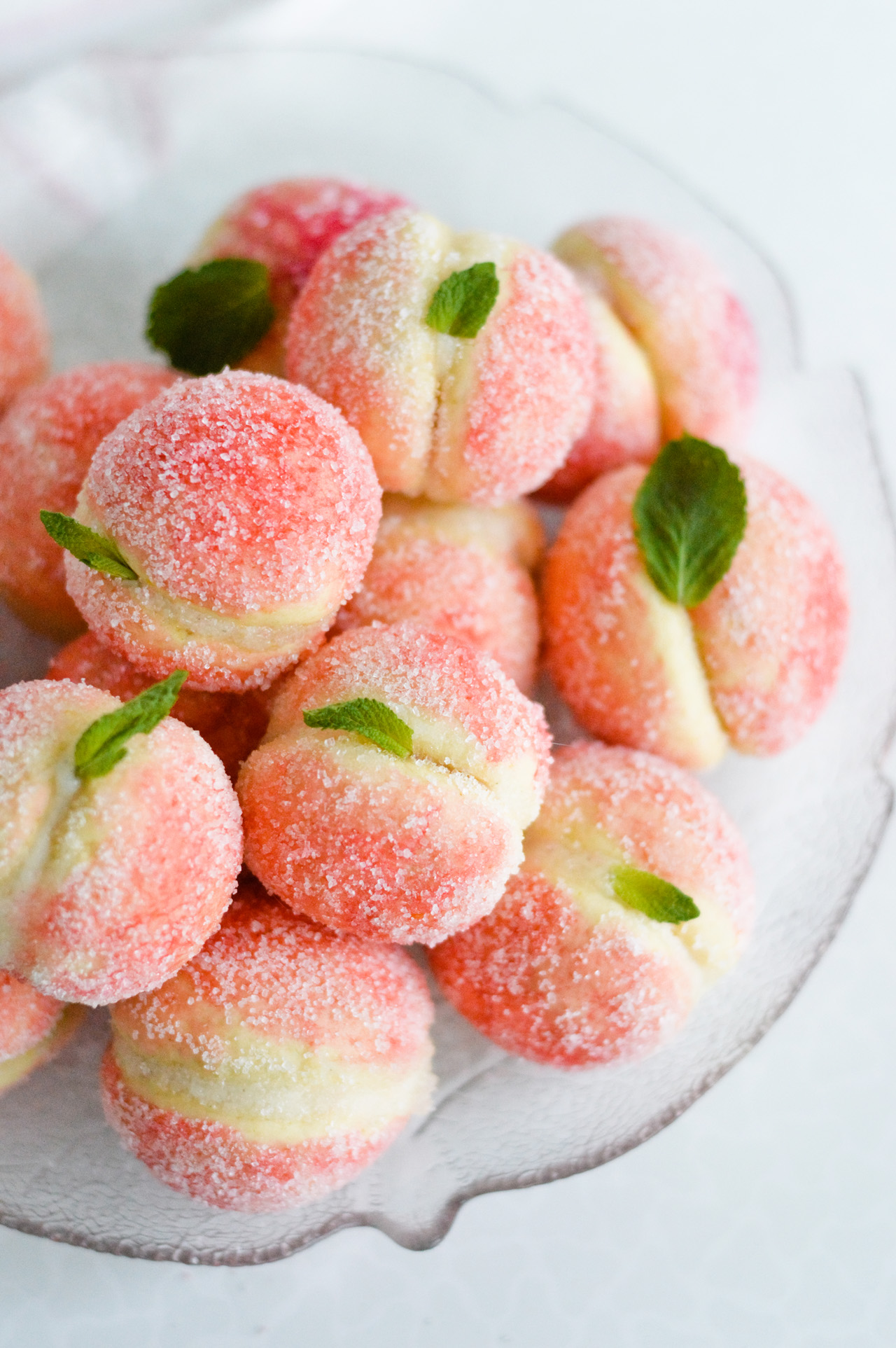 Between all the list making and preparation for our Amsterdam trip, all the cat-sitter coffee dates and day dreaming, these adorable peach cookies are what has been on my mind for the past few weeks. Because it's almost summer and I can't wait for actual peaches to start rolling in and because a good cookie is a good cookie, something I will never have a problem with.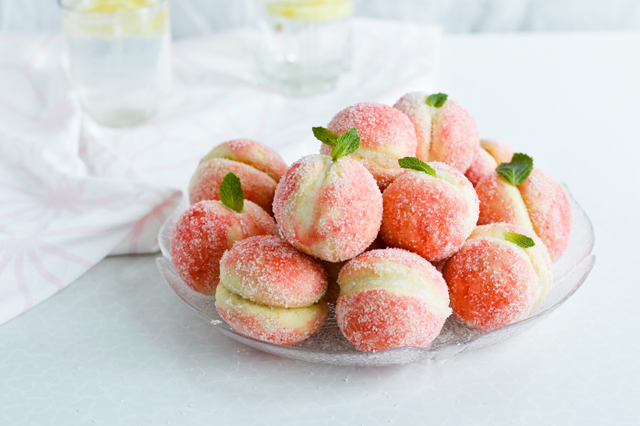 Remember these pretty mushroom cookies from last year? Well, these peach cookies are the distant cousins of those. I already knew at the time I'd be making them soon enough, but the season wasn't right. And now I don't have to wait anymore. Now, I can finally tell you all about these bites of heaven.
Originally, peach cookies are made the same way as the mushroom cookies, their shape being the only difference. And since I love the mushroom ones so much, I never thought I would actually change the recipe. But I have. And why oh why did I wait this long?!
You see, the mushroom cookies are perfect for the winter months. They're chocolaty and crunchy, the walnuts and the mushroom shape make them super festive and they fit right into the scenery outside – with leaves falling down, fog rolling in and temperatures getting colder and colder during fall and winter.
And when I think about all of that I can't possibly associate it with the warmer seasons and peaches. The mushroom cookies are a complete opposite of that, so all of a sudden making walnut peach cookies made no sense to me anymore.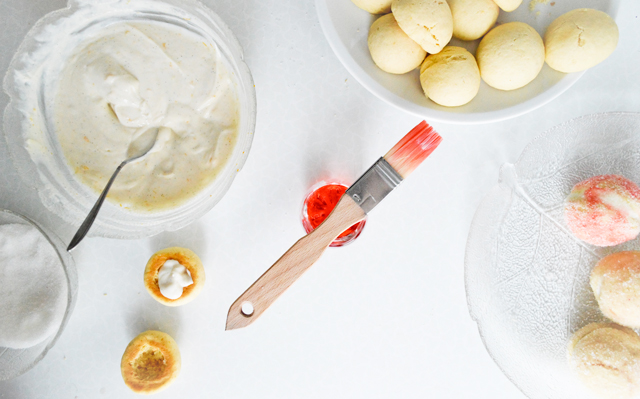 Lucky for me, these peach cookies aren't a Slovenian specialty. When flipping through Southern Italian Desserts
, I  found their version of peach cookies. Forget about the nuts, the chocolate, the jam, theirs are filled with ricotta. RICOTTA! That was just the biggest revelation for me. Why not do that?  The thought alone made my mouth water.
These sweet orange ricotta peach cookies are simply divine, I mean it. They're soft, with just enough bite and crunch, they are moist, aromatic and so very adorable. The orange infused ricotta captures the essence of the warmer season. It makes me think of breezy mornings, picnics in the park, the endless turquoise sea, bushy green trees and birds chirping in the air, it makes me think of ice-cold drinks in the sunset. It is the perfect filling for these peach cookies and makes them a much lighter and fresher version of its winter sister – the mushroom cookie.
I will be bringing these to all BBQ/picnic gatherings in the following months, and you should too.
Sweet ricotta peach cookies
These orange infused sweet ricotta peach cookies really capture the essence of spring and summer.
Recipe makes 22-24 peach cookies, each the size of an average apricot.
Ingredients
Ricotta filling
500g (2 cups + 2 TBSPs) ricotta cheese
110g (1/2 cup) granulated sugar
1/2 - 1 tsp vanilla paste
zest of 1 medium orange

Cookies
540g (3 1/2 cups) all-purpose flour
1 tbsp baking powder
3 large eggs
155g (1/2 cup + 3 TBSPs) granulated sugar
120ml (1/2 cup) milk
115g (1/2 cup or 1 stick) unsalted butter, melted and cooled
zest of 1 lemon

The rest
granulated sugar for coating the cookies
liquid food coloring in red or pink
rum (optional)
mint leaves or other leaf decorations (optional)
Directions
Ricotta filling
In a medium bowl, whisk the ricotta with sugar until smooth and creamy.
Add orange zest and vanilla and stir until incorporated.
Chill the mixture, covered with plastic wrap, while you make the cookies.

Cookies
Preheat the oven to 180 degrees C (350°F) with rack in the center of the oven. Line two baking sheets with parchment paper and set aside.
Sift flour and baking powder into a large bowl.
In another bowl, whisk the eggs and sugar until combined. Whisk in milk, melted butter and lemon zest until smooth.
Mix the dry ingredients into wet in 2-3 additions, until well incorporated.
Finish mixing the dough with your hands and press it into a ball. If it's very sticky add another tablespoon or two of flour until it sticks together. Let rest for 5 minutes.
With the help of a spoon, roll the dough into 44-48 small balls (shape them with your hands until smooth) and transfer them to the prepared baking sheets.
They need to be placed about 2.5cm (1 inch) apart, as they will rise during baking.
Press down each ball slightly, so it flattens a bit.
Bake the first round for about 15 minutes, until bottoms are golden brown (the tops will remain pale). Rotate the pan halfway through baking.
As you take the first tray of cookies out, put the second one in the oven.
While the cookies are still warm, cut a circle in the bottom of each cookie and scoop out enough of a cookie for it to hold some filling. (Be careful, don't pierce the cookie too deep or you risk breaking it.) Set aside.
Do the same with the second tray.
Find a pair for each cookie, you want the halves of the peach to be of similar size.

Assemble
Fill each cookie hole with enough ricotta filling that it covers it (about a teaspoon). Press the two flat sides of each half together and gently wipe away any filling that comes out at the edge.
Brush each peach with food coloring, gently roll it in sugar and place on a large plate.
Continue with the rest of the cookies.
Chill cookies, covered with plastic wrap, for a few hours before serving. This will harden the ricotta and moisten the cookies.
Decorate the cookies with small mint leaves before serving, to mimic peach leaves.
These cookies keep for about 4 days and taste best on the first two days. Leave them out at room temperature for about 10-15 minutes before serving.
Notes
ON FOOD COLORING
Dilute the food coloring with water according to the instructions on the package, if it needs diluting at all.
I've experimented with natural food dyes but none gave these peaches enough color. My goal was to make "white peaches" which are pinkish and white, while regular peaches are more red and yellow in color. The one thing I haven't tried yet is beet powder. Its vibrant pink color could do the trick, so you can always try this too instead of using artificial coloring
(and I promise to update you all on this as soon as I try this version myself).
You can also skip the coloring completely and moisten the cookies with some sweetened water instead. But since I make these rarely, I don't see that much harm in artificial food dye. The one I use is strawberry flavored which adds a whole new dimension to these cookies.
You can add a teaspoon (or more) of rum to the food coloring, which will add extra flavor to these cookies.
TIP FOR MELTING BUTTER
The fastest trick for me is this:
I put the butter in a 500ml (1 pint) Pyrex measuring jug and melt it in the microwave. Once melted, I cool it by placing the jug in a sink filled with ice cold water. I stir the butter occasionally to speed the process up even more.
[update] KEEPING THE SHAPE
As you fill these cookies, make sure you put in enough filling - it needs to reach the edge of the hole you made into the cookie. Once you press the two halves together, some of the filling will come out. This is good as it is the glue that keeps the two cookies together and you just need to wipe away any filling that sticks out of the "peach". Also know that while you are filling and coloring the cookies, the ricotta filling will get warm and consequently softer. This is why you need to chill these cookies before you serve them. The ricotta needs time to set.
This recipe is adapted from a family recipe and from
Southern Italian Desserts
.