Lemon strawberry cheesecake sandwich cookies are more than just cookies. They're little desserts that almost taste like cake, but are much easier to handle and are super easy to make. Two perfect buttery lemon cookies are hiding a strawberry cream cheese filling that smells and tastes just like a freshly picked strawberry. These sandwich cookies are compact, but soft to bite into. Made with freeze-dried strawberries, these can be a year-round staple. Make them shine on dessert tables for birthdays, weddings, summer holiday brunches and dinners.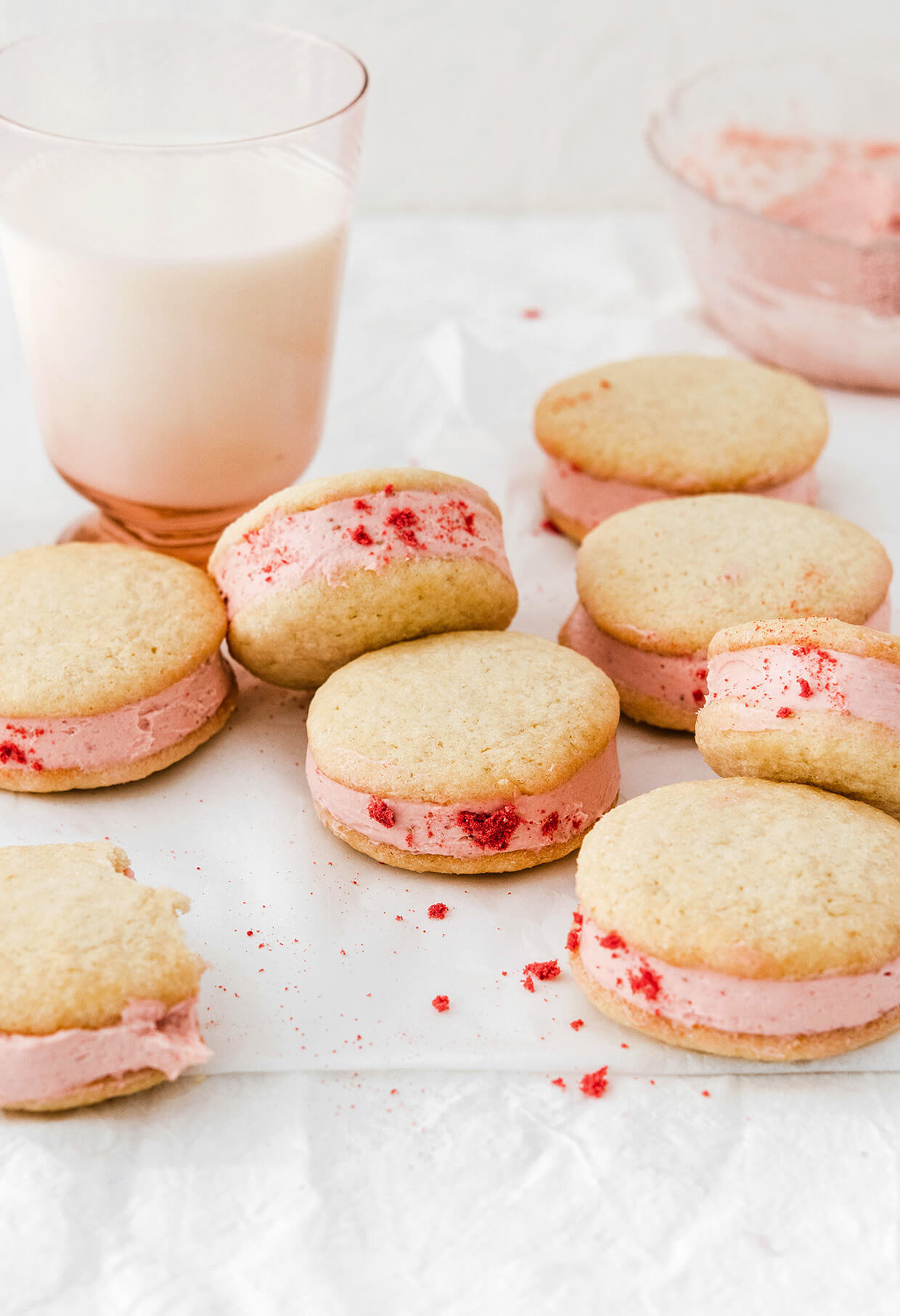 If I had to pick my favorite summer scent, right after elderflower of course, I'd probably say strawberry or strawberry lemonade. It's just the most amazing smell, sweet but fresh, don't you think? That is exactly what these lemon strawberry cheesecake sandwich cookies are like. In my humble opinion these are the best sandwich cookies ever. Or at least the best summer sandwich cookies, because I do love a good chocolate variation as well. And they are surprisingly easy to make too!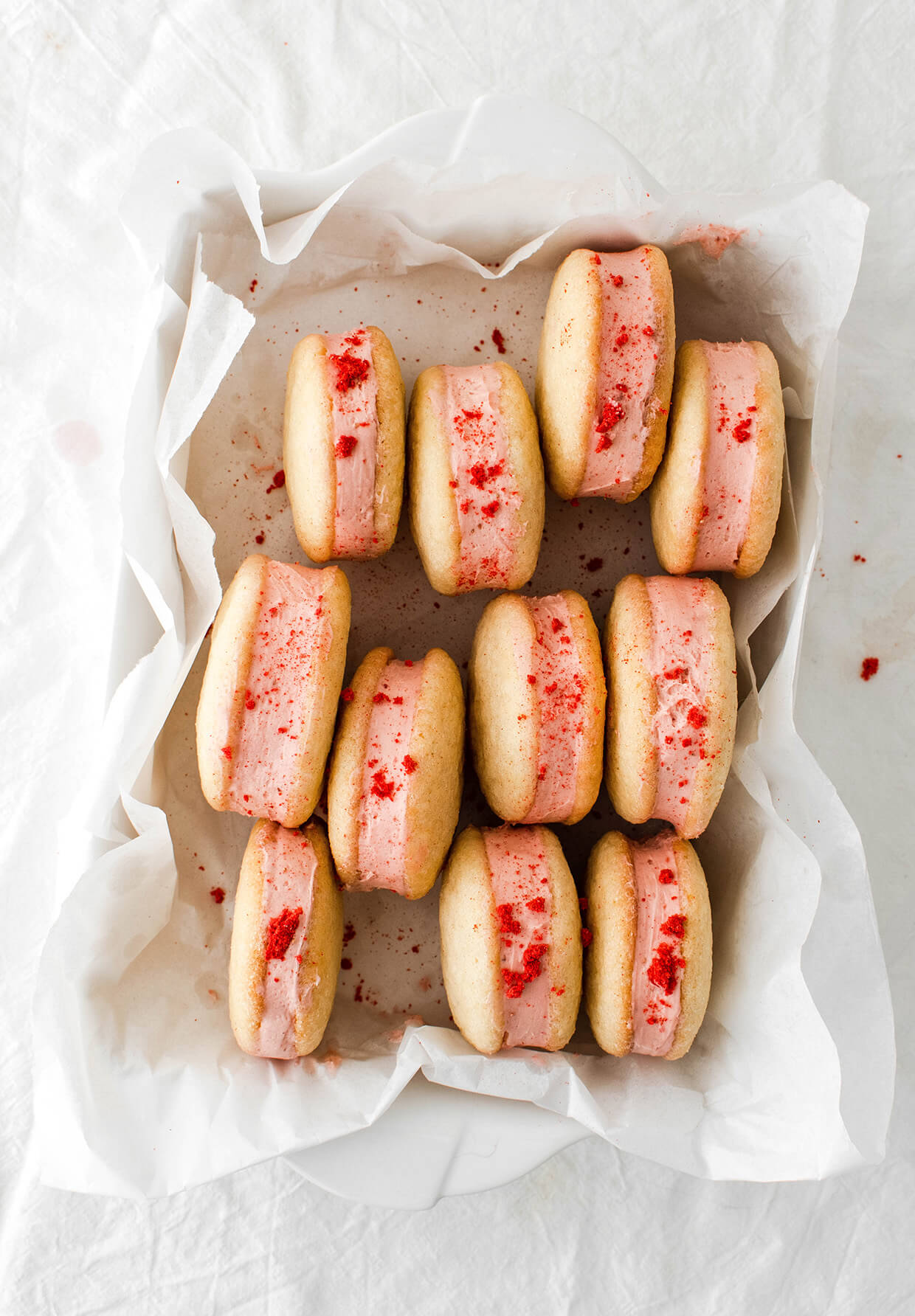 The anatomy of a sandwich cookie
Okay, this is as clear as day, but a sandwich cookie is a sandwich made of two cookies that are hiding a filling in the center. With this recipe, we are making buttery lemon cookies that will just melt in your mouth. The cookies are really tasty on their own. So tasty you could easily make a double batch to keep some on hand just as they are. They are pleasantly sweet and citrusy, with a crisp shell and a soft center. The secret is in rolling the dough balls in sugar prior to baking. That is what gives them that extra crunch. 
The filling is a cream cheese filling, that is so delicious you'll want to eat it straight out of the bowl with a spoon. I admit I took taste-testing to a whole new level with this recipe and had to really pull myself away from eating the whole thing on its own. Yes, this strawberry cheesecake filling is that good.
Once you assemble these sandwich cookies and let them really set, the cookies get softer but not at all soggy (and the filling gets stiffer). What happens is that the filling binds the two halves together. Thus making the sandwich cookie one uniform unit, if that makes sense, and as you bite into it, it won't fall apart AT ALL. If you try to take a bite out of a freshly assembled sandwich cookie, the filling will slide out the sides. A messy sandwich cookie is still tasty, there's no doubt about that. However, letting the cookies set for a few hours really does the trick here. It's the same as with chilling a layer cake or any pound cake. If you let a cake set, it's much easier to slice.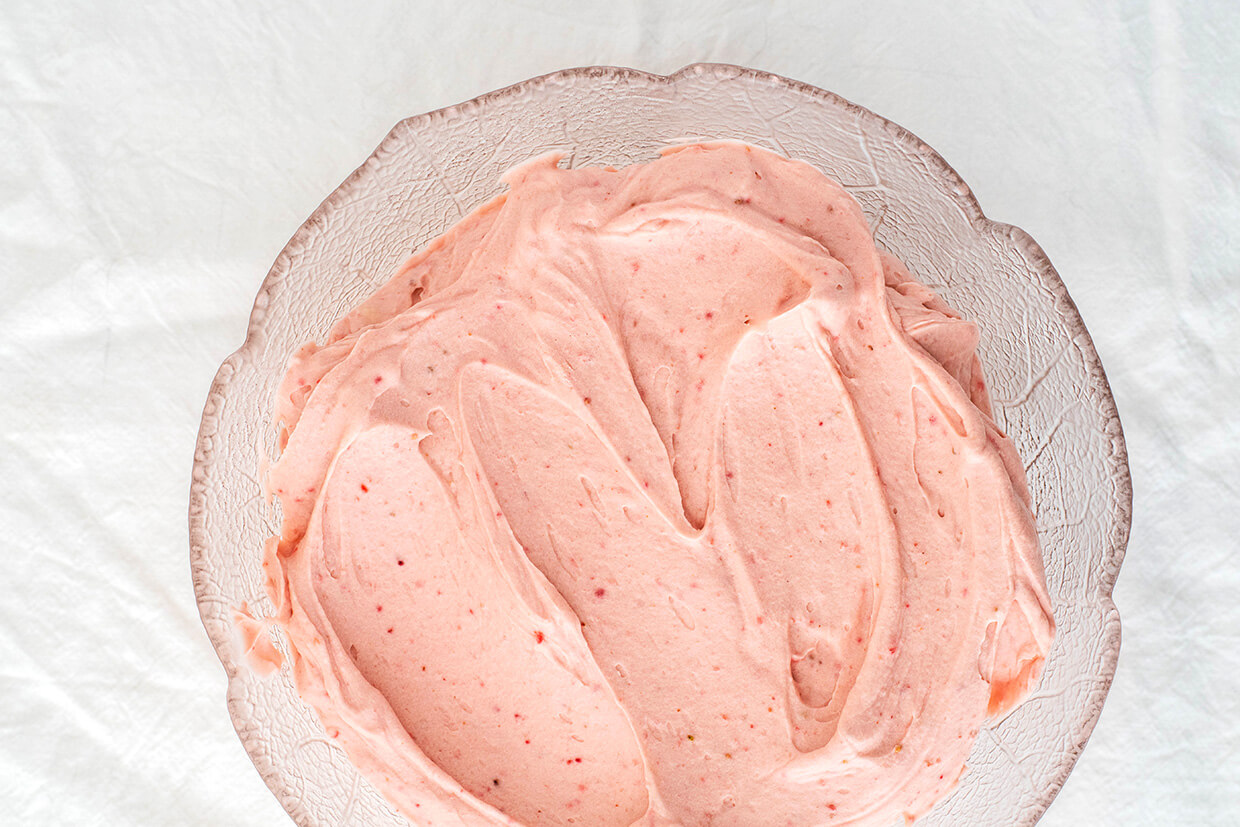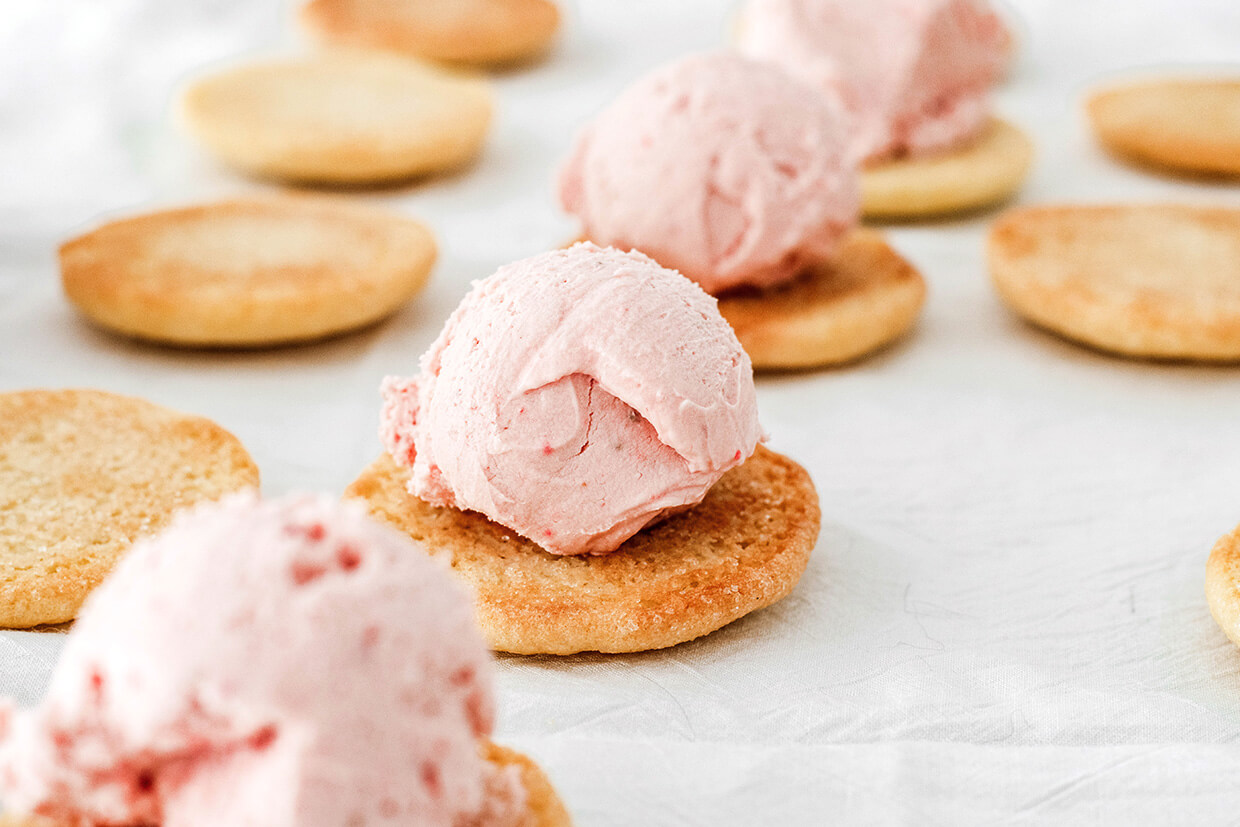 About the cream cheese filling
Okay, so these cheesecake sandwiches are filled with Philadelphia cream cheese, as I really like the taste of it. But did you know there are two types of this? There's block cream cheese, that's wrapped in silver foil. And there's tub cream cheese, the kind that comes in a plastic tub.
Everyone on the internet will tell you to use block cream cheese, as there is a difference between the two types. The biggest one being that block cream cheese has a stiffer texture. While tub cream cheese is more spreadable, which makes it delicious for eating, but not always the best for recipes. That is because tub cream cheese has a higher water content (thus being a great spread). Maybe there are even more differences between the two, but that one is the most noticeable. 
Much to my disappointment, you can't find block cream cheese in Slovenia. And as I was obsessively Googling for a place that has it, I actually realized that you can't get it in most, if not all of Europe. Honestly, I thought I was overreacting for a second. I tend to do that, but you'd be surprised at the amount of discussion about this online.
I mean, it's just cream cheese, until it isn't. The world is so interconnected nowadays (thank you internet) that we're all able to find recipes from all over and American recipes often call for block cream cheese. If you watch food hauls on Youtube (I have a weird fascination with those) you can see people buying blocks and blocks of cream cheese. And there are quite a few Americans living in Europe too, so there is a demand for block cheese and a demand for solutions.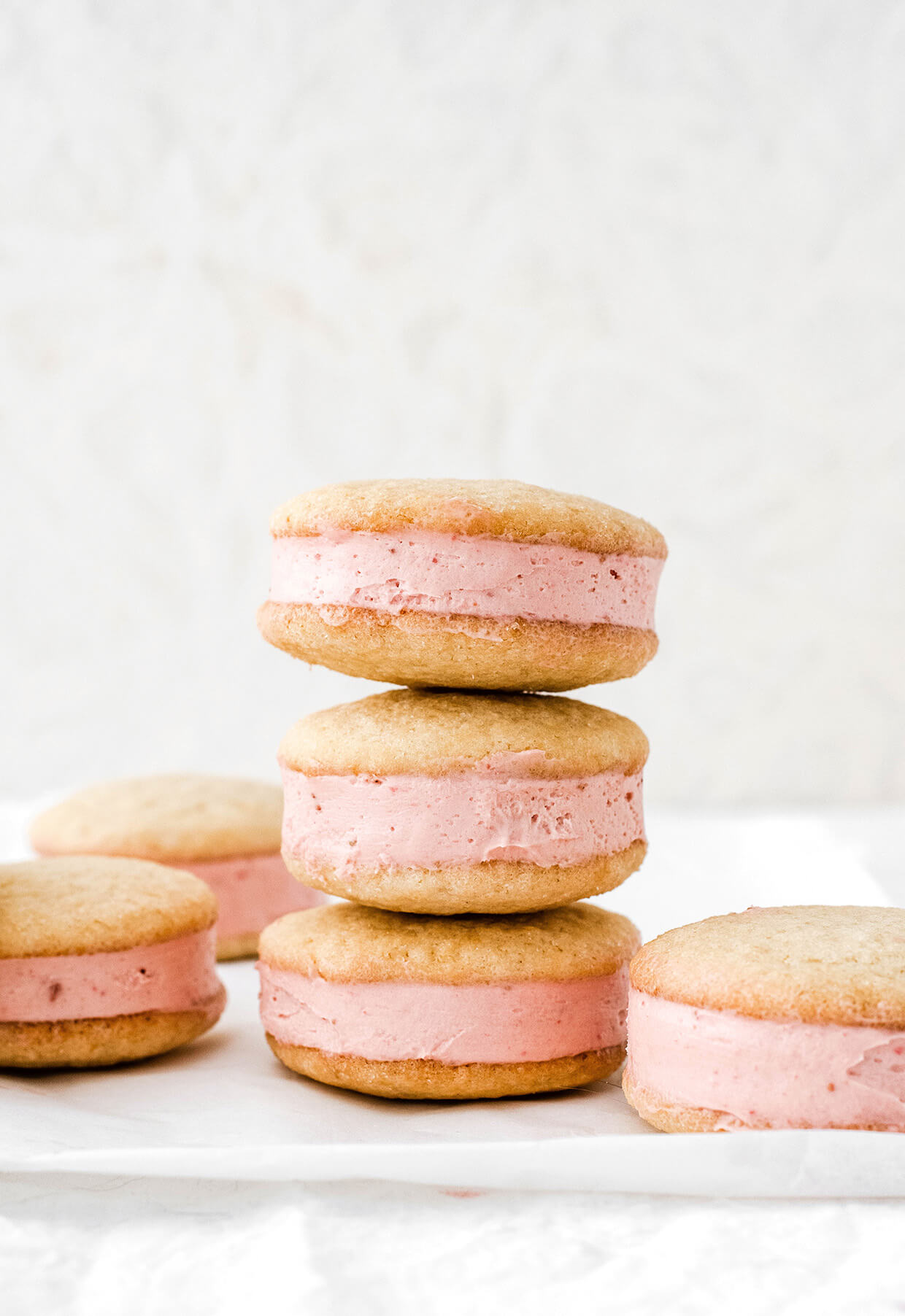 And I have a solution for you today!
Because my recipe for cream cheese filling is made with tub cream cheese. Yes, you actually can make cream cheese frosting (or filling) with tub cream cheese! Yay! If you've ever made the so-called original cream cheese filling, you know that it is made with more cream cheese than butter. All of the recipes I've read also use a lot of sugar. But I've completely flipped the ratios here, in my effort to make the tub cream cheese work. And it does work! I just think this is the best tub cream cheese filling ever!
It works because of a different ratio of cream cheese to butter. I am using more butter and a little less of cream cheese. But before you give up on me because of this, you should totally try it! In a way this cream cheese filling could also be called a cheesecake buttercream.  I say that because the filling is super smooth and fluffy, like a really great buttercream. But it does still have that cream cheese tanginess to it.
And as you read through the recipe, you'll notice I'm also not using that much sugar, to make up for that butter. This cream cheese filling only uses 1 cup of sugar. That is much less than some traditional recipes use, but it is still plenty, trust me.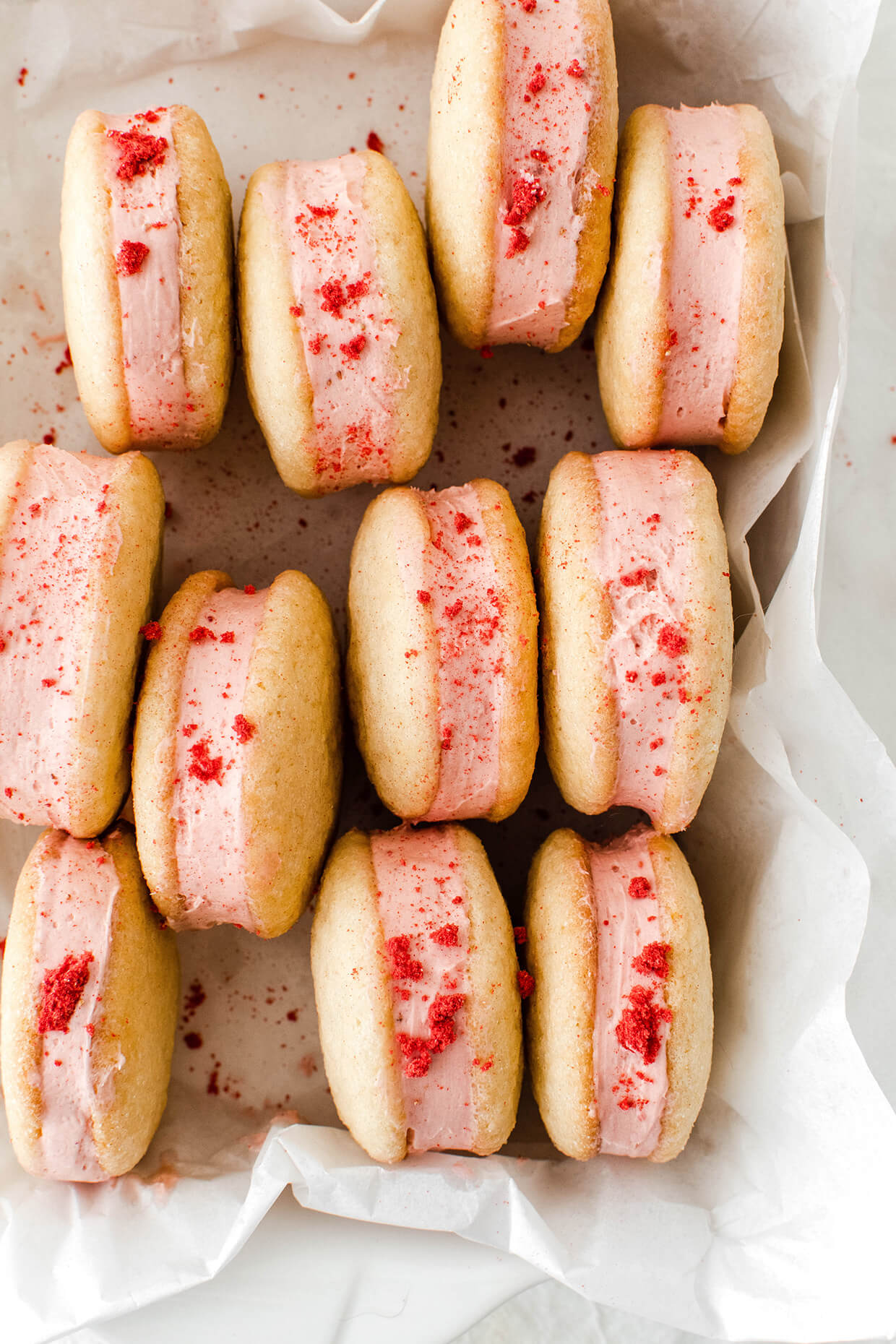 Okay, what about the strawberries?
Because we're making this cream cheese filling with tub cream cheese, which already has enough water in it, we don't want to add even more liquid to it. As I was testing this recipe I first used fresh strawberries cooked into a puree, but that didn't work out. My goal was to make a filling that sets in the refrigerator, so that if I wanted to pipe the filling, I could. Well, fresh strawberries didn't really help with setting the cheese. The filling was way too creamy even after being in the refrigerator overnight. It was absolutely delicious, just not a good fit for this recipe.
This is why I'm using freeze-dried strawberries.
Quality freeze dried strawberries are just as aromatic and tasty as fresh strawberries, but without all the water content. And because we are using powdered strawberries in the recipe, you're really using more dry strawberries than you would fresh. All without altering the consistency of the filling, which makes the flavor incredible! Honestly, my whole refrigerator smelled like strawberry pie when I was chilling the sandwich cookies. I just cannot wait for you to experience the same thing. 
If you can't find strawberry powder, you can use any other form of freeze-dried strawberries: whole, sliced or chunks. That's because you can easily make your own powder using a blender or a food processor. My food processor is pretty big, so I prefer to use a blender for smaller portions. It takes less than a minute to blend a cup of dried strawberries into a perfect powder.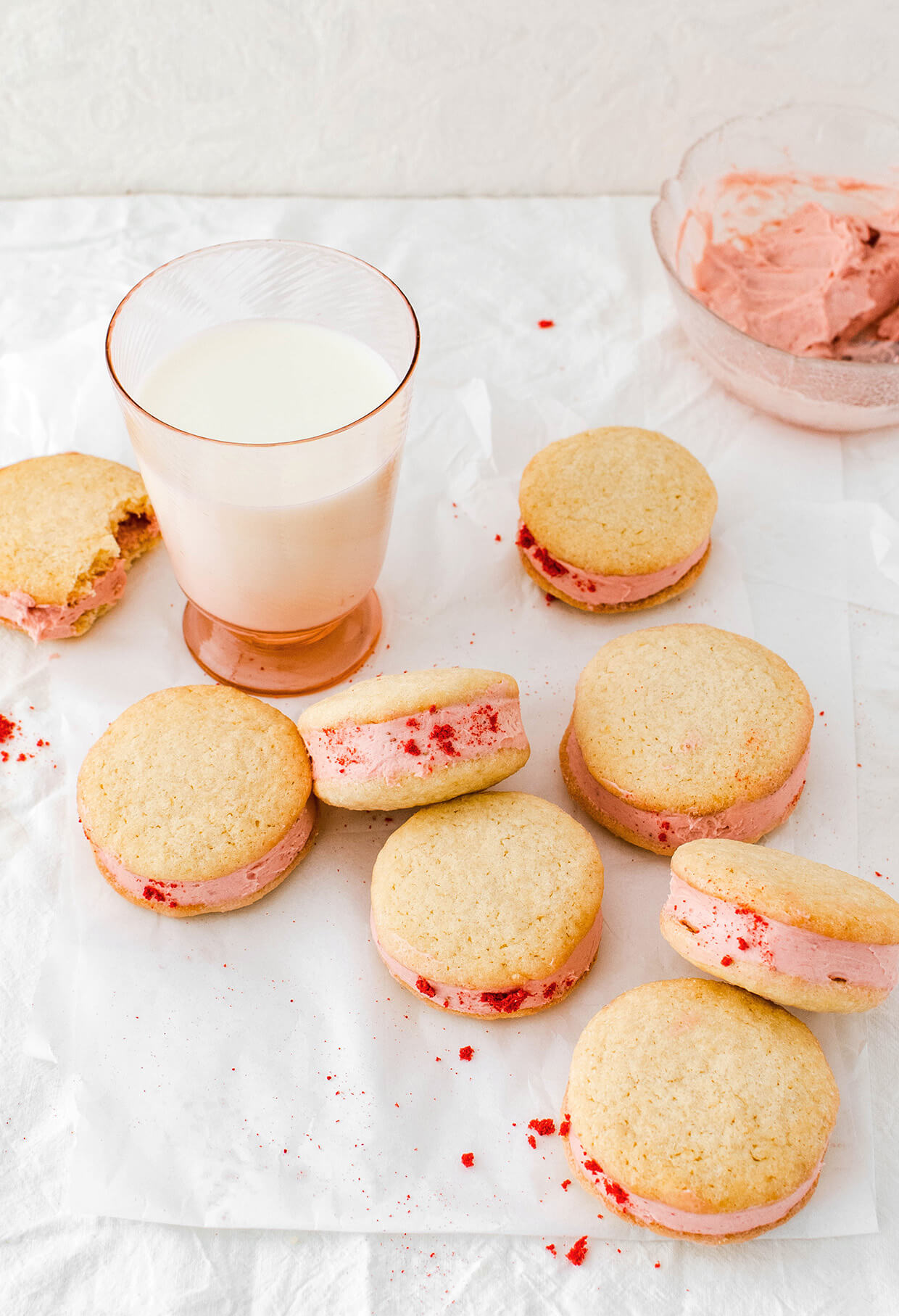 And a few other notes on these wonderful lemon strawberry cheesecake sandwich cookies
You can make these sandwich cookies ahead. You'll see that the cookie dough is really simple to put together. And as you bake the cookies right away, there is no need to chill the dough. Once baked, you can store cookies overnight in an airtight container, cookie tin or bag. You could maybe even freeze them as they're pretty standard in terms of the ingredients. I haven't tried this yet myself. However they hold up perfectly overnight. 
The filling can be made ahead as well. That's because prior to assembly, it needs to chill in the refrigerator anyway. So chilling it overnight makes no difference in terms of quality or taste. If anything, you'll know it's 100% set if you do leave it alone overnight. If it's too stiff at first, let it sit at room temperature for 5-10 minutes before assembling the cookies.
As you can see from the photos, these lemon strawberry cheesecake sandwich cookies are pretty stuffed. You could use less filling, but I just love how full these are. As mentioned earlier, the filling will set nicely when chilled long enough. Really, there's no fear that these would fall apart even with the generous amount that is packed in. I probably played with them for an hour, thinking of different photo set-ups and such. As you can see they all look really good despite me moving them around so much. 
Always refrigerate
These sandwich cookies have both butter and cream cheese in the filling. That's why they need to be kept covered in the refrigerator and they will hold up really well for 2-3 days. They'll look great even after that, but remember you're using such fresh ingredients.  Those are both temperature and time sensitive, so I wouldn't actually eat them after that period.
With that said, they will survive at room temperature for a while. So if you're throwing together a celebration, these can easily wait on a plate for some time. I wouldn't leave them out hours ahead, but they can be enjoyed for dessert with a drink on the side without you worrying about them. I'd say they can last at least an hour, before the filling gets too soft to be enjoyable. That is if they're not exposed to really high temperatures. In that case it's better to keep them someplace cool.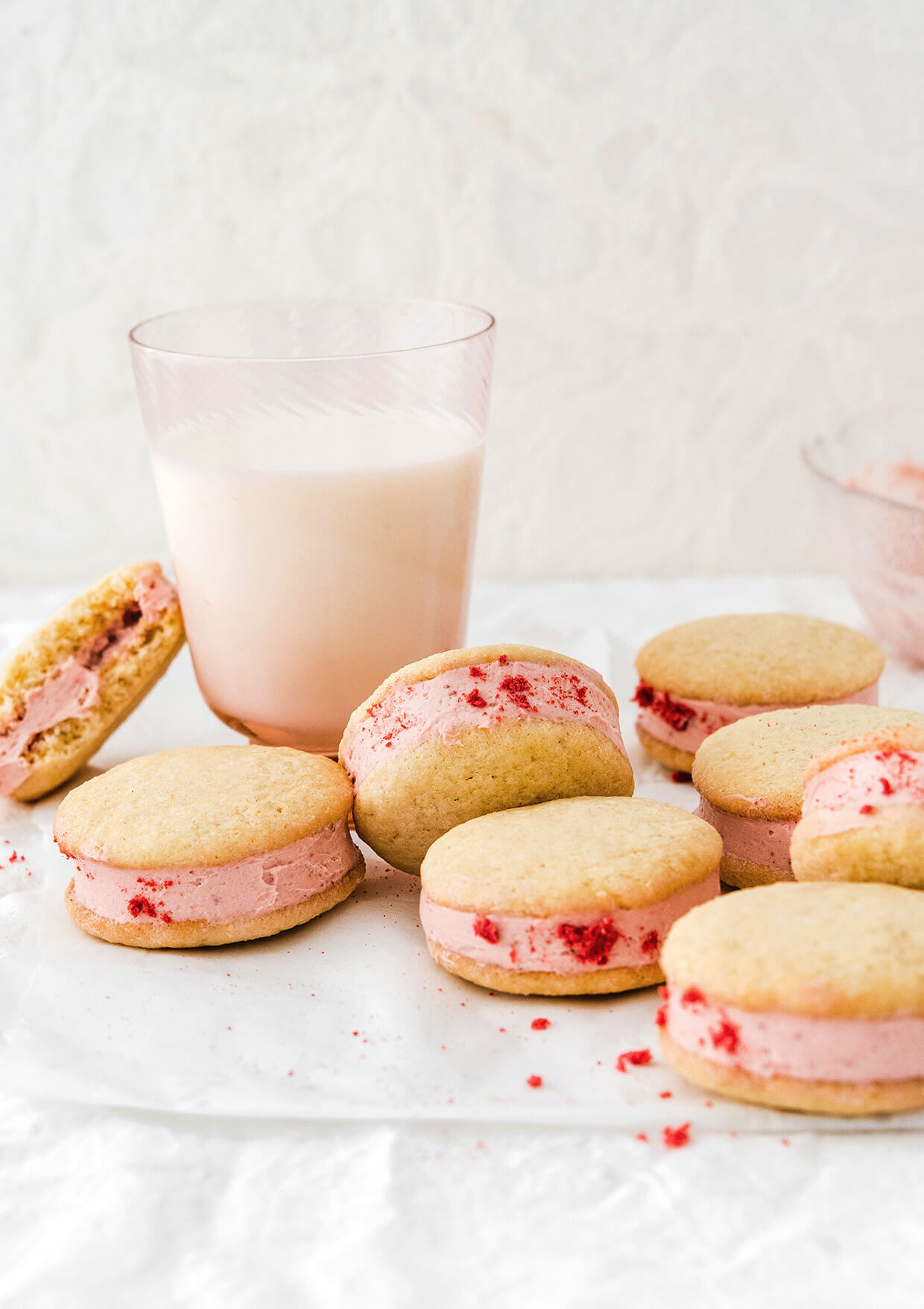 Maybe you're wondering if you can freeze these?
I would say no. I know people freeze buttercream with great success, but this filling has cream cheese in it. My guess is that cream cheese, just like any soft cheese with a high water content (ricotta, mascarpone, etc.) doesn't freeze well. Once you thaw something like that, the water tends to be an issue. The situation would be different if you had to bake the cookies later on. Imagine baking a cheesy pasta dish, that you could just throw in the oven frozen and the water from the cheese wouldn't be an issue. However, since these sandwich cookies are what they are… sadly you can't freeze them.
After everything I just said, the most important thing about these sandwich cookies is that they are just so delicious. Generously stuffed with the creamiest strawberry cream cheese buttercream-of-sorts, they are sweet and fruity with just enough of tang and citrus notes and they are pretty! You can roll assembled sandwiches in some strawberry powder for that extra flair. But even without this extra step, the pink filling alone will catch everyone's eye. And it's all natural! 
All aboard the lemon-strawberry train! Choo choo!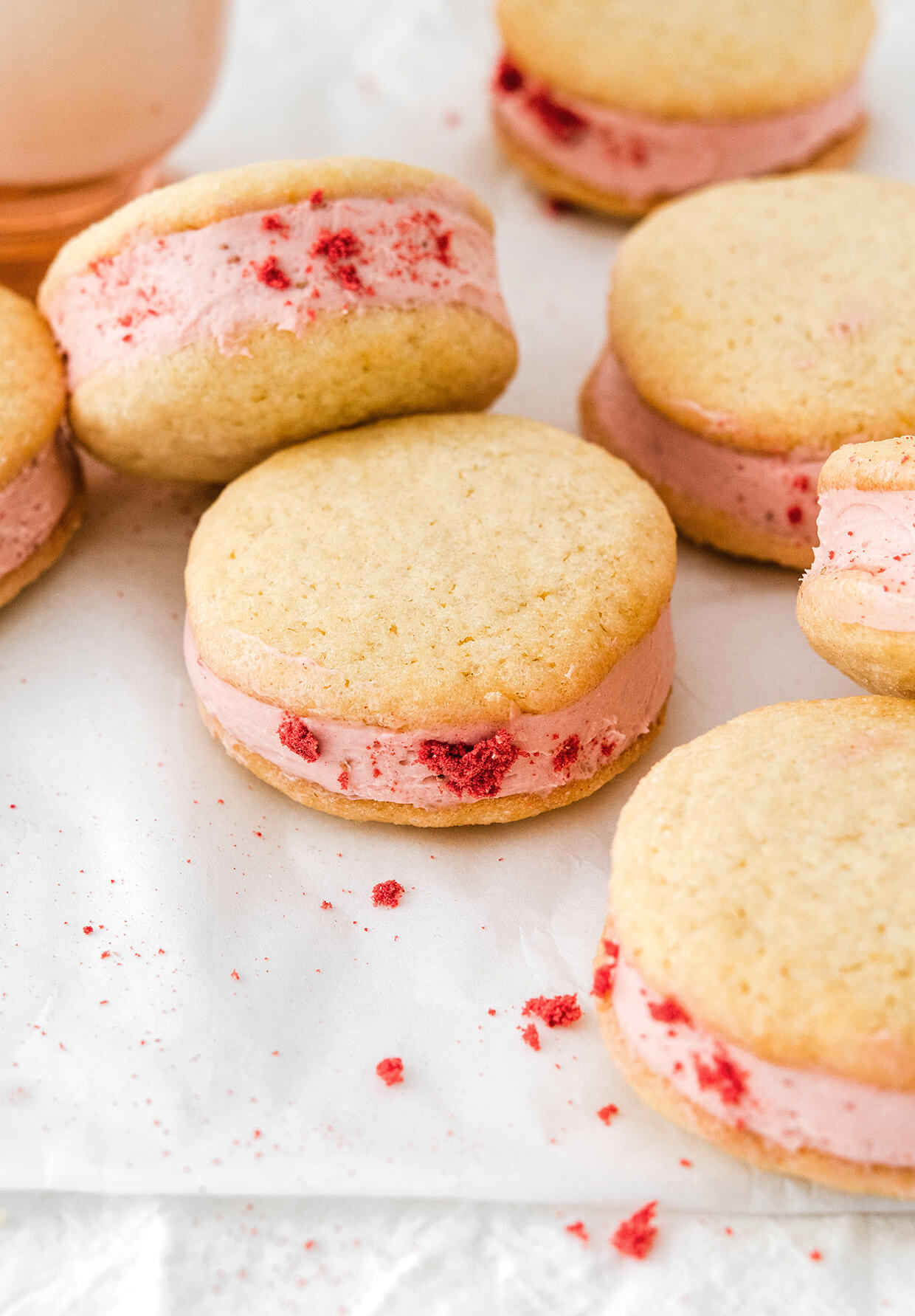 Lemon strawberry cheesecake sandwich cookies
These sandwich cookies are a true delight! Super stuffed with cream cheese filling, they are easy to make and are a great dessert for birthdays and celebrations.
Ingredients
Cookies
1

stick

(

115

g

)

unsalted butter

,

softened

3/4

cup

(

150

g

)

granulated sugar

1

large

egg

1

tablespoon

lemon zest

2-4

drops

lemon oil

,

(I use LorAnn oils)

1

teaspoon

vanilla extract

1/8

teaspoon

sea salt

1 1/2

cups

(

200

g

)

all-purpose flour

1/2

teaspoon

baking powder

1/3

cup

granulated sugar

,

for coating the cookies
Filling
13

tablespoons

(

180

g

)

unsalted butter

,

softened

1

cup

(

160

g

)

powdered sugar

9

oz

(

260

g

)

cream cheese

,

at room temperature

1/4

cup

(

60

ml

)

strawberry powder (freeze dried)

,

plus more to taste
Instructions
Make the cookies
Preheat oven to 375°F (190°C) and line two baking sheets with parchment paper (or silicone mats), set aside. 

Combine butter and sugar in a large bowl and beat until creamy. Whisk in the egg, lemon zest, lemon oil, vanilla and salt, beat until combined. Add the flour and sprinkle baking powder all over, then mix until the dough comes together. It should be smooth, with no dry patches, and soft. 

Scoop the dough into 28 pieces, roll them into balls. Roll each one in granulated sugar, place on baking sheets and press flat. You want them to look like medallions, about 1/4 inch (0.5 cm) thick. As the dough is soft, you can shape it at the sides to make perfect circles. 

Bake cookies for 8-9 minutes, until golden brown at the edges. Remove from the oven and let cool completely. 
Make the filling
Beat butter and sugar in a medium bowl until creamy and smooth. Add cream cheese and whisk until completely blended. Lastly, whisk in strawberry powder. Taste and add more sugar or powder if desired.

Cover the filling and chill in the refrigerator for 1-2 hours, even overnight, before assembling the cookies because the filling needs to harden first. 
Assembly
Add a heaping tablespoon (I use an ice cream scoop) of filling onto half of the cookies. Cover each one with another cookie then gently squeeze together until the filling is coming out at the sides.

Swipe away any excess frosting with a knife or spatula. If desired, sprinkle the sides with some strawberry powder as a decoration. Chill the sandwiches until serving time.

The sandwiches can sit at room temperature for 15-30 minutes before serving. Keep leftover sandwich cookies in the refrigerator and eat within 2-3 days.
Notes
The ratios used in the filling are the way that they are because I am using Philadelphia cream cheese from a tub. It is softer than block cream cheese, so you need to add more butter for the filling to hold its shape. However, I am using way less sugar than a classic cream cheese frosting uses. You can add more sugar to taste, but keep in mind that the cookies are already sweet and you don't want to overdo it.
If you can't find strawberry powder, buy freeze-dried strawberries (whole or sliced). Add them to your blender (or food processor) and blend until they turn into a powder. You need about 1/3 to 1/2 cup of sliced or whole strawberries, to produce 1/4 cup of strawberry powder. You can use more, depending on your taste. I found that 1/4 cup was about enough for that amazing flavor and color.

 

Keep leftover strawberry powder in a ziplock bag or airtight container, stored in a dry and cool place. You can use it in other baking recipe or add it to your smoothies, yogurt, oatmeal. 
Email recipe
Pin Recipe