If you're looking for a cocktail without alcohol that goes with everything, look no further. This Elderflower blueberry lime virgin cocktail is the answer. A refreshing mocktail that's fruity and floral with just the right amount of sweetness and bubbles. Made with few ingredients you can keep at home at all times. It is a perfect pairing for brunch and easy dinners.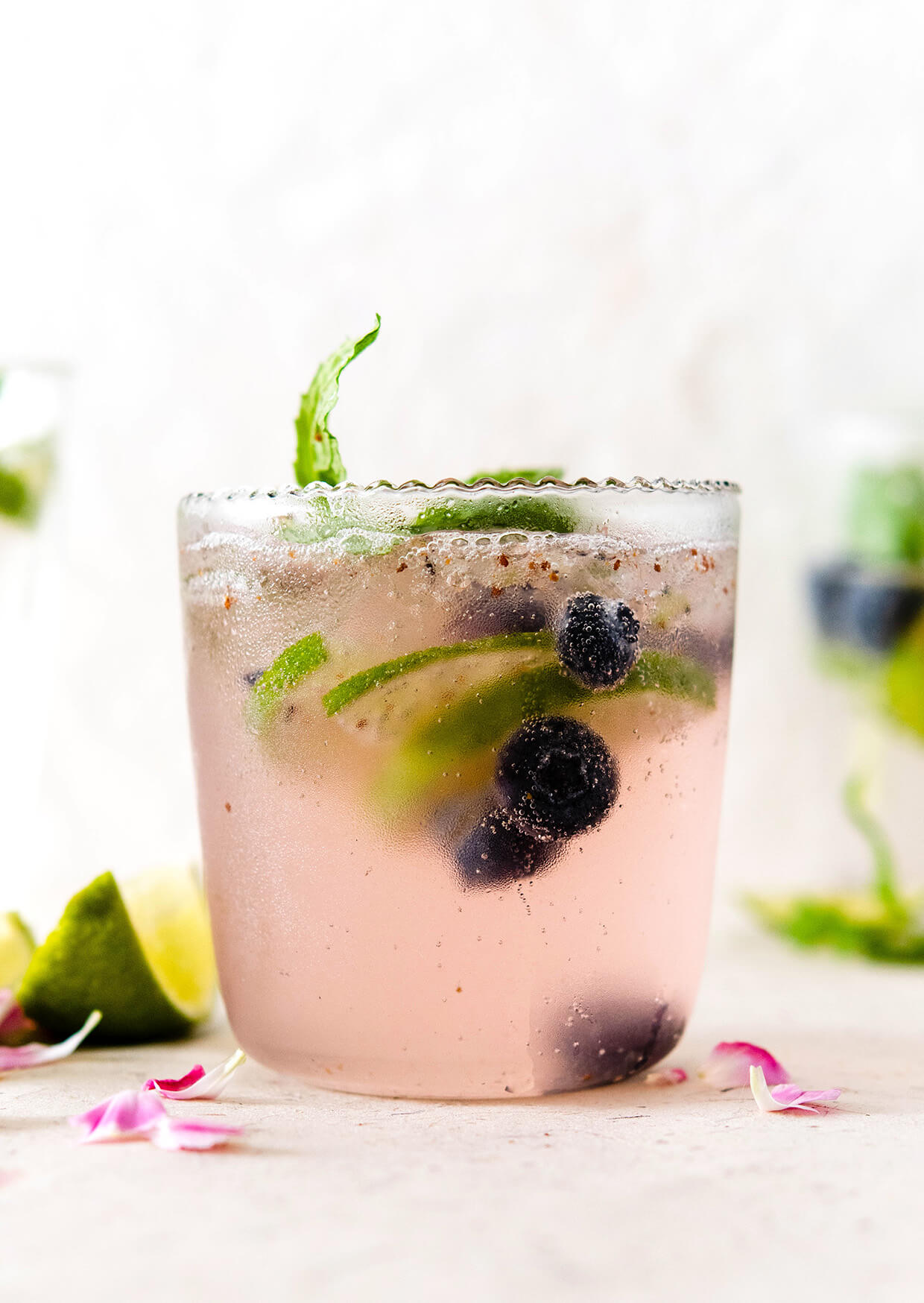 I mix elderflower syrup into drinks whenever possible and that's what is happening today with this elderflower blueberry lime virgin cocktail. If we break it down, you'll see it's very easy to make and you only need a few ingredients. That's because the elderflower syrup is magic and when you put it in a drink, you're basically done. It'll do the work for you.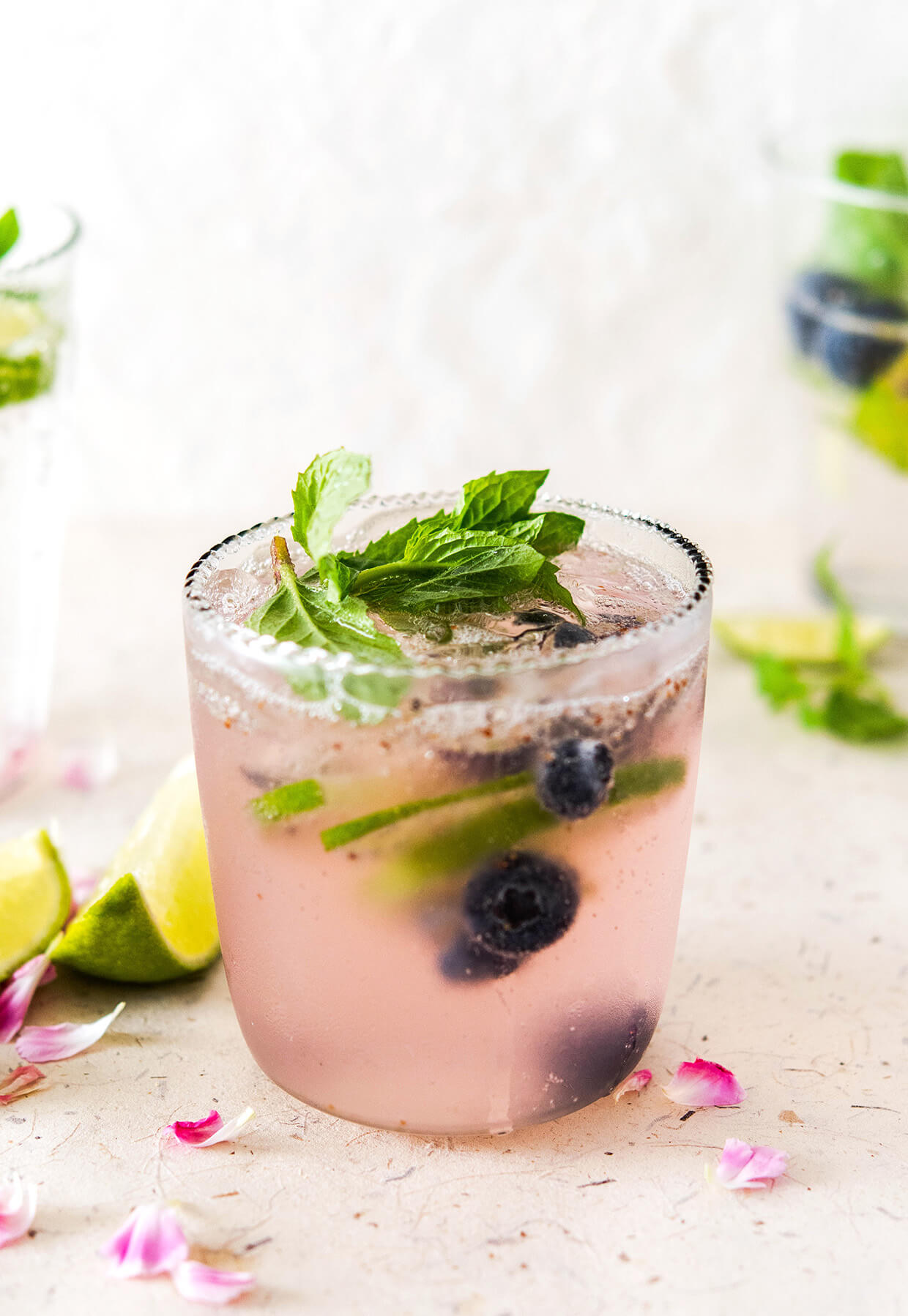 So we have the elderflower syrup that's smashed together with blueberries. You can use fresh or frozen, that's up to you. The key is in smashing them, so you get some of that blueberry flavor and color out.
Next ingredient in line is fresh lime juice, that cuts the sweetness of the syrup and adds a refreshing tone to this wonderful non-alcoholic cocktail. Then all you need is some garnish like lime slices and mint leaves, plenty of ice and a good amount of sparkling water.
Personally, I love using Slovenian mineral water in this and if you can get mineral water, you should totally use that. It's naturally carbonated and so good. However for entertaining purposes and ease, I think club soda or seltzer are great in this recipe too.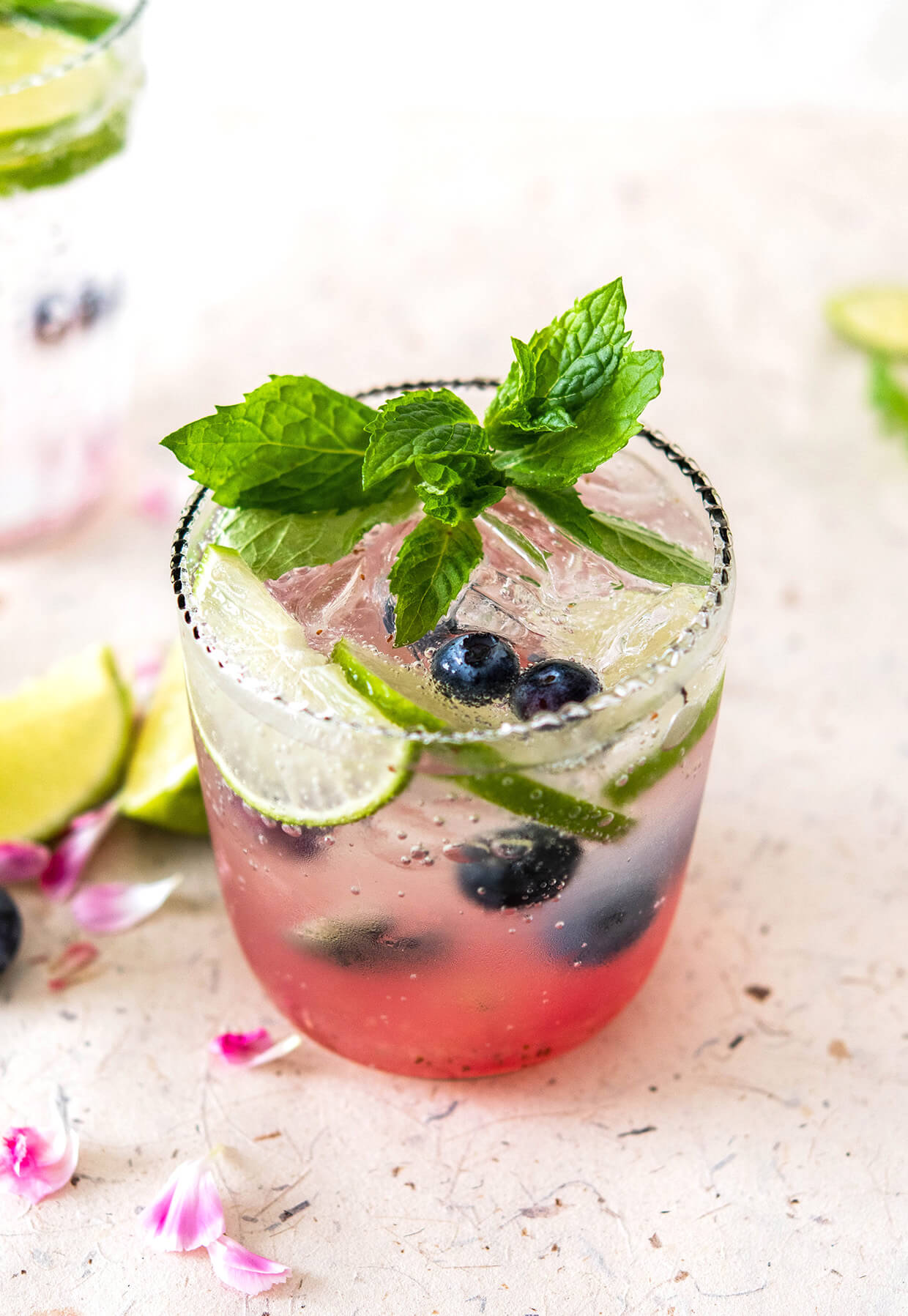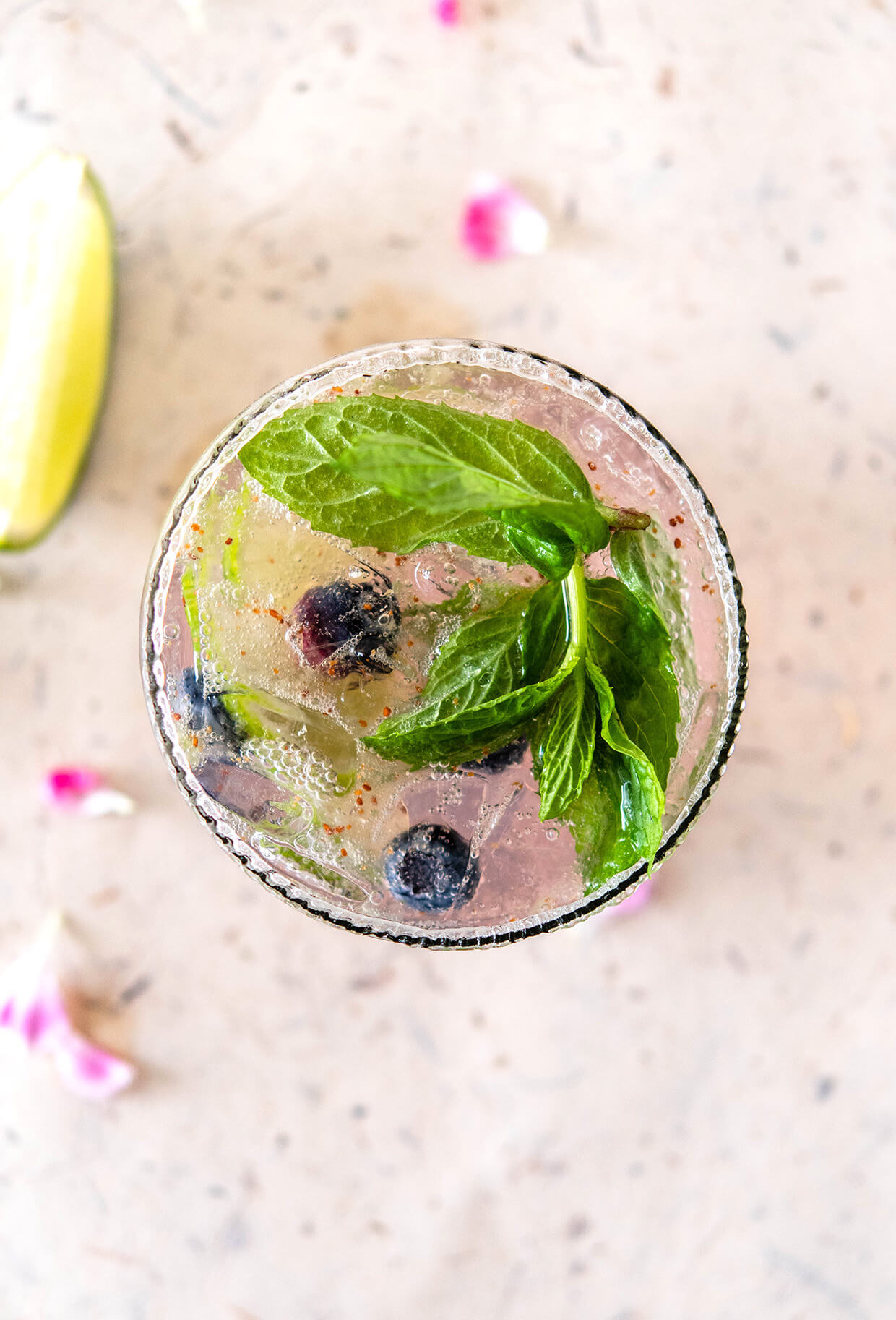 Elderflower syrup
I know elderflower syrup is kind of specific, depending on where you live. We have an abundance of it in Slovenia, because it's such a typical drink for us (I even have a recipe for it, if you're interested), but I understand some of you might have to look a bit harder to find it. Well, I have to say I've tried Ikea's syrup and I really like it, so look into your local Ikea to see if they have it. You can also get it on Amazon.
One bottle of syrup will last you a long time. And elderflower has such a unique floral flavor, it really makes any drink amazing. You only need about a tablespoon per drink, at most 2-3 tablespoons, depending on your personal taste. Some people like elderflower drinks on the lighter side, but others enjoy a stronger, sweeter mix. However if you're adding it to other ingredients, start lightly and build up the intensity slowly. Personally, I love to add to iced tea.
Next to elderflower syrup, the other ingredients are so easy to get and store. With limes, you can get a bunch and keep them in the fridge so they last longer. Blueberries are good fresh or frozen. And mint? Well, that's actually optional for a garnish, but with summer around the corner, you'll be able to either buy it or grow it in abundance.
More blueberry recipes for you to explore: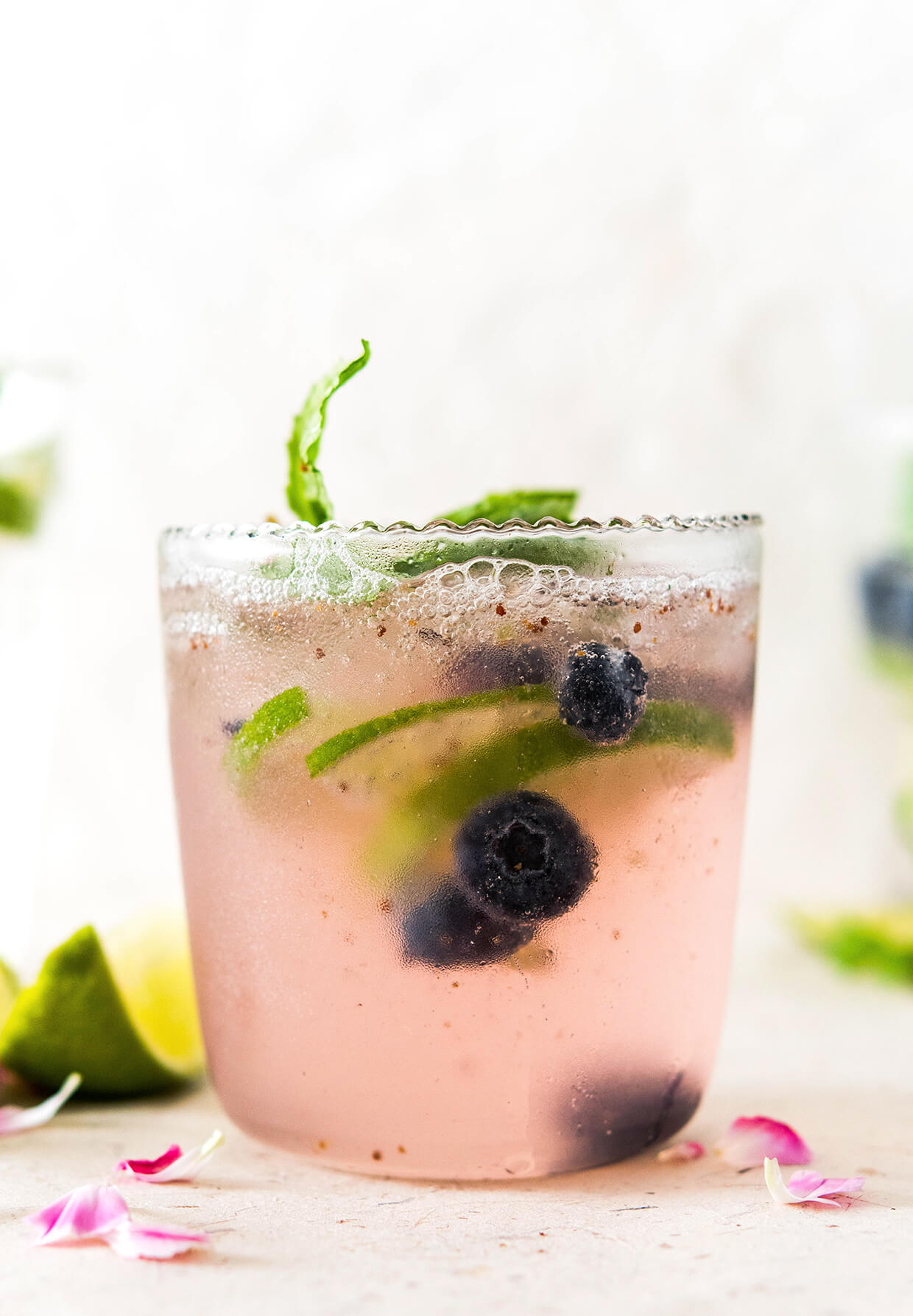 Elderflower blueberry lime virgin cocktail
This elderflower mocktail is a refreshing and bubbly non-alcoholic cocktail that goes with everything! Very mellow and lightly sweet.
Ingredients
2

tablespoons

(

30

ml

)

elderflower syrup

1-2

tablespoons

(

15-30

ml

)

fresh lime juice

small handful of blueberries

,

fresh or frozen

1

cup

(

240

ml

)

mineral sparkling water

a handful of ice

fresh mint

,

for garnish

lime slices

,

for garnish
Instructions
Combine elderflower syrup, lime juice (adjust the amount to your preference) and blueberries in a glass. Lightly mash them all together with a muddler, so that some blueberries break and release their juices.

Top with ice and lime slices, pour over mineral water until it reaches the edge of the glass. Add mint leaves and a straw, if desired. Serve.
Email recipe
Pin Recipe