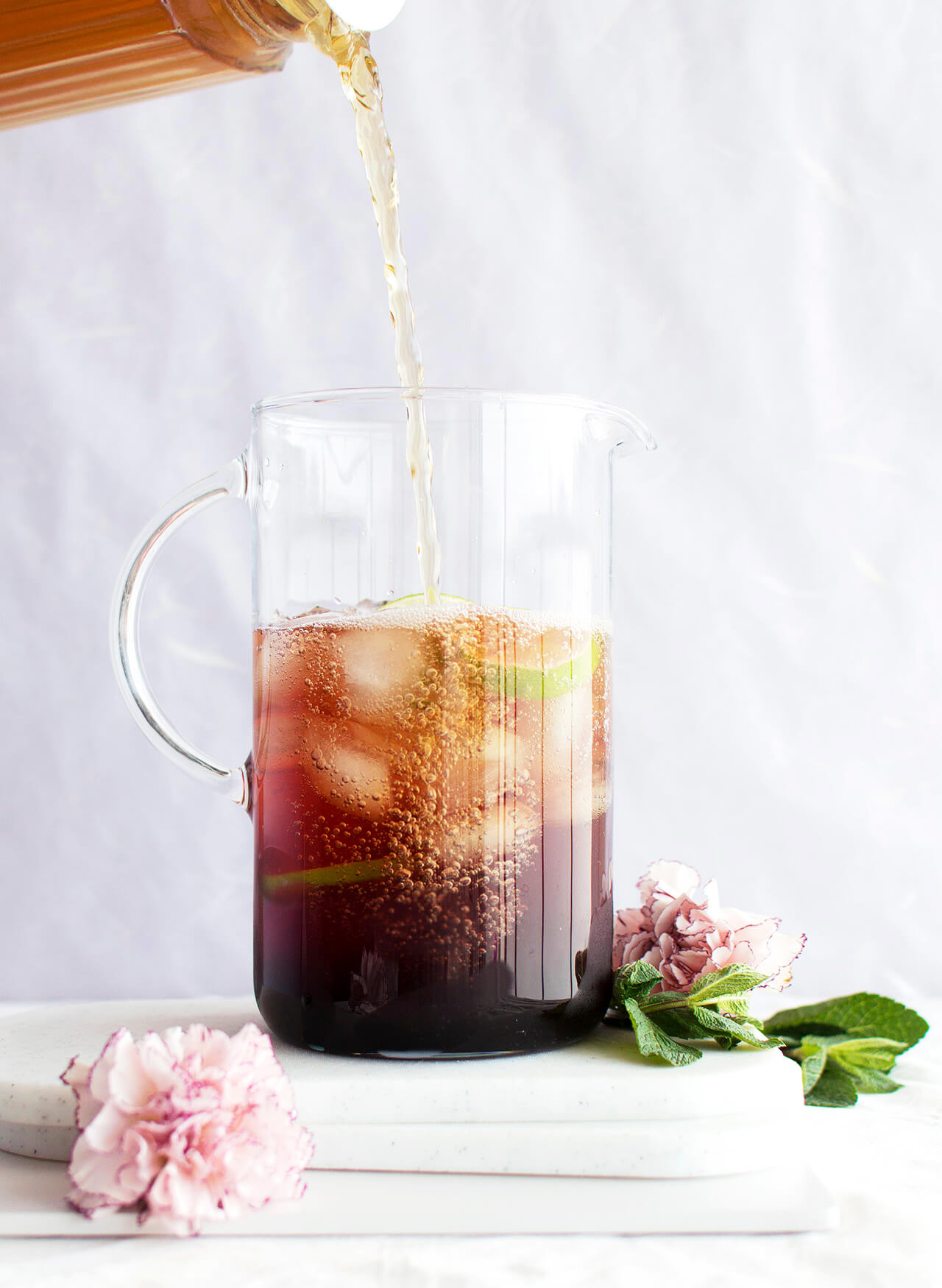 I'm currently listening to the sound of heavy machinery right outside my window. Well, the actual rumbling, digging, sand dropping is happening 5 storeys down, but it feels closer than that. They've been working on this street since last year and this month it finally looks like it'll get done.
They started way down the street. Old concrete out, new pipes in, sand, more sand, fresh asphalt all over. They've been expanding up the street and now they're finally at the corner of my building. And later this evening when I open the windows, I'll smell fresh asphalt. But at least it'll be quiet out.
Sometimes I wish I lived in the country, I think I'd enjoy it. But every time I really think about it, I don't know if I could do it 24/7. I don't think I was built for that. Maybe someday…
Kim is lying on the floor next to me. She's always close. By far the clingiest cat I've ever had. I know that if I get up right now and walk out the room she'll  follow me. Should I be flattered or worried? And as annoyed as I get sometimes, I humbly admit that I like how attached she is.
I'm also sipping my second cup of coffee. Strong, Turkish coffee with a splash of milk, just how I've always loved it. Which I think some of you know, if you've been reading me for a while. Anywho, I'll be switching to tea in the evening. I find that I just don't handle evening coffee well anymore. I used to do just fine, could easily drink 3-4 big cups a day. But not anymore. Give me coffee in the evening and I won't be able to shut my brain off and go to sleep.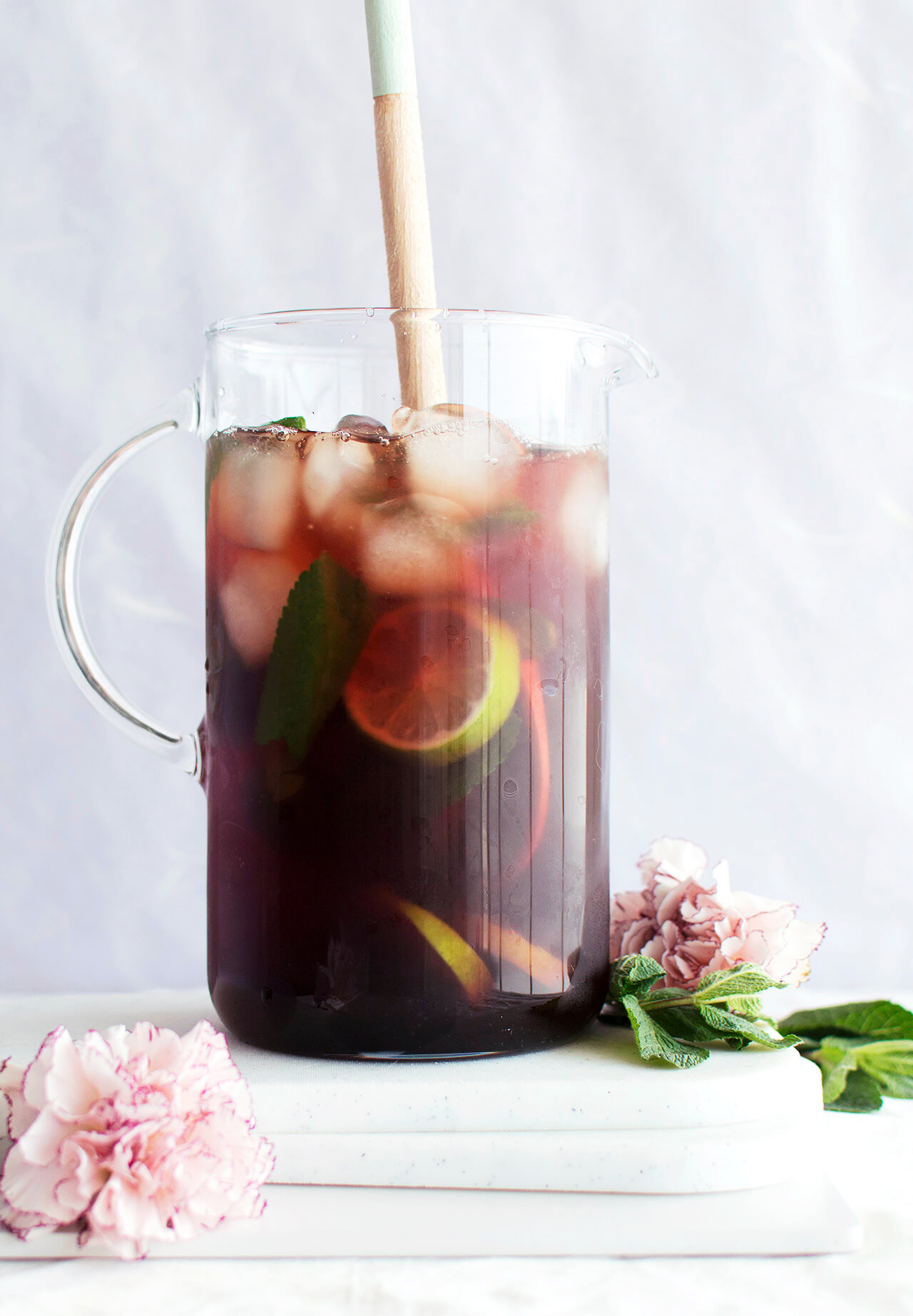 But let's talk more about tea. It's wonderful, isn't it? You know the recipe for this cold brew mint blueberry iced tea is actually one I've had stashed away from last summer. I never even photographed it, and then Fall came around and I knew I had to wait. And now I can't wait anymore.
I realize that some of you are still dealing with cold, even snow, and our ski resorts are definitely still milking the season… but the afternoons here in the city are getting pretty warm, so I see no reason to wait. I mean, I'm already back on the ice cream train, might as well start putting ice in my drinks again.
And oh boy is this Cold brew mint blueberry iced tea a DRINK! And non-alcoholic so everyone can enjoy it, of course. I just love homemade iced tea (see this chamomile tea or this nettle tea), because it actually tastes like something, it's not just sugar, water and aroma.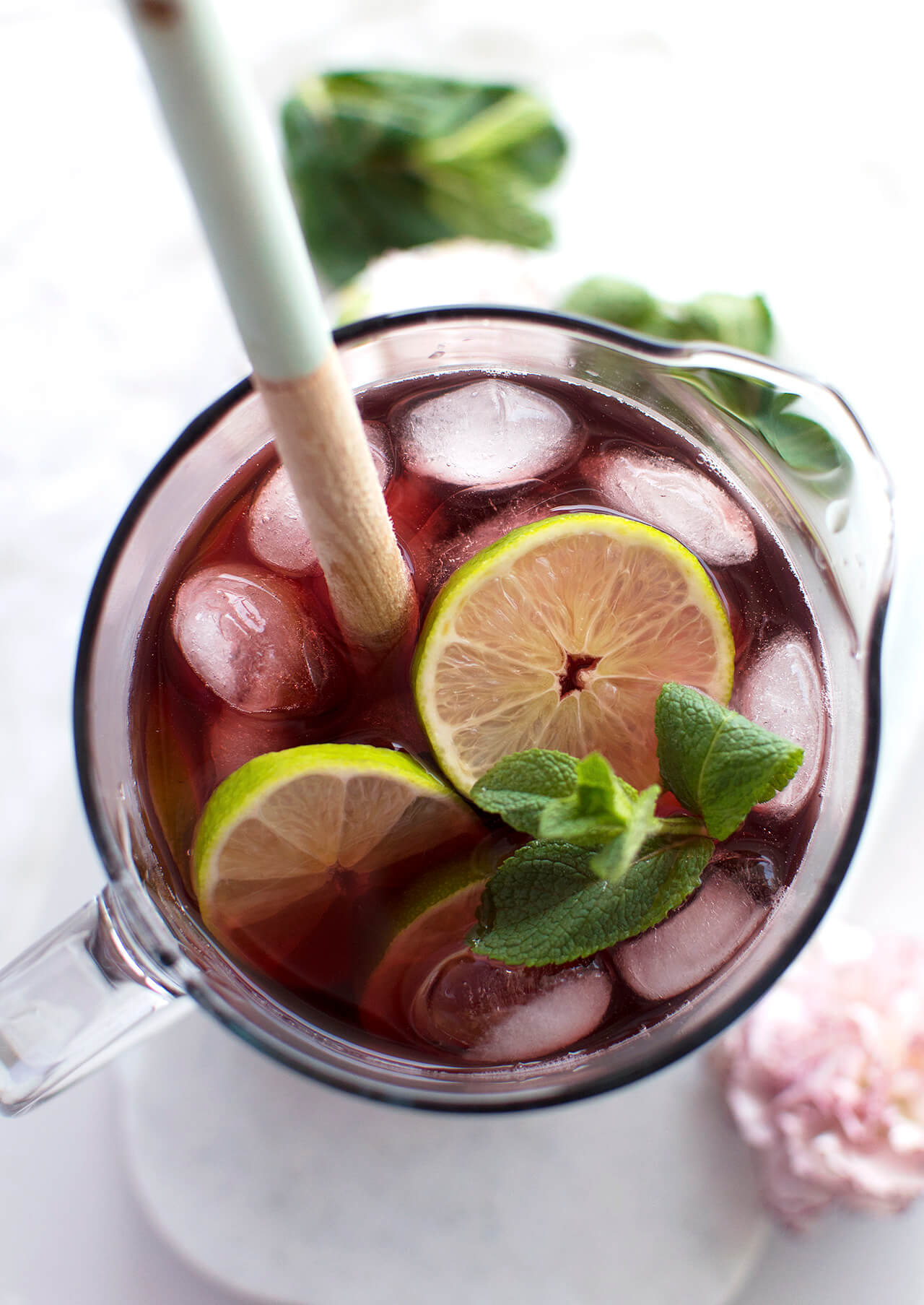 Okay, so I make the base with cold brew mint tea. To make things easier and more convenient I'm using tea bags, because my store isn't always stocked with fresh mint and I usually don't feel like going to 5 different ones just for that alone. So, I just take a jar of fresh water, put in 4-5 mint tea bags, cover it and let it sit in the fridge overnight. Then the next morning I wake up to fresh tea! Making cold brew tea at home is the easiest thing ever. 
Now, how do we make this mint blueberry tea? With blueberry simple syrup. Which is amazing and amazingly simple to make. I picked a different route this time and decided to skip blueberries in it's raw form. You can always make this using fresh blueberries, but I opted for pure blueberry juice.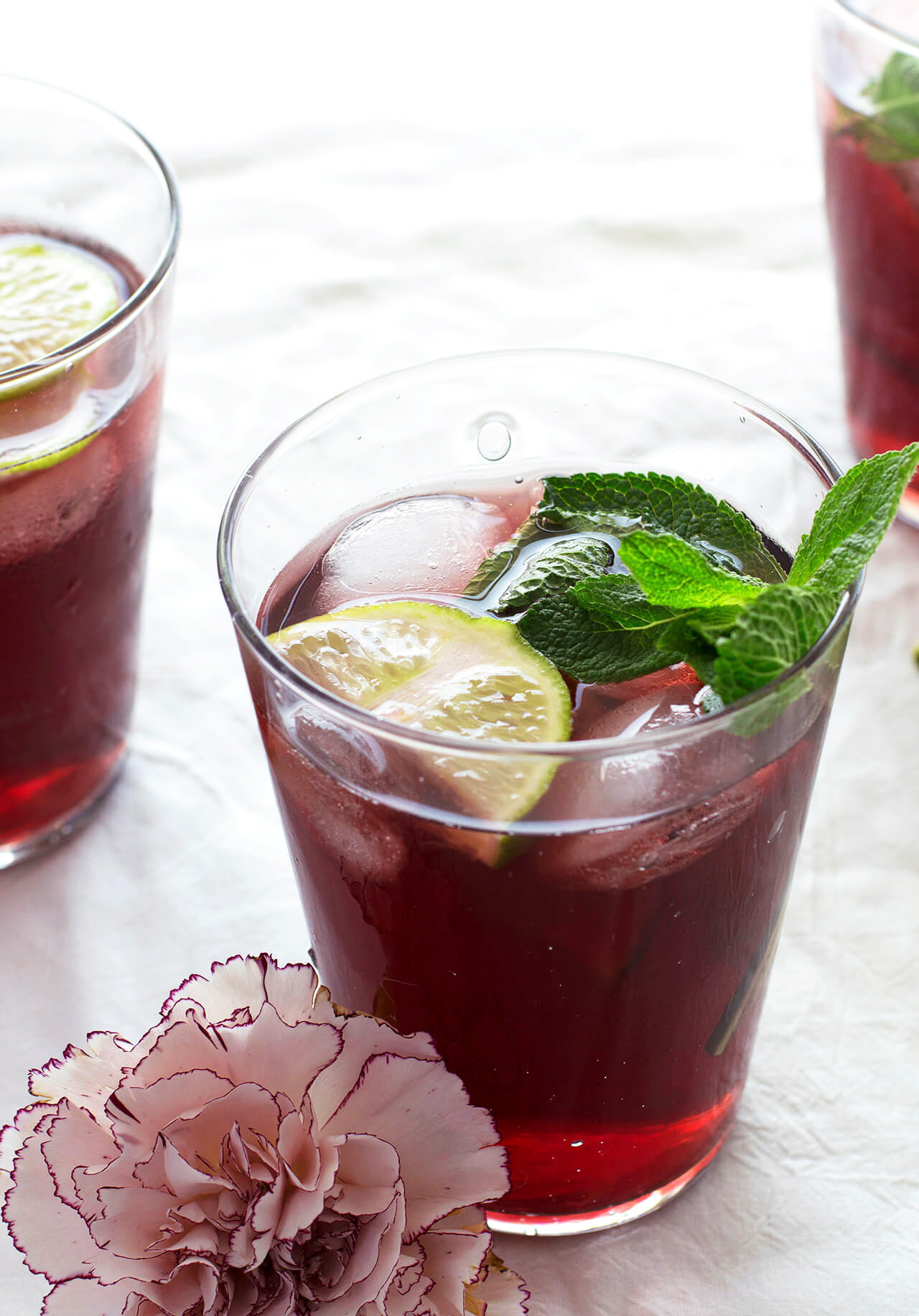 You can get blueberry juice at many different places. I find mine in the "healthy" section of the grocery store, next to all the vegan, organic foods. You can also get it on Amazon, if that is more convenient. Pure juice (of any flavor) is 100% juice, with no sugar, salt, additives. It's concentrated and very strong-tasting. In fact all the pure juices I've tried so far (blueberry, cranberry, pomegranate) are very tart. You might even say they taste bad. But that just means they're good.
You want that pure, concentrated flavor. You can drink a juice like that diluted with water, to enjoy its benefits or you can use it to make syrup, like I did. A classic simple syrup that you use in drinks is made with one part water and one part sugar. But I made the blueberry syrup with 1 part sugar and 1 part blueberry-water mix. The end result is magic! You get a deep violet-red syrup, sweet and bursting with blueberry flavor.
And that's it! The mint tea and blueberry syrup make a wonderful foundation, the rest of the ingredients are like adding lipstick and mascara. I love fresh mint and limes, but you could also try adding other citrus or berries.
I know I'm biased since this is my recipe, but I think you'll trully adore this Cold brew mint blueberry iced tea. It's so refreshing and mellow and definitely not overly sweet. You'll get enough blueberry syrup with this recipe so you can adjust the sweetness to your taste.  All the flavors – mint, blueberry, lime – are like poetry in a glass. Perfect for Spring and Summer, whether it's snowing or sunny outside.
Print
Cold brew mint blueberry iced tea
Refreshing and mellow iced tea, perfect for any occasion.
Author:
Prep Time:

5 mins

Cook Time:

10 mins

Total Time:

15 mins

Yield:

2 pints

1

x
Category:

Drink
Tea
1

L (4 1/3 cups) water

5

mint-flavored tea bags

60

ml (1/4 cup) pure blueberry juice

60

ml (1/4 cup) water

210g

(

1 cup

) granulated sugar
For serving
2

limes, sliced
a big handful of fresh mint
ice cubes
Instructions
Pour water into a large pitcher, add tea bags, cover with lid and refrigerate overnight or for 12 hours or more, for maximum flavor. Discard tea bags.
Make blueberry syrup:
Combine blueberry juice, water and sugar in a small saucepan. Stir to dissolve and bring to a simmer over medium heat. Let syrup simmer for 5 minutes and stir it occasionally so it doesn't stick. Remove syrup from heat and transfer it to a heatproof jar. Let cool completely, then store covered in the refrigerator for up to a week.
When you're ready to make the iced tea, fill up 1/3 of a large pitcher with ice. Pour over 1/2 of the syrup (or all of it for a really sweet tea), then the mint tea. Add sliced limes and mint. Stir with a spoon and serve.
SaveSave