These strawberry mascarpone cream cups are the perfect quick dessert. Something you can whip up on a hot summer's day, when you're craving something refreshing and sweet. They are great to serve to guests and can be made ahead of time.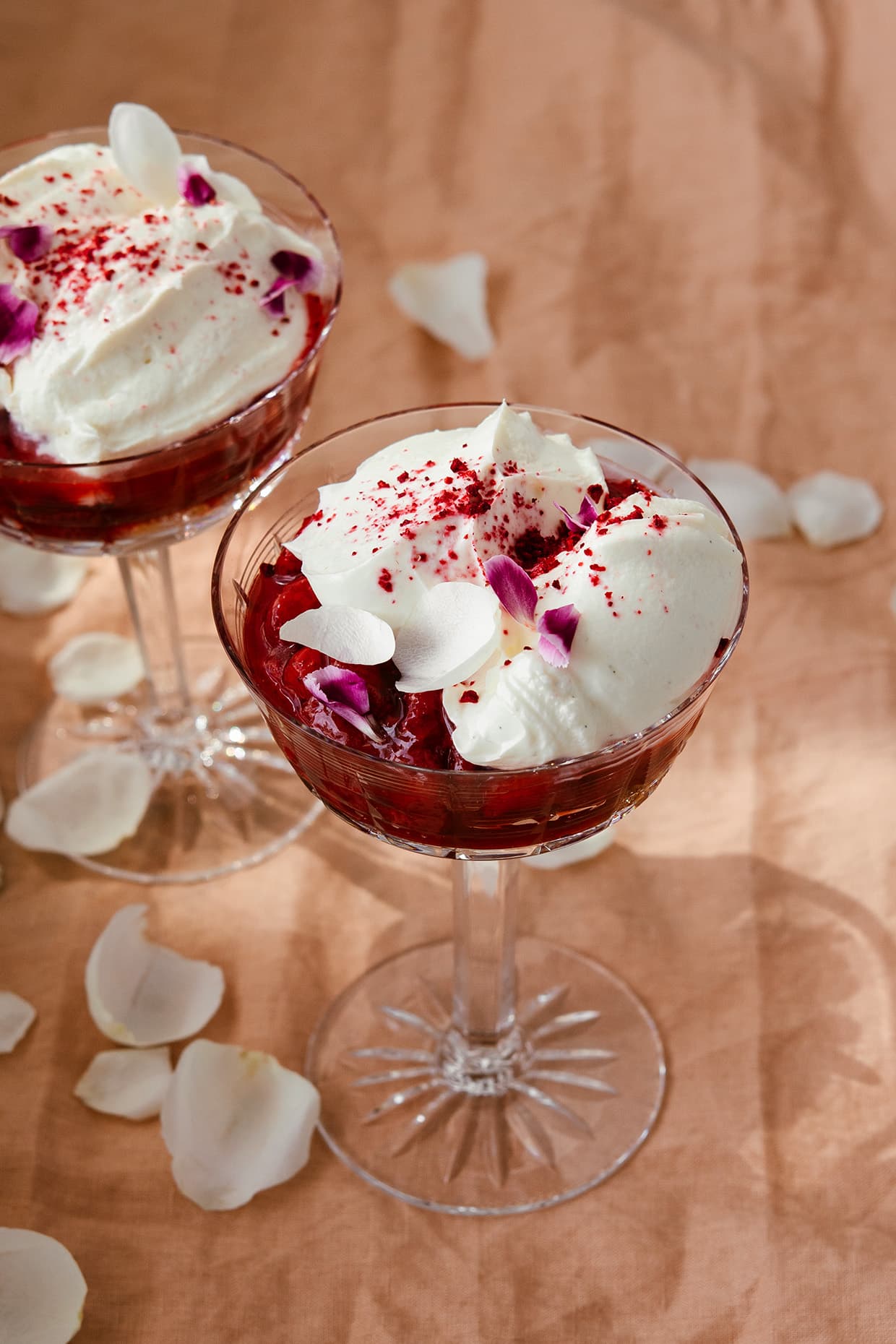 Strawberries and cream are one of my favorite food combinations and I know I am not alone in this. It's about as cliche as it can get and for good reason. They just fit so well together! Juicy ripe strawberries covered in a fluffy blanket of lightly sweetened cream. What's not to love about that?
Well my strawberry mascarpone cream cups are an upgraded version of that. I make them with three delicious layers that become even better when mixed together:
slices of pound cake (store bought to make it easy!)
quick strawberry sauce made with fresh strawberries and a splash of rosewater
a velvety whipped mascarpone topping
You can use a lemon pound cake for even better flavor, because lemons love strawberries. Or you can also make this with a chocolate one for a different kind of dessert.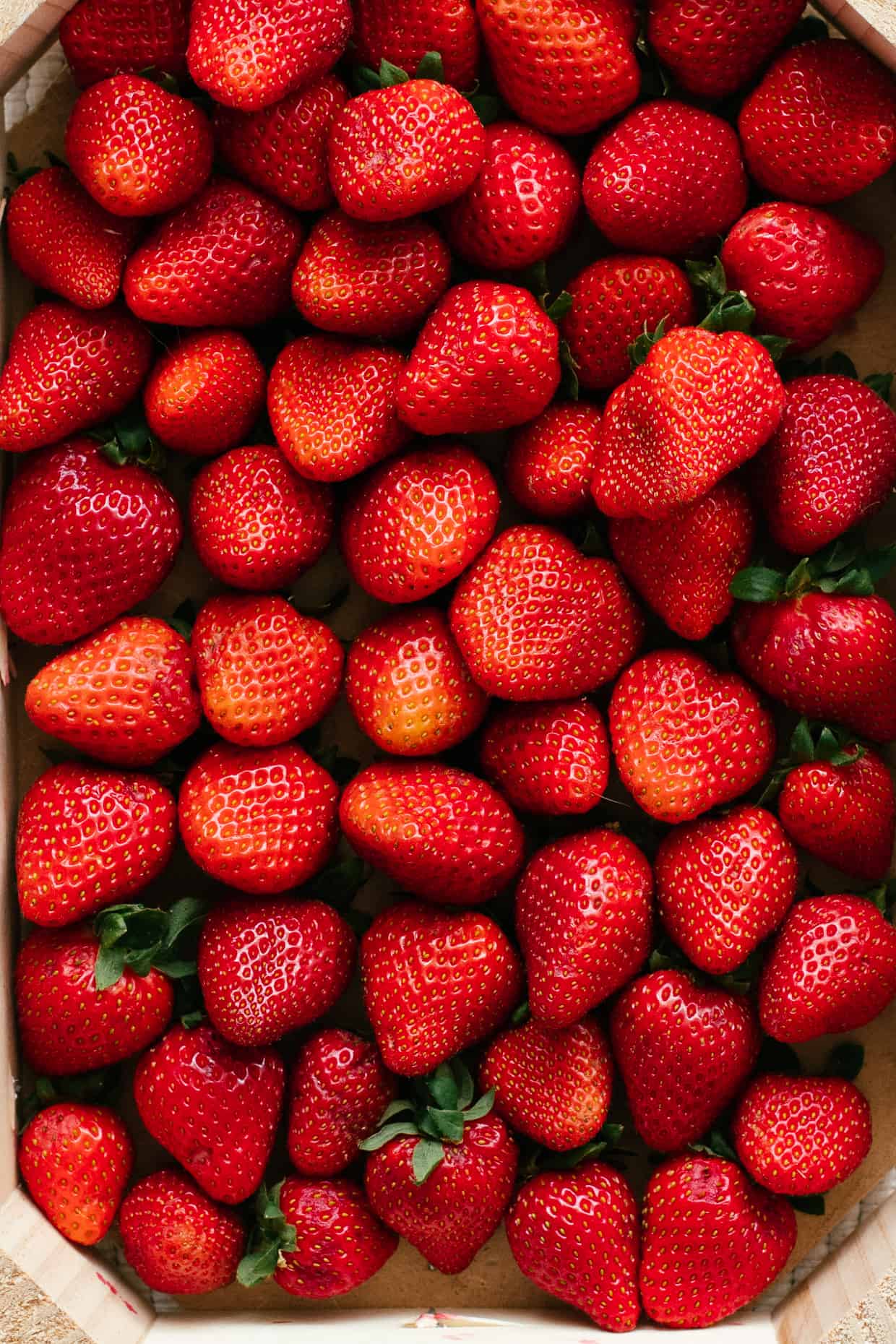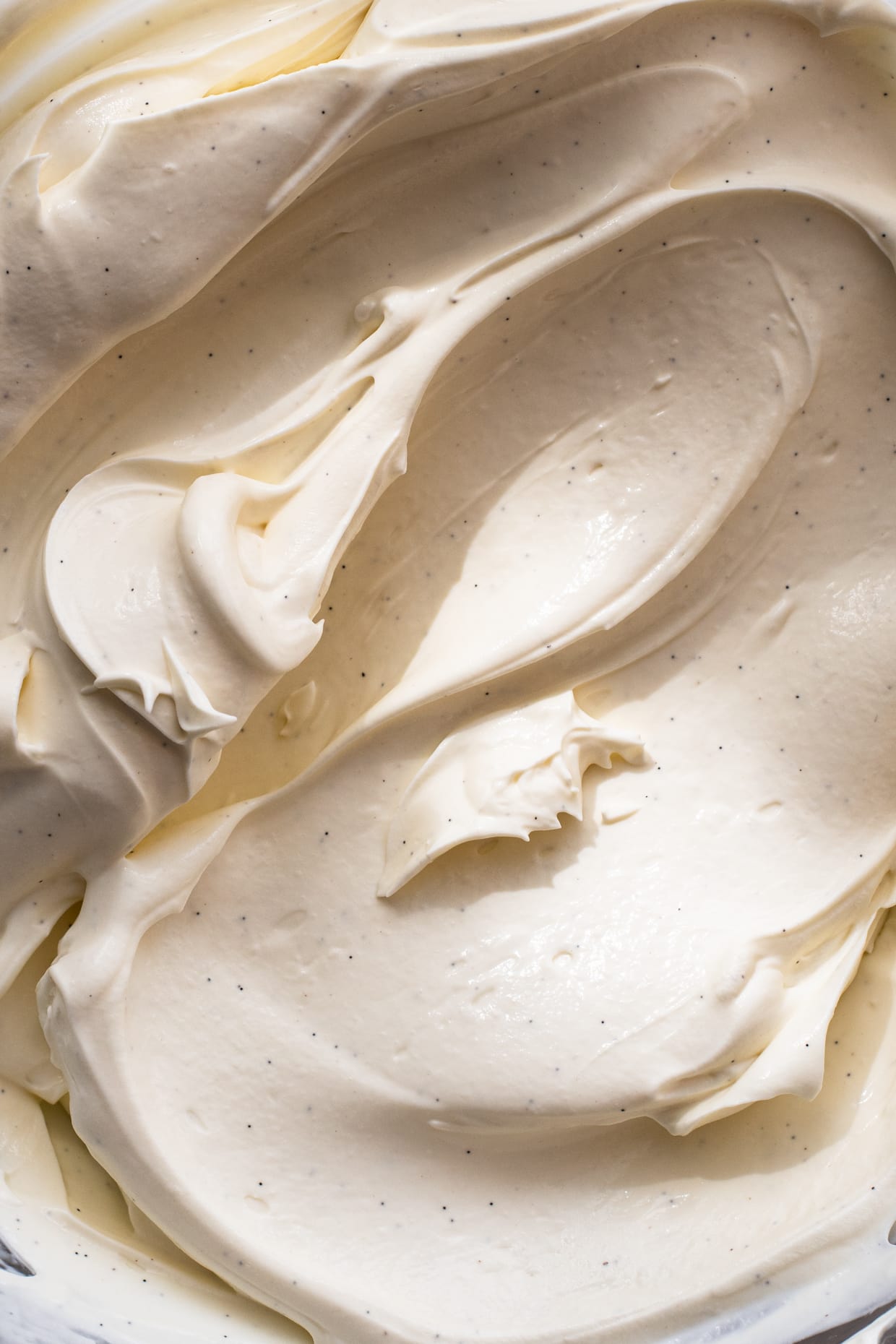 About whipped mascarpone
I am using equal parts of mascarpone and whipping cream to make my whipped mascarpone. As you know, mascarpone cheese is very thick, especially right when you take it out of the refrigerator. Adding cream to it and whipping the two adds body and lightness to mascarpone, without ruining the flavor.
What you get is a rich, smooth frosting. It's much tastier than just whipped cream, but also not as heavy as simple mascarpone.
I also add powdered sugar and vanilla paste to the mix. While both cream and mascarpone have a slightly sweet taste, the addition of powdered sugar really changes the flavor. It makes it so much better. It's like adding salt to flour. You need it and without it the taste just isn't as good.
Seasoning strawberries
As you read through the recipe you'll see I'm adding rosewater to the strawberries. You know by now how much I love the flavor of it (see these pistachio shortbreads or my lemon crinkles). It adds a light, floral touch to the sauce.
You can also use orange blossom water (like I do in this peach cake) or just some simple vanilla, if that's more your taste.
For how simple these strawberry mascarpone cream cups are, I think they're pretty impressive. Especially when served in fancy glasses! And when you need to make something on short notice, this no fuss dessert is IT.
Strawberry mascarpone cream cups
A quick and delicious dessert, perfect for summer gatherings! Easy to make with store-bought pound cake, fresh strawberry sauce and the fluffiest mascarpone filling.
Ingredients
Strawberry sauce
1.5

lbs

(

690

g

)

fresh strawberries

(hulled and chopped)

1/3

cup

(

80

g

)

granulated sugar

1/4

cup

(

60

ml

)

water

2

teaspoons

cornstarch

1

teaspoon

rosewater
The rest
13

oz

(

370

g

)

mascarpone cheese

(cold from the refrigerator)

1 1/2

cups

(

360

ml

)

whipping cream

(cold from the refrigerator)

1/4

cup

(

30

g

)

powdered sugar

1

teaspoon

vanilla bean paste

(or beans from 1 vanilla pod )

2 1/2

slices

pound cake
Instructions
To make the strawberry sauce, combine strawberries, sugar and water in a small saucepan. Bring to a simmer over medium heat, then cook on low heat until the mixture looks like a very thin jam and the strawberries are tender (5-10 minutes).

Mix 2 teaspoons cornstarch with 2 teaspoons water in a bowl. Whisk into strawberry sauce and bring to a boil, whisking constantly. As soon as the sauce begins to thicken, remove it from the heat. Allow to cool completely. Once cool, stir in one teaspoon of rosewater (plus more to taste). Keep covered in the refrigerator for up to 1 week.

To make the mascarpone cream, place mascarpone and whipping cream in a large bowl. Using a mixer (I like my hand-held one for this), beat the mascarpone and cream on low speed, just until they mix slightly.

Sprinkle the mixture with powdered sugar and vanilla bean paste, then keep mixing on low speed until it all comes together. You want to see light peaks and a smooth fluffy texture. (Do not over-mix mascarpone as it will curdle.)

To assemble the cups, divide the pound cake among 5 glasses or serving bowls. Top each with equal amounts of strawberry sauce. Lastly, top each with equal amounts of the mascarpone filling. Serve immediately or keep in the refrigerator and eat within 2 days.
Notes
Make sure that both the mascarpone and the whipping cream are the same temperature. And that you take them out of the refrigerator right before using. Mascarpone can curdle easily. Keeping the cream at the same temperature helps avoid that. I like to keep them one next to the other in my refrigerator. Only add sugar once you've slightly whisked the two.
Never beat mascarpone too vigorously. That too can cause curdling. You want to mix it at a steady pace, at a low speed, until you get soft peaks. Check the consistency as you whisk. It's better to under-whip than over-whip. 
You can stretch this recipe into 6 servings with some extra pound cake.
If you're using shallow and wide glasses / bowls, you can just use 1/2 slice of pound cake for each. But if you're using deeper glasses, slice the pound cake into cubes first, then add to the glass and top with the other ingredients. 
Email recipe
Pin Recipe