Made with plant-based yogurt and milk, this vegan peach snacking cake has everything you want from a cake. It's dense, yet airy and soft. Incredibly flavorful because of rum and orange blossom water. Topped with juicy ripe peaches and brushed with sweet jam. And the best part? It takes less than 60 minutes from start to finish!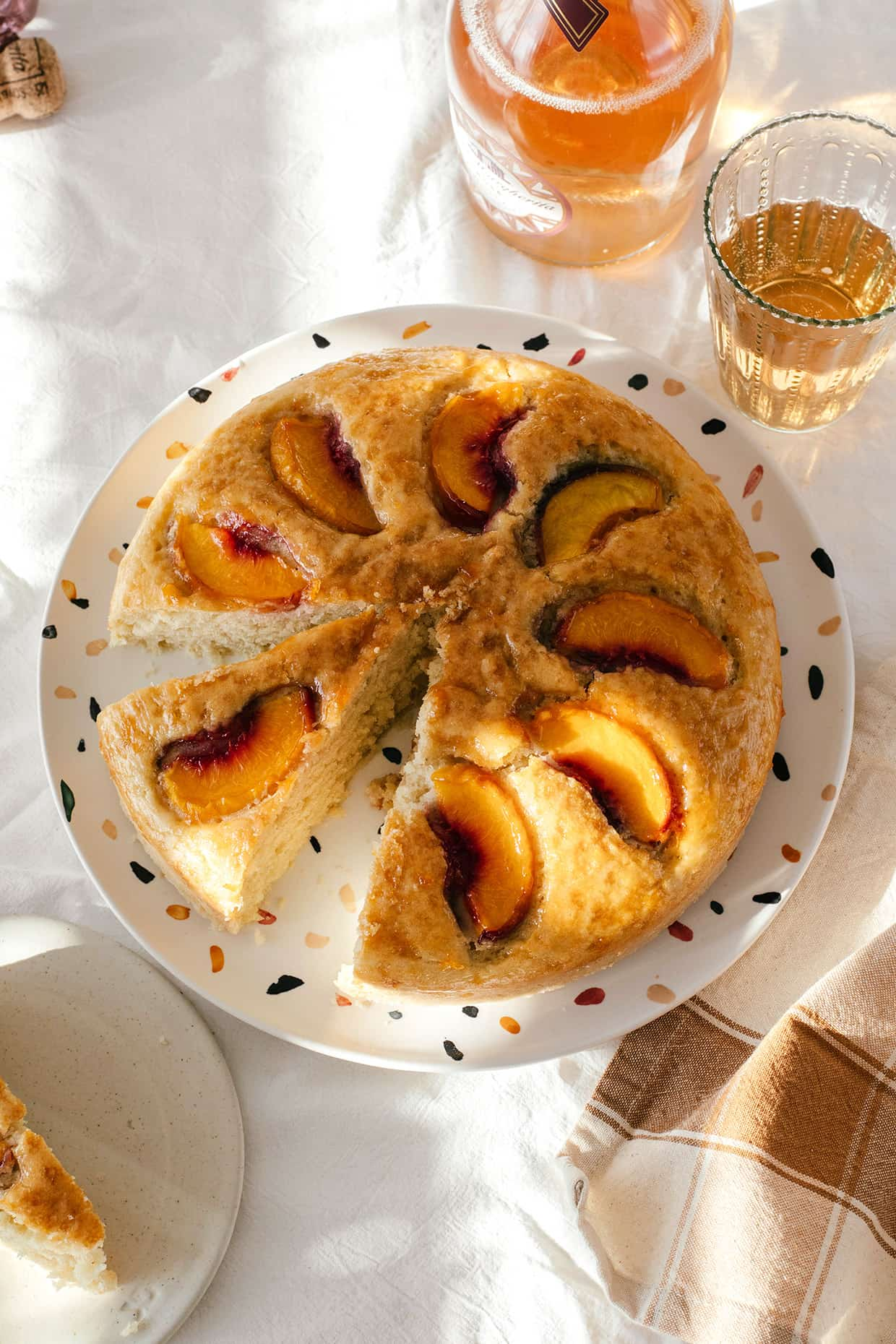 When I think of summer, I think of stone fruit, my hands sticky from the juices, my stomach filled with delight. I like to turn plums into jam and peaches into dessert, like this vegan peach snacking cake I have here for you.
I've eaten enough vegan desserts to know that they are on a par with anything dairy laden. There's no shortage of that on this site, but I want to bake vegan more often too. If vegan cooking comes more naturally to me, baking requires more testing and fine-tuning.
And what I have here now, after many fails, is the perfect snack cake. It's fragrant and delicious. Dense, but still airy and soft, the kind that melts in your mouth. Sprinkled with Demerara on top for a bit of color and crunch. Along with plenty of peach wedges. And it tastes like a million dollars, so rich and satisfying.
You can try other types of stone fruit, but peaches are my favorite. To finish it off, I like to glaze the whole cake with apricot (or peach) jam to seal in the moisture and the flavor of the fruit.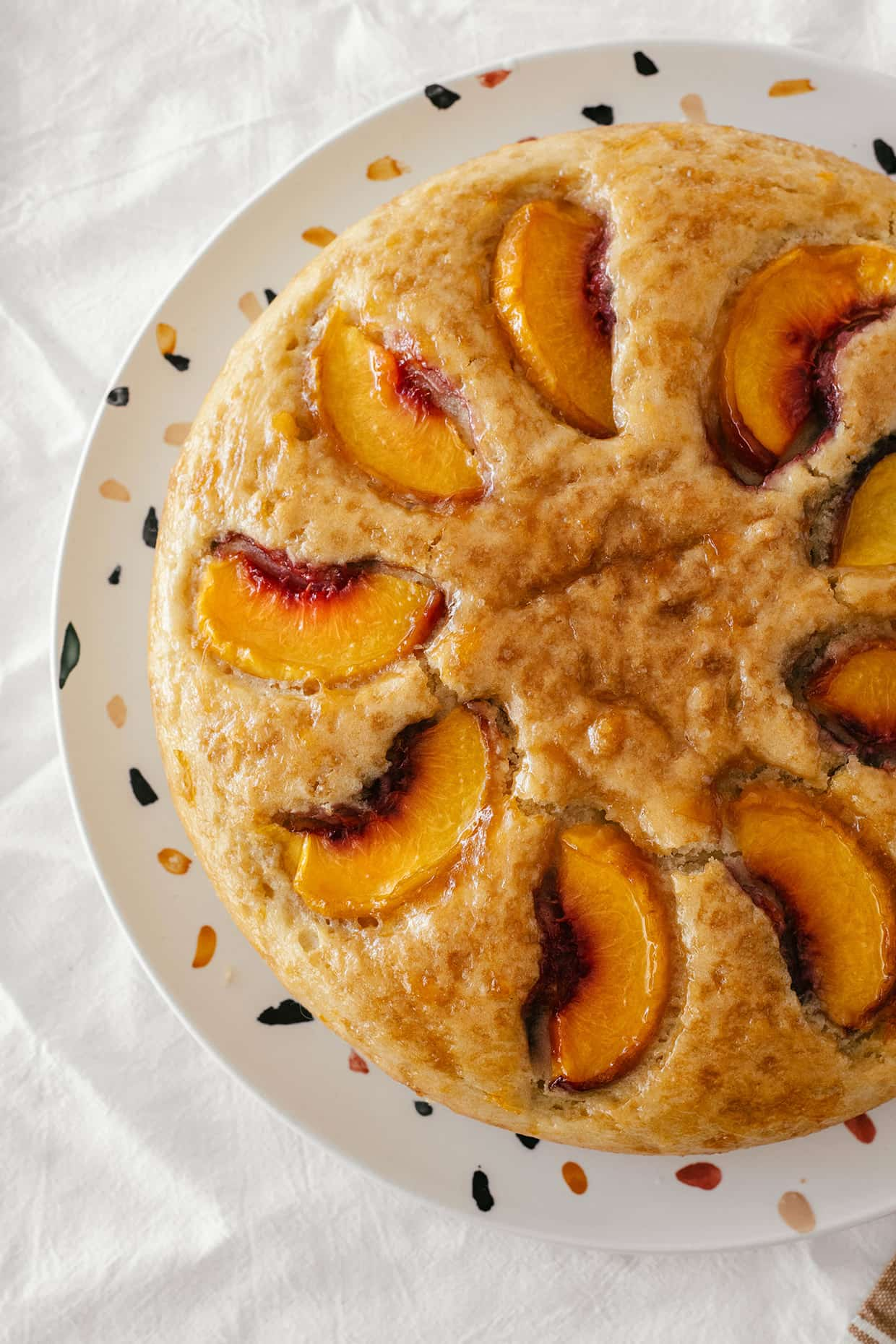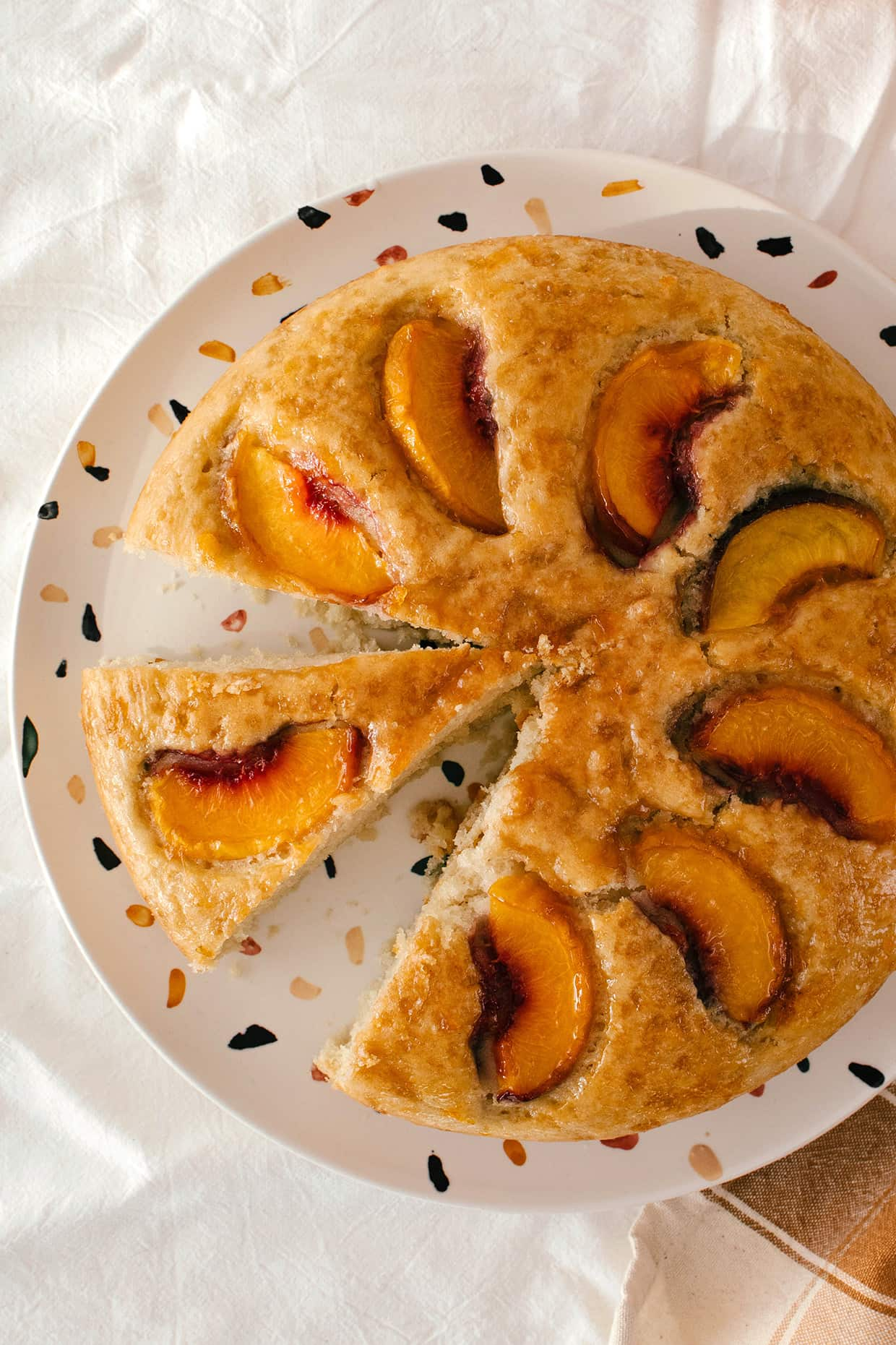 Baking with plant-based dairy
Using vegan "dairy" products is really easy these days. Plenty of choices and the same purpose as with actual dairy. We want yogurt for the richness and moisture it gives a cake. But in this case I'm using both vegan yogurt and milk. I tried making this cake with yogurt only, but found that the extra fat in the yogurt made the cake a little too dense and gummy.
That's why I'm using a combination of yogurt and milk. You could probably replace the milk with water, but I'll always use the extra flavor if I can get it.
Coconut pairs great with peaches, so a coconut yogurt is usually my preferred choice. However a soy based yogurt is really great too.
For milk I love either almond or soy, as they're less fatty than coconut. Because ultimately what you need next to yogurt is more liquid, not more fat (you get that from the oil). You can experiment with other types, I know there are plenty. But flavor-wise I like soy and almond the most in this cake.
Let's put dark rum in everything
In case you forgot that I'm Slovenian, let my addition of rum to the cake remind you of that. I started doing this because my mom and grandmother did it first. No questions asked, just pour that baby right in. But now I do it because the aroma of dark rum in a baked dessert is absolutely classic and delicious.
You might not even notice it's actually rum, but you'll definitely sense a lingering flavor of something… that makes this cake that much better.
The other thing I'm using is orange blossom water. My love for rosewater is pretty well documented (just look at these shortbreads or my favorite crinkles), but orange blossom water isn't far behind. It's the same idea, just different.
What's orange blossom water?
Also called orange flower water, it's basically scented water. It is produced by water distillation of the blossoms of the bitter orange tree (a few more notes in this Martha Stewart article).
Naturally, orange blossom water makes the cake a bit perfumy. But in a very good way! Paired with ripe baked peaches and jam, it's an explosion of wonderful smells, all very delicate and not overpowering at all.
If you can't find orange blossom water locally, there's always Amazon. The best thing about it is that a little goes a long way, so having a bottle stacked in the pantry is definitely worth it. I'm sure you'll find yourself pouring a little bit into many future batters and frostings to come.
Vegan peach snacking cake
Rich tasting, soft and incredibly aromatic. Made with plant based yogurt and milk, this is incredible for any occasion – breakfast, midday snacking or serving as dessert.
Ingredients
1/2

cup

(

120

ml

)

neutral oil

(I use sunflower)

1

tablespoon

(

15

ml

)

orange blossom water

2

teaspoons

dark rum

1/2

teaspoon

fine sea salt

1

cup

(

210

g

)

granulated sugar

3/4

cup

(

200

g

)

vegan yogurt

( I like both coconut and soy-coconut)

1/2

cup

(

120

ml

)

plant milk

(use almond or soy)

2 3/4

cups

(

360

g

)

all-purpose flour

1

teaspoon

baking powder

1/2

teaspoon

baking soda

1-2

large peaches

(stoned and sliced into wedges)

2

tablespoons

Demerara sugar

1/4

cup

(

60

ml

)

apricot jam

( or peach jam, at room temperature)
Instructions
Preheat the oven to 350°F (175°C) with a rack placed in the center. Lightly grease a 9-inch (23-cm) springform pan with oil, then line the bottom with parchment paper and grease that too. Dust insides of the pan with flour and set aside.

Make batter: Combine oil, orange blossom water, rum, salt, sugar, yogurt and milk in a large bowl. Whisk until the ingredients come together. In a separate bowl, mix flour with baking powder and baking soda. Lightly whisk the flour mixture into the wet ingredients, be careful not the over mix. Scrape the batter into the prepared pan in an even layer. Top with peach wedges. Sprinkle with Demerara.

Bake in the middle of the oven for 40 minutes or until the top of the cake is golden and a cake tester inserted into the cake comes out clean.

Remove cake from the oven and allow to cool for 10 minutes. Run a thin spatula along the sides of the cake, then remove the sides of the pan to release the cake.

Brush the top of the cake with jam and allow to cool completely before serving. Keep leftover cake covered at room temperature for 1-2 days or in the refrigerator for up to 3 days.
Notes
You can use other plant-based yogurts or milk if you wish. Personally I like coconut or soy-coconut yogurts the most for this cake, along with soy or almond milk.
If you run out of milk, you can use water instead. Don't add more yogurt though, as too much fat in the cake will make it too dense and gummy.
If you cant find orange blossom water locally (I usually find it at large grocery stores or spice and Middle Eastern stores), try Amazon.  
I really recommend you use a springform pan (like this 9-inch Cuisinart one), because it makes removing the cake from the pan super easy.
Calories per serving:
441
kcal
Email recipe
Pin Recipe