One of the best ways you can use up ripe summer fruit is to make this plum blueberry coconut crisp. This is a comforting no-fuss dessert for a crowd, that combines ripe plums and blueberries (cooked in lemon and sugar) and a crispy cookie-like topping. It's a great make-ahead recipe that you can bake when you are ready.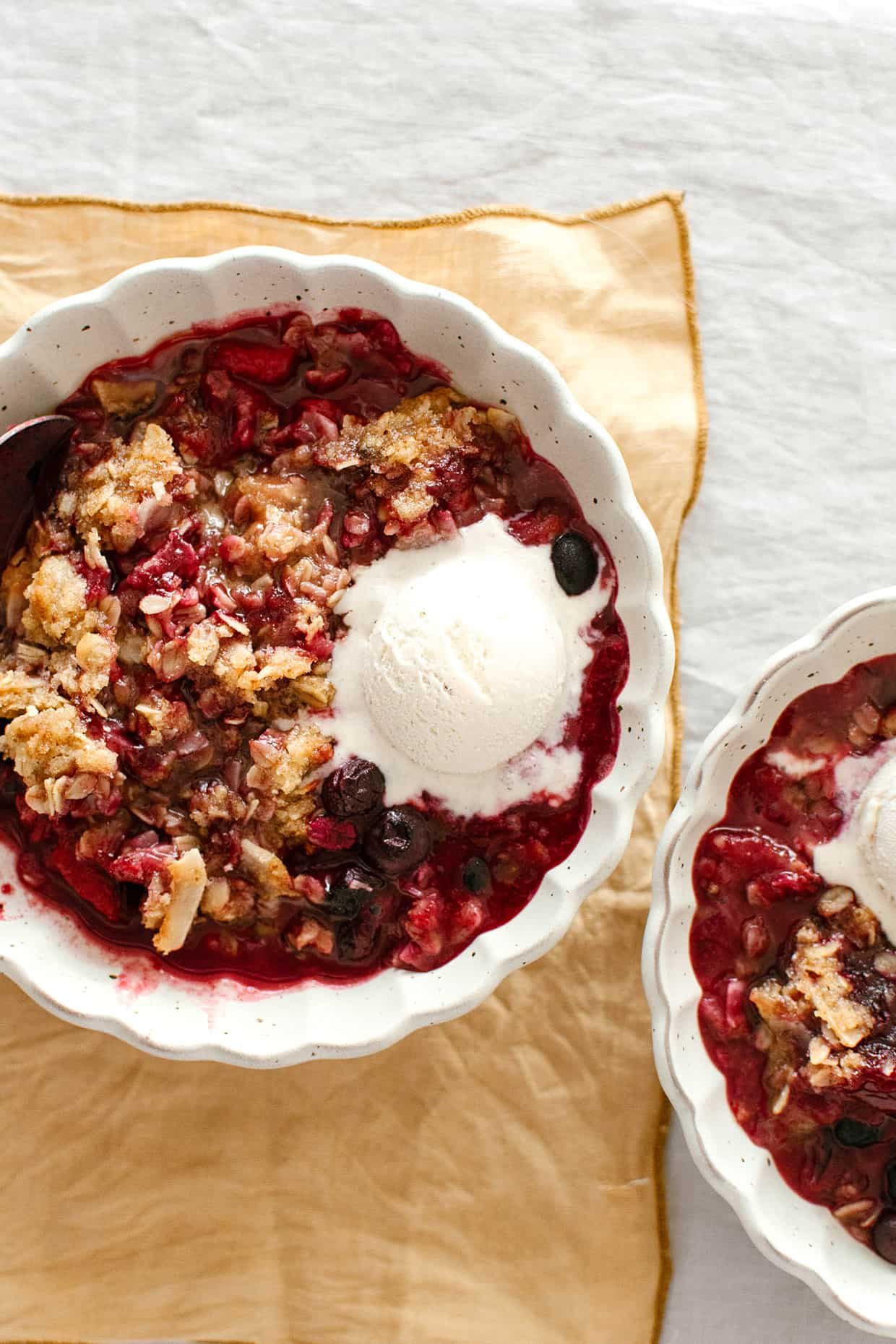 The amount of fruit that is available in the summer is a bit insane and I am forever grateful that we have so many options. Fresh fruit on its own can be a really great and very healthy dessert. But I love to bake with it too.
I find that the taste and the aroma get really amplified by baking. And when I make a crisp, it's almost like I'm having jam with an oatmeal cookie. But warm and with melting ice cream on top. I think it's a superior way to eat fruit and it's so comforting. I love a "spoon and a bowl" type of dessert and this plum blueberry crisp hits the spot. Every time.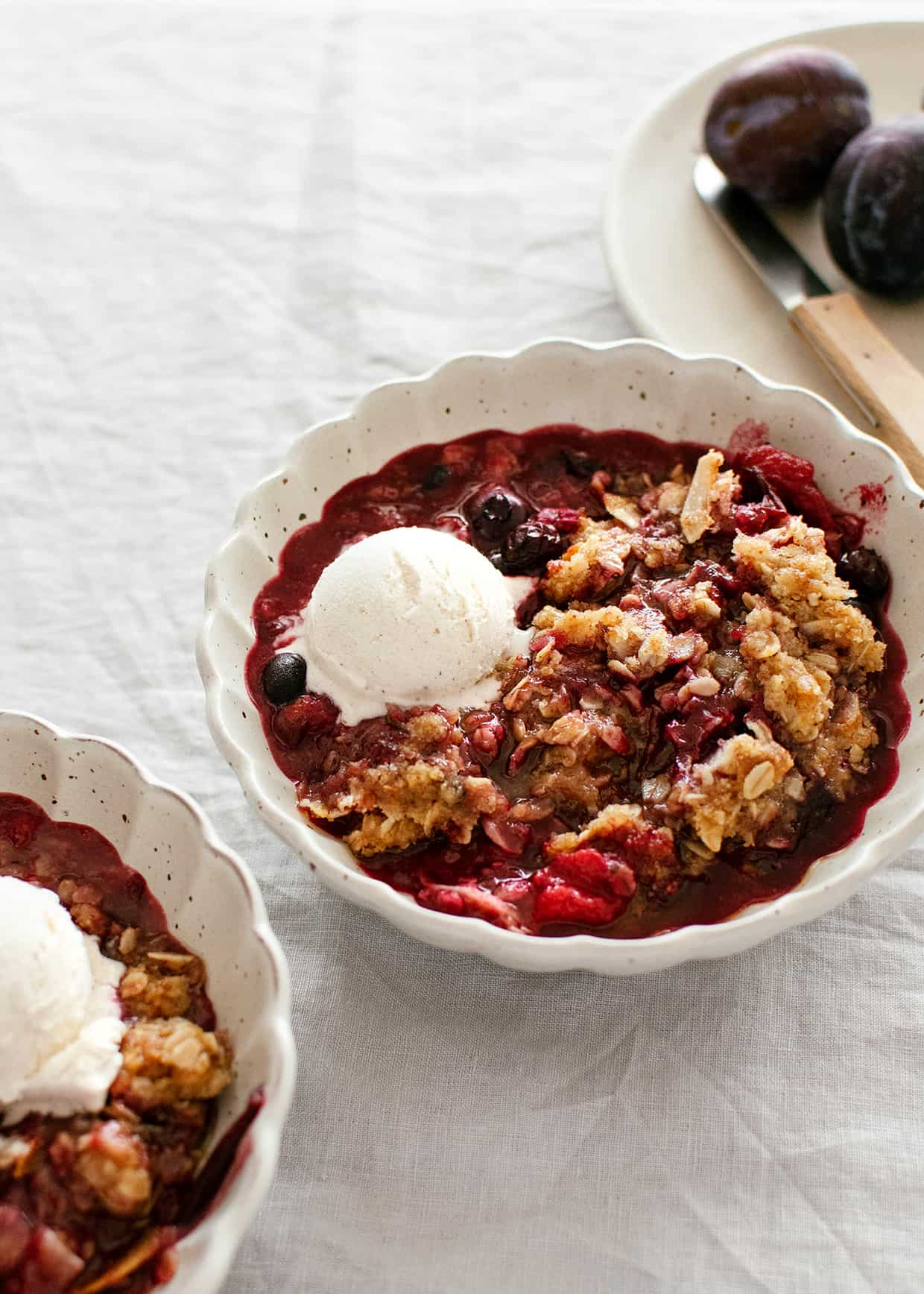 Sure, I'll be the first to tell you that fruit in its prime should be enjoyed fresh. But I'm not opposed to cooking with it! A crisp is a great way to use up any fruit that may be too ripe to eat or a bit soft. And it's also great if you just have plenty of fruit on hand. I often see that stores offer discounts as summer comes to an end, in an effort to sell whatever stock they have left.
If you want to do more than just crisps, try making this plum jam. It's quick and would definitely work with blueberries too. Or any fruit! Bring on all the fruit I say. And this plum cake is another favorite.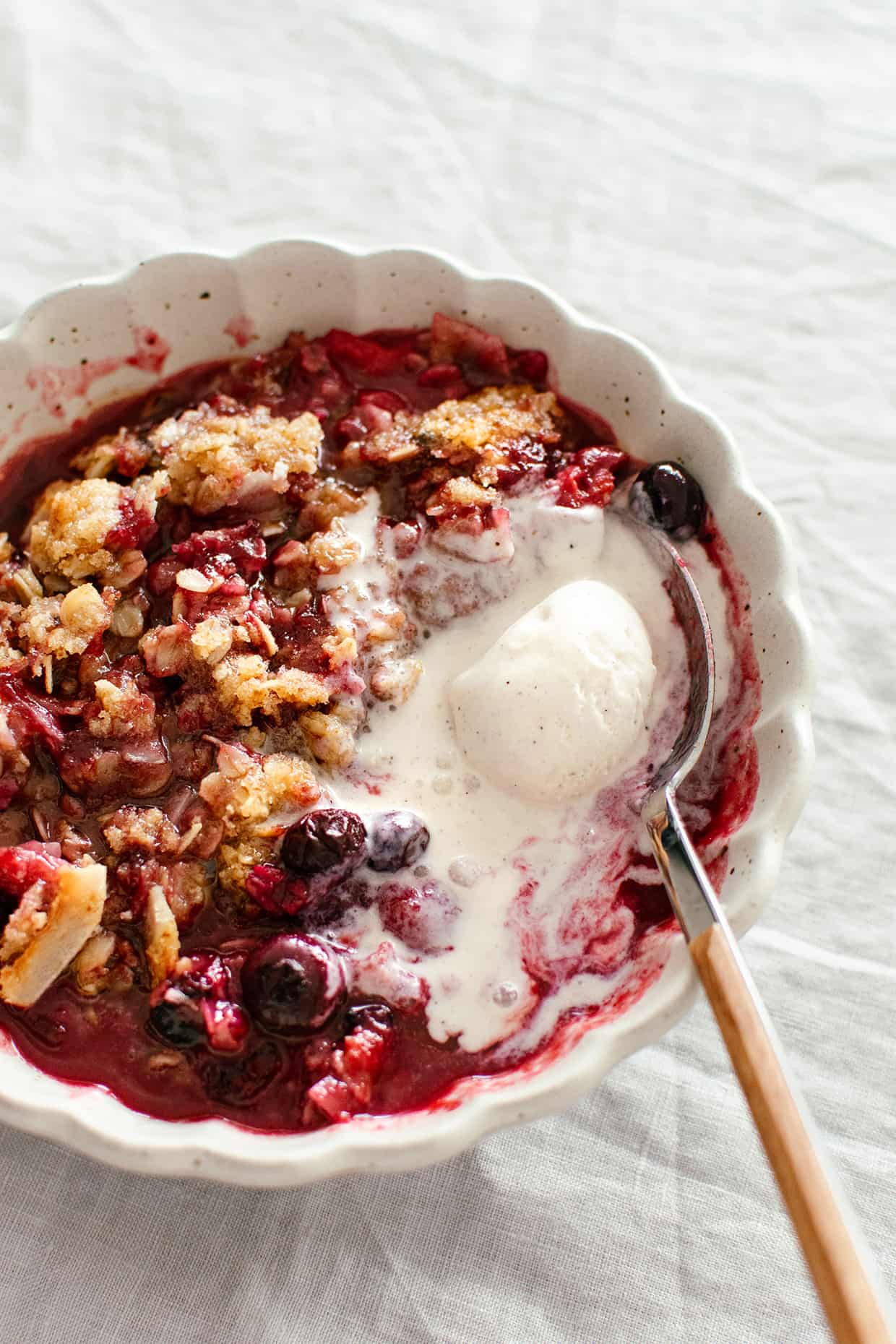 The anatomy of a perfect blueberry plum crisp
FRUIT – plums and blueberries
I love a combination of stone fruit and berries, like peaches and strawberries or plums and blueberries. You can use any type of fruit you like. I went with the darker purple fruit this time.
With a classic crisp, you slice your fruit, add some sugar and flour or starch and place it in the bottom of a baking dish.
I'm doing things a bit differently. In my effort to speed up the baking time and get the best jammy plums, I cook the fruit filling on the stove first.
You can try to make this recipe the classic way, but I like to have a bit more control. By cooking the filling first I can taste-test the fruit and add more sugar or lemon if needed before adding the topping and baking the crisp.
I would probably skip this step with other fruit, but I find that plums are tricky sometimes and I really want them to be super jammy, so cooking them on the stove takes care of that.
Since I'm cooking the fruit in this recipe, that means you can also use frozen fruit in place of fresh.
CRISP TOPPING – coconut and oats
This dessert is called a crisp because the fruit is baked with a crispy cookie-like shell on top. Before baking the topping looks like crumbled cookie dough and when baked it's golden and crisp.
A classic crisp topping is made with oats, flour, sugar and butter. Good old-fashioned or rolled oats are the key ingredient. They give you that rich flavor and chewy texture.
Some people like to add chopped nuts to that for a nutty, rich flavor. And I am using coconut flakes.
Coconut flakes are very neutral in flavor. They're slightly chewy and sweet and can be mixed into anything. I love them in my granola and they work so well in this plum blueberry coconut crisp. They add extra texture to the topping, making it a bit chewier without making it taste heavy.
FLAVOR ENHANCERS – lemon and cinnamon
If you ask me I will gladly tell you that lemons need to be part of any and every fruit thing that you make. And this crisp is no different. I've looked at several recipes over the years and I notice that people like to skip the lemon part, but I think it makes such a difference.
Lemon zest and juice really bring out the flavor of the fruit. It's something you might not even notice at first, but leave them out and you will miss the special taste so much.
Cinnamon is another must-have. I add it to both the fruit and the topping, just a sprinkle, and it makes all the difference in the world. It makes this plum blueberry coconut crisp smell so good!
Making the crisp ahead of time
A baked crisp does stay warm for a few hours. It also holds up nicely in the refrigerator for up to 3 days. You could keep it at room temperature, but to avoid any mold growth I like to keep it cold.
But a fresh warm crisp is still super special, so you can prepare the components ahead of time.
Make the fruit filling. Once cooked allow it to cool to room temperature. Transfer it to an airtight container and keep in the refrigerator for up to 3 days.

Make the crisp topping. Once it's crumbly and ready, transfer it to an airtight container and keep this in the refrigerator for up to 3 days.

When you're ready to make the crisp, preheat the oven to 350°F (175°C). Transfer the fruit filling to a buttered baking dish. Top with the crisp topping (you might have to break it apart first). Bake until the fruit is bubbly and top golden brown.
What to eat with a fruit crisp
Ice cream
This is a no brainer. A scoop of vanilla ice cream per one serving is the best choice. It's milky and sweet and will slowly melt over a warm crisp.
If you've made a vegan crisp (or just want to cut your dairy consumption), coconut ice cream will do the trick too! It goes so well with the blueberries and plums and the chewy coconut oat topping.
Whipped cream
When looking at flavor only, whipped cream is a great choice. However the one thing you need to keep in mind is that cream melts almost instantly when combined with something warm (like a crisp).
You would probably enjoy the flavor, but it'll melt and disappear faster than ice cream which is why I'm not the biggest fan of cream for this recipe.
Nothing
Yes, you can totally eat a fruit crisp as is, no ice cream or cream. It's honestly very good!
I call this plum blueberry coconut crisp summer in a bowl. It's bursting with fruit and goes so well with ice cream. It's also the perfect dessert to have as we transition from summer to fall, thanks to its crisp, rich, chewy topping that's flavored with cinnamon.
Make it for a crowd or halve the ingredients for a smaller, yet still delicious, crisp. It'll probably leave you with some leftovers, but this tastes so good the next day that you won't regret it.
Plum blueberry coconut crisp
Easy to make dessert using summer's finest fruit. 
Ingredients
Fruit filling
1 1/2

pounds

(

700

g

)

ripe plums

2

cups

(

300

g

)

blueberries

1/2

cup

(

1//

g

)

granulated sugar

1/2

tablespoon

lemon zest

(use organic lemons)

2

tablespoons

(

30

ml

)

fresh lemon juice

1/4

teaspoon

ground cinnamon
Crisp topping
2

cups

(

200

g

)

rolled oats

1

cup

(

90

g

)

coconut flakes

1

cup

(

200

g

)

all-purpose flour

1/2

cup

(

60

g

)

dark brown (muscovado) sugar

1

cup

(

200

g

)

granulated sugar

1/4

teaspoon

ground cinnamon

1/2

teaspoon

sea salt

2

sticks

(

230

g

)

cold unsalted butter

(cut into small pieces)
Instructions
Preheat the oven to 350°F (175°C) and butter a 9-inch (23-cm) baking dish. Set aside.

Prepare the fruit:

Remove stones from plums and slice them into wedges. Transfer to a saucepan along with blueberries, sugar, lemon zest, lemon juice and cinnamon.

Cook over medium-high heat for  about 10 minutes, stirring often, until the sugar dissolves and the fruit softens. Pour into the baking dish. 

Make the topping:

Combine oats, coconut flakes, both sugars and salt in a bowl. Add the butter and mix all ingredients with a pastry blender or your hands, until butter breaks into small pieces and the mixture looks like coarse meal. Sprinkle evenly over the fruit.

Bake:

Place baking dish on a baking sheet and bake in the center of the oven for about 30-40 minutes, until the fruit is bubbling and the top is golden brown and crispy.

Remove from oven and allow to cool slightly. Serve warm in bowls with a scoop of ice cream on top. Store leftover crisp covered in the refrigerator for up to 3 days.
Notes
Taste your fruit! If your blueberries and plums are very sweet naturally, you can easily cut the sugar in half and use less. 
If you don't have fresh fruit, you can easily use frozen. Add frozen fruit straight to the pot with the rest of the ingredients and cook until it's soft. Then proceed with the recipe. 
MAKE AHEAD: You can keep the cooked fruit covered in the refrigerator overnight (or up to 2 days). The crisp topping can be made ahead too, but kept separately from the fruit, covered in the refrigerator. The next day preheat the oven, assemble the crisp and bake as you normally would. 
MAKE VEGAN: Use vegan butter instead of dairy butter in the crisp topping. Serve baked crisp with coconut ice cream, it's delicious! 
Email recipe
Pin Recipe
Recipe first published in July 2016, revised September 2020, last updated March 2022.