This easy plum streusel coffee cake is the perfect late summer dessert! Made with purple Italian plums and buttery cinnamon streusel.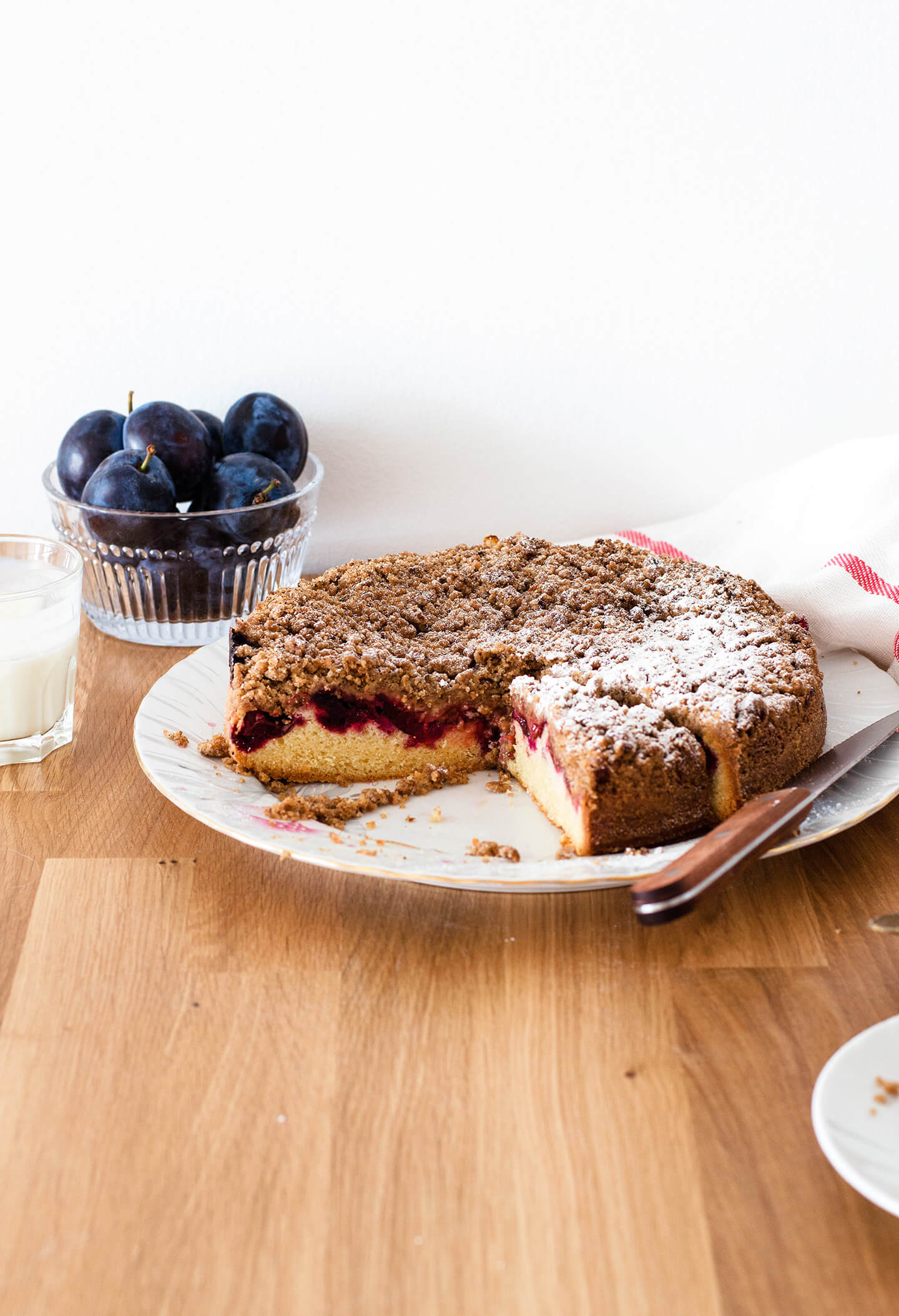 I feel like I'm such a hypocrite for saying I love plums, yet I always only eat them baked in a dessert or made into a jam. I've never been one to really enjoy a bowl of raw plums, although I admit I do like the taste. But ripe plums really excel when cooked or baked. The wonderful fuchsia color, the intense aroma and taste are all superb in a cooked plum. And it's what makes this easy plum streusel coffee cake so addictive. 
A while back I went to the farmer's market to look for fresh corn and I came back home with a whole bag stuffed with produce. Which, if my boyfriend were to describe me, is such an Alice thing to do. I can't just buy fresh corn, I have to get the scallions, the tomatoes, the peas, the berries and the plums. And I don't go to the farmer's market a lot, so selling to me is so easy. I make an effort not to walk too close to the stands because I know I'll be offered something and won't be able to say no.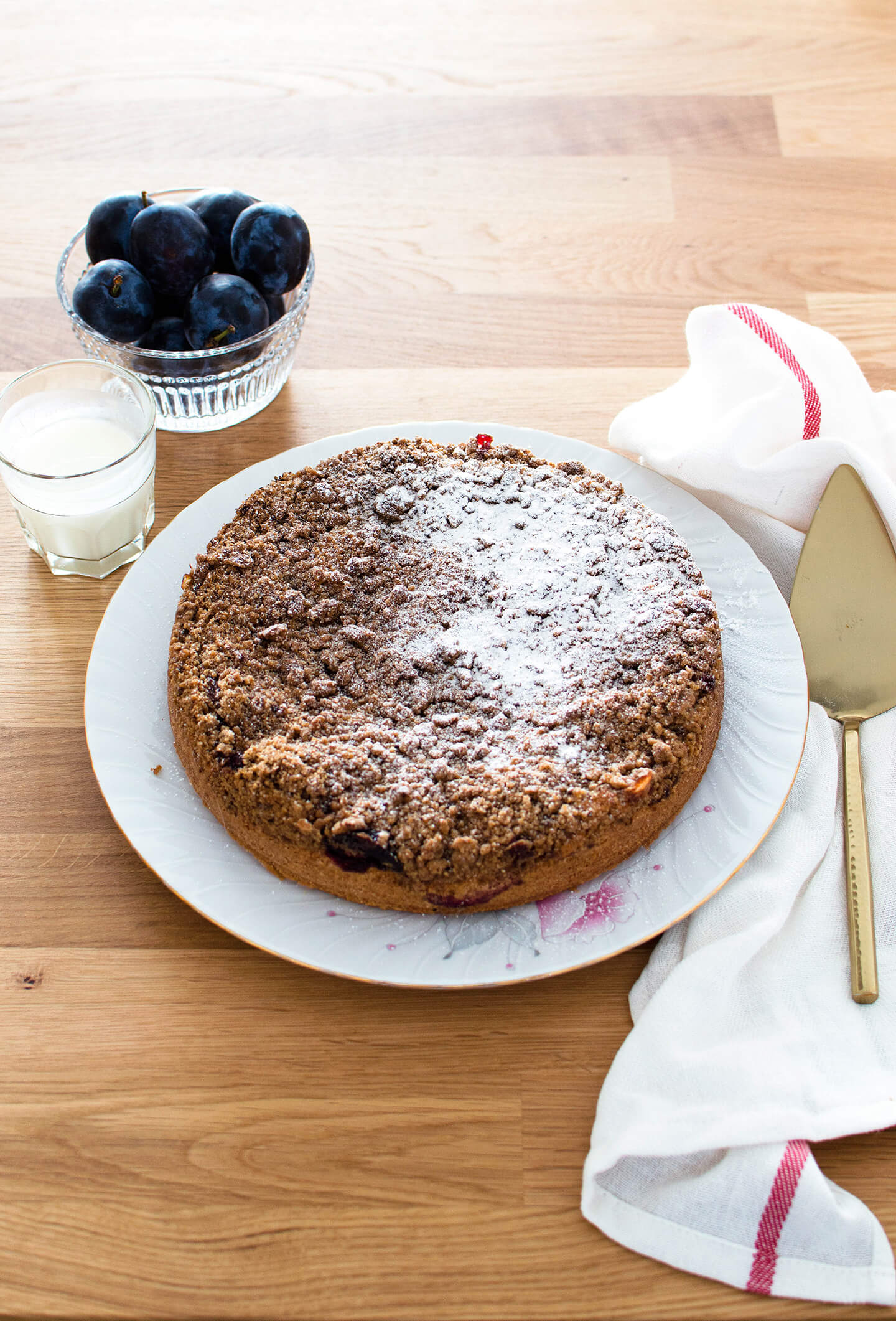 As you can see, the plums weren't part of my original shopping plan, but I came home with a whole bag of them. And how could I not? How stupid of me to not think of them initially. Ripe plums offer endless possibilities. There are many varieties of plums out there, more than I know to name, but I only ever buy the deep purple blue-ish plums, apparently know as "Italian" or "Empress" or simply "European" plums. They are the kind most often grown and sold here, so they're just the natural choice for me.
I did know right away what I wanted to do with these. Make coffee cake! Nothing beats a good coffee cake, I think we can all agree on that. So in my true Alice fashion I just went online to look for plum coffee cake recipes. I think I have a plum pie recipe somewhere in our family "cookbook" (it's just a notebook), but I wanted something more cakey and more buttery, just softer from a usual pie. I stumbled upon this recipe from Epicurious and saw that it was originally published in 1995 and THAT is what sold the recipe to me! For whatever reason, I just think that if a recipe is old or semi-old it has to be good.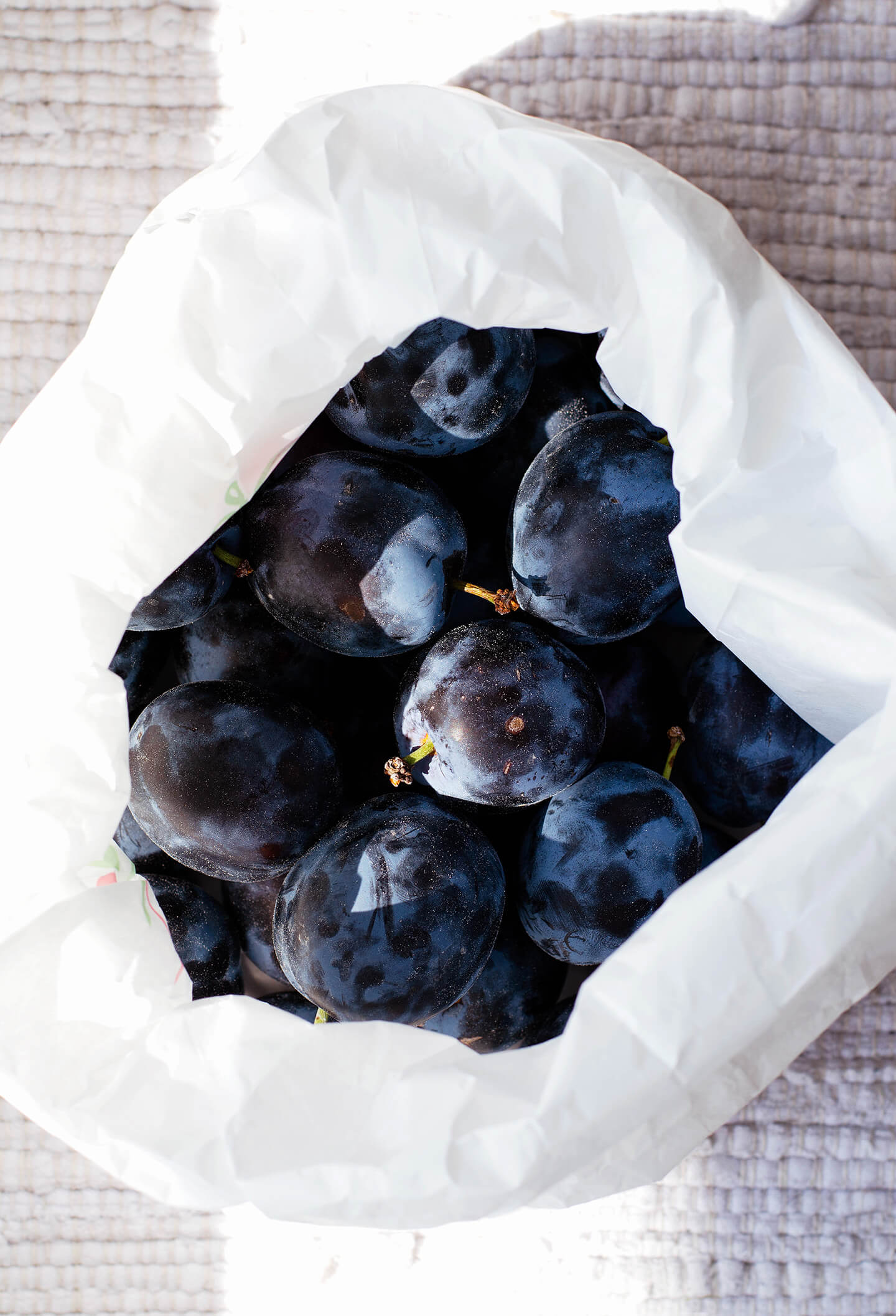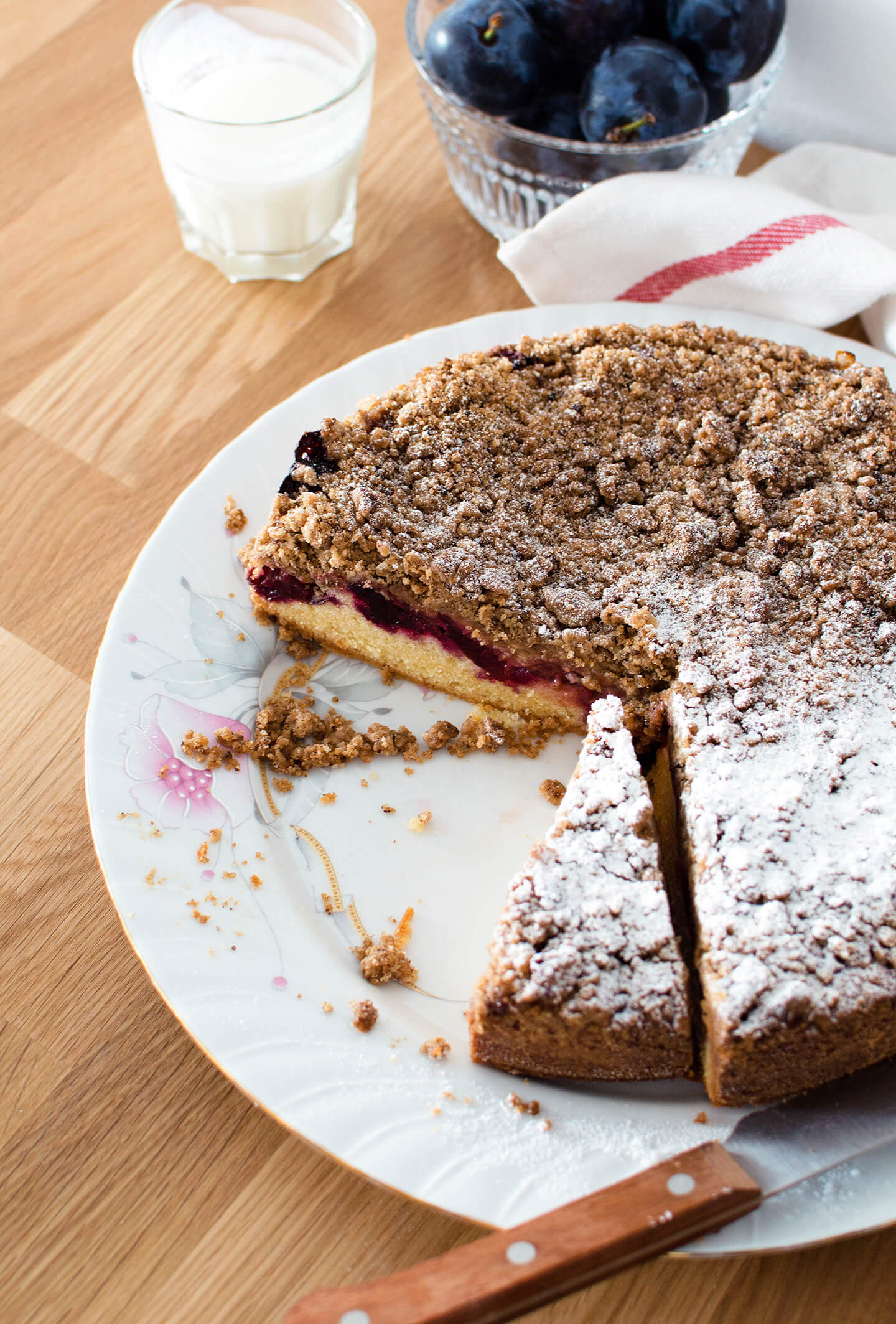 I did make some adjustments though, when making my easy plum streusel coffee cake. The Gourmet version has nuts in the streusel, which I'm usually all for, but not this time. I wanted this cake to taste like butter and plums and I just think that walnuts (or pecans) would take away that flavor. I also use more plums. The original recipe doesn't specify what variety of plums you need, so maybe that's the issue, but I just found that the recipe needs more plums to make a really packed plum cake.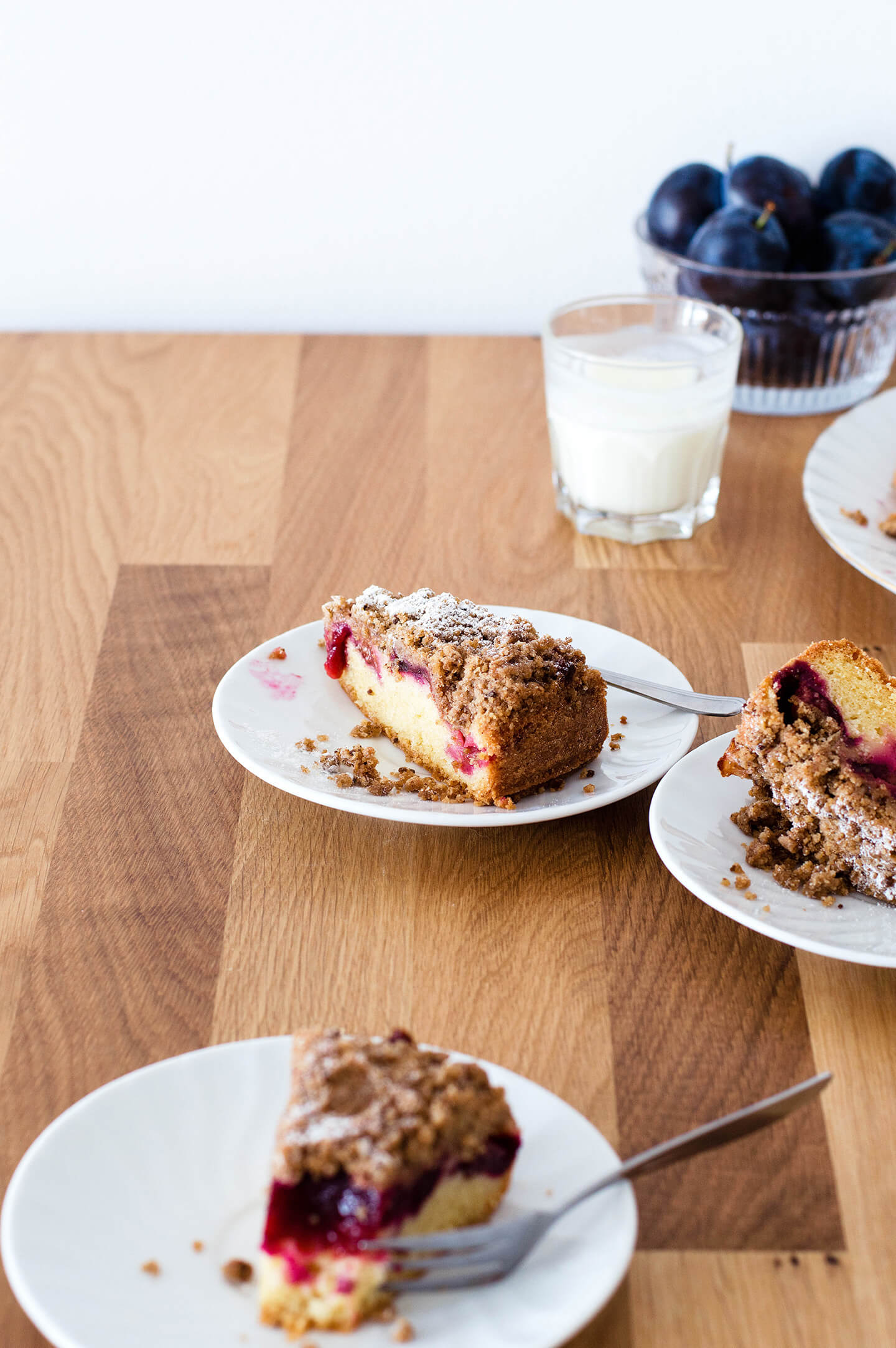 This easy plum streusel coffee cake really is easy to make, even though it's made of three layers. The first layer is a buttery cake, then comes a layer of juicy plums that are cooked almost into a jam and the last, top layer is a crumbly, cinnamon-packed, melt-in-your-mouth streusel. 
Better make this while the plums are in season! Although, if you have an abundance of plums, I recommend that you make a jam or freeze some for later. I think this coffee cake could be made with a layer of plum jam too, instead of fresh plums. And yes, I am totally doing this when Fall comes around.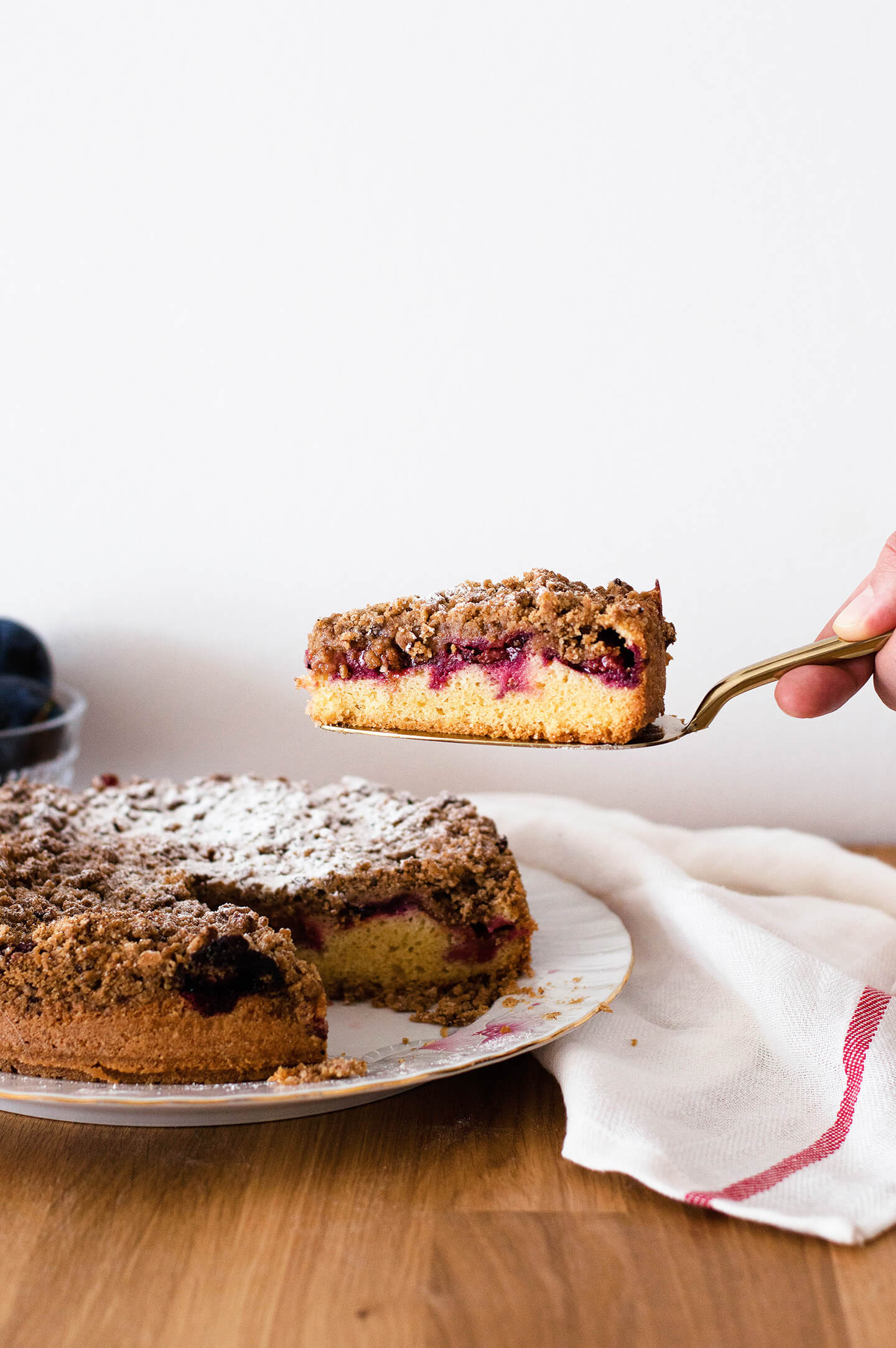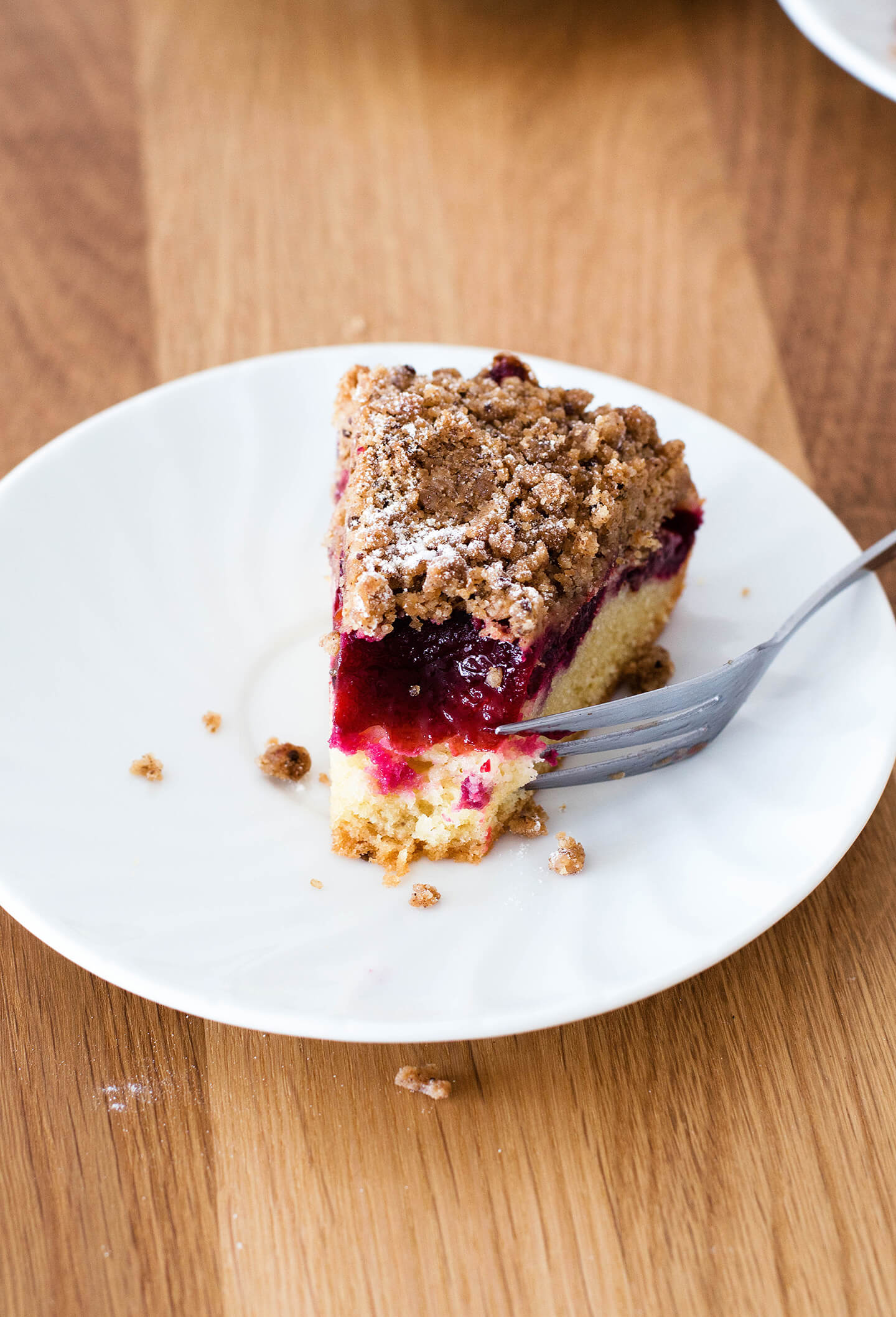 Print
Easy plum streusel coffee cake
Perfect late summer dessert! Made with purple Italian plums and buttery cinnamon streusel.
Author:
Prep Time:

10 mins

Cook Time:

50 mins

Total Time:

1 hour

Yield:

8

-

10

servings

1

x
Category:

Dessert
Cinnamon streusel
140g

(

1 cup

) all-purpose flour

110g

(

1/2 cup

, packed) light brown sugar (or a mixture of light and dark)

1 teaspoon

ground cinnamon

85g

(3/4 stick |

6 tablespoons

) unsalted butter, chopped
Cake
115g

(

1

stick) unsalted butter, softened

150g

(

3/4 cup

) granulated sugar

2

large eggs

1 1/2 teaspoons

vanilla extract

1/2 teaspoon

fine sea salt

170g

(

1 1/4 cups

) all-purpose flour

1 teaspoon

baking powder

380

–

400

g (13-14 oz) Italian / European plums
for serving: powdered sugar
Instructions
Preheat oven to 180°C (350°F), with a rack in the center of the oven. Butter the bottom and sides of a 23-cm (9-inch) springform pan, line the bottom with greased parchment paper, then dust the insides of the pan with flour.
Make the streusel: Place flour, sugar, cinnamon and butter in a medium bowl. Mash all ingredients together with a pastry cutter (or use a food processor) until you get a crumbly mixture. Place in the refrigerator to chill as you make the cake.
Make the cake: Use either a whisk and a bowl or a mixer and beat butter and sugar until smooth and fluffy, a few minutes. Crack in the eggs one at a time, whisking after each addition. Stir in vanilla and salt. Then sift in flour and baking powder and whisk until combined. You want a smooth but thick batter.
Scrape batter into prepared pan and smooth the top. Remove stones from plums and slice them into 4 wedges. Cover the whole cake with plum slices, one next to the other, until no empty spots are left. Sprinkle with streusel. Bake cake for 50-60 minutes, until the top is golden brown and fragrant (and a cake tester inserted in the center comes out clean. It can have plum residue on it, as those will be juicy, but you don't want to see the actual beige batter on the cake tester.)
Cool cake for 30 minutes or more before removing from the pan. Dust with powdered sugar before serving.
Notes
MAKE AHEAD: You can freeze the cake once it is baked. Don't sprinkle it with powdered sugar. Instead, wrap it well once it has cooled and freeze for up to 2 months. Once you take it out, don't thaw it. Simply reheat it frozen, in an oven set to 180°C (350°F), for 35-40 minutes.
Recipe adapted from Gourmet, via Epicurious.