These cinnamon maple peach sauce waffles make an incredible breakfast that can be enjoyed by a crowd! A great recipe to transition from Summer to Fall and easy to put together. The waffles are buttery and crispy, while the fresh peach sauce is velvety and full of tender peach chunks, maple syrup and cinnamon. The sauce itself can be enjoyed with oatmeal and yogurt as well or used in a cake.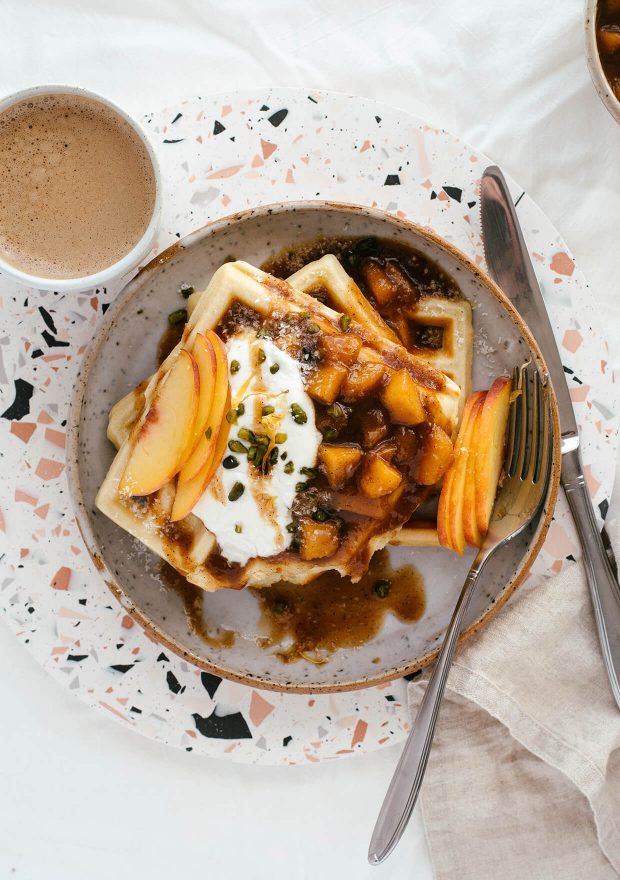 Stone fruit has always been my absolute favorite thing about Summer and Autumn. There are plenty more favorites I could name, but ripe juicy peaches or fragrant plums are so dreamy to me. It's why these cinnamon maple peach sauce waffles are on my menu quite frequently in late August and September. As the temperatures start to slightly drop and days get shorter, I just crave waffles in the mornings and this maple peach sauce is what takes them to another level.
Why cinnamon maple peach sauce?
I got the idea during one of my many Gilmore girl marathons. In one of the episodes Sookie makes a maple peach sauce that apparently everyone loves and I, no joke, got so hungry when I first heard that. It made me crave peaches and maple syrup and Belgian waffles. And now I make my own.
This maple peach sauce is so addicting, with its smooth and silky texture and chunks of tender peaches. In a way we could say this is a peach compote, but I think it's much more. From my experience compotes usually have a pretty thin sauce, if any at all, as the focus is more on the fruit. In contrast, this maple peach sauce has some body to it. It's velvety and you get as much sauce as chunks.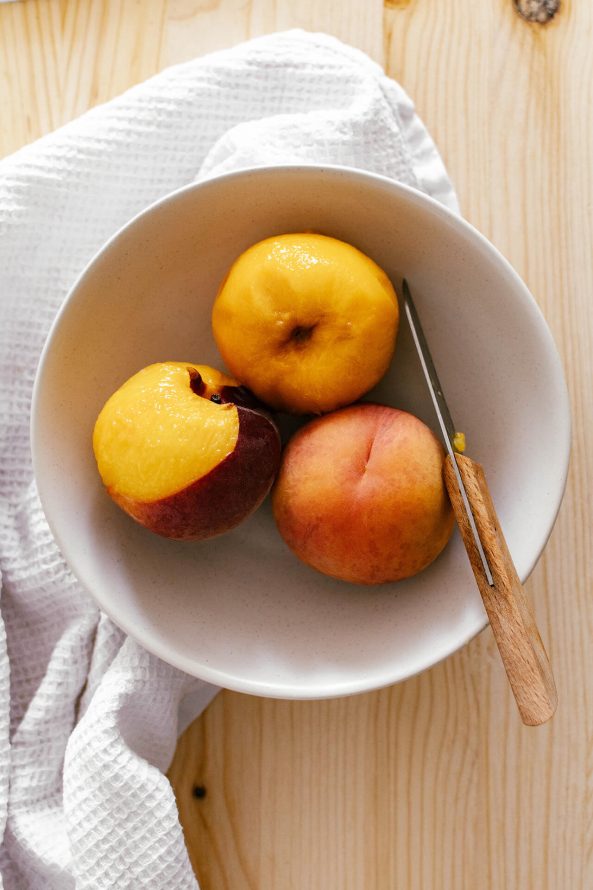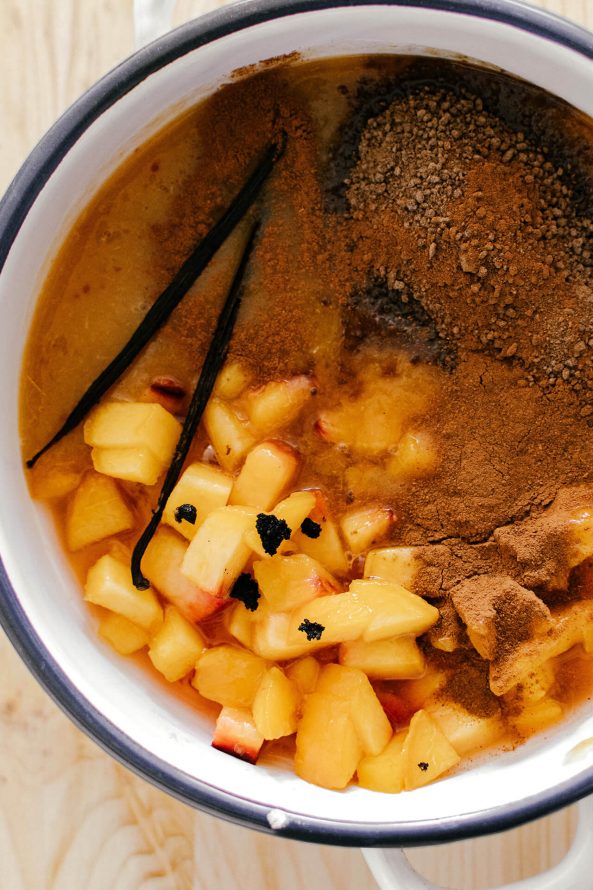 How to make fresh peach sauce?
I use juicy ripe peaches for this sauce. Sometimes ripe peaches can get a wrinkly skin and don't look that appetizing, but they are perfect in this sauce as you have to peel the peaches anyway. This is a silky but chunky sauce, as I like to use a combination of chopped and pureed peaches. If chunks of fruit aren't your thing, you can of course puree the whole batch and enjoy the sauce as such. It tastes just as good either way, absolutely amazing and bursting with peach flavor.

Once peeled and (partially) pureed, the wonderful ripe peaches are cooked together with some lemon juice, mandatory maple syrup, cinnamon, vanilla and dark brown (or muscovado) sugar. Dark sugar gives the sauce a very deep color and caramel flavor and makes the sauce taste even more incredible. You can definitely adjust the amount of sugar to you personal taste or use more maple syrup. But if you follow the recipe as is, you can expect a pretty sweet sauce, which I love because I usually pair it with things that aren't sweet so there's a nice balance of flavors right there.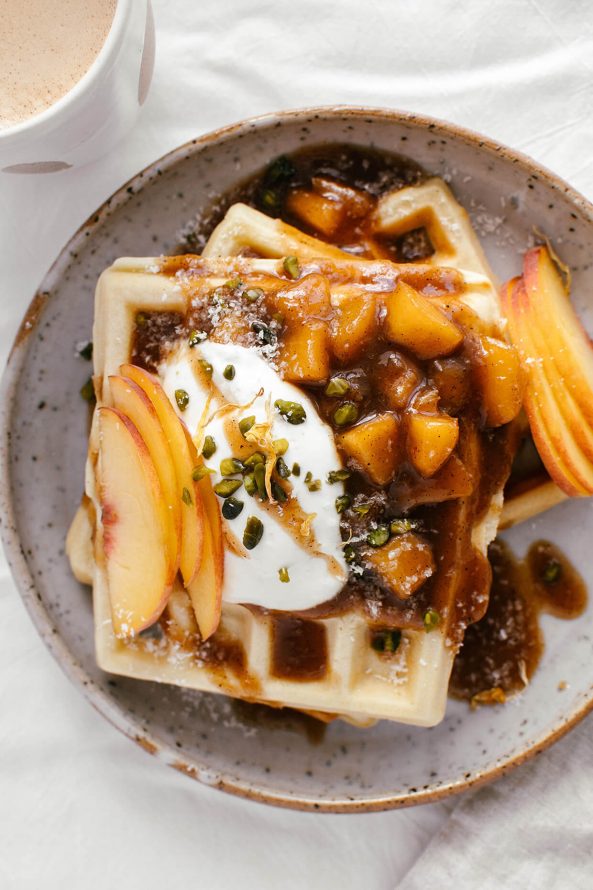 How to peel peaches?
With harder peaches, a vegetable peeler might work, but ripe peaches are soft. You can try the vegetable peeler or trust my advice and just skip it (I tried it and almost juiced a peach instead of peeling it, haha). The easiest method is peeling peaches with boiling water.
You fill a medium pot with water and bring it to a boil. Then put in a peach, let it sit for 10 seconds and take it out with a slotted spoon (or something similar). Rinse the peach under cold water or dunk it into a bowl of cold water. Then just pull the skin off. A small slice with a knife can help you start, but once you do, the skin truly comes right off. It's so easy. And then you just cut all around the pit and you're left with perfect peach chunks.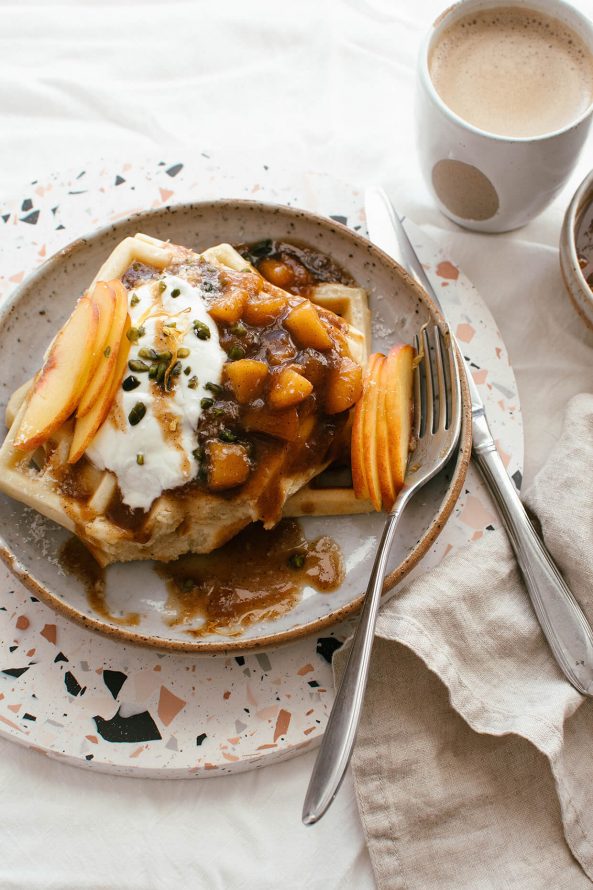 More about these cinnamon maple peach sauce waffles:
As mentioned before, I love to eat this wonderful maple peach sauce over waffles. The recipe is the same one I make here, originally (barely) adapted from Epicurious. I just love how easy these are to make. And they are just so buttery, fluffy and soft, but still crispy on the outside.
There's something magical about eating warm crisp waffles with warm or cold peach sauce. I love to add some plain Greek yogurt and pistachios on top. The flavors all work really nicely together. If Greek yogurt isn't your favorite, a dollop of coconut yogurt or cream fraiche is just as magical.

Can I make this ahead?
Absolutely! The peach sauce will last for days in the refrigerator, so get ready to enjoy it 24/7. If you're a fan, I suggest doubling the recipe, so that you have enough at all times. And you can make the waffle batter a day ahead, keep it in the refrigerator overnight and then use it as you would fresh.
Overall I think you should make these cinnamon maple peach waffles at least once during peach season but chances are you'll make them more than that. And I can't blame you. If nothing else, you have to at least make the sauce. It's that good, it's hard to have it just once.
I like to enjoy some peach sauce with waffles first and then save some to have later with oatmeal, yogurt, over ice cream or just on it's own as a quick and sweet snack. This is a simple and versatile dish, so I'm sure you'll find many uses for it.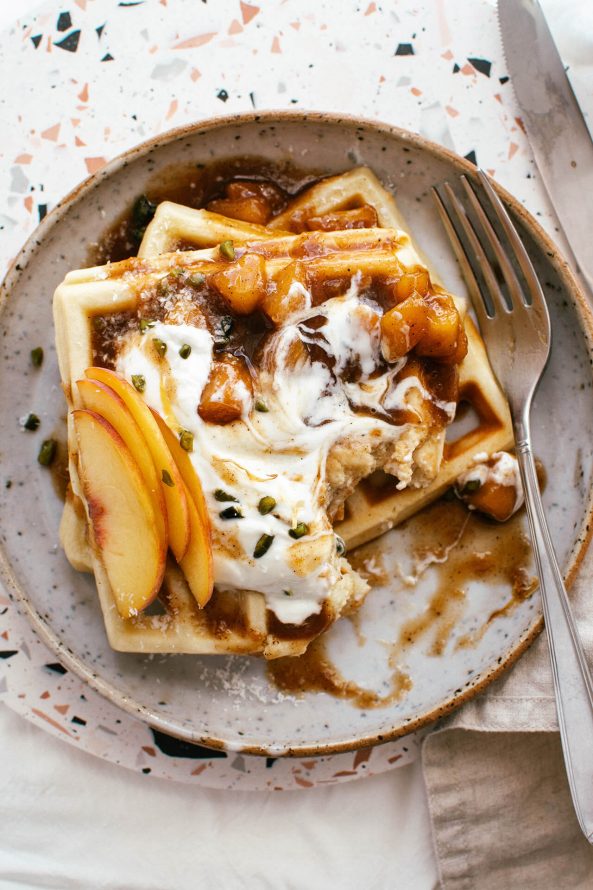 Cinnamon maple peach sauce waffles
Buttery and crispy waffles with (make-ahead) fresh peach sauce, made that much better with maple syrup and plenty of cinnamon. 
Ingredients
Maple peach sauce
5

ripe peaches

(skins removed)

3

tablespoons

(

45

ml

)

fresh lemon juice

1/3

cup

(

80

ml

)

maple syrup

1/4

cup

(

40

g

)

dark brown sugar

1/2 – 1

teaspoon

ground cinnamon

1

vanilla bean
Crispy waffles
2

cups

(

270

g

)

all purpose flour

2

tablespoons

(

30

g

)

granulated sugar

1 1/2

teaspoons

baking powder

1/2

teaspoon

fine sea salt

1 3/4

cups

(

420

ml

)

milk

(whole or part-skimmed)

6

tablespoons

(

85

g

)

unsalted butter

(melted)

2

large

eggs

(beaten)

1

teaspoon

vanilla extract

sunflower oil for cooking

(or other neutral oil)
Serve with
Greek yogurt

(or coconut yogurt or creme fraiche)

fresh peaches

chopped pistachios

shredded coconut
Instructions
Make the peach sauce
Remove pits from peeled peaches. Blend 2 peaches in a blender until smooth and completely pureed, chop the rest in small chunks. Transfer all to a non-reactive saucepan. Add lemon juice, maple syrup, sugar and cinnamon. Slice vanilla bean in half vertically, scrape out the seeds and add those and the pod to the peaches. 

Cook over medium heat, stirring occasionally, for about 15 minutes, just until the peaches are soft but still somewhat hold their shape. Taste the sauce and add more sugar if needed. Remove from heat and transfer to a jar. At this point you can let the sauce cool a bit, then store it covered in the refrigerator for up to 3-4 days.
Make the waffles
Combine flour, sugar, baking powder and salt in a large bowl. Whisk in milk and melted butter. Lastly whisk in the eggs and vanilla paste. The batter has to be smooth, not lumpy. (At this point the batter can stand at room temperature for about an hour.)

Heat waffle iron according to manufacturer's instructions and, using a silicone brush, brush the grids lightly with oil. Pour enough batter onto each waffle grid to cover it generously, it should fill all the spaces on its own. If it doesn't, push the batter towards the edge with a spatula. (I use about 1/2 cup of batter per waffle)

Close waffle iron and cook waffles until they're golden with a crisp golden brown crust, this takes about 5 minutes.

Transfer waffles to a plate. Serve with a generous serving of peach sauce, some yogurt, fresh peaches and pistachios.
Notes
Adjust the amount of sugar in the sauce to your taste. Depending on the peaches, you can use more or less or substitute some with maple syrup. 
If you want a smooth sauce with no chunks, first puree all 5 peaches and then proceed with the recipe. 
Text recipe
Email recipe
Pin Recipe
ThisOriginally published in September 2016 Revised and republished in September 2019. Last updated in May 2022.