A smoothie is the perfect quick meal and I know you'll love my spiced Fall version. There's nothing quite like this amazing sweet potato smoothie. It is naturally sweet, spiced with cinnamon and extra creamy because of the banana and vegan yogurt I hide in there.  This is the recipe to use when you have leftover sweet potato puree or baked sweet potatoes.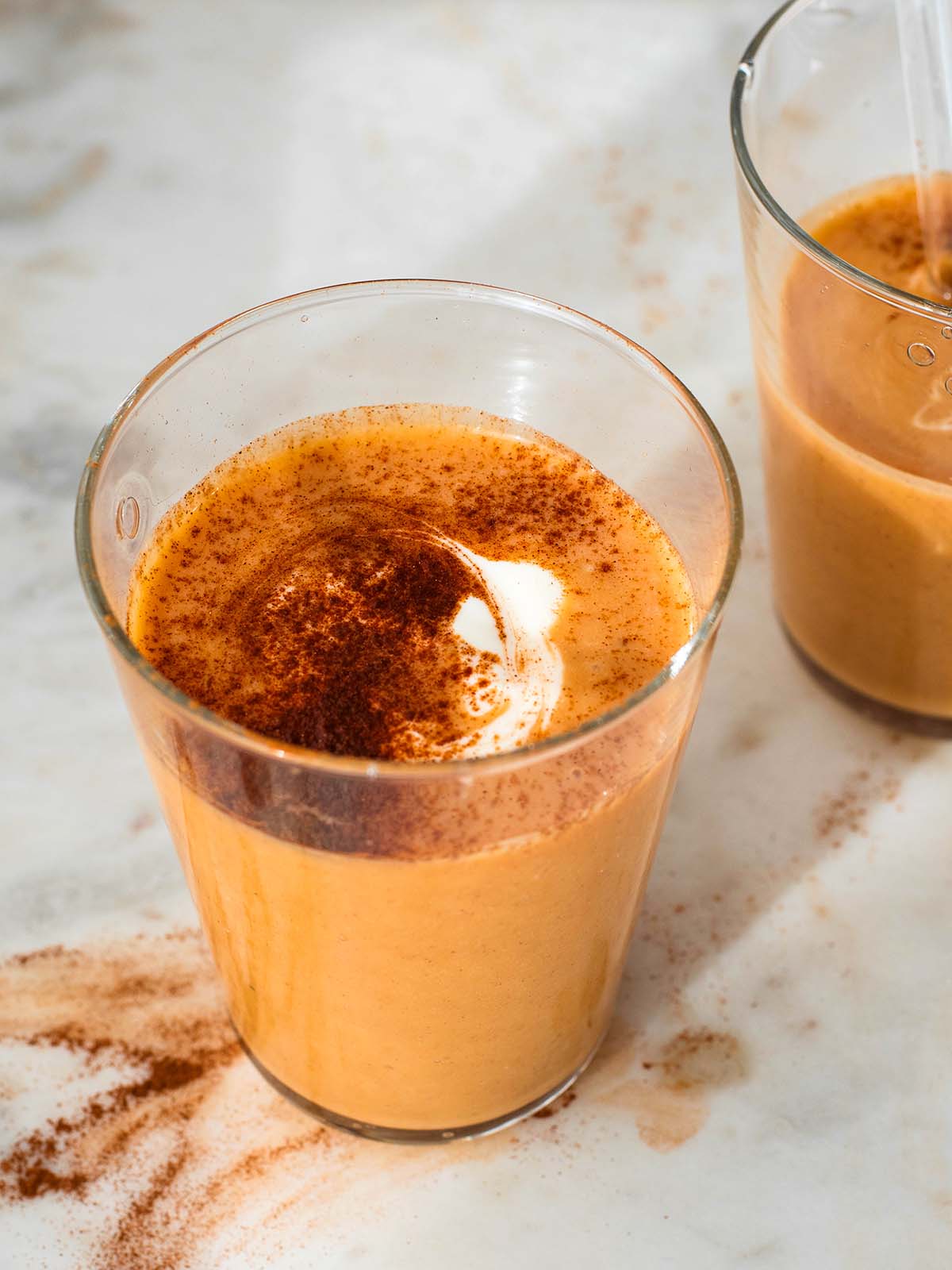 I truly do have an obsession with making smoothies. Anytime I think I've found a favorite one, I start thinking of something else and it changes seasonally. And Fall is when I eat sweet potatoes in really large amounts. I'm talking daily.
I really just love the subtle sweetness of sweet potato. You can pair it with so many things. I have a simple recipe for how to make quick roasted sweet potatoes and I like to bake some extra now just for this smoothie.
When I initially decided to make a smoothie with sweet potato, I reached for my Vegetarian flavor bible. It's a great book to get some flavor pairing inspiration. The list of flavors that go with sweet potatoes is endless. It includes everything from apples to bell peppers, chilies, coconut, ginger, honey and so on.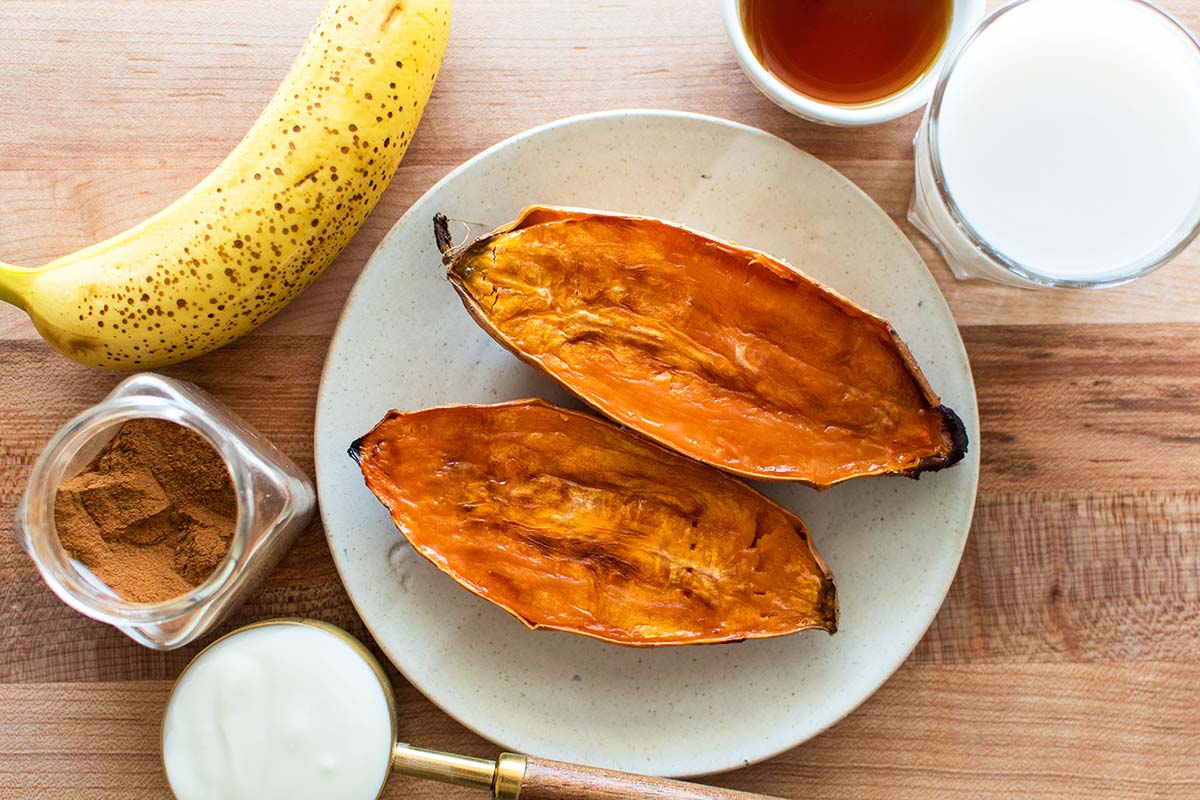 But I knew I wanted my sweet potato smoothie recipe to be easy, sweet and simple. I wanted a short ingredient list with pantry staples. All easy ingredients to blend in a small blender, like a NutriBullet or a Ninja.
What I ended up with was this banana sweet potato smoothie with cinnamon, maple syrup and yogurt that tastes like sweet potato pie. It's an amazing, inexpensive, creamy smoothie. If you add some ice, it's also a lot like a sweet potato shake. And bonus points – this is a vegan recipe!
How to prepare sweet potatoes for a smoothie
This is the one part of this recipe that needs some planning. In theory, you can eat sweet potatoes raw, but that can cause stomach upset. I shudder at the thought, so I never use raw potatoes.
I prefer roasted potatoes to cooked sweet potatoes because baking deepens their sweet, caramelized taste.
I usually bake halved sweet potatoes for lunch or dinner. Since I bake them without oil, I store some for smoothies in the refrigerator.
To freeze, I remove the skins once the potatoes have cooled. I then slice them in chunks. I portion those in bags, lay them flat in a single layer, then freeze them. I use frozen sweet potatoes in a smoothie without thawing.
You can roast sweet potato cubes instead. First peel raw potatoes. Slice them into cubes, lay out on a baking sheet and bake at 400°F (200°C) until golden and soft, just like you would bake whole or halved sweet potatoes. Cubes might be easier to freeze and portion, since they're smaller. 
You can use cooked or steamed sweet potatoes in this recipe too, if that's what you prefer. 
For a super quick recipe, you can use canned sweet potato puree. (Just don't use sweet potato pie filling.)
Substitutions
Milk: This recipe uses unsweetened almond milk, but any type of milk works. I like almond milk because it's very neutral in taste. You can use vanilla flavored almond milk, any other dairy-free milk like soy milk or oat milk. Or you can use regular milk.
Yogurt: I am using dairy free soy yogurt. It's creamy and slightly tangy. You can use other vegan yogurts, like coconut that pairs nicely with sweet potato. Regular Greek yogurt is perfect for this too.
Banana: If you don't like bananas, you can add some extra bulk with cauliflower. It's surprisingly plain and easy to hide, just don't overdo it.
Cinnamon: Cinnamon in smoothies is my favorite thing in the world and I always add some. It takes any smoothie to the next level. You can use less or skip it if you want. Ground cardamom or vanilla extract are lovely too.
Additions
Orange juice: I love to add a splash of orange juice to add some acidity and extra sweetness to the smoothie.
Dates: If you ever wondered how to make a smoothie sweeter, adding pitted dates is the way. You can use dates instead of maple syrup.
Protein: You can easily turn this into a protein smoothie with some protein powder. Use vanilla protein powder for a regular sweet potato smoothie. Or get some chocolate protein powder to make a chocolate sweet potato smoothie instead. If you do that, a pinch of cocoa powder would be wonderful too. 
Oats: For a bulkier, hearty smoothie mix in some quick cooking or old fashioned oats.
Nut butter: Any kind of nut butter, especially almond butter, pairs well with sweet potato.
More of my favorite Fall recipes
Amazing sweet potato smoothie
A creamy banana sweet potato smoothie with cinnamon, almond milk and dairy free yogurt. It's delicious and so satisfying, great for breakfast or easy afternoon snack.
Ingredients
1

small

baked sweet potato

,

skins removed (or 1/2 heaping cup sweet potato puree)

1

small

banana

,

fresh or frozen

1/2

cup

(

120

ml

)

dairy-free yogurt

,

(I like both soy or coconut milk yogurt)

2/3

cup

(

160

ml

)

unsweetened almond milk

,

(vanilla flavored is wonderful too)

1/2

tablespoon

maple syrup

1/2

teaspoon

ground cinnamon

1/8

teaspoon

ground cardamom

,

(optional)

1/4

cup

orange juice

,

(optional)
Instructions
Combine all ingredients in a blender and blend on high speed until completely smooth, about 1 minute. Taste and add more spices, sweeteners or milk if desired. Then serve immediately.
Notes
You can prepare sweet potatoes ahead of time using my recipe for baked sweet potatoes. Eat some warm and store the rest for smoothies.
If you don't want to use a banana, leave it out. You can replace it with cauliflower florets, oats, dates, protein powder, more yogurt, etc.
You can use regular milk and Greek yogurt in place of vegan alternatives. 
Blending tips
If you're using a small personal blender, like a Nutribullet or Ninja, add sweet potato and banana first, then top with liquids and spices.
If you're using an upright blender, like a Vitamix, add liquids and spices first, then the sweet potatoes and banana.
This is important because you want enough liquids around the blades for optimal mixing and blending.
Email recipe
Pin Recipe