This rich cinnamon swirl pumpkin brioche bread hits the spots every time. With a wonderful Fall mix of pumpkin puree and cinnamon brown sugar, it's the most cozy thing to make on a dreary day. This recipe uses overnight brioche dough, which cuts your work in half and makes the brioche taste even more amazing.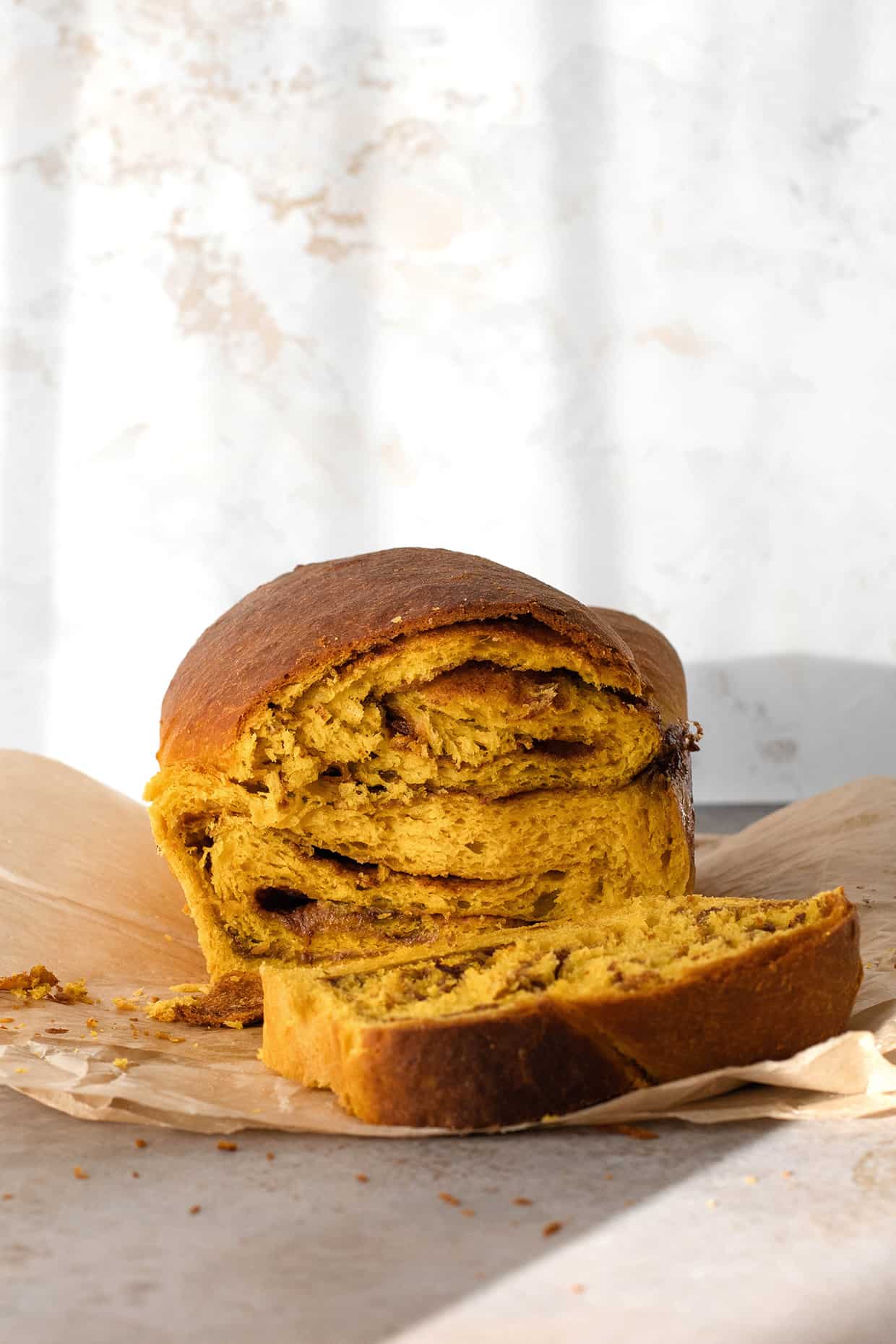 I equate Fall with baking and bread is at the top of the list. Specifically things with cinnamon, like this pumpkin brioche. It's like a love child of cinnamon rolls and brioche bread. I truly want to eat nothing else for the next 4 months.
Not having a Trader Joe's around here means I have to resort to watching hauls on Youtube. Which I don't mind at all! There's just something calming about watching other people buy groceries, is it not? And it seems like everyone loves TJ's, which I completely get. And Trader Joe's Pumpkin Brioche Twist is exactly what inspired this recipe. 
Brioche made with pumpkin
The base for this bread is classic brioche, that buttery soft cloud we all know and love made with yeast, milk and eggs. I add canned pumpkin puree to that, which makes this whole loaf naturally sweet and really pillowy.
I do use canned puree, because it's easy. You can use homemade if you want. And if you're worried about having leftover puree, make this canned pumpkin pasta. It's so worth opening a can for.
If the process of making brioche scares you, I love this video with Claire Saffitz and her take on brioche.
The process
Once you've made your dough, you need to let it rest. Preferably overnight. Because the trick in shaping brioche is shaping it cold. This overnight proof in the refrigerator not only helps with flavor, but it just makes the dough easier to work with. All the best qualities of brioche (like how soft it is) are also its worst when the dough is warm. That's why cold, stiff dough is what you want.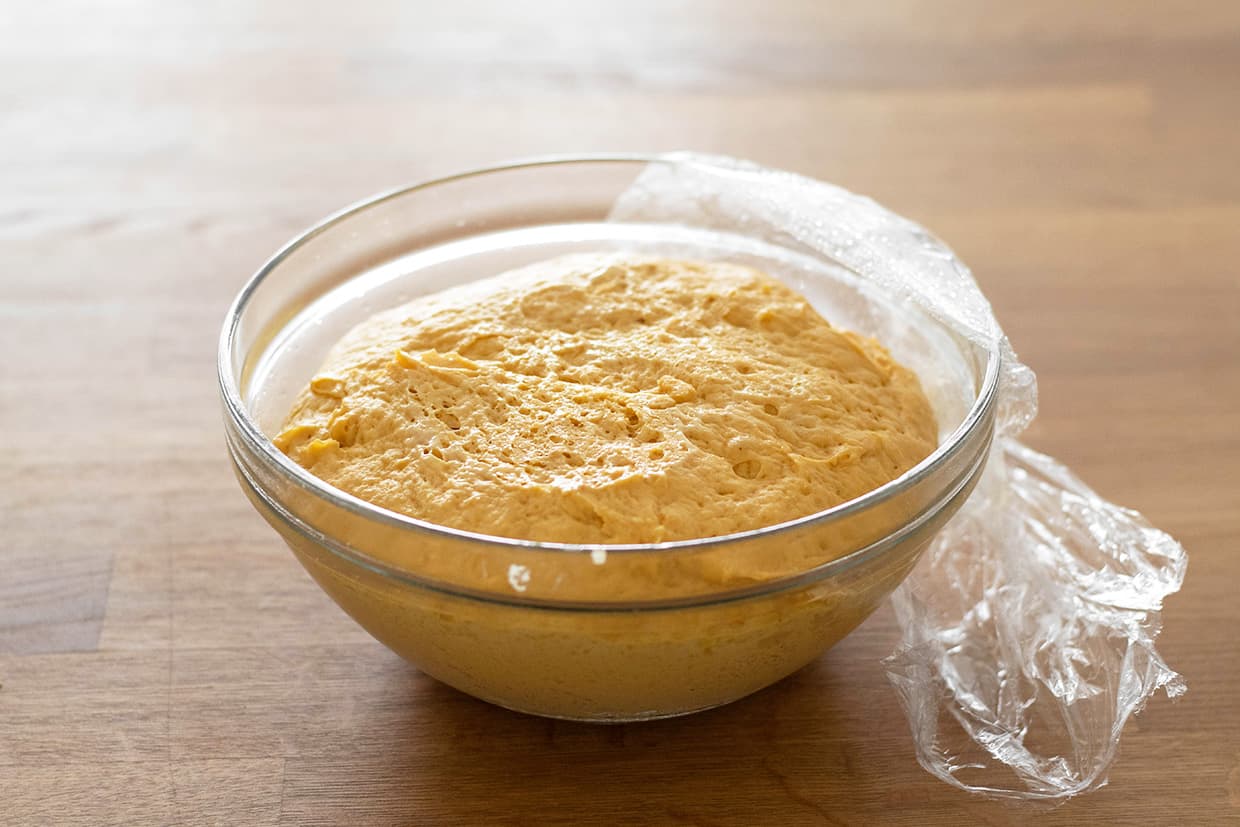 When you have that, roll it out thinly. Then brush with butter. I like melted butter, instead of softened, as I find this application more even. There's plenty of butter inside the dough. So there's no need for another thick layer on the outside. You want just an even thin coating, just enough to hold the cinnamon sugar.
Sprinkle the dough with a mix of brown sugar and cinnamon. The pat the sugar down, so it sticks a bit.
Roll the log tightly, as best as you can. Having a dough scraper helps with lifting and rolling, so use that to gently move the dough. This is a soft dough, even when it's cold. But the end result is well worth it.
At this point, you could turn this brioche into brioche cinnamon rolls. If not, halving the log is the best way to transfer it to the pan and have it bake nicely.
Because the dough proofs slowly and in the cold, this rise before baking will take a while. It normally takes up to an hour for the dough to warm up and poof up. To be sure it's ready, gently poke it with your finger to make an indentation. If it slowly bounces back, the dough is ready!
Brush it with leftover melted butter and bake. You want a deep brown crust on the top. And if you tap it, the bread should sound hollow.
Extra notes
This is the kind of bread that you can make over the week. With the work split in two days, it doesn't really take much to come together. But I love this rich cinnamon swirl pumpkin brioche bread the most as a weekend bread. I find the process of making it super relaxing and the brioche that more rewarding as I get to nibble on it over the working week.
If the idea of this cinnamon pumpkin bread doesn't quite do it for you, you can easily turn this into a pumpkin spice brioche bread. All you have to do is add some pumpkin spice (1-2 teaspoons) to the dry ingredients as you make the dough. That should give it enough of an aroma to take you to pumpkin spice land. If you're bold, you can also add the spice to the brown sugar to make a spicy cinnamon swirl in the brioche.
You can slice it in rolls instead of making two logs and make brioche cinnamon rolls. Cream cheese would be lovely with this too. And what I like to do is just take a slice of pumpkin brioche and slather it with butter and some honey. It is actually amazing.
Rich cinnamon swirl pumpkin brioche bread
Soft pillowy pumpkin brioche filled with cinnamon brown sugar, made with canned pumpkin puree and just perfect for Fall.
Ingredients
For the dough
1/4

cup

(

60

ml

)

milk

2

teaspoons

active dry yeast

1

tablespoon

(

15

ml

)

sunflower oil

(or other neutral oil)

1/2

cup

(

125

g

)

pumpkin puree

(I use canned )

3

tablespoons

(

45

g

)

granulated sugar

2

eggs

(at room temperature)

2 3/4

cups

(

370

g

)

all-purpose flour

1

teaspoon

sea salt

4

tablespoons

(

55

g

)

unsalted butter

(cubed and chilled)
For the filling
5

tablespoons

(

70

g

)

unsalted butter

(melted )

1/2

cup

(

110

g

)

light brown sugar

2

teaspoons

cinnamon
Instructions
Make the dough
Heat milk in the microwave or on the stove just until it's warm (and not hot) to the touch. Stir in yeast and allow it to dissolve and lightly bubble while you do the rest.

Combine oil, pumpkin puree, sugar and eggs in the bowl of your stand mixer. Whisk until smooth.

Stir in milk, just until combined. Add all of the flour and sprinkle it with salt, then mix on medium-low speed, using a dough hook attachment. It'll look like you have too much flour at first, but keep mixing for about 5 minutes and it'll all come together.

As the dough starts to pull from the sides, add cold butter. Then keep kneading on low speed until all the butter is incorporated, about 5 minutes. The dough will be smooth and slightly tacky.

Scrape the dough onto a lightly floured surface and fold it into a ball. Transfer it to a large bowl that you previously brushed with oil. Allow it to rest at room temperature for 30 minutes, then cover the bowl with plastic wrap and transfer it to the refrigerator to proof overnight.
Shape the bread
First prepare the pan. Melt 5 tablespoons of butter for the filling and use some of that to butter your loaf pan. Line the bottom and longer sides with parchment paper, leaving some overhang, for easier lift-off when the bread is baked. Brush the parchment with butter too. Set aside.

Take your dough out of the refrigerator, lightly flour your work surface and roll out the dough into a rectangle, about twice the length of your loaf pan and about 1/4 inch (6 mm) thick.

Brush the dough with melted butter, leaving a 1 inch (2.5 cm) border at the top longer side of your rectangle.

Mix brown sugar with cinnamon, then sprinkle it all over the dough and pat it down. Tightly roll the dough into a log, making sure that the seam is on the bottom. If it's sticking to your counter, lift and roll it with a dough scraper.

Slice the log in two crosswise, so that you get two smaller logs. Put the logs into your prepared pan – place them side by side or one over the other to form an X shape. Both bake the same, the latter just gives you more cinnamon layers in the middle.

Pat down the logs slightly, so the dough fills up the pan on all sides. Let it rise at room temperature until doubled (this will take up to an hour, depending on how cold the dough and kitchen are).
Bake
Preheat the oven to 350°F (175°C) as the dough rises. Brush the loaf with extra melted butter before baking. Bake in the center of the oven for 40 minutes or until the top is deep brown and the bread sounds hollow as you tap it.

Remove the bread from the oven and allow it to cool inside the pan for 20-30 minutes. Then pull it out and allow it to cool completely before eating.
Notes
This dough is really soft and moist (thanks to all the pumpkin puree). Letting it proof slowly in the refrigerator makes it a lot easier to work with. If you can't wait overnight, let it chill for at least 4 hours, until it's really cold and stiff.
A dough scraper is invaluable in this recipe, it helps you lift the dough as you roll it, if it sticks to the counter.
This bread is very soft and pillowy, so let it cool completely before you cut into it or you risk squishing it. It'll stay perfect for days.
Keep the pumpkin brioche at room temperature, covered with plastic wrap or some foil. Eat within 4 days or freeze for up to 2 months. 
Text recipe
Email recipe
Pin Recipe