When I want something comforting and easy to make, I tend to reach for this quick pumpkin orecchiette with walnuts. They definitely belong in my top 5 weeknight Fall meals. I dress up canned pumpkin with some shallots, spices and parmesan. Mixed with hearty short pasta, I eat this straight out of the pot if I have to. So simple and good!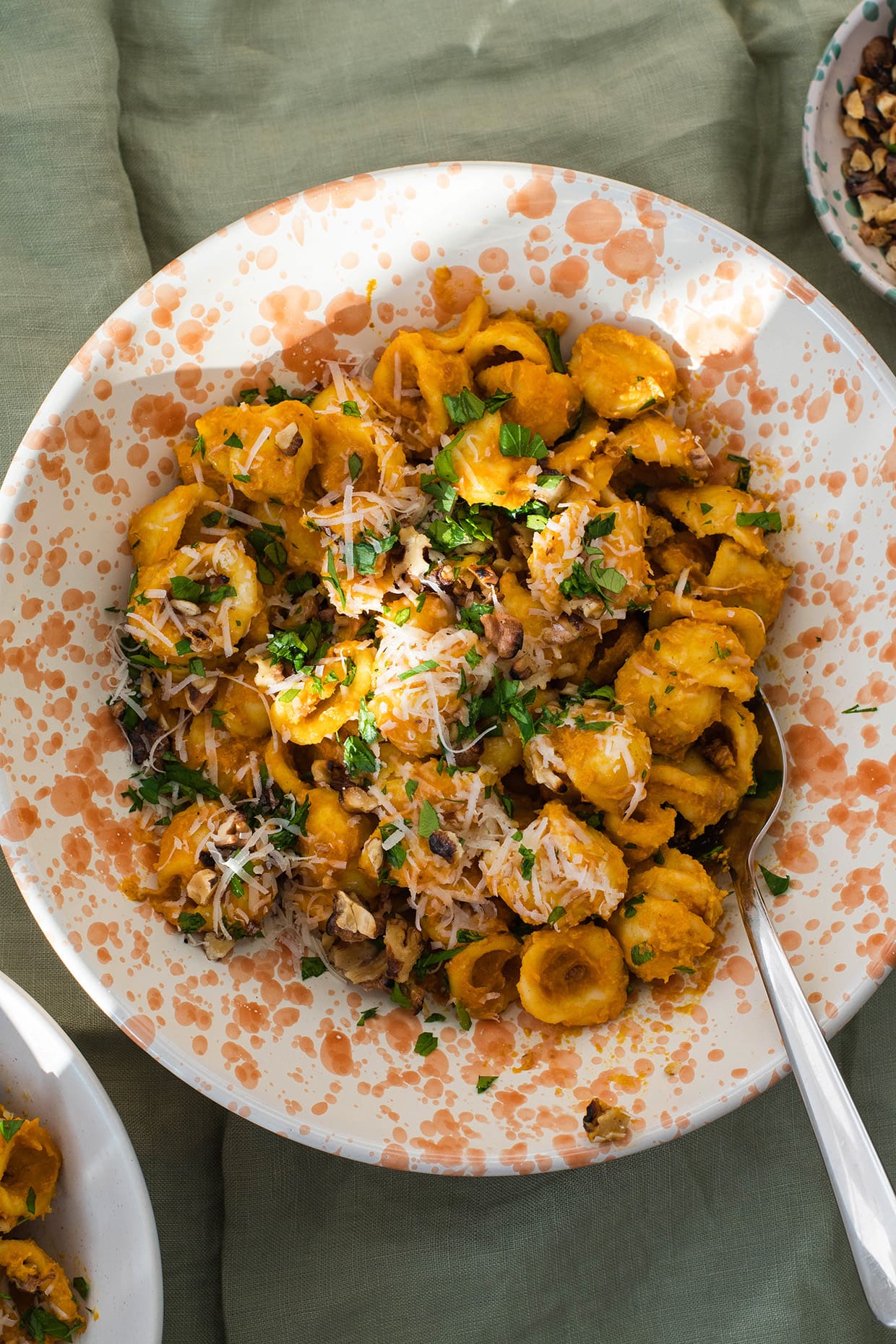 I love the ease of using canned pumpkin, but hate having any leftover because rarely does a recipe use the whole can. That's how these quick pumpkin orecchiette with walnuts came about.
As I made some pumpkin bread, I had quite a bit of pumpkin puree left, so I threw it into a sauce for a quick weeknight pasta. And this sauce truly is mostly pumpkin, with just a splash of cream and some grated parmesan mixed in. This results in a really creamy pumpkin sauce that isn't heavy at all.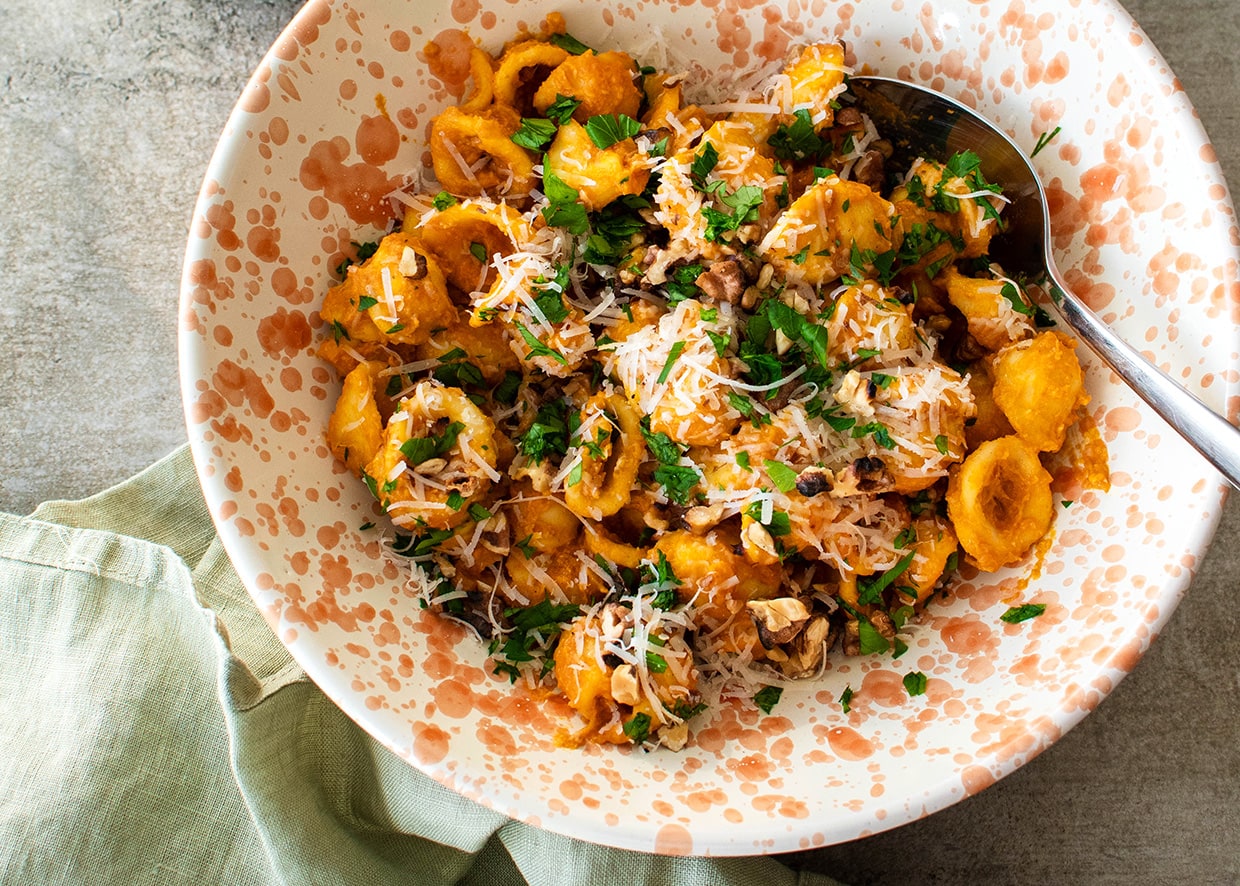 I top off my pumpkin pasta with a generous sprinkling of chopped walnuts and some parsley. If you have other greens on hand, feel free to throw in some spinach or kale. Both work really well with pumpkin.
This is such a comforting meal to make and it comes together in no time at all. By the time your pasta water boils and orecchiette cooks, you'll be done with the sauce and ready to eat. And if you're in the mood for extra carbs (because I always am), these herb parmesan biscuits are quick to make as well.
Quick pumpkin orecchiette with walnuts
Light creamy sauce made with canned pumpkin puree, perfect for a quick weeknight dinner.
Ingredients
1

pound

(

450

g

)

orecchiette

(or other short pasta)

2

tablespoons

olive oil

2

shallots

(minced)

1

tablespoon

tomato paste

1

teaspoon

sweet smoked paprika

1

heaping cup

(

300

g

)

pumpkin puree

2/3

cup

(

160

ml

)

vegetable stock

1/2

teaspoon

sea salt

1/8

teaspoon

nutmeg

(or to taste)

1

tablespoon

(

15

g

)

unsalted butter

1/3

cup

(

80

ml

)

whipping cream

(more to taste)

1/2

cup

(

40

g

)

grated parmesan

(more to taste)

1/3

cup

(

30

g

)

walnuts

(chopped)

small bunch of parsley

(chopped)
Instructions
Bring a pot of salted water to a boil. Cook pasta according to package directions. (I like to cook it a minute over the al dente recommendation.)

Meanwhile heat olive oil in a large skillet set over medium heat. Add the shallots and cook until fragrant and tender, a few minutes. Mix in tomato paste and paprika. Cook on low heat for 30-60 seconds to develop the flavor.

Stir in pumpkin puree, vegetable stock, salt and nutmeg. Let simmer on medium heat until the sauce reduces a bit, about 5 minutes.

Whisk in butter, whipping cream and about half of the parmesan cheese. Keep cooking until all the ingredients melt into a creamy sauce. Taste and add more salt if needed, then remove from heat.

Once the pasta is cooked, reserve about 1 cup (240 ml) of water and drain the rest. Fold pasta into the sauce. Mix in as much pasta water as needed to get a creamy sauce. (I prefer a thicker sauce, so I only add about 1/2 cup.)

Serve orecchiette with leftover grated parmesan, chopped walnuts and parsley.
Notes
If I have time, I like to toast the walnuts to get a deeper flavor from them. You can toast the walnuts on the stove in a large skillet set over medium heat, without any oil, for about 5 minutes. Or you can toast them on a baking sheet in the oven, set at 350°F (175°C) for 10 minutes or until fragrant.
You can use less or more pumpkin puree, depending on how much you have left in the can (if using canned pumpkin puree). This sauce is very forgiving and you can easily add more stock and cream if needed to stretch the puree further.
Keep leftover pasta in the refrigerator (in an airtight container) and eat within 2 days.
Email recipe
Pin Recipe