This creamy oatmeal apple smoothie tastes just like apple pie. It's a thick, cinnamon-scented smoothie that combines breakfast staples in one filling, satisfying mix. I make it without yogurt, just some milk, and gluten free oats.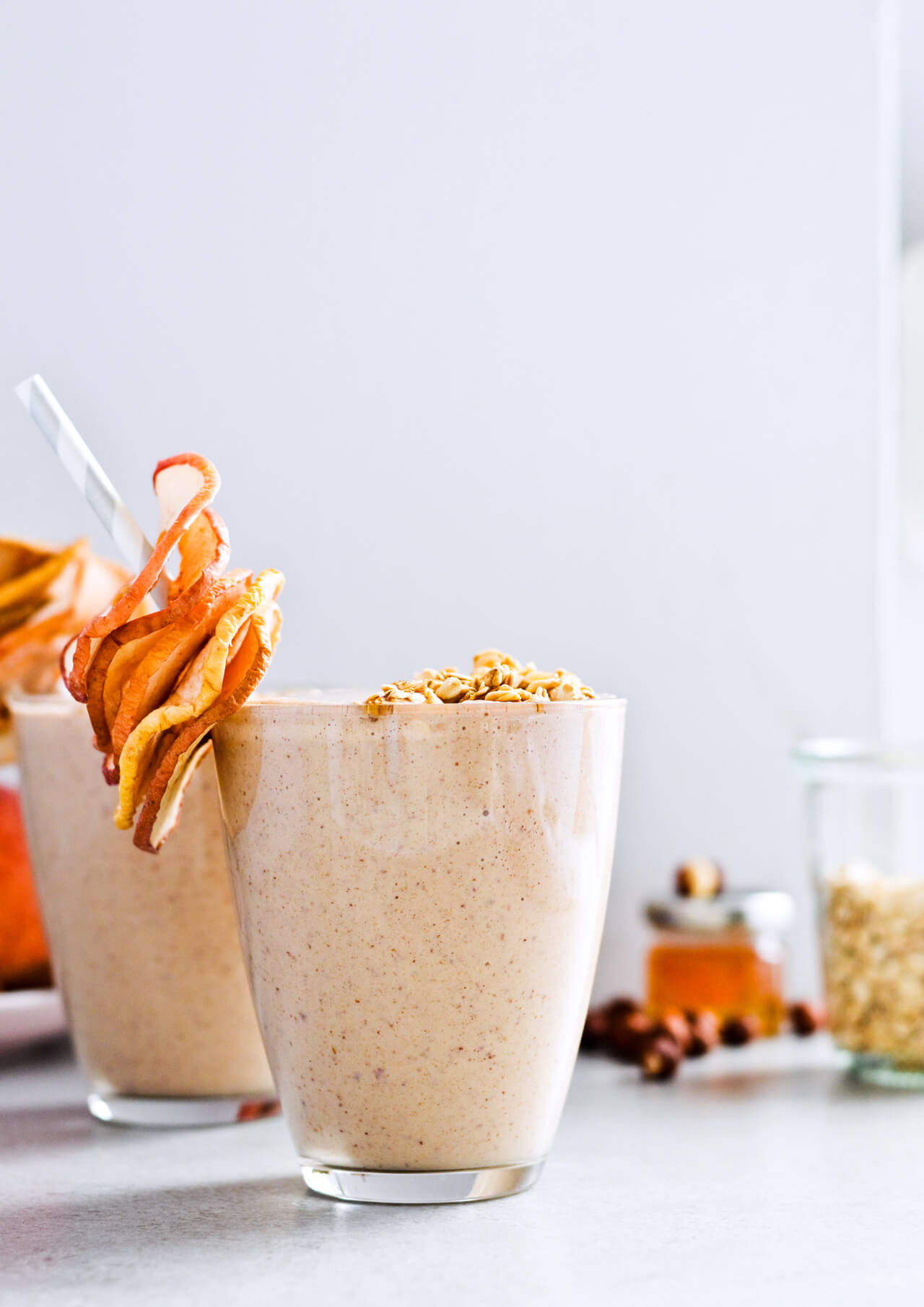 Breakfast is definitely a very important meal and I like to start my day off on the right foot. Meaning not hungry. I enjoy simple things in the mornings, nothing that requires too much thought. Especially before I've had my coffee. And smoothies fit into that.
My favorite thing about this oatmeal breakfast smoothie is hiding in the name. It's the oats. They not only thicken the liquid, they are so filling and give me lasting energy. A smoothie with oats is a quick substitute for a bowl of oatmeal, which I also love and have for breakfast frequently.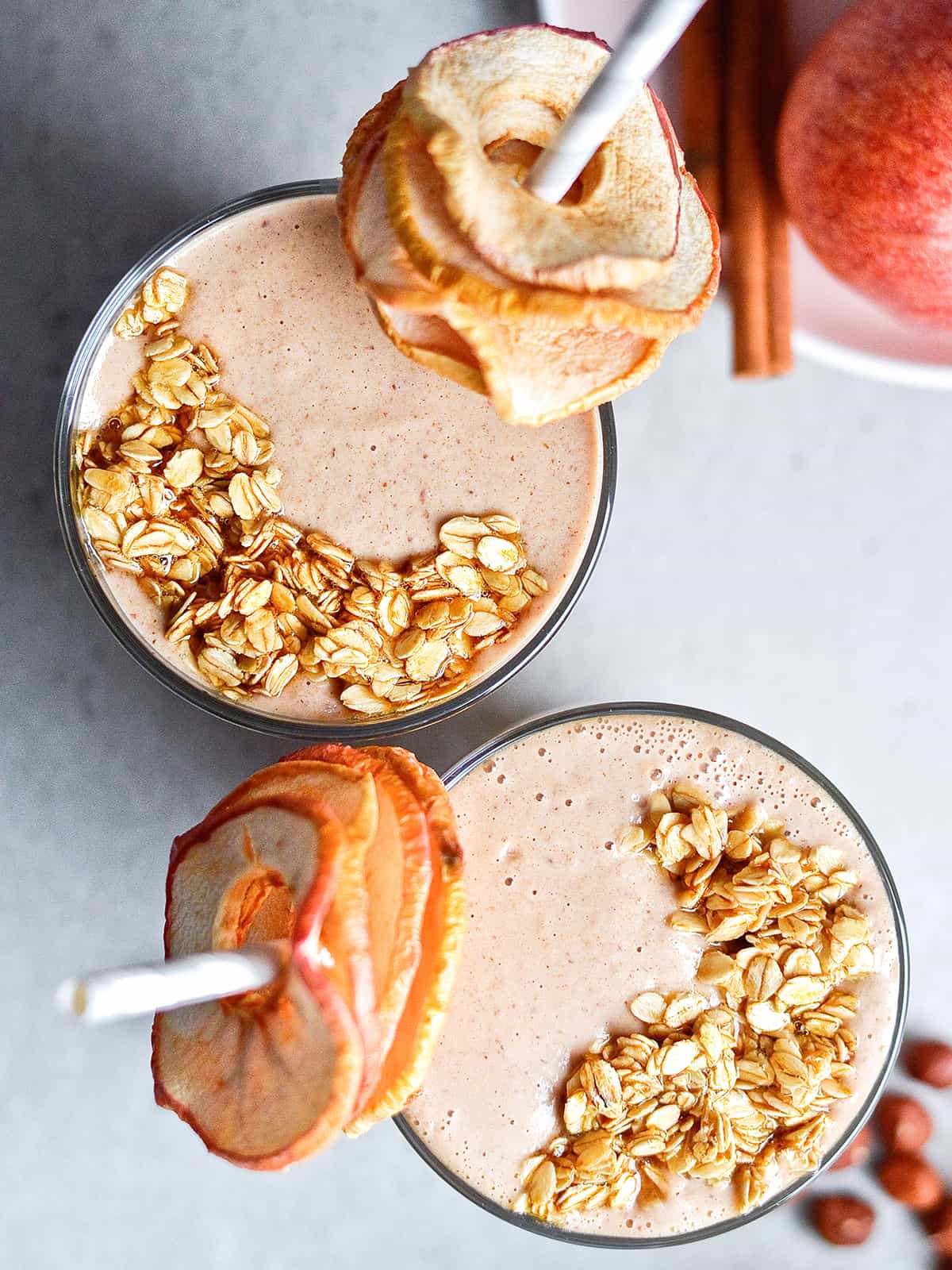 How to use oats in a smoothie
The key in making a smoothie with oats is blending the oats first. They are ground into a fine powder that blends into the milk easily and thickens much quicker that way. This is especially important because I use old-fashioned rolled oats, which are bigger and chewier than quick oats.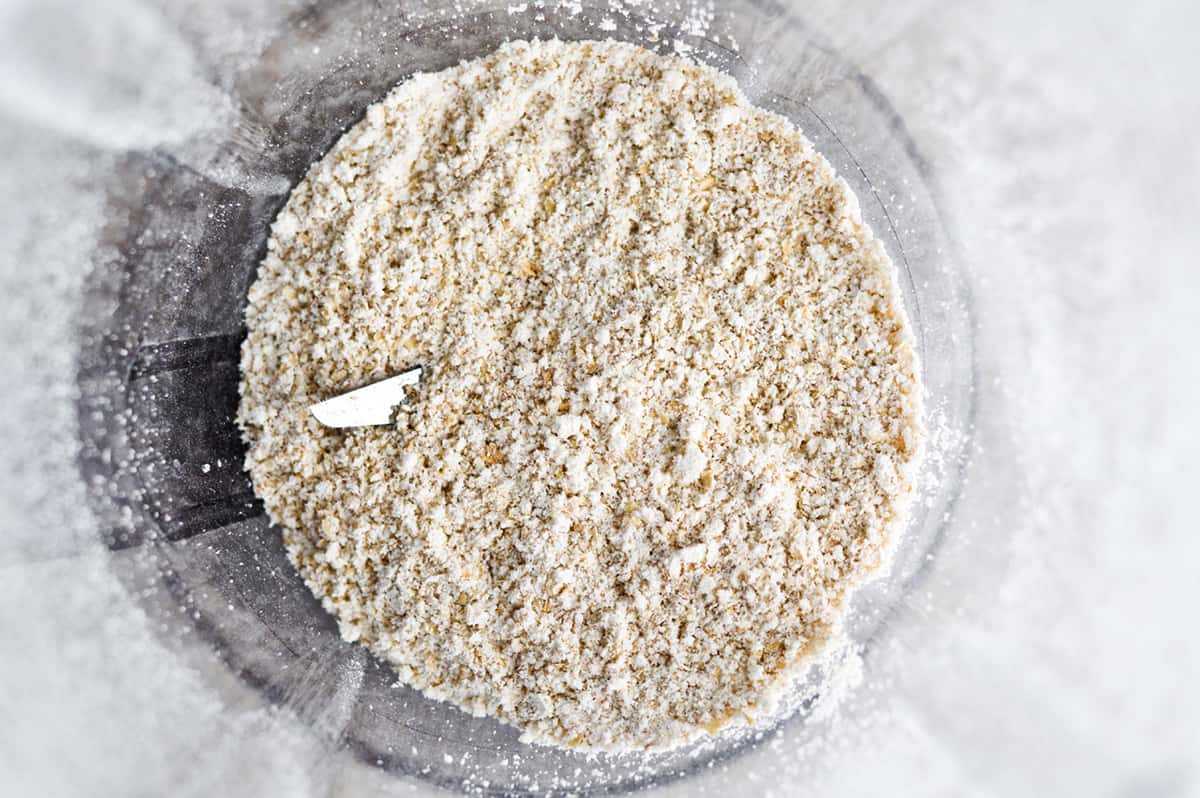 Oats work especially well when used with warm milk. What you get is a warm oatmeal smoothie, which may sound weird, but is actually delicious. I like to quickly warm milk in the microwave. However with the small amount used, it should warm up on the stove in no time as well. It doesn't need to be boiling hot, just warm.
Once the warm milk hits the oats, the cinnamon and the apple it develops the flavors so nicely. It makes them more intense and then you really feel like you're drinking a dessert or eating apple cinnamon oatmeal, you just didn't have to work so hard.
The one thing I changed over the years of me making this apple oatmeal smoothie is the nuts. I used to add hazelnuts to it. Whole raw hazelnuts. I then switched to hazelnut nut butter, because it's more convenient. Almond butter is really nice too. You could use peanut butter, but I like to save that for other things as peanuts can take over the flavors too quickly. I want this to be more of an apple cinnamon smoothie and less everything else, so I always make it without peanut butter.
With that said, I am still using bananas. Yes, this is an apple oat smoothie, but I love bananas for breakfast. They give me energy and make me feel full for hours. And they add some nice bulk to the mix. For a smoothie recipe, I like a banana that isn't too ripe (prefer to save those for bread!) and definitely not too sweet. However if you like ripe bananas, they work great. And if you prefer a cold smoothie, a frozen banana will work just as well.
To make this a super apple pie smoothie, I tend to serve it with some apple chips on the side for the ultimate easy breakfast.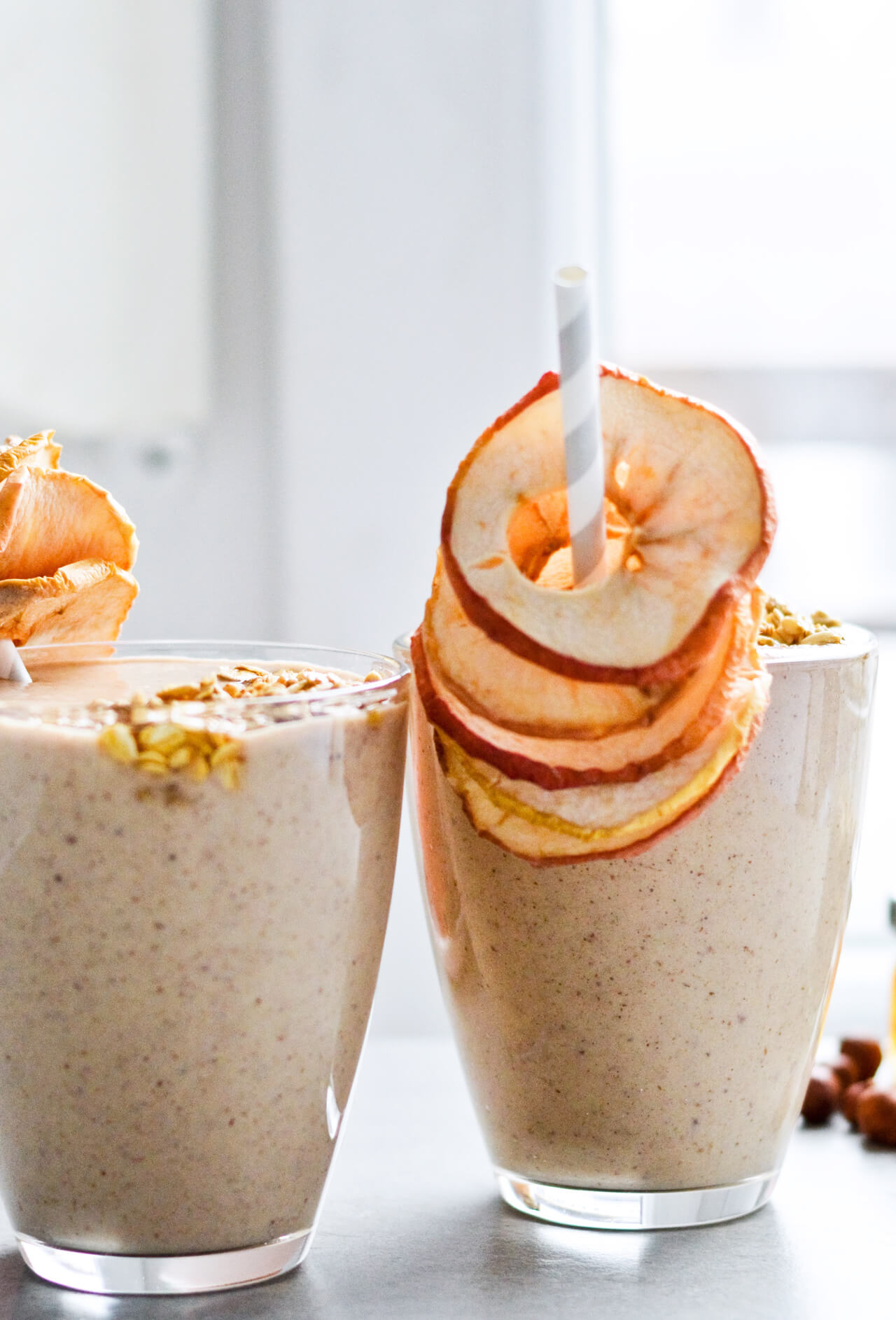 Substitutions
Nut butter: If you are allergic, use any seed butter that you like, like sunflower seed butter. Add more cinnamon if needed to adjust the flavor.
Milk: Cow's milk and soy milk both make the creamiest smoothie. If neither work for you, use any other milk that you like. Almond milk would be wonderful too. If you're using a flavored or sweetened milk, adjust the amount of dates and honey used.
Honey: Maple syrup is a great substitute for honey, if you don't have honey or simply want to make this a vegan smoothie.
Banana: To make a smoothie without banana, simply leave it out. You can bulk up the smoothie by using less liquid or more oats. You can also add some protein powder to it.
Oats: While I am using old-fashioned rolled oats, you can use quick oats instead. As long as you are using just pure oats and not a flavored mix of instant oatmeal because that will change the flavor of the smoothie.
More breakfast recipes I love
Creamy oatmeal apple smoothie
Fiber rich, gluten free and very filling breakfast smoothie. Enjoy it warm or cold.
Ingredients
1/2

cup

(

45

g

)

old-fashioned rolled oats

,

I use gluten free oats

1 1/4

cups

(

300

ml

)

soy milk

,

or almond milk

2

Medjool dates

,

pitted and roughly chopped

2

tablespoons

hazelnut butter

,

or almond butter

1

medium apple

,

cored and roughly chopped

1

small banana

,

sliced

1/4

teaspoon

cinnamon

,

more to taste

2

teaspoons

honey

,

more to taste
Instructions
Place oats in your blender. Blend on high speed until they resemble coarse flour.

For a warm smoothie, warm up milk in the microwave or on the stove until it's very warm, but not boiling. If using cold, just add milk to blended oats.

Add the rest of the ingredients and blend on high speed until completely pureed and smooth. Taste the smoothie and add more milk or cinnamon if desired.

Serve the smoothie with some apple chips on the side for the ultimate breakfast.
Notes
You can use cow's milk in place of soy (or almond) milk if you wish. If using yogurt, add some water to thin it out if needed.
Maple syrup is great instead of honey.
To make this without a banana, add more dates or honey if needed for sweetness and adjust the amount of milk used, to make a thicker smoothie. 
Text recipe
Email recipe
Pin Recipe
This recipe was first published on October 17, 2016. Republished (with extra notes and photos) on October 1, 2023.