You guuuys! I have one day left in my Sugar Salted breakfast challenge. Whew! Time flew by so fast, I can't believe I'm almost done. Challenge-wise at least, because I'll still be eating breakfast every day, you know? Since I'm such breakfast-mode, I thought I'd show you this really awesome hot chocolate protein coffee.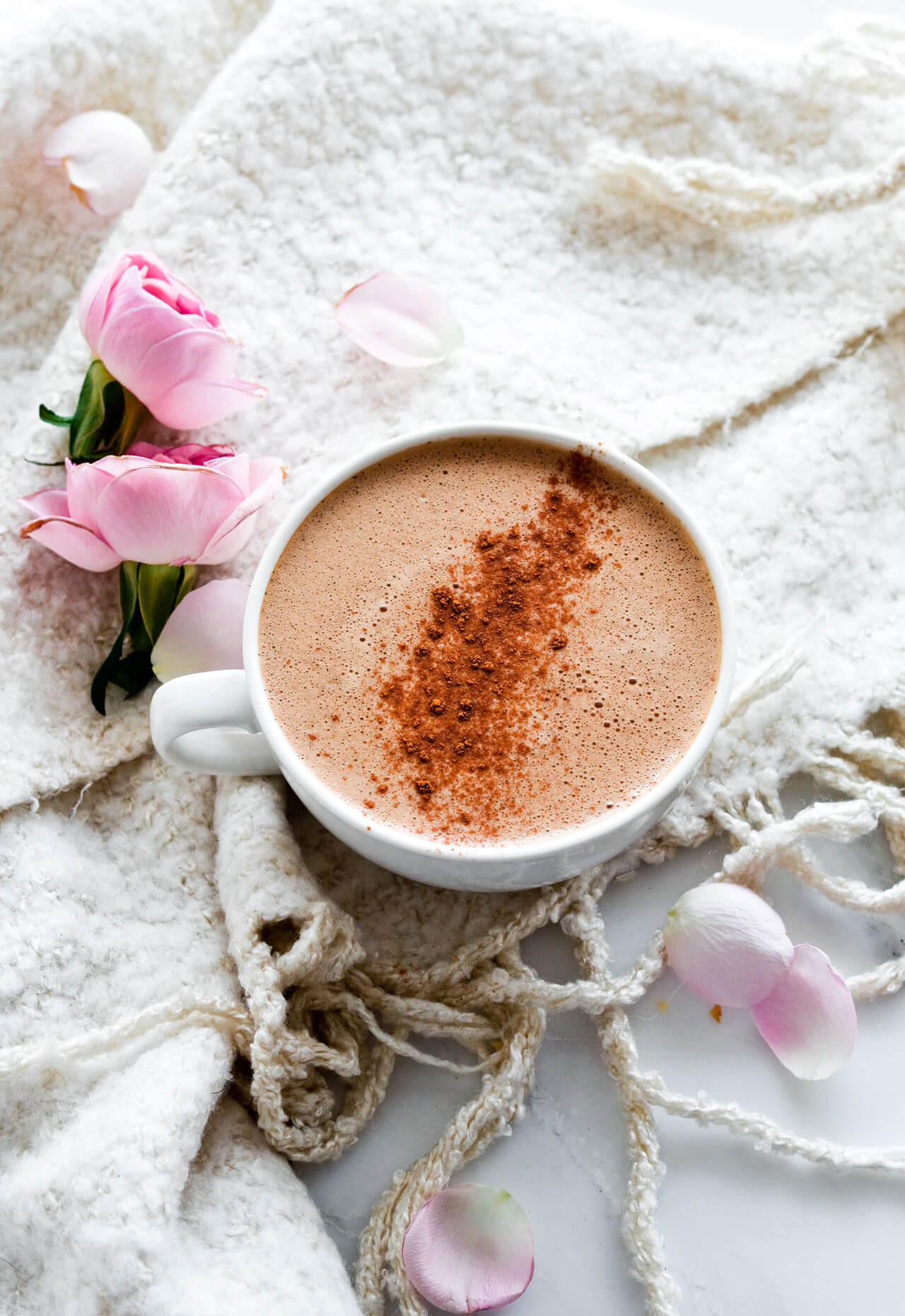 You know by now that on most days, I eat oatmeal for breakfast. Usually with a banana, sometimes with other fruit like cherry compote or citrus or apples. But usually I stick to the banana, because that's what I've always had for breakfast. Sometimes I would only have a banana and a coffee, especially when I was still in school. This year so far though, has been very oatmeal-heavy.
However, there are days when I need that extra push. Especially when I'm short on time, I need to get stuff done and I just want that kick of energy without the effort. That's when this hot chocolate  protein coffee comes in.
Before we get into it, I have to confess that I'm not someone that drinks protein powder every single day. I normally have a good breakfast and I try to eat a variety of protein-packed foods (except for meat), so I don't think I need protein powder on a daily basis. However, I like options.
I like knowing I have something at home that can give me instant energy. You're probably thinking "isn't that what the coffee is for?", but believe it or not, coffee doesn't even cut it on some days. I'm just so used to it. When I have really busy or stressful days or weeks, that's when I reach for protein powder.
I think we all have those days. You know when you feel weak or like you haven't eaten enough or if it was enough, it wasn't enough variety. And I know I have a food blog, so I feel like I should eat amazing meals all the time, but that's not really the case. Some days are very monotonous for me and I just know there are days when I don't put enough protein in my system.
That's why I love this hot chocolate protein coffee. It's a caffeine treat with food in it! Well, sort of.  Normally I drink two coffees a day. So during the week, on my busiest days, I need my regular coffee in the morning and I'll have this protein coffee in the early afternoon, as a snack substitute.
On the weekends, however, when I have more time to enjoy it, I love to have it in the mornings. We've been playing basketball on the weekends, so this is such a treat before we go out to play ball.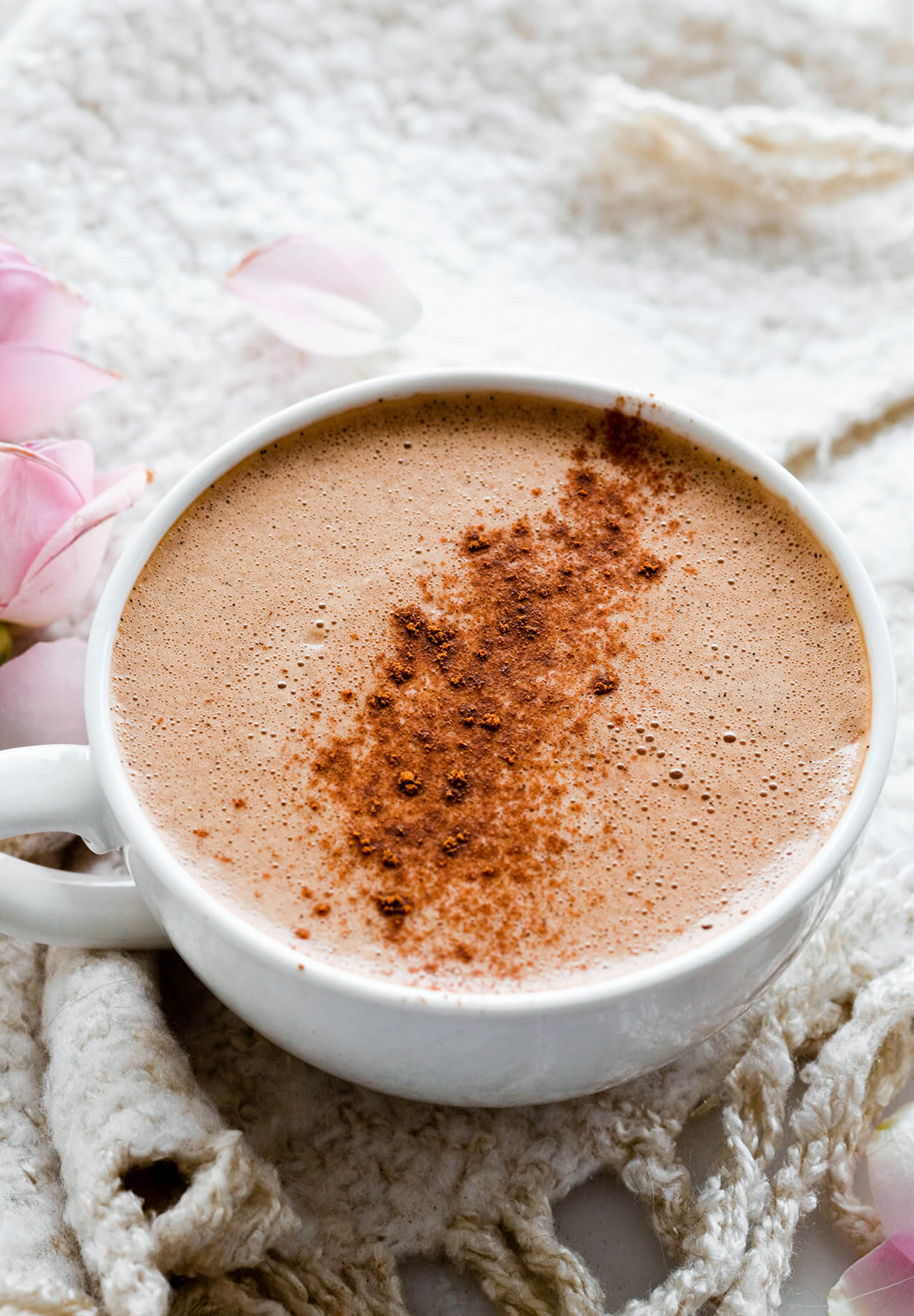 Now, if you've never tried mixing protein powder in your coffee you're probably wondering if it even works. It totally works! I tried a few options, but it turns out the simplest is the best. When researching things online, I saw that some people like to mix the powder into cold water first and then add that to hot coffee to prevent it from getting clumpy. I've tried that and it's fine.
But I really wanted this coffee to be a quick fix. So one day, I just threw everything into a jar and mixed it with an immersion blender and it was the best coffee ever. Using a blender instead of whisking by hand totally solves any clumping issues and you get a really smooth, warm drink. And I prefer an immersion blender, because it requires less clean up. (Always a win!)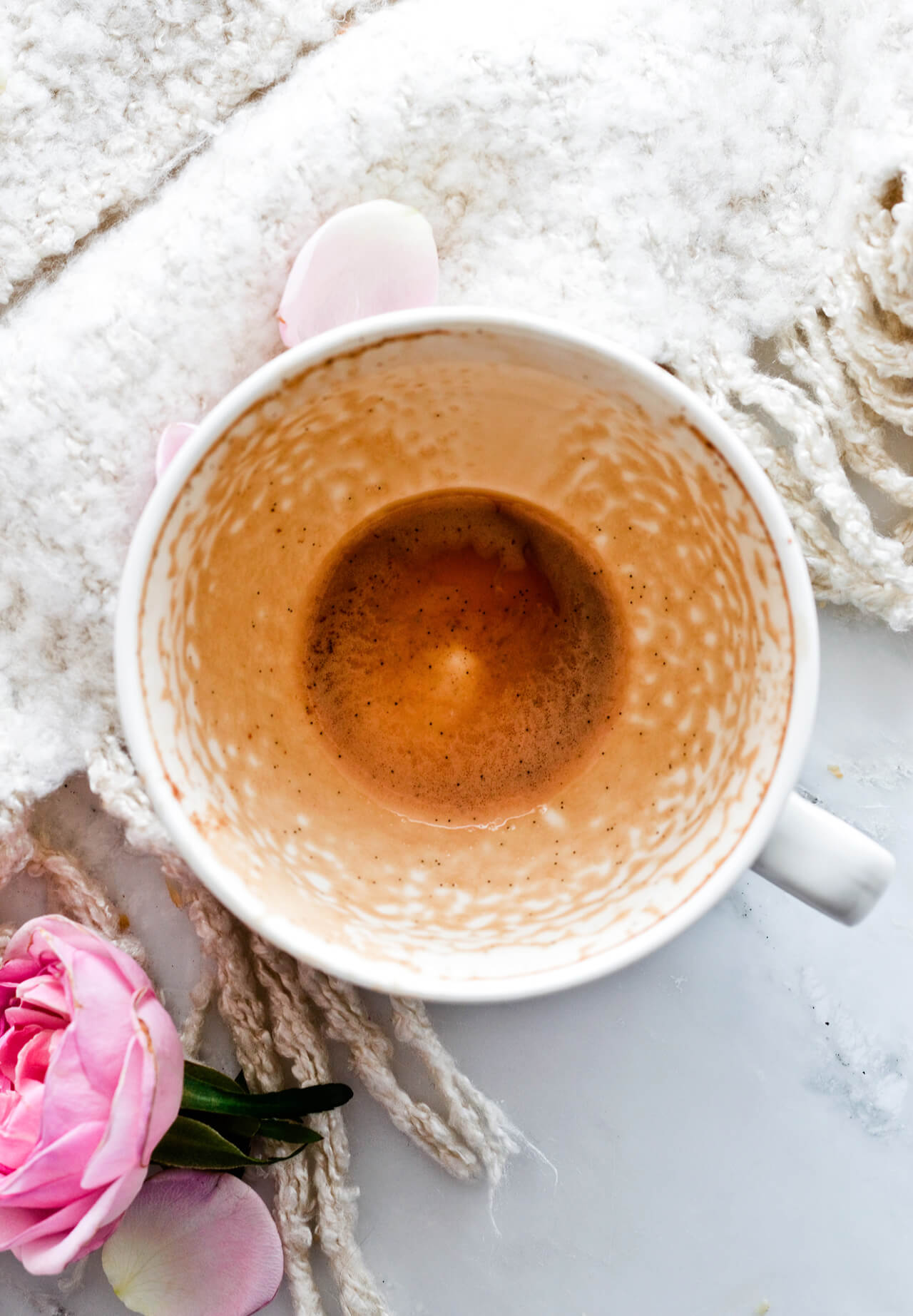 Basically, what you get with this hot chocolate protein coffee is a bunch of muscle-building protein and energy, nicely packed in a frothy, chocolatey coffee. It's just perfect. And I have to say protein powder tastes a million times better when you mix it with other wonderful ingredients. I'll never understand why the package instructions say "mix with water". That's not very appetising, is it?
This hot chocolate protein coffee though? Totally appetising. My new favorite.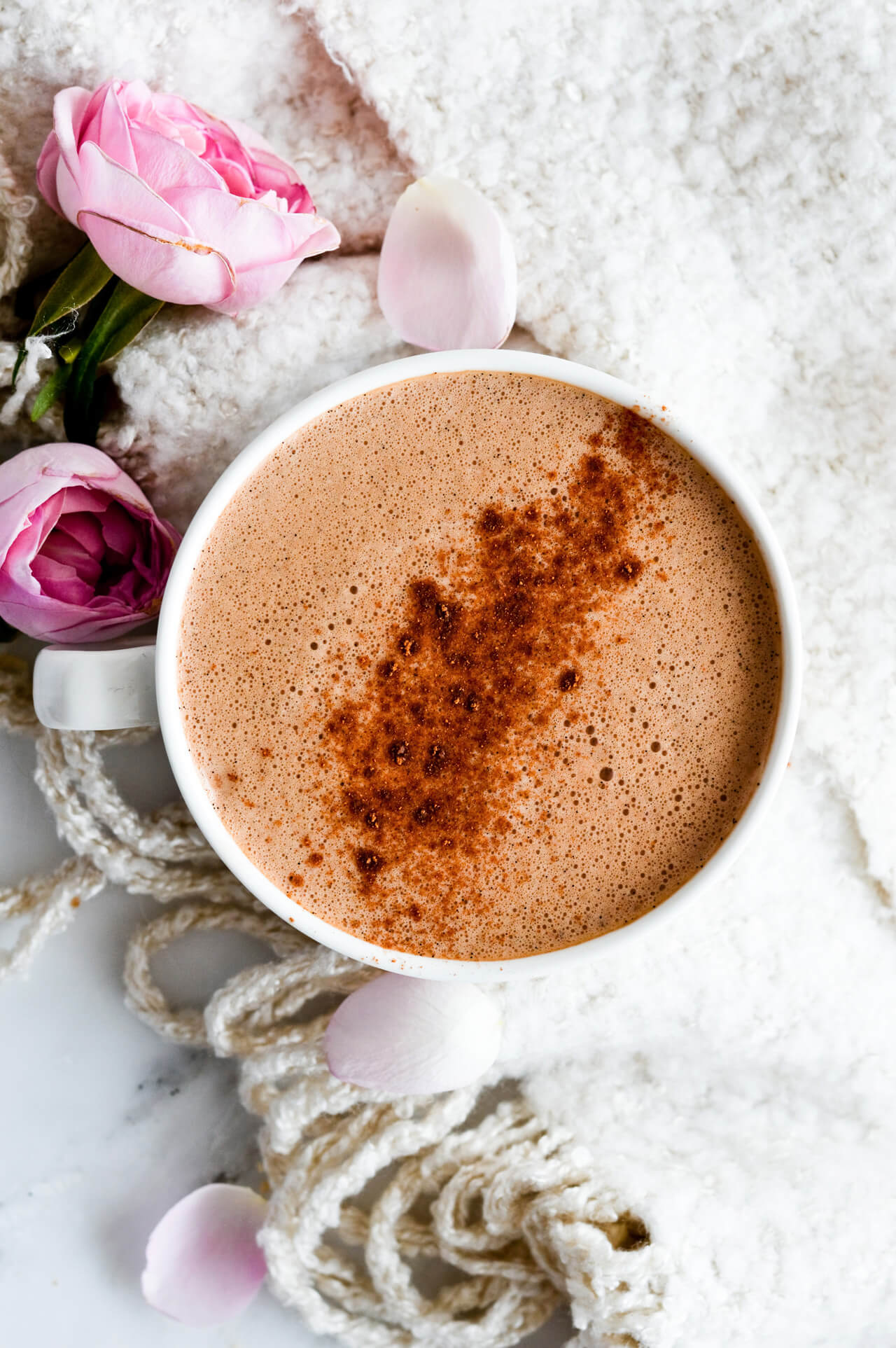 Print
Hot chocolate protein coffee
Flavor packed, energy-boosting coffee.
Author:
Prep Time:

10 min

Total Time:

10 minutes

Yield:

1

coffee

1

x
Category:

Drinks
240

ml (1 cup) freshly brewed hot coffee

60

ml (1/4 cup) milk (I like regular milk or hazelnut for a dairy-free option)

30g

(

2

TBSPs |

one

scoop) whey chocolate protein powder (available on Amazon)

1/2 teaspoon

vanilla extract or vanilla bean paste

1 1/2 teaspoons

maple syrup, more to taste

1/4 teaspoon

unsweetened cocoa powder (optional)
a sprinkle of cinnamon (optional)
Instructions
Combine all ingredients in a blender (or use an immersion blender with a designated jar) and blend on high speed until all ingredients are combined, the mixture is smooth and frothy.
Pour into a mug, add a dash of cinnamon (optional) and enjoy!
Notes
Use any coffee that you normally drink, as long as it's filtered (you don't want coffee grounds mixed in!). Even instant coffee works. Just prepare it according to the package instructions and once you have that cup of coffee, you can proceed with the recipe.
SaveSave
SaveSave