If you follow me on Twitter then you already know that I sometimes like to have yogurt for dessert. It's true. Because when I have yogurt for breakfast, I only have Greek yogurt and then add my own fruit and stuff.
But sometimes when I'm shopping for food I just cannot stay away from all the flavored yogurts. Some of them look so good! And I know they're full of sugar or cream, but come on, I gotta live a little.
There's toffee and chocolate yogurts, mandarin cheesecake or blueberry muffin ones, even apple strudel flavored (!) and they all seem to be calling my name. And it's these flavors that I love to pick up for dessert.
Well, recently I've also gotten into the habit of having a smoothie for dessert, especially after a dinner like this one. We go to bed pretty late, so I always need something after dinner and a smoothie is a great option.
But to make things more fun, I've been playing around with different toppings and this resulted in the healthy yogurt banana cream smoothie with biscuits I'm sharing today. I love how creamy it is, but is made with no cream!
It is made with Greek yogurt and frozen bananas, which is a wonderful combination on its own, but it's the addition of macadamia nuts that makes the smoothie thicker and so creamy. Then, to make it less of a smoothie and more of a dessert, I crush some butter biscuits on top.
If you're in the mood, you could throw the biscuits into the blender with the rest of the ingredients and have a banana cream pie type of smoothie, but I'm trying to keep things on the healthier side so a biscuit or two on top are more than enough. And that's a lot better than just eating a bowl full of biscuits! Which I would totally do, because they're completely addictive.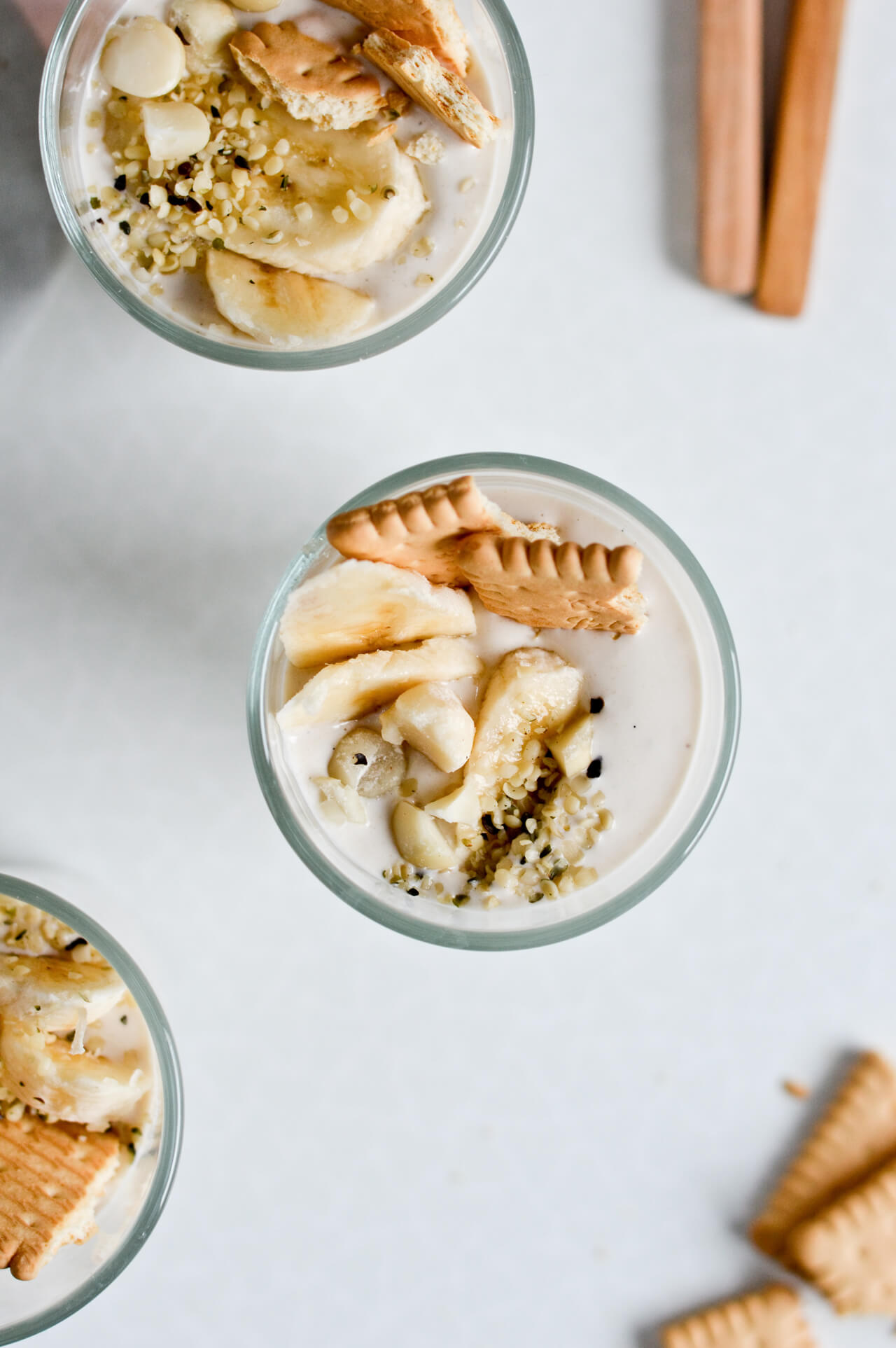 This yogurt banana cream smoothie is healthy, made with no added sugar in any form. It's topped with crunchy, mild macadamia nuts, hemp hearts and a tiny amount of crushed biscuits (here's where some sugar does come in), just to make it more hearty and dessert-like.
Print
Healthy yogurt banana cream smoothie
A smoothie that acts like a healthy dessert.
Recipe serves 2-3.
Ingredients
450g (16oz) Greek yogurt
1/2 teaspoon vanilla bean paste
3 small-medium frozen bananas
1/3 cup macadamia nuts + more for serving
2-3 teaspoons hemp hearts
for serving: butter biscuits (or vanilla wafers or similar)
Instructions
Stir vanilla bean paste into yogurt, then transfer too your blender, along with the bananas. Pulse until the mixture is completely smooth.
Add the macadamia and pulse until it's completely ground, the mixture should be thicker, but smooth.
Transfer smoothie into serving glasses, top with more macadamia nuts, a few broken wafers and sprinkle with hemp hearts.