When you think you've tried all of the green smoothies, stop and try this one. A healthy parsley pear smoothie packed with superfoods like barley grass and hemp hearts. It has an earthy and slightly sweet yet refreshing flavor. If you're feeling stressed or just need a healthy boost, try this antioxidant smoothie.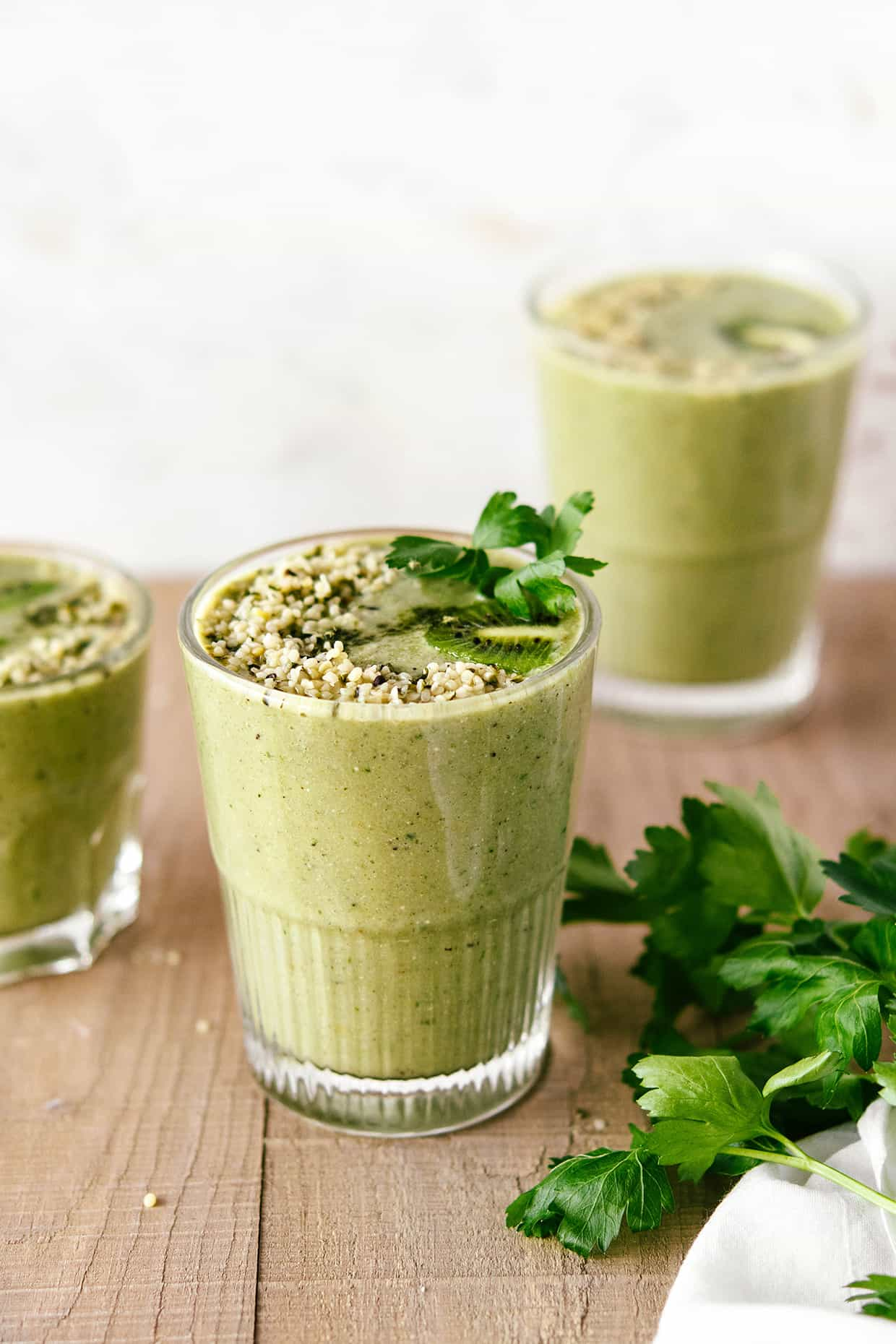 A superfood green smoothie
Made without spinach or kale or avocados! Although you can totally use those too. But no, this one is made with:
parsley
banana
kiwi
pear
superfoods
plant based milk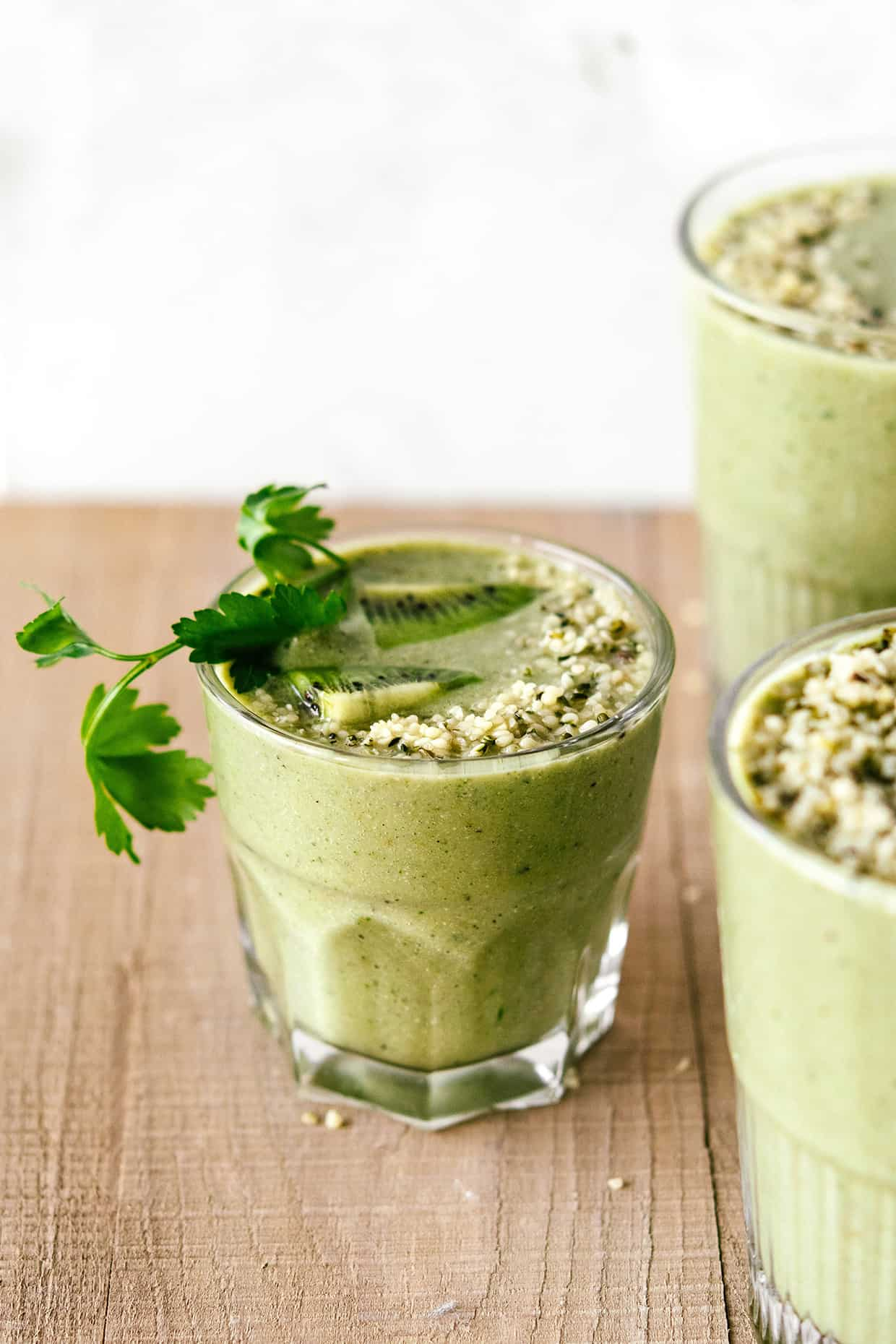 What superfoods exactly?
Barley grass powder
If you have cats then maybe you're already familiar with barley grass as they love to snack on it. Barley grass is sold in a few different forms, like juice and gummies, but in this smoothie I'm using powder.
Barley grass is a great source of fiber and a few vitamins (like A, C and K). It is also rich in polyphenols and flavonoids (these act as antioxidants). More on all of that here.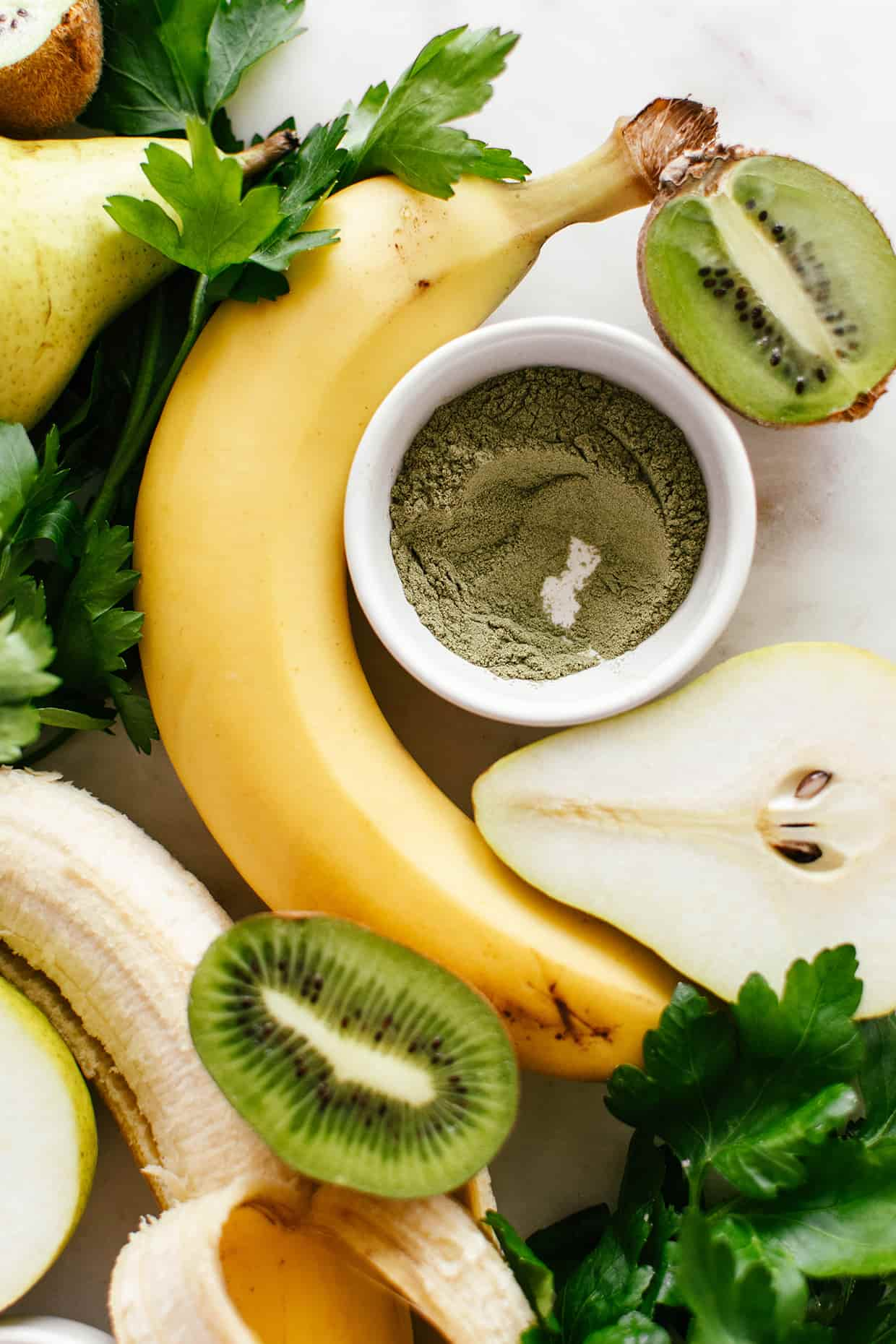 Hemp hearts
Also known as hulled hemp seeds. These crunchy bits make a great oatmeal or yogurt topping. I frequently add them to smoothies too.
They only contain trace amount of THC, so no, you can't get high with these. What you are getting instead are omega-6 and omega-3 fatty acids, which your body totally needs.
Hemp hearts are also a great source of protein and vitamin E. Read more here.
Chia seeds
Chia seeds are optional, but if I have them on hand, I always throw a bit into the mix. Chia seeds are rich in fiber and antioxidants, among other things, so I see no reason to leave them out.
I also love how they act as a thickener. If I want to make more of a bowl, I add 1-2 tablespoons of chia seeds to the smoothie and let it sit in a bowl for about 15 minutes. Once the smoothie thickens, I just add more fruit and seeds on top and eat it like that.
This healthy parsley pear smoothie is packed with fiber, protein and antioxidants. Its vibrant color always puts me in a good mood. Despite having a bunch of parsley mixed in, it tastes refreshing and mildly sweet, all thanks to a mix of fruits and maple syrup. I especially love it in the mornings as I feel it gives me much needed energy for the rest of the day.
And if you want a cozier smoothie, try this apple oat one. It tastes like apple pie!
Healthy parsley pear smoothie bowl
A very healthy breakfast everyone should try! Recipe makes one large smoothie.
Ingredients
1

cup

(

240

ml

)

unsweetened almond milk

1

banana

1

pear

(cored and sliced)

handful of parsley

(leaves only)

1

kiwi

(peeled)

1

tablespoon

maple syrup

(more to taste)

1

teaspoon

barley grass powder

2

teaspoons

hemp hearts

1

teaspoon

chia seeds

(optional)
Instructions
Combine all ingredients in a blender and pulse a few times, then blend on high until you get a a nice smooth smoothie. Taste and add more maple syrup or milk if desired, then serve and enjoy. 
Notes
To make the smoothie thicker use only 1/2 of the almond milk or add another teaspoon of chia seeds to the smoothie (mix in and wait a bit).
Email recipe
Pin Recipe
Recipe first published in January 2016, revised and completely updated in January 2021.