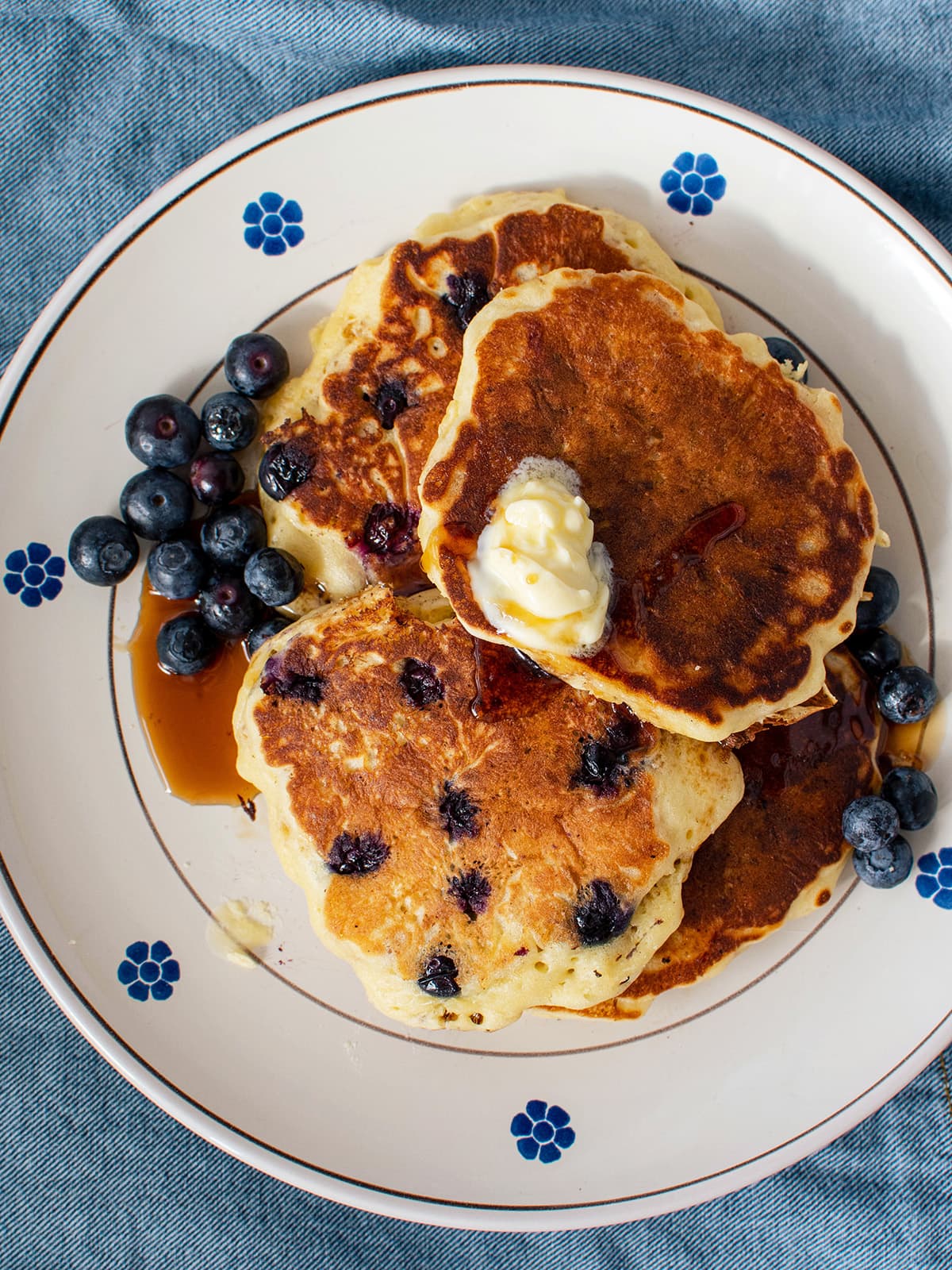 A breakfast fit for a queen (that being you… and me)! Fluffy and rich blueberry granola pancakes with sour cream and a generous amount of butter are the perfect choice. Think of them as classic pancakes but upgraded with crunchy granola, juicy blueberries and tangy sour cream.
Did you know that in Europe (at least Central Europe) every pancake is actually a crêpe? When you order a pancake, that is what you get. A thin, golden, see-through pancake laced with crispy edges. And when you want a thick, fluffy pancake, you need to order an American pancake. You're usually served a whole stack of these, with various toppings. Another popular option these days are also Japanese soufflé pancakes, which are even thicker and look like little clouds.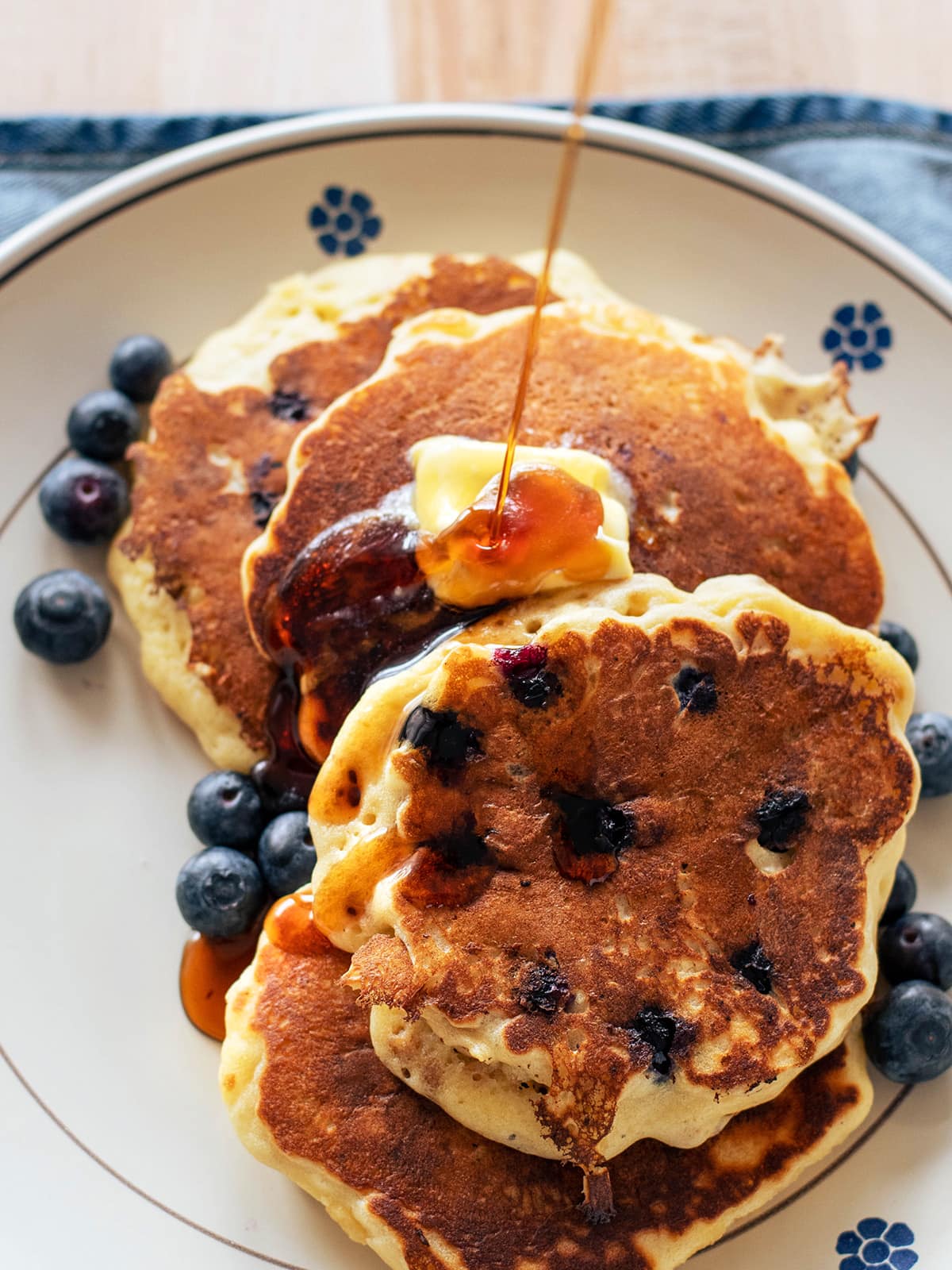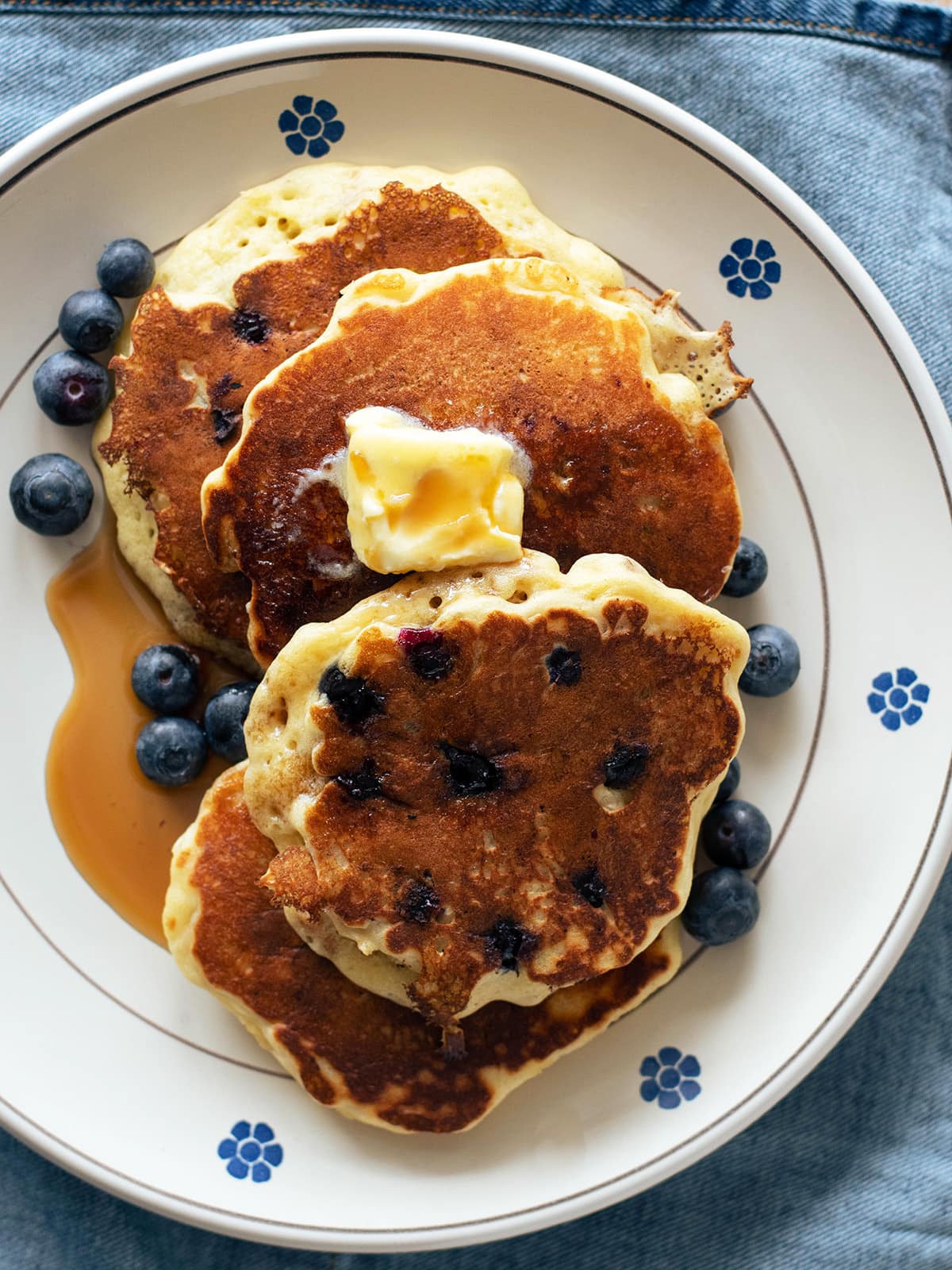 But what I have here today are your traditional American pancakes with a twist. Because why make regular pancakes, when you can add granola to the mix and have an insanely delicious and nutritious breakfast?
At its core, these granola pancakes really are a classic pancake. The best version of it too. Thick, with a scent of vanilla and butter. So soft and airy, they fall apart with one nudge of a fork.
But inside they're hiding a slightly crunchy, fiber-packed core. The added granola adds a pleasant chewy texture with bonus flavor and I never want to eat a normal pancake again. The blueberries counter the granola as they burst during cooking and the juices ooze into the batter. What you get is a dreamy mix of textures.
Type of granola
I like to use soft granola, because it cooks nicer than big clusters, but you can always experiment. My favorite flavor is a nut and honey based mix. But this is a very "choose your own adventure" type of recipe. If you want a more vibrant twist, go for a fruity granola. If you're in the mood for some chocolate, a chocolate based granola works nicely with berries too.
And if you want a protein-packed pancake, opted for granola that is high in protein (these are pretty popular these days) and use full-fat Greek yogurt instead of sour cream.
These pancakes are so good, so rich, you hardly need any toppings. Just a generous drizzle of classic maple syrup to bring all the flavors together. And some extra blueberries, because the contrast of cooked warm blueberries with fresh ones is too good to pass.
As with any pancake, these are best served right away, while still warm. But I'm a lover of leftovers and I often store leftover pancakes for later. If you put in enough blueberries, these will stay pretty juicy for a day, even without any maple syrup. I like to grab one or two, stick it in a bag with some paper towels and have a snack on the go. They keep me full and happy for quite a while, which is all I ask of anything I cook, ha.
More pancake recipes to explore:
Rich blueberry granola pancakes
Rich and fluffy pancakes made with sour cream, packed with crunchy granola and juicy blueberries. Absolutely amazing!
Ingredients
Pancakes
5

tablespoons

(

70

g

)

butter

(melted)

1

cup

(

240

ml

)

milk

1/4

cup

(

60

g

)

sour cream

2

large

eggs

1

tablespoons

(

15

g

)

granulated sugar

1

teaspoon

vanilla extract

( or paste)

1/2

teaspoon

salt

(I use fine sea salt)

1 1/2

cups

(

200

g

)

all-purpose flour

4

teaspoons

(

20

g

)

baking powder

1

cup

(

100

g

)

granola

(I use soft granola )

2

cups

(

340

g

)

fresh blueberries

(both for the pancakes and for serving)
The rest
Butter or oil for cooking

Maple syrup for serving
Instructions
Melt butter in the microwave or on the stove, then add it to a medium/large mixing bowl. Allow it to cool (you want it lukewarm), then whisk in milk, sour cream, eggs, sugar, vanilla extract and salt. Whisk by hand or on medium speed with a mixer, until there are no ribbons of egg whites left on your whisk if you lift it out of the bowl.

In a smaller separate bowl, mix flour with baking powder. Add this to your wet ingredients and whisk gently just until all flour is moistened and no dry patches are left. Lumps are okay. Let the mixture sit for 15 minutes.

Next, gently fold in the granola with a spatula.

Warm up your pan (I'm using a cast iron crepe pan) over medium heat and lightly grease it with oil or butter. Ladle about 1/4 cup (60 ml) batter at a time into the hot pan, leaving some space between each pancake. (I like to do two at a time.)

Press a few blueberries into the top of each pancake and cook for about 2-3 minutes. When you see bubbles forming and popping on top and the edges of the pancakes begin to dry, flip the pancake and cook another 60 seconds or so, until the other side is golden brown too.

Transfer pancakes to serving plates, if serving immediately, or to a baking sheet lined and covered with aluminum foil, to keep the pancakes warm as you finish cooking.

Serve pancakes with fresh blueberries that didn't end up in the batter and a good amount of maple syrup.
Notes
If you need to keep pancakes warmer for longer, preheat your oven to about 200°F (95°C). Line a baking sheet with parchment paper and keep it in the oven. Transfer pancakes to the sheet as you cook them and cover the sheet with aluminum foil, to prevent pancakes from drying out.

This keeps them warm for a while. 
If you don't have granola on hand, you can use oats instead. 
Any other berry works nicely in this recipe too. 
Email recipe
Pin Recipe