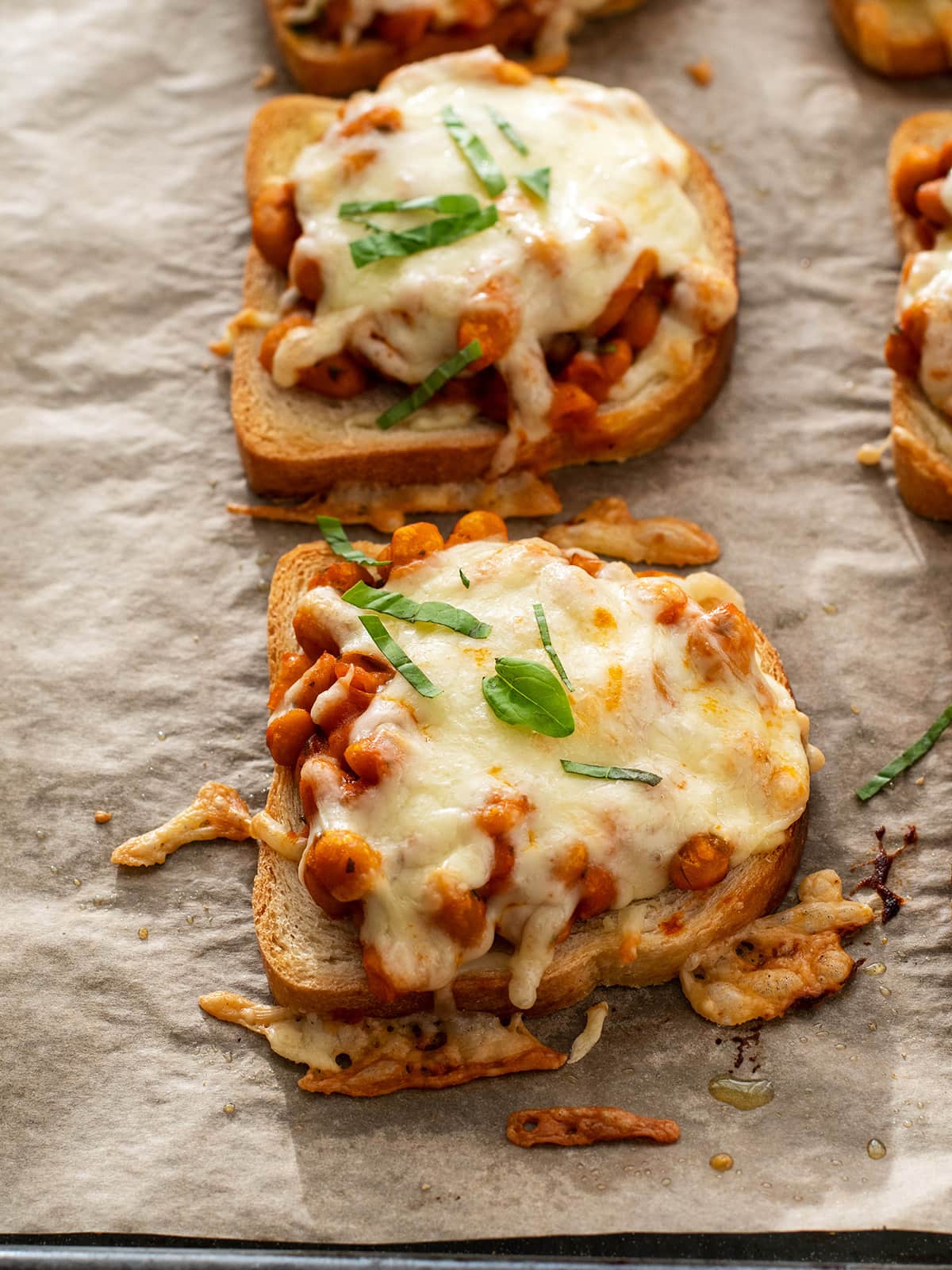 I like to say that I could eat pizza for every meal and maybe that's true. I honestly don't want to try, because chances are, the dream is better than reality. So to satisfy my constant pizza cravings, I reach for pizza-flavored things, like crackers or bread sticks. Which are fun, but not as filling or satisfying as a whole meal. So I came up with this Easy pizza beans toast. A riff on a British classic, simple beans on toast, this gives all the pizza flavor and all the satisfaction with much less work.
How to make anything taste like pizza
We might have different views on this, but for me pizza (especially a classic like margherita pizza) tastes like tomatoes, cheese and oregano. The latter is often overlooked in various recipes, but it's the herb I associate with pizza the most. Far more than basil or any other thing.
Instead of using tomato sauce, this recipe uses double-concentrated tomato paste. I always keep that on hand and a small amount packs so much flavor into any dish. To liven up to the tomato flavor, I add grated garlic cloves and smoked sweet paprika. They both melt into the tomato paste and add some zing to it.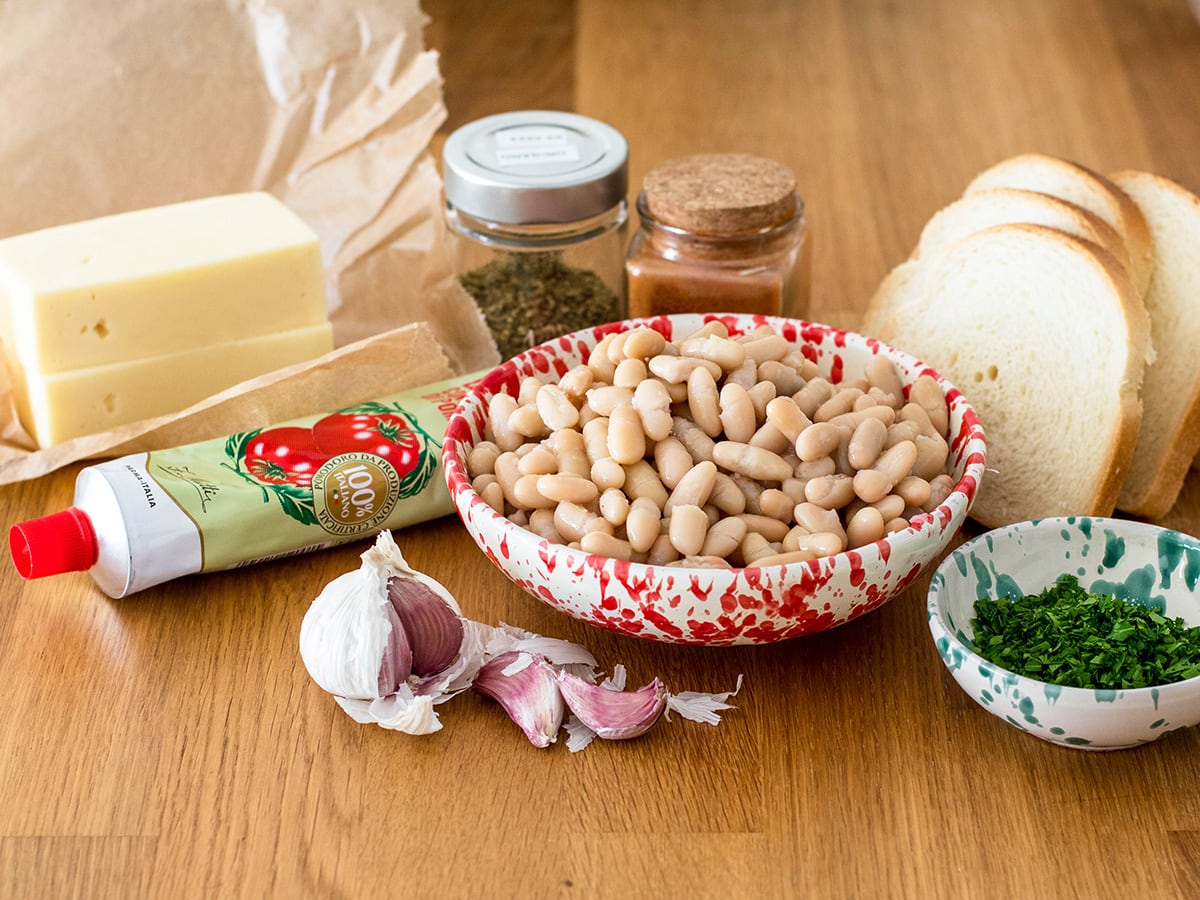 My favorite cheese to put in a melty cheesy sandwich (or on toast with beans) is Edam cheese. It's a mild semi-hard Dutch cheese that melts beautifully and never overpowers other ingredients.
Provolone is a great alternative to Edam. It's a mild Italian cheese, also semi-hard and it melts just as beautiful. I mention both because they're milky, melty and not overpowering. And based on your location, finding one might be easier than other. But I've tried both in this recipe and they both make the best cheesy beans.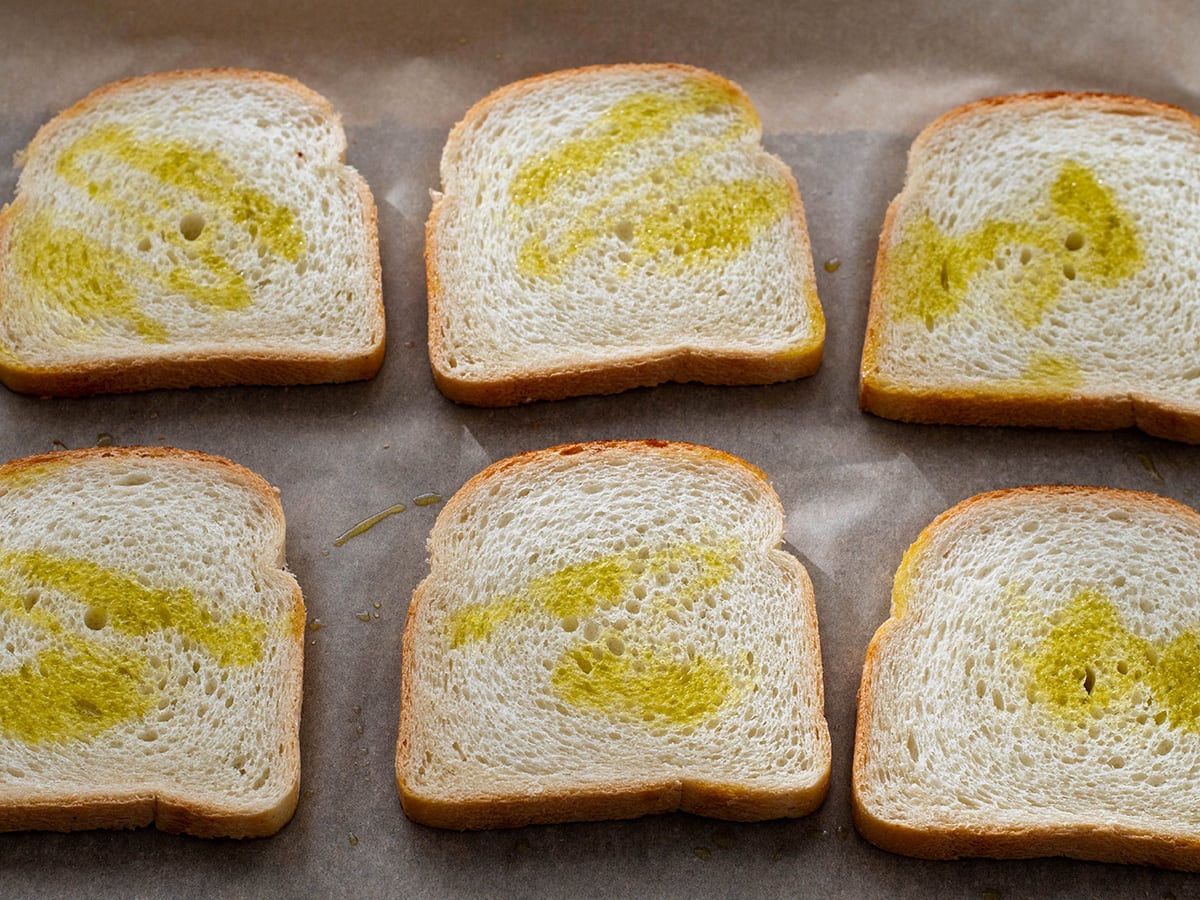 My favorite beans for easy meals
I always keep canned beans on hand. I like to put them in soups and stews (like this barley stew) or mix them with cheese like in this recipe. They make cooking a lot easier, especially weeknight endeavours, because I'm not always the best planner and don't think to soak beans overnight. So canned beans it is.
I wanted a creamy bean for this recipe and Italian Cannellini beans are the best fit. Also known as white kidney beans, they are nutty, with a fluffy texture and will melt in your mouth. I know butter beans are a popular choice for baked beans (which is essentially what we're doing here) but I find them a bit too big to spoon onto bread. But Cannellini beans are the perfect size to dance with the cheese as they both melt into the bread.
A spin
This cheesy pizza beans toast is super satisfying and delicious as is. The mixture of tomato beans, melty cheese and toasted bread is a thing of dreams to me and I can eat this any time of day. The recipe makes more than enough servings and I like to always save a toast or two for later, because it holds up and tastes great cold too (just like pizza!).
But if you want to go up a level, consider adding a fried or soft-boiled egg on top. Jammy beans love eggs, along with some chopped basil leaves and some pepper. Even a drizzle of olive oil, if you're in the mood. It makes a superb, quick weeknight dinner.
More bean recipes to try
Easy pizza beans toast
Toast with saucy pizza-flavored beans and lots of cheese. Makes a hearty breakfast or a quick weeknight dinner.
Ingredients
6

thin slices sandwich bread

,

or bread of choice

2

tablespoons

(

30

ml

)

olive oil

,

plus more for bread

2

garlic cloves

,

grated

2

tablespoons

(

30

ml

)

tomato paste

,

I use double concentrated

1

teaspoon

dried oregano

1/2

teaspoon

sweet smoked paprika

2

cups

(

410

g

)

cooked cannellini beans

,

I use canned

2

tablespoons

chopped fresh parsley

1

tablespoon

(

15

g

)

unsalted butter

6

oz

(

170

g

)

Provolone (or Edam) cheese

,

grated
Instructions
Preheat your oven to 350°F (175°C) and line a baking sheet with parchment paper. Brush bread slices with oil on both sides and place them on the baking sheet. Place in the middle of the oven and toast the bread 2 minutes on each side, just until the edges get slightly crispy. Remove from the oven, set aside and turn up the heat to 400°F (200°C).

Prepare the beans:

Heat 2 tablespoons olive oil in a large skillet set over medium heat. Add the garlic and let it cook for about 15 seconds, just until fragrant. Stir in the tomato paste, oregano and paprika and cook for about 30 seconds, until they're fragrant and melt into each other.

Fold in the beans, making sure they're all coated with the tomato paste. Add 1/2 cup (120 ml) of water and parsley.

Stir and cook on medium heat, maintaining a gentle simmer, until the sauce is creamy (and not like a soup) – about 10 minutes. Add the butter and mix it evenly with the beans as it melts. Taste and adjust seasonings, then remove beans from heat.

Bake:

Once the oven is ready, spoon the beans evenly over the bread slices. Top each slice with grated cheese. Bake in the oven until the cheese is melted and bubbly, about 5 minutes. Remove from the oven and serve (add some sliced fresh basil if you have it on hand).
Notes
Cannellini beans are also called white kidney beans. They're the perfect size for this recipe. I like to use canned (always drain them first), but if you have homemade white beans, you can easily use those. 
You can use any bread you like. Make sure you have thin, sandwich-style slices. Anything thicker can make this difficult to eat. If you have a toaster, you can skip toasting the bread in the oven and use the toaster instead. 
If you don't have cheese to grate, you can use sliced cheese. Cover each piece of bread and beans with 2 slices of cheese and bake until bubbly.
If your oven has a broiler, you can broil the toasts instead of baking them. Broil the toast for about 2 minutes or just until the cheese is bubbly.
Email recipe
Pin Recipe