A protein packed meal you can throw together in minutes! This vegetarian chickpea tuna salad sandwich is surprisingly simple and quick to make. Lemony chunky chickpea spread is sandwiched between soft sourdough, sweet tomatoes and crisp lettuce, making every bite incredible. This sandwich makes a great lunch that will keep you satisfied for hours. Can be prepared ahead of time and keeps well in the refrigerator.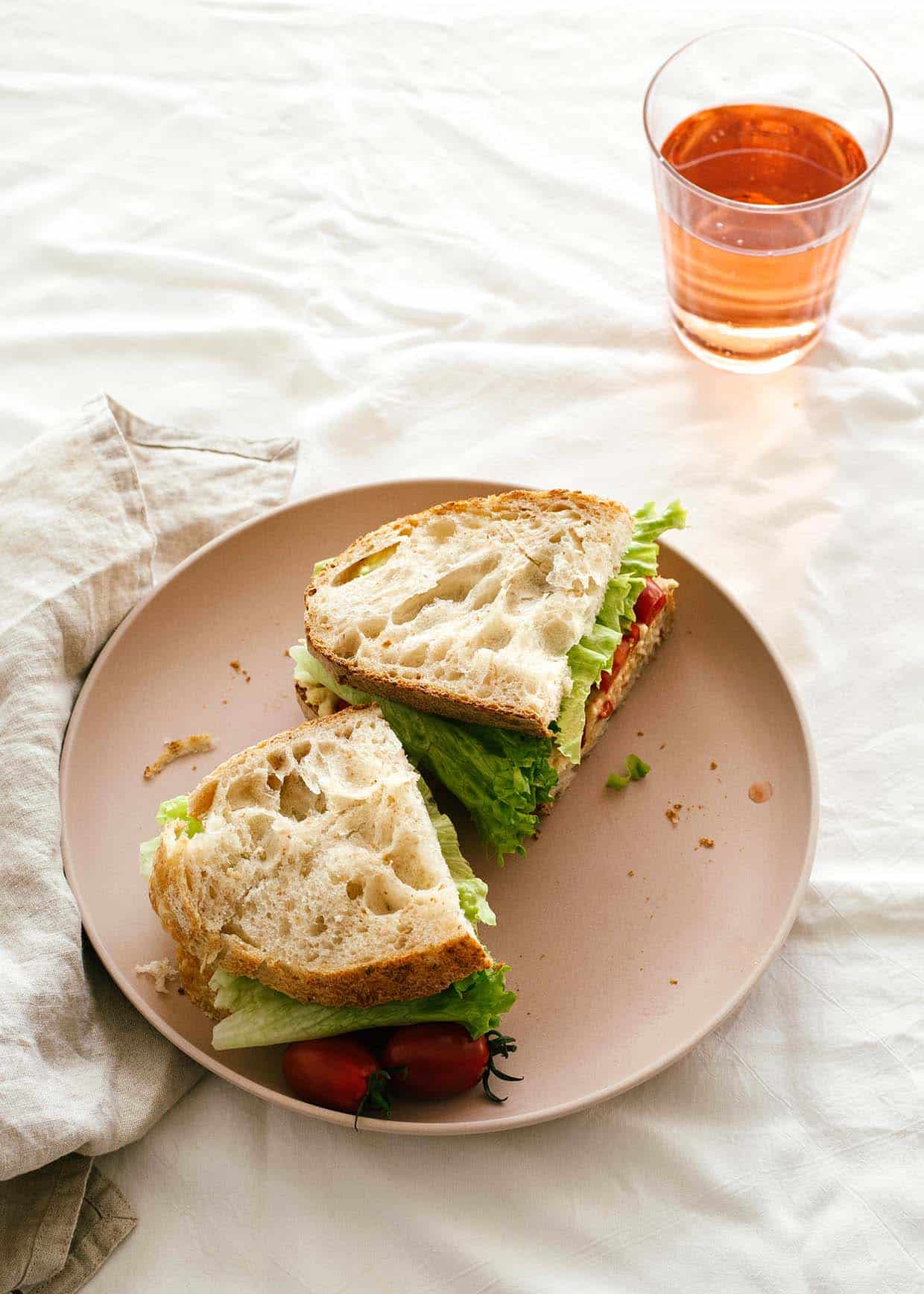 I never thought I'd be sharing this vegetarian chickpea tuna salad sandwich, since it's nothing special, not really. But aren't the best things in life the most simple ones? And there's no way I can live without a good tuna sandwich, so here I am.
Tuna sandwiches and me go way back. I used to have them for lunch all the time when I was still at Uni. Not exactly on a daily basis, but definitely weekly. Whenever the vending machine was my only option for lunch, I'd have a tuna sandwich. Everything else was meat based (like salami or fried chicken sandwiches) and a no-go for me. At the time I still ate tuna, so that's what I had. And what's not to love about a creamy tuna spread that's topped with corn and stuffed into a soft white bread roll? And a big one at that.
Well, right around that time I quit eating tuna too, becoming fully vegetarian. You know, I honestly don't miss meat or crave it, but tuna is kind of a different story. That's the one thing I sometimes think about. Or I did, before I began making this vegetarian chickpea tuna salad sandwich. Because let me tell you, this thing hits all the spots! It truly takes care of all the cravings and, dare I say it, tastes better than the real thing.
Garbanzo beans already taste kind of meaty and once you add the rest of the ingredients you have a tuna salad in front of you.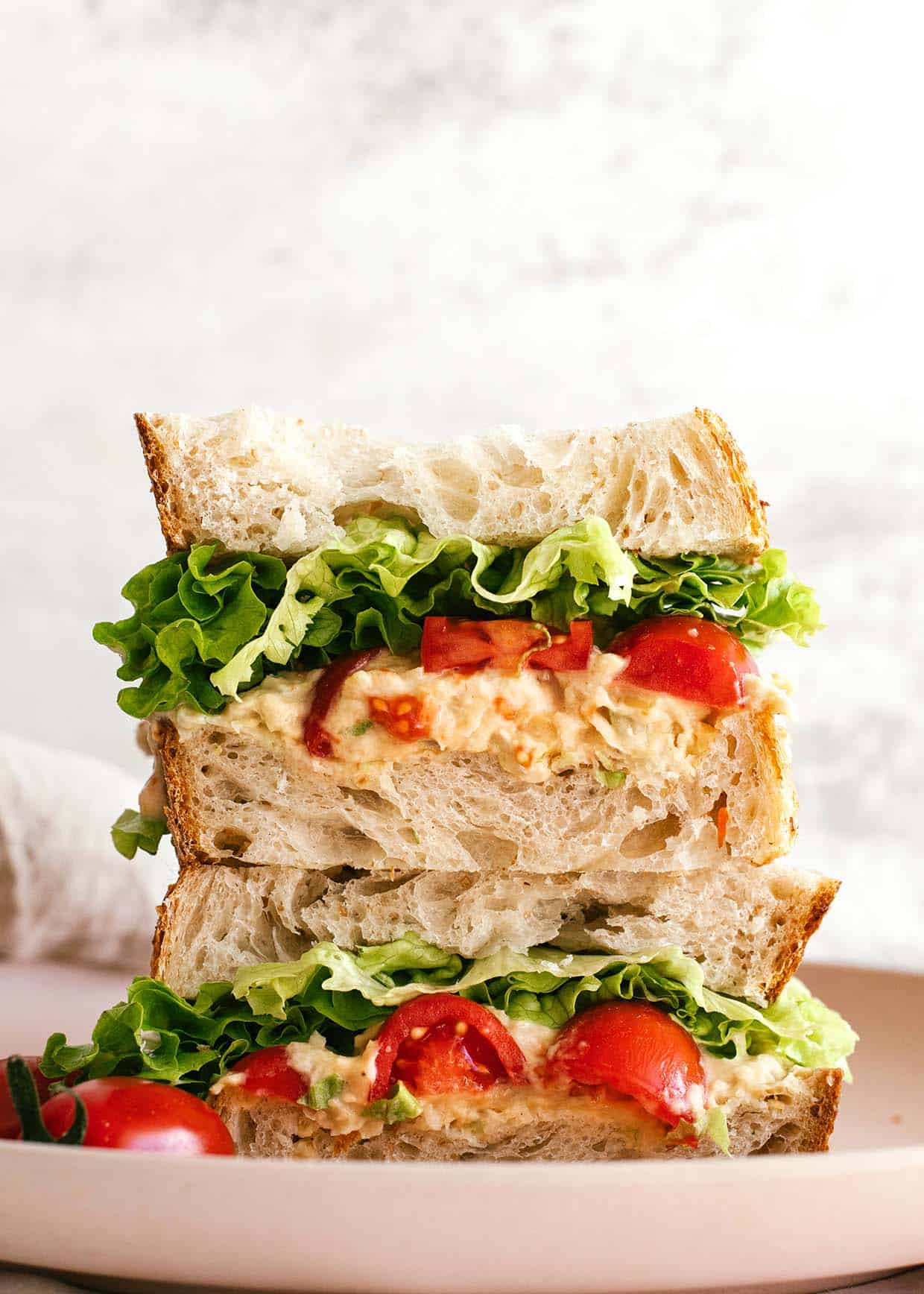 Here's what you need for this vegetarian chickpea tuna salad sandwich
Chickpeas
Chickpeas (or garbanzo beans) are a pantry staple for me. I always keep some ready-to-use canned chickpeas on hand as well as a bag or two of dry ones. They make a great addition to meals and are a great as a stand-alone snack. If I could eat crispy chickpeas for every meal, I totally would.
I'm using one jar for this recipe. A drained jar amounts to a little over one cup of chickpeas. But the beauty of this recipe is that you can so easily adjust all of your ingredients. Meaning that if whatever brand of chickpeas you buy gives you a bit of a different quantity, that is not a problem. At all! Just adjust the other ingredients to fit the garbanzo beans. They are the star of this recipe.
Lemon juice
Generally speaking, lemon juice and fish go great together. And since this is a copy of a tuna salad, you need that acid. In some ways this salad, or should I say spread, is very reminiscent of hummus. And lemon juice is an absolute key ingredient. It plays well with the sweet meaty nature of chickpeas and adds a slightly acidic and refreshing note to the overall flavor.
Mayonnaise
Ooh, the evil M word. I know not everyone is a fan of mayonnaise, but this is one of those recipes that really calls for it. It's exactly what makes this chickpea spread taste like tuna salad. You don't need that much of mayonnaise, but its addition really makes all the difference.
As for the brand, I say go with the one you personally like the most. If there's one thing I've seen over the years is that people are pretty particular when it comes to their favorite mayonnaise.
Personally, I only buy the Thomy brand. It's produced by Nestlé and available throughout Europe. To me it's the best tasting one and I love how it comes in a tube. If you're curious about the ingredients, this is what they are: sunflower oil (79%), egg yolk (6%), water, mustard, salt, flavor, spices.
If you don't want to use mayonnaise, consider using Greek yogurt and maybe something sweet, like maple syrup, to replace the flavors of mayonnaise.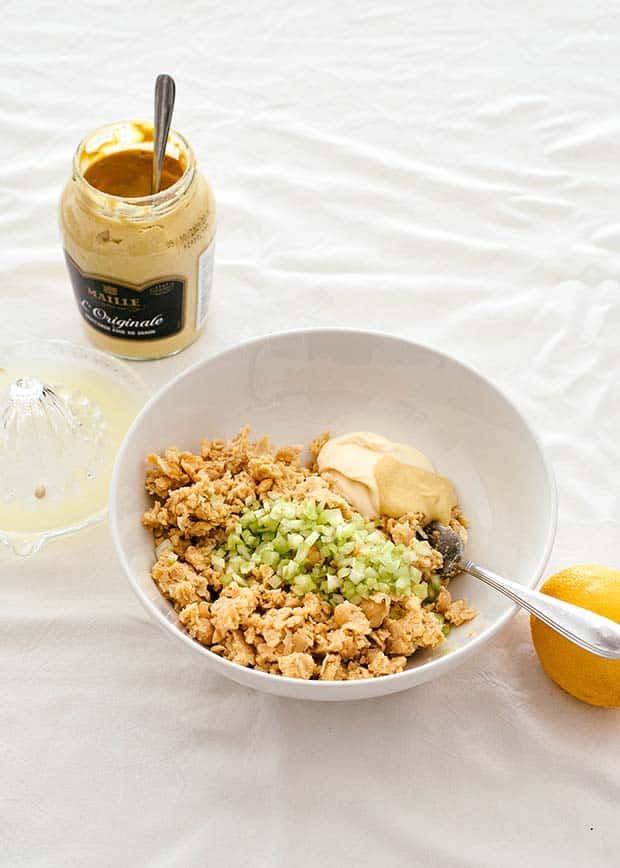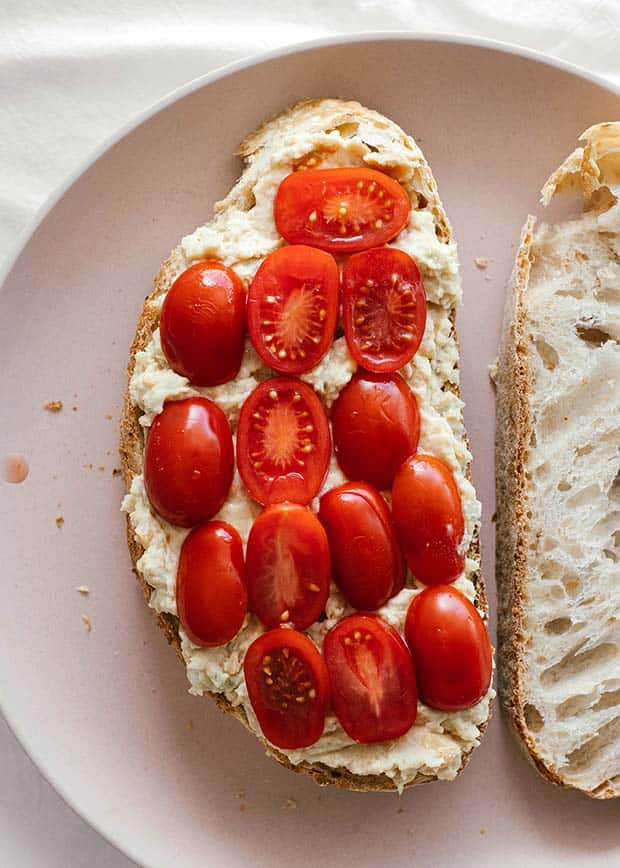 Dijon mustard
This is one of my favorite condiments to have on hand at all times. A little amount adds so much flavor to any dish, it's incredible. It's sharp and aromatic and it mixes well into everything. Just like lemon juice, this is another key ingredient that balances out the sweet in the chickpeas.
If you don't have Dijon mustard, you can use a different type of mustard and adjust the amount needed.
Celery
I'm always on the fence about celery. I love to include it but it's not a deal breaker if I leave it out. The one thing I can tell you is that you need to chop it really finely.
Celery is aromatic and sharp and it adds another layer of crunch to the whole mix. But I hate large chunks of celery. Biting into a big piece of celery in what is otherwise a wonderful sandwich is just horrible. But if you chop it really nicely into tiny pieces, you get all the flavor, all the crunch, but not a distraction. That's what I always aim for anyway.
If you don't have celery on hand or don't want to use it, try dried celery. I find that 1/4 to 1/2 teaspoon of dried celery flakes or powder can be very nicely incorporated into this salad.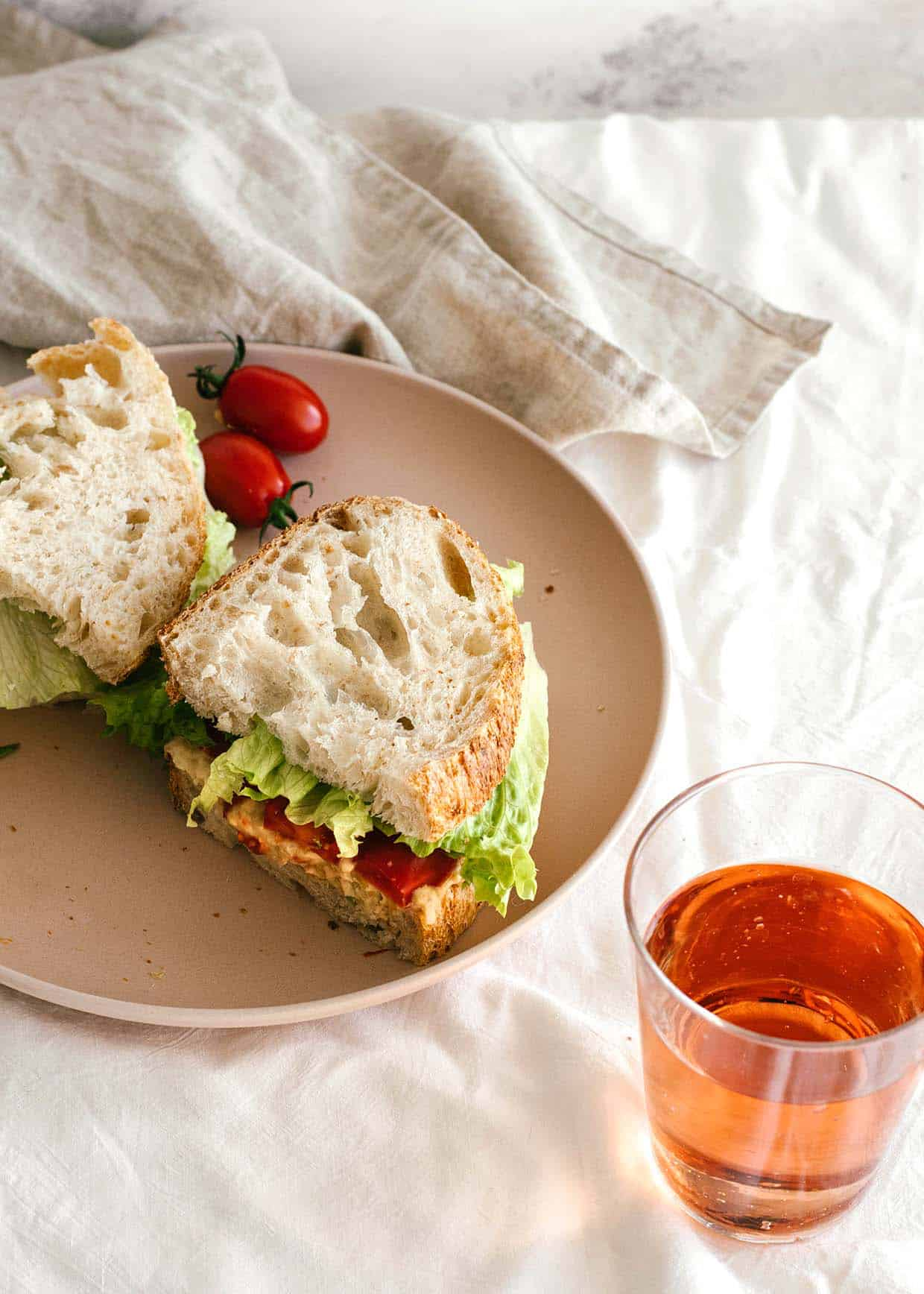 Chickpea tuna salad additions
As I've said right away, this is a very basic recipe. But you can build up on it, if you like. For example, if you're used to having onions in your tuna salad then obviously you can add onions to this recipe. And so on.
Here's a list of ideas, but don't just use all of them in one go. Pick and choose, see what you lean to over time:
Onions
Top choices are scallions and red onion. Whichever you use, make sure you finely chop them. This is a personal preference, but I just prefer small pieces of everything. They fit better into this salad.
Pickles
Cornichons are my favorite, but dill pickles work great too. Any kind of pickle really. You can also use some of the brine in place of lemon juice. It will add incredible flavor to your spread. Instead of chopping up the pickles, you can use them whole (or sliced) in your final sandwich.
Capers
This is a popular addition, because capers are salty and very flavorful. They're tiny but powerful, so don't be heavy-handed when adding these to the mix because they will surprise you.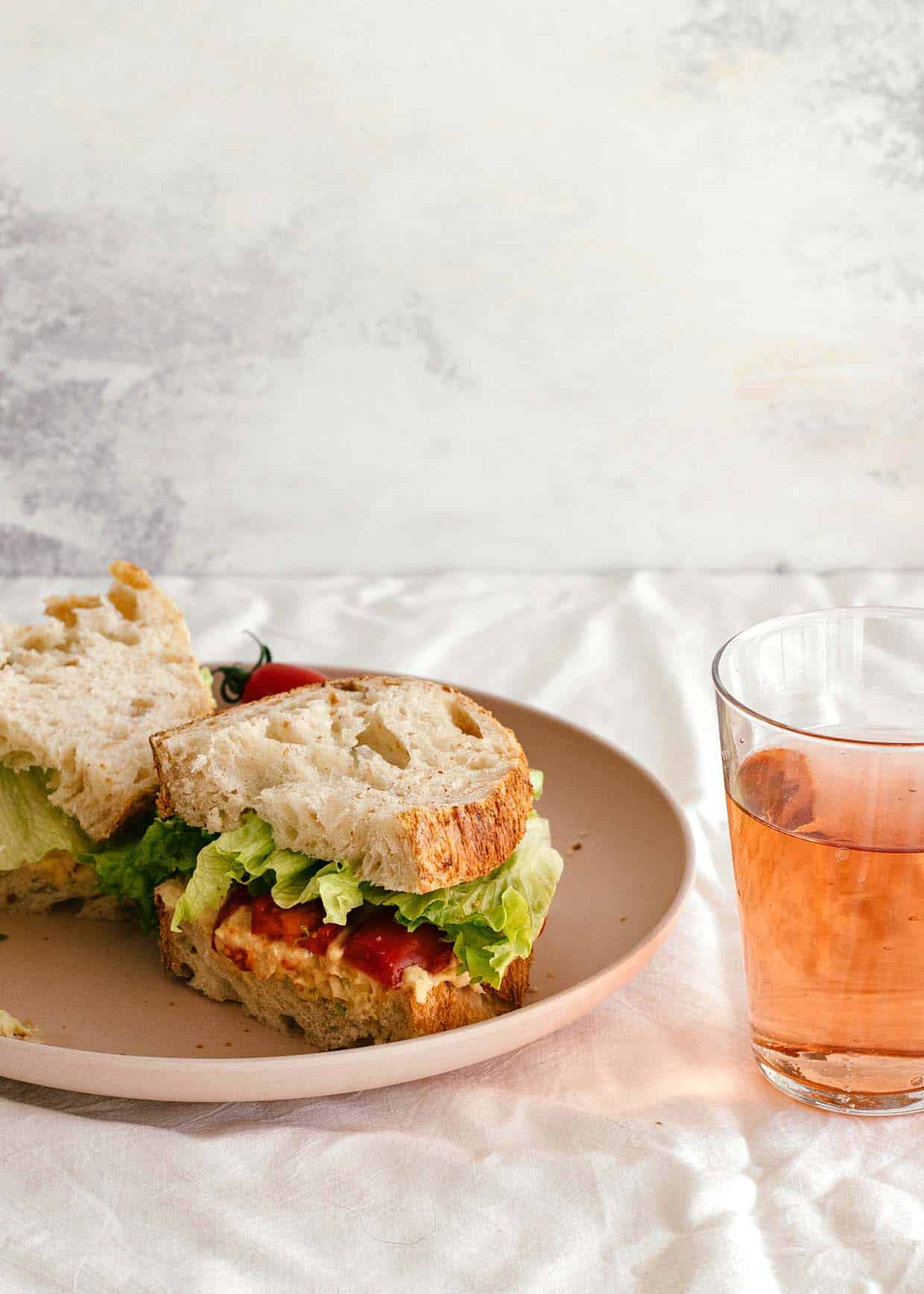 Peppers
Another option if you're looking for something crunchy. Personally I'd probably use sliced peppers in the sandwich, as another layer, not mixed into the actual spread. But some people like them!
Sun-dried tomatoes
I love sun-dried tomatoes so much, I want to put them on everything. They are flavor-packed with a meaty and chewy texture. Don't use too many, if you are using them, because chickpeas are still the star. You can also add a few to your sandwich, even in place of fresh tomatoes.
Sweet corn
I don't always add sweet corn, but if I'm looking for true comfort, I will throw in a few tablespoons. I love how it adds some extra bite to the sandwich. And also just how deliciously sweet it is.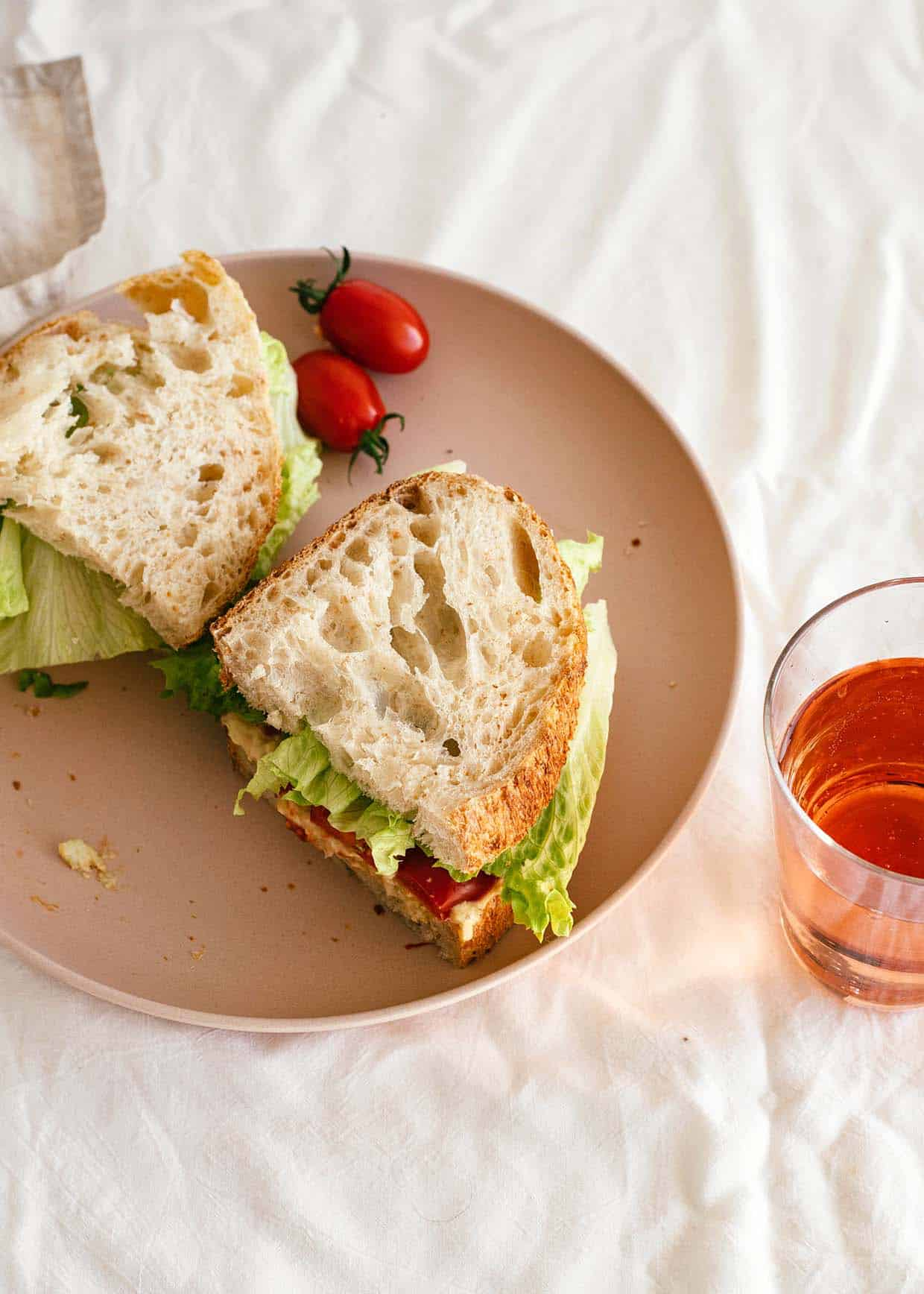 Olives
Now we're really making this Mediterranean to its core. Sliced green or black olives will transform this sandwich into something gourmet. If you're a fan, definitely try adding some.
I like to eat this chickpea "tuna" salad on fresh sourdough or toasted wholegrain toast. Honestly, it works with every type of bread. A fluffy white bread is complete comfort food, while a seedy bread adds another dimension. Toasted or not, that's your call.
Another great thing is that this keeps so well in the refrigerator. You can make a bigger batch for a few days, because while this recipe makes plenty, it's not hard to finish it off all in one day. It's just that good.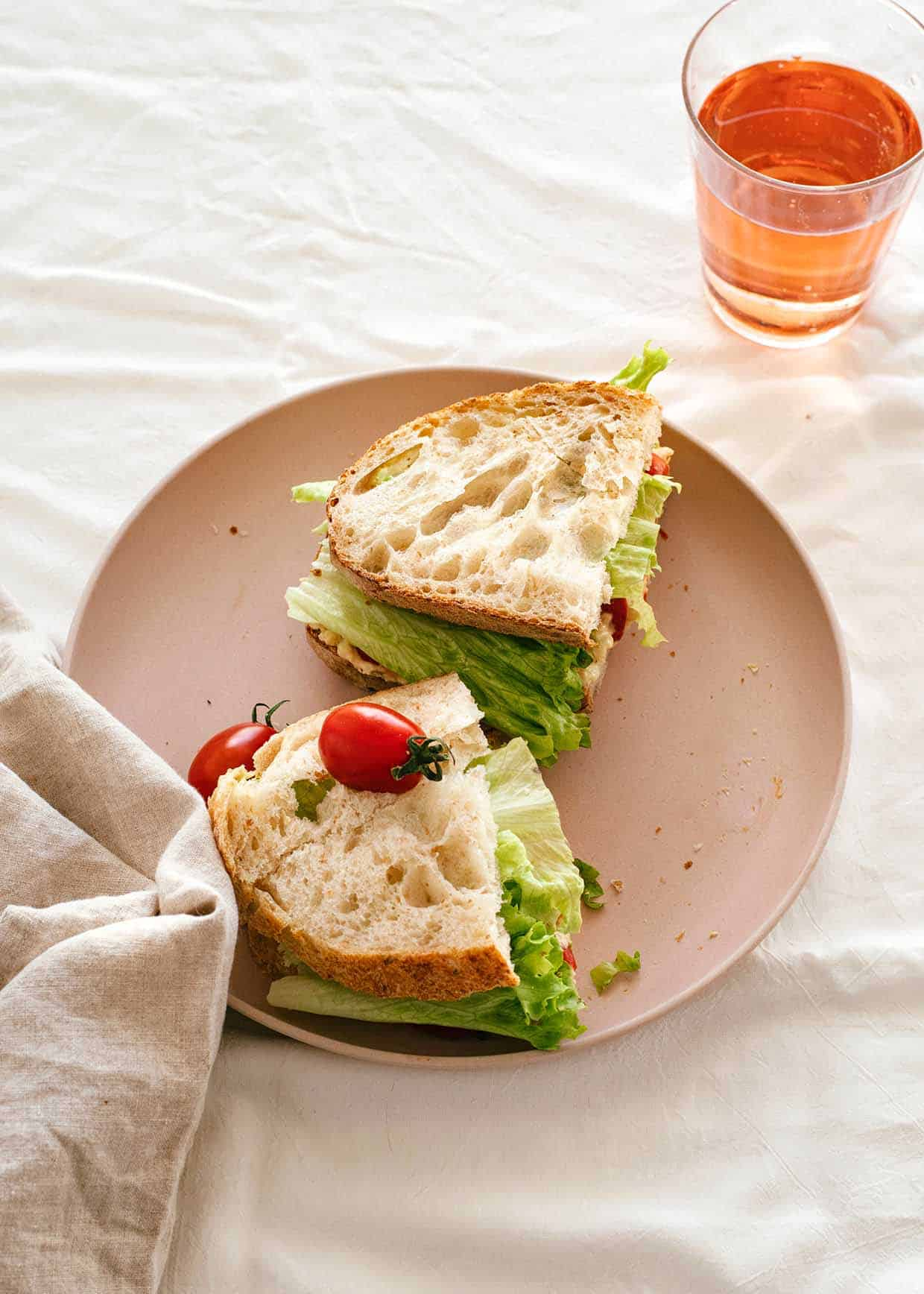 Want an upgraded version of this vegetarian chickpea tuna salad sandwich?
Skip the lettuce and the tomatoes, instead get some cheese and make a "tuna" melt. Either on the stove in a pan or with a panini press. Trust me, it's delicious. Or for a lighter meal, skip the bread and turn this into salad wraps.
There are so many options and no wrong decisions. All thanks to the chickpea tuna spread. The crunchy texture, meaty chickpeas and creamy mix-ins make this taste just like the real deal. So get your best bread and put on some stretchy pants. This sandwich is lick-your-fingers good. And if you want a different type of spread, try this green parsley hummus. It's insane.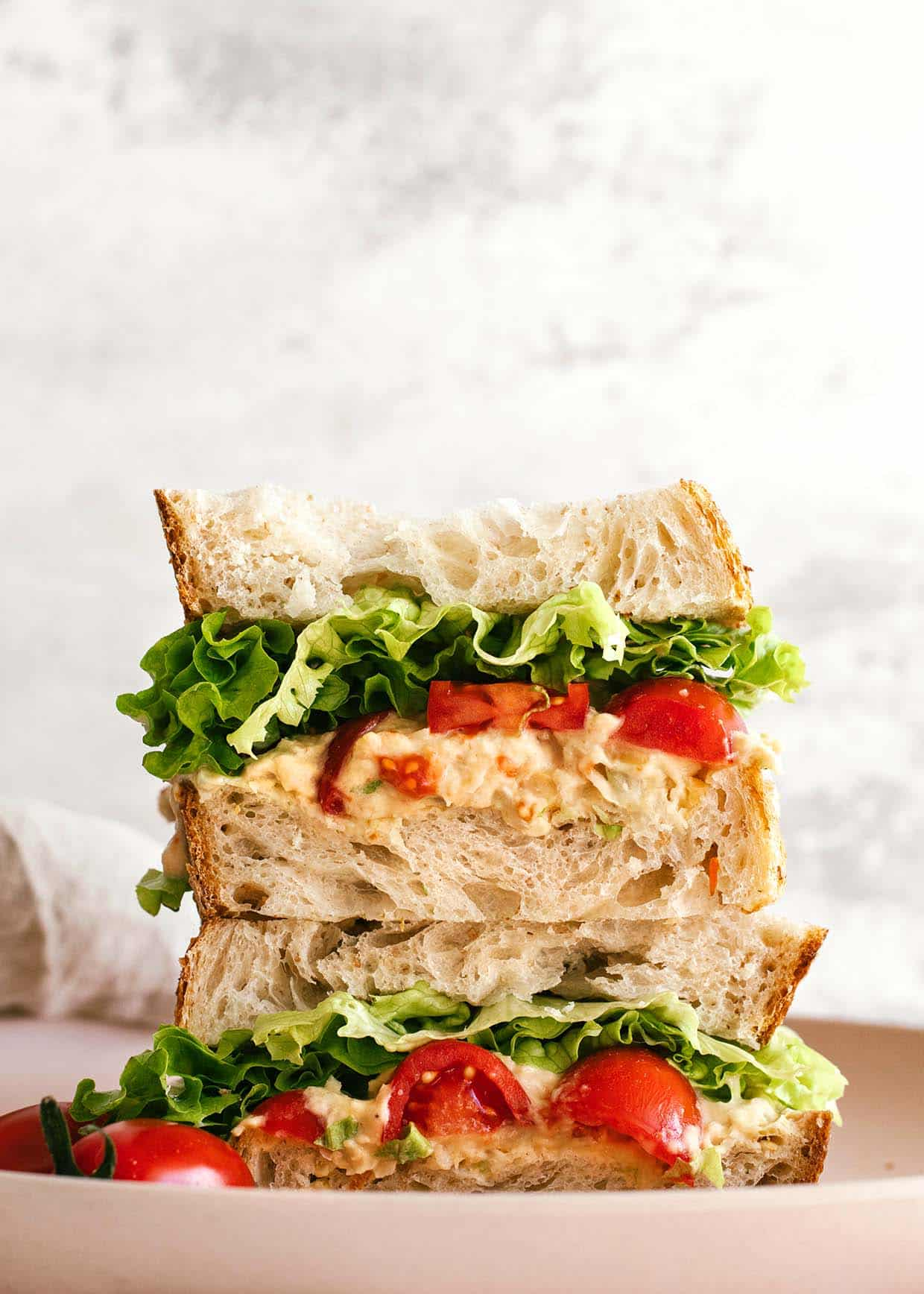 Vegetarian chickpea "tuna" salad sandwich
So creamy and delicious you won't believe it's not the real deal! 
Ingredients
"tuna" salad
13

oz

(

370

g

)

jar of chickpeas

(drained)

1 1/2

tablespoons

(

20

ml

)

fresh lemon juice

(more to taste)

2

tablespoons

mayonnaise

(more to taste)

1

teaspoon

Dijon mustard

(more to taste)

1

small celery stalk

(very finely chopped)

sea salt

(to taste)

freshly ground pepper

(to taste)
for serving
4

slices

sourdough bread

handful of lettuce leaves

cherry tomatoes

(about 4-6 per sandwich, heirloom tomatoes are perfect too)
Instructions
Put drained chickpeas in a medium bowl. Using a stick blender (or a fork), mash the chickpeas. You want a chunky mix, with most chickpeas completely mashed and some only broken up.

Add lemon juice, mayonnaise, mustard, chopped celery, pinch of salt and pepper. Mix thoroughly. Taste and adjust seasoning to your taste. Add more lemon juice and mayonnaise too, if needed, until you get a desired consistency. 

Spread a hefty amount of the chickpea salad over one slice of bread (toast it if you prefer that). Top with sliced tomatoes and 1-2 big leaves of lettuce. Add other toppings if desired, cover with a second slice of bread. Repeat for more sandwiches and serve.

Keep leftover chickpea salad covered in the refrigerator and use within a few days. 
Notes
Use whatever can or jar of chickpeas you have on hand. It doesn't have to be exactly 13oz. If you have more chickpeas than the recipe calls for, simply add more of the other ingredients. 
This is a very simple, even basic, chickpea "tuna" salad. I always make it like this and then play with toppings. But you can definitely upgrade the actual salad. Popular ingredients that you can include are: chopped scallions or red onion, chopped capers, chopped cornichons or dill pickles, chopped peppers or even sun-dried tomatoes. 
Lighten up the recipe by using yogurt instead of mayonnaise. 
Make the recipe vegan by using vegan mayonnaise or some tahini. 
Email recipe
Pin Recipe