These sumac roasted potatoes are a year-round favorite, always the right option for dinner. Coated in olive oil and warming sumac, they are baked to crispy perfection and served with a creamy tahini dipping sauce.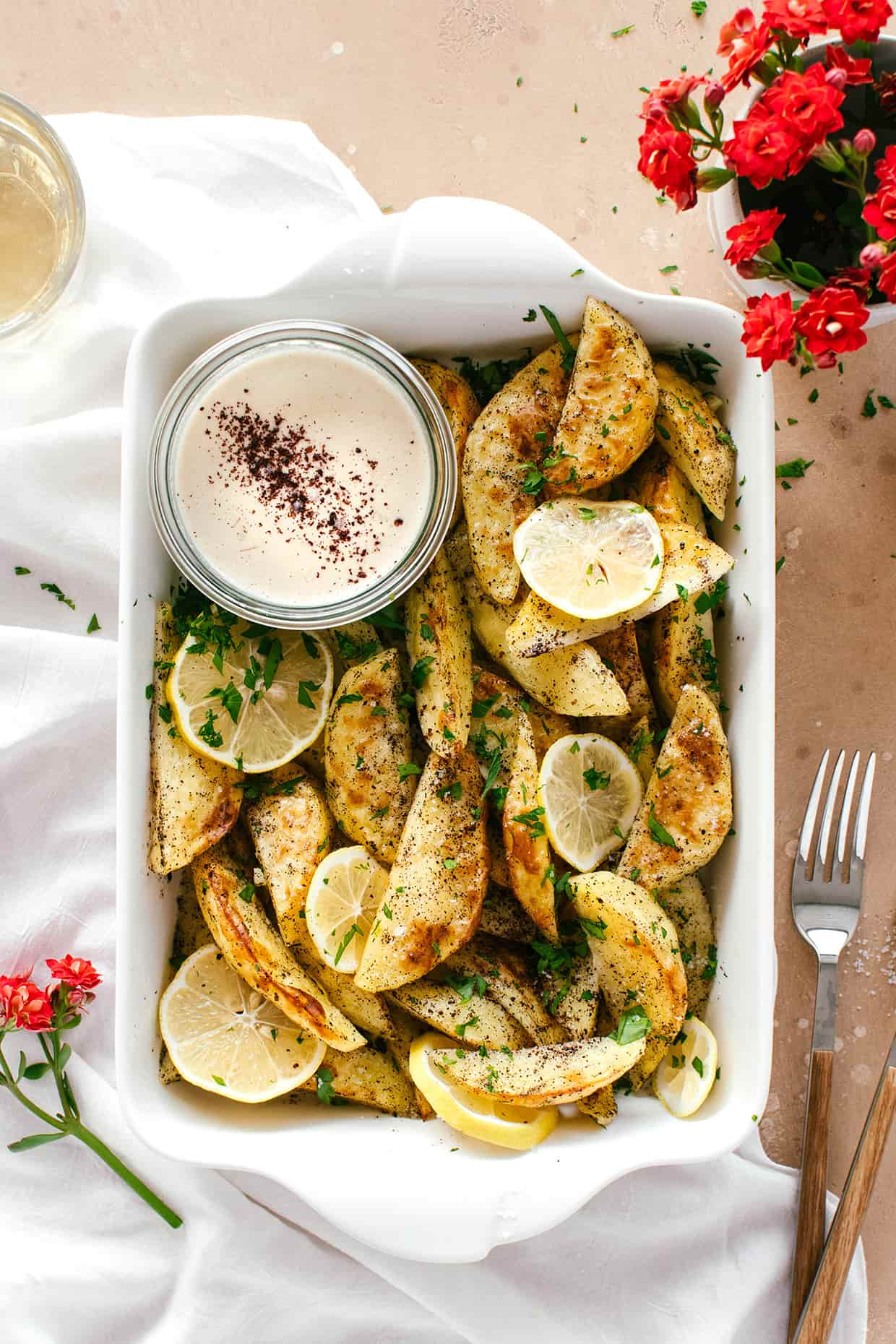 This recipe is directly inspired by one of my favorite places to eat at in Ljubljana, called Abi Falafel. It's a falafel place run by Abid Shaar, who moved here over 40 years ago, and his family. They make the best falafel ever and it's usually the one and only thing I get.
I love reading through the menu: fatayer zaatar, tabbouleh, mezze platter, sumac potatoes, … however I used to only go after the classic falafel. It was filling enough and I don't like wasting food. But on one super hungry day I just had to try the sumac potatoes too.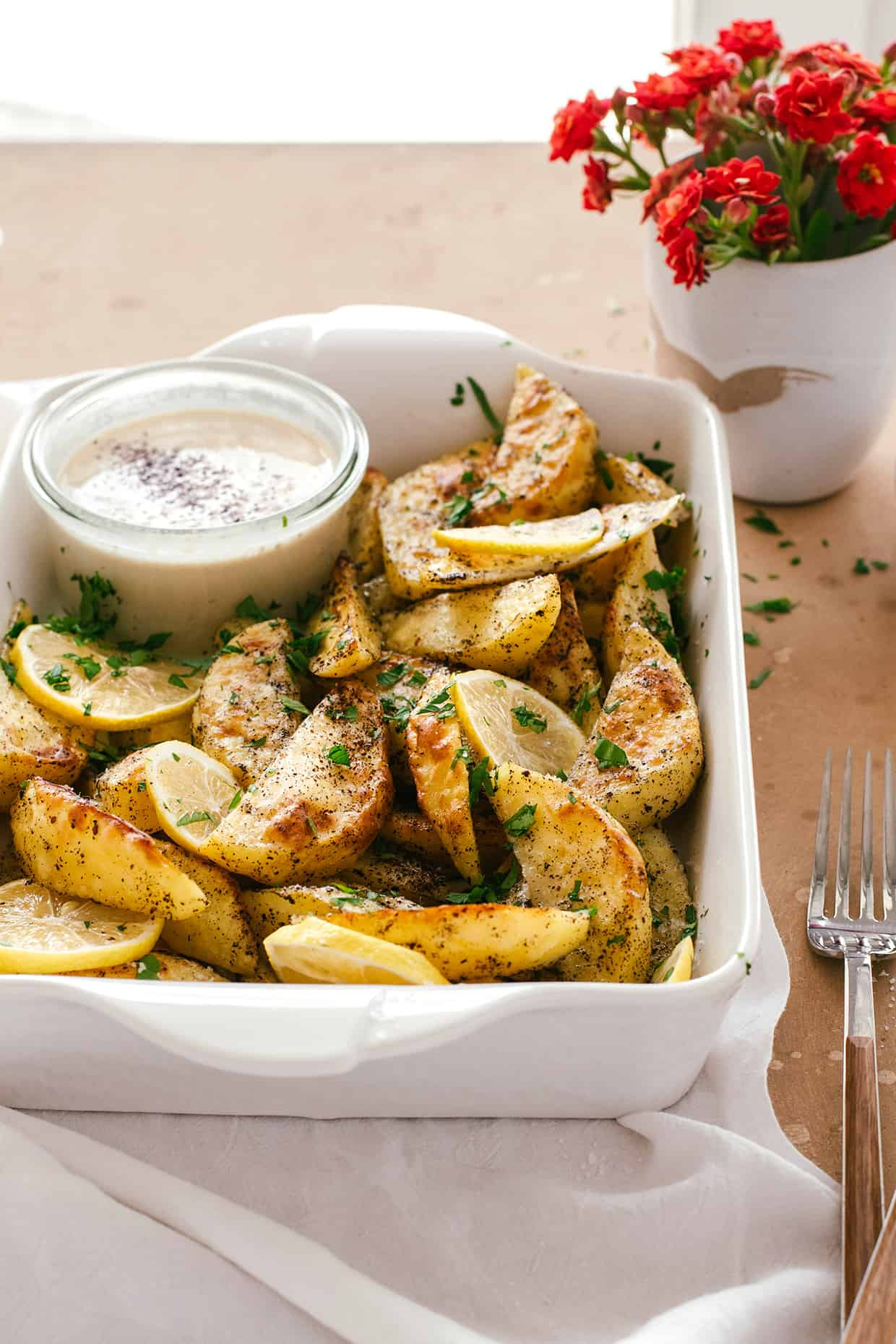 You know I love potatoes, so I have no idea what took me so long to try these in the first place but I finally did. They were just amazing. So much so that I went on the hunt for sumac and started making sumac roasted potatoes at home. Whenever I order falafel now, I always get the potatoes too, even if that means I'm so full I can't move for a while, ha.
What is sumac?
Sumac is a wonderful spice, typically used in Middle Eastern cuisine. It is deep red in color and smells like a very strong lemon. They make it from the dried berries of the sumac flower, which are ground into a coarse powder. According to Wiki, when sumac is made into a spice, they most often use Sicilian sumac.
I judge sumac by its smell. If you stick your nose into a jar of sumac, you should get a strong citrusy and tart whiff straight in the nose. That's a sign that you're holding good sumac.
The taste itself is actually rather mild and pleasantly lemony and warming. It lets you add lemon flavor to a dish without using lemon! And I find myself sprinkling sumac on everything, because it's so, so nice and tasty.
This spice is the main thing about these sumac roasted potatoes, as the name implies and it really helps me transform a regular roasted potato into something amazing.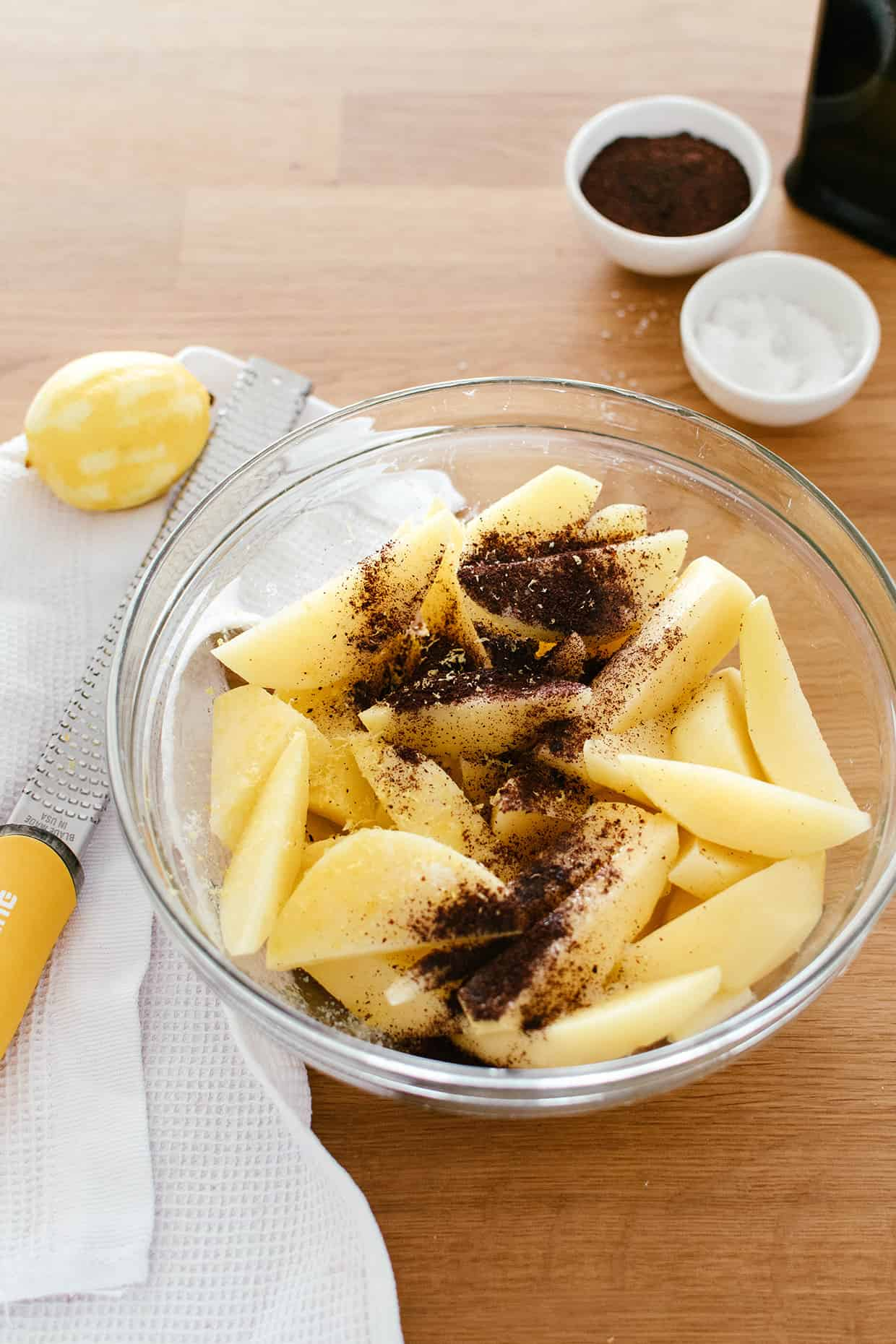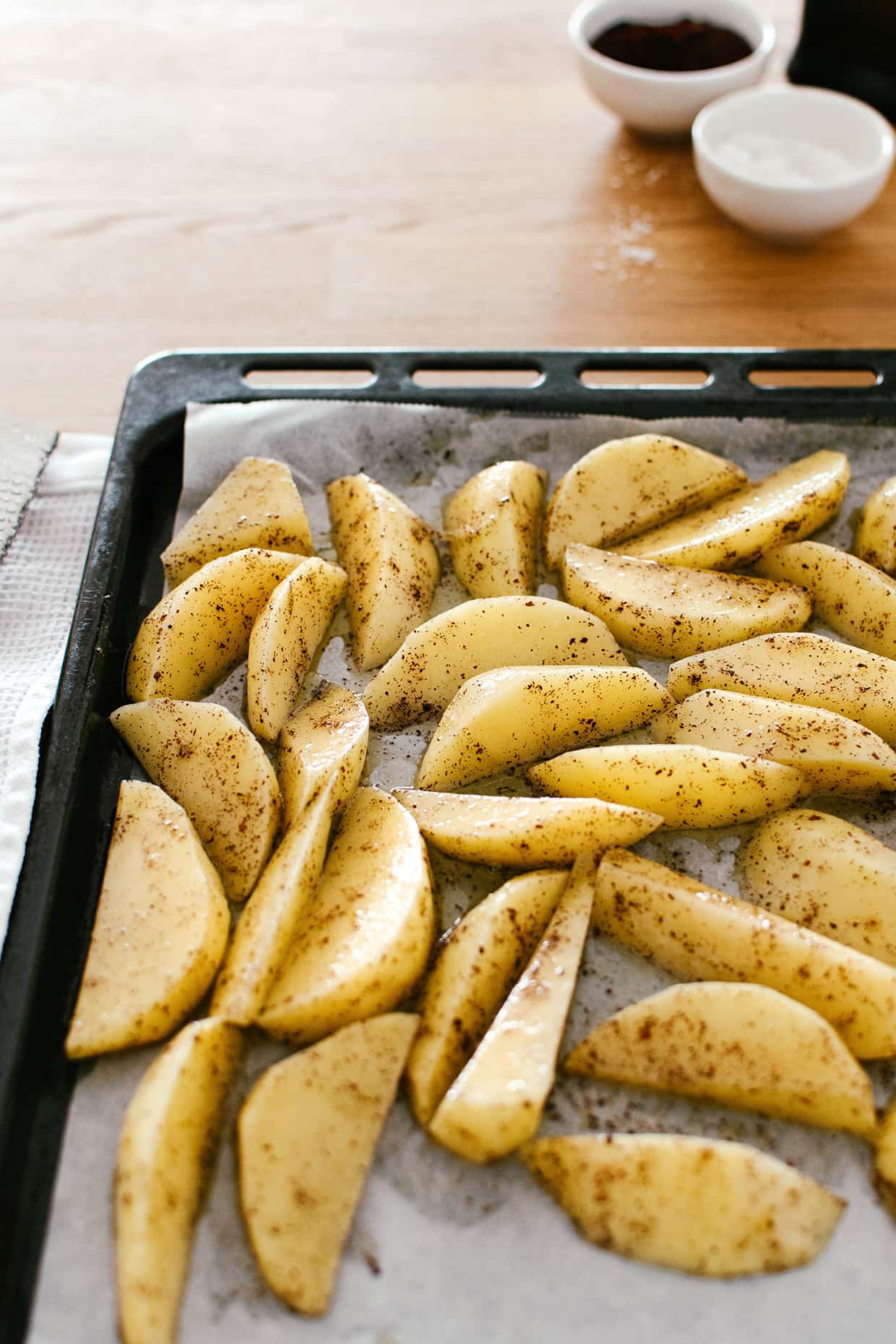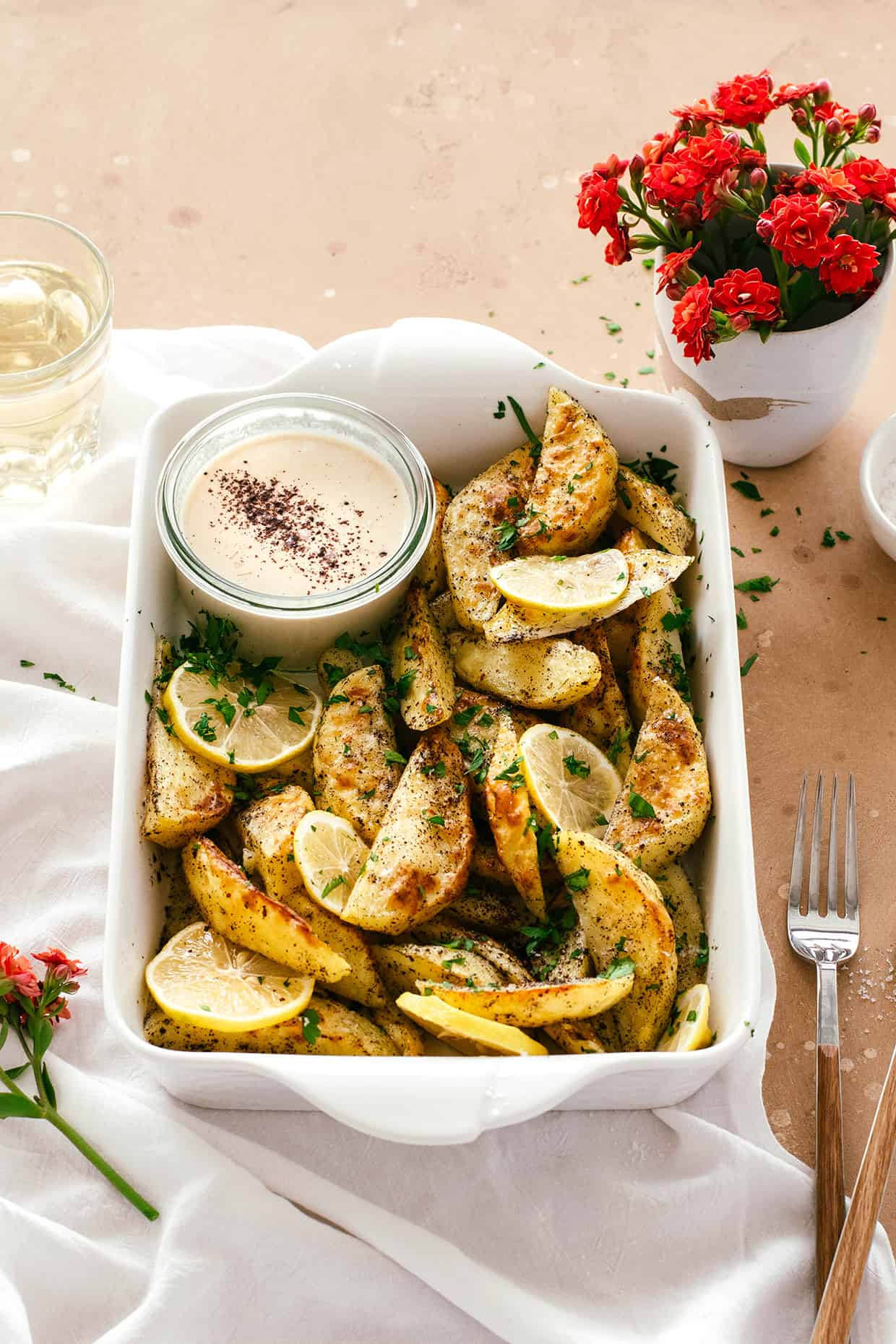 Tahini dipping sauce
At Abi Falafel they serve sumac potatoes with a side of tahini sauce, a creamy tangy bit of love. Naturally I have to make my own at home too.
There are quite a few ways to make tahini sauce at home. You can do a very basic tahini-water-salt concoction or you can add a few more things like I do.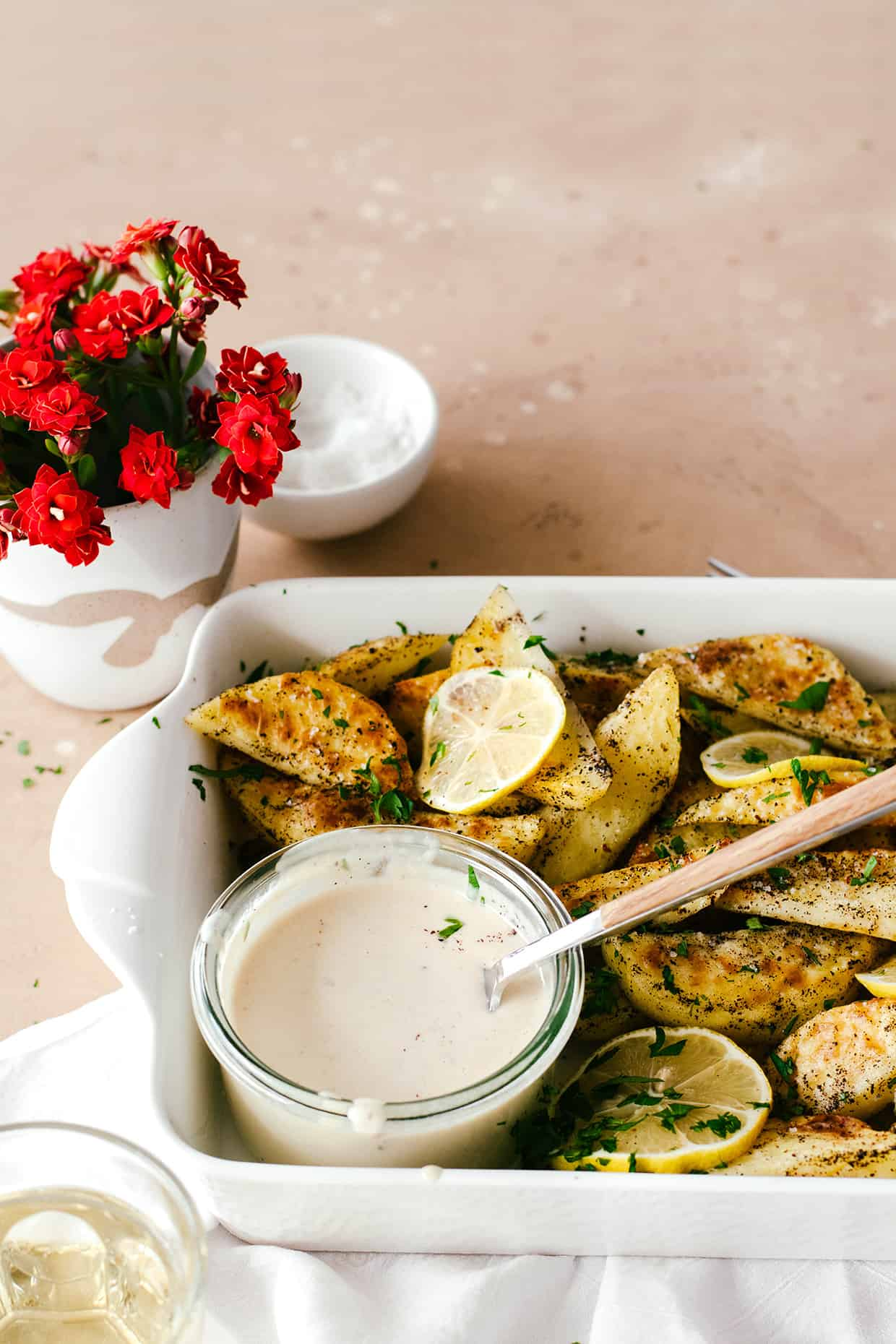 I can't imagine using tahini without lemon juice, because they are a perfect pair. The rest of the ingredients I add depending on what I'm in the mood for. But I normally like a little bit of garlic powder and ground cumin, with a good amount of salt. You can totally adjust the amounts used to fit your personal taste.
This sauce is something you make as your potatoes are baking. Once baked, what you have in front of you are warm crispy potatoes, slightly sweet and slightly citrusy. And a cold dipping sauce, that's slightly tangy, just the perfect balancing companion for the potatoes. It's poetry!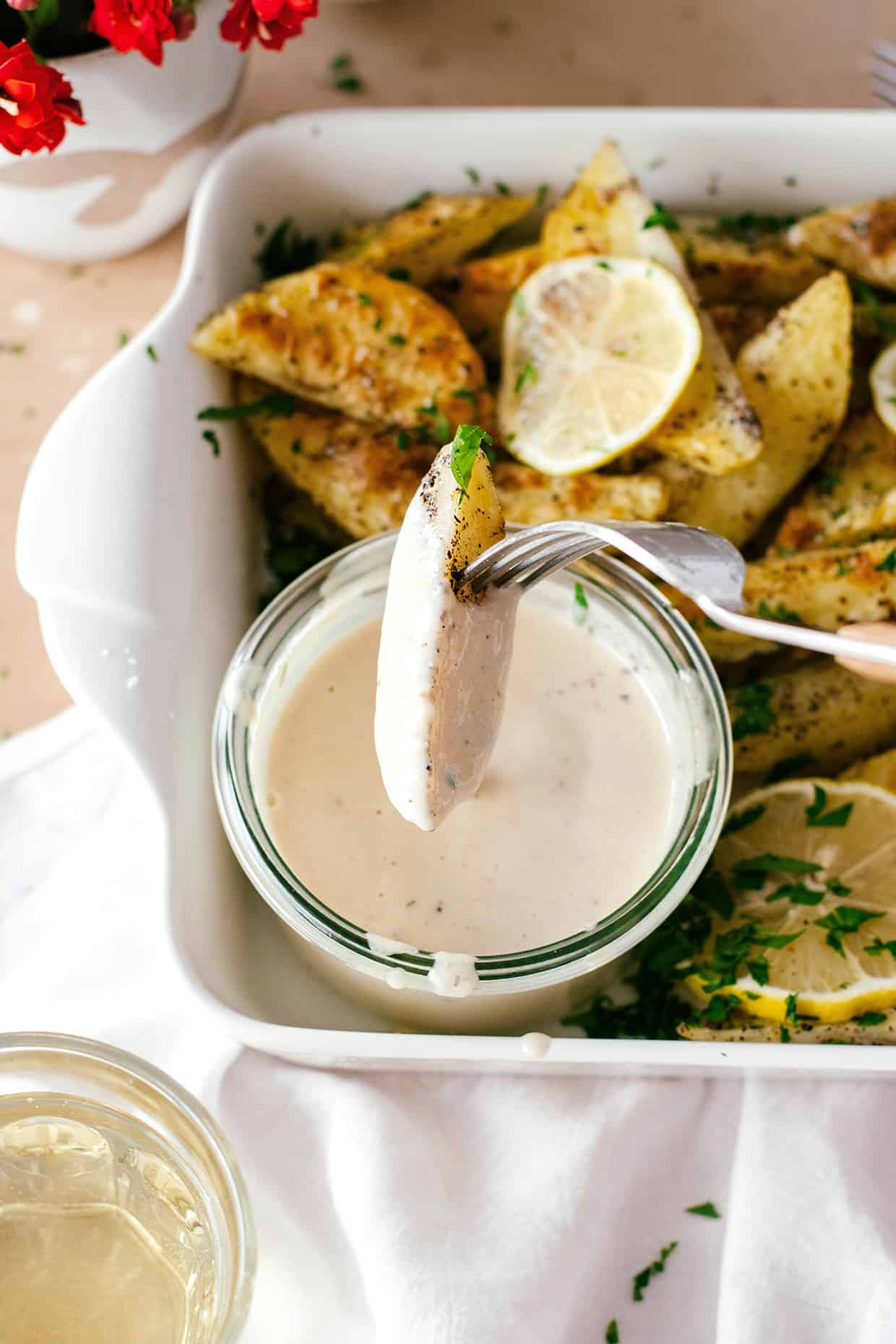 These sumac roasted potatoes with tahini dipping sauce are absolutely wonderful just as they are. However they also shine when paired with any other roasted vegetable or leafy greens.
I like to serve them with lemon slices for that extra lemon punch and some chopped parsley, because it adds some color and freshness. And right before serving I sprinkle more sumac all over, for added flavor, because I just love it so much.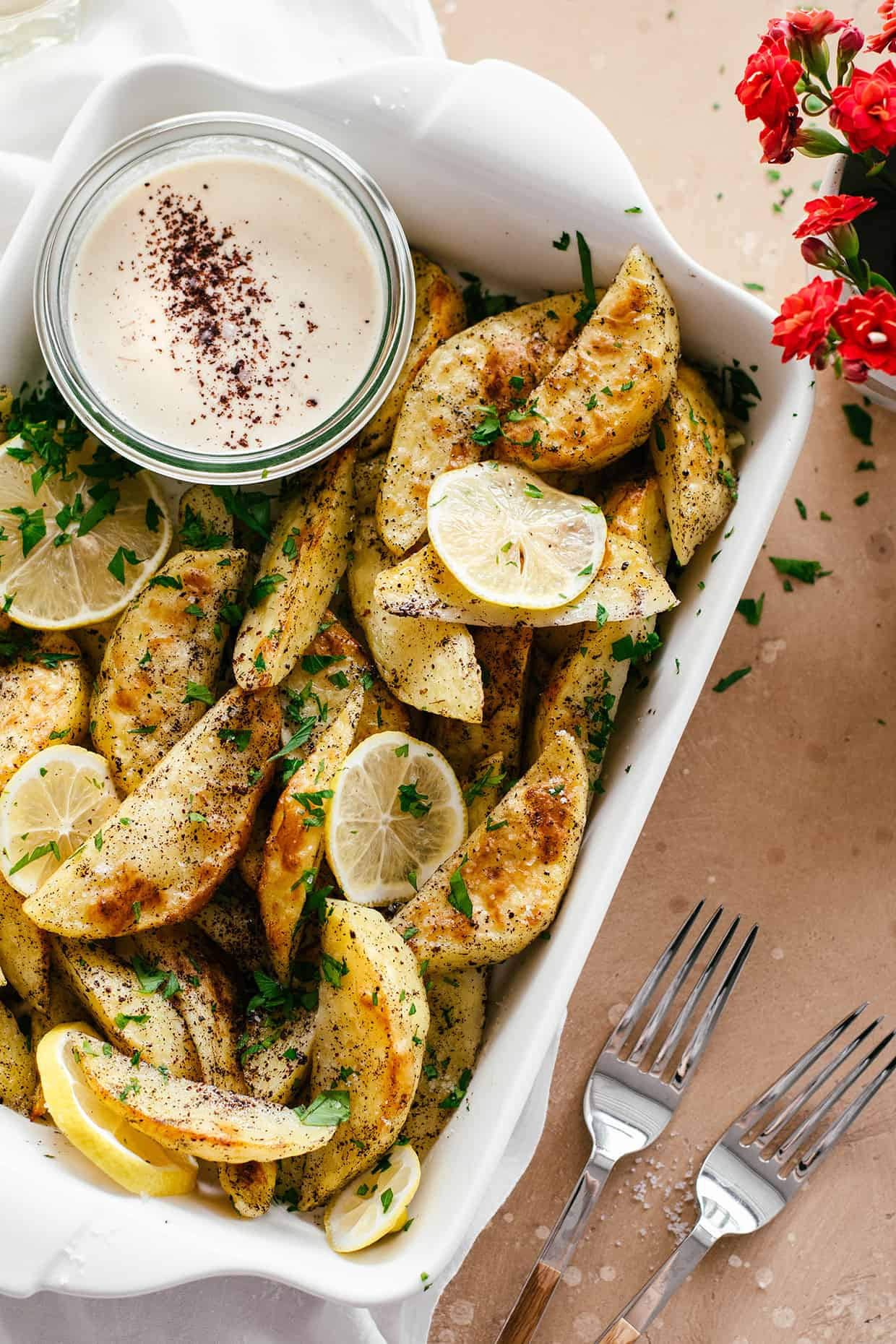 Sumac roasted potatoes with tahini dipping sauce
Easy to make with impressive flavor! 
Ingredients
Potatoes 
2

pounds

(

1

kg

)

yellow (gold) potatoes

3

tablespoons

olive oil

1

teaspoon

organic lemon zest

(optional)

1

teaspoon

sea salt

1

teaspoon

sumac

(and more for serving)
Tahini dipping sauce 
3

tablespoons

(

45

ml

)

tahini

(more to taste)

1/4

cup

(

60

ml

)

water

2

tablespoons

(

30

ml

)

lemon juice

1/2

teaspoon

garlic powder

1/2

teaspoon

sea salt

(more to taste)

1/4

teaspoon

ground cumin

(more to taste)
For serving
2

tablespoons

chopped fresh parsley

1

teaspoon

sea salt

1

sliced lemon
Instructions
Preheat oven to 400°F (200°C). Wash and scrub (or peel) potatoes, then slice them into wedges. Pat with a towel to dry, then transfer all to a bowl. 

Toss potatoes with olive oil, lemon zest, salt and sumac. Lay them out on a baking sheet in a single layer and bake for 30 minutes. Give the potatoes a good stir, then increase the temperature to 425°F (220°C) and bake for another 10-15 minutes, until the potatoes are golden brown and crispy. 

As the potatoes bake, make the dipping sauce: In a small bowl whisk tahini with water and lemon juice. They won't come together right away, but as you keep stirring, the tahini and water will blend together into a creamy, smooth sauce. Mix in garlic powder, salt and cumin. Taste and adjust seasoning if needed.  Keep sauce in the refrigerator until serving time. 

When baked, take potatoes out of the oven and serve on a platter or in a shallow baking dish. Sprinkle with more sumac, fresh parsley, sea salt (flakey salt works too) and add a few lemon slices. Serve sauce alongside the potatoes, sprinkle with more cumin or sumac prior to serving.
Notes
You can find sumac in well stocked grocery stores, spice shops and on Amazon. 
Email recipe
Pin Recipe
Recipe first published in November 2017, revised October 2020, last updated March 2022.