Making perfect baked sweet potatoes is much easier than you think. You only need one ingredient (the potatoes!) and a working oven (obviously). This quick recipe helps you make these in about 40 minutes. They are perfectly sweet, soft and caramelized, ready to be enjoyed in so many ways.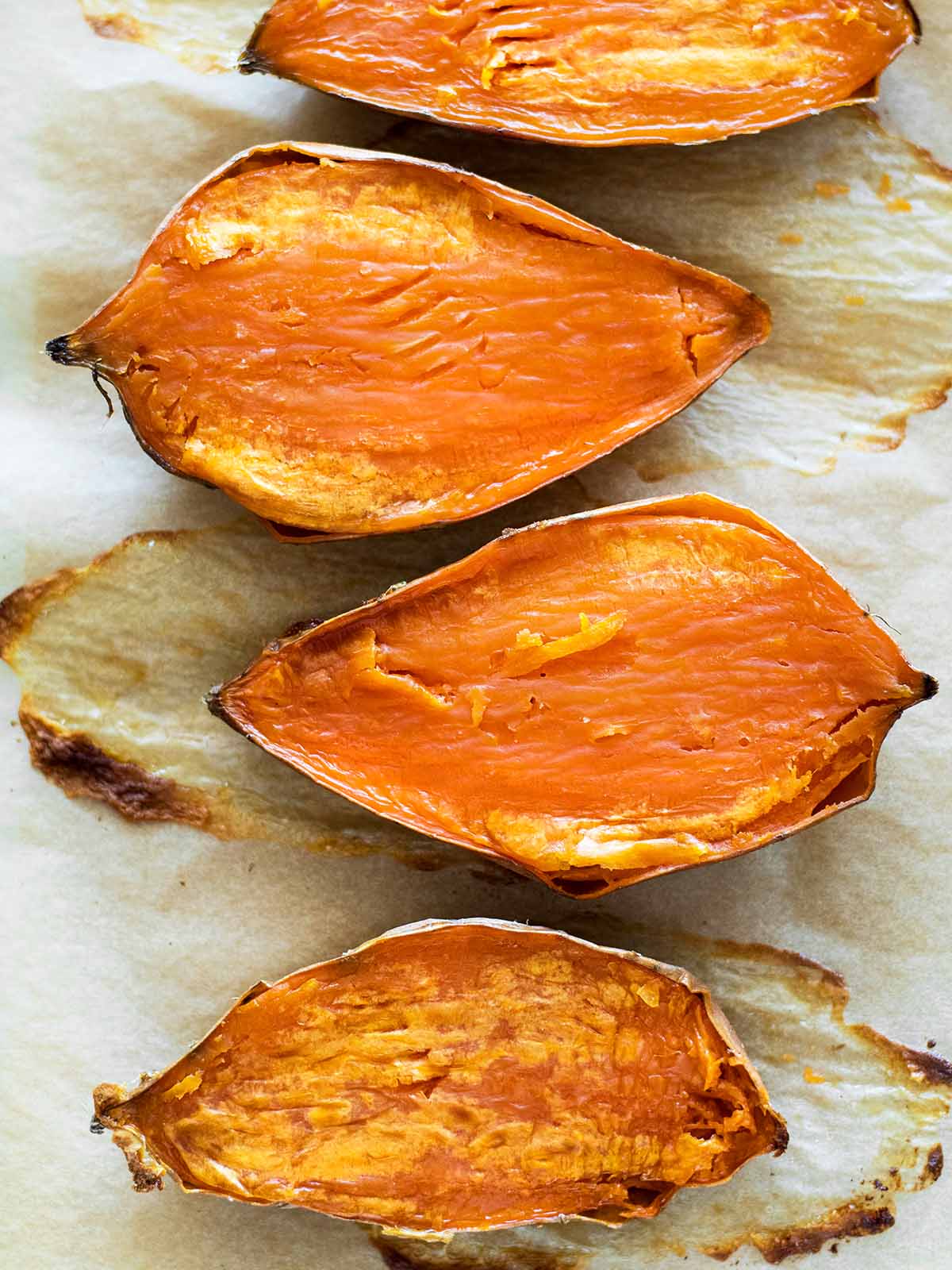 I absolutely love sweet potatoes. It could be said that I adore anything sweet (my dessert recipes are a sure sign of that), but I especially adore potatoes. So sweet potatoes, baked to perfection, are an absolute obsession. And now you can make your own with this easy recipe.
There are quite a few varieties of sweet potatoes, like purple sweet potatoes or white-fleshed sweet potatoes. They're all different from yams, which look similar to some, but are still different (more on that in this Bon Appetit article). My favorite, and the ones I'm making in this one-ingredient recipe, are orange sweet potatoes.
A sign of an amazing baked sweet potato is the caramelized bubbly juice that pools around the potato. That means that the inside is ready, it is fluffy and very sweet. If you poke it with a fork, it should slide right in. And as you take the potato out of the oven, it should collapse and look wrinkly.
You can eat the wrinkly skins if you want. I personally don't. But they are easy to remove, as a well baked potato should separate from the skin without a problem.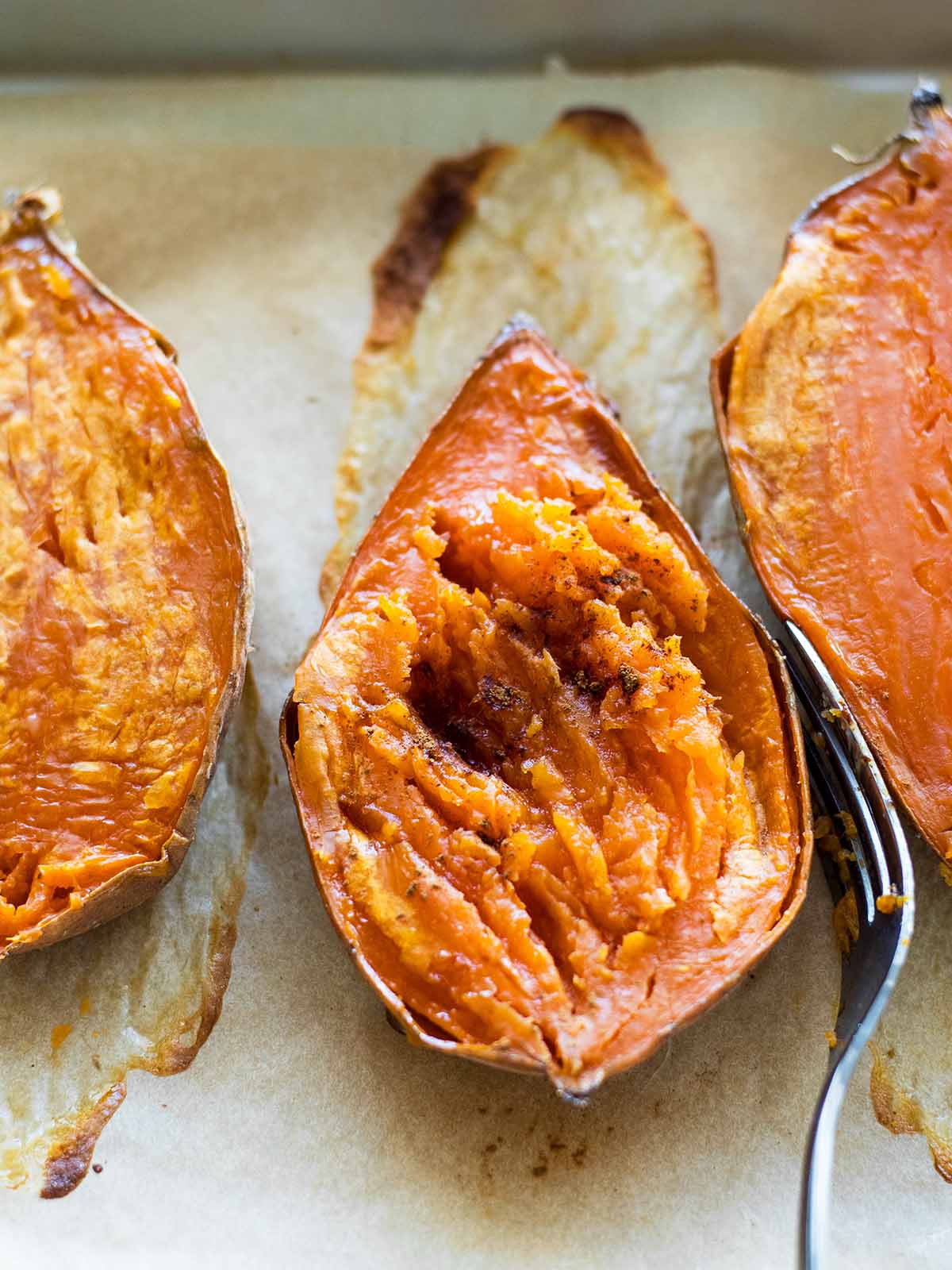 Why I love this recipe
Sweet potatoes baked in the oven are my go-to building block for easy lunches. They can easily be made ahead of time, but since this recipe is super quick, I often just make them the day of. The secret of making perfect roasted sweet potatoes is baking sweet potatoes halved.
Making sweet potato halves cuts down on baking time so much. It also helps with flavor. The whole bottom layer of the potato gets toasty and you get this cross between roasted potato cubes and whole baked potatoes, which cook inside the skin.
I also think halved potatoes are easier to serve and store. You don't have to fumble around with a whole potato, especially when it's big. You can just flip the baked halves, fluff the insides with a fork and top with your favorite toppings. Or scrape out the flesh to use in soup, desserts, smoothies, like my sweet potato smoothie, and more. 
How to bake sweet potatoes
Preheat your oven to 400°F (200°C (or 204°C to be exact, but that's hardly a difference in this case)). Scrub your potatoes very well and pat them dry with a towel. Slice the potatoes in half lengthwise.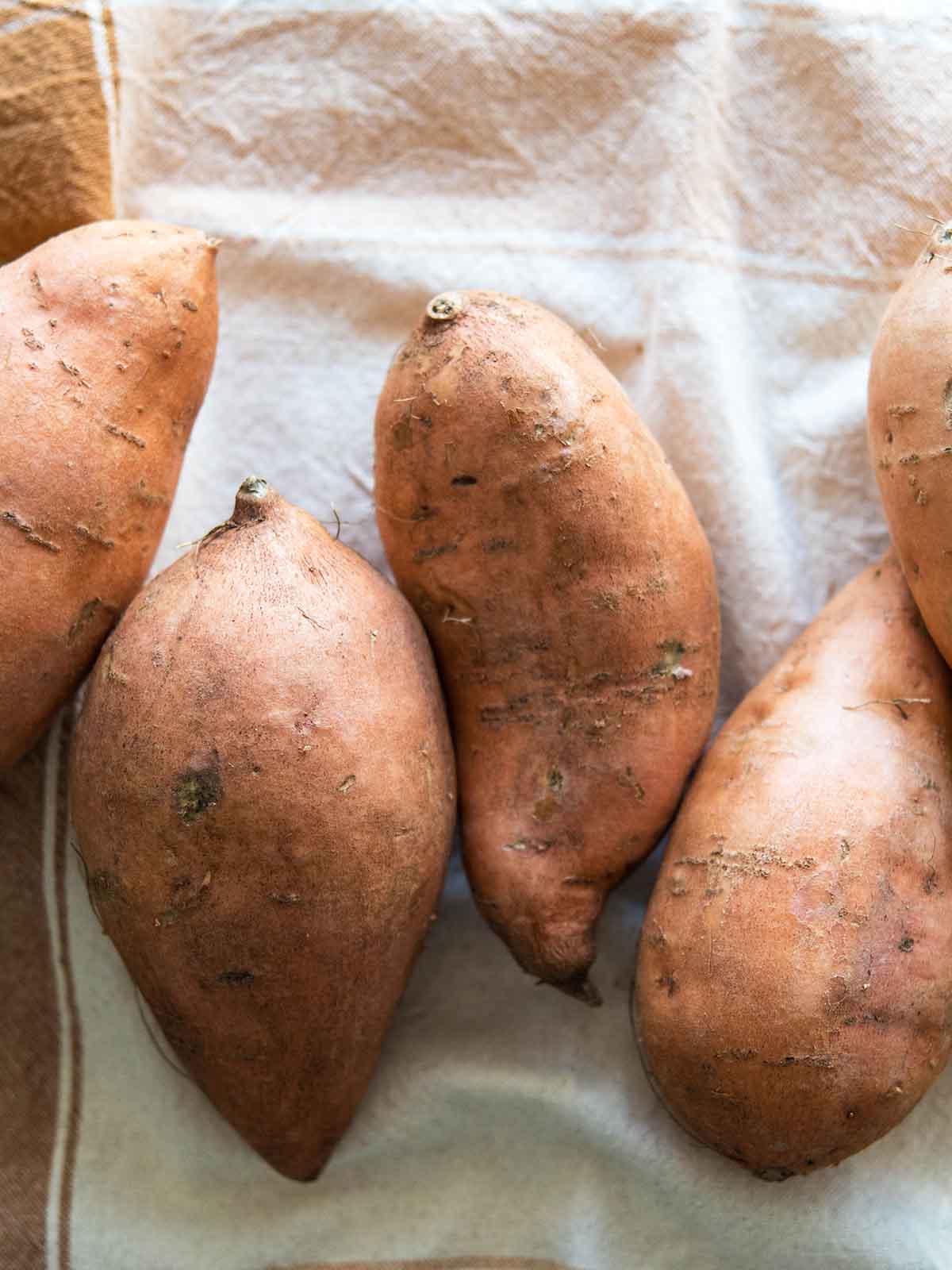 Place sweet potatoes cut side down on a rimmed baking sheet lined with parchment paper.
Bake for about 40 minutes, depending on the amount of potatoes and their size, until the juices around them are bubbling and brown and the potatoes can be easily pierced with a fork. To get perfect baked potatoes, it's better to leave them in longer than risk taking them out too soon.
Remove potatoes from the oven. Serve cut side up. Fluff the flesh with a fork if desired and add your toppings.
How to store and reheat
Once your sweet potatoes are baked, allow them to cool completely. Store them in air tight containers in the refrigerator, with sheets of parchment paper between each layer. Eat them within 3 days.
Reheat potatoes in the microwave in 30 second increments. You can also reheat them in the oven set at 350°F (175°C) for 15 minutes. Or place them in a non stick skillet and reheat them on the stove over low-medium heat.
Serving ideas
Butter and salt: This is the easiest way and it makes a great snack on a cold day.
Maple syrup and cinnamon: If you like your sweet potatoes extra sweet, try this combination. It is like eating dessert.
Greek yogurt and honey: If you like a sweet breakfast, this is the way. Especially if you warm up the potato and combine that with the cold tangy yogurt.
These shredded Brussels sprouts with crispy tofu: OMG. Load that salad onto the baked potato, make extra servings for later, you'll love this.
Roasted vegetables with some sour cream or crumbled feta cheese. I also like to add some beans to this.
Eggs! Eggs and sweet potatoes with some chopped parsley and hot sauce would make an amazing meal.
I'm sure there are even more ways to enjoy baked sweet potatoes. Let me know in the comments if you have any suggestions for me.
More recipes perfect for cold weather
Perfect baked sweet potatoes
Perfect baked sweet potatoes that are fluffy, caramelized and full of flavor. This is a quick and easy recipe.
Ingredients
2

large

sweet potatoes

1

teaspoon

olive oil

,

optional – see notes
Instructions
Preheat the oven to 400°F (200°C). Scrub sweet potatoes well and pat to dry. Slice them in half lengthwise. Place them cut side down on a baking sheet that is lined with parchment paper.

Bake the potatoes for about 40 minutes, until they are completely soft, easily pierced with a fork (it should slide right through the skin) and you see juices bubbling all around each potato.

Serve warm, cut side up, and fluff with a fork if desired. Add any toppings you like.

To store for later, place potatoes in a glass dish or plate and allow to cool. Then cover them with a lid or plastic wrap and refrigerate for up to 3 days. You can scoop out the flesh and use it in a sweet potato smoothie or puree it for baked desserts. Reheat potatoes in the microwave or the oven, set at 350°F (175°C) for 15 minutes or until as hot as you want them to be.
Notes
I like to slice the potatoes in half because they are baked faster this way. I also like the flavor more as the cut side caramelizes and develops a deeper flavor. If you're baking more potatoes or they differ in size, adjust the baking time as needed. 
You can bake the potatoes whole without cutting them in half. Pierce each potato with a fork, twice on each side, and bake as instructed. Bake them for 45-60 minutes or more for very large potatoes. Store the same way.
If you like to eat the potato skins and want them to be more flavorful, rub the potatoes with a teaspoon (or two) of oil and sprinkle them with salt prior to baking.

 

Baked potatoes reheat faster if sliced into smaller chunks.

 
Email recipe
Pin Recipe