You'll want to eat this crispy tofu shaved brussels sprout salad 24/7 because it's THAT good. And incredibly simple to make and adapt.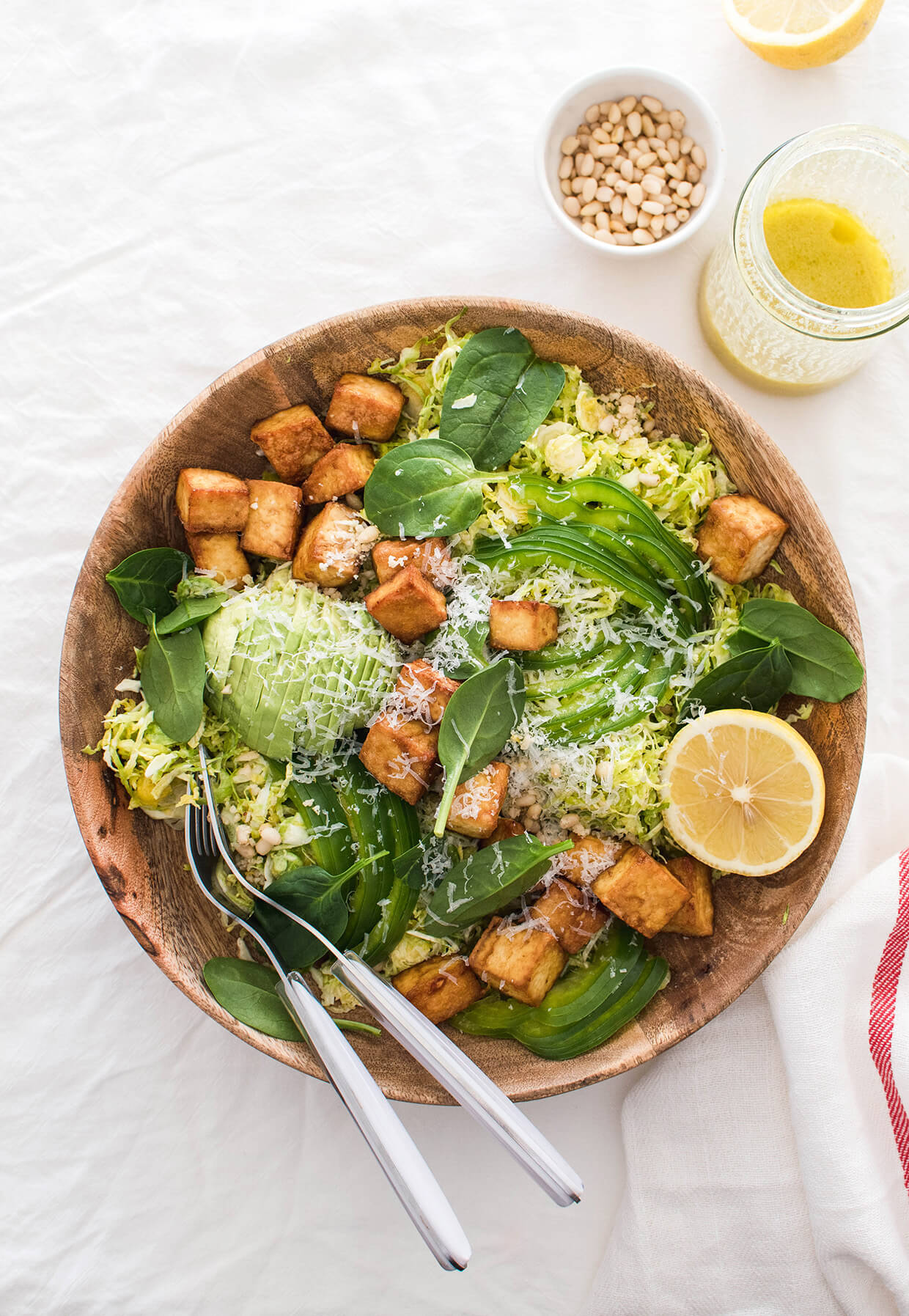 I think brussels sprouts are on the rise. Would you agree? I mean, I've always loved brussels sprouts, although my prefered method was roasted and not raw, but nevertheless I've always been a fan. But a lot of people, Rok including, aren't fans.
Or… not until they try a brussels sprout salad. Because I made this crispy tofu shaved brussels sprout salad and he is now obsessed with it. Sure, I've made this quiche several times and we had this soup for dinner yesterday, but hidden brussels sprouts don't count.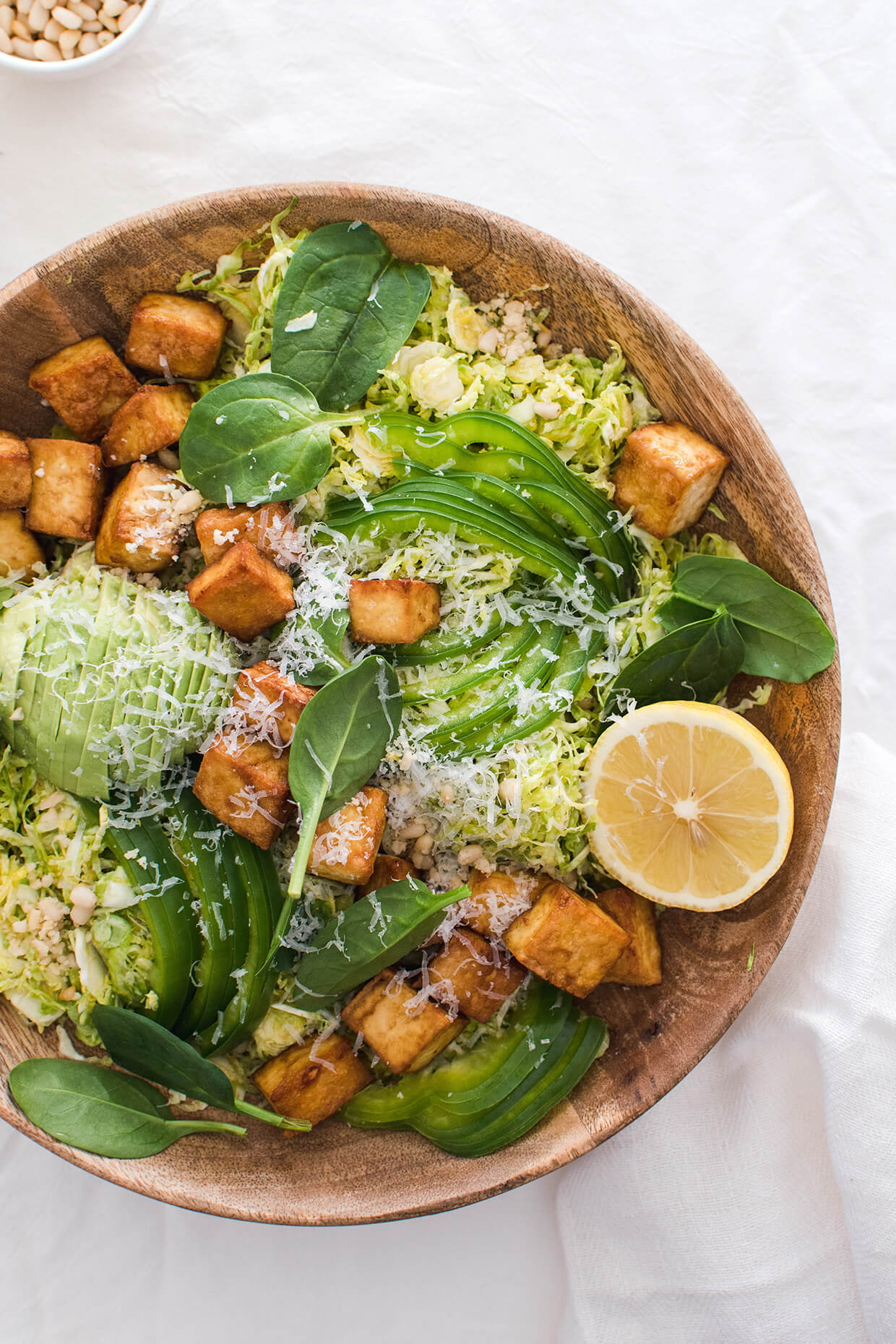 It's whole brussels sprouts that make some people spooked. I wish I knew why. Is it the name? When you think about it, brussels sprouts are essentially tiny cabbage. Their shape is the same and taste very similar to the super-sized cousin. Maybe we should just name brussels sprouts Barbie cabbage instead and call it a day.
But if you make shaved (shredded) brussels sprouts they can also be the main star of a dish, but in a less obvious way. And while this may seem silly, I didn't even think of eating raw brussels sprouts for a long time. Not until it hit me that they are, as mentioned before, tiny cabbage… so here I am today.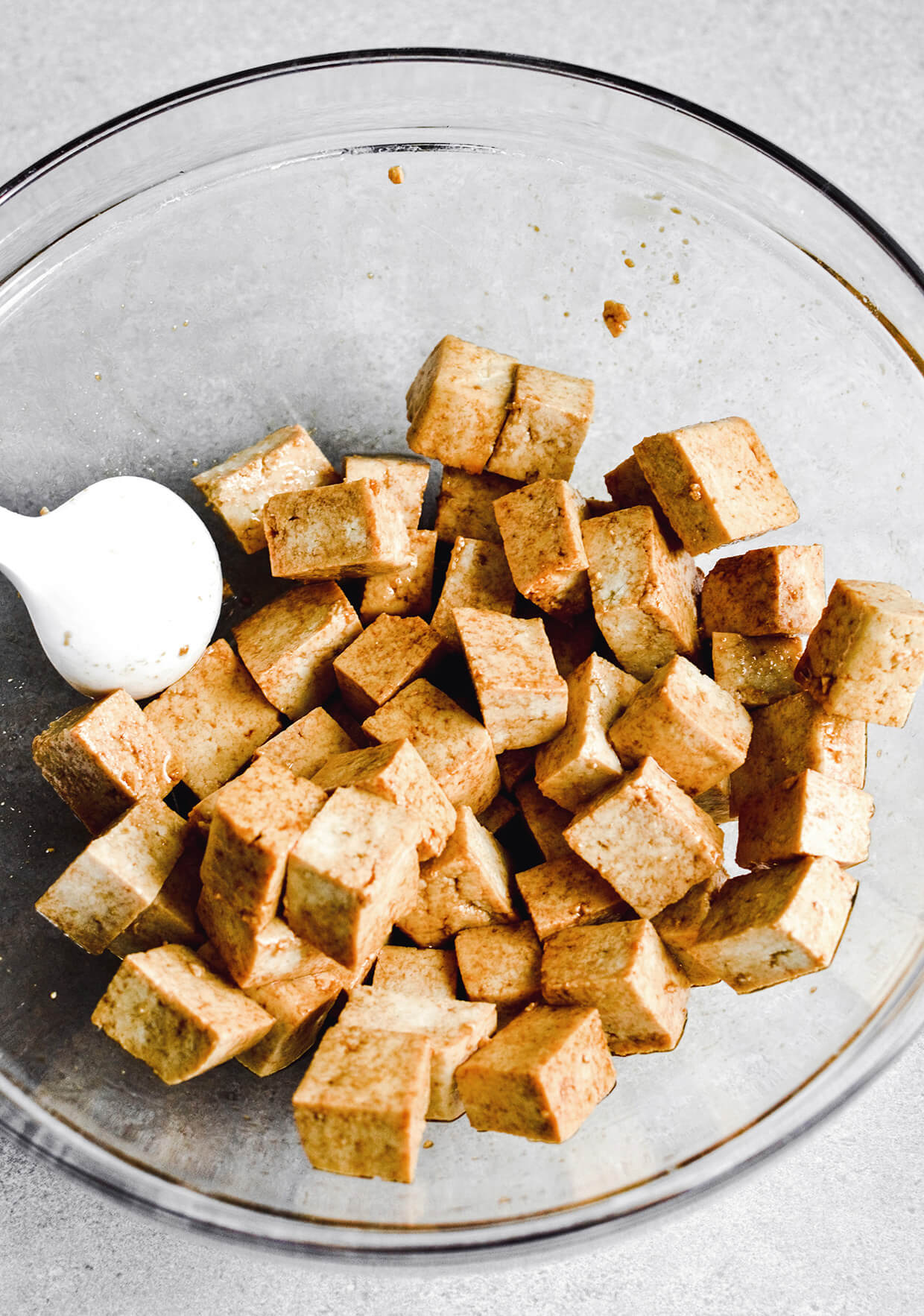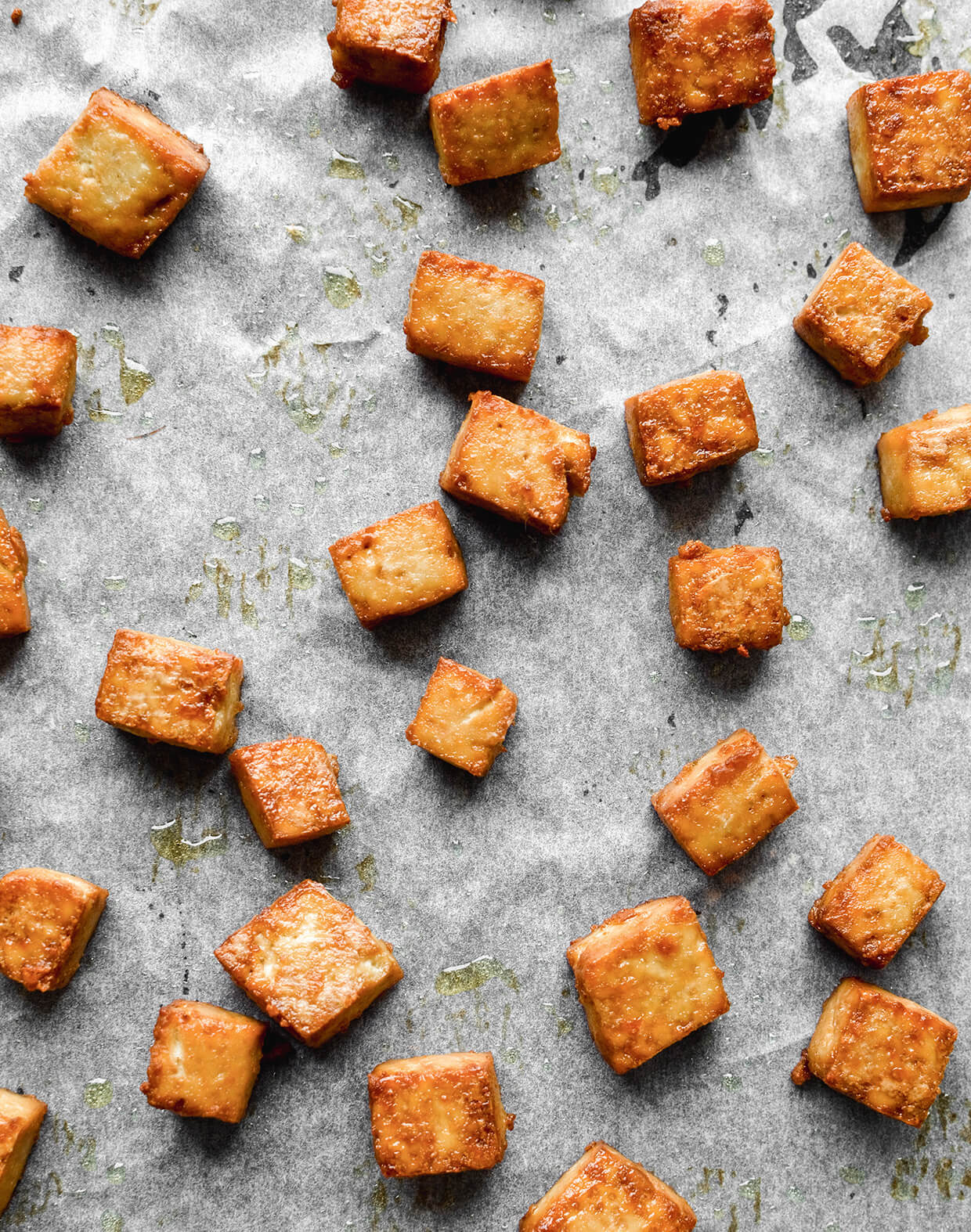 About this crispy tofu shaved brussels sprout salad:
This truly is my new obsession and it's here to stay. I got tired of stir fries for a while and I wanted to use crispy tofu in a new way and nothing seems better than a hearty salad.
I used to always make crispy tofu in a pan until I came across this tutorial from Serious Eats and I cannot even tell you how much better oven-baking is. It's insanely superior to the stove top method. The biggest plus is that you only need 1 tablespoon of oil. That's it. Whenever I made stove top crispy tofu, I used a non-stick pan but I still needed the oil. And 1 tablespoon never seemed to be enough. Maybe it's just me and stove top tofu works for you… but I beg you, please try the oven version too.
But apart from tofu, it's the shaved brussels sprouts that make this salad worth making. While the tofu drains and bakes, you can prepare everything else. It's not hard, but slicing all the brussels does take some time. However, the effort is so worth it. Thinly sliced brussels sprouts are light as a feather and so delicate in flavor you won't even know you're eating something so healthy.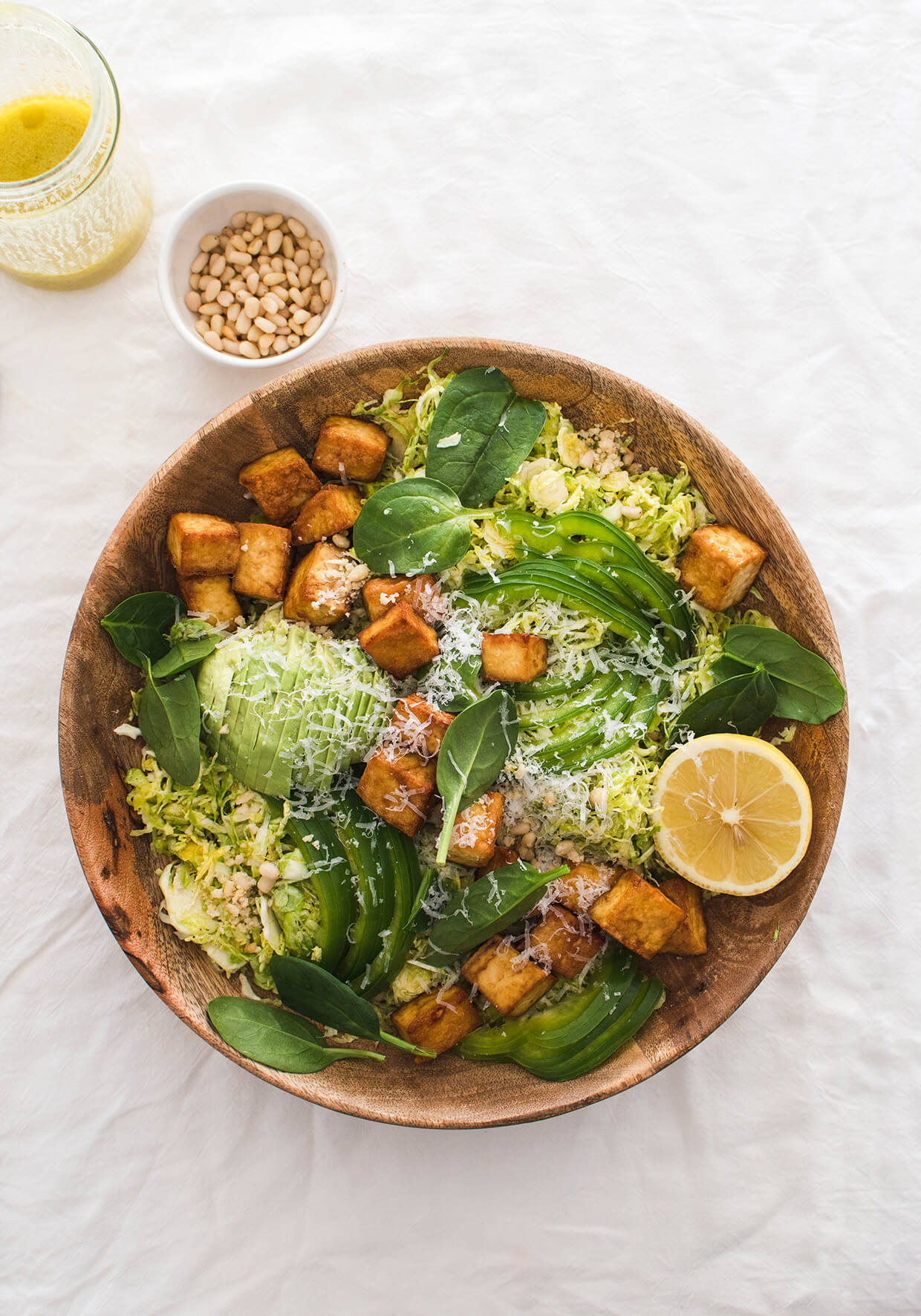 I like to enrich brussels sprouts with a honey mustard dressing which is one of my favorites to throw in a salad. It's tangy but sweet and still fresh, thanks to the lemon juice. It definitely makes any salad more interesting. Now, because I am who I am, I need extra toppings and crushed pine nuts and Parmesan are so perfect. The pine nuts add a light earthy note and some crunch, while Parmesan almost melts into the dressing and makes the salad more creamy and cozy.
At this point the salad hardly needs anything else, but since I'm on a green kick I love to add microgreens, avocado and peppers. If you can get your hands on some sprouts those would be amazing too!
All in all, this crispy tofu shaved brussels sprout salad is pretty amazing. It has a little bit of everything – some crunch, some sweetness, healthy protein, vibrant greens, hearty dressing… and of course cheese!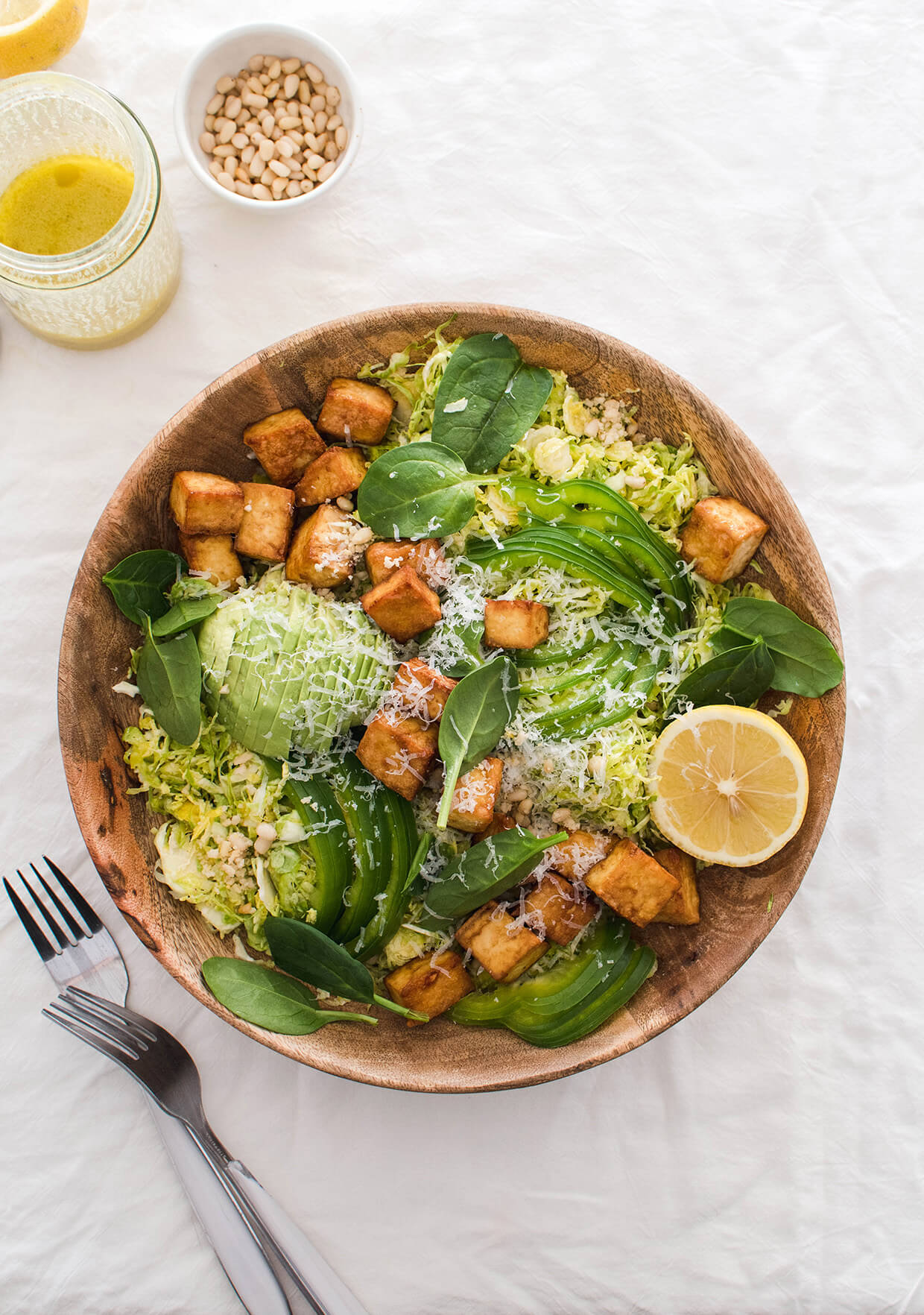 Crispy tofu shaved brussels sprout salad with honey mustard dressing
A hearty, filling salad that's actually a veggie-packed tofu bowl. Makes a great lunch and dinner!
Ingredients
Crispy tofu
14

oz

(

400

g

)

organic firm tofu

1

tablespoon

(

15

ml

)

tamari soy sauce

1

tablespoon

(

15

ml

)

sunflower oil

(or other neutral oil)

1 – 2

tablespoons

cornstarch
Honey mustard dressing
1

tablespoon

(

15

ml

)

lemon juice

1

tablespoon

(

15

ml

)

white balsamic vinegar

1

tablespoon

Dijon mustard

(use less if your mustard is very sharp)

1/2

tablespoon

honey

1/2

teaspoon

sea salt

1/2

cup

(

120

ml

)

olive oil
Salad
12.5

oz

(

350

g

)

brussels sprouts

(yellow leaves removed and ends trimmed)

1/2

cup

(

70

g

)

pine nuts

(crushed or finely chopped)

1/4 to 1/2

cup

(

25-50

g

)

freshly grated Parmesan

(adjust to taste )
Serve with (optional)
1

green bell pepper

(sliced)

microgreens or baby spinach

1

avocado

(sliced)
Instructions
First prepare the tofu
Slice the block (or blocks) of tofu into small equal cubes. Line a large cutting board with paper towels, arrange the tofu cubes all over the board in an even layer, cover them with more paper towels, then another cutting board. Place something heavy on top – like a cast iron skillet or jars filled with flour.

Let the tofu sit like that for 15 minutes. If needed, change the towels halfway through, if they get too wet during the process. As the tofu drains, preheat the oven to 400°F (200°C) and line a large baking sheet with parchment paper. Set aside.

Once the tofu is drained, transfer it to a large mixing bowl and coat it with tamari. Then stir in oil until all tofu is coated. Sprinkle with 1 tablespoon cornstarch and toss tofu until it's completely coated, without any cornstarch left. If you spot any uncovered areas, add more cornstarch.

Transfer tofu to baking sheet and bake for about 20 minutes, until tofu is golden (golden brown on the edges).
Prepare the rest of the ingredients
To make the dressing, combine all ingredients either in a sealable jar (or a mixing bowl) and shake vigorously (or beat with a whisk) until well combined and the mixture looks uniformed and smooth. Taste to see if you want more salt or lemon, set aside.

Shred the Brussels sprouts using a mandoline slicer, a sharp knife or your food processor. As thinly as possible. Transfer to a large mixing bowl and toss with your hands so that all the sprouts come apart.
Assemble:
Remove baked tofu from the oven. Pour 1/2 dressing over the brussels sprouts and toss to combine. (Add more if you want – depending on your taste.) Sprinkle salad with crushed pine nuts, toss to combine, then sprinkle with parmesan and toss again.

Spoon salad into bowls, top with crispy tofu, microgreens, sliced peppers, avocado and more parmesan if needed. Serve.
Notes
Not all mustards are the same. I've found that more commercial or store-brand options are lighter, while certain more expensive, gourmet brands are sharper in taste. It's best if you taste the mustard first and then adjust the amount in your dressing – you might only want 1/2 tablespoon or even 2 tablespoons, compared to 1 TBSP that I use in the recipe.

How to make this vegan:  

Use maple syrup instead of honey or skip the sweetener completely. Use vegan parmesan or nutritional yeast in place of parmesan OR just use more chopped nuts for that nutty flavor.

On tofu:

If you're in a hurry, simply slice a block of tofu into 1/2 inch (1 cm) rectangles and wrap each one into a paper towel. Press each piece down on a flat surface with your hands, change the towels if needed, and keep pressing and squeezing until some of the water gets out. Then slice tofu into cubes and proceed with the recipe.
You'll have some dressing left over. Store it covered in the refrigerator and use within one week.
Email recipe
Pin Recipe
SaveSave