When winter rolls around, leek brussels sprout quiche makes a great dinner.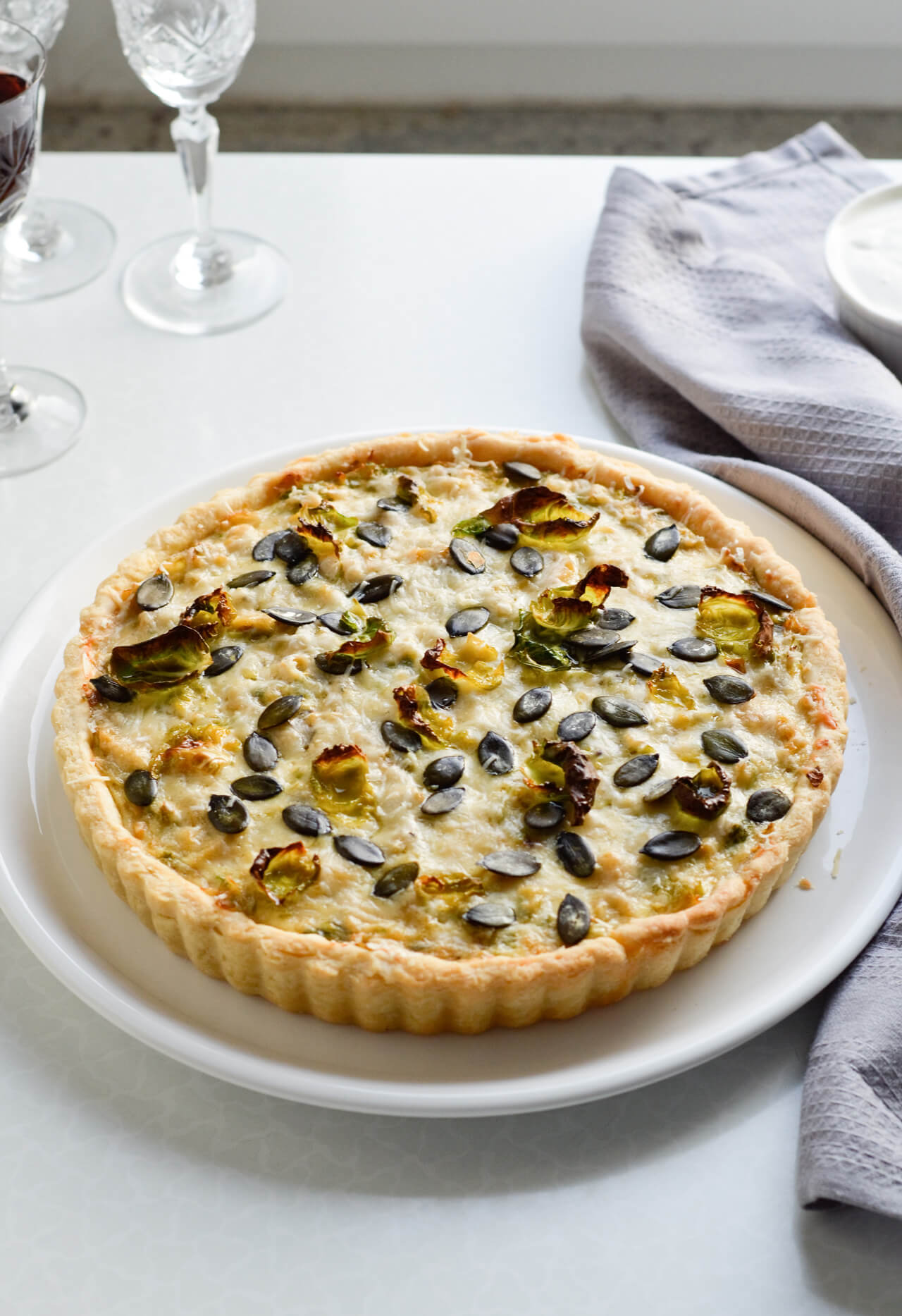 Whew, where did the week go? I don't know if it's just me, but I feel like the past few days were less than 24 hours long. How is it already Saturday?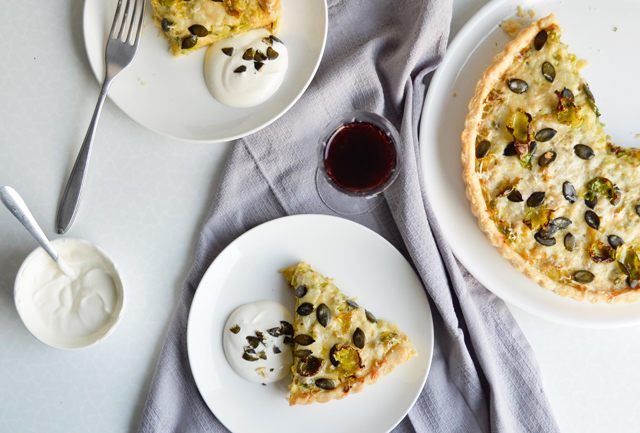 I wrapped all the presents today, and now I can't wait to see them getting unwrapped and torn apart. I'm also already thinking about everything we might want to eat next week and over the next weekend. As the stores will be closed for part of the holidays, my meal plan has to be really good. I think as long as we don't run out of coffee I'll survive, but you know, having other things isn't that bad either (of course it's not).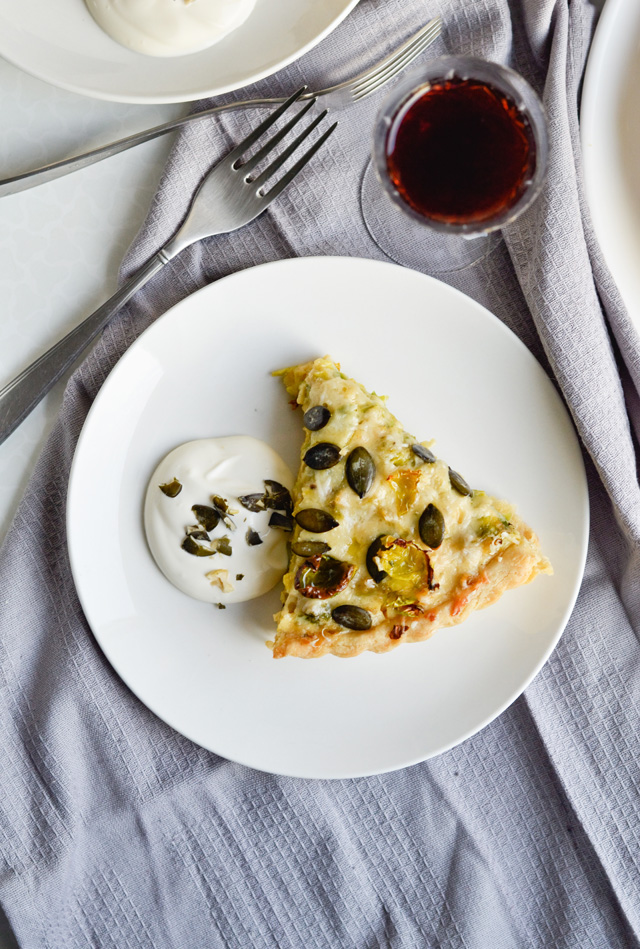 Between all the madness, I did find ways to de-stress. I finished playing Until Dawn on our PS4, which probably makes me sound like a total gamer, but I'm really not. I love horror movies, so I wanted to try a game. The story is set in a snowy forest, which is perfect for now. I do admit that I got scared during certain scenes, so Rok helped me get through those. Which means that some moments of me de-stressing weren't exactly stress-free, oops.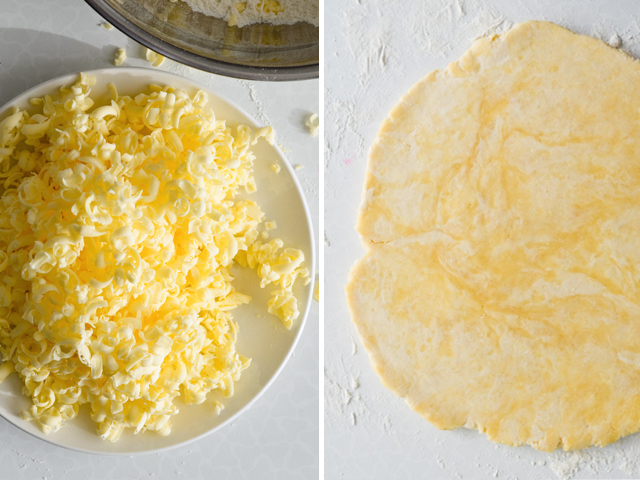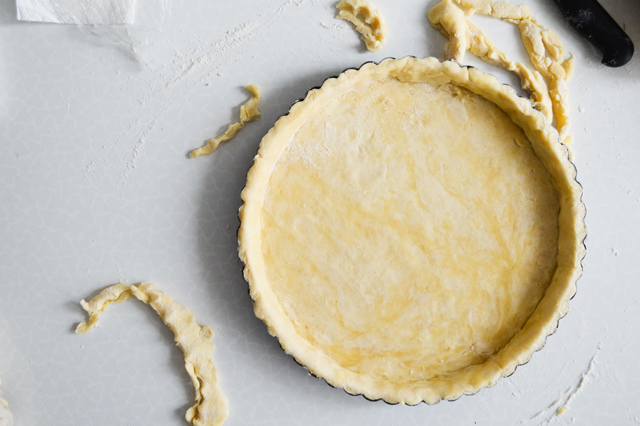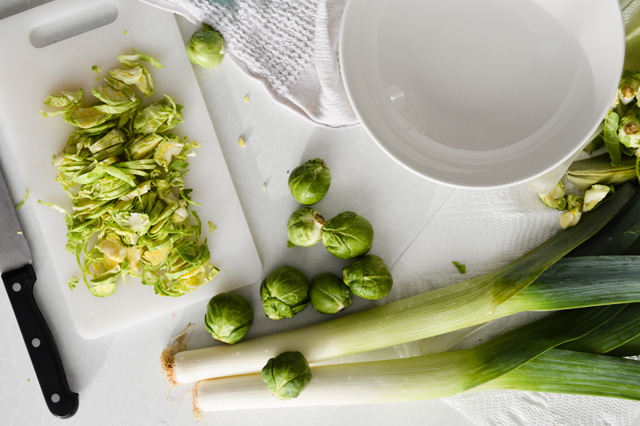 Apart from doing that, I've mostly watched YouTube this week, instead of TV. I'm saving the holiday movies for later when I have more time. YouTube, however, is perfect for when I'm in the kitchen, as I just bring the iPad with me. Everyone is doing vlogmas now and I just love seeing what other people do over the holidays. These are by far my favorite videos of the whole year.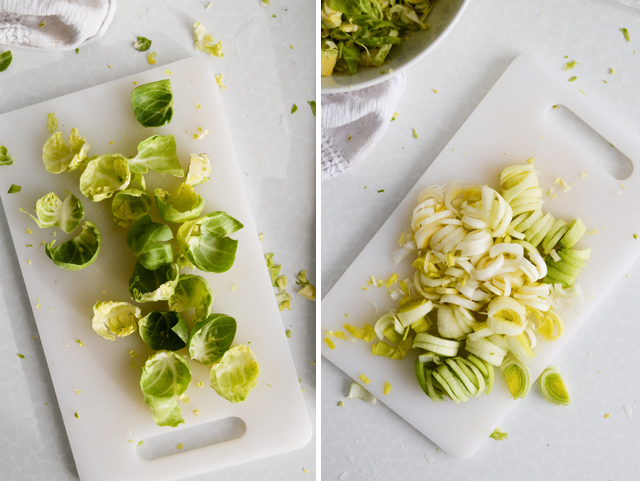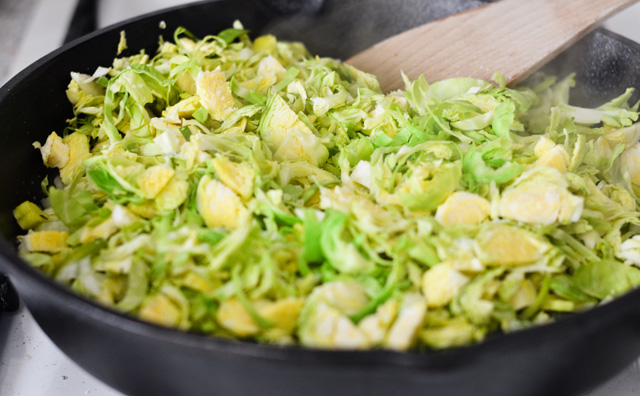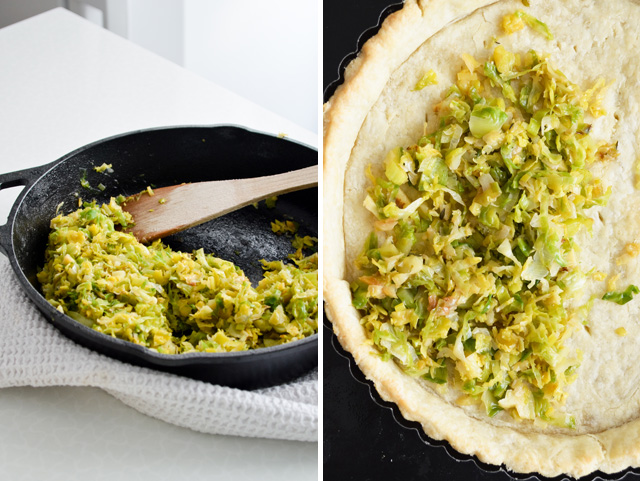 Naturally, I did quite a lot of cooking this week. Some of it was recipe testing, some was just me making us dinner and some cooking I did for the blog.
But whatever I make for the blog is food that we would eat anyway and I just fit that into our day. The only thing that's different is that it takes me more time to make something, as I stop along the way to take photos.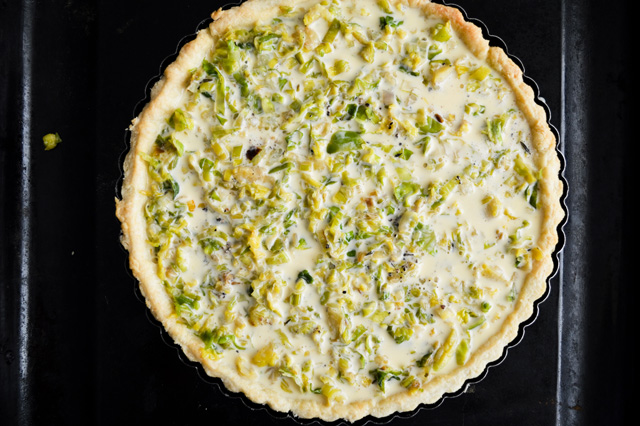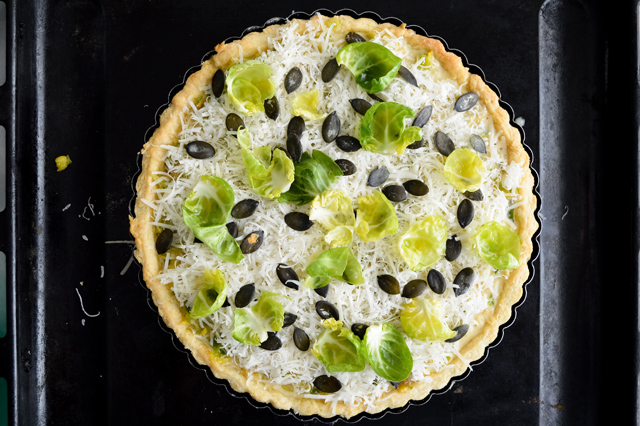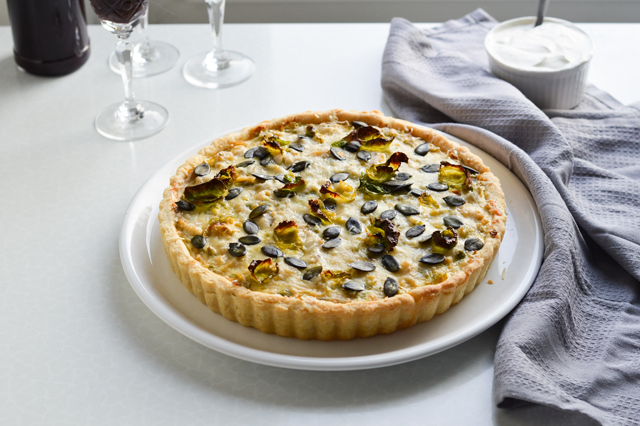 This week the star of all meals was this leek brussels sprout quiche. It's a twist on my spinach tart and I just absolutely adore it!
I love brussels sprouts in general, just roasted with some butter and lemon juice, but they work really nice in a quiche too. This can be a great lunch or dinner, but because leftover quiche tastes just as good, it makes a wonderful breakfast too.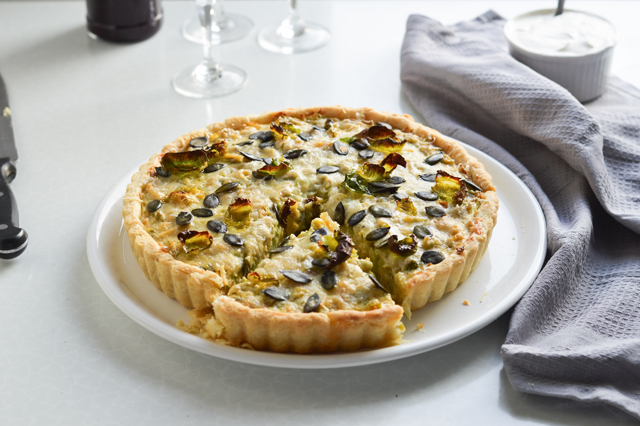 This Leek brussels sprout quiche has a flaky crust and is filled with wonderfully butter sauteed leeks and brussels sprouts, which are smothered with a mixture of eggs, cream and milk. The creamy center is topped with cheese, that creates a nice, slightly salty crust and for the cherry on top, I also add pumpkin seeds and a few brussels sprout leaves, that are tender and slightly crunchy around the edges.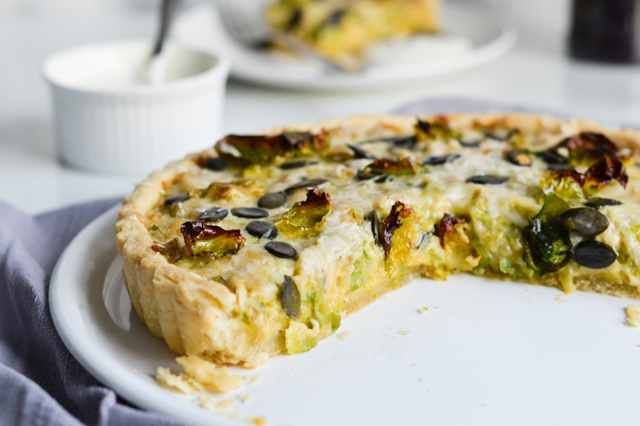 Print
Leek + brussels sprout quiche
The best way to make everyone eat brussels sprouts!
Recipe makes one 24-cm (9 1/2-inch) quiche, easily cut into 6-8 pieces.
Author:
Yield:

6

-

8

servings

1

x
Category:

Main course
Crust
260g

(

1 3/4 cups

+

2 TBSP

or

9.2 oz

) all-purpose flour

140g

(1 1/5 sticks or

4.9 oz

) unsalted butter, frozen

4

–

8

tablespoons ice cold water
Filling
1 tablespoon

olive oil

1 teaspoon

salt

2

large leeks (about 550-6

00g

/ 1.2 pounds both)

350g

(

12.3 oz

) brussels sprouts

1/4 teaspoon

dried thyme

1 tablespoon

butter

2

eggs, beaten

120

ml (1/2 cup) milk

120

ml (1/2 cup) whipping cream

1/2 teaspoon

salt
few grinds of black pepper

1/8 teaspoon

ground nutmeg

50g

(

1.8 oz

) Parmesan cheese (or similar)

1

–

2

tablespoons pumpkin seeds

1 tablespoon

olive oil
For serving: Sour cream (or créme fraiche or greek yogurt)
Instructions
Make the crust
Grate the frozen butter on a box grater and transfer to a large bowl, along with the flour. Stir with a fork then add 4 tablespoons of water. Stir again quickly and then keep adding tablespoon after tablespoon of water up until the dough is clumpy and sticks together if you pinch it.
Press it together in a ball with your hands, flatten in a disk and chill in the fridge for at least 30 minutes or overnight.
Preheat oven to 220°C (425°F) and slightly grease a tart pan. Take dough out of the fridge and let it sit at room temperature for about 5 minutes.
Flour your working surface and roll out the dough into a 30-cm (12-inch) round. As you roll it keep rotating the dough, so it doesn't stick to your work surface. Roll pastry dough around your rolling pin and unroll onto the top of your tart pan. Gently lay it in, press it down and up the sides of the pan and cut away the pastry sticking over the edge.
Cover dough with parchment paper and top with beans or pie weights. Blind bake for 10 minutes, then remove the paper and beans and bake for another 5-10 minutes until the crust is pale golden.
Remove from oven, let it cool and lower the oven temperature to 180°C (350°F).
Meanwhile prepare the filling
Trim the leeks, halve lengthwise and thinly slice them. Set aside. Remove the outer leaves and cores from brussels sprouts. Save two sprouts for later and halve the rest. Thinly slice them and add to the leeks.
Over medium-high heat warm the oil in skillet. Add half of the leeks and sprouts. Sprinkle with 1/2 teaspoon salt and stir until the vegetables are slightly wilted.
Add the other half of vegetables, another 1/2 teaspoon salt, thyme and butter. Cook, stirring occasionally, until the vegetables are tender. Remove from heat and let cool.
In a small bowl combine the eggs, milk, cream, salt, pepper and nutmeg. Stir until well incorporated.
Evenly spread the vegetable filling over the crust. Slowly pour over the egg mixture (in a circular motion, begin at the edge). Top with grated cheese and sprinkle with pumpkin seeds.
Take the leaves from two brussels sprouts you saved and dip them into olive oil. Place on top of the tart.
Bake at 180°C (350°F) for 25-30 minutes, until the filling is set, the cheese melted and brussels sprout leaves shrunken.
Remove from the oven, let cool for about 10 minutes, then remove quiche from the pan.
Serve as is or with a dollop of sour cream.
Store leftover quiche covered in the fridge and eat in two days.
Notes
If you want, you can easily use store-bought crust.
As always, the weight of the vegetables used in the recipe is their weight pre-trimming and cooking. Depending on how much you have to trim yours, you may end up with a slightly different amount of filling in the end which is completely okay. Just press it into the crust, then fill with the egg mixture up to the edge. You can always leave some of the egg mixture out or add extra if you need it.