This hearty vegetable barley soup is one of my favorite things to make when it's cold outside. It's a vegetable-packed thick soup that is very easy to put together and is just the most comforting thing you'll ever eat. I use a mix of classic soup vegetables along with potatoes, beans and barley, making this intensely satisfying and filling. And yes, it can be made ahead!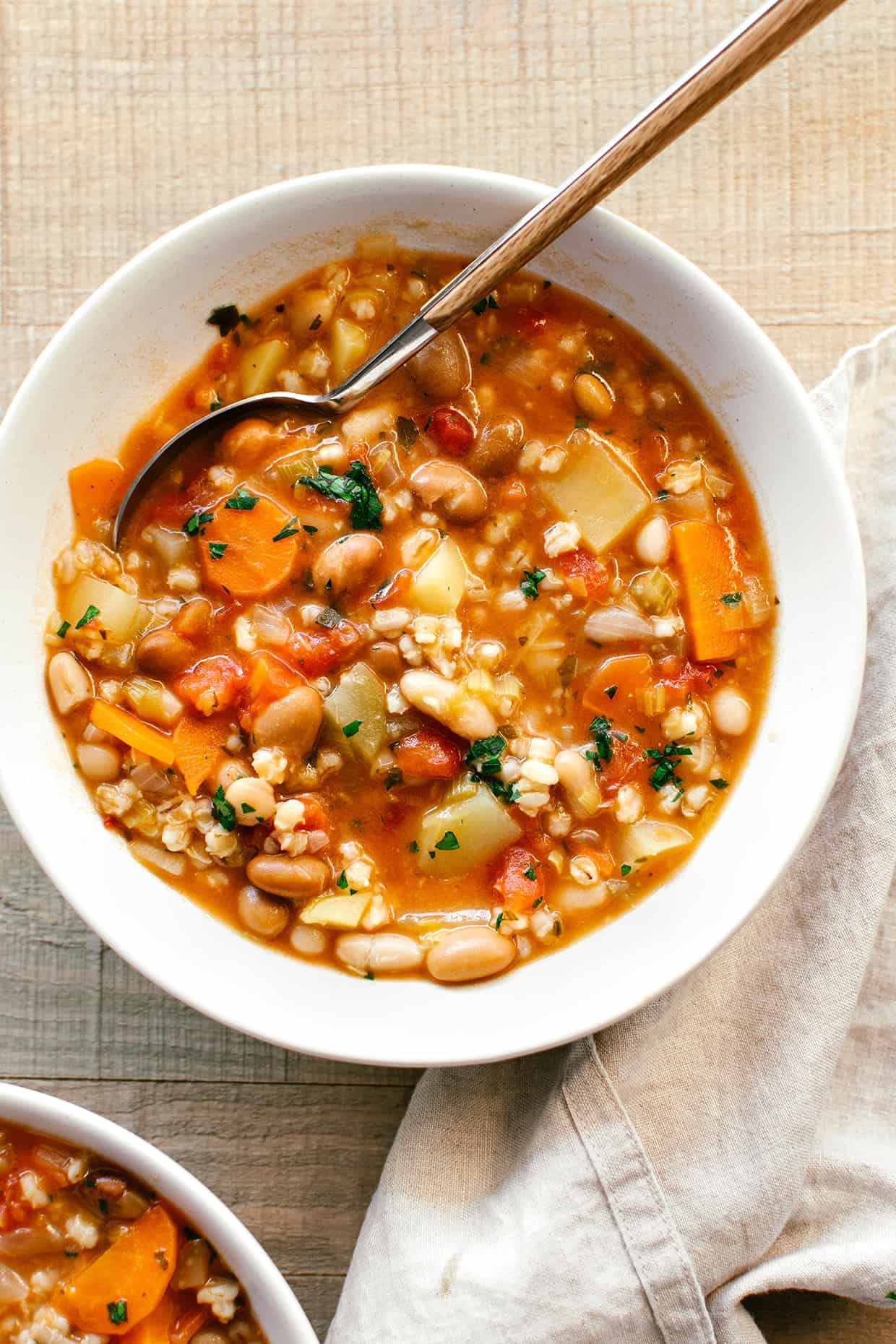 If you stick around and dig through the archives, you'll notice I love soup a little too much. I could eat it every day (as long as it's followed by something sweet, haha) and it's one of my favorite things to cook because it's so easy and impossible to mess up.
I have this one recipe that I call winter green soup, which I love. But if I had to pick one soup to eat daily when it's freezing cold outside, it would be this hearty vegetable barley soup.
This is my take on the classic Slovenian barley soup. Traditionally, this soup is made with barley, carrots, onions, tomatoes, beans and cured pork, pork ham or sausages. Basically some type of meat, as that's a mandatory ingredient if you want to make a classic barley soup.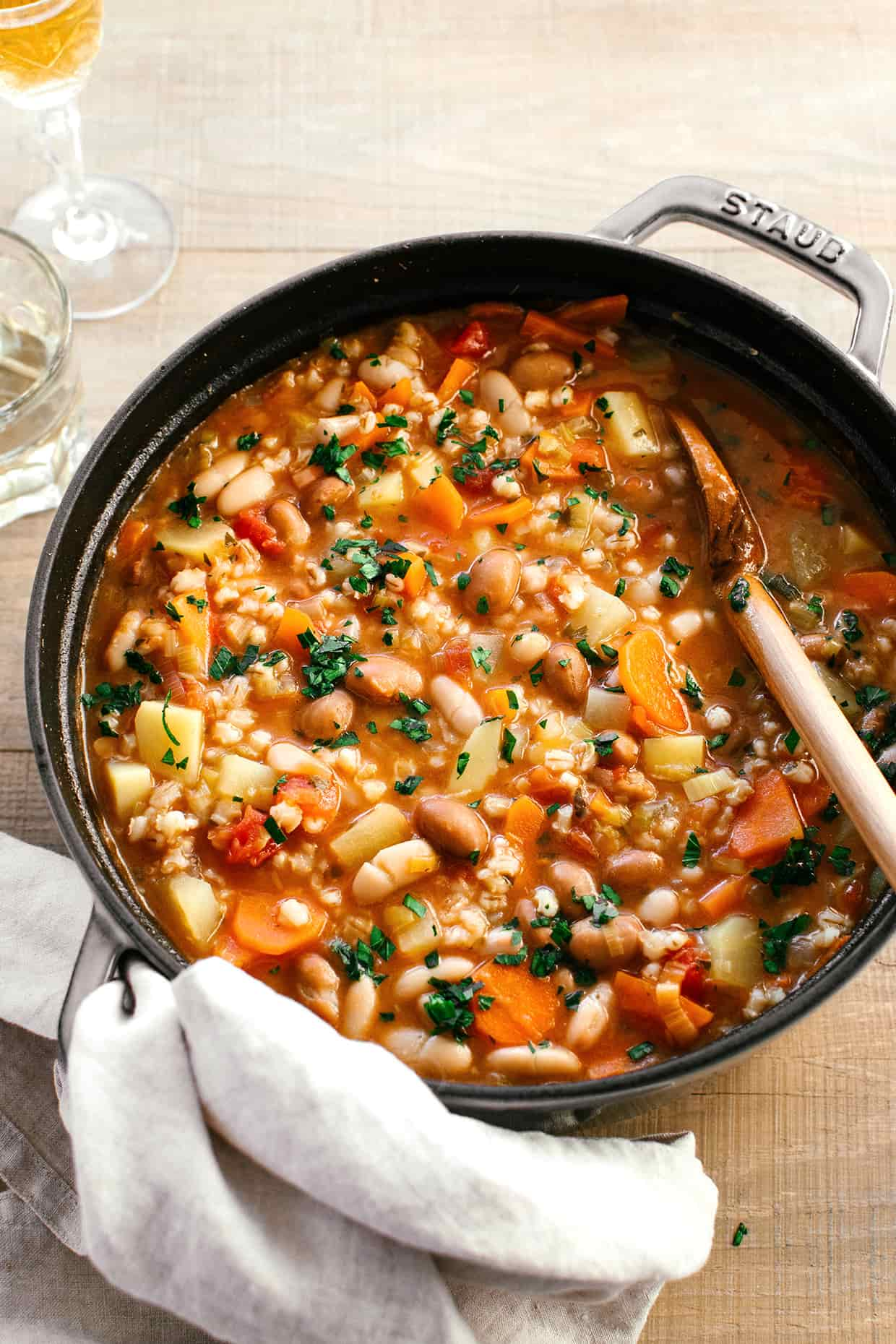 Some people like to add potatoes too, which is exactly what I do to make this vegetarian. I skip the pork and use plenty of potatoes instead. In my humble opinion this soup doesn't need pork in it, although my grandmother would probably disagree. 🙂
But everything you want from a dish is in this soup. The flavor basics, like onions, carrots, celery. The starchy and satisfying vegetables and legumes, like potatoes and beans. And the filling grains in the form of barley. Topped off by a can of diced tomatoes, which nicely round up the whole soup with their acidity and color.
The process
Like any soup, this hearty vegetable barley soup is really simple to put together. The whole process is made up of 3 parts.
1. Rinsing and soaking the pearl barley
I never realised just how dusty grains are until I decided to soak some one day. So trust me, you have to wash barley well. You can do this by rinsing it thoroughly in a sieve. Or you can place it in a bowl and cover it with water, stir it with a spoon and then drain the murky water. Keep replacing the water until it's almost clear.
Now, according to the internet, you don't actually have to soak pearl barley. Personally, I like to do it anyway, because it cuts the cooking time and makes me 100% confident that I'm going to end up with perfectly tender barley every time.
Once you've rinsed your barley well, place it in a bowl and cover it with about 2 cups of water. Let it soak like this for 30 minutes.
2. Prepping the vegetables
Usually, I'll tell you to prep every ingredient before you start cooking. This is one of those recipes that lets you do things a bit differently.
See, you don't have to prep the vegetables ahead of time. Once you start soaking the barley, you get this window for prep. The 30 minutes it takes to soak the barley is plenty of time to prepare (trim, wash, slice) all the vegetables.
3. The cooking part
The start of this soup is very classic. You begin with sautéing onions in oil and continue by adding leeks, celery and carrots. Then you add the rest of the vegetables and allow them to cook in that oniony mix for a minute or so. This part will give you so much flavor.
And then you add the barley, vegetable stock and diced tomatoes. Cover the pot and let the soup cook in peace for about 40 minutes. That's it.
You want to occasionally check if the soup is still simmering. Once the potatoes and barley are tender, the soup is done and this is when you fold in the beans and taste if you want to add more salt and some pepper.
Adding flavor to the soup
With the mix of vegetables in this hearty vegetable barley soup I don't think you need to add anything else to it. But you could. There are two ingredients I like to keep on hand at all times (next to everything that's already in the soup) as I normally use them in whatever savory dish I'm making (unless they really don't fit flavor-wise).
I started doing this because my mom always kept both on hand, not really understanding the reason behind it. But now I can't stop because they're just so good.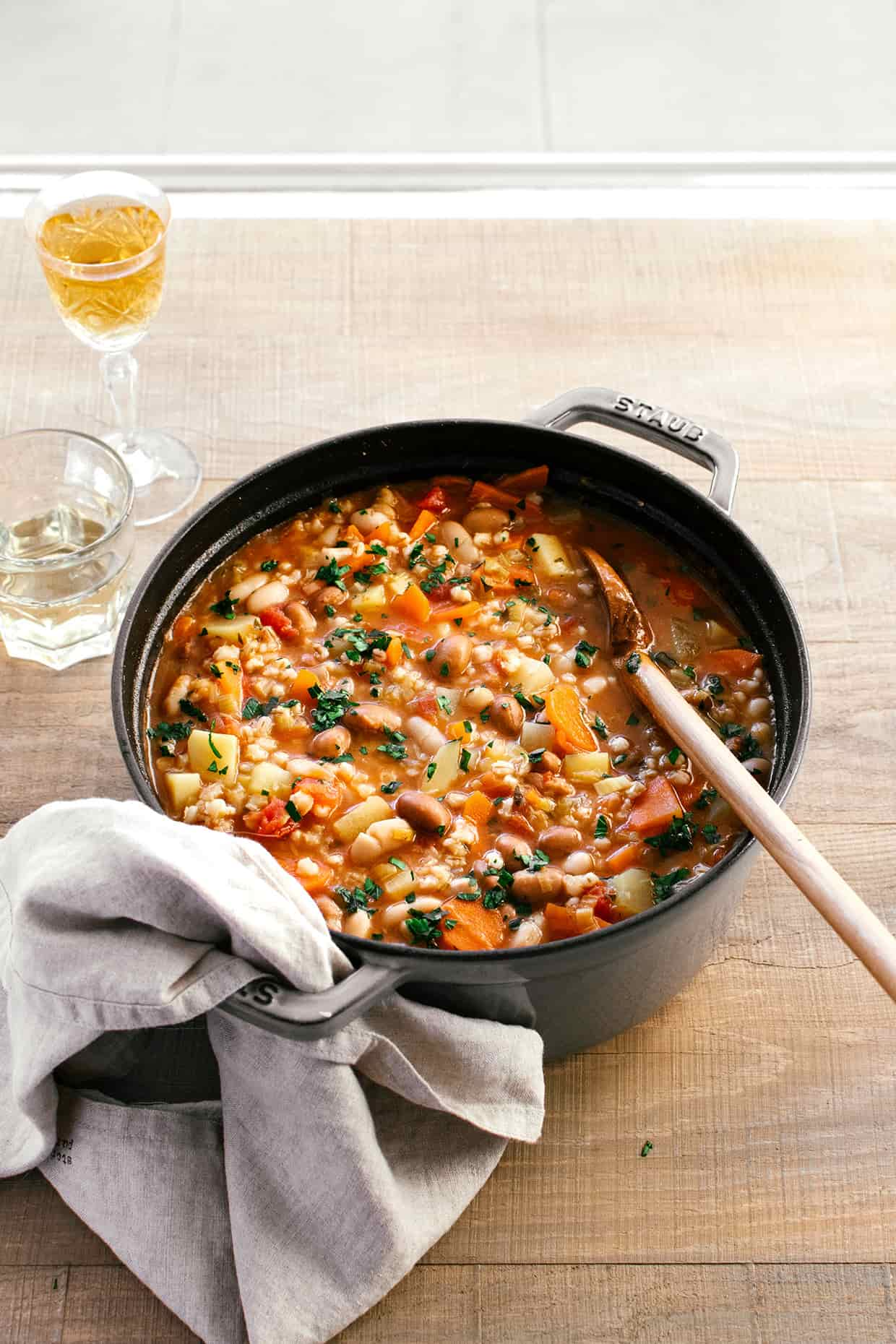 Tomato paste
I always have a tube of tomato paste on hand. It's the most concentrated form of tomato you can find and a small amount will give you a rich, umami flavor that can improve pretty much any dish.
If you want to use tomato paste in the soup, add it to the onions and cook it like that before adding the rest of the ingredients. Cooking it in oil like this will develop its flavor fully.
Sweet smoked paprika
This fiery red powder is my favorite addition to soups, stews, sauces and even vegetables when I bake them in the oven (really, try putting it on cauliflower).
Its subtle sweet and smoky flavor adds some extra depth and richness to everything and I just love that. You can add this straight to the onions as well.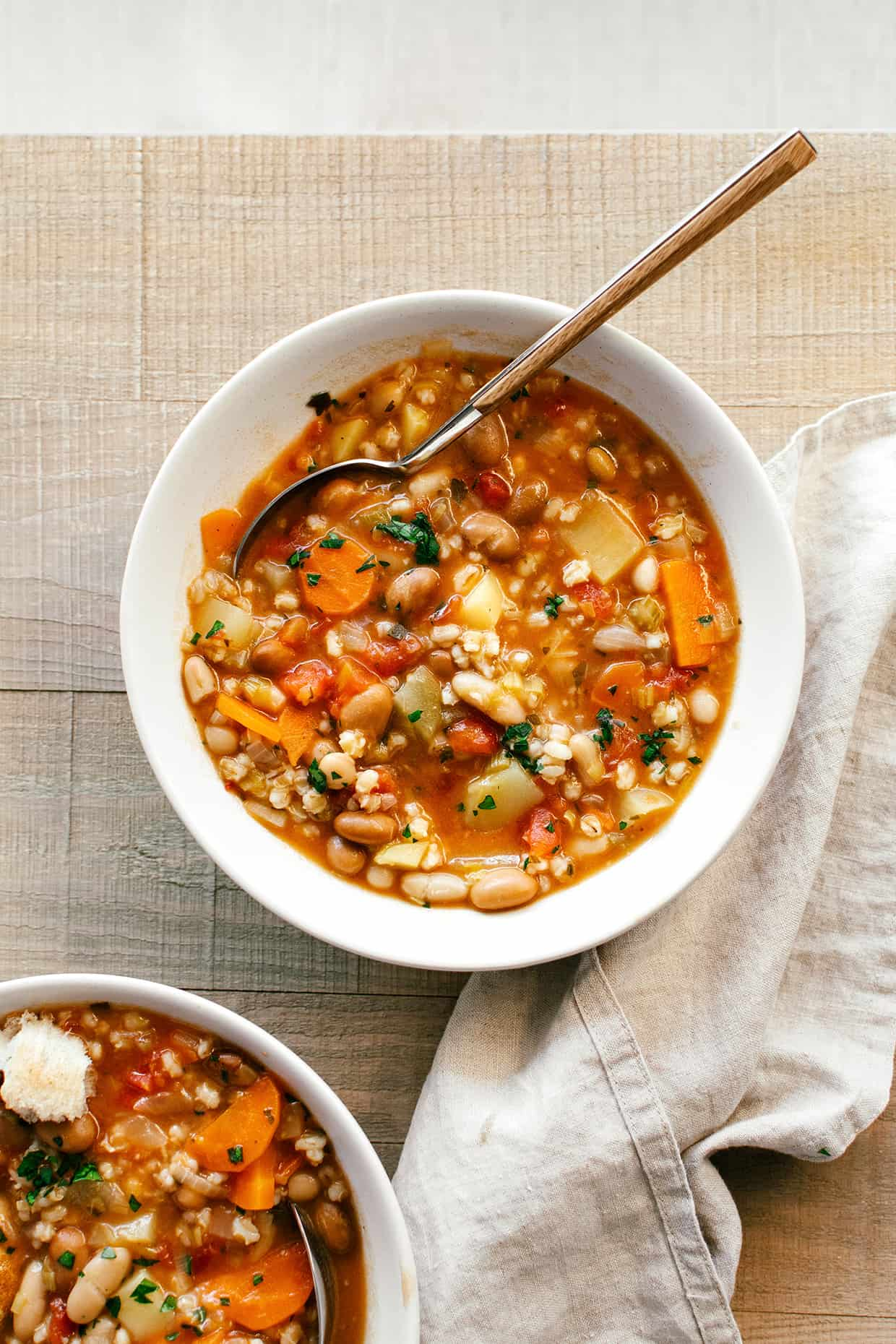 About the beans
As you read through the recipe you'll notice I'm using canned beans. That's another staple I always have at home. A can of beans can enrich any type of soup, vegetable bowl or even a wrap.
I like canned beans because they're super handy. But if you have a habit of cooking your own beans, feel free to use those instead.
You can soak the beans overnight in salty water and add them to the soup with the rest of the ingredients. If you're not sure they'll be done on time (and some do take quite a bit) you can still cook them separately and add them at the end when he soup is done.
If you want to cook your own beans ahead of time, you can get a bit more info in this NY Times article. It covers different cooking methods and types of beans.
As for varieties, I'm using a combination of cannellini and borlotti beans. Also known as white kidney beans and cranberry beans. You can use just one of these two varieties or a different one completely.
This hearty vegetable barley soup is the perfect winter one-pot meal.
It's my vegetarian take on the classic Slovenian barley soup. Made with a variety of vegetables and hearty grains, this is an easy meal to make and it's pretty affordable too.
I like to serve this soup with a site of crusty bread, making it incredibly filling and comforting. And the best thing? It can be made ahead and kept in the refrigerator overnight or in the freezer for up to a few months.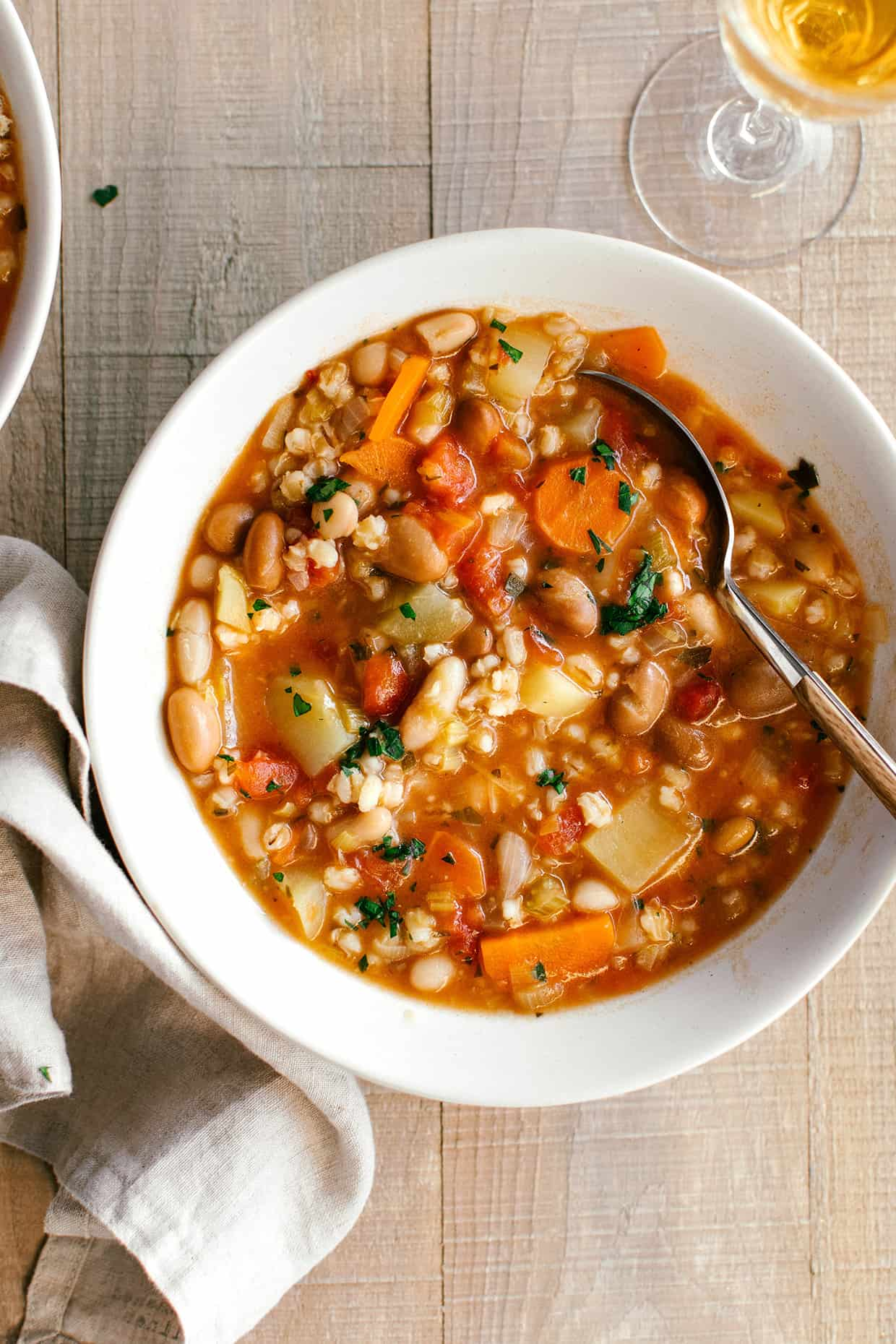 Hearty vegetable barley soup
A comforting one-pot meal that is easy to put together. Packed with vegetables, beans and hearty pearl barley. 
Ingredients
1

cup

(

195

g

)

pearl barley

3

tablespoons

olive oil

1

medium onion

(finely chopped)

3

cloves

garlic

(grated or minced)

2

large carrots

(halved and sliced into disks)

1

medium leek

(trimmed and thinly sliced)

1

thin celery rib/stalk

(finely chopped)

bunch of parsley

(finely chopped)

1.2

pounds

(

550

g

)

potatoes

(peeled and diced)

1

can

(

400

g

)

diced tomatoes

3

cups

(

720

ml

)

vegetable stock

1

can

(

400

g

)

cannellini beans

(rinsed (I use a mix of canellini and borlotti beans))

1

teaspoon

fine sea salt

(more to taste)

pepper

(to taste)
Instructions
Place barley in a sieve and rinse it thoroughly under water. Transfer it to a bowl, cover with 2 cups (480ml) of water and let soak for 30 minutes. Meanwhile prepare all the vegetables. 

In a large pot heat olive oil over medium-high heat. Add onions and cook until tender (takes a few minutes, some browning is okay). Toss in the carrots, leeks, and celery. Cook until leeks are softened, then add the garlic, potatoes and parsley. Stir the vegetables a few times and cook for about a minute, until the garlic is aromatic. 

Add the soaked barley along with the water, diced tomatoes and 3 cups vegetable stock. Stir until evenly distributed and make sure all potatoes are submerged. Bring to a boil, then lower the heat to medium and cook covered for about 40-50 minutes, until the potatoes are soft and barley tender.

Stir soup occasionally as it cooks and check to see if it's simmering.

Turn off the heat and fold in the beans. Taste to see if the soup needs more salt or pepper. Sprinkle with some parsley (optional) and serve.
Notes
Both the can of tomatoes and beans are standard size 14.5 oz or 400g cans.
I like a mix of beans, but use whatever you have on hand. Borlotti beans are also known as cranberry beans. 
Instead of using canned beans, you can cook beans at home. Personally, I would cook beans separately and not with the soup, because the beans will probably need more cooking time, even when soaked overnight.
If the soup is too thick for your liking simply add more water or stock in the end and put it back on the stove just until it starts to simmer.
If you've added too much water or stock and want to thicken the soup, let it cook over low heat until some of the liquid cooks down and thickens. 
Calories per serving:
350
kcal
Email recipe
Pin Recipe
Recipe first published in April 2016, revised and completely updated in February 2021.