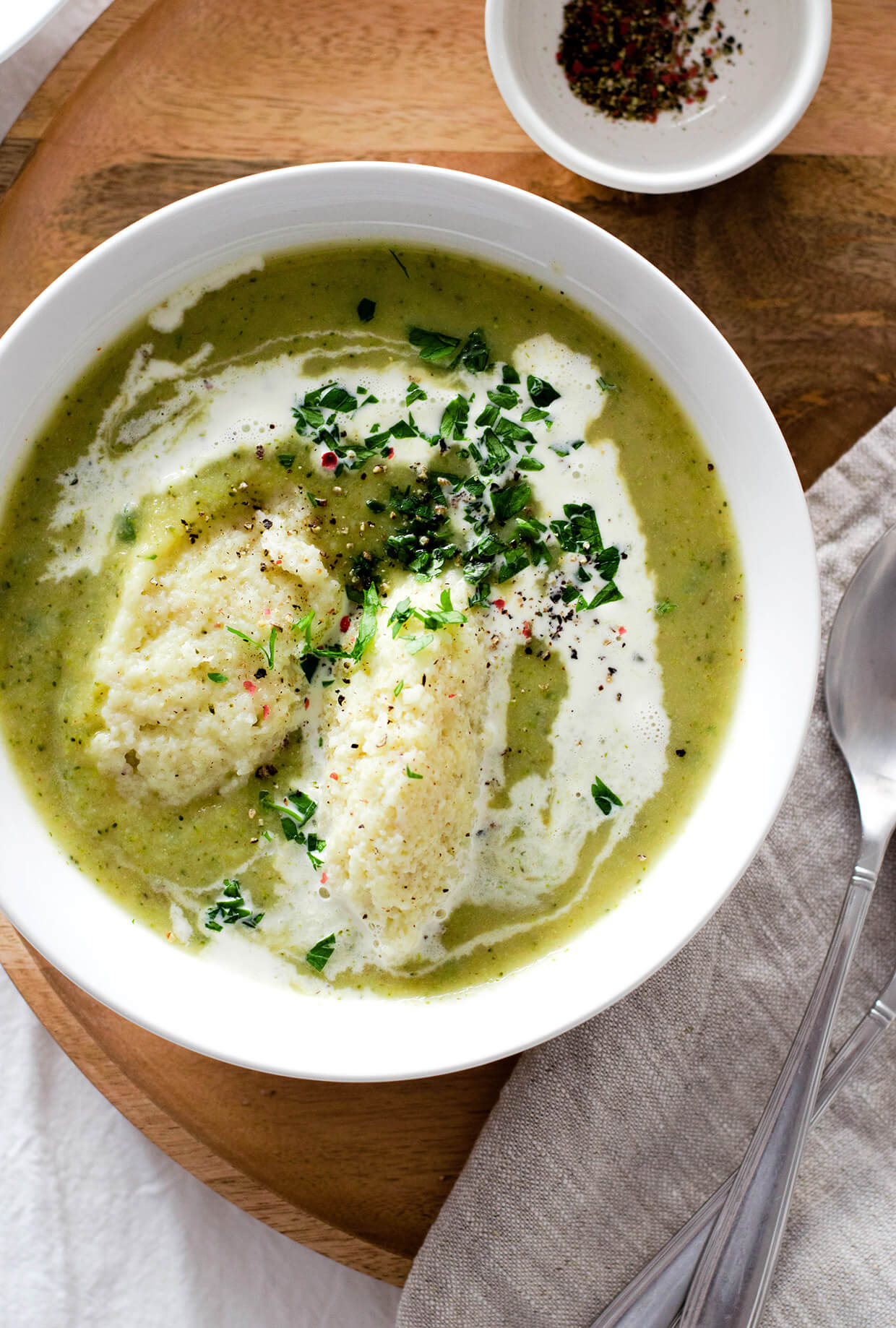 I am so happy soup season is here! Well, not that I really need an excuse to make or eat soup, but I just prefer it during the colder months.  When it's windy or rainy outside and I get all tired and grumpy the one thing that makes me feel good and warm when I come home is a bowl of soup, like this vegan creamy broccoli soup with semolina dumplings. Such an easy thing to make, but such a great meal.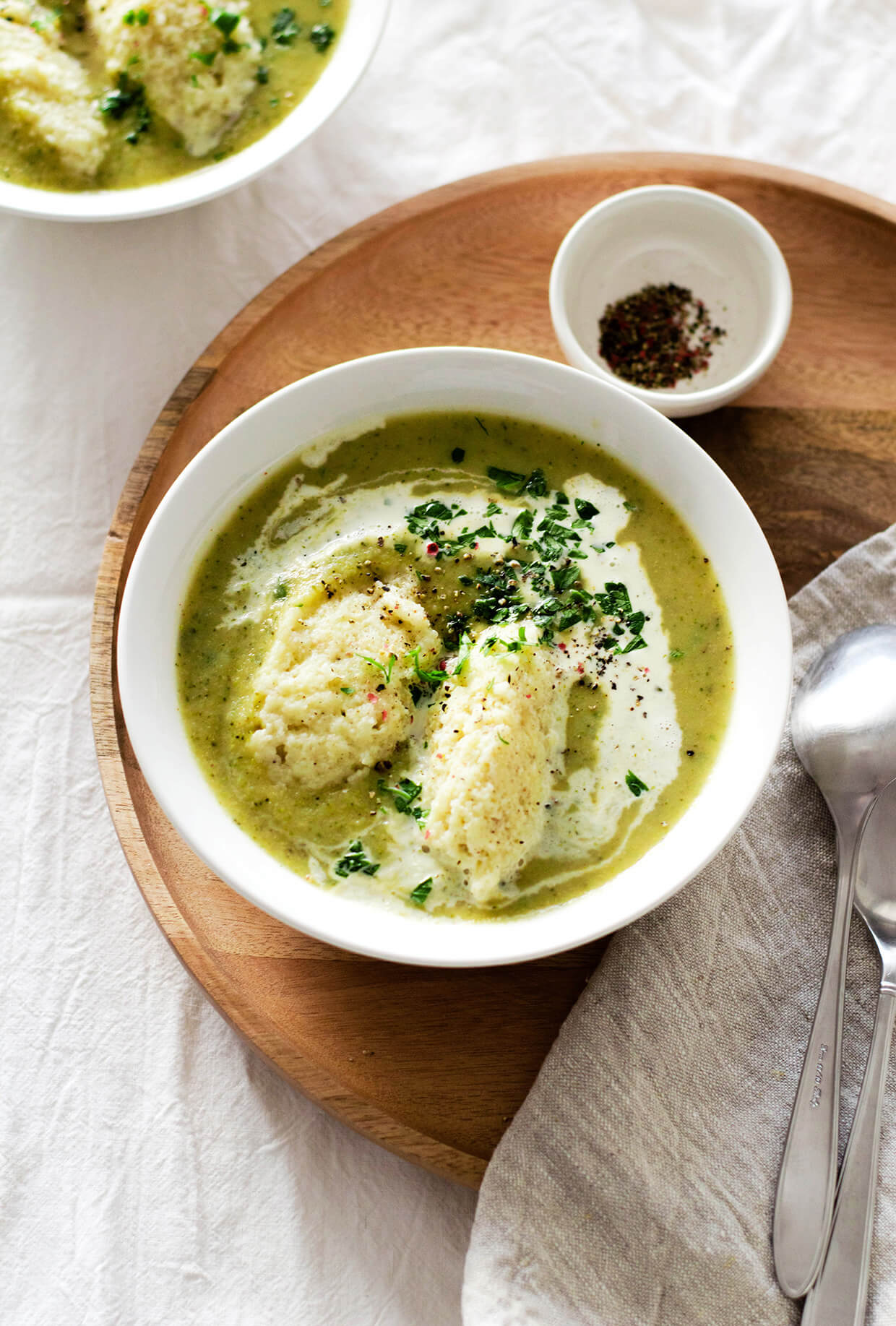 My mom always made a delicious vegetable soup (the other regular was beef broth soup), usually with carrots, peas, potatoes and cauliflower and then anything else she could find. And she always made a whole pot, so that we could store some for later.
I like to play with flavors and combinations more, but I learned all the basics from my mom. And that includes making extra soup for later, which I think is brilliant because it can save so much time. Once you pull out all the vegetables, chopping some extra seems like no work and the reward is great.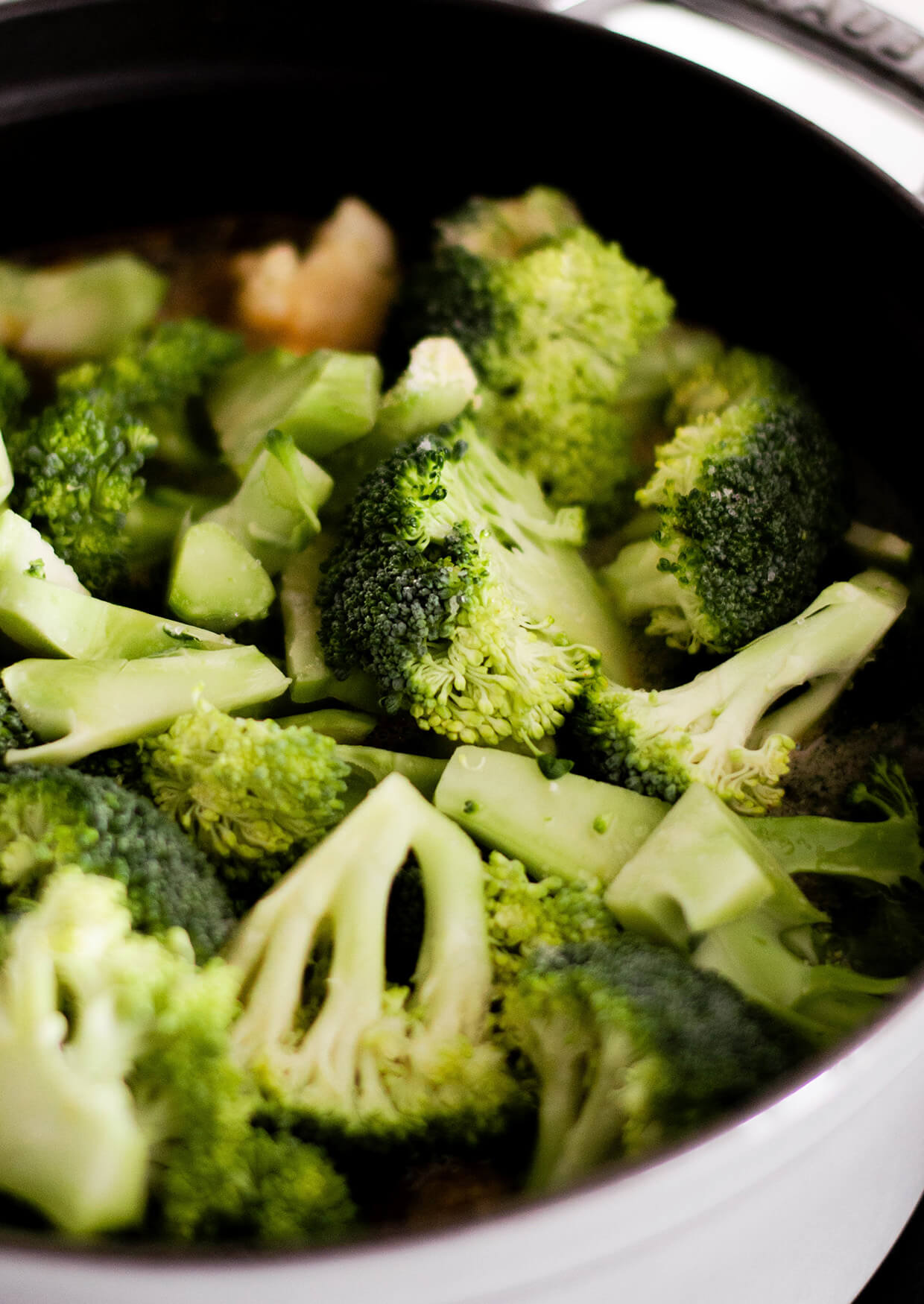 Anyway, this vegan creamy broccoli soup is really tasty. I love to make it with either cauliflower or potatoes, depending on what I have on hand.
I think potatoes and cauliflower are really interchangeable in (pureed) soups because they both give a nice, smooth texture without making the soup all about them. Because the cauliflower makes the soup bulky and creamy, you don't even need to add any cream or cheese or milk. Of course I can't help myself and I add a small splash of cream anyway, but the point is that this is totally optional! 
While I usually just have a slice of bread with soup, I went for dumplings this time. Semolina dumplings are something my mom always put in her beef broth soup (the Slovenian term is goveja juha). They are typical for Slovenia and are usually served in clear, stock soups.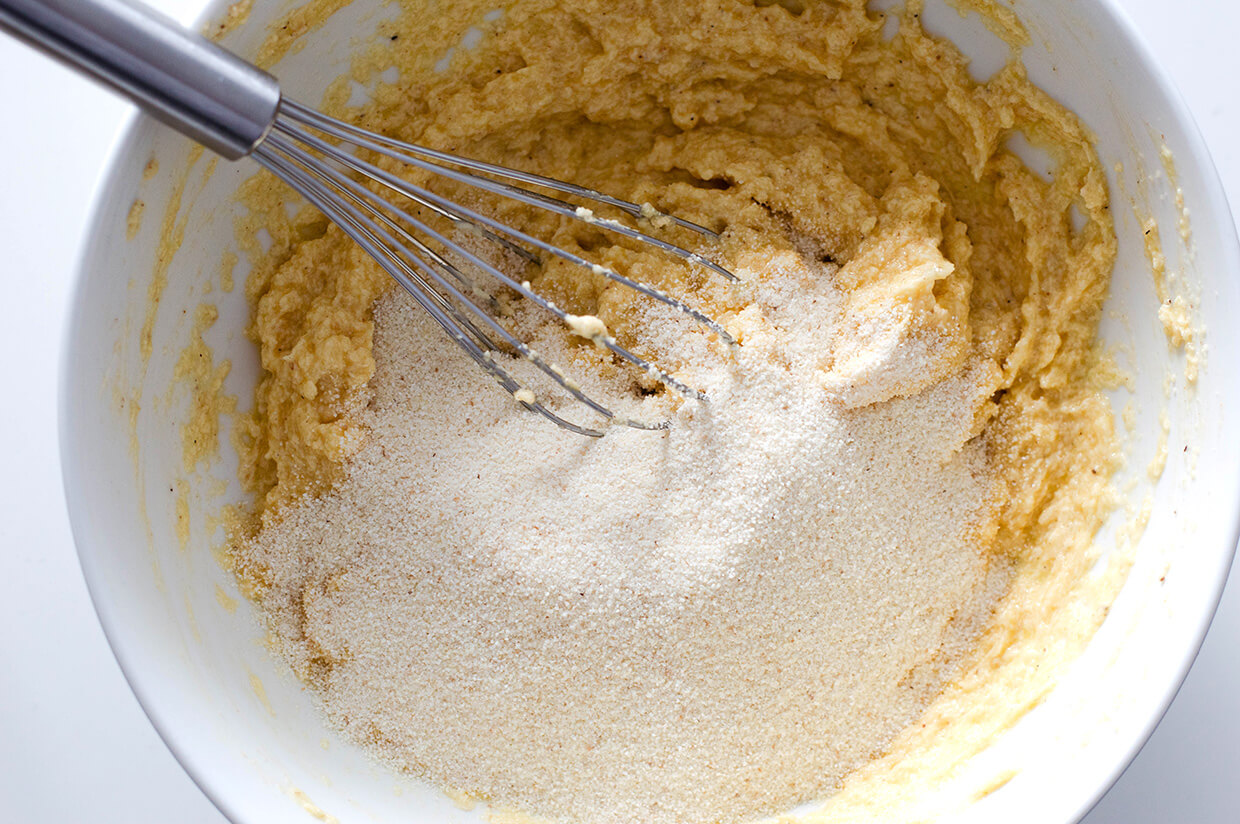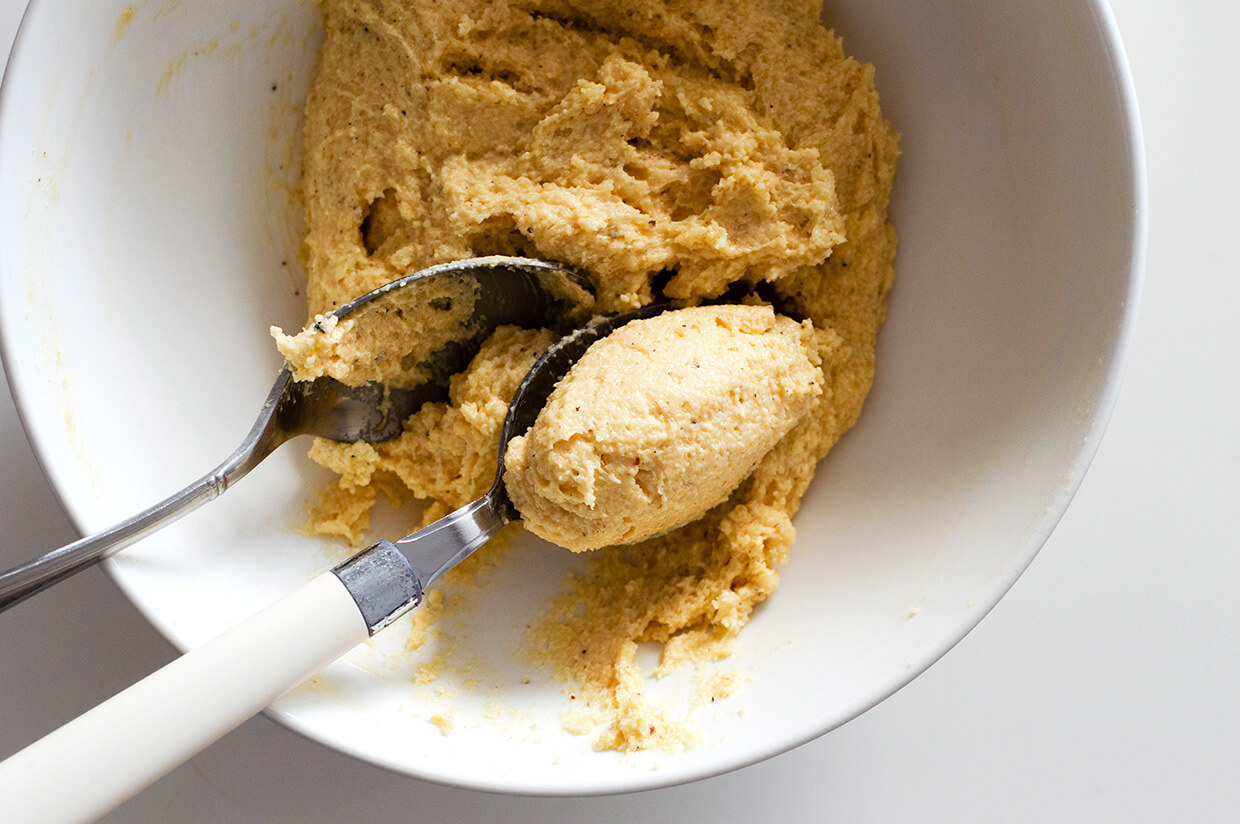 I think my mom got her recipe from her mom, and my grandmother got it from hers, and so on. I remember being young and making the dumplings with my mom and her method was always very simple. She mixed 1-2 eggs with a pinch of salt and kept adding semolina until she got the right consistency. Once the batter seemed thick enough, she waited for it to plump up and then she just quickly made dumplings by using two spoons. It looked SO easy!
Now, you'll notice that the dumpling recipe I'm sharing here today is a bit different. Why fix something that isn't broken, right?
This isn't really a case of me fixing anything, but I have an old Slovenian cookbook at home that includes this dumpling recipe too, so I just had to try it out. While semolina dumplings are pretty traditional it's only natural that people adapt them to their own taste. In this case the recipe adds butter and nutmeg, but while doing some research online I found that oil is often a substitute for butter. The butter and nutmeg really add some extra flavor and heartiness to the dumplings, so this is now my go-to recipe.
A little note on semolina:
You'll notice that I list both semolina and cream of wheat in my dumpling recipe. According to the internet they're not exactly one and the same, and what the product is called differs a bit depending on where you live. For example, we call it "griess" over here (if you're familiar with German recipes you've probably heard of this before)… really, what I'm using is the pale (almost) white type of semolina, also used to make hot cereal (cream of wheat), and that is what you should look for when getting your groceries.
A different type of semolina is used for making pasta, that one is yellow in color and grittier.
Okay, now that we are done with that… let me just tell you you need to make this vegan creamy broccoli soup. It's SO good and so simple, you won't be sorry. The semolina dumplings make this a very hearty meal and any leftover soup makes THE BEST lunch a day or two later.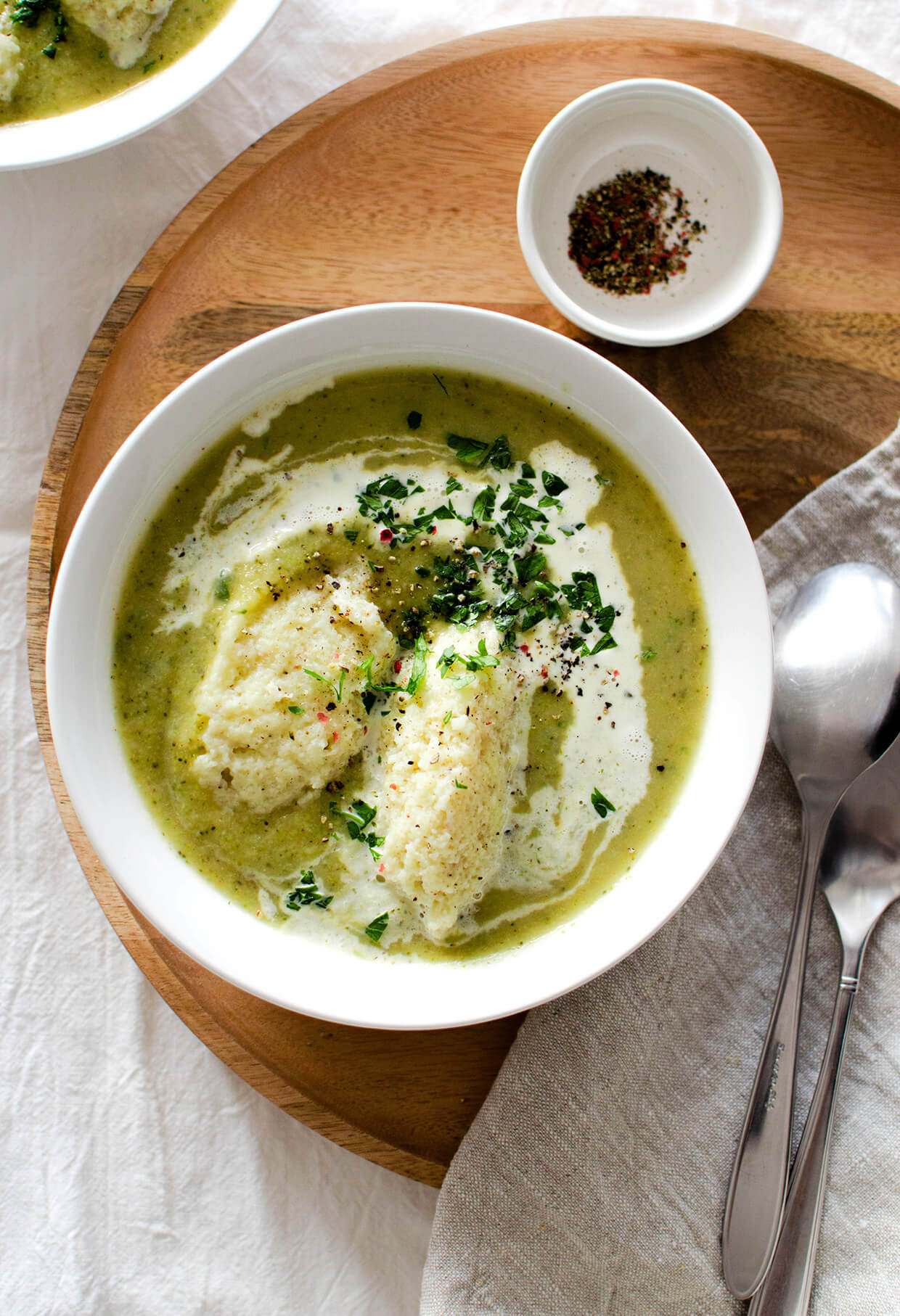 Print
Vegan creamy broccoli soup and semolina dumplings
A wonderful creamy soup with fluffy semolina dumplings.
Author:
Prep Time:

10 mins

Cook Time:

40 mins

Total Time:

50 mins

Yield:

4

-

6

servings

1

x
Category:

Soup
Soup
2 tablespoons

olive oil

1

medium onion, finely chopped

2

cloves garlic, minced

1/2

–

1

teaspoon dried marjoram

1/2 teaspoon

smoked sweet paprika

1 teaspoon

dried thyme

1 teaspoon

sea salt, more to taste

one

small cauliflower, chopped into florets

one

large broccoli, cut into florets, stalk sliced into disks

1.2

liters (5 cups | 40 fl oz) vegetable stock (or water with bouillon)
small bunch of parsley, finely chopped
Dumplings (not vegan)
60g

(

5 tablespoons

) unsalted butter, melted

145g

(

11 tablespoons

) fine semolina (cream of wheat)

2

large eggs

1/4 teaspoon

sea salt

1/8 teaspoon

ground nutmeg
a pinch of freshly ground black pepper
For serving: whipping cream (optional)
Instructions
Heat olive oil in a large pot over medium-high heat, toss in onions. Cook until soft and translucent (some browning is okay). Stir in garlic and all the seasonings. Add cauliflower and broccoli, stir to coat, then pour over vegetable stock. Sprinkle with 1/2 of chopped parsley, cover pot with lid and bring to a boil. Once it starts to boil, lower heat to medium and cook covered for 30-40 minutes, stirring occasionally, until the vegetables are tender.
Remove pot from heat and puree the soup with an immersion blender. (You can also puree it in a food processor, just do it in batches.) Taste the soup and season with more salt and some pepper, until you get a desired flavor. Set aside until ready to serve.
As the soup cooks, prepare the dumplings: In a bowl, whisk together butter and about 1/3 of your semolina (to bring the butter to a room temperature). Beat in the eggs along with the seasonings, then stir in the rest of the semolina. Beat for about a minute, to make the batter fluffier, then cover the bowl with foil or a lid and place in the refrigerator for 20-30 minutes. This allows semolina to plump up and butter to set.
To cook the dumplings, bring a large pot of water to a boil. Form dumplings with two spoons, by taking a tablespoon of batter with one spoon and then sliding it off with the other, forming a little dumpling. Your batter should be thick and it should hold its form, but you don't want it do be rock solid. Add more semolina if dumplings aren't forming right.
Drop dumplings into boiling water and cook them for about 15 minutes. As they cook, they plump up and become more pale in color. (To test if they are done, take one out first, cut it in half, it should be cooked through on the inside and not dry.)
How to serve: ladle soup into bowls, add dumplings, top with a drizzle of whipping cream (optional), a sprinkle of parsley and pepper. Store leftover soup in an airtight container in the refrigerator and eat within 2 days.
Notes
If the soup is too thick for you, thin it out with water, cream or milk (plant milk works too).
I don't normally weigh the cauliflower or broccoli when making this soup, because I prefer to use whole vegetables and adjust the seasonings around them. However, the combined weight of the two used in this recipe is about 700 grams (1 1/2 pounds). To get that rich broccoli taste, never use less broccoli than cauliflower, I always try to aim for more broccoli than cauliflower. On the other hand, the cauliflower gives the soup that bite and thickness it needs, so use at least 1 part cauliflower for 2 parts broccoli.
My favorite pot to cook this in is the 4-quart Staub cocotte. I like this one because the lid is heavy and doesn't move during cooking. But any large pot works, as long as its volume is about 4 liters (4 quarts) or more.