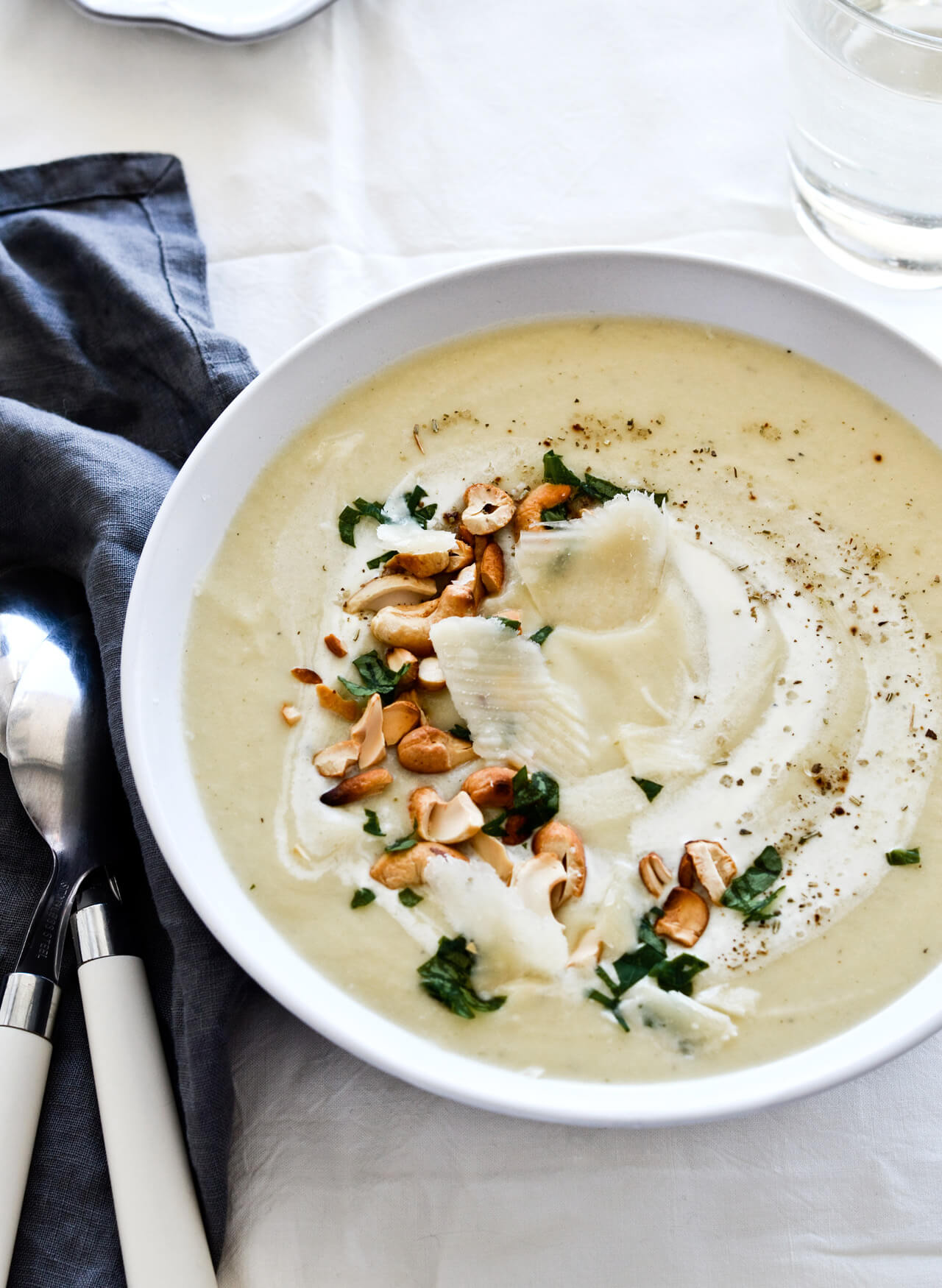 Ahhh…. March. It's here. We're finally, yet slowly, saying goodbye to a surprisingly long winter. The sun now sets at 18:03, which is absolutely wonderful. We've also had some sunny days, which is even more wonderful, because I was getting tired of the grey and depressing afternoons. And today, for the first time in a long time, I heard birds chirping! Not one, not two, but a whole bunch chirping away like they were putting on a show.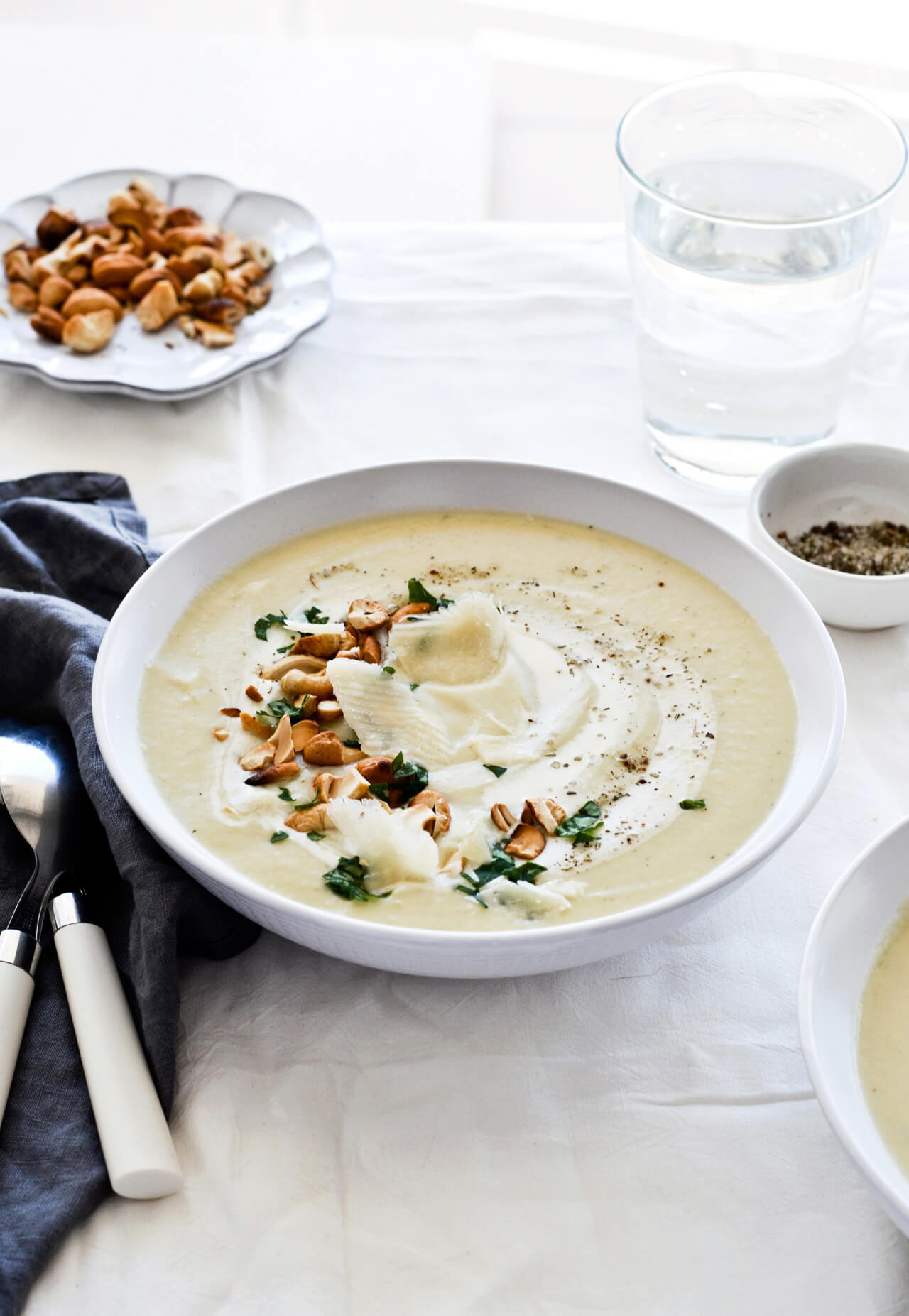 But, it doesn't look like Spring just yet. Not with the smoggy piles of snow lying on the sidewalks, the barren trees and muddy lawns. But it does smell like Spring. The air is damper and greener and filled with hope. However, it's still somewhat cold, so I've been in the mood for simple soups. I also want to make use of the winter produce while I can, before all the wonderful produce of Spring and Summer starts popping up.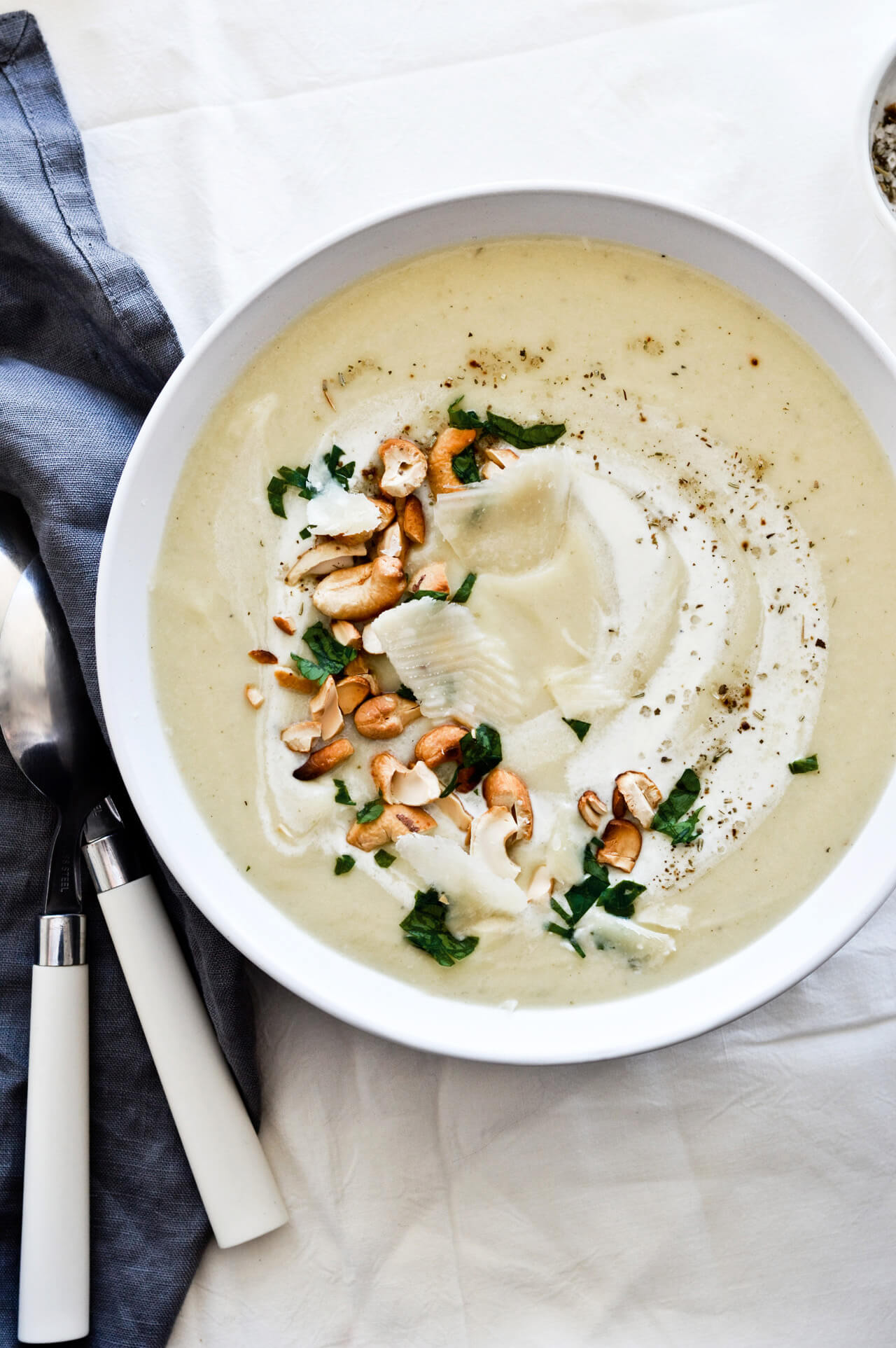 Now let's talk about soup. While this quick creamy cauliflower soup doesn't sound all that exciting, it's actually really good. Definitely worth your time and perfect for this mid-season we're now in. 
The name gives it all away, really:
This soup is so quick to make. We're talking about 30 minutes from start to finish, if you're a fast chopper. And even if you're not, this is still done quickly. You also end up with a pretty big batch, which can easily feed two people twice, so chances are you're cooking only once for a few days.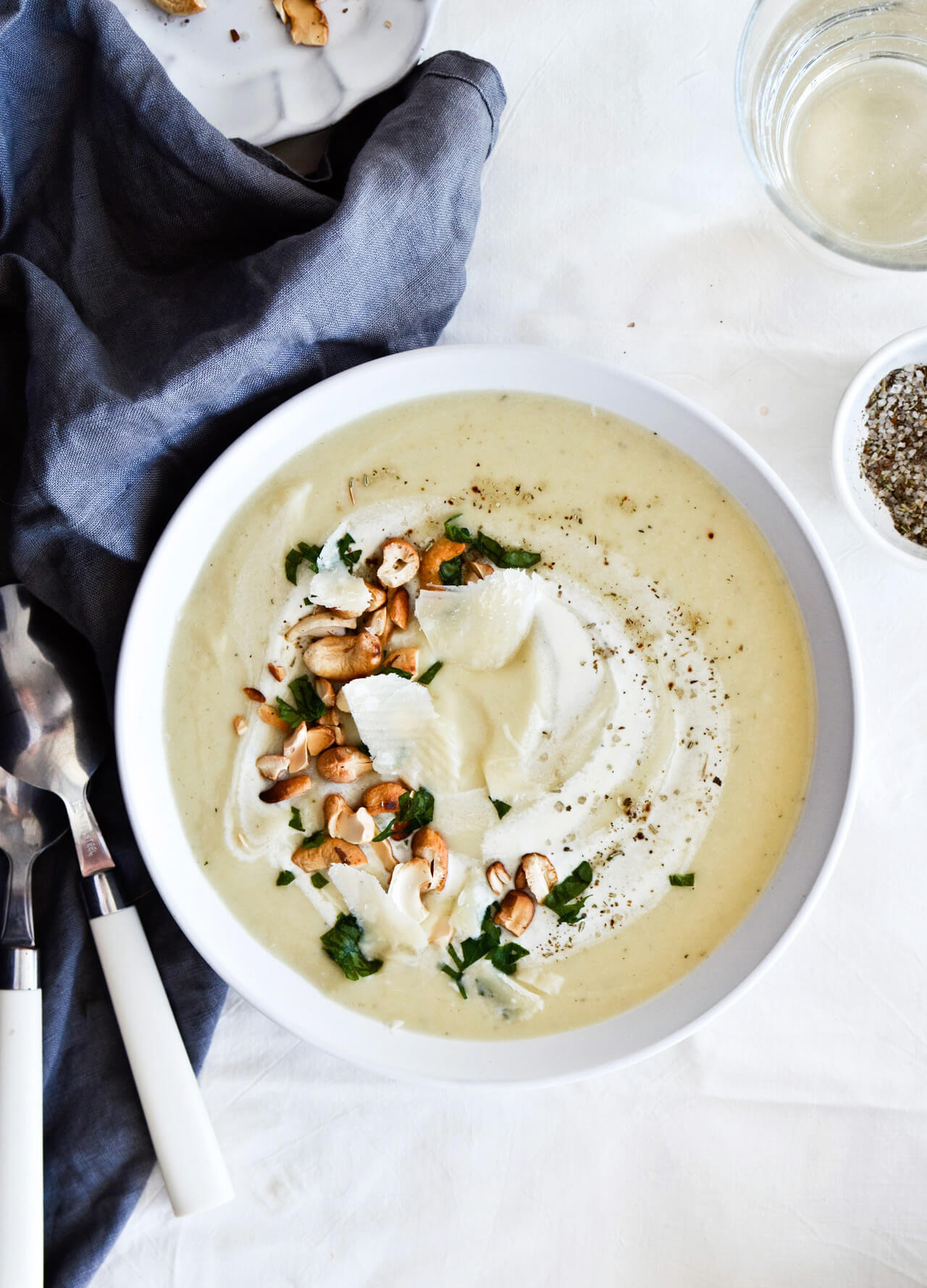 This soup is also so incredibly creamy, while made with almost no cream. Clearly, I wouldn't be who I am if  I didn't add some cream, so yes there's cream in there. But a tiny amount! We're talking about 1/4 cup for a whole pot of soup. But, you can definitely leave it out. Because what actually makes this soup creamy is the combination of potatoes and cauliflower. A perfect pairing. The key to creaminess in any soup.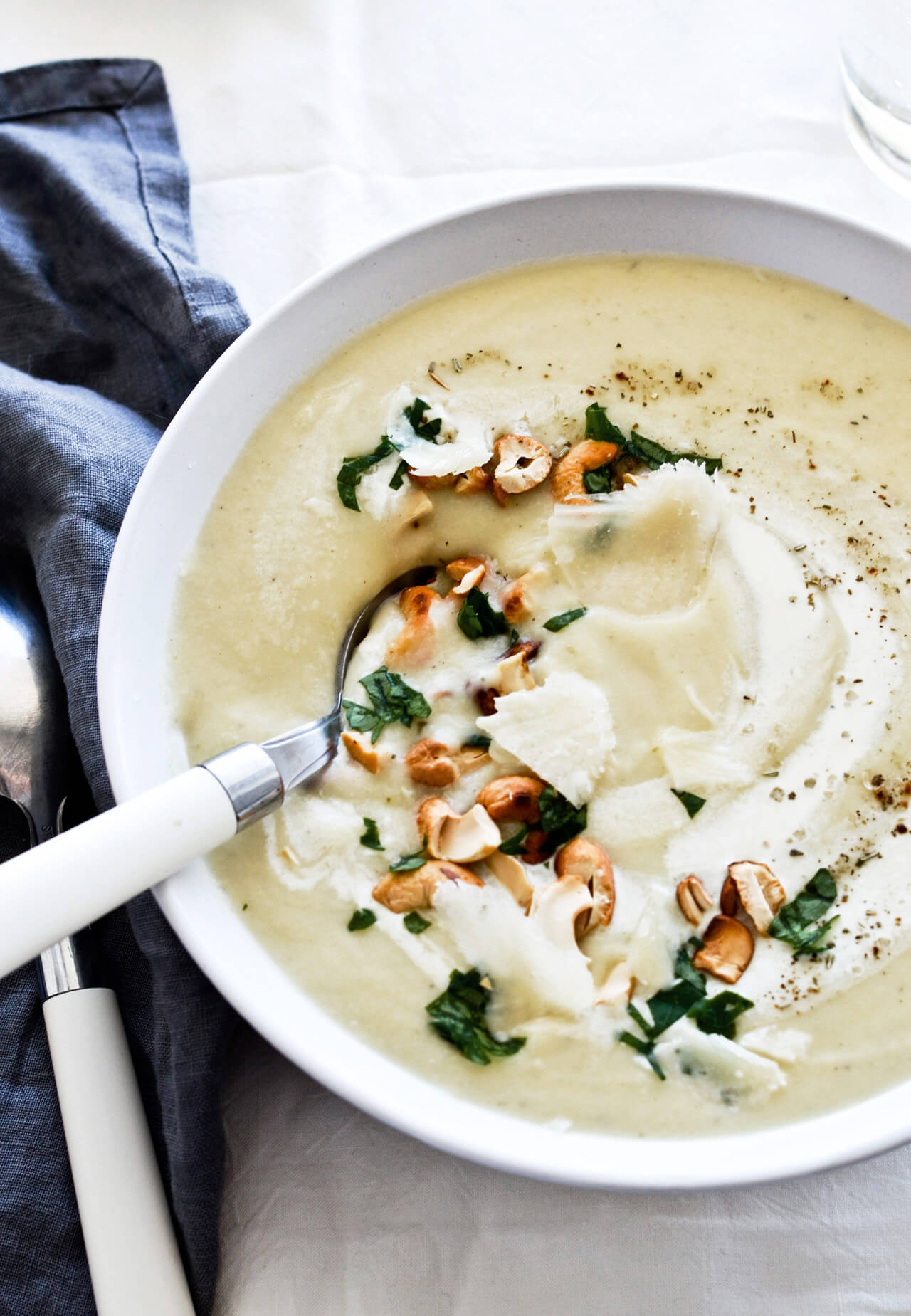 What's left is the onion and garlic, a few spices and herbs and vegetable stock. As you can see this soup is ingredient-easy but flavor-heavy (in a good way of course). I like to sprinkle some cheese on top, along with roasted cashews which give the soup such a cozy, nutty flavor.
If you're looking for a foolproof and tasty soup, this is totally it.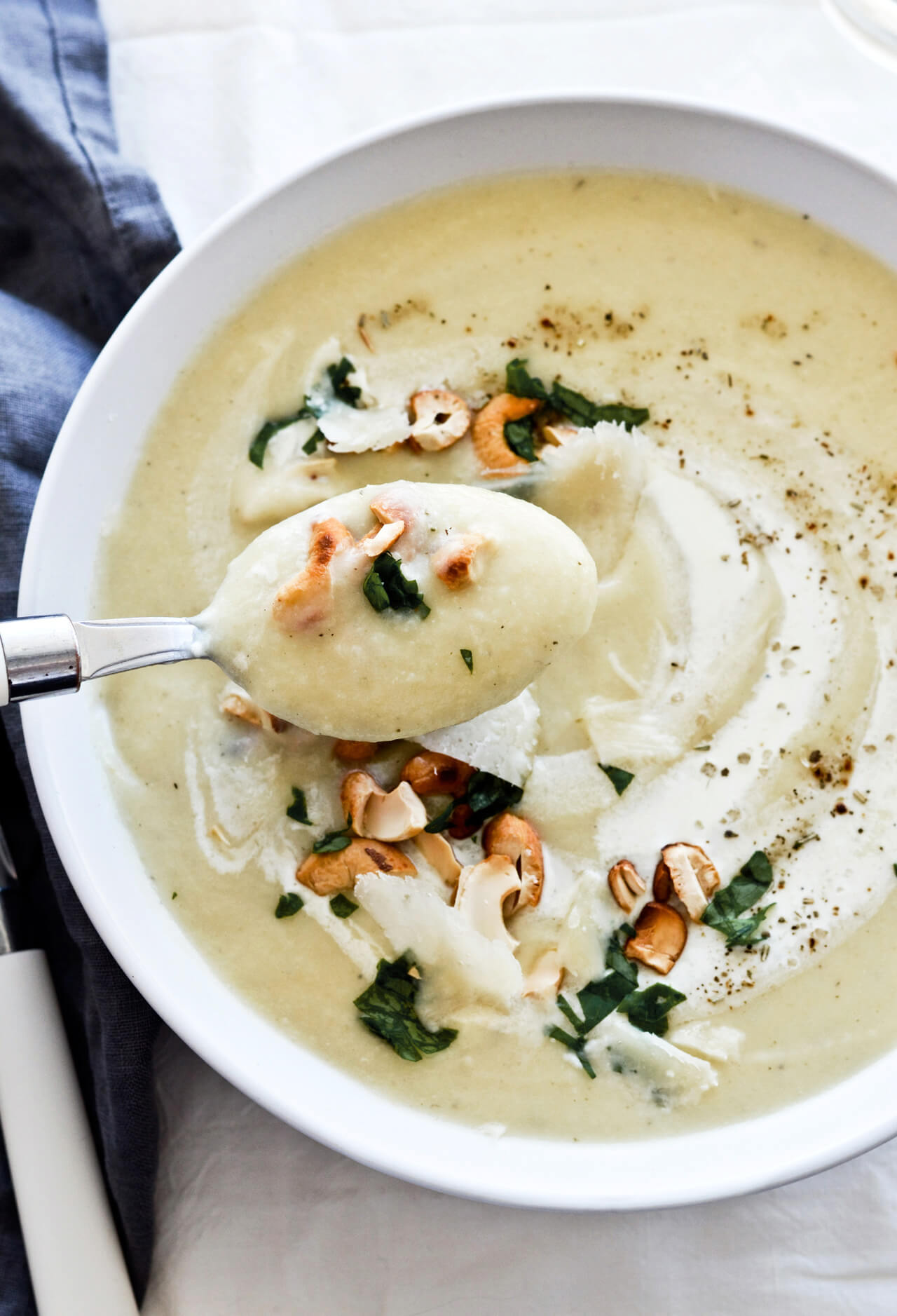 Print
Quick creamy cauliflower soup
Easy and tasty soup.
Makes one large pot ( about 4L | 4qt ) of soup that serves up to 4 people comfortably. Can be reheated.
Author:
Prep Time:

10 mins

Cook Time:

20 mins

Total Time:

30 mins

Yield:

4

servings

1

x
Category:

Soup
1 1/2 tablespoons

olive oil

one

medium red onion (about

85g

or

3 oz

), finely chopped

one

clove garlic, grated

1/2 teaspoon

dried thyme

320g

(

11 oz

) yellow potatoes, peeled and chopped into small cubes

one

large cauliflower (about

800g

or 1.8 pounds), cleaned and cut into florets

1/2 teaspoon

sea salt (more to taste)

600

ml (2 1/2 cups) vegetable stock

60

ml (1/4 cup) whipping cream (you can also try vegan cream or sour cream)
freshly ground pepper, to taste
For serving
Parmesan or Parmesan-type cheese
roasted cashews, chopped
fresh parsley, chopped
whipping cream
Instructions
Heat oil in a large pot set over medium-high heat. Add the onions and cook for a few minutes until they're tender and translucent. Stir in the garlic and thyme, cook for 30-60 seconds, until fragrant.
Toss in the potatoes and cauliflower florets. Stir to coat and let cook for 20-30 seconds. Sprinkle with salt and pour in vegetable stock. Bring to a boil, then lower the heat to a simmer, cover the pot and cook soup for 20-30 minutes, stirring occasionally. When potatoes and cauliflower can be easily pierced with a fork, remove the pot from heat.
Using an immersion blender, blend the soup until it's completely smooth. Return pot back on the stove and whisk in the cream. Allow the soup to warm up, taste to see if it needs more salt and pepper. Keep covered until serving time.
To serve: ladle soup into a bowl or plate. Add a tablespoon of whipping cream, sprinkle with chopped roasted cashews, chopped parsley and Parmesan cheese.
Store leftover soup covered in the fridge and eat within two days. Reheat on the stove or in the microwave.
Notes
Make vegan
Use dairy-free cream (or coconut milk) instead of whipping cream and nutritional yeast flakes instead of parmesan cheese.
Instead of using an immersion blender, you can also puree the soup in a food processor. Do it in 2-3 batches and leave the tube hole open (so that the hot air can escape as you're blending the soup).
How to toast cashews
On the stove:
Warm up a non-stick skillet on the stove, set over medium heat. Toss in the cashews and roast them like that, stirring occasionally, for a few minutes until they're golden and brown and aromatic. Remove from heat.
In the oven:
Preheat oven to 180°C (356°F), line a baking pan with parchment and toss in the cashews, spread out in a single layer. Bake in the oven for 15-20 minutes or until golden brown and aromatic.
If you want to use the same amount of ingredients but make a bigger, thinner batch of soup, simply use more vegetable stock.
SaveSave