I call this a winter green soup, because it is packed with cruciferous vegetables that are the core of my winter recipes. This easy soup with Brussels sprouts, cauliflower and broccoli is made in about 30 minutes and is perfectly creamy without any cream. The recipe makes enough soup for leftovers or to stock your freezer.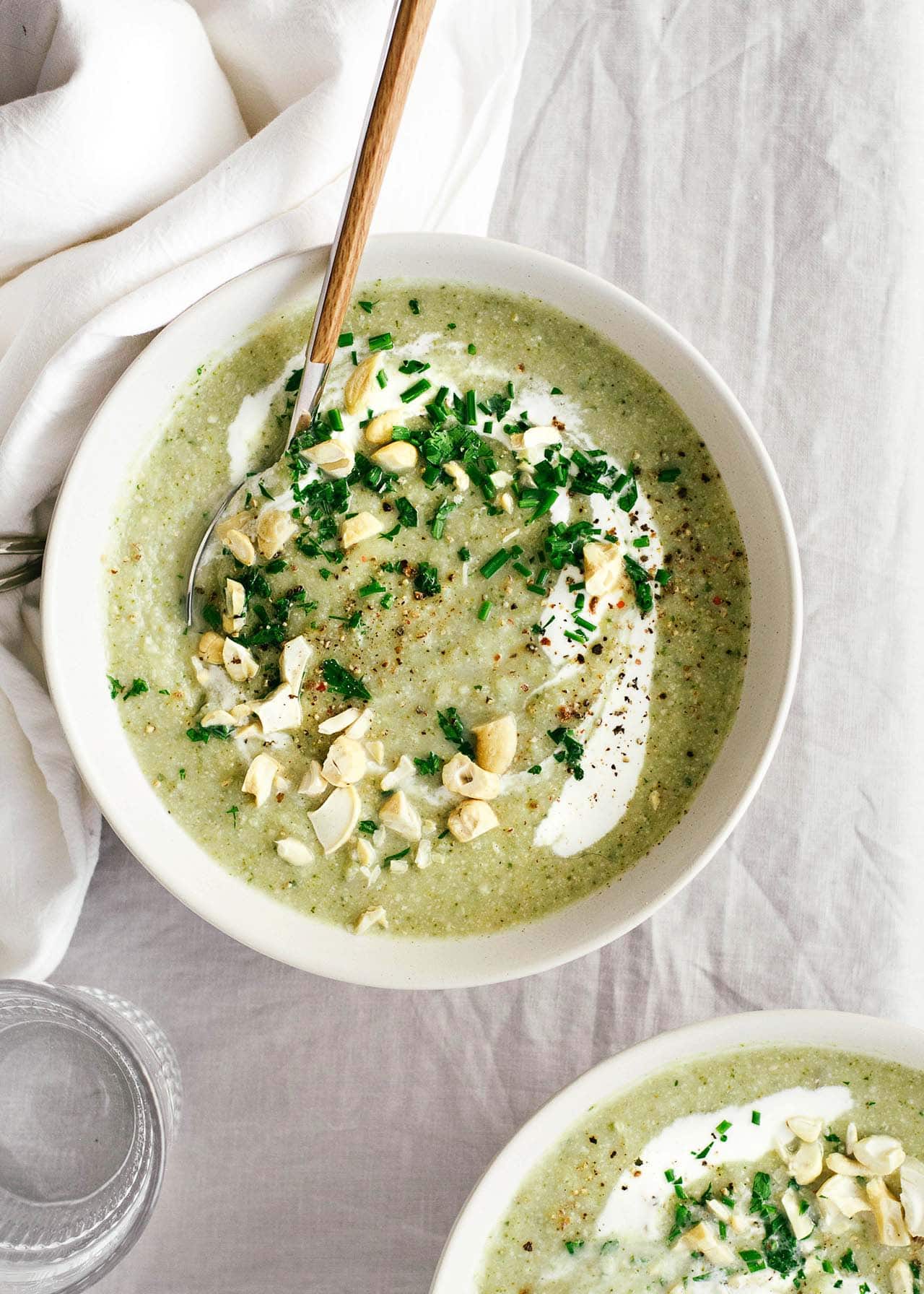 I never thought this random winter soup would become a favorite one day. I say random because the original recipe came about completely spontaneously years ago and now here we are, here I am, still making this brussel sprout soup every winter.
I often buy beautiful vegetables just because I think they look good, which sometimes leaves me with more vegetables than ideas on how to use them. Soups are perfect for this. They are very forgiving and almost impossible to mess up, and this cruciferous soup is no exception.
About the recipe
This is an unfussy recipe with very simple ingredients. It's an all-in-one green vegetable soup with cruciferous vegetables. More specifically, it is a vegan broccoli cauliflower soup with Brussel sprouts. Maybe putting Brussel sprouts in soup isn't your first thought when making a green soup, but they work. 
This is a great soup recipe to use any odd ends of leftover vegetables, even the stalks, because once you cook them down, you are pureeing the soup anyways. We're looking for flavor here and a lot of it is hidden in less-pretty vegetable bits.
The base of this cruciferous vegetables soup is very classic. You start by cooking onions in oil and to that you add leeks and dried thyme. Then you toss in the cruciferous vegetables – cauliflower, broccoli and Brussels sprouts. 
All the vegetables cook in a mix of vegetable broth and parsley. Once the vegetables are tender, I add some cashews and puree the soup with an immersion blender. And that's it.
Because this is a soup without potatoes, it's important that you add a good amount of cauliflower. It adds much needed bulk and creaminess. If you have any other green cruciferous vegetables on hand, you can add them to the pot as well.
Vegetables like broccoli rabe, cabbage or kale all work nicely in the soup. And while the green color comes from parsley, you can also add some baby spinach and make a vibrant, green goddess soup.
Ingredient notes
Surprisingly, this is a soup without garlic, which you can add if you want. I actually prefer the more gentle mix of onions and leeks in this version. And while I normally use a red or yellow onion, I'll often add a shallot or two as well.
This winter green soup is the perfect soup for those broccoli stalks! I know we always talk about broccoli florets, but don't neglect the broccoli stalks. I like to peel the stalks like a potato and cut away any bad parts (if there are any). Then I just slice them in thin discs and add to the rest of my ingredients.
In the same fashion, you can use all the outer leaves of cauliflower. If using cabbage in soup, add the crunchier, meaty white parts too. Everything gets cooked and it's all delicious.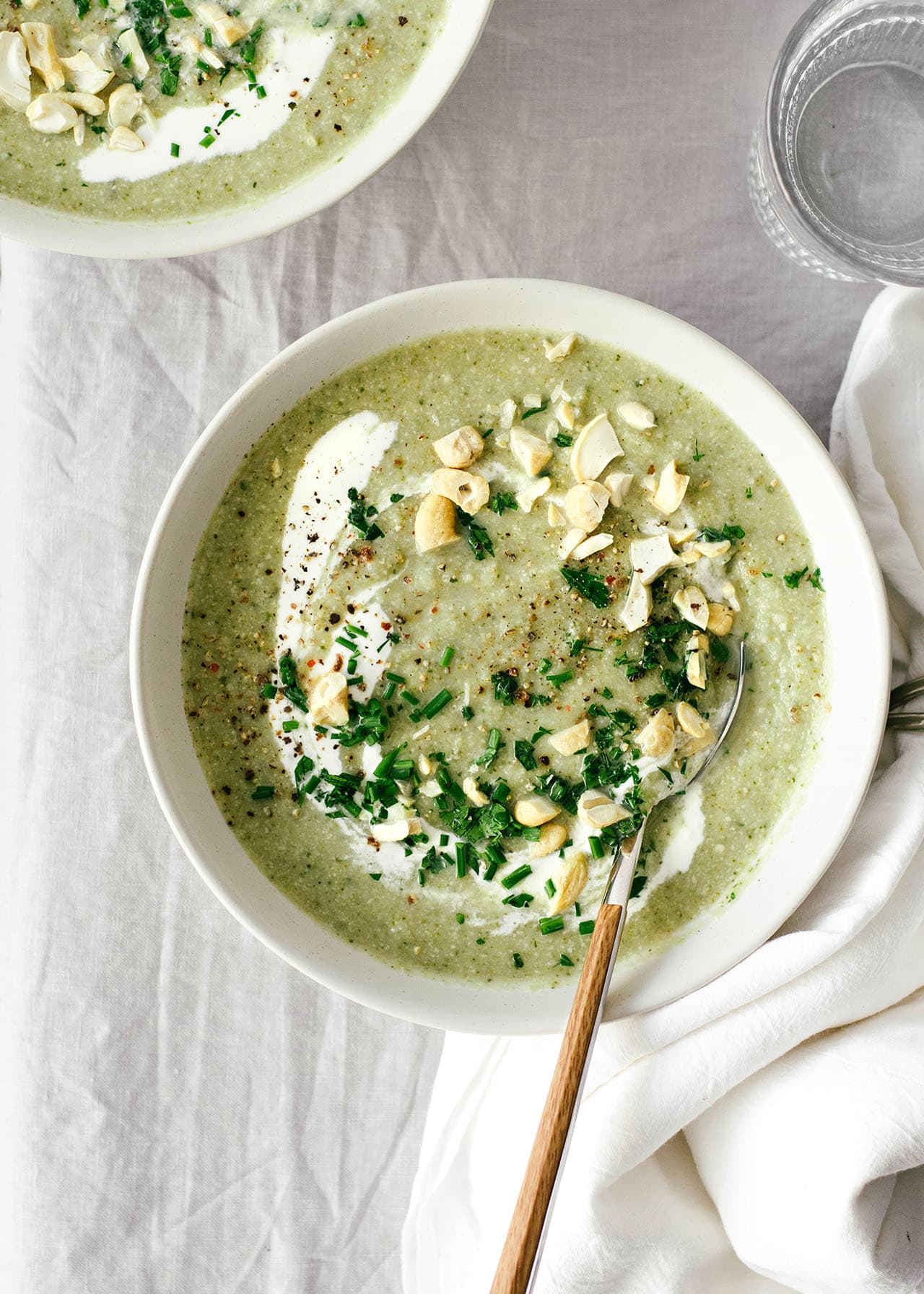 Frozen vegetables in soup
As you read through the recipe, you'll see I'm using fresh vegetables. If cauliflower, broccoli and Brussel sprouts are in season, I see no need to buy frozen. However, I am a big fan of frozen vegetables and always have some on hand for easy dinners. So yes, you can absolutely use frozen vegetables in this soup recipe.
Frozen vegetables are not only a money saver, they can also save you some time, since they're prepped and ready to go.
As far as flavor is concerned, frozen vegetables are picked and frozen in their prime time, so they're not actually lacking in flavor. 
If you're using frozen vegetables, even only a part (e.g. frozen broccoli and the rest are fresh vegetables), use them as you would fresh. Simply cook the onion and leeks in oil, then add all of your vegetables. Toss them straight in without thawing and continue with the recipe. 
Vegetable broth
I am using vegetable broth in this soup. It is a nice way to amplify the already present natural flavors.
As an alternative to vegetable broth, you can use vegetarian bouillon cubes or vegetable powder. I'm a fan of both as they take so little space in my spice drawer, they're great to keep on hand. And a way to add flavor without adding liquid.
But since this is a broccoli and brussel sprout soup (so heavily based on vegetables) you can make it without stock. You can just use water instead and adjust the seasoning as needed.
Cashews
I love using cashews in soup (and other savory dishes) because they make a creamy soup without heavy cream. How great is that?
On their own cashews aren't the most interesting variety of nut, they're actually rather plain and only mildly sweet. But their texture is creamy and they blend beautifully, so they are perfect for making soup. They soften quickly in the boiling hot liquid and are easy to blend.
If you have a nut allergy or sensitivity, skip the cashews and add a splash of cream instead.
Cream
This is completely optional, but I love adding sour cream to soups as a finishing touch. Both sour cream and creme fraiche work. They add a nice, tangy contrast to the earthy, vegetable soup.
For an overall richer cruciferous vegetable soup, you can add cream straight to the pot once the soup is blended and finished. Add as much as you want according to your own taste. If you want a dairy-free alternative, coconut milk would be a great choice. Or any other vegan creamer, especially those based on soy. 
How to store
Keep leftover soup in the refrigerator and eat within 2-3 days. You can freeze it for up to 3 months.
To thaw, keep the portion in the refrigerator overnight. Warm it up on the stove over medium-low heat. Alternately, you can warm it up in the microwave.
If you find that the soup is too thick for your taste, because it can thicken as it cools, add some water or vegetable stock and slowly bring it to a simmer. You can also thin it out with some heavy cream.
More vegetable recipes to explore
Winter green soup (cruciferous vegetables soup)
A creamy soup with cruciferous vegetables like broccoli, cauliflower and brussel sprouts. It is low-carb, vegan and easy to make.
Ingredients
2

tablespoons

olive oil

1

medium

onion

,

finely chopped

1

large

leek

,

trimmed and halved, white parts thinly sliced

1/2

teaspoon

sea salt

,

plus more to taste

1

teaspoon

dried thyme

,

plus more to taste

12

oz

(

350

g

)

Brussels sprouts

,

ends trimmed, yellow leaves removed, sliced into small disks

12

oz

(

350

g

)

broccoli florets

,

from 1 medium-to-large broccoli

27

oz

(

750

g

)

cauliflower florets

,

from 1 large cauliflower

5 1/2

cups

(

1300

ml

)

vegetable stock

1

small bunch parsley

,

roughly chopped

1 1/3

cups

(

150

g

)

raw cashews

black pepper

,

to taste
Serve with (optional)
sour cream or creme fraiche

,

or a vegan alternative

cashews

,

roughly chopped

fresh herbs

,

such as parsley and chives
Instructions
Heat olive oil in a large saucepan set over medium heat. Add onions and cook for 1 minute, stirring occasionally. Then stir in leeks, salt and thyme and cook for 3-5 minutes, until the leeks soften.

Add brussels sprouts, broccoli and cauliflower florets. Mix with the leeks and let vegetables cook and sizzle for about a minute. Pour over the vegetable stock, just until all the vegetables are mostly covered. Set temperature to high heat to bring soup to a boil, then lower heat to medium and cover the pot with a lid.

Cook (maintaining a simmer) until the vegetables are tender, around 20 minutes, stirring occasionally. Remove soup from heat, toss in the parsley and cashews and keep covered for a few minutes.

Using an immersion blender, blend the soup until it's completely smooth (you can also puree it in 2-4 batches by using a food processor.) Once pureed, taste the soup and adjust the seasonings to your taste.

Ladle soup into bowls and serve with a dollop of sour cream, cashews and chopped herbs.

Store leftover soup in the refrigerator for up to 2-3 days or in the freezer for up to 3 months.
Notes
Use all the vegetables: Because you are pureeing this soup, you can use parts of vegetables that you otherwise might not use. If your cauliflower or broccoli have nice, fresh looking outer leaves chop them and throw them in the pot along with the florets. As you trim the cauliflower or broccoli stalks, only remove the very ends and any weird looking parts and chop up the rest for the soup. The stalks add a nice creamy texture to the soup.
Alternately, you can also chop the leaves and stalks and freeze them to use whenever you're making vegetable stock.
While I give pretty exact measurements for all the vegetables, feel free to adjust the quantities, depending on what is available to you. This is a great soup to use up leftover greens and other vegetables.
Cashews are completely optional, but add such a creamy texture that you should definitely try adding them, in case you're not allergic or have a sensitivity to nuts. 
Alternatives that make the soup extra creamy: sour cream, soy creamer, coconut milk. 
Text recipe
Email recipe
Pin Recipe
Last updated on November 17, 2023.