This leek spinach tart, with plenty of cheese and pine nuts on top, is a thing of dreams. This tart is great warm or cold, perfect to eat with a salad on the side, which makes it my top choice for brunch and dinner.  Crisp tart shell is filled with a creamy mixture of leeks and spinach, topped with a generous amount of cheese for superb flavor and pine nuts for that extra nutty crunch. This is the best vegetarian tart, a true winner that even meat-lovers adore.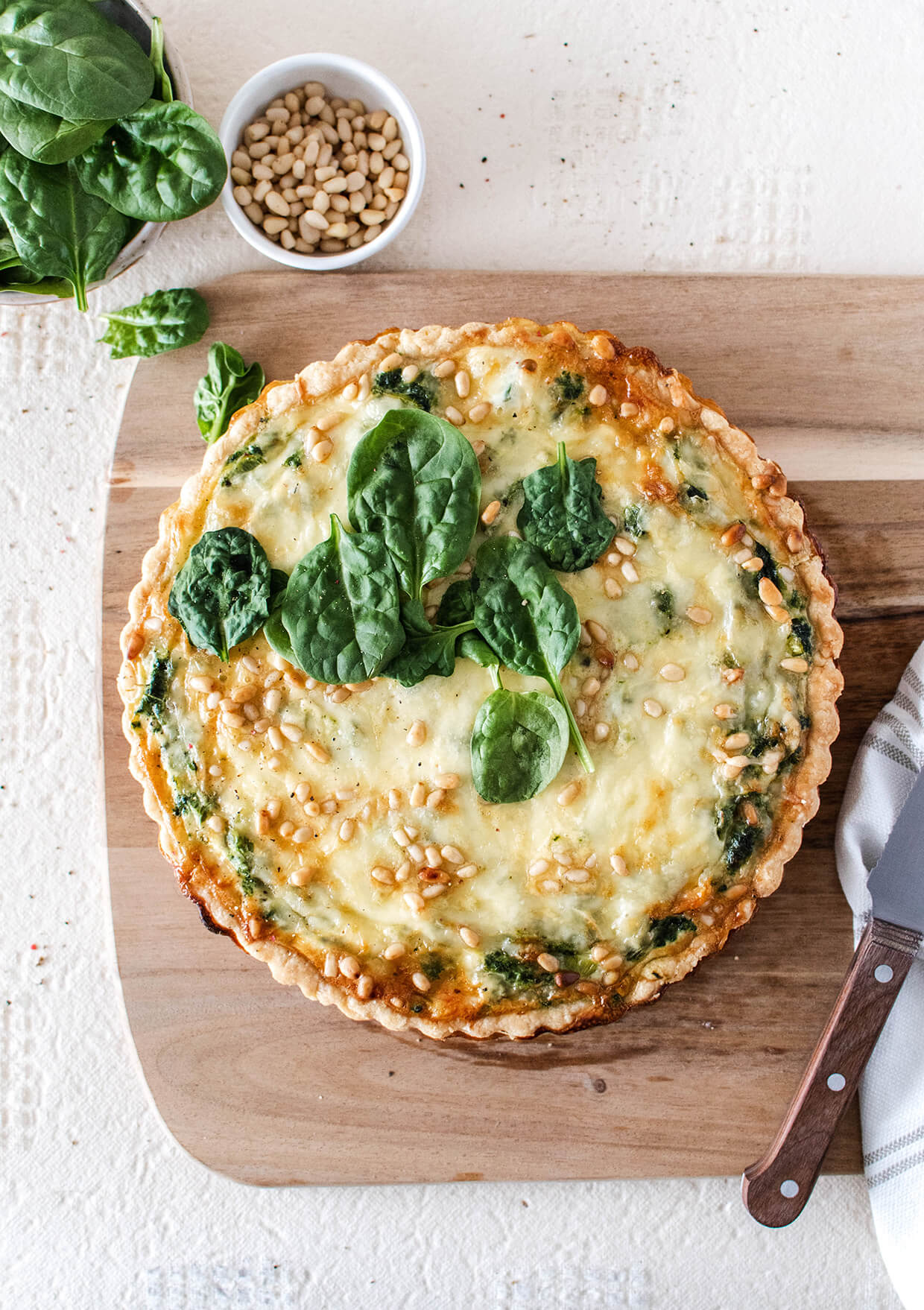 I'm sure so many people think of something sweet when hearing the word "tart". But there are sweet tarts and there are savory tarts, which is what we have here today. True, this leek spinach tart could also be called a quiche, but I'm choosing to call it a savory tart instead. A savory tart or a quiche is a dish made with a pastry shell that is then filled with savory goodness. I think technically a quiche needs more liquid than a tart does, but I definitely need to research these technicalities more before I can make a final declaration.
For now, let's just stick with the savory tart. And this leek spinach tart is the best one I've had so far. EVER. I've eaten so many tarts over the years and made quite a few myself, but I always come back to the very classic combination of leeks and spinach. It's a version that never disappoints, so full of flavor I'll never get tired of.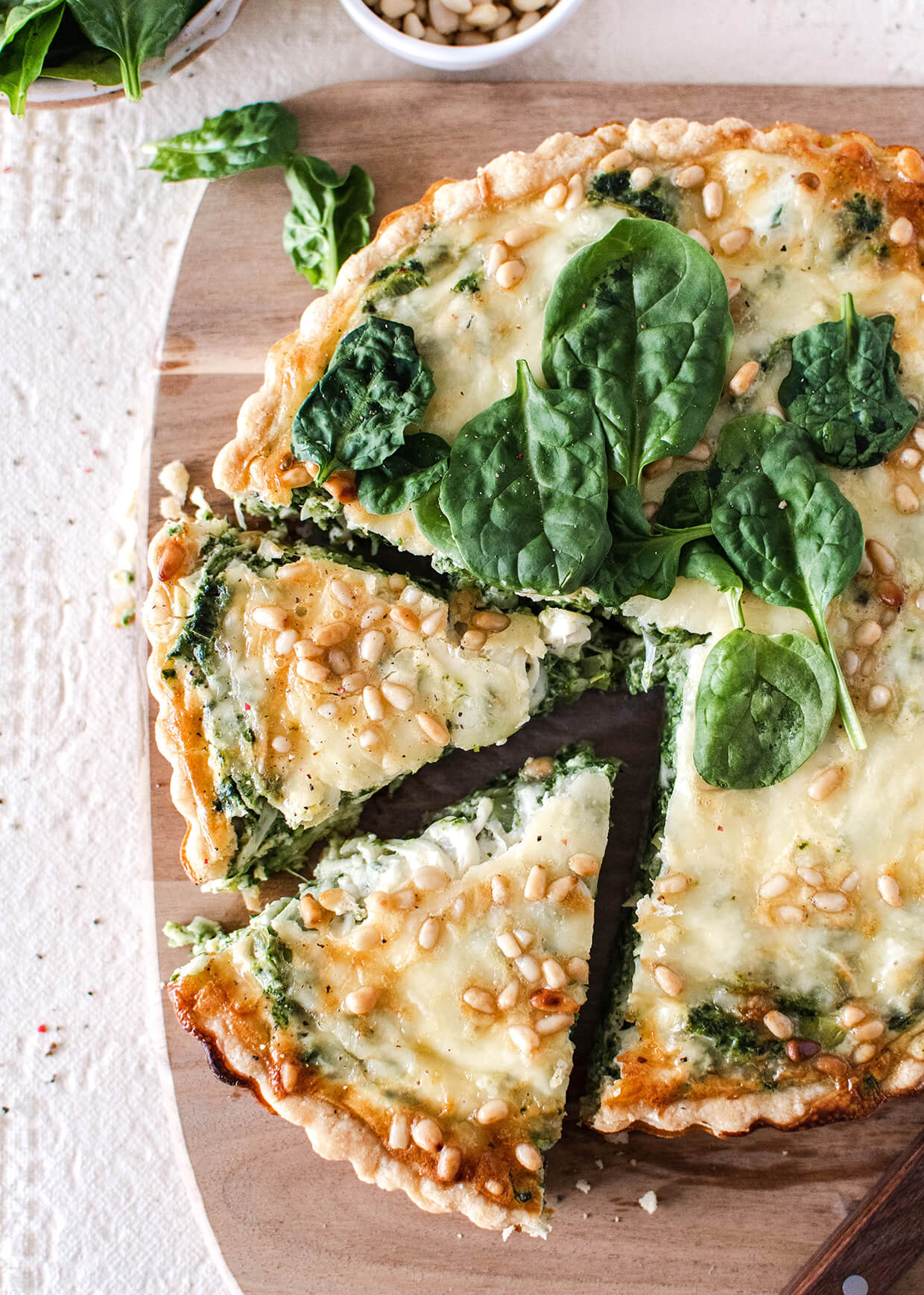 Let's talk about the pastry base, the beginning of any tart.
This one is made with 4 ingredients only. This cut be cut down to three, if you skip the salt, which is a personal preference if you're watching your sodium intake. Although I have to say that it is a flavor enhancer, of course. But salt isn't even that important, what matters more is the butter. You know I've always had this fear of making pie pastry, I still do, but I've discovered a neat trick that makes tart or pie making so much easier. It's grated butter!
See, instead of using diced chilled butter, I prefer to use frozen butter that I grate right before using. That way it's at the perfect temperature and also the perfect size. All you need to do with it is pulse it very quickly with flour and you're basically there. Then I add some water, the amount varies all the time but usually it's around 4 tablespoons. As for baking, I blind-bake the crust first and then to finish it off I bake it bare (or naked) too.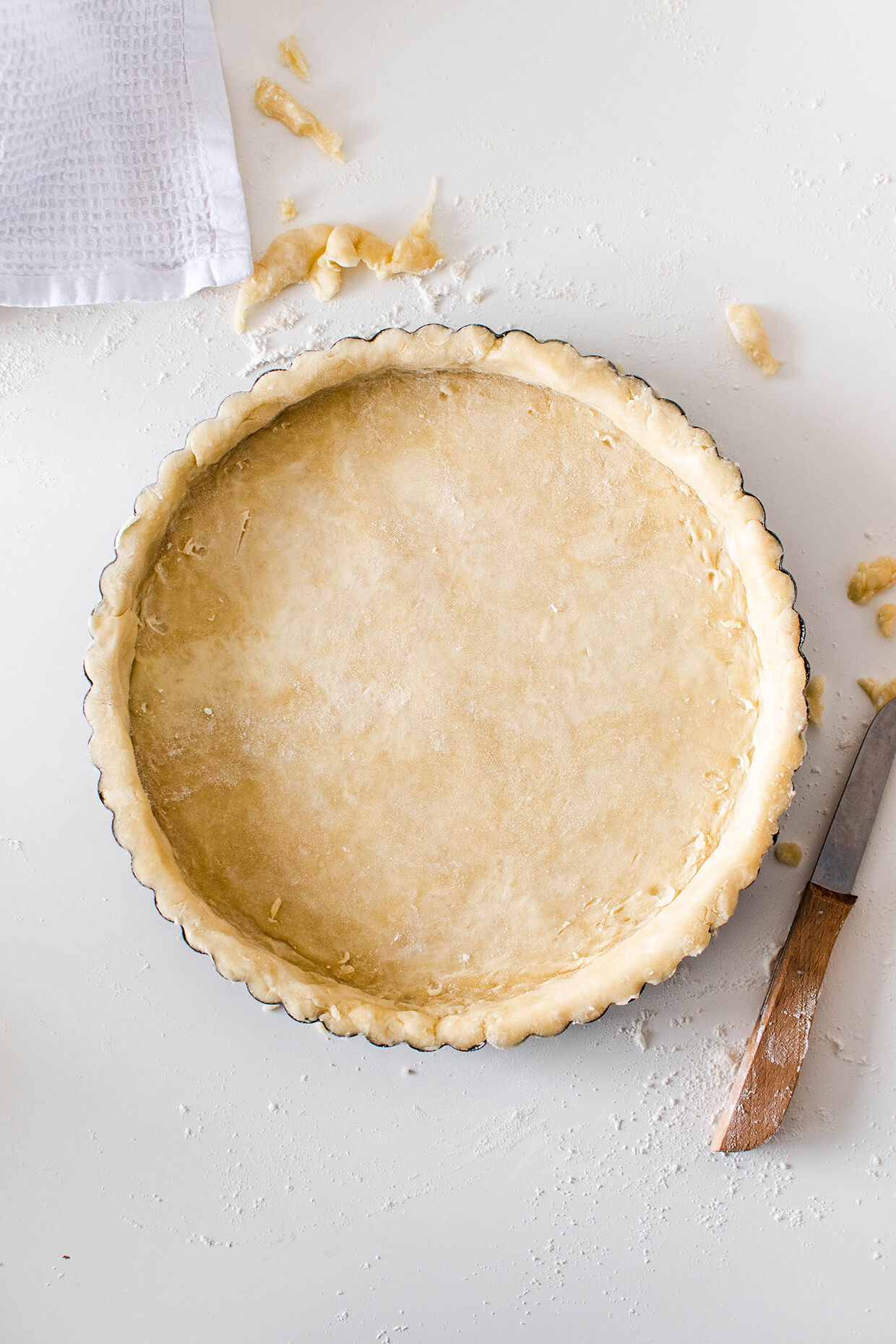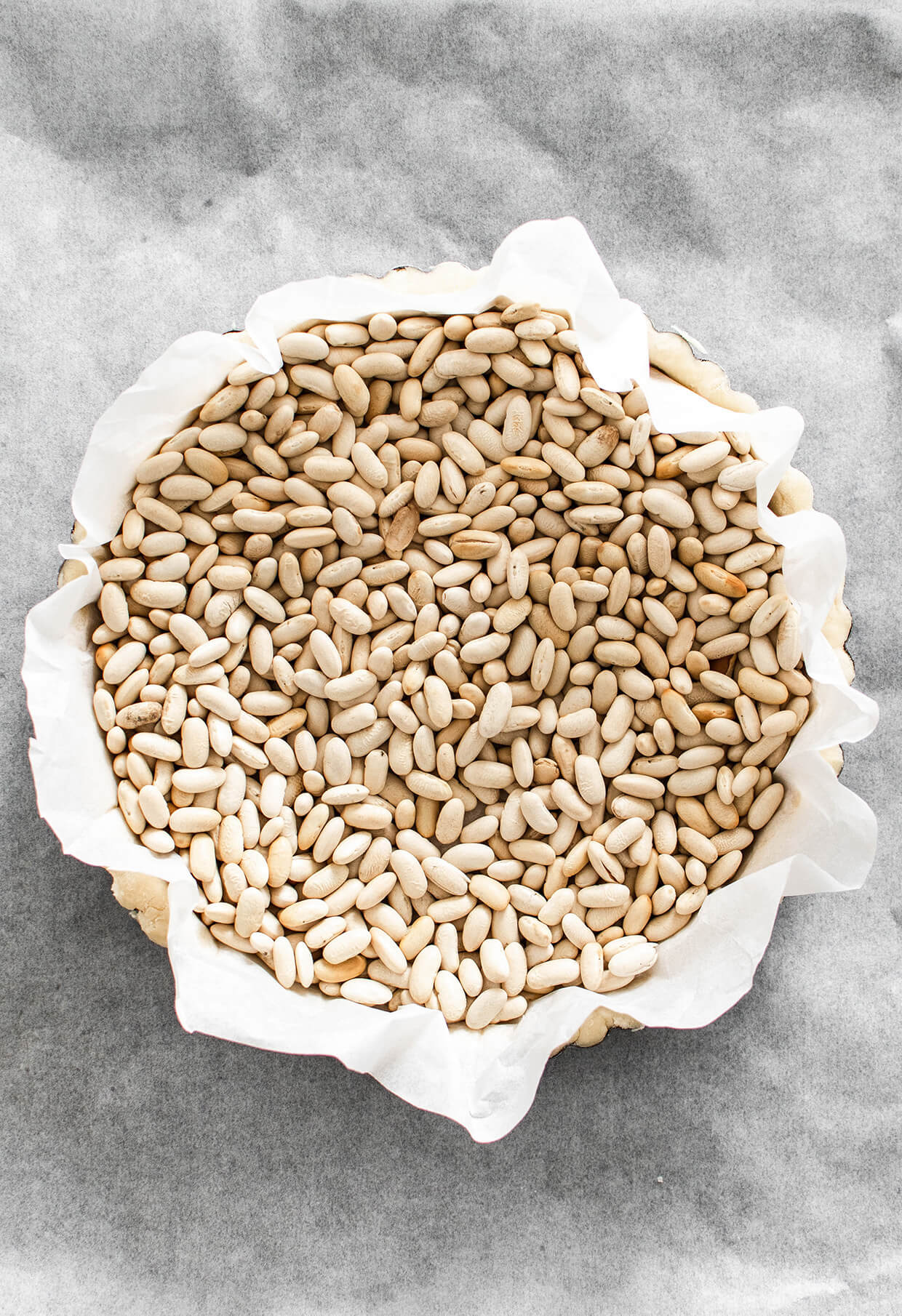 Once that perfect buttery shell is made, the rest about this leek spinach tart is so easy.
This is exactly what the name suggests – leeks and spinach in a tart shell. I love using leeks not only because of their amazing flavor, but also because they're easier to tackle than an onion. Once the leeks are sauted, I add spinach to them. While this may come as a surprise, given the Spring-like nature of this tart, the spinach I use is frozen. I like it because I often make this tart in December around holidays and I used to struggle with finding the perfect baby spinach. You could however easily use fresh (baby) spinach, but frozen is just as perfect.
I make a big amount of the spinach filling and really pack it into the crust, but to make this tart extra delicious, I add a few creamier things. Like the quiche mix, which is what I call a mixture of eggs, cream, milk and spices. As you pour it over the packed vegetable filling, it'll reach every nook and cranny of the tart and fill it up. And as it bakes, the liquid will turn into a puffy, soft filling that is so incredibly good.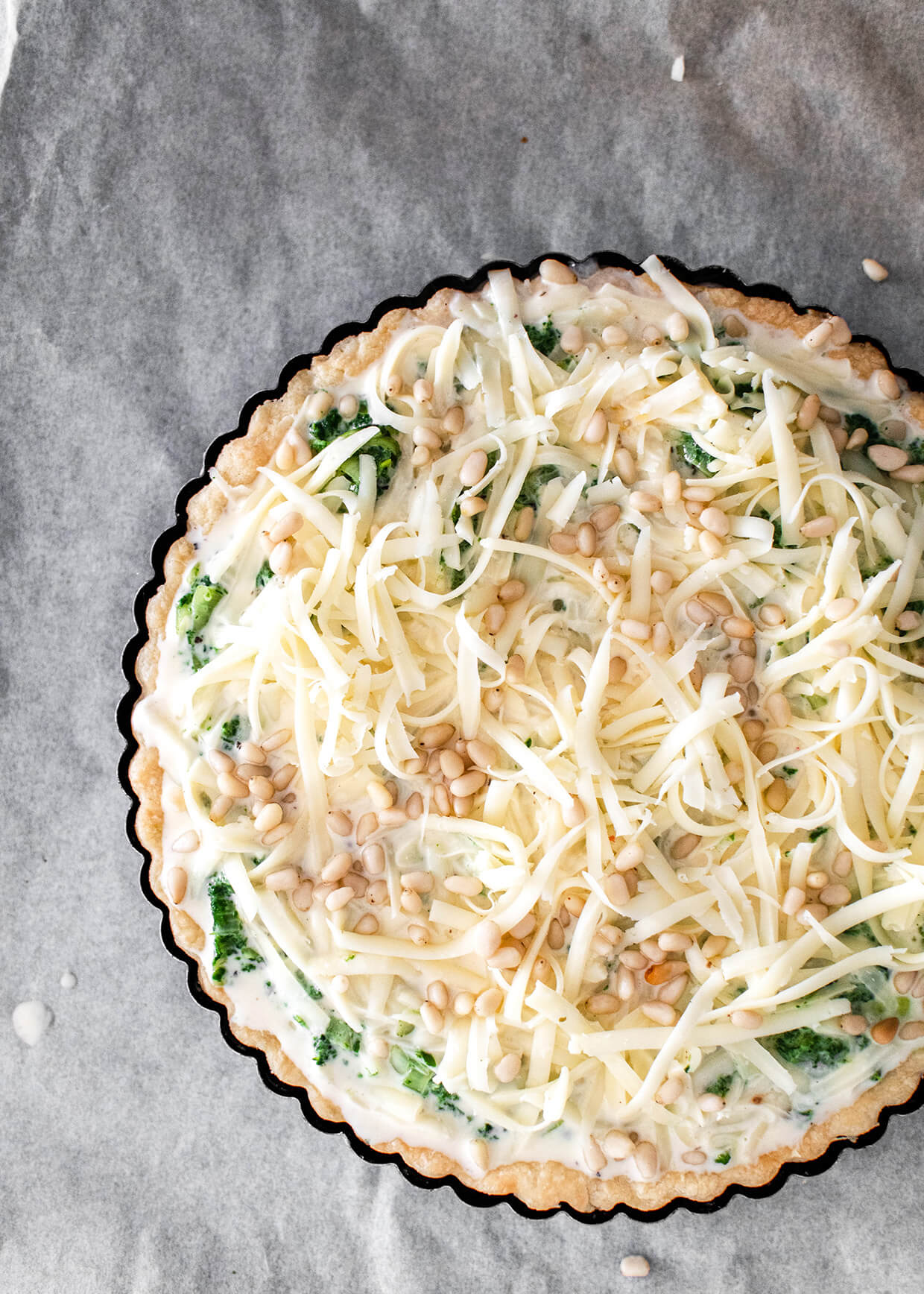 Moving on, you toss a lot of cheese on top.  I'm using Edam, but any semi-hard cheese works. You don't want something too strong and you also don't want something too mild (like mozzarella). The leeks and spinach are still the main stars of this tart.
Edam cheese is one of my favorites because it's flavorful but not overpowering and it also melts perfectly. I love it on pizza too. You can use a mix of mozzarella and parmesan, if that is what you have on hand.
Small buttery pine nuts are the cherry on top. They add some crunch and nicely round up the flavors.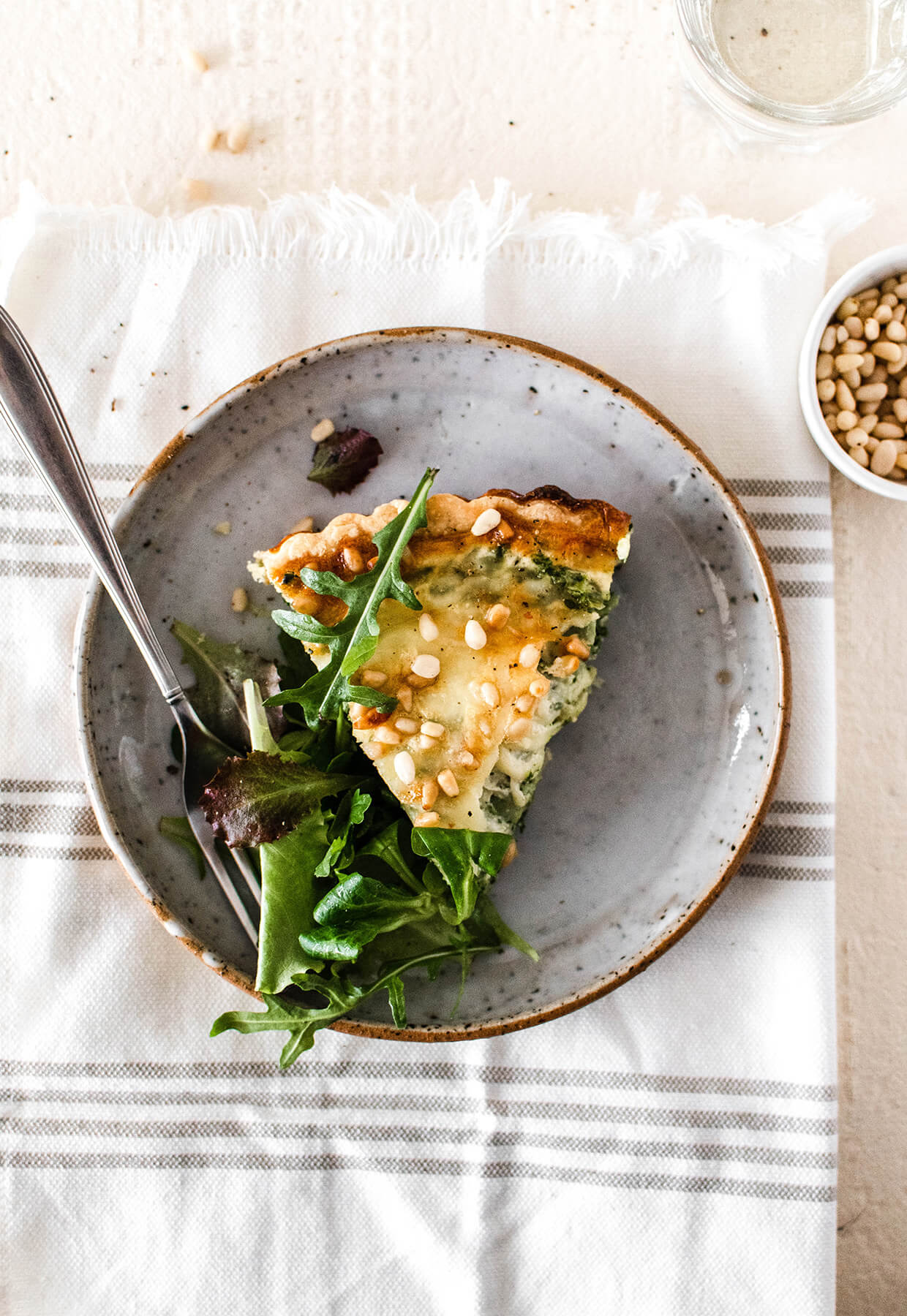 This leek spinach tart really is an all-round perfect tart.
I love how it tastes just as good cold as it does warm. And I almost think it tastes better a day old. In any case, it doesn't taste worse the next day, which makes it an instant winner for me.
It reheats beautifully too, if you like it hot. My favorite way to eat it is with a spring mix salad on the side. Or other roasted greens, like roasted broccoli or asparagus. Not only do these things fit together well because of their flavors, I think they create a nice balance. You have something cheesy and indulgent on one side and something healthy, yet flavorfl, on the other.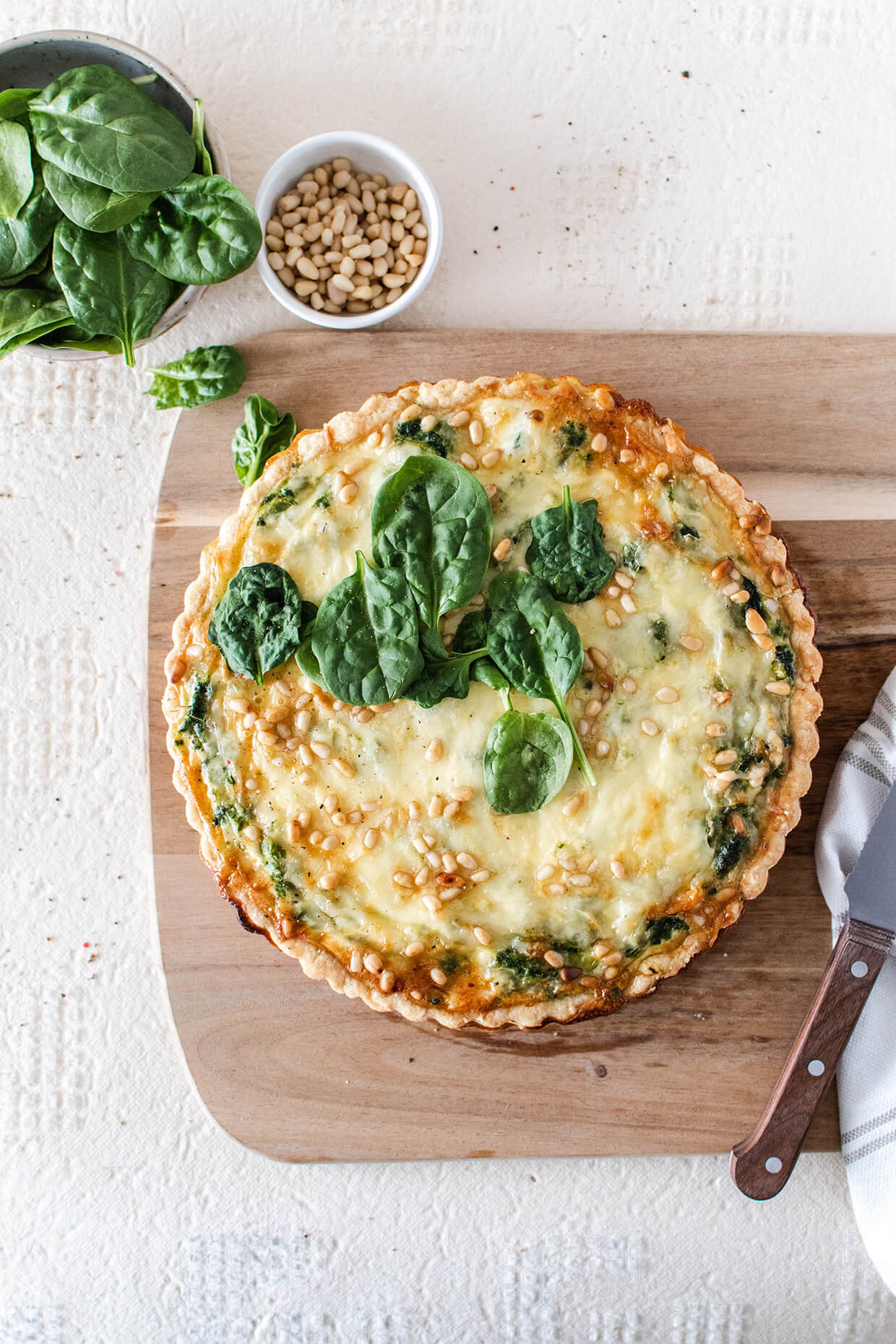 If you're looking for that perfect brunch or dinner dish or for something to bring to a potluck, look no further because this leek spinach tart is your winner. It is compact and will easily survive a car ride or some handling / moving around. The flavor is so superb you'll want to eat it hot out of the oven, while saving a slice for the next day because it tastes amazing cold too. And if you want to make more than one tart, the recipe is easily scalable. I can't think of anything better than this.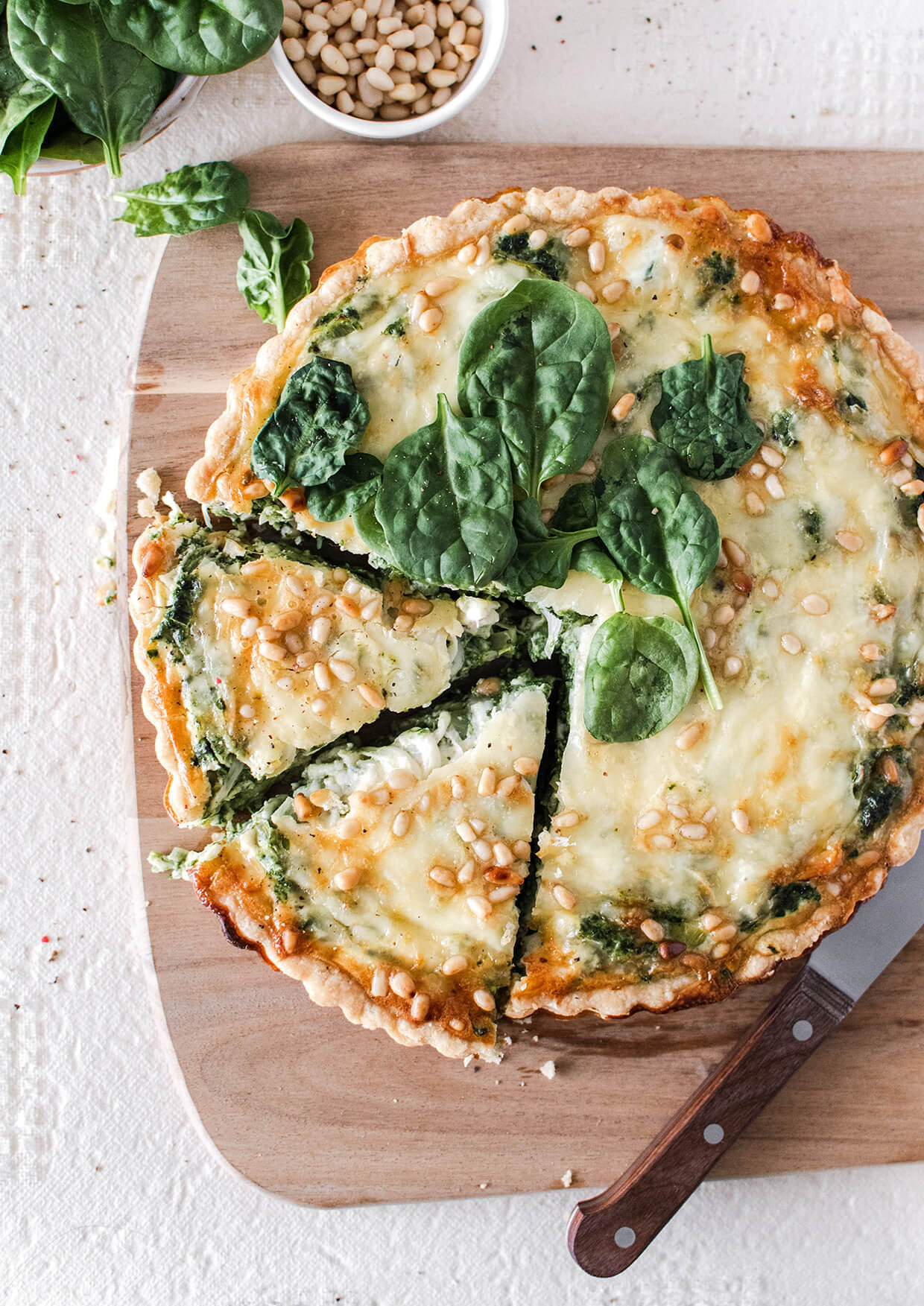 Leek spinach tart
Perfect vegetarian tart, that makes a great brunch or dinner meal. Perfect for potlucks too.
Ingredients
CRUST
2

cups

(

260

g

)

all-purpose flour

1 1/4

sticks

(

140

g

)

unsalted butter

(frozen)

3-5

tablespoons

ice-cold water
FILLING
1 1/2

tablespoons

olive oil

(or butter)

12

oz

(

350

g

)

frozen spinach

(thawed and drained (yields about 1 cup))

1

(

230

g

)

leek

((about 8oz | 230g) trimmed, halved lengthwise and thinly sliced)

1

teaspoon

garlic powder

1

heaping cup

(

150

g

)

grated Edam cheese

(or other melty cheese)

2

large eggs

1/4

cup

(

60

ml

)

milk

1/2

cup

(

120

ml

)

whipping cream

freshly ground black pepper

ground nutmeg

sea salt

a handful of pine nuts
Instructions
Make the pastry
Coarsely grate the butter (I use a box grater) and place it in the bowl of a food processor. Add flour and briefly pulse. Add 3 TBSPs of ice-cold water and pulse until the dough starts to come together.  If needed add more water by the tablespoon. You have to be able to pinch dough together with your fingers. Form dough into a disk, wrap well and chill in the refrigerator for 1 hour or overnight.

Allow dough to rest at room temperature for 5 minutes before rolling. Preheat oven to 425°F (220°C), with a rack in the middle of the oven. Flour your work surface and roll out the dough, rotating it as you do so, so it doesn't stick. Roll it out slightly bigger than the pan.

Transfer to a 9-inch (23-cm) tart pan (that you previously brushed with oil to prevent sticking). Press dough into the bottom and up the sides, slice away any overhang. Pierce pastry with a fork, line it with oiled parchment paper and fill with dry (or baking) beans.

Transfer pan to a baking sheet and bake for 10 minutes. Remove the beans and bake for another 5-10 minutes until the crust is fully baked, almost golden. Take out of the oven and set aside; lower the oven temperature to 350°F (175°C). 
Make the filling
In a skillet, warm olive oil on medium-high heat and add leeks. Cook for about 5 minutes until the leeks are wilted. Add spinach, teaspoon of salt, garlic powder and a grind of pepper. Cook for another 2 minutes, until combined. Set aside.

Whisk eggs with milk, cream, pinch of salt, pepper and nutmeg in a small bowl. 
Assemble the tart and bake
Evenly arrange the spinach filling into the tart shell. Sprinkle 1/2 cheese over the spinach. Slowly pour over the egg mixture. Sprinkle with remaining cheese and pine nuts.

Bake for 30 minutes or until the filling is golden and set, cheese bubbly. Serve warm or at room temperature, keep leftover tart in the refrigerator. 
Notes
For easier handling, I like to bake my tarts on baking sheets, especially if the tart pan has a removable bottom. It makes taking it hot out of the oven so much easier.
If you prefer fresh spinach, you can use that instead. Coarsely chop it or simply use baby spinach then add it to  the leeks and cook until it shrinks, a few minutes. If you end up with too much filling for the crust, store leftover filling in the refrigerator for up to a day and use it in a breakfast omelette. Simply whisk 1-2 eggs with the filling and cook as you would any other omelette or frittata.
You can use other cheeses instead of Edam. I prefer a cheese with a mild taste in this tart. If you're using a cheese that has a stronger flavor and is saltier, add less salt to your spinach and egg mixtures, otherwise you'll end up with a very salty tart. If using mozzarella, use the aged, drier kind. Add some Parmesan to it for flavor.
As mentioned above, you can serve this warm or cold. You can easily reheat it in the microwave. If saving for next day, cover it completely with plastic wrap or store it in an airtight container in the refrigerator.
This recipe is adapted from  Mary Berry's Complete Cookbook (1995 version).
Email recipe
Pin Recipe