Leek spinach tart – a tart even non-vegetarians love!
Have you ever cooked something that was supposed to make 6 servings, but you only made it for two people? Well, I do that often. I honestly like leftover food and I am convinced savory tarts and lasagna taste so much better after they've rested for a while.
There may only be two of us living here, but I see nothing wrong with making a bigger dinner that can be reheated later. And so while this leek spinach tart can serve up to 6 people, I obviously only made it for two.
This leek spinach tart is so good, that I can't believe it's taken me almost a year to write down the recipe. It's a shame, really. I first made it last December, for a small Christmas dinner party we had at Rok's old office with our friends. It was a lovely potluck dinner, so each of us brought a little something.
Aren't potluck dinners great? It definitely takes the pressure off of one person organizing everything and it makes the dinner more fun and colorful. I don't remember the exact details, but we had everything from a cheese and meat plate, to raw chocolate cake and homemade cookies. Rok and I brought this leek spinach tart and everyone loved it!
I've made this several times over the year, because it just works well with every season and every mood. But a few weeks back, a friend asked me for the recipe. And that's when I realized that I haven't written it down yet. As this is adapted from a book I was able to give her that, along with my notes, and right after that I decided to make the tart again and really put this recipe into a proper form. Not on some small post-it note like I usually do, but really write it down in a notebook and then on the computer. And… here we are now.
I like everything with spinach and leeks, so I may be biased, but this is honestly a really great tart. You get everything: a flaky crust, a moist flavorful filling with a perfect mixture of vegetables and cheese, and the pine nuts sprinkled on top take you into a crunchy wonderland.
Oh, I'm really trying with the description here, aren't I? But I have to, you can't taste this and I need to describe it to you somehow, right? Hopefully convince you that you make this ASAP. Because it really is that good.
What I also love about it is that it's so adjustable. I've made it in several different pan sizes so far and it works every time. The crust is a classic butter-flour-water crust and so making more or less of it is very easy. And then with the filling, I just add an extra egg or more milk and cheese and I get a bigger tart in no time.
This leek spinach tart is what you need for your brunch or dinner, it's what you need if you're throwing a holiday dinner party or a small gathering for your closest friends. Whether they're vegetarian or not doesn't even matter, because everyone loves this.
Or you can just make it for yourself and have it for dinner one day and for lunch the next, if you're like me and don't mind eating the same thing two days in a row. But I'm telling you, you won't mind it at all, this spinach tart is so worth it.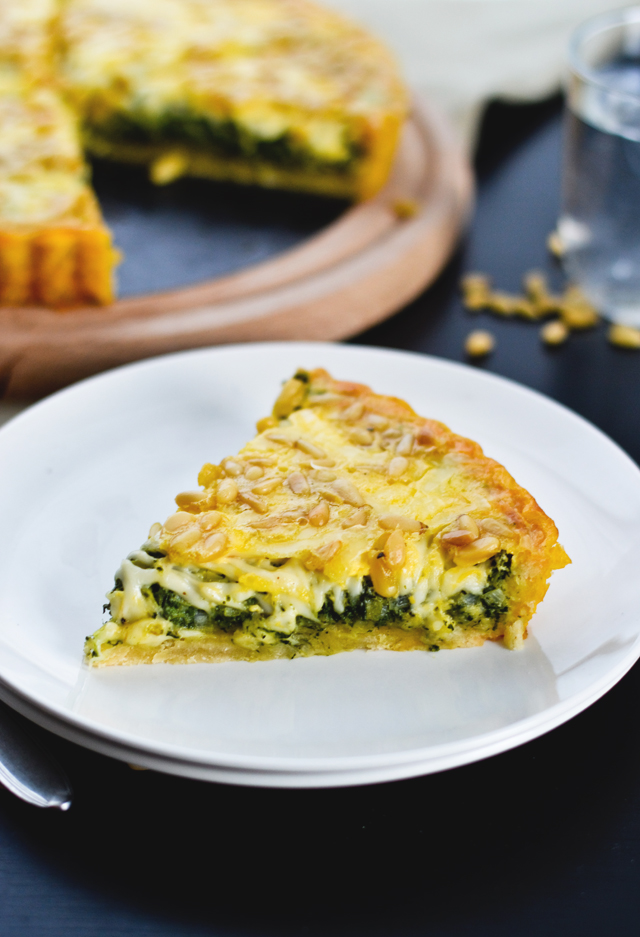 Print
Leek spinach tart
Everyone's favorite tart!
Recipe makes one 9 1/2-inch (24-cm) tart and serves up to 6 people.
Scale
Ingredients
Crust
260

g (1 2/3 cups) all-purpose flour

140

g (1 1/4 stick | 4.9 oz) unsalted butter, chilled and cut into small pieces

3

–

4

tablespoons of ice-cold water
Filling
1 1/2 tablespoon

s olive oil (or butter)
about

350

g (12 oz) frozen spinach, thawed and drained (yields about

1 cup

)

1

leek (about

230

g | 8 oz), trimmed, halved lengthwise and thinly sliced

150

g (5 oz) Edam cheese, grated

2

eggs, beaten

120

ml (1/2 cup) milk

120

ml (1/2 cup) whipping cream

2 teaspoon

s fine sea salt
freshly ground black pepper
ground nutmeg
about

40

g (1.4 oz) pine nuts
Instructions
Make the pastry:
Grease a tart pan with melted butter. Set aside.
Place flour and butter in the bowl of a food processor. Pulse briefly until mixture forms large crumbs. Add 3 tablespoons of ice-cold water and continue pulsing until the dough starts to come together, just until it is formed, but not smooth. You have to be able to pinch it together with your fingers.
On a lightly floured work surface form the dough into a disk. Flour a rolling pin and roll out the dough. Roll it out in all directions and rotate the dough a few times, to make sure it hasn't stuck to your work surface. You don't have to roll it out fully, just try to get close to your pan size.
Lightly roll pastry around your rolling pin and unroll onto the top of your pan. Gently press the pastry onto the bottom and up the sides of the pan, cut away any pastry sticking over the edge of the pan. Chill in the fridge for at least 30 minutes.
When you are ready to make the tart, set your oven to 220°C (425°F), with the rack in the middle of the oven. Pierce pastry with a fork. Line the pastry shell with oiled parchment paper and fill with dry beans (or pie weighs). Transfer pan on a baking sheet and bake for 10 minutes. Remove the beans and bake for another 5-10 minutes until the crust is fully baked, almost golden. Take out of the oven and set aside; lower the oven temperature to 180°C (350°F).
Meanwhile make the filling:
In a skillet, warm olive oil on high heat and add leeks. Cook for about 5 minutes on medium-high heat until the leeks are just beginning to turn golden brown. Add spinach, teaspoon of salt and a grind of pepper. Cook for another 2 minutes. Set aside.
In a small bowl whisk the eggs. Add milk, cream, 1 teaspoon of salt, a grind of pepper and a pinch of nutmeg.
Evenly arrange the spinach filling in the tart shell. Sprinkle cheese over the spinach. Slowly pour over the egg mixture stop pouring when it reaches the edge of crust). Scatter pine nuts on top.
Bake for 30 minutes or until the filling is golden and set. Serve tart warm or cold.
Notes
If you prefer fresh spinach, you can use that instead. Coarsely chop it and use the same way as the frozen spinach in the recipe.
You can other cheeses, instead of Edam. I prefer a cheese with a mild taste in this tart. If you're using a cheese that has a stronger flavor and is saltier, add less salt to your spinach and egg mixtures, otherwise you'll end up with a very salty tart. (The original recipe uses Gruyère.)
As mentioned above, you can serve this warm or cold. You can easily reheat it in the microwave. If saving for next day, cover it completely with plastic wrap or store it in an airtight container.
Serve as is or with a nice bowl of salad and a dollop of sour cream.
This recipe is adapted from Mary Berry's Complete Cookbook (1995 version).