Fluffy Slovenian jam filled rolls, also known as Buchteln (in German) or Buhtlji (in Slovene) are a treat we like to bake around the holidays. The base is a rich, sweet yeasted dough that we fill with jam before baking. This makes for a nice surprise once you bite into a fresh, pillowy roll. They are quite easy to make and well loved by everyone. Plus they freeze beautifully! So you can have breakfast ready in 5 seconds on some days.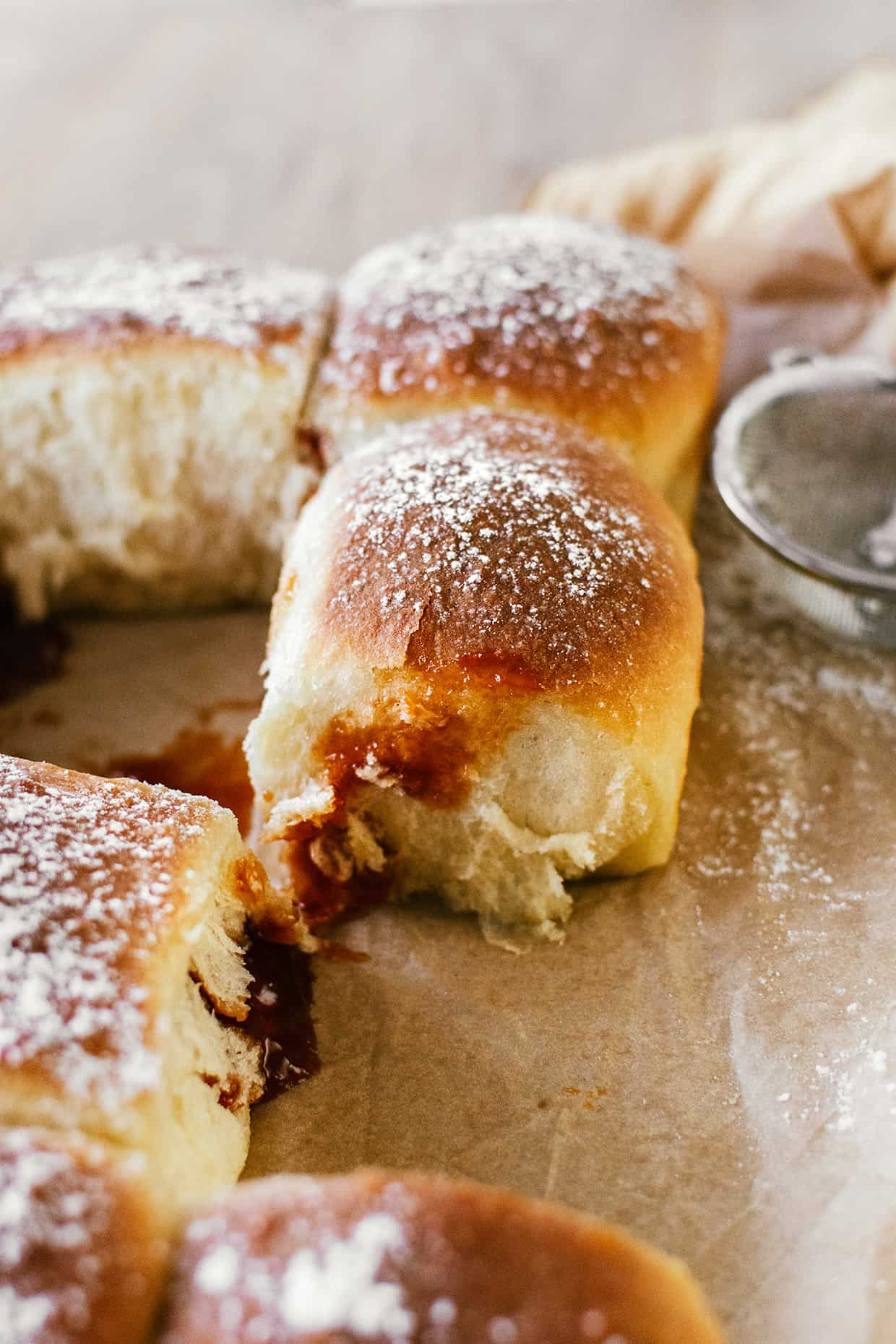 This is one of those recipes I absolutely adore, but actually rarely bake and that's a shame. (I could say the same about these Nutella rolls.) There's something so satisfying about making dough. The kneading of it, the scent that occupies the kitchen as the dough rises – a mix of butter, rum and lemons. It smells like home.
From what the internet tells me, Buchteln originate from Czech Republic. However they are very well loved in Slovenia. As they are in Eastern and Central Europe (which isn't a surprise, given our shared history). A classic Buchteln is supposed to be sweet and soft, heavily filled with jam and just overall delicious. In Slovenia we traditionally fill them with apricot jam and dust heavily with sugar once baked.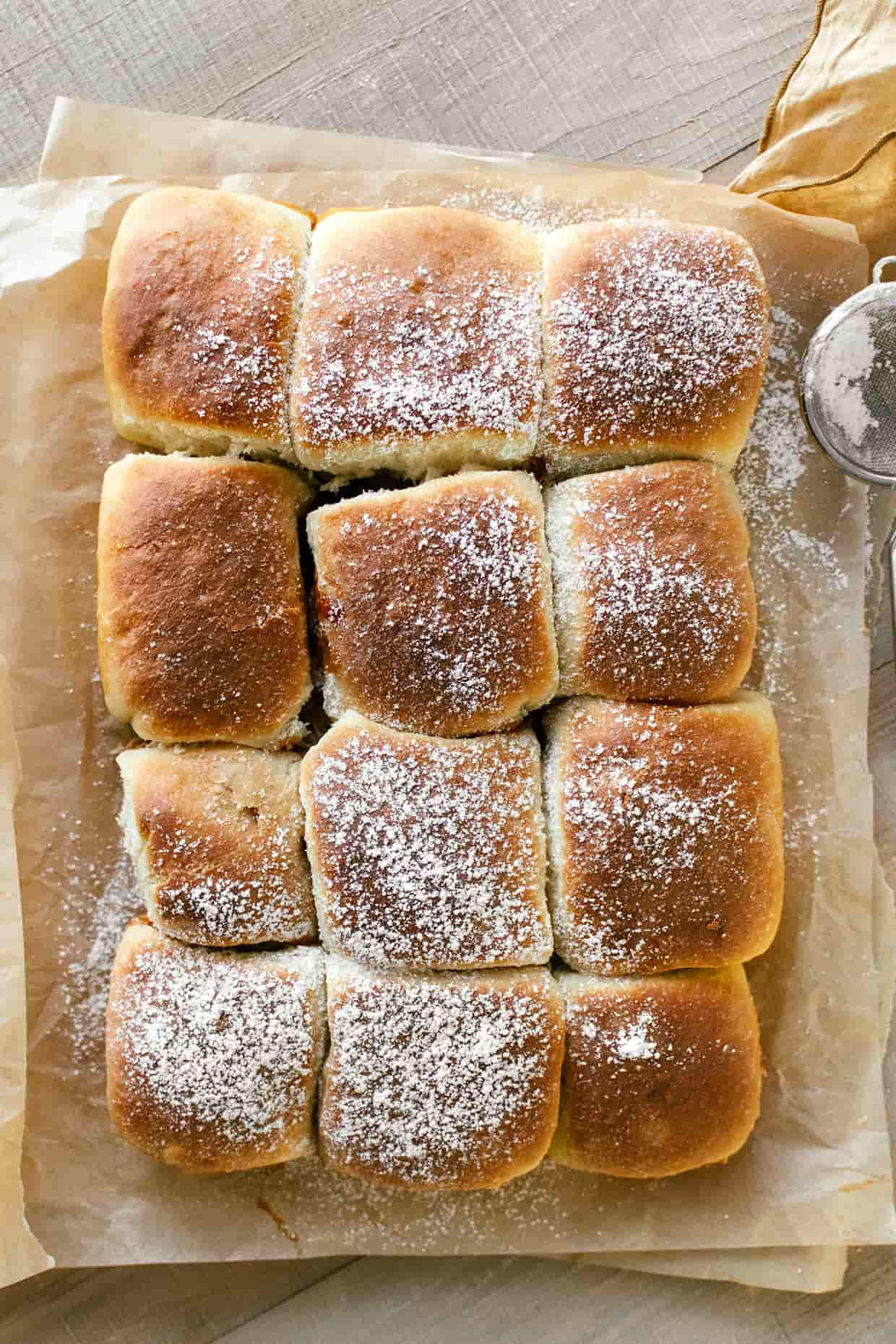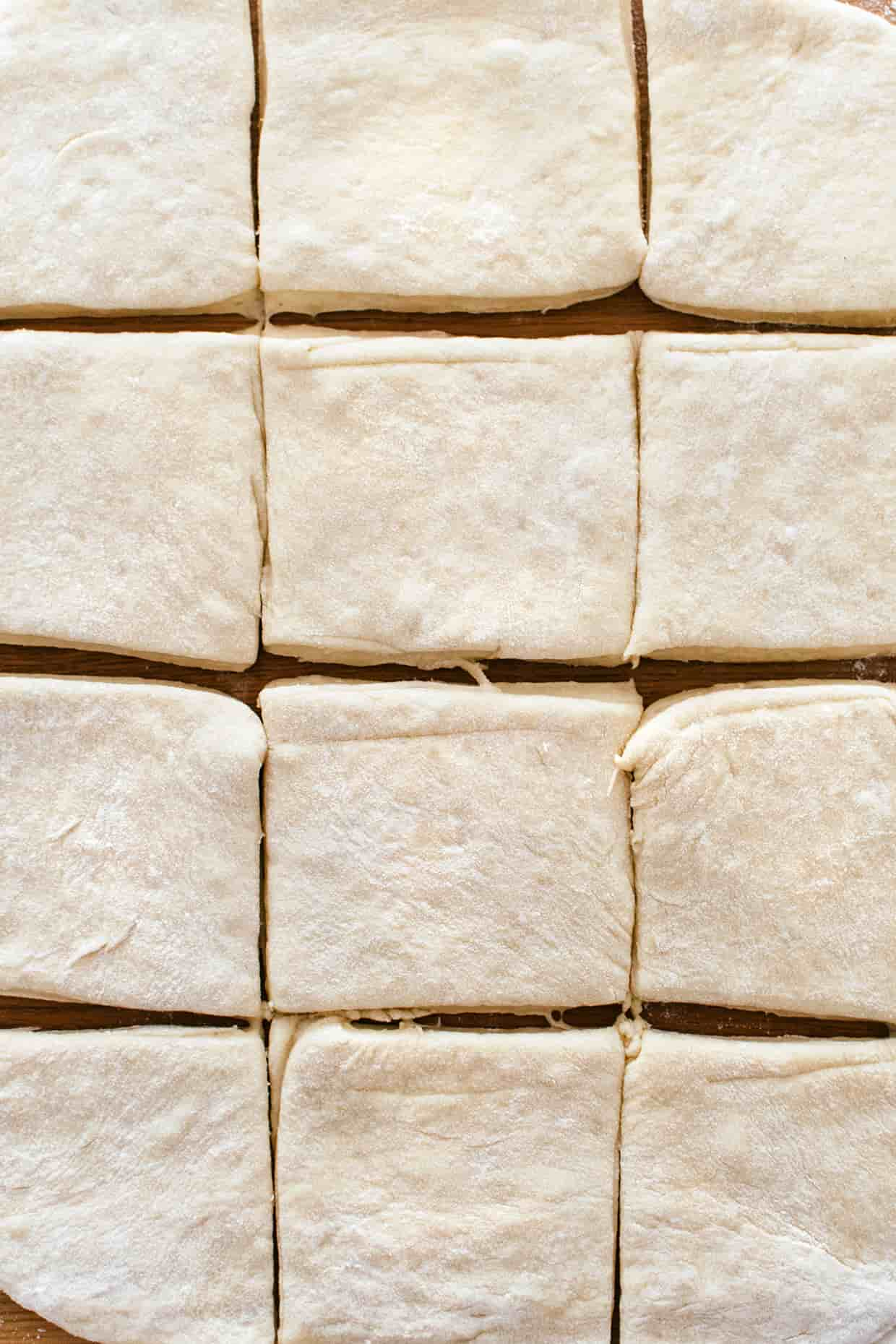 You can make these sweet rolls less dessert-like if you skip the powdered sugar and use a different jam. Apricot jam is so well liked, I can see why it's a popular option. But I love darker jams, like rosehip or plum. And if you want a tart option, cranberry would be perfect too. A roll like that would go great along dinner.
With that said, I have to say my favorite way to indulge in these Slovenian jam filled rolls is with coffee. A powdery, soft roll in one hand and a cup of coffee in the other. And if I had them in the evening, it would be for dinner, not along with dinner. But that's just me.
Make rolls ahead
These jam rolls taste best when they are fresh. Do give them some time to cool once baked, because the jam inside is piping hot. You will burn yourself if you are impatient (one guess as to how I know this). But once they cool down a bit, they are a delight.
Proof overnight
You can easily make the dough one day and then keep it in the refrigerator overnight. Continue with the recipe the next day. Just keep in mind that cold dough takes a bit longer to rise before baking.
Freeze for later
Freshly baked rolls, that are cool to the touch, are perfect for freezing. You can freeze the whole batch. Or you can wrap them individually, stick them in a bag and take them out of the freezer one by one as you please.
Slovenian jam filled rolls (Buchteln)
Fluffy sweet rolls filled with jam! Perfect for brunch and the holidays. Can be made ahead and frozen.
Ingredients
For the dough
1

cup

(

240

ml

)

full fat milk

2

teaspoons

instant or active dry yeast

3 2/3

cups

(

490

g

)

all purpose flour

,

plus more for kneading

1/4

cup

(

50

g

)

granulated sugar

3

tablespoons

(

45

g

)

unsalted butter

,

melted

2

(

2

)

large eggs

,

whisked

1

teaspoon

fine sea salt

1

teaspoon

lemon zest

1

tablespoon

(

15

ml

)

dark rum

vegetable oil

,

for greasing the bowl
For the rolls
3

tablespoons

(

45

g

)

unsalted butter

,

melted

1

cup

(

240

ml

)

jam of your choice

,

I use rosehip
Extra
butter

,

for greasing the pan

powdered sugar

,

for serving (optional)
Instructions
Make the dough: Place milk in a heatproof bowl and warm it up on the stove or in your microwave, until it's warm but not hot to the touch. Gently stir in yeast and allow it to dissolve.

Transfer flour to the bowl of your stand mixer (or use a large bowl for hand-mixing. Pour in the milk with yeast, sugar, melted butter, whisked eggs, salt, lemon zest and rum. Using a dough hook (or a wooden spoon if mixing by hand), mix the ingredients on low speed until the dough starts to take form.

Knead for about 5 minutes, until the dough is starting to form a ball and is pulling away from the bowl. If it's too sticky and isn't coming together in a lump, add flour tablespoon by tablespoon until it is.

Transfer the dough to a large, lightly oiled bowl. Cover it with a kitchen towel and let proof in a draft-free area until doubled in size, about 1 to 1 1/2 hours.

Make the rolls:

Transfer the dough to a lightly floured surface and roll it out into a rectangle,  about 1/2 inch (1 cm) thick, measuring approximately 12×16 inches (30×40 cm). Slice it into 12 squares.

Place about a tablespoon of jam in the center of each square. Lift and pinch the opposing ends together, as if you are making a little package, to close all the openings and keep the jam inside. Gently shape them into balls.

Place the rolls in a buttered 9×13 inch (23 x 33 cm) baking pan, pinched side down. Cover with a kitchen towel and let proof for 30 minutes. Preheat the oven to 350°F (175°C).

Gently brush the rolls with melted butter right before baking (keep leftover butter for later). Bake in the center of the oven for 25-30 minutes, until the tops are brown and the rolls sound hollow when tapped.

Using the leftover melted butter, brush it over the hot rolls. Serve rolls warm or at room temperature but not hot (as the jam can burn you). Sprinkle with powdered sugar if desired.
Notes
Make ahead
Once you make the dough and put it in an oiled bowl, you can cover it and let it rise in the refrigerator overnight. Continue with the recipe the next day, but keep in mind the rolls may take longer to rise prior to baking, as the dough is cold.
You can freeze freshly baked rolls once they cool to room temperature. Wrap the whole batch well or wrap each roll individually and place in a bag. Thaw on the counter overnight (or in you microwave if possible).
Text recipe
Email recipe
Pin Recipe