Super soft and flavorful coconut Nutella cinnamon rolls that you'll want to make every weekend from now on. This is an easy recipe that lets you make these cinnamon rolls overnight, splitting the work in two parts. The dough is fluffy and so rich, filled generously with Nutella, shredded coconut and cinnamon. All three flavors mesh beautifully, making these rolls perfect for morning treats, weekend brunch and of course the holidays.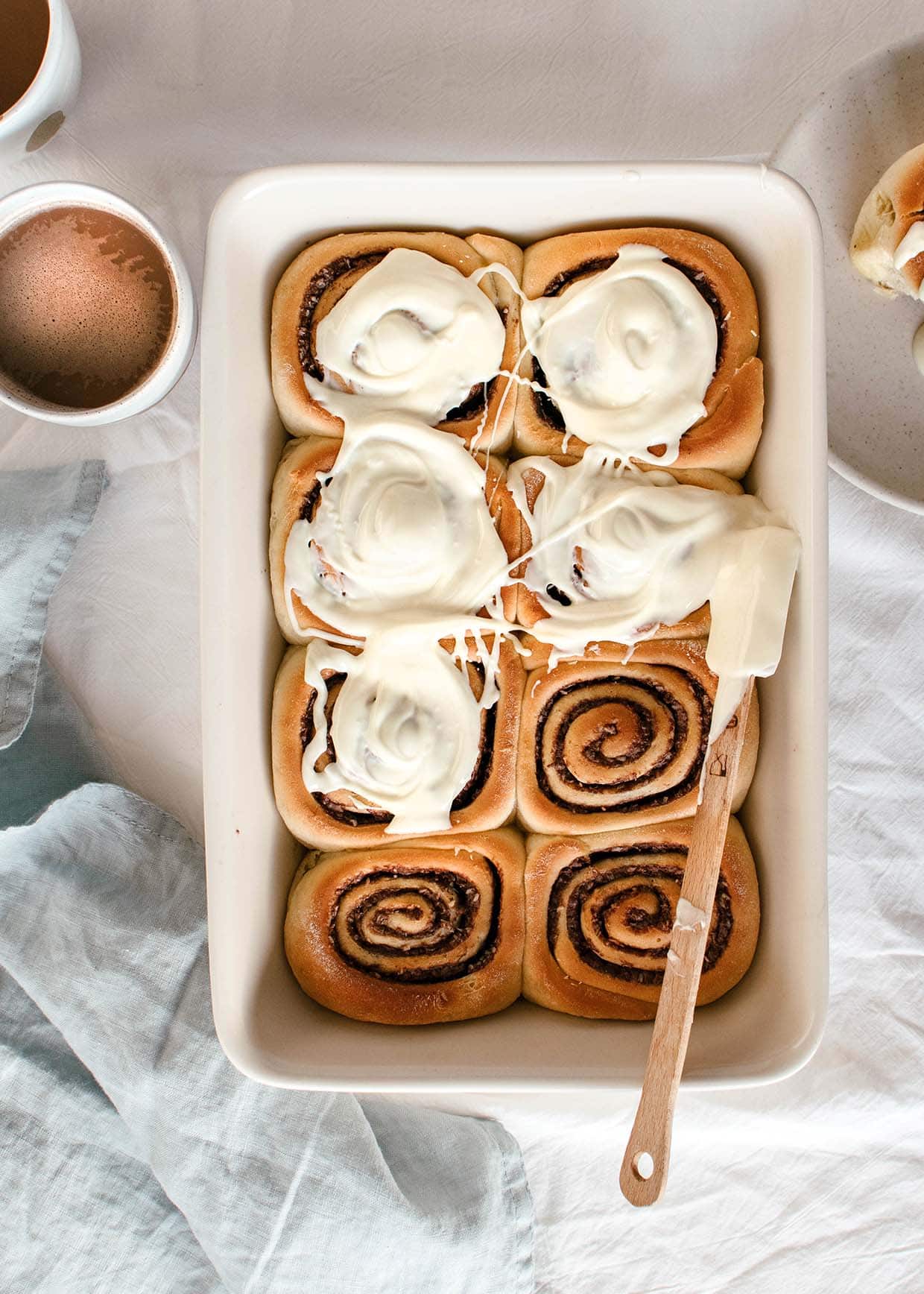 Sometimes all I crave is a cinnamon roll that is more than just a cinnamon roll. Is that crazy? That's exactly how the recipe for these coconut Nutella cinnamon rolls came to be. I remember craving cinnamon rolls and I thought adding Nutella would be really nice. And then the next time I made the rolls I added some shredded coconut too. Yum!
My favorite things about these coconut Nutella cinnamon rolls
How easy they are to make
While there are some steps involved, I usually split the work for these into two days. On day one, I make the dough and refrigerate it overnight. On day two, I finish making the rolls and bake them. It makes the whole process less daunting and easier to squeeze in on busy days.
The fact that they are so soft
Made with an enriched buttery dough, the amount of flavor you get is insane! Not going to lie, I've made myself sick with these before because sometimes I just need to go for seconds!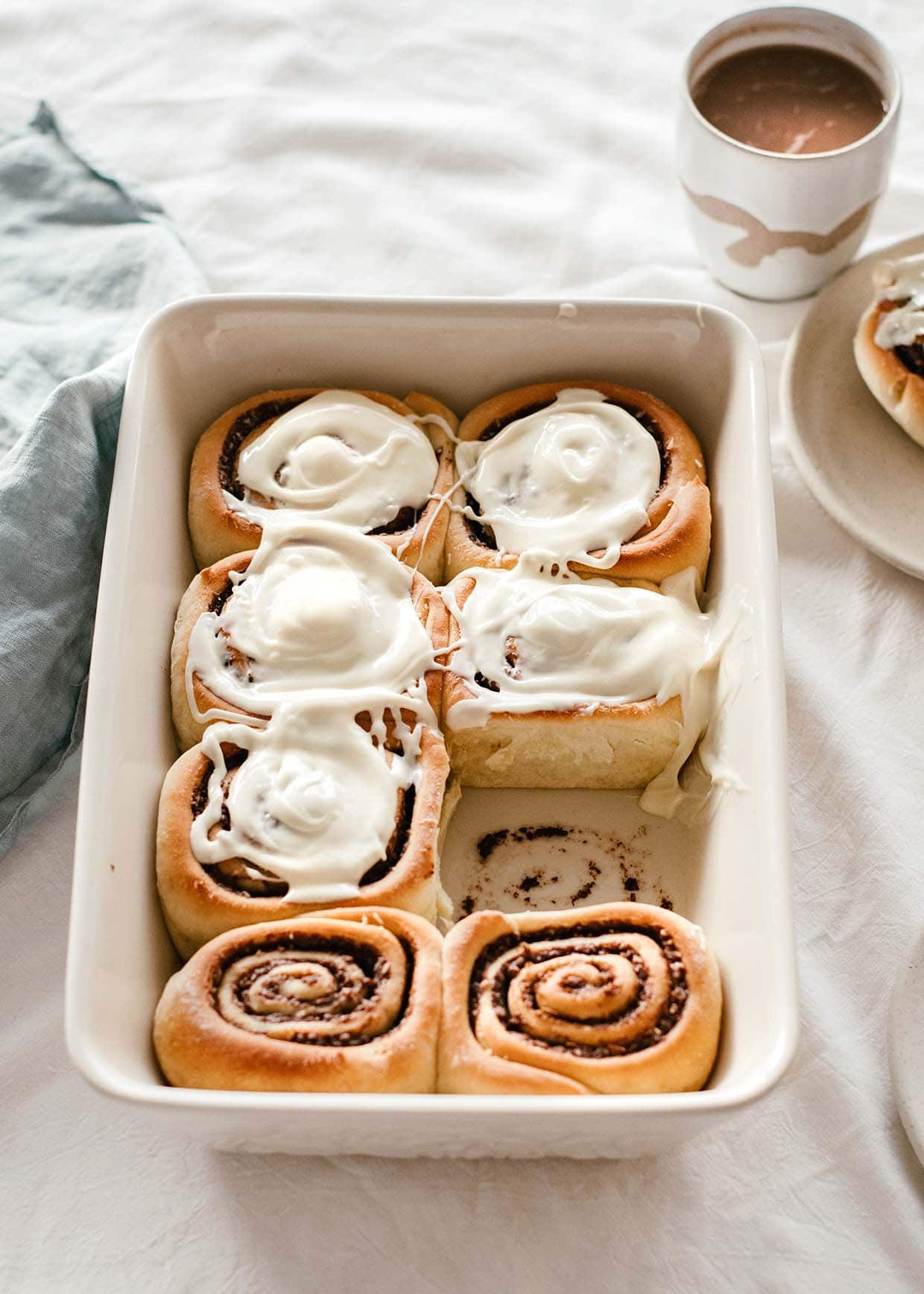 How they last for days
It's true! When wrapped properly, these will stay good and soft for days. I like to warm them up in the microwave and I find that that makes them softer. And also, they freeze beautifully! If I know I want to freeze some, I skip the chocolate glaze. I just let the rolls cool to room temperature, then I wrap them really well and freeze in a bag. They are so easy to thaw, either in the microwave or overnight in the refrigerator. Once they're ready, I glaze them as if they were fresh. And they are so good!
Just their incredible and unique flavor
I know that combining chocolate and cinnamon isn't a novel idea. Neither is combining chocolate and coconut (I know, I used to be obsessed with Bounty bars). But all three together are somewhat unusual. And the addition of white chocolate glaze? Now that's even more next level. And all these flavors work beautifully together. As long as you like all three on their own, trust me you'll love them in this recipe.
How to make chocolate cinnamon rolls
There are a few steps involved in making these. They can seem daunting at first, but when you get to it, you'll see it's nothing you can't handle.
1) Make the dough
There are quite a few components involved to make this dough. The easiest way to tackle this recipe is by laying out all of the ingredients you need out on the counter, so that you're not searching for them mid-recipe. It streamlines the whole process and makes it headache-free. And it's also a great way to check if you 100% have every ingredient on hand before diving in.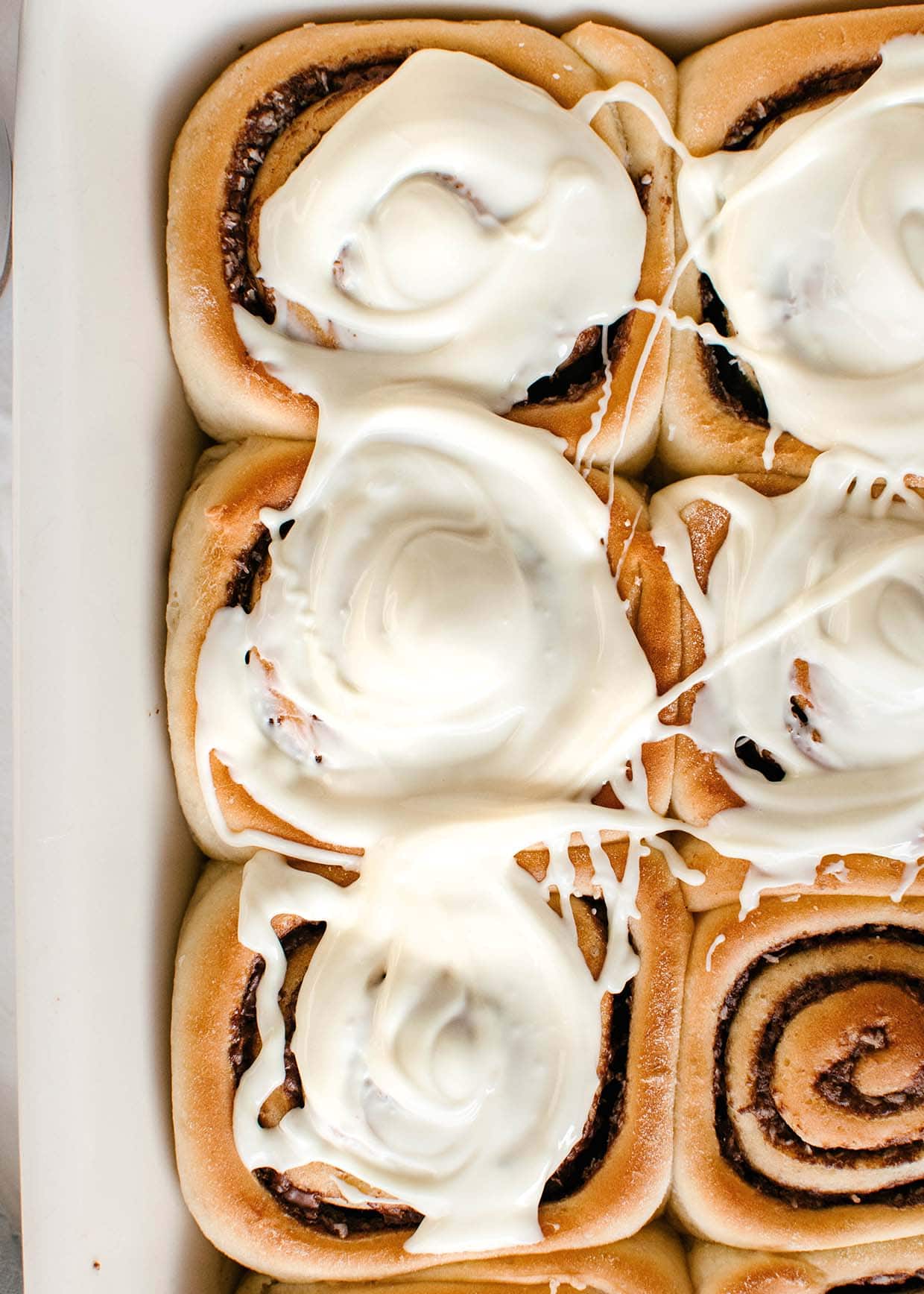 2) Let the dough rise
So, you can wait about 1-2 hours for this first rise and then proceed with the recipe. But if you want to split your work into two days, all you have to do is cover your bowl and stick in the refrigerator overnight. You don't even have to watch your dough. It's safe in the refrigerator and it will slowly rise overnight.
3) Make the rolls
After those 1-2 hours or the next day, you get to make the rolls. Punch down the dough, roll it out and generously load it with Nutella, coconut and cinnamon. Slice the rolls, place them in baking pans and let them rise again. For slicing, I love using dental floss. It's honestly easier than using even the sharpest knife. This second rise is faster and it'll take about 40 minutes, while your oven preheats.
4) Bake the rolls
You're here, yay! For how long these take to prep, they are baked quickly. Baking cinnamon rolls takes about 15-20 minutes and after that they're ready to be devoured.
5) Make the glaze
This is a completely optional step, but I love making these coconut Nutella cinnamon rolls super chocolaty. That's why I glaze them with melted white chocolate. No worries, the chocolate hardens as it cools but it makes the rolls taste incredible!
How to make cinnamon rolls super soft and fluffy
When you look at a classic yeasted dough (e.g. for pizza) it is made with flour, water, yeast, salt and often oil. That kind of recipe makes a soft-enough dough for pizza. But when I am making sweet baked goods, I also want a sweet enriched dough.
An enriched dough involves more ingredients, like butter, sugar, eggs. All of these makes the dough not only more flavorful, but even softer. And that is what you're getting int his recipe. All the extra fat makes the dough really soft.
Enriched dough sounds so fancy, but it's really just sweet yeasted dough. Think about all of your favorite things like babka, challah, brioche, colomba pasquale (Italian Easter bread) and so on. The extra fat and sugar make all of those breads crazy good.
Best yeast for cinnamon rolls
As mentioned, making an enriched dough helps with flavor and softness. But yeast is still the most important factor. That's why kneading the dough matters. And why you have to let it rise and proof.
When it comes to yeast, there are quite a few varieties out there which don't always make it easy to make the best choice when buying yeast.
Fresh yeast
It's sold in little cubes and it crumbles when you decided to use it. I actually like the flavor that it produces, but since it only lasts about 1-2 weeks in the refrigerator I'm not the biggest fan. Having dry yeast on hand is much more convenient. However if using fresh yeast, double the amount needed in the recipe. You also have to dissolve it in water (or milk) first, before using.
Instant yeast
It's dried yeast that can be added straight to the dry ingredients. I often use this in my recipes. However, I actually always activate it in warm liquid first and only then add it to the mix. I once read an article saying we don't have to activate dry yeast, ever. But I still do it anyway.
Active dry yeast
It looks almost the same as instant yeast. I think this is the most available kind and also the most versatile. You're normally required to activate it in a warm liquid first. Unlike instant yeast, dough make with this yeast might need a bit more time to rise. But overall it's a great choice.
Yeast for sweet dough
I know that SAF Yeast has a variety made specifically for sweet dough. It's called Saf GOLD. This special yeast is made for any dough that has more than 10% sugar per flour used. That means that you can use it in this specific recipe, but trust that the recipe works with instant or active dry yeast too.
Instant and active dry yeast are interchangeable. So if a recipe calls for 2 teaspoons of active dry yeast, you can use instant yeast instead (and the other way around).
If you want to read up more on this, King Arthur flour have a nice article about active and instant yeast.
Why make overnight cinnamon rolls
If I can, I like to stretch this recipe out and make overnight rolls. You don't have to do it, they will taste just as good if made and baked in one day. But letting the dough rise slowly overnight is really great. Here's why.
Splitting work into two days makes the whole process a lot easier. That's a given. And letting dough rest overnight helps with flavor development, or at least I think it does.
But my main reason is that chilled dough is easier to handle. These rolls are made, as mentioned before, with sweet dough. The extra fat and sugar make it delicious and make the rolls really soft. But that also means that the raw dough is softer. Letting dough rest overnight will give it the necessary rise. And it will also make it super cold.
And super cold dough is a breeze to work with! It's easy to roll out, but it's not super soft. Once you add the toppings and start rolling it, it's just much more compact. And then when you slice the rolls, they won't be so quick to fall apart. But then when you let the rolls rise in a warm environment, they will warm up an become all soft and puffy and perfect to bake.
Best glaze for cinnamon rolls
As you read through the recipe you'll see that I'm including my simple white chocolate glaze. This is entirely optional, but personally I love it. When I was thinking about this recipe, I just couldn't bring myself to add a cream cheese glaze.
I love a good cream cheese glaze. And I think it works great on classic cinnamon rolls, but I don't see it as a great fit for these coconut Nutella cinnamon rolls. It could work, I just prefer to skip it.
The next glaze is your classic sugar icing. Once again, it just seems a bit plain for a recipe like this, although I think it could work.
And then I thought of white chocolate. I know, as if you need more chocolate?! But it just adds another layer of flavor. It's different enough from Nutella that you notice it, but it's still chocolate. We could also call these rolls double chocolate rolls, right?
You make the white chocolate glaze by simply melting white chocolate in a double boiler. I add a touch of coconut oil to it, because it gives it that pretty shine.
You can also skip the glaze completely and simply dust these Nutella rolls with some powdered sugar. Or just smear some fresh Nutella over each rolls. Basically, you can do whatever you want.
Yes, these coconut Nutella cinnamon rolls are sweet. But they are sweet in all the right ways and they offer me comfort when I need it most. I love how soft they are, filled with gooey Nutella and crunchy coconut. The cinnamon gives them an incredible aroma and the white chocolate on top just makes these rolls a dream dessert. It's a baking project that really pays off.
Coconut Nutella cinnamon rolls
Made with an overnight dough, to make the process easier. Super soft and stay that way for days. 
Ingredients
Dough
1/2

cup

(

120

ml

)

whole milk

1/4

cup

(

50

g

)

granulated sugar

2

teaspoons

instant or active dry yeast

3

cups

(

400

g

)

all purpose flour

(plus more for kneading)

1/2

teaspoon

sea salt

4

tablespoons

(

55

g

)

unsalted butter

(melted)

2

large eggs

(whisked)

1

teaspoon

vanilla extract

sunflower or vegetable oil

(for greasing the bowl)
Filling
2/3 – 1

cup

Nutella

(a 13 oz (400g) jar will suffice)

1/2

cup

(

50

g

)

shredded coconut

1

tablespoon

ground cinnamon

(more to taste)
Glaze
7

oz

(

200

g

)

white chocolate

(finely chopped)

1

teaspoon

coconut oil
Instructions
Make the dough
Warm up milk in a small bowl until it's warm but not hot to the touch. Stir in a teaspoon of sugar, then add the yeast and let it dissolve and bubble up. 

Combine flour, the rest of sugar and salt in your stand mixer (fitted with the paddle attachment). Stir in the yeast mixture, then butter, eggs and vanilla. Beat on low for a few minutes, the dough will be sticky, but should clump together into a ball. 

Scrape dough from the sides of the bowl and transfer it to a floured work surface. Knead it for a few minutes, adding more flour if it's too sticky until the dough goes from sticky to smooth, elastic and you can easily shape it into a ball.

Lightly oil a large bowl with oil. Transfer dough to the bowl, turn it around until it's completely coated. Cover the bowl with plastic wrap. Keep dough in the refrigerator for overnight rolls. For same-day baking, let dough rise in a warm area until doubled, about 1-2 hours.
Make the rolls
When you're ready to bake rolls, punch down the dough and transfer it to a floured surface. Roll it out to a 16×16 inch (40×40 cm) square. 

Spread a generous amount of Nutella all over, leaving a 1/2 inch (1-cm) border on top side. Sprinkle with cinnamon. Next, sprinkle with shredded coconut, just until the whole area is covered but coconut isn't piled on (you should still see Nutella underneath). 

Starting at the side opposite to the 1/2 inch border of bare dough, roll the dough into a log.  Brush away any excess flour on the bottom side and dampen the "seam" with water. Pinch dough together, to keep it rolled up.

With seam side down, cut dough crosswise into 16 equal slices (14 pretty and 2 ends), using dental floss or or a very sharp thin knife.

Lightly grease a large baking dish (I used 2 medium ones). Place in the rolls, cut side up, leaving some space in between. Cover baking dish with a kitchen towel and let rolls rise in a warm place until almost doubled, about 30-40 minutes.

Preheat oven to 350°F (180°C). Bake rolls in the center of oven until tops are light brown, about 20 minutes. Remove from oven and let them cool in the baking dish for 10-15 minutes before serving. 

Meanwhile make the white chocolate glaze:

Place chopped chocolate in a medium heatproof bowl set over a pot of barely simmering water.  Make sure the water isn't touching the bottom of the bowl. As chocolate starts to melt, gently stir it with a spoon. When most of it is melted, remove bowl from the stove and place it on a kitchen towel. Stir in coconut oil until the mixture is completely smooth. Let cool for about 10 minutes, then stir again and spread over rolls. As the chocolate cools completely, it will harden.

You can store rolls in the refrigerator or at room temperature (if it's not too hot where you live), covered, for up to 3 days. You can freeze unglazed rolls, wrapped tightly, for up to 3 months. 
Notes
Both instant yeast and active dry yeast work in this recipe and are interchangeable. One thing that can happen with different types of yeast is that the rising time of dough can change. Active dry yeast can be a bit slower to rise, whereas instant or quick rise types of yeast act faster. 
To be on the safe side, don't just keep an eye on the time listed in the recipe, watch your dough as well. If you see it has doubled already, before my recipe says it would, continue with the process. On the other hand, if the time I gave in the recipe is already up and your dough hasn't risen entirely yet, keep it covered and let it rise until it's ready. 
If you don't like Nutella, you can use any other chocolate spread of your choice. 
For an extra twist, you can try toasting coconut before using. 
Leftover rolls freeze pretty great. It's ideal if you double wrap them, for example in plastic wrap first, then put them in a bag and freeze. Thaw them overnight in the refrigerator or in a microwave (using the "defrost" function). 
Email recipe
Pin Recipe