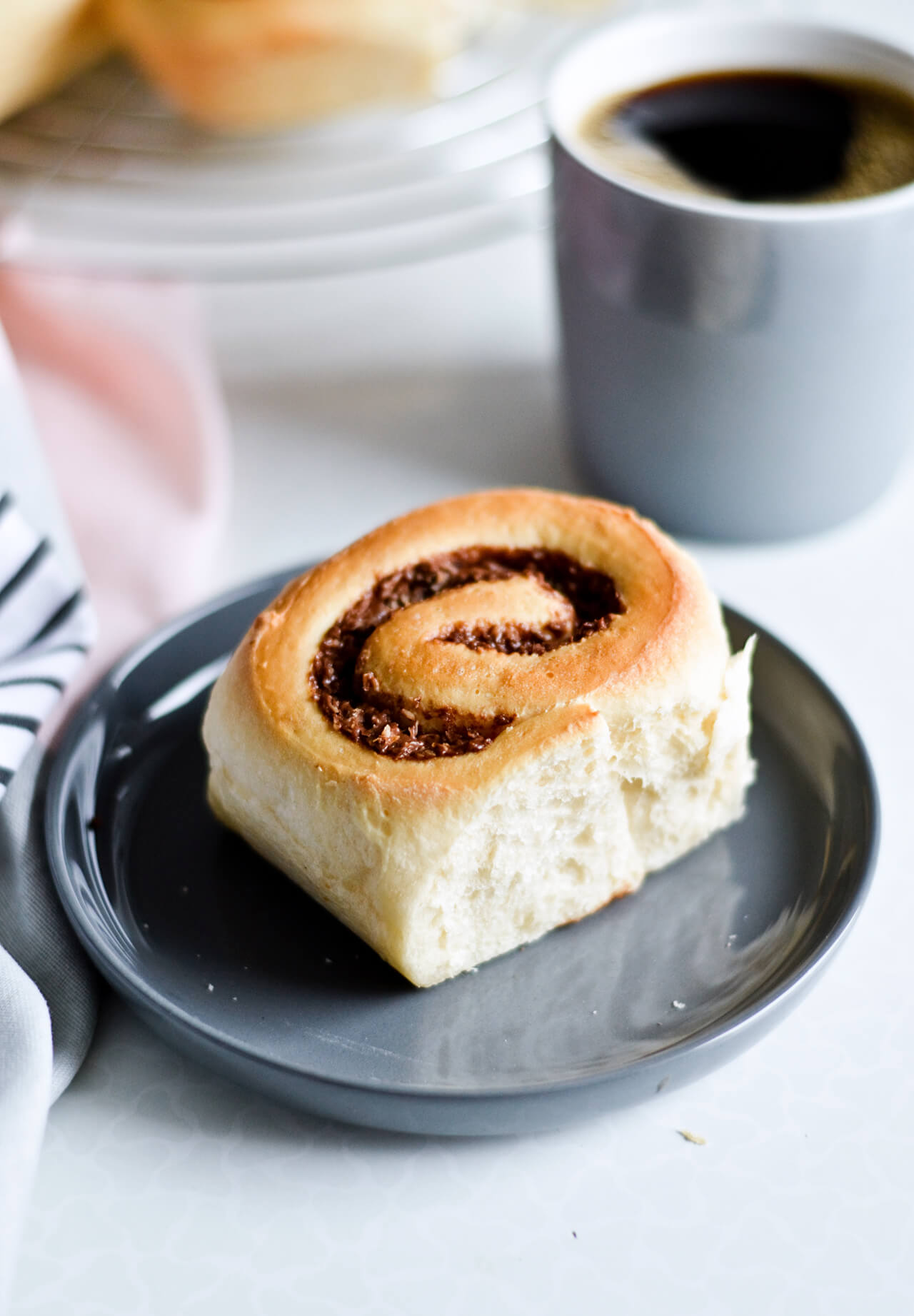 Anyone watched the Golden Globes? Had any snacks while watching? Like Nutella cinnamon rolls?
I admit I haven't seen the whole thing. I did watch the red carpet, the rest were just snippets I caught online. And I did catch the most important bit which was Leo's win! That and the way Lady Gaga bumped into him on her way to the stage. Boy did people jump on that!
Anyway, Leo DiCaprio got another Golden Globe award. Does this finally mean he gets an Oscar too this year? Finally?! I admit I haven't seen The Revenant yet, but I've seen the majority of what Leonardo has done and he really needs to get that thing. I feel like some didn't have to work this hard for it. So, quite frankly, that Oscar is long overdue and for all I care he could make a farting movie and should still get it.
Pardon my fangirling, I am just passionate about certain things. As far as fashion goes, my two favorites were Jenna Dewan Tatum and Jamie Alexander who kind of looked like twins.  I loved the color of their dresses, one emerald and black, the other dark blue with a pretty silver pattern. I want those dresses in my closet, although I have no place to wear them to.
You know I love wearing sweats at home, or pyjama bottoms; and sometimes when I've been out for long I can't wait to come home and just change into something comfortable. And I don't really want to wear a dress outside, I just want to do it at home. Like in the infamous Gilmore Girls scene where Rory was getting ready for a dance and she was walking around in her pretty dress eating a taco?  That's what I want. We can be glam at home, right? Sometimes.
I'd just switch that taco for coconut Nutella cinnamon rolls right now. Because I've been really obsessed with these lately. If December was dry and it didn't feel like winter, we're definitely officially in the season now. As predicted it began snowing right after New Year's. And then we experienced some weird days in the last week when the temperatures went up all the way to 17°C (62°F) in some areas. It's cold again now, like it should be in the middle of January.
And naturally when it gets cold my cravings get worse, so I've been making cinnamon rolls a lot lately.  I love the classic rolls, but I also like to experiment with additions and Nutella works like a charm. You know by now just how much I love my Nutella!
Toasted coconut adds another dimension to these fluffy, flavourful clouds of joy. They smell amazing and I promise you won't be able to wait for these Nutella cinnamon rolls to cool. I really prefer to eat them warm, straight from the oven. That first bite when the dough is soft like a cotton ball and you pull it apart with such ease, exposing all the layers, and when Nutella is still melty and gooey is just heavenly.
This recipe makes 8 rolls, so if you're sharing them with someone, chances are you'll be done with them before they get cold. However, if stored in an airtight container, they are pretty tasty the next day too. They make a great breakfast on a grey, crappy morning when you don't want to get out of bed. Because, trust me, you're getting out of bed for these. It's worth it.
And if you want them warm in the morning, unbaked rolls can wait in the fridge overnight. While that coffee or tea are brewing and the oven is heating up, the rolls have enough time to come to room temperature and rise a bit. Then you just bake them for 20 minutes and voila, breakfast is done!
Print
Coconut Nutella cinnamon rolls
Fluffy as a cloud, filled with gooey Nutella and toasted coconut, these cinnamon rolls are something special.
Recipe makes 8 rolls.
Author:
Yield:

8

servings

1

x
Category:

Dessert, Breakfast

Cuisine:

American
Scale
Ingredients
Dough
25

g (1 1/2 tablespoons) unsalted butter, melted

120

ml (1/2 cup) whole milk

60

g (1/4 cup) granulated sugar

1 1/4 teaspoon

s instant dry yeast

310

g (2 cups 6 TBSPs or 11 oz) all purpose flour

1/2 teaspoon

salt

1

large egg
sunflower or vegetable oil or spray for greasing the bowl
Filling
2/3

–

1

cup Nutella
about

25

g (1/4 cup) toasted shredded coconut

1

–

2

tablespoons ground cinnamon
Instructions
In a small bowl combine the milk and one teaspoon of sugar. Heat in the microwave until milk is warm (like a warm, not hot!, bath). Stir to dissolve the sugar, add the yeast and set the bowl aside.
Combine 2/3 flour, sugar and salt in your stand mixer (fitted with the paddle attachment) or food processor (fitted with the dough blade). When the yeast has bubbled up, add it to the bowl, along with melted butter and egg.
Beat on low for a few minutes, the dough will be sticky. Scrape it from the side of the bowl and add a few tablespoons of flour. Beat again on low until flour is incorporated and dough starts to clump together, forming a ball (or blob).
Transfer dough to a floured work surface, add the rest of the flour and knead for a few minutes. Knead until the dough goes from sticky to smooth, elastic and you can easily shape it into a ball.
Lightly oil a large bowl with oil or nonstick spray. Transfer dough to the bowl, turn it around until it's completely coated. Cover the bowl with plastic wrap, then a kitchen towel. Let dough rise in a warm area, which is draft free, for about 1 1/2 hours.
Punch down dough so it releases the air. Transfer to a floured surface and roll out to a 30 x 21-cm (12 x 8 – inch) rectangle. Spread Nutella all over the dough, leaving a 1 cm (1/2 inch) border on one of the longer sides.
Sprinkle with toasted coconut and cinnamon.
Starting at one long side roll the dough into a log. Brush away any excess flour on the bottom side and dampen the "seam" with water. Pinch dough together, to keep it rolled up. With seam side down cut dough crosswise into 8 equal slices, using dental floss or thin cooking string or a very sharp thin knife.
Lightly grease a medium baking dish. Place in the rolls cut side up. Leave some space between the rolls. Cover baking dish with plastic wrap, then a kitchen towel and let rolls rise until almost doubled, about 30-40 minutes.
Preheat oven to 190°C (375°F). Bake rolls in the center of oven until tops are golden brown, about 20 minutes.
Remove from oven and invert onto a rack or baking dish. Cool 5-10 minutes, then turn them right side up one by one. Serve immediately or let cool, then store in airtight containers.
Notes
On toasting coconut: Place shredded coconut in a skillet set over high heat. Toast the coconut for about 3-5 minutes, stirring occasionally, until it begins to get golden and fragrant. Remove from heat and let cool.
The size of the baking dish I used is 15 x 27 cm (about 6 x 11 inches). You can easily use a different size dish, as long as the rolls have a little room to breathe when you place them in.
Adjust the amount of the filling to your taste. I like to fill these rolls with a lot of Nutella, so they're not dry.
You can add more or less coconut if you wish. Know that the more coconut you add, the denser the filling will be.
If you're in the mood for more cinnamon, add another tablespoon.
To get more swirls, roll out the dough a bit wider (making more of a square) and roll it into a log very tightly.
Recipe inspired by Cinnamon rolls by Bon Appétit, March 2008.