Orange yogurt Stollen french toast. Get ready.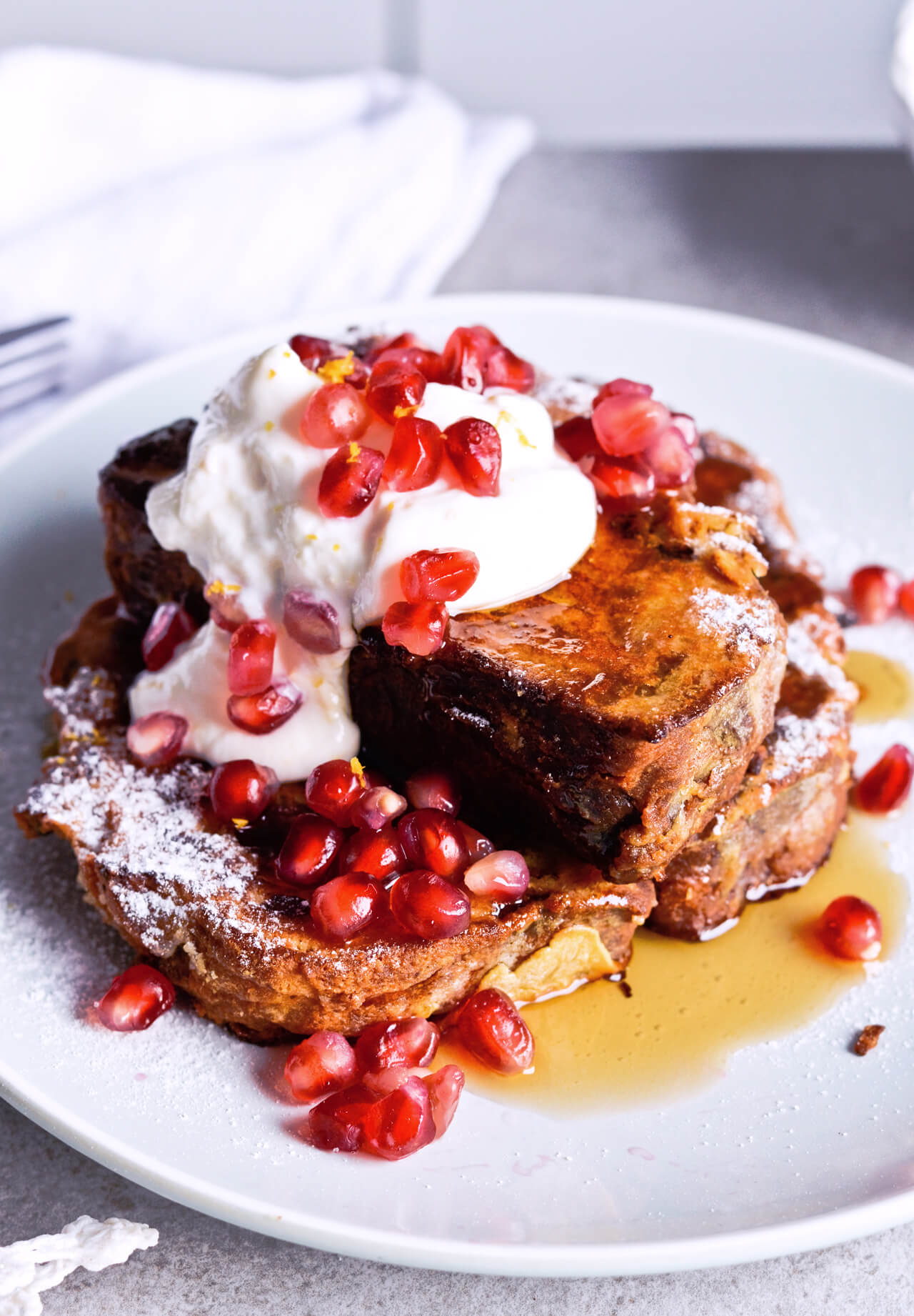 I just don't know where to begin. I just… this recipe has all my favorites wrapped into one neat package. It's really almost too much to handle, emphasis on almost.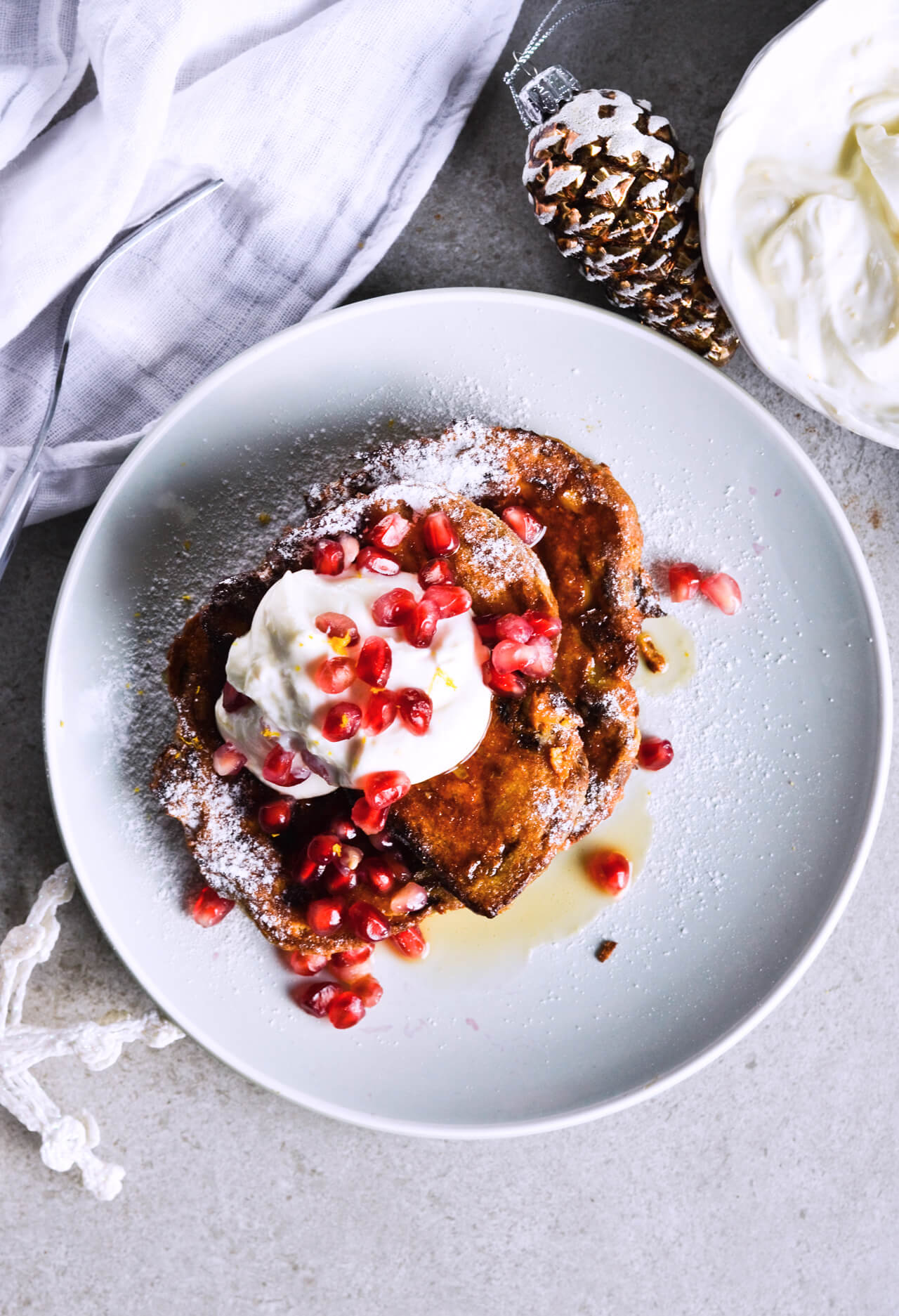 I wanted the first recipe of December to be festive and cozy, just like how December should be. Today is especially festive because St. Nicholas is in town. The parade involves St. Nicholas, angels, a carriage, kids everywhere, etc. which I luckily missed because I don't enjoy big crowds of people. However, I've always liked St. Nicholas, especially when I was younger because I always got a little something for a present.
And now I love it because every store or bakery sells vanilla cream Krampus donuts and I love a good donut, especially when it's shaped oddly. Clearly, I also love a good excuse to buy donuts. Not that I need an excuse, but festive donuts trump ordinary ones, so…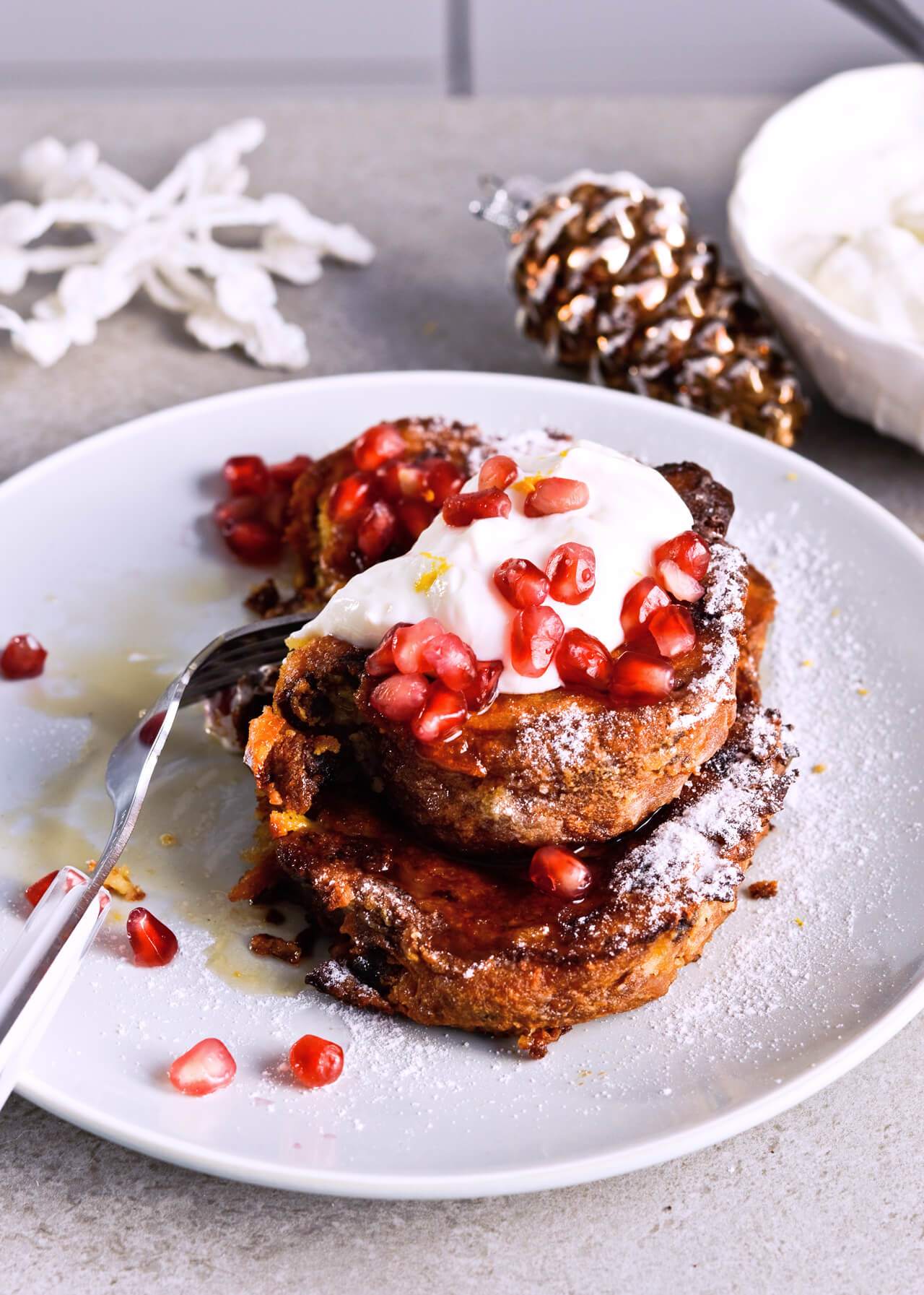 Anyhow, if I compile a list of my December must-eats, the sweet kind, here's what's on it:
Lebkuchen. If there's no lebkuchen, spice cake will do.
Stollen. Store-bought or homemade.
Citrus fruit.
Chocolate in every shape and form.
All the pies.
Potica. 
That's a lot of goodies. All of which I need right now. If you read my Sunday reads you know I've been feeling a bit under the weather, but I'm serious when I say that I feel better now when I've eaten this Stollen french toast twice.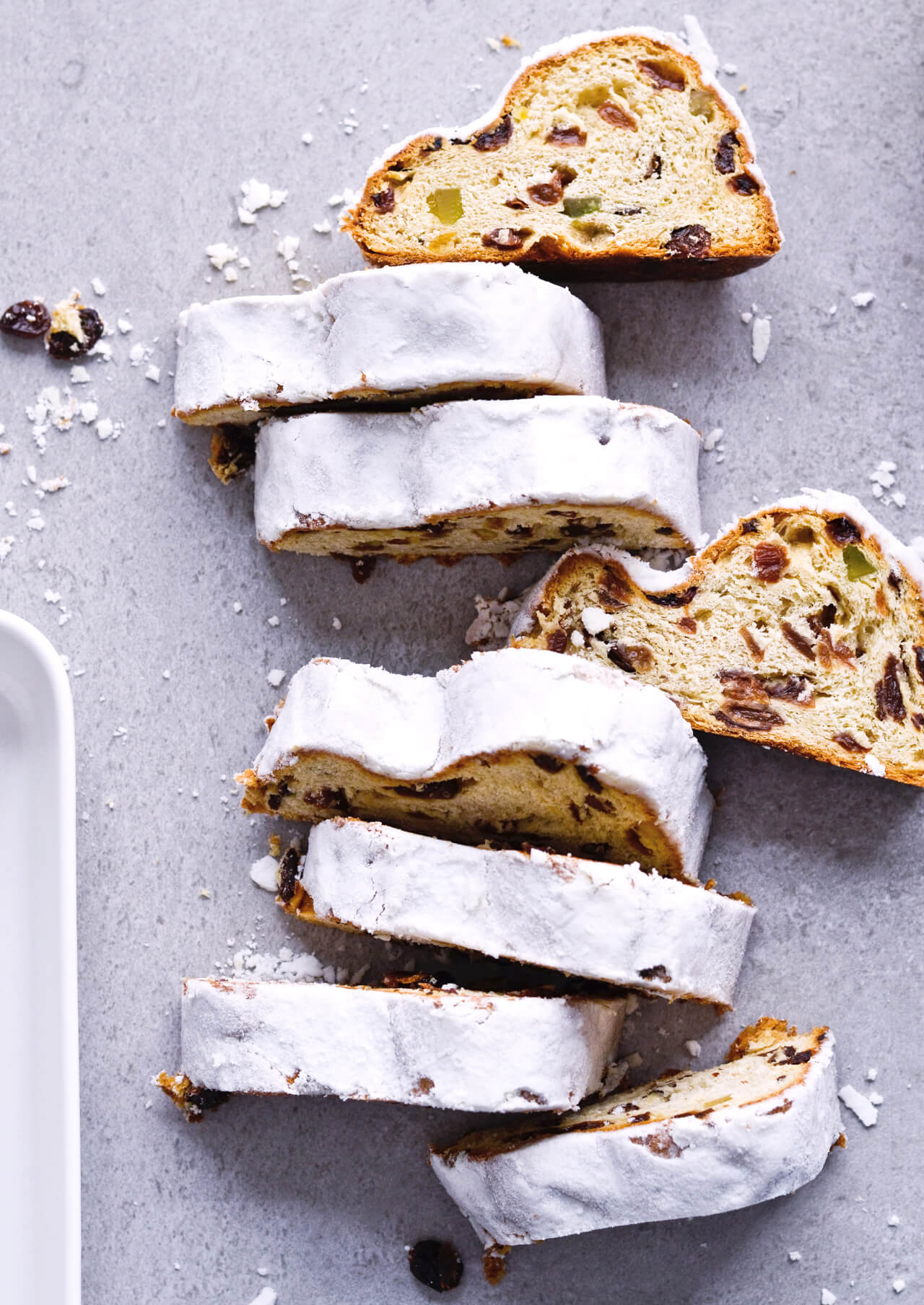 I got the inspiration for the recipe when I was flipping through the pages of Nopi, which is a wonderful book. There's a recipe in there for classic french toast, topped with orange yogurt and I immediately loved the idea of that.
I love thick and creamy Greek yogurt and citrus in any shape and the thought of them together is simply amazing. Of course, if you've looked at any of my recipes, you may have noticed that I put lemon or orange zest in pretty much everything, so it's not surprising that that french toast recipe caught my eye.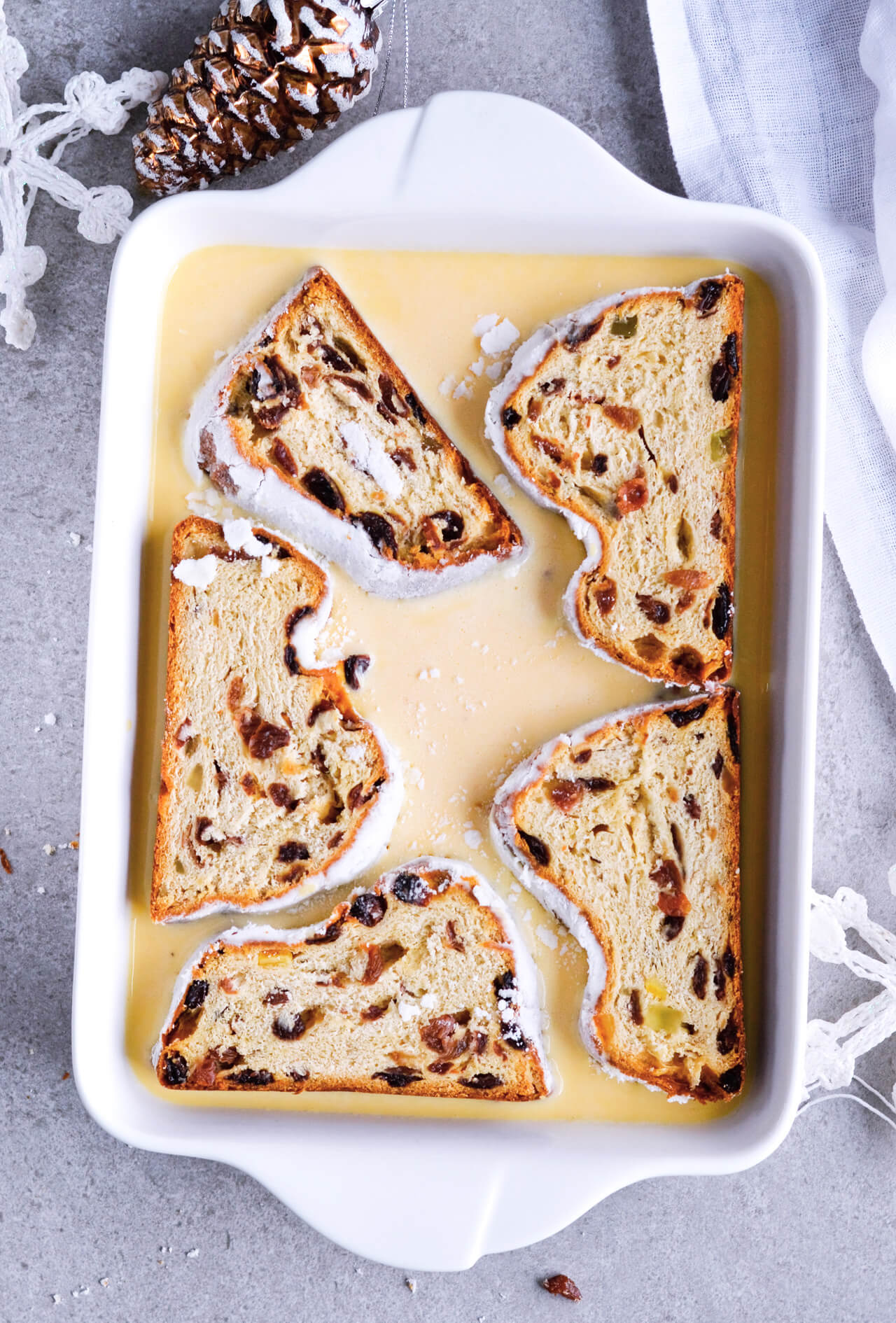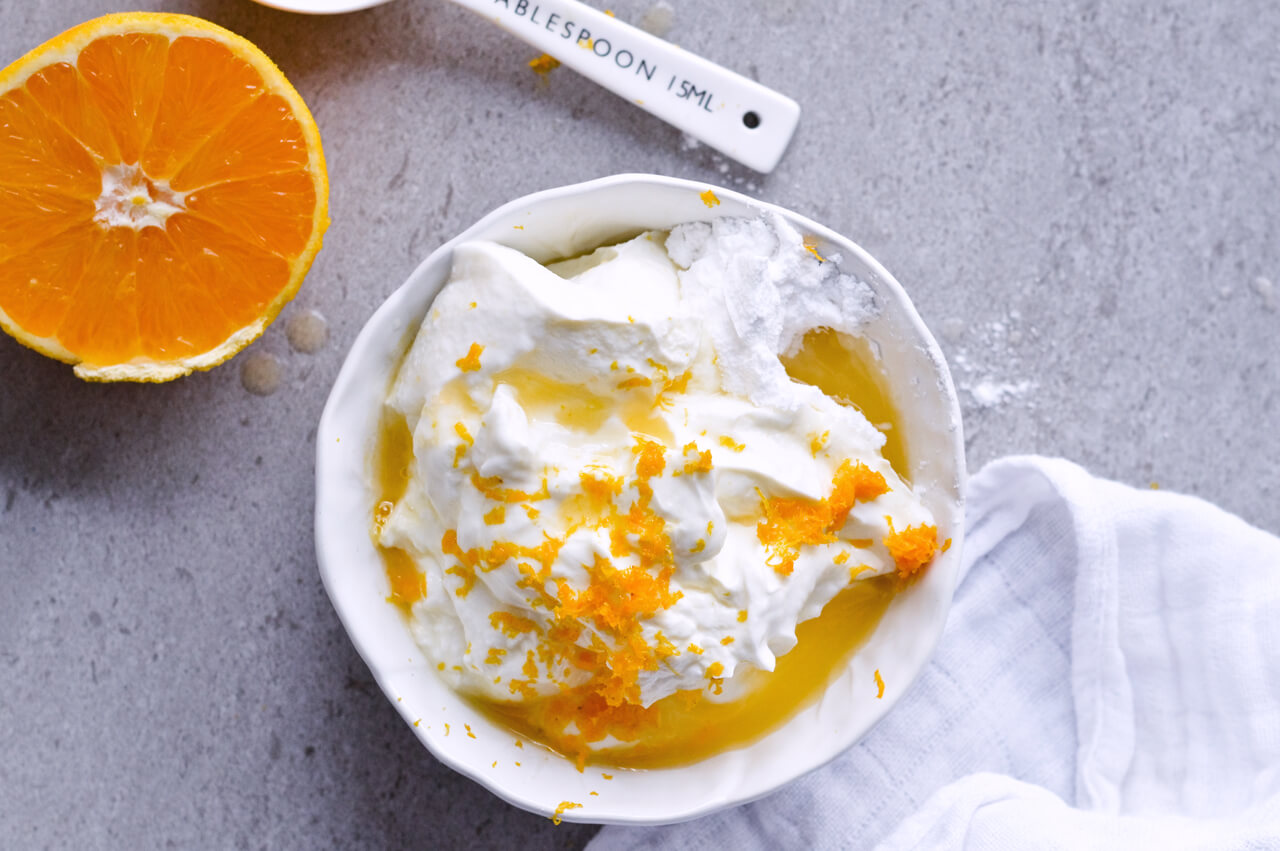 But since it's December, the most indulgent month of the year, I thought I'd do something different and try Stollen french toast instead. Stollen is buttery and is packed with dried fruit, which makes it even more indulgent than brioche, which is what the recipe in Nopi uses.
Stollen meets orange yogurt… and the rest is history. This Orange yogurt Stollen french toast just might be one of my favorite recipes. It is super indulgent, but so worth it.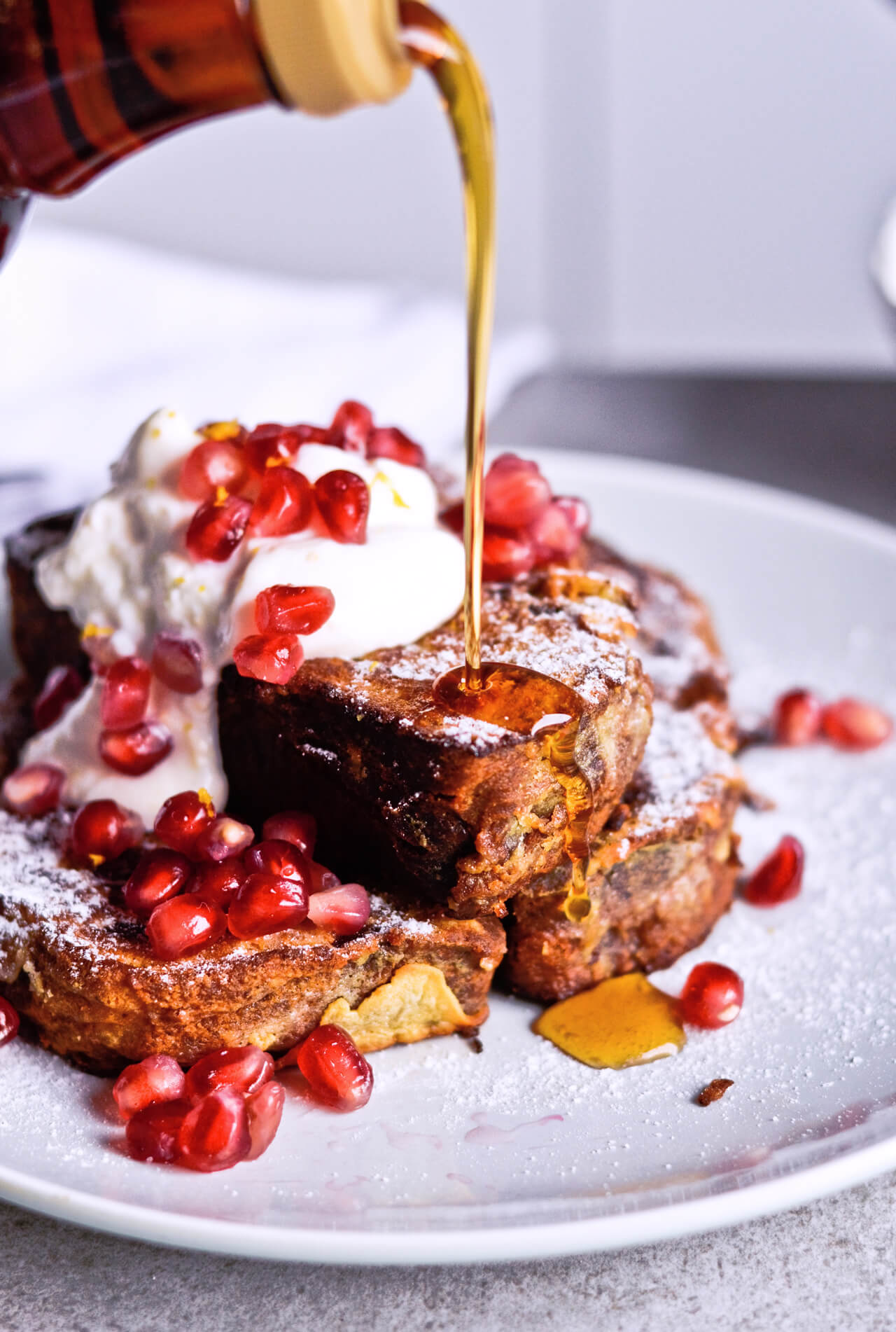 To save me, and you, some time I'm using store-bought Stollen. You can make your own, of course, but I find that for french toast the store-bought version works beautifully. And it speeds up the preparation, which is always a plus. Because this is something that you would ideally eat for breakfast or brunch and with a Stollen loaf already waiting, you can make that breakfast so fast.
The Stollen itself is pretty sweet, so I only use a dash of maple syrup in the egg mixture and no other sweeteners. The end result is of course, for lack of a better word, sweet, but not overpowering. You can't really expect anything different from french toast. However, the yogurt on top makes all the difference. It's the perfect balance to the sweet Stollen, along with pomegranate seeds which add just enough tartness to make this dish a real party of flavors and not just one sweet blob.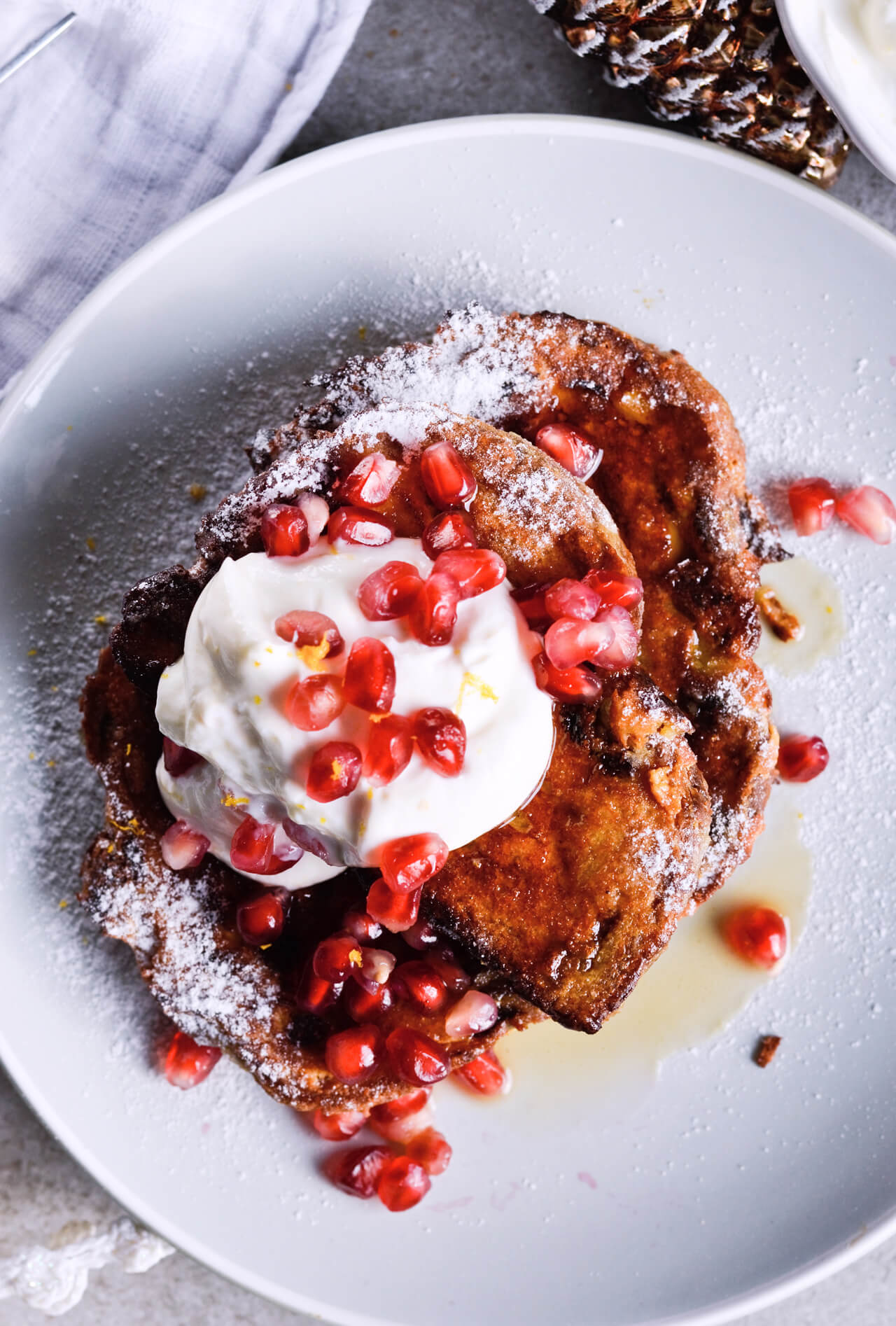 I've now used the word sweet so much it lost its meaning. But basically, I'm just trying to tell you to embrace December for all that it is and make this Orange yogurt Stollen french toast. Everyone will love you for it.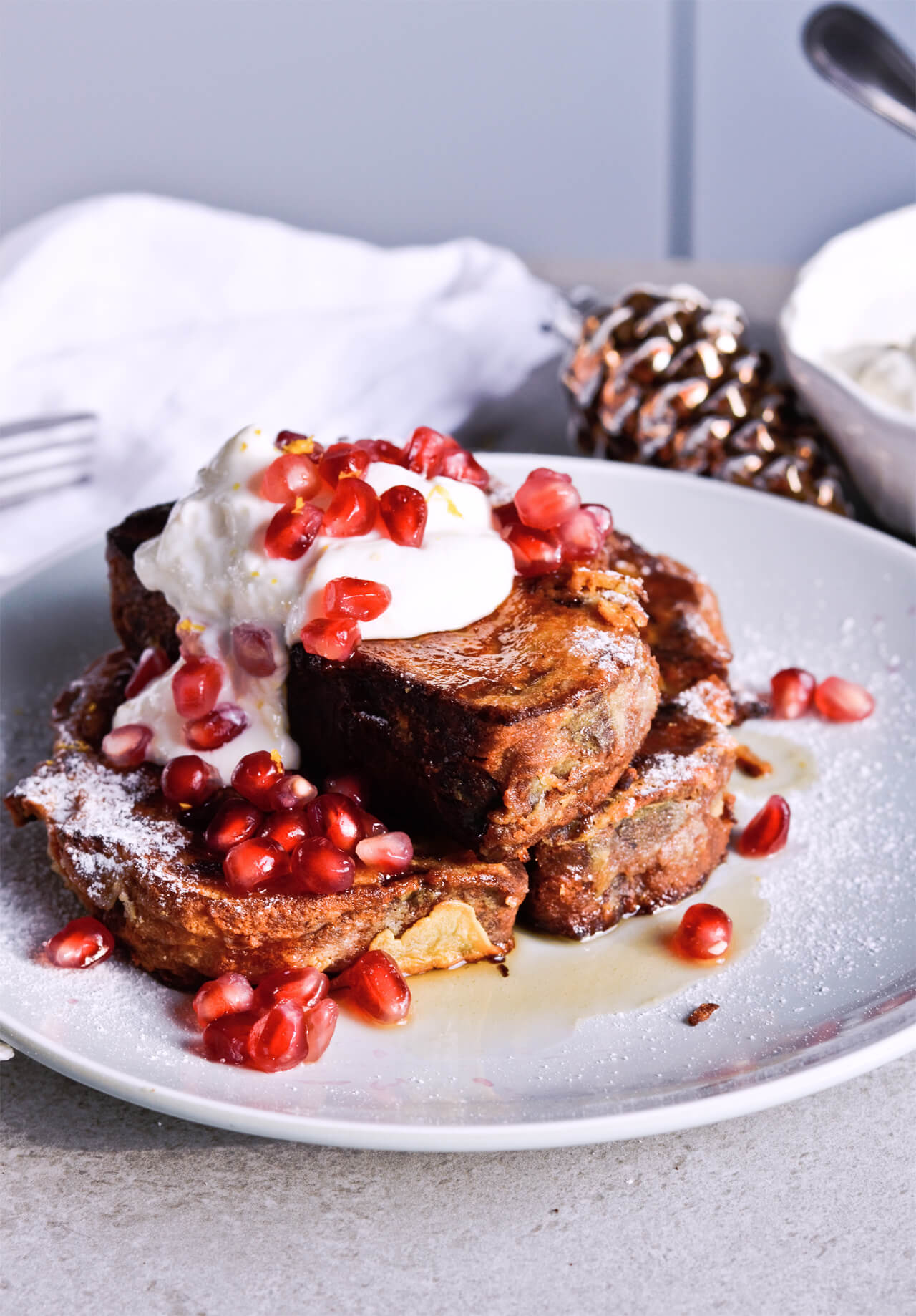 Print
Orange yogurt Stollen french toast
Perfect recipe for festive brunch.
Author:
Prep Time:

15 min

Cook Time:

15 min

Total Time:

30 minutes

Yield:

4

servings

1

x
Category:

Breakfast
Stollen french toast
one

550g

(

19.5 oz

) Stollen loaf, ends trimmed, cut into 2.5cm | 1 inch slices

4

eggs

180

ml (3/4 cup) milk (full fat or part-skimmed)

120

ml (1/2 cup) whipping cream

30

ml (2 TBSPs) maple syrup (optional)

60g

(

1/2

stick) unsalted butter, cut into 4 pieces
Orange yogurt
220g

(

1 cup

) full fat Greek yogurt
zest of

1

organic orange

15

ml (1 TBSP) fresh orange juice (from about

1/2

orange)

1 TBSP

powdered sugar or

1 TBSP

maple syrup or honey
For serving
powdered sugar
pomegranate seeds
maple syrup (optional)
Instructions
First make the french toast:
Line a baking sheet with parchment paper, set aside. Preheat oven to 240°C (464°F). Crack eggs in a medium bowl and beat until slightly fluffy. Add milk, whipping cream and maple syrup and whisk until incorporated.
Place slices of Stollen in a large rectangular baking dish or a few smaller pans / plates. Leave enough space around each slice, so you can flip it later. Pour in the egg mixture. Let Stollen soak for about 5 minutes, flip it once or twice during this time. Be careful because it'll be very soft.
Place 1 piece of butter in a large non-stick pan and cook over medium-high heat. When it starts to foam, place in 4 slices (less if your pan is small) of Stollen and fry for 2-3 minutes. Flip them over, add another piece of butter and fry until golden brown.
Transfer slices to the prepared baking sheet and repeat with the second batch. Once the whole Stollen is fried, transfer baking sheet to the oven and bake Stollen for the final 4 minutes, until all slices puff up and get deep, golden brown.
As the Stollen bakes, prepare the yogurt:
In a small bowl, stir together yogurt, orange zest, juice and sugar (or syrup if using). Keep covered until serving time.
Once baked, serve Stollen french toast warm, sprinkled with powdered sugar, pomegranate seeds, a dollop of yogurt on top and a side of maple syrup.
Notes
My store-bought Stollen measures exactly 20cm (8 inches) in length after I trim the ends and can be cut into 8 equally thick slices.
If you can't find Stollen in your store, Amazon has some offers as well. Or you can use other types of fruit bread.
When making French toast, take your time. Never cook it on the highest temperature, because you risk burning the bread on the outside, while the middle stays soggy. Also never cut a loaf in slices thicker than 2.5cm (1 inch), as they can either end up being dry or not fully cooked (depending on how long you soak them for).
Recipe inspired by Nopi.
Keywords: holiday recipes,