If you're looking for a perfect holiday drink, then look no further, because this mulled white wine is the absolute best. It sounds kind of fancy, but is actually a super easy and simple drink. Made quickly by cooking wine with citrus fruits, aromatic spices and a touch of sugar, it's no wonder this is everyone's favorite cozy cocktail.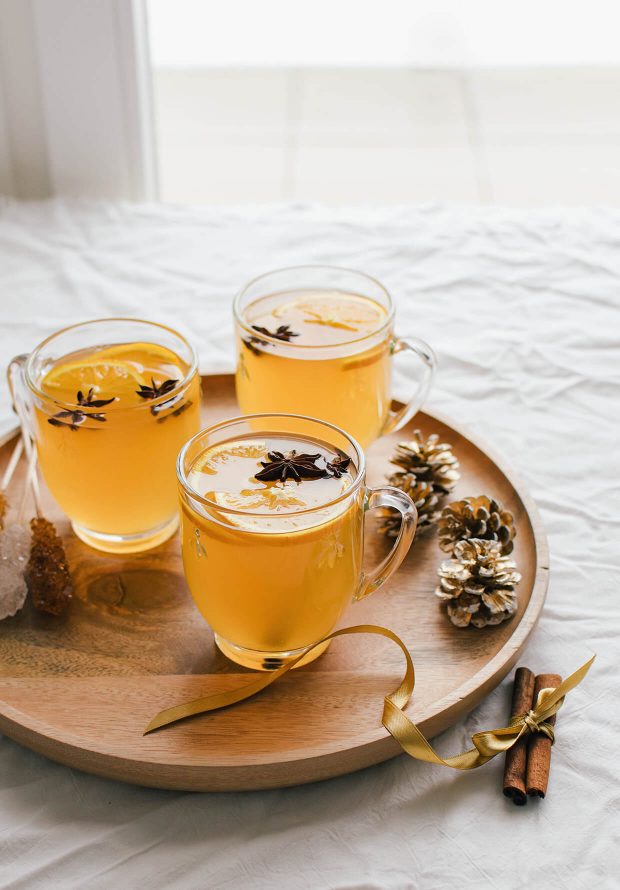 I think there are pros and cons to every season, but Autumn is still my absolute favorite. I love everything about it. Okay, everything but the fact that it gets dark so soon. That's the only part I hate. But everything else is wonderful. Crisp morning air, leaves in every shade of orange and yellow, how the fog rolls in over the hills, how the streets glisten in the evening rain or how warm the sun feels on those short sunny afternoons. And the clothes! I live for sweaters and coats. And all the food that pops up this time of year.
The city corners are smoky again as vendors with roasted chestnuts make them their home for the season. There's nothing quite like it. Once the chestnuts are out, the mulled wine is close behind. Two things to keep us warm during the cold outings. There's just something so special and festive about going out in the freezing cold to have a cup of mulled wine on the street. It doesn't really sound too exciting, but I think it is. Especially once the Christmas lights get lit, now that's pure magic.
And I know there are plenty of drinks I could rave about, but I love the simplicity of mulled wine. You always get your pick at the wine stands, red or white, and I always go for white mulled wine. I'm not really a red wine type of person, even though I can enjoy a Merlot every now and then. But white wine has always been my go-to option.
I get that this makes it sound like I'm out everyday getting drunk with mulled wine, but that's not true, haha! It's an occasional thing, because it's tradition and it's fun and I actually still love to make my own at home.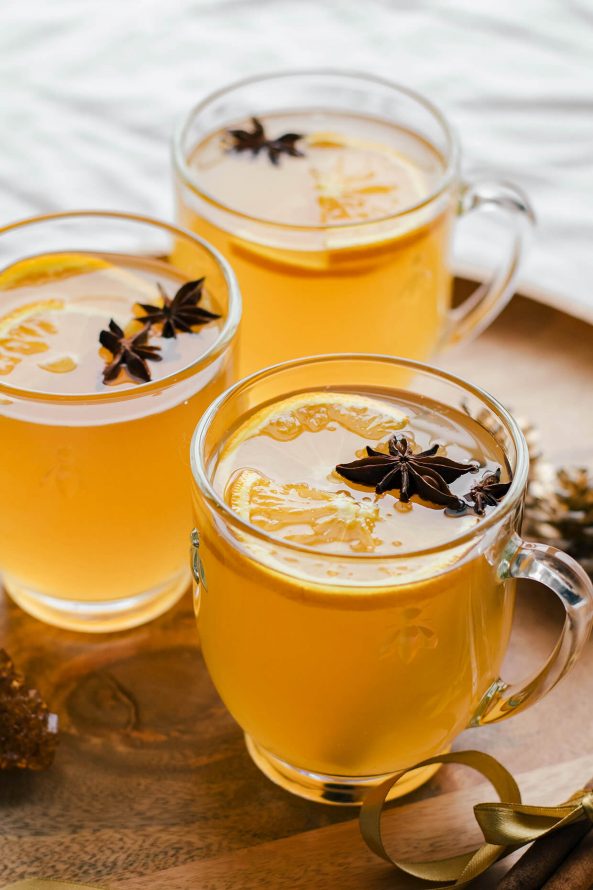 Mulled wine is a drink that fits so many situations. In a way it acts like stovetop potpourri but you get to drink it when it's done. It always makes my home smell like cinnamon and oranges and gingerbread cookies and I can never get enough. It's a drink that you can make for a movie night, a chill evening with friends, a formal party or gift-opening extravaganza.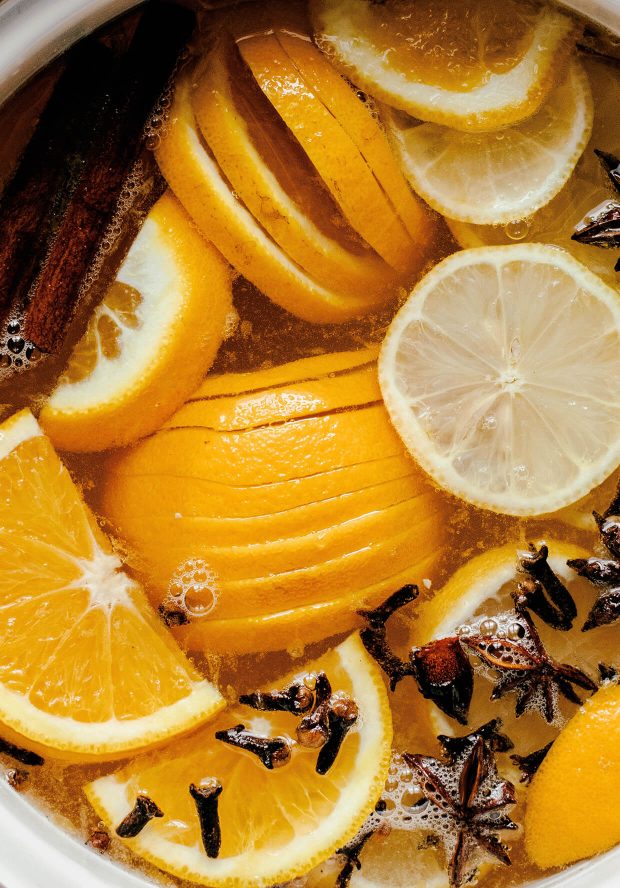 Let's first talk about the best wine for a mulled wine:
Anything that you can drink on its own! So definitely choose a wine that you don't find disgusting, something palatable. But nothing expensive, especially if you're making a bigger batch. And keep in mind you'll be adding spices and fruit to the wine, so any subtle notes that expensive wines might offer get lost in this mix.
Overall I'd reach for fruity wines, something to go with the rest of the ingredients. My choice is usually Pinot Grigio, but the end call is ultimately yours.
What about brandy, rum, … other add-ins?
You can most definitely add other types of alcohol to the mix. I don't normally do this because I want a lighter drink, but if you're looking for a deeper flavor and stronger kick, add anything you want.
Whatever you add, know that you should add your pick at the very end, once the mulled wine is done. Rum is the most popular option in Slovenia, but both brandy and cognac are great choices too. You can also look for orange flavored liqueur, like Grand Marnier, to amp up the citrus flavors of the mulled wine.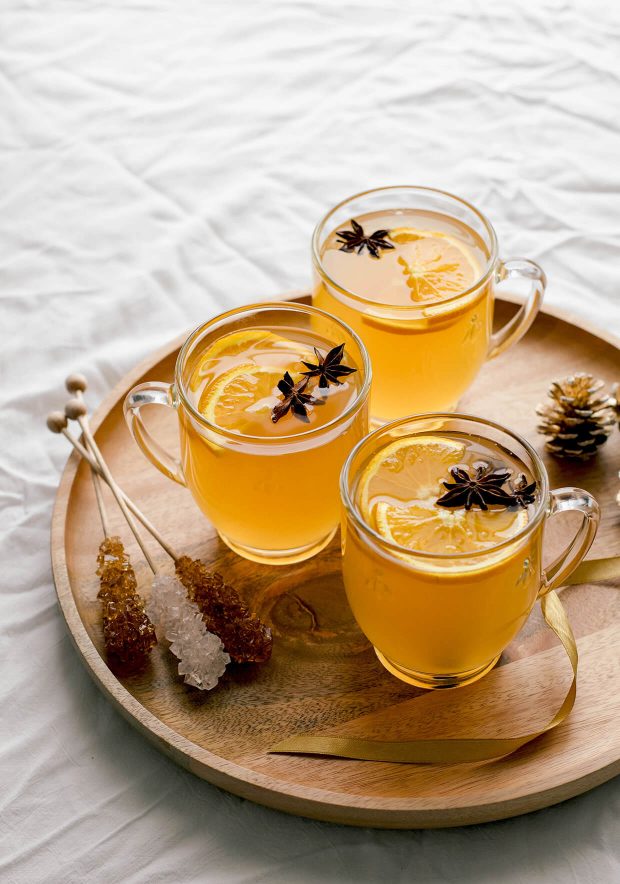 And speaking of citrus, you'll notice that I make my white mulled wine with orange juice. You can skip that or use other types of citrus. Whatever you choose, you really can't go wrong. But to me oranges and cinnamon work perfectly together. If you're in the mood for something less citrusy, try my apple mulled white wine, it's another favorite.
As for water, I use it to cut the wine a bit. You don't have to do it, you can definitely try making mulled wine without it or use juice instead, but I like water. It makes wine more drinkable. And I say this as someone who used to make mulled wine just with wine and orange juice. I'm now converted and a big believer in adding water, because it makes the drink more mellow without disturbing the flavor. 1:3 ratio (1 part water, 3 parts wine) is my preference, but I know some people go for 1:2.
Spices and sweeteners
Just like with everything else, I like to stay in the traditional lane when it comes to spices. You can always play around with different variations, but a classic combination for me is a mix of cinnamon, cloves and star anise. Those three together are a match made in spicy heaven and always make my home smell like freshly baked gingerbread cookies. If you want to try different things, nutmeg, cardamom and vanilla are all great and pretty popular.
The last thing you need in a mulled white wine is sugar. That or some other sweetener. It just pulls all of the ingredients together so nicely, making the wine insanely drinkable. I like to use a mix of basic granulated sugar and honey. You can use brown sugar, change the amount of honey used, maybe even try maple syrup.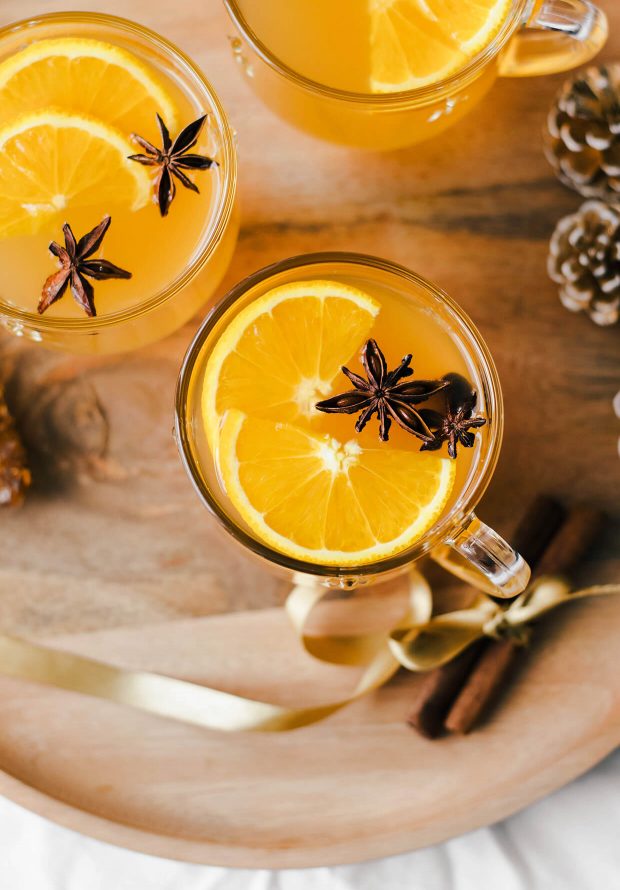 Mulled wine station
Okay, I've now mentioned quite a few routes you can take when making mulled wine, depending on your taste. On average, you can get four servings from one bottle of wine. So if you want to spice things up and are hosting a few people, you can easily make a few variations and serve them all at once. A red mulled wine, white mulled wine, apple mulled wine, extra spicy mulled wine, brandy mulled wine, etc. So many options!
That's the beauty of mulled wine. It's made quickly and you can make it in small batches. Obviously fresh mulled wine is best. And when I say "fresh" that doesn't mean that you have to rush by serving it immediately after you've made it. It won't go bad or stale, the key is just that you serve it warm. If needed you can warm it up again on the stove. Which also means you can store it in the refrigerator overnight and warm it up the next day.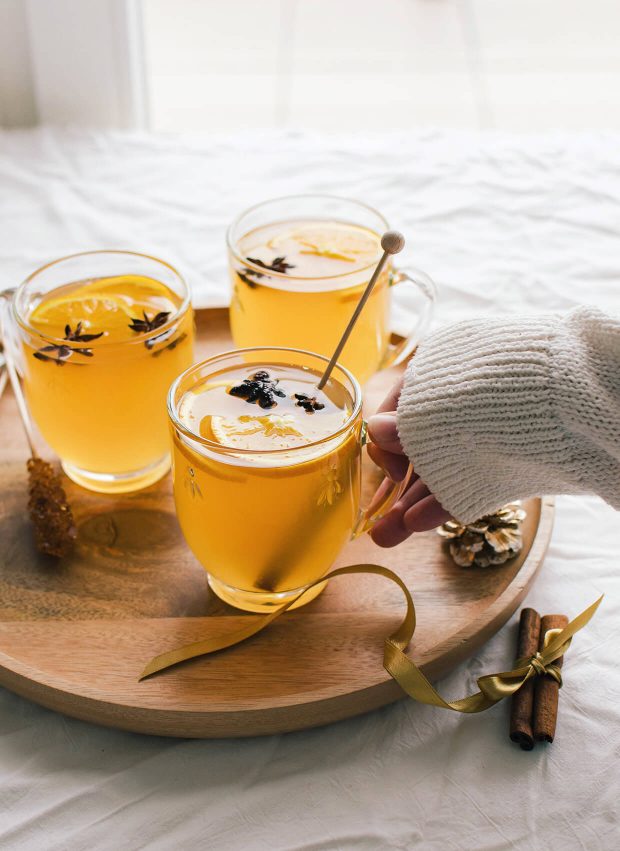 So… here's what you do:
Okay before I get to it, I just want to say I'd still only make wine hours in advance at most, just so it's super fresh, instead of going the overnight route. But if you make a plan with recipes and have 4 pots with enough room on the stove, you can literally make ALL the mulled wine in 20-30 minutes.
So you've decided on the versions you want to make (or maybe you're doing just one, that's great too). You add everything for each version to its designated pot, bring wine to a simmer and cook for about 20 minutes. That's the simple part. At this point you can serve it right away. But if you're making this in advance… then the first thing you have to do is strain the mulled wine.
The fruit and spices normally get soft and soggy as they cook, so I like to strain my wine to get a clean drink. You can then pour wine back into the pot(s), so everything is ready to be reheated when the time comes. If you are making multiple flavors and are short on pots, then you can store wine in heatproof jars for the time being. Let wine cool at room temperature.
When you're ready to warm it up, transfer the wine back to its pot. Let it get warm over low heat, slowly, without it coming it a boil. Then remove it from heat and add in your extra liqueur, if you're using any. And right before serving, you add fresh fruit and spices to the mix, so they stay fresh and look pretty. That is if you're doing a self-serve thing.
Alternately, you can also add fruit and spices individually to each glass, if you're the one doing all the pouring. Another great thing to keep on hand are sugar swizzle sticks for any people that like a really sweet drink. They look really gorgeous on the table and melt beautifully in the drink.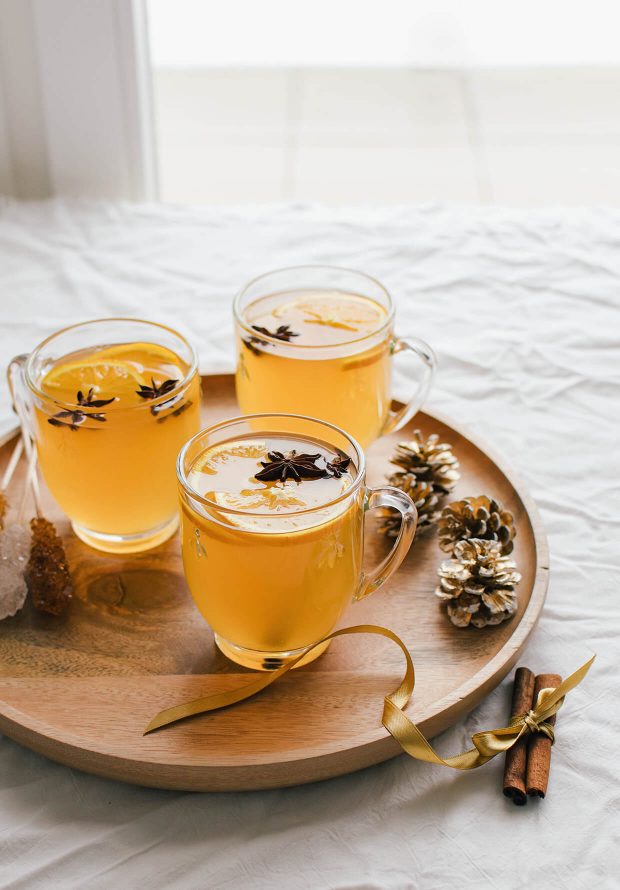 And that's it! If this isn't easy, I don't know what is. And I just know that you need this mulled white wine in your life (or the apple variety). Also don't forget to hop on my Instagram, I have a story of me making this saved in my highlights.
Cheers *clink, clink*
Mulled white wine
Classic mulled white wine, made with a mix of citrus and spices, that will make your home smell like freshly baked gingerbread cookies. 
Ingredients
1

bottle

(

750

ml

)

white wine

1

cup

(

240

ml

)

water

3

tablespoons

(

45

ml

)

fresh orange juice

1/2

cup

(

110

g

)

white granulated sugar

2

tablespoons

honey

1

organic orange

(sliced)

1

organic lemon

(sliced)

10

cloves

4

star anise

(more to taste)

4

cinnamon sticks

(more to taste and for serving)
Instructions
Combine wine, water, orange juice, sugar and honey in a medium (non reactive) pot. Whisk until the sugar is dissolved, then add the rest of the ingredients. 

Bring to a simmer, stirring occasionally, and cook for about 20 minutes over low-medium heat. Taste and add more spices or sugar, then remove from the heat and serve right away.
Notes
Pick any white wine you like, as long as it's not too expensive. 
Adjust the amount of sugar to your needs, you may need less or more. This depends on both the wine you use and your personal taste. You can use brown sugar, more honey or even maple syrup. 
You can use a variety of citrus, mandarin or clementine oranges are really great. If you want an apple twist, then try my apple mulled wine.
Although this wine is best served fresh, you can store it in the refrigerator overnight. Strain the mixture first, then transfer to an airtight jar or jug. Reheat on the stove before serving. 
You can add brandy, rum or cognac to the wine right before serving, for an extra kick. 
Other popular spices you can use in the mix are vanilla, nutmeg and cardamom. 
Calories per serving:
303
kcal
Email recipe
Pin Recipe