Whether you're looking for an easy, crunchy and sweet snack or the perfect holiday stocking stuffer and party treat, these cinnamon roasted almonds will not let you down. They are so easy to make and so tasty, no one has ever said "no" to them.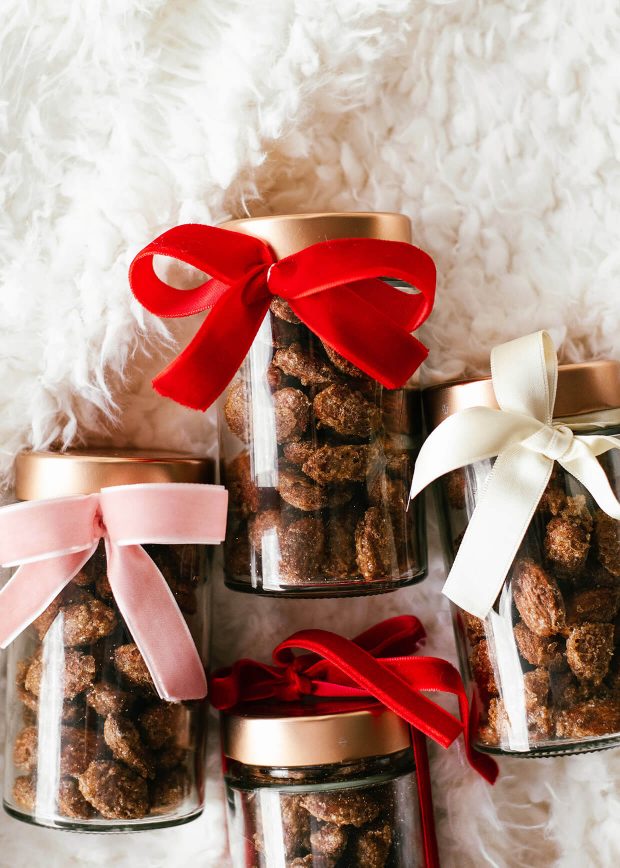 This recipe today is one of my favorite recipes EVER. You don't know this, but cinnamon roasted almonds and me go way, way back. I once worked at a stand in a shopping mall and I would snack on them all the time, because a chocolate shop close by had fresh, warm roasted almonds for sale all the time. Talk about temptation!
And if you visited Ljubljana this time of year, you'd be tempted too. That same company now has this almond-making-stand at two other locations in the city center and you can smell the sweet roasted almonds from a mile away. I don't see how a person can just walk by and not have a taste.
Well, I guess you can walk by if you know how to make your own, ha! Which is what I now do all the time. To say that my home smells like a dream, when these roasted cinnamon almonds bake, would be an understatement. It's literally sweet cinnamon heaven, better than any candle out there.
So what makes these cinnamon roasted almonds so great?
They are really easy to make, much easier than you think when you first get familiar with them. All that you have to do is mix some sugar and spices together in one bowl, froth an egg white with water and vanilla in another. Then in go the almonds. Once they're all nice and shiny, you add the sugar and toss, toss, toss until they're evenly coated. Pop them in the oven for 30 minutes, check on them every 10 minutes to stir them and that's it. So easy!
Now, checking on them every 10 minutes sounds kind of annoying, I get it, but it has to be done. I'm usually doing something else in-between those check-ins anyway, so I don't even notice the time. I always have dishes to do or at the very least the cats want something or I just hop on Youtube. But stirring the almonds as they bake is necessary, because you want them to bake evenly on all sides. And also, because the almonds are wet from the egg white and the sugar is melting in the oven, they will stick to your baking sheet. IF you don't stir them every now and then.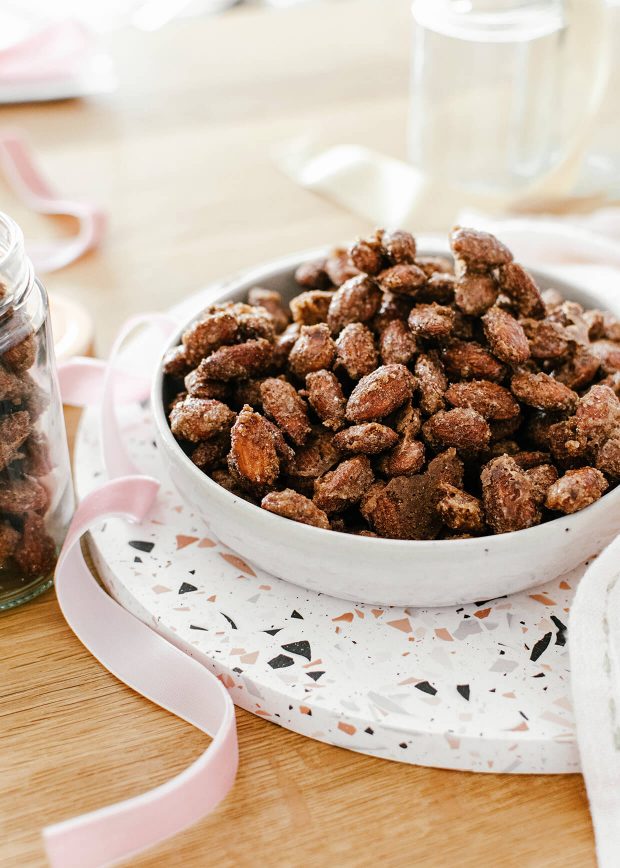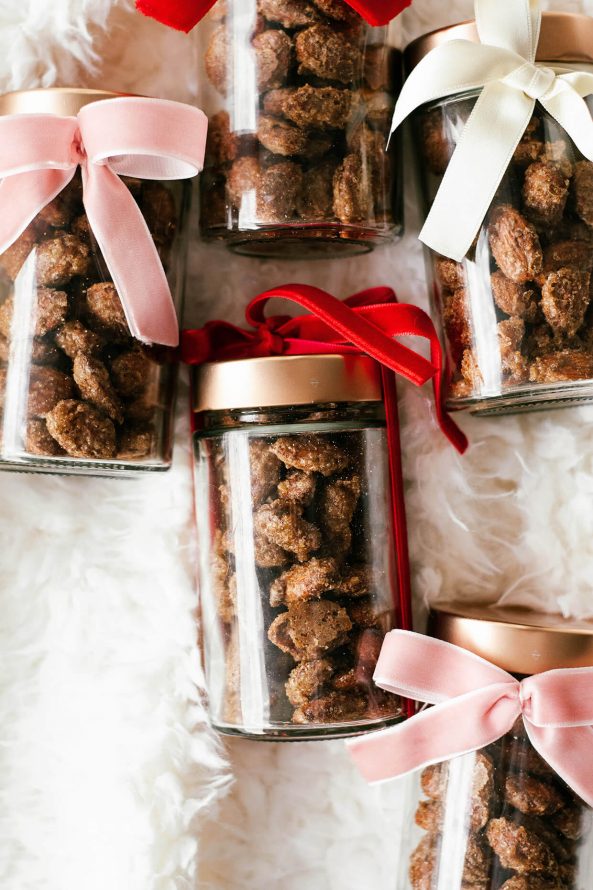 Another thing that makes these so great is just the simple fact that they taste amazing. I mean, it's cinnamon roasted almonds, what more could anyone want? I'm seriously obsessed with the taste of sweet cinnamon mixed with that nutty flavor and crunch.
But you can make these even more fun.
You can add other spices like nutmeg or allspice. If almonds bore you, a mix of nuts would be wonderful too. Like almonds, hazelnuts and pecans. Another great thing to add is some citrus zest, for all you citrus lovers.
Last but not least, these cinnamon roasted almonds make the perfect gift. Either a hostess gift or a stocking stuffer. If part of your holiday routine is giving out tins with cookies (and if it is, can I be your friend?) I think you can sneak some of these in there too. And if you're looking for more cookie box ideas, try out these peanut butter cookies or rose water pistachio shortbreads.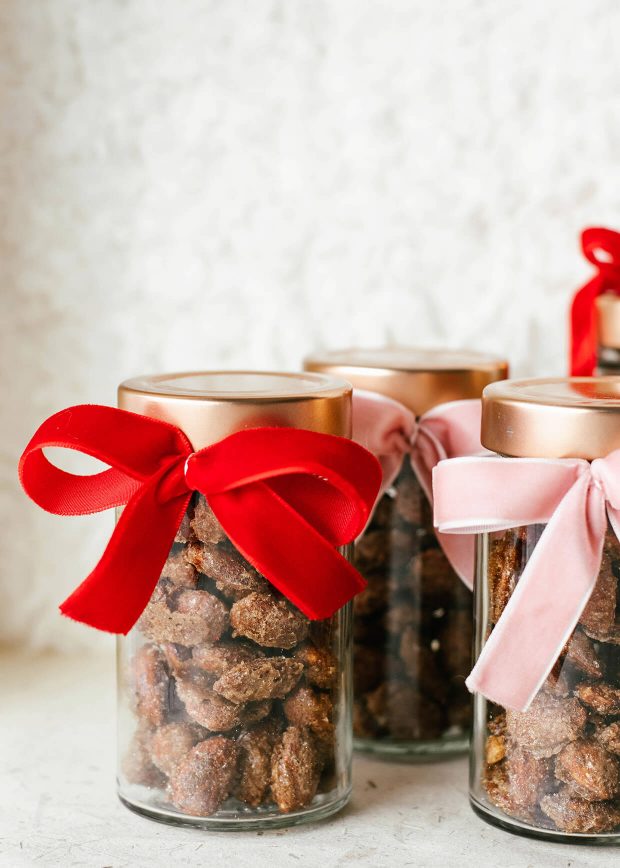 I've found they're popular with people that aren't into cookies that much. Personally I have no limit with cookies, I'm a whole cookie monster, but I know not everyone shares my sweet tooth. And it's people like that that I find really like these almonds, because they're still festive and a great treat, but they're less of a dessert compared to a cookie.
While I think they can be enjoyed any time of year, I think these cinnamon roasted almonds shine in the cold winter months, especially during the holiday season. We can file them under "cozy" because that is exactly what they are. Crazy cozy good.
Cinnamon roasted almonds
An aromatic, crunchy and sweet snack loved by everyone. Perfect for the holidays! 
Ingredients
2/3

cup

(

150

g

)

white granulated sugar

1/3

cup

(

50

g

)

dark brown sugar

((light is okay too))

1/2

teaspoon

sea salt

2

teaspoons

ground cinnamon

1

pound

(

450

g

)

whole raw almonds

1

egg white

1

teaspoon

vanilla bean paste

(or extract)

2

teaspoons

water
Instructions
Preheat oven to 300°F (150°C), line a large baking sheet with parchment paper and set aside. 

Mix sugars, salt and cinnamon in a medium bowl. In another bowl, beat egg white with water and vanilla, just until frothy. Add almonds to the egg white mixture and stir until all nuts are coated. Sprinkle with sugar and keep tossing almonds with a spoon until all are evenly coated. 

Spread almonds out on the baking sheet in a single layer. Bake for 30 minutes, stirring every 10 minutes. 

Remove almonds from the oven and let them cool. Separate those that are sticking together. Store almonds in an airtight container (or several if you're making gifts) at room temperature and eat within two weeks.
Notes
You can make this same recipe with other nuts or you can do a mix (e.g. almonds, hazelnuts, cashews, pecans). Cinnamon and vanilla are my favorite to use, but you can add other spices, like all spice or nutmeg, etc. 
If you can't get glass jars, you can use small cellophane bags and ribbon. Whatever you end up using, if you're making these to give as gifts, make sure it's airtight. 
Email recipe
Pin Recipe