Easy to make, incredibly flavorful and wildly aromatic. These rose water pistachio shortbread cookies are the perfect cookies when you want something buttery, crunchy and not too sweet. You can make these shortbreads ahead of time and store the dough in the refrigerator. When ready, all you have to do is slice and bake them. This no-fuss recipe makes a smaller batch with only a handful of ingredients and the cookies keep for days.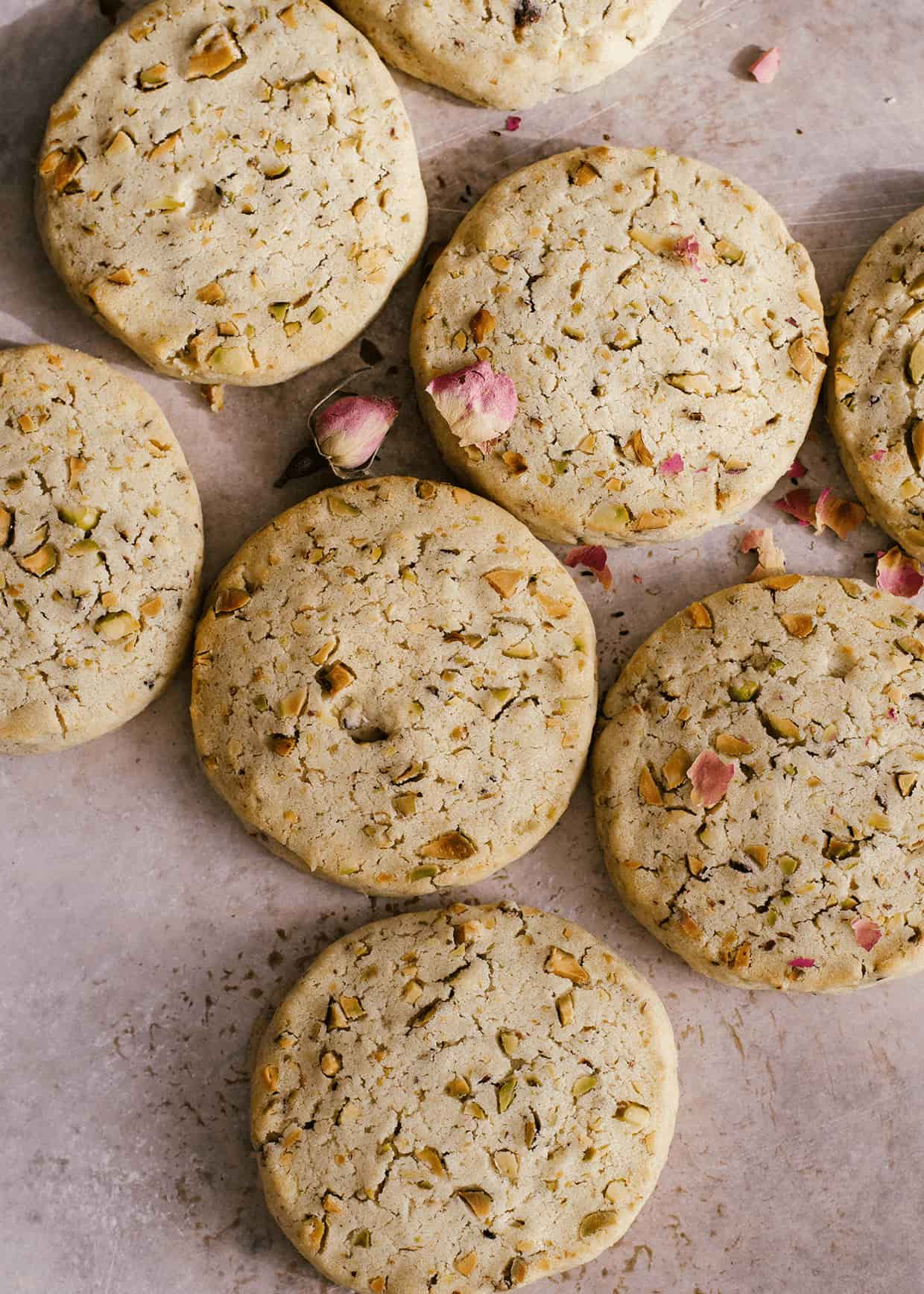 Some moments just call for cookies and lately it seems these moments have been piling up on top of each other creating a continuous craving. I want to have cookies all the time. And these pistachio shortbreads hit the spot. They're easy to make, you get a small batch and the flavors are inherently summery.
Here's why I love these rose water pistachio shortbread cookies
They are tender, buttery and so flavorful.
Rose water makes them floral and special, without being obvious. And every tender bite tastes like vacation.
They're crunchy and nutty.
Thanks to the pistachios. I love pistachio-anything and these cookies don't hold back. The flavor is nutty but not overpowering and the cookies are crunchy in a pleasant way (no teeth-breaking here).
The ingredient list is short!
You only need seven ingredients and that's counting the salt!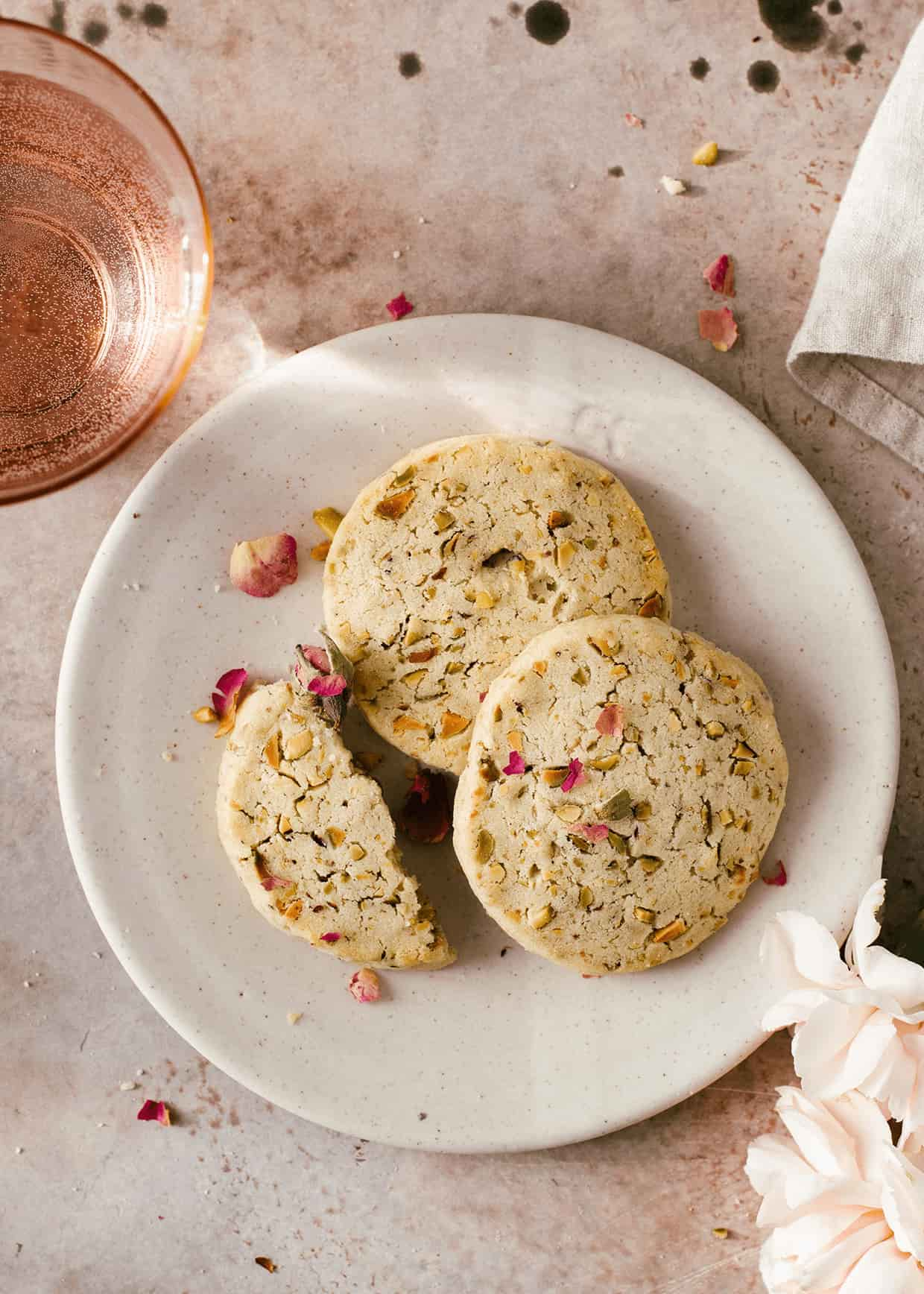 They are so easy to make
Sure you need softened butter and chopped pistachios, but these are like your typical slice and bake cookies. You mix everything together, chill the dough, slice it, bake it, eat it. So simple!
Can be made ahead and keep well
Probably my favorite thing about these, or any, cookies! I find baking to be very relaxing, so sometimes I'll just prep something and stop before it becomes boring. And then the next day, or next month, I can bake it. You can make the dough for these and store it for up to three days in the refrigerator or one month in the freezer.
What exactly are shortbread cookies?
According to Historic UK, the story of shortbread begins with the medieval "biscuit bread". Back in those days any leftover dough from making bread was dried out until it hardened into a type of rusk. Yeast was later replaced with butter and biscuit bread became shortbread.
Traditionally Scottish shortbread is made from one part white sugar, two parts butter and three parts plain wheat flour. Sometimes rice flour is added to give it a crumbly texture. Or cornstarch to make it denser. Some newer recipes, like mine, also include eggs.
Over time various ingredients (like nuts or chocolate or spices) made its way into the recipe, but the butteriness of a shortbread cookie is still the most important thing. In fact it's so important that in 1921 the British government legislated that a product called shortbread must get at least 51% of its fat from real butter. (source: The Nibble)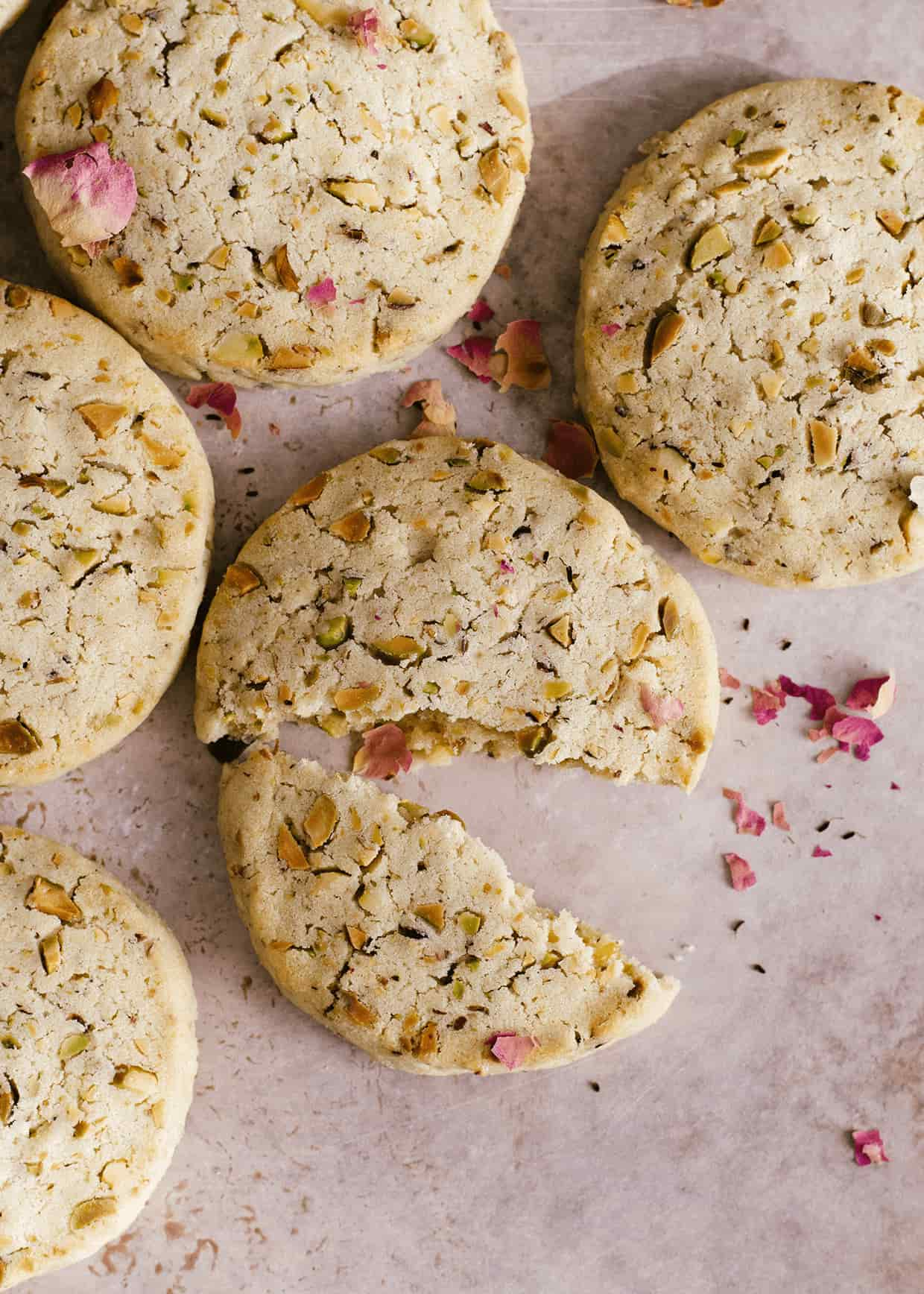 Best butter for rose water pistachio shortbread cookies (or any shortbread)
I am using European butter and for a really good shortbread cookie, do try and use that.
Although saying butter is "European" is a generalization. You can find local butter in any country and most of what I use is Slovenian butter. The kind that's sold in blocks weighing 250 grams, usually with 82% butterfat, sometimes 83%. I call it "baking butter" and it's just one of the butter varieties available.
But generally speaking, European-style butter is butter that has at least 82% butterfat. Its flavor is rich and color (very often) light yellow.
In contrast American butter has a lower percentage of butterfat. In the USA butter must contain at least 80% butterfat, meaning it has a higher water content than European butter. The flavor is also more neutral.
So when you have a recipe like this one that calls for a handful of ingredients, it does make a difference if these ingredients are more premium (as snobby as that sounds) or just richer in taste.
With that said, butterfat is just one component and butter flavor can differ from brand to brand, even when the fat content is the same. Just something to keep in mind.
If you want to read more about butter, here's a piece Dorie Greenspan wrote for The New York Times. And here is an article from The Kitchn. Personally I love to go through the comments too. You might find some new brands to try.
Okay so now that I got all of that cleared up, let's see what you actually do with all the butter I keep talking about.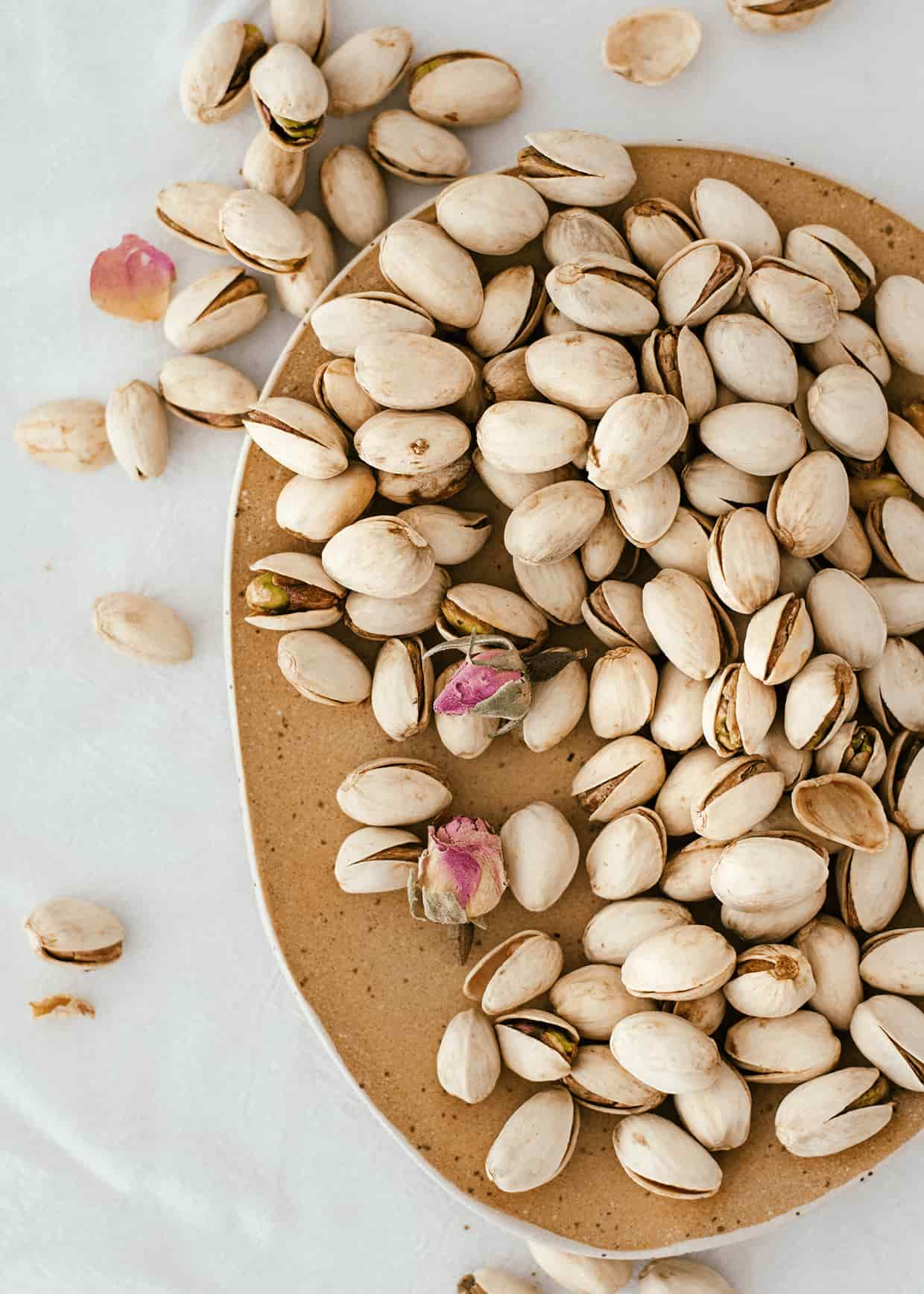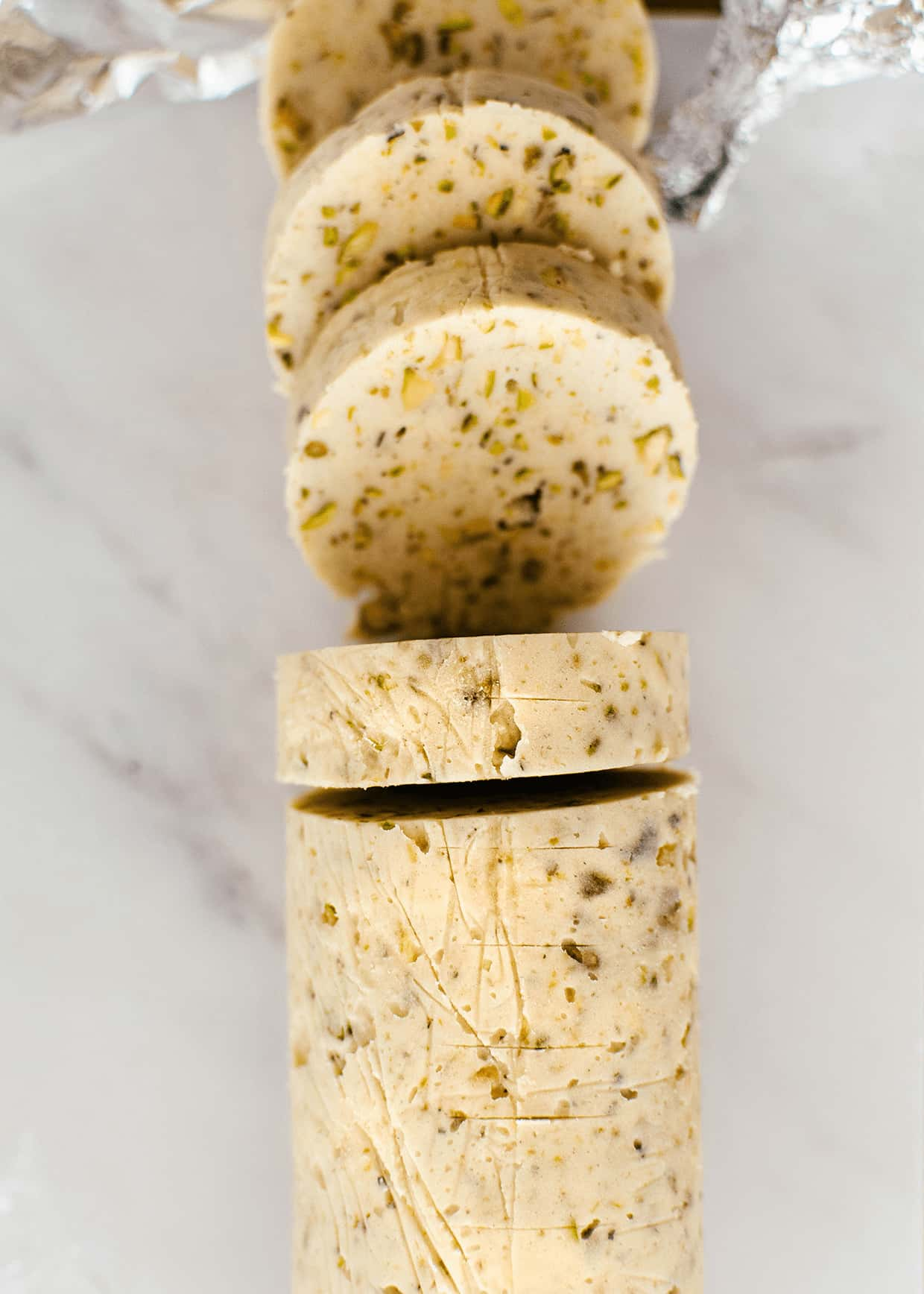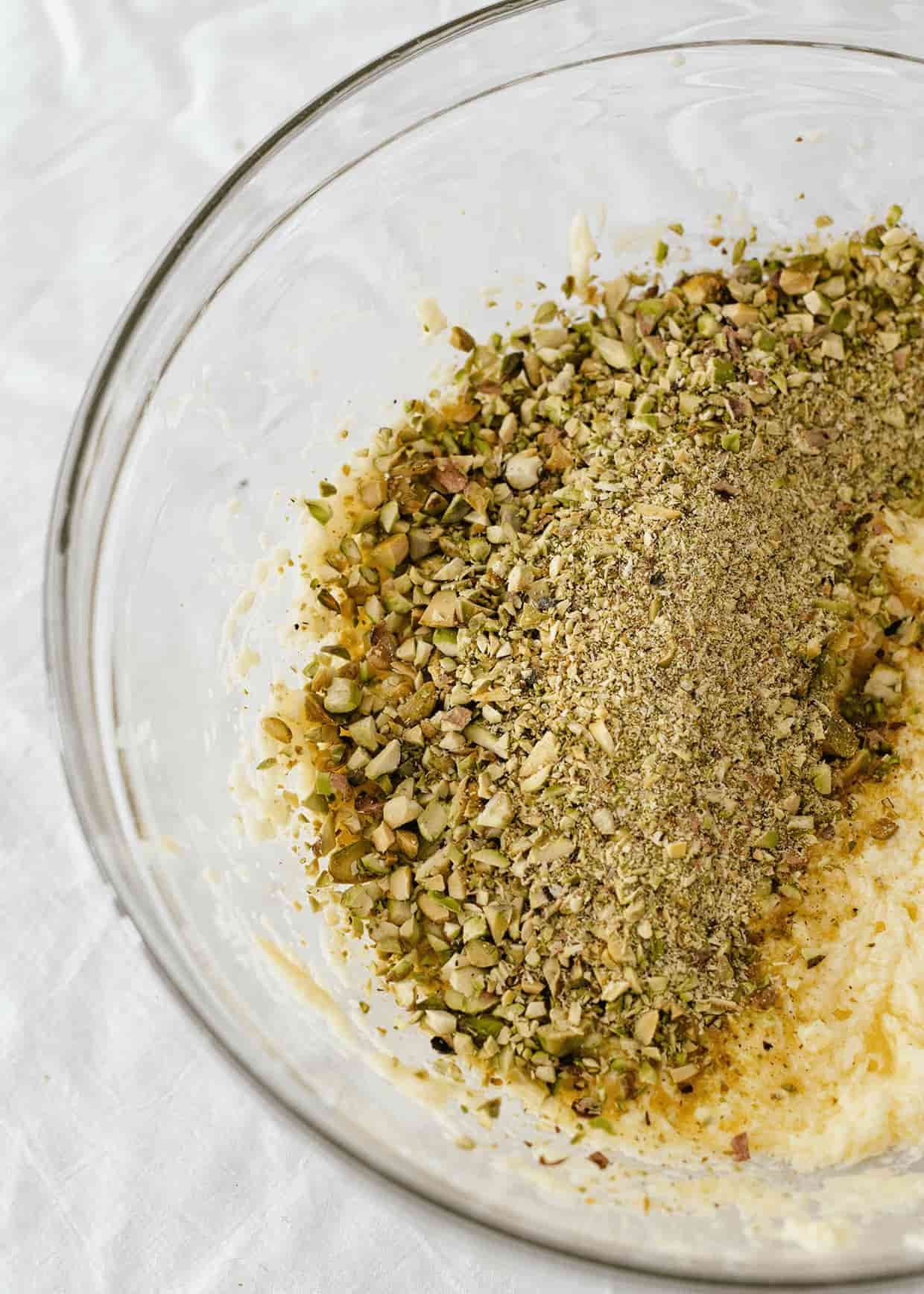 Shortbread cookies tips and tricks
Making cookies without a mixer
You absolutely don't need a mixer for these cookies. A sturdy mixing bowl, a whisk and a spatula are all you need to successfully mix butter with sugar.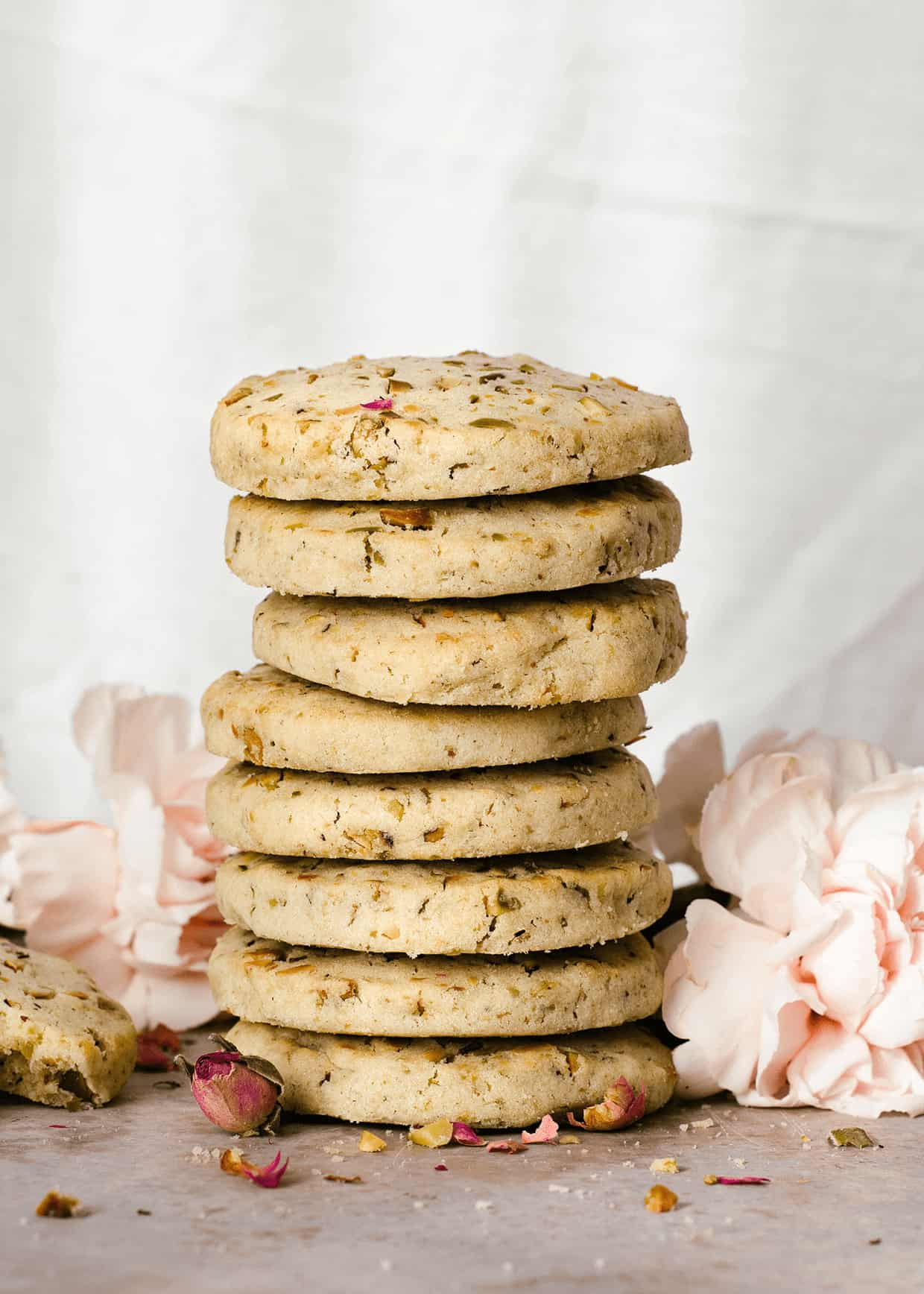 Why are my shortbread cookies spreading?
A tiny amount of spreading is normal. The cookies will plump up a bit as they bake. But they shouldn't be flat. Because my recipe uses so many pistachios, I do add an egg to it as well. This egg acts as a binder, helping the cookies keep their shape. It also makes them more tender.
But generally speaking shortbreads are made with a lot of butter. So if a cookies spreads you could be using too much butter, too little flour or the cookies were just too warm to begin with.
First it's important that you measured out your ingredients correctly. Next comes the temperature. Butter starts to spread when exposed to warmth. That's why you first need to chill the dough in the refrigerator. As you take it out and slice it, it will start to warm up to room temperature.
Ideally you should slice cookies right before you bake them. If you leave them out on the baking sheet for too long, the cookies won't be as cold going into the oven which can make them spread.
One thing that you can do is chill the cookies again for about 15-30 minutes after you've sliced them. 15 minutes in the freezer will most definitely do the trick.
How to keep shortbread cookies round?
Sometimes my dough-rolling isn't the most elegant and my cookies aren't perfectly round when sliced. Once you slice the cookies you can quickly pat each cookie on its sides, shaping it into the perfect circle.
Just don't do it for too long or your body temperature will warm the butter too much. (Consider chilling them again prior to baking if you do this.)
Once the cookies are baked and still hot, they will be soft. That's when you can shape the sides with a spatula or a spoon. Just gently press in the sides. Or you can use a round biscuit or cookie cutter. It has to be bigger than the cookies and then you can just run it all around the sides making perfect round cookies.
How to make shortbreads ahead of time?
You can keep fresh cookie dough in the refrigerator for up to three days. Or you can keep it frozen for up to one month. Ideally, you should slice the cookie log before freezing. That way you can bake frozen cookies. You can also freeze freshly baked cookies and keep them like that for up to a month.
So now that you know how, go make these rose water pistachio shortbread cookies. If there's one cookie recipe you need to try, it's this one. They're the perfect buttery tender cookies, packed with the incredible combination of crunchy pistachios and aromatic rose water. And if you want another rose water cookie, try these rose water crinkles next.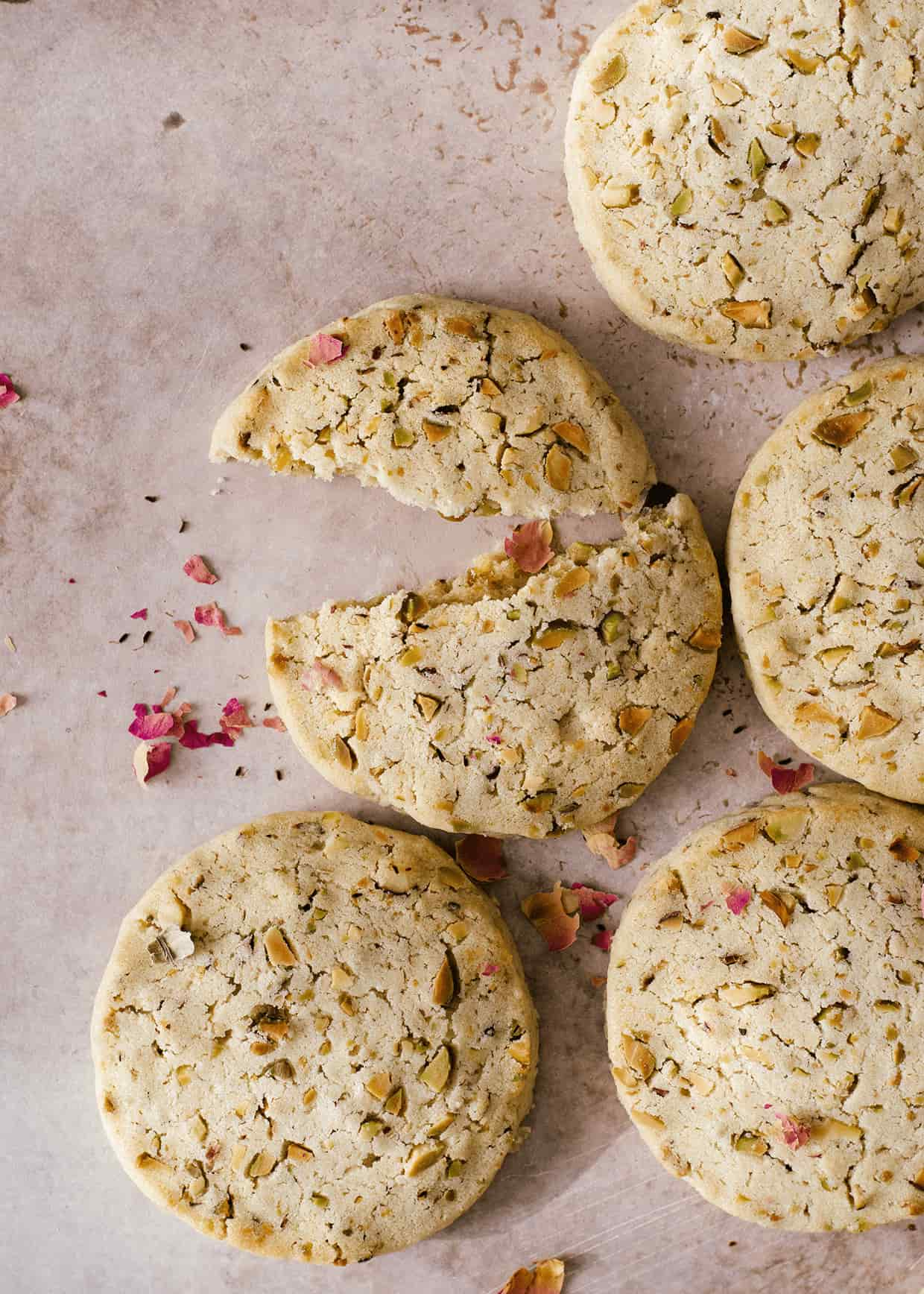 Rose water pistachio shortbread cookies
Easy to make, tender, fragrant and melt-in-your mouth cookies! Packed with pistachios and a touch of rose water to make them super special. 
Ingredients
1

stick

(

115

g

)

unsalted butter

(softened)

1/3

cup

(

50

g

)

powdered sugar

(sifted)

1

large egg

(at room temperature)

1/8

teaspoon

sea salt

1

teaspoon

rose water

1/2

cup

(

70

g

)

unsalted shelled pistachios

(finely chopped)

1

cup

(

140

g

)

all-purpose flour
Instructions
Cream butter and sugar in a medium bowl (or bowl of your stand mixer). Keep beating until smooth, 1-2 minutes. Whisk in the egg, salt and rose water. Then toss in the pistachios and beat until incorporated. Lastly, stir in the flour and beat just until no spots of flour are left.

Place dough on a piece of plastic wrap and roll it into a log. (It'll be soft, so you can chill it in the fridge and roll it again 30 minutes later.) Wrap the log in aluminum foil (double it for extra support) and chill in the refrigerator for at least 3 hours or up to 3 days.

When you are ready to bake the cookies, preheat the oven 350° F (180°C). Line a baking sheet with parchment paper. Unwrap the cookie log. Using a sharp knife, slice log into cookies, about 1/2 inch (1-cm) thick. Place cookies on the baking sheet, leaving about 1-inch (2.5-cm) space between them. 

Bake cookies for 10-15 minutes, until they're golden brown and set (their tops should be dry, not wet, but paler in color than the edges).Bigger thicker cookies need about 15 minutes, while smaller (or thinner) cookies need 10-12 minutes.

Remove cookies from the oven and let cool. Store in an airtight container for up to 5 days.
Notes
Cookie dough taken straight from the refrigerator is pretty hard. If you have trouble slicing your cookies, let the dough rest at room temperature for 15 minutes, then try slicing again.

If

 

sliced cookies aren't perfectly shaped and that bothers you, you can quickly reshape them by pressing around the sides while they are still hot from the oven.

This recipe makes 10-12 large cookies or it can make about 16-20 smaller ones. All depends on how thick your log of dough is. 

Both the unbaked cookie log (or sliced cookies) and baked cookies can be frozen (wrapped well) for up to 1 month.

For extra crunch, you can roll the log of dough in some granulated sugar before slicing. 
Text recipe
Email recipe
Pin Recipe
Recipe first published in 2018, revised and updated in 2020, last updated in March 2022. SaveSave
SaveSave