Best puff pastry apple hand pies are basically individual mini apple strudels. 
Now, I was going to tell you all about my favorite horror flicks, since Halloween is basically here, but then this trailer dropped and now I cannot think about anything else.
I like to think that I'm the biggest Gilmore girls fan, but I think every fan thinks that so me claiming that I am the biggest would be unfair to all of you. I am one of many. Proud member of the GG fan club. Hi! Anyone else excited about the revival? We get Lauren, Alexis and Kelly, we get Melissa McCarthy and a pornographic pipping bag, we get Milo and Jared Padalecki, a piggy running around town, snow and lights, Michel (Yanic) with a Macbook, coffee and donuts, we'll get everything!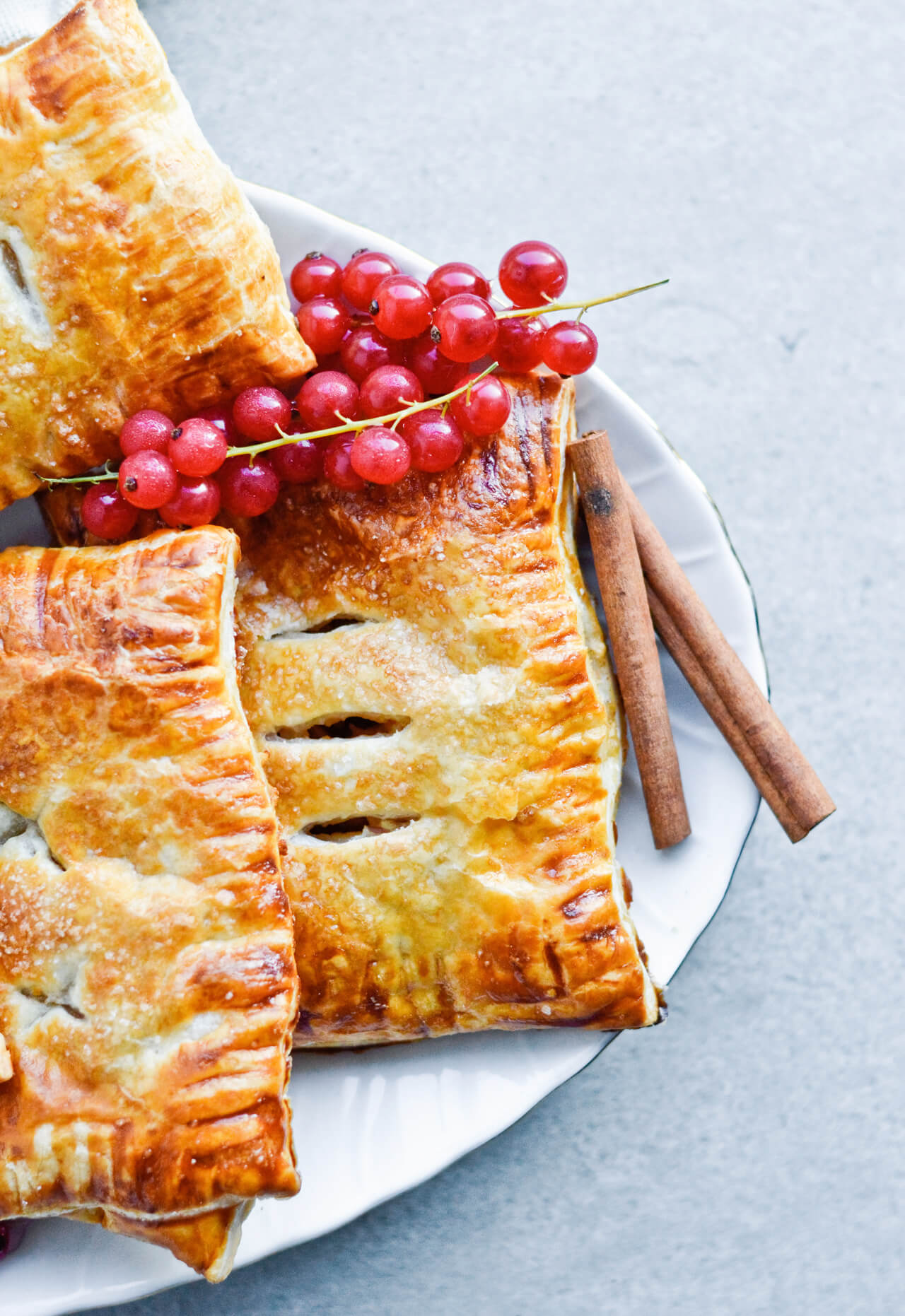 Revival or no revival, Fall is the best time of the year for rewatching shows like this one. If for no other reason it's all the food that they talk about that makes it all worth it. Which brings me to these apple pies.
There's an episode where apple tarts are basically a main character, even though we don't actually get a visual. But I don't care. One mention of anything apple and I'm sold.
Because if there's one thing that I absolutely love it's apple strudel or apple pie or any other pastry with an apple filling. But no raisins please! People like to stuff apple strudel with raisins and I kind of hate them in there. Why ruin something so juicy and so good with raisins?
I'm not completely against raisins, I think they have a time and place, just not apple strudel. Sorry. (Not sorry.)
Anyway, my goal for this particular recipe was to make something that's like apple strudel but takes almost no time to make. And that's buttery like apple pie, but once again takes almost no time to make.
Enter puff pastry! Besides being in the GG fan club, I'm also in the store-bought-puff-pastry fan club. Which, as far as food goes, is one of the best fan clubs to be in. Because puff pastry is so versatile (just look at these ricotta pretties).
Instead of buying frozen puff pastry, I prefer to buy fresh, ready-to-use, puff pastry sheets because you store these in the fridge and they don't require thawing, or rolling, which is a big time saver. However, frozen puff pastry is just as great, you just need to involve some planning and remember to take it out of the freezer in time.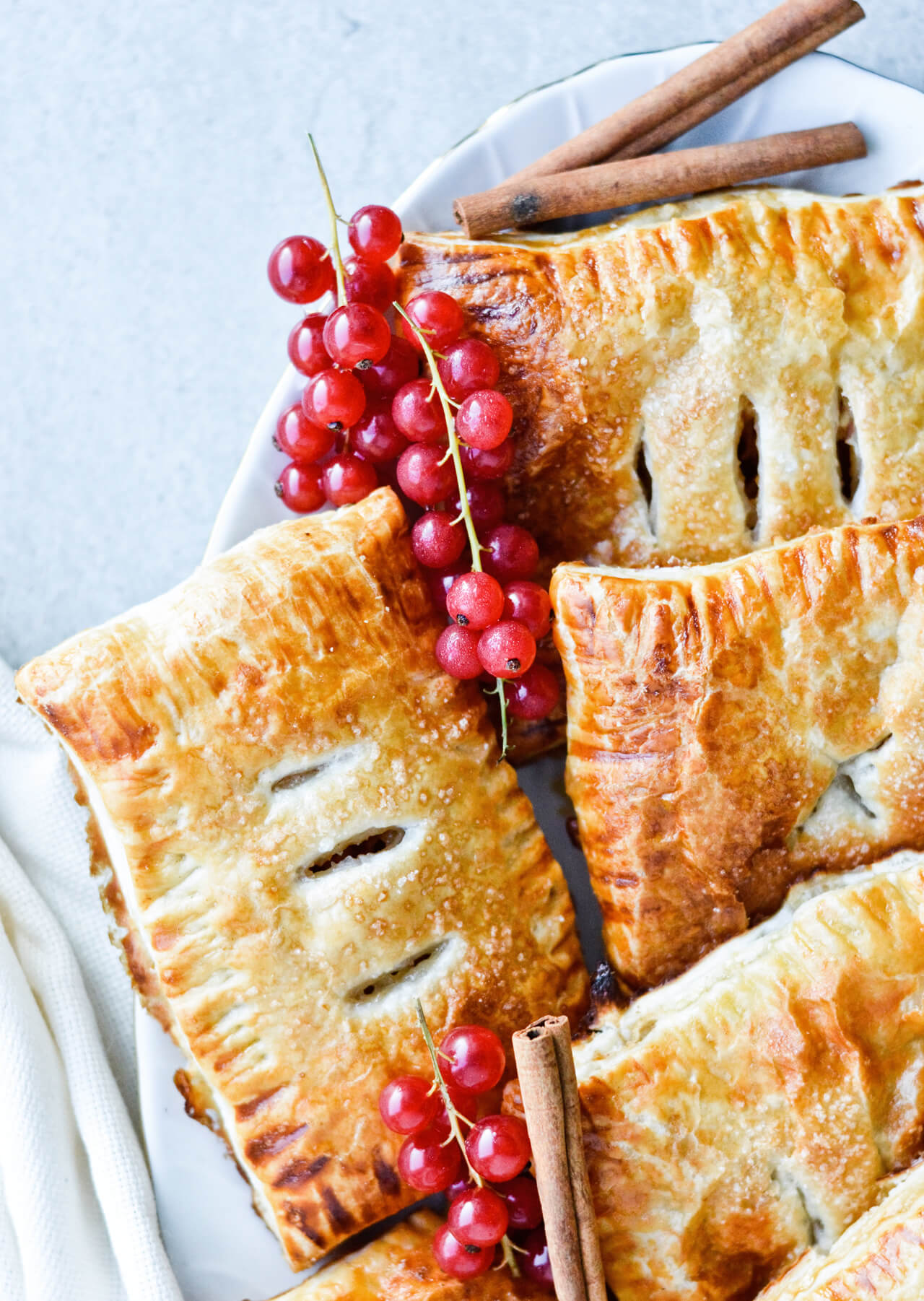 If that sounds easy, wait till you see what the filling is like. This type of apple filling is what we put in strudel or the classic Slovene apple pie (or German / Austrian apple pie). It's a wonderful combination of grated apples and sugar, with a pinch of cinnamon and lemon zest. Trust me, once you try grated apples it's hard to not use them all the time.
I prefer grated apples over sliced for pie fillings. The reason is really very simple, they're just more convenient. They transform into a thick apple sauce-like filling and once the pie cools, you can slice it any way you like and the apples won't spill anywhere. It just makes things so easy. And the pie so juicy and amazing.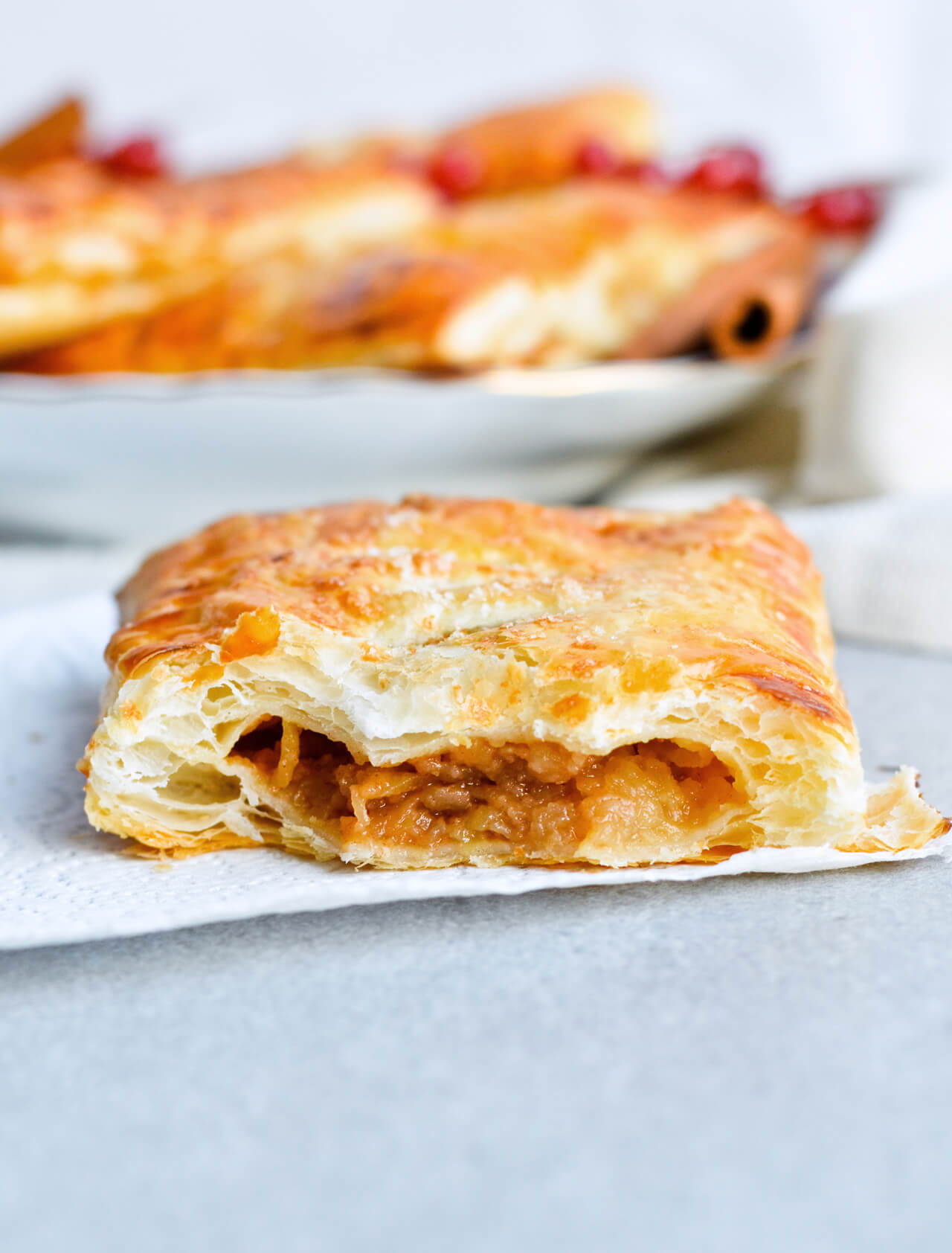 These flaky, sweet pies really are the best puff pastry apple hand pies you will ever make. And the true beauty lies in the fact that you can multiply this recipe how many times you want and make apple pies for everyone this year.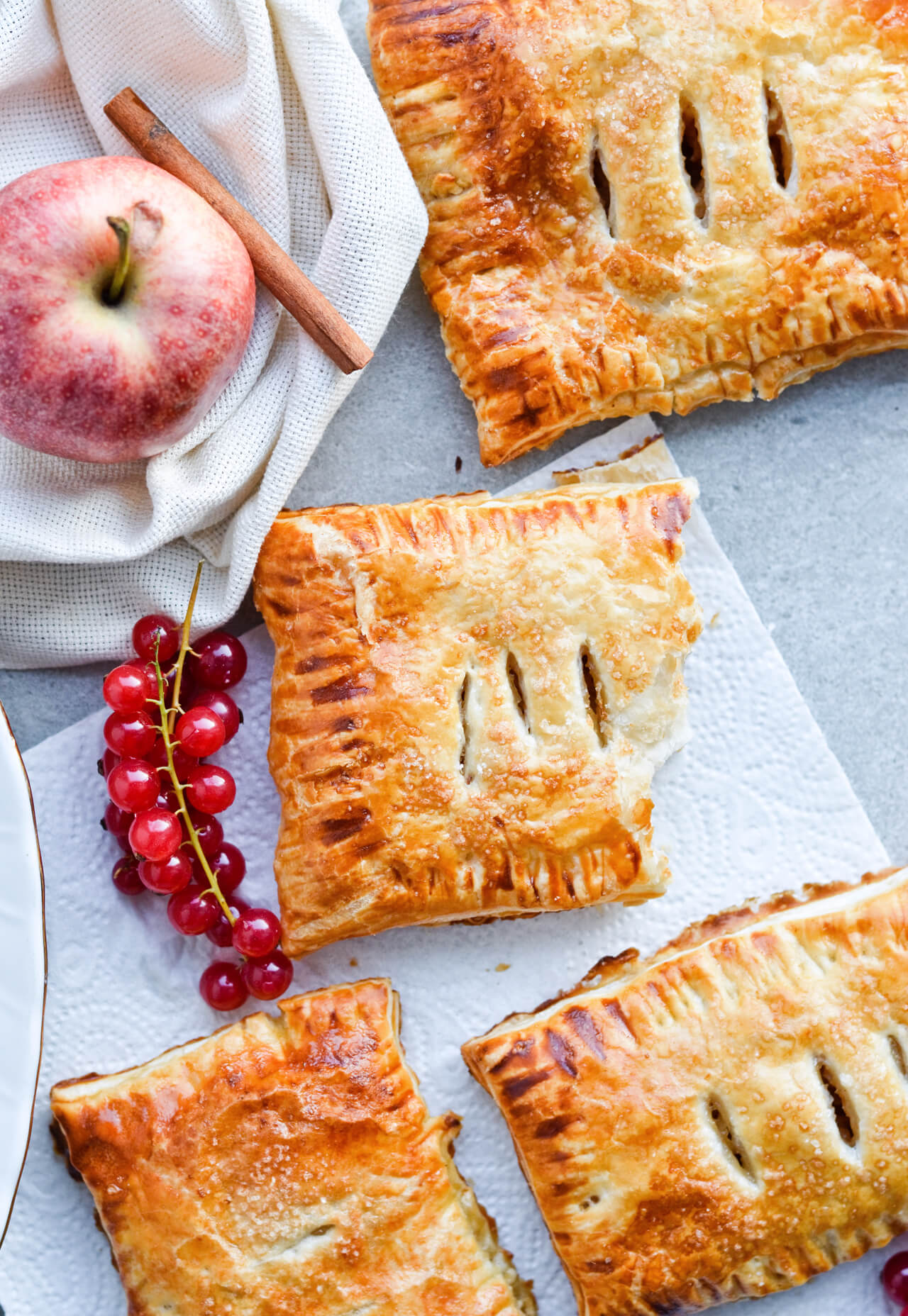 Print
Best puff pastry apple hand pies
It doesn't get easier than this!
Author:
Yield:

8

servings

1

x
Category:

Dessert

Method:

Baked

Cuisine:

American
Scale
Ingredients
550

g (20oz) puff pastry = two 40 x 24-cm | 16 x 9 1/2-inch sheets

1

egg, beaten (for egg wash)
granulated sugar for garnish (optional)
Apple filling
3

–

4

medium apples

110

g (1/2 cup) granulated sugar, more to taste

3 TBSP

s fine breadcrumbs
zest from

1

organic lemon

1 teaspoon

ground cinnamon, more to taste
Instructions
Important: If you're using frozen puff pastry, thaw it first according to the instructions on the package. You also don't need the exact same size of puff pastry sheets that I use. Anything similar is perfectly okay. Once you have thawed pastry sheets, proceed with the recipe.
Line 2 baking sheets with parchment paper, set aside.
Peel and coarsely grate the apples, discard cores and peels. In a bowl, combine grated apples, sugar, bread crumbs, lemon zest and cinnamon. Set aside.
Lay out a puff pastry sheet on your work surface. Slice into strips, each measuring approximately 10 x 24 – cm (4 x 9 1/2 inches). Brush the edges with egg wash. Top one half of the pastry strip with apple filling, leaving a 1-2 cm (1/2 – 1 inch) border around it. Fold the empty half over the filling and press the two together. Brush pie with egg wash, seal edges by pressing them together with a fork, sprinkle with sugar. Continue with the rest.
Using a sharp knife, make 2-3 slices into the tops of the pies (or make X marks). These will help release air from the pies as they bake.
Chill pies in the fridge while your oven warms up. Set to 200°C (392°F). Bake pies for 20 minutes or until they're golden and puffy. Remove from oven and let cool in the pan.
Serve lukewarm or cold. Once completely cool, you can store pies in an airtight container (or ziplock bag) for up to 3-4 days. (If you're superhuman and they last that long.)
Notes
I prefer to buy ready-to-use puff pastry sheets that are sold individually. So you get one sheet, rolled and not frozen, and you just take it out of the package at home and that's it.
If you can't find this at your store, just use frozen puff pastry instead. From my experience the sizes of store-bought puff pastry dough are all pretty similar, whether they come rolled and ready or frozen in boxes and you roll them yourself.
I grate my apples with a classic box grater. As you grate the apples, they release some juice, which is why adding the breadcrumbs is important, as they soak up some of that juice.
Make use of the apple peels and cores! Instead of discarding them, make this apple peel tea. It'll go great with these pies.
SaveSave