Truly the best puff pastry apple hand pies! When you're looking for a quick fix, these hit the spot every time. Made with easy store-bought puff pastry and a mixture of grated apples, these are baked quickly and produce a flaky buttery pie with a juicy cinnamon apple filling. Serve them warm and gooey with a scoop of ice cream on top or at room temperature with a sprinkle of sugar.
I honestly think there are no losers in the world of pastry and apples. I could also say there are no winners, but I guess I pick those depending on the occasion. Today I'm sharing these pies which are a definite winner when you want a seriously easy and quick fix, as you can make these in under an hour, given you have everything on hand. How good does that sound?
The one thing that makes home feel like home to me is the smell of cinnamon and apples in the Fall. Memories of my Oma's apple strudel (here's a quick pear strudel for you) or mom's Slovenian apple pie (kind of like this one) fill up my head and I'm instantly happy… I'm also instantly craving something like that. I don't always have it in me to make either of those things, I often get a craving in the evenings and if I want to have a chill evening, I'm not about to start baking for several hours (although full disclosure, I have done that in the past, ha).
Enter the best puff pastry apple hand pies. What are these, why are they the best?
They kind of look like poptarts if you decide to keep the rectangular shape. You can easily cut the pastry into whatever shape you prefer, but I love the simple "poptart" shape as it's also the quickest to do. As mentioned before, I'm making these with store-bought puff pastry.
My number one choice is always the already-rolled fresh puff pastry, because it cuts on prep time significantly. I never have to worry about thawing pastry or rolling it out myself. Buying sheets of puff pastry also makes it really easy to control the number of portions. While sheets comes in different sizes and weights, all are pretty similar in my experience and on average one sheet of rolled puff pastry makes four pies.
I usually go for the classic puff pastry, but sometimes I do buy the yeasted kind. Yeasted puff pastry is just like regular puff pastry but with added yeast, so it produces a puffier crust. I finish of the crust with an egg wash and a sprinkle of Demerara or Turbinado sugar. The egg gives the pastry a nice shine and sugar adds some aroma and crunch.
Now for the delicious cinnamon apple filling
Many pie recipes, especially American, call for Granny Smith apples. I think those babies have a time and place, but this recipe isn't it. What you want are sweeter, faster cooking apples, something like Golden Delicious or Gala apples. That's because you're only going to bake these pies for about 15-20 minutes. The aim in this recipe is to get a juicy, almost apple-sauce-like filling and sweeter apples do the trick. On the contrary, Granny Smiths are praised because they aren't as sweet and hold their shape, making them perfect for a hearty, tall pie. (Here's what Saveur and Cook's illustrated have to say about apple varieties.)
As you read through the recipe, you'll see right away that I'm asking you to grate the apples. Yes, you really need to do that. Grating apples for a pie filling is typical for Slovenian apple pies and I love the end result you get by doing that. The grated apples are normally mixed together with sugar, cinnamon and some lemon zest. All these flavors come together as the pie bakes and in the end you get a very uniform, applesauce-like filling.
But because apples are very juicy, I am adding cornstarch to them. Traditionally people used breadcrumbs to thicken the filling, I assume because everyone usually had some bread or breadcrumbs on hand. But in this specific recipe I prefer cornstarch. You definitely need to use something. Grated apples release their juices almost immediately and continue to do so during the baking process. The cornstarch transforms those juices into a thicker sauce and once the pies are cool, they hold their shape really well, which is what you want for something you can potentially eat with your hands.
Tips on assembly
I keep praising apples for being juicy and although really wonderful, the juices do make the assembly a little tricky especially when combined with pastry sheets. See, the one criticism I have for pre-rolled puff pastry sheets is that they're rolled pretty thinly. If you were to use thawed blocks of puff pastry, you can roll those out any way you like. But with already rolled sheets, I've had to come up with a new system.
First, I generously flour my work surface and lay a sheet of puff pastry on top, which I then dust completely with flour. Then I slice it into long rectangular strips and transfer each strip to a baking sheet. And only then do I add the filling. Juicy apples get kind of heavy for the thin sheets, so by finishing the assembly on the baking sheet I don't have to worry about tearing apart or ruining the pies during transportation (from the counter to the baking sheet, which I have done in the past and it can get messy).
Now okay, trust that I'm making all of this sound much worse than it is. I just want you to be prepared and pay attention to certain details, but I promise the whole process of making these puff pies really isn't that complicated. It's actually easy.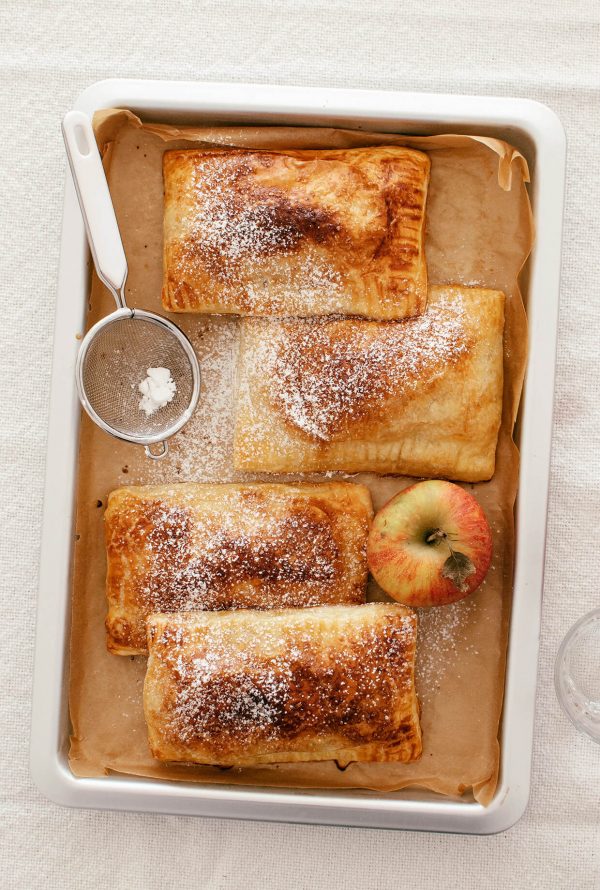 How to eat these absolutely best puff pastry apple hand pies?
On the couch as you binge on Netflix?
All jokes aside, you have a few options with these. I like to first let these cool to room temperature (as those apples in the center are really hot!) and then eat them as such. Whatever leftover pies I have on the day I make these, I wrap well and then freeze. They last for up to 2 months in the freezer and thaw beautifully without losing their shape or flavor. The crust won't be as crisp as a typical pastry is, it'll be a bit softer, but still very delicious.
Another option I love is serving these warm with ice cream on top. Enough said. A warm apple pie with cold ice cream is a thing of dreams.
But whatever way you decide to eat these, I just beg you to have some apples and puff pastry on hand all the time throughout Autumn and Winter, because once you make these… you'll want to keep making more. These pies truly are wonderful for how simple they are to make, not to mention the whole process takes less than an hour from start to finish!
Best puff pastry apple hand pies
Made with easy store-bought puff pastry and a mixture of grated apples, these are baked quickly and produce a flaky buttery pie with
a
juicy cinnamon apple filling. 
Ingredients
4

large apples

((roughly 1.5 lbs or 700g))

2/3

cup

(

140

g

)

granulated sugar

1

tablespoon

cornstarch

1

teaspoon

lemon zest

1

teaspoon

ground cinnamon

2

sheets puff pastry

1

egg

(beaten)

2

tablespoons

Turbinado or Demerara sugar
Instructions
Line 2 baking sheets with parchment paper and set aside. Preheat oven to 395°F (200°C). 

Peel and coarsely grate the apples (I use a box grater). Transfer shredded apples to a sieve placed over a bowl, sprinkle with a tablespoon of sugar and let sit like that. Combine the rest of sugar, cornstarch, lemon zest and cinnamon in a medium bowl, set aside. 

Flour your work surface, roll out your first sheet of puff pastry on top. Sprinkle it with flour, making sure you have no wet patches as this makes it easier to handle. Cut pastry into 4 equal strips then transfer them to the baking sheet. Brush the edges with a beaten egg. 

Take the apples and fold them into the sugar mixture, mix until all apples are covered. Place about 2 spoonfuls of this onto the top portion of each pastry strip, leaving a border on each side. If any juices flood the pastry, that's okay.

Cover the top with the bottom part of the pastry, seal the edges with a fork, brush each pie with egg, sprinkle with some turbinado sugar. Place in the center of the oven and bake for about 15 minutes until the pastry is puffy and golden brown in color. Remove from oven and let cool to room temperature before serving.

As the first batch bakes, repeat the process with the second sheet of pastry. Keep uneaten pies covered either at room temperature or in the refrigerator. You can also freeze them for up to 2 months. 
Notes
Pay attention to apple varieties you use. I like to use a mix of juicy sweet apples. My favorite varieties are Golden delicious and Gala apples. In contrast, Granny Smith apples aren't the best choice for this recipe, save those for a big pie. 
I like to use fresh, already rolled sheets of puff pastry that I get at my store. You can use frozen too, but allow to completely thaw before baking. Puff pastry sheets come in different sizes so you can adjust the number of pies you want to make. The weight of 2 sheets is usually around 17-18 oz (500g). One sheet, on average, makes 4 hand pies.
Calories per serving:
315
kcal
Email recipe
Pin Recipe