Apple cider cake with maple mascarpone frosting (made with no butter) is a wonderful spicy cake filled with loads of whipped mascarpone and topped with homemade marzipan apple decorations!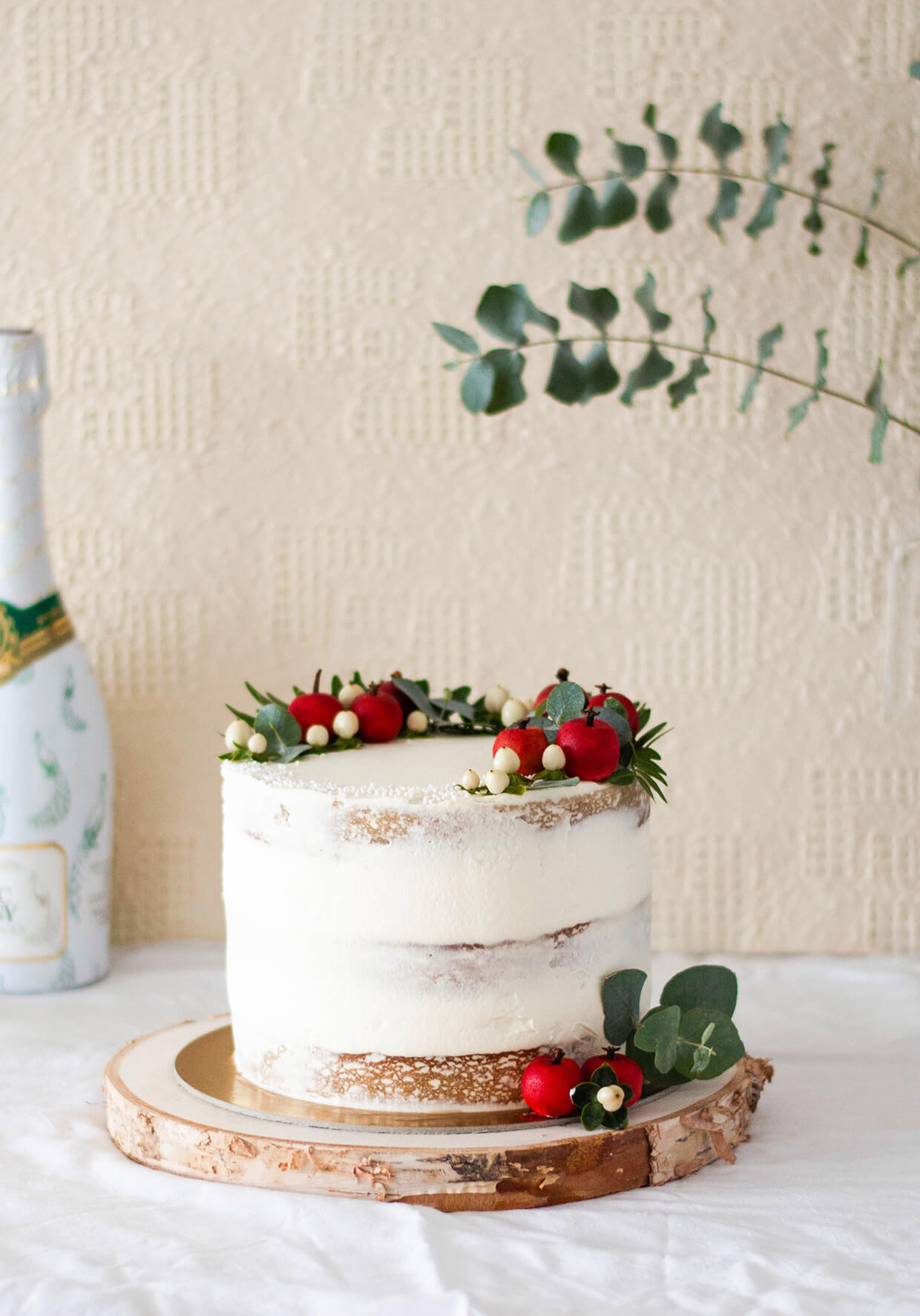 Okay, let's get straight to it, I need to tell you all about this apple cider cake with maple mascarpone frosting! It embodies all of the wonderful spices and flavors of Fall and Winter seasons and early December is the perfect month for me to share this as it's right after St. Nicholas day and right before my birthday… so cake is in order! 
Hope I had you at apple cider because I love apple cider! I did some research about cider and found out the names might differ between USA and Europe…and I definitely don't want you to confuse apple cider with hard cider.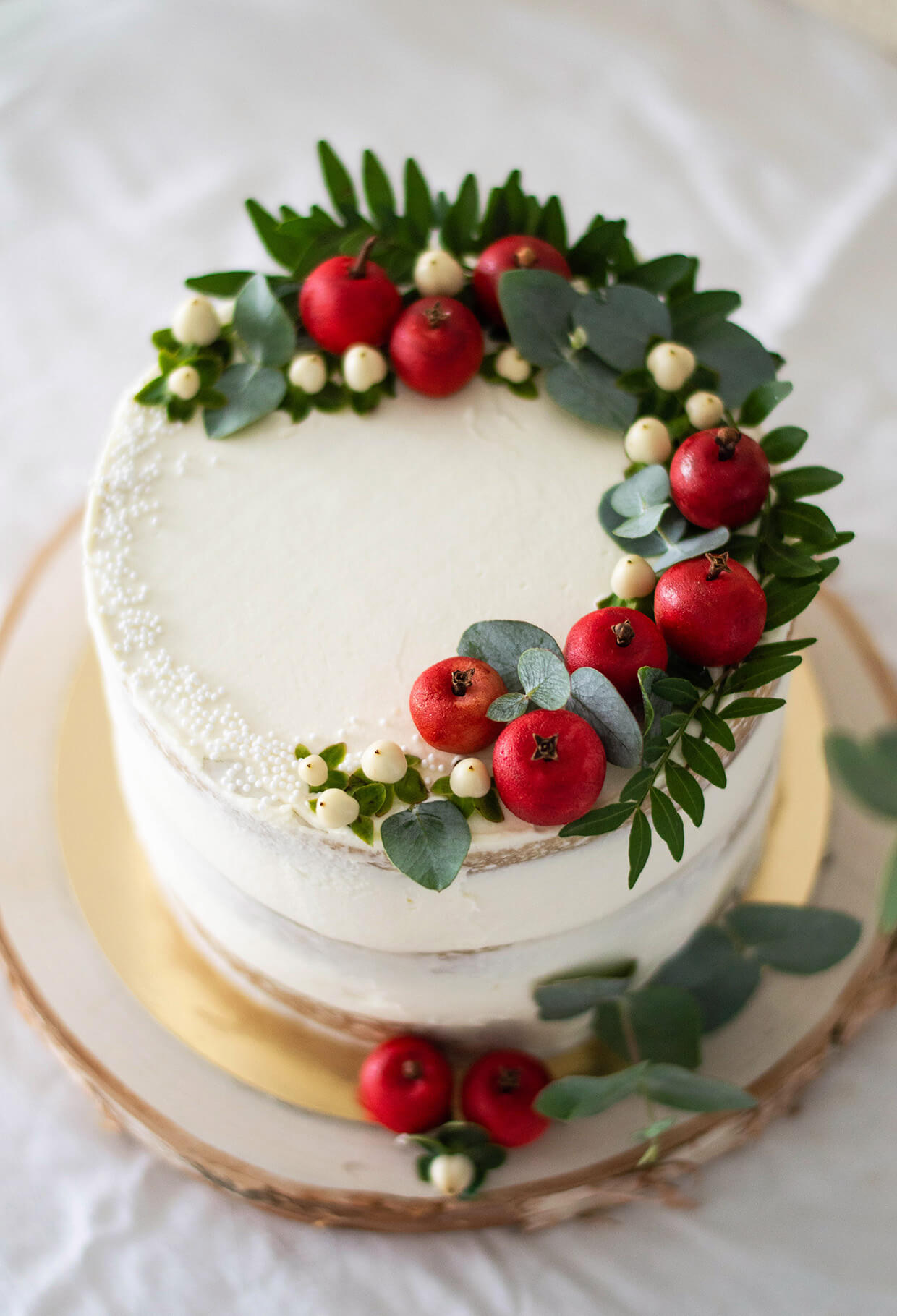 Apple cider is 100% unfiltered, unsweetened, simply pure apple juice. It has a muddy appearance compared to the filtered apple juice which is completely clear in appearance.  In our part of the world apple cider is usually sold simply as "unfiltered apple juice". I read that in the States and Canada, many know it as cider or soft cider. 
Hard cider (or just cider in some countries, e.g. "cidre" in French) is an alcoholic apple beverage. We, Slovenes, actually call this type of beverage apple wine, as do the Germans who call it apfelwein. 
Anyway, I just wanted to make this clear because recipes can be tricky when you're trying to buy ingredients and you realize every country has its own word for something.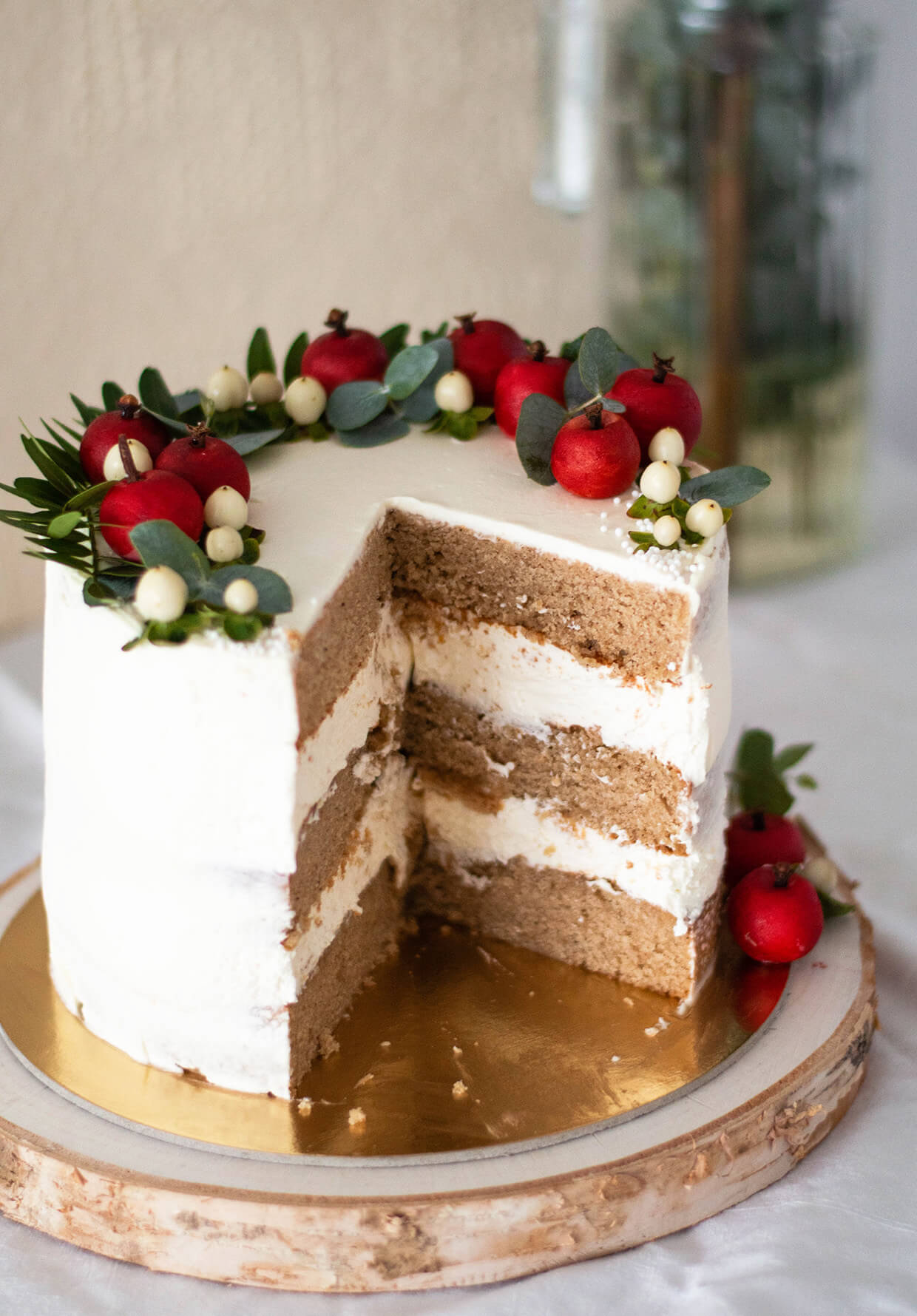 This apple cider cake with maple mascarpone frosting is just the best cake ever and not just because it's cute. I absolutely love apple strudel and sweet mascarpone and a mix of the two is exactly what this cake tastes like. It's packed with cinnamon, nutmeg and allspice which give it the most amazing aroma. On top of that you have both apple sauce and apple cider in the batter! YUM! 
Trust me, your home will smell like the biggest apple orchard as this bakes. The smell is just addicting. The cake itself is buttery and a bit on the denser side (compared to something like a chiffon cake which is very airy).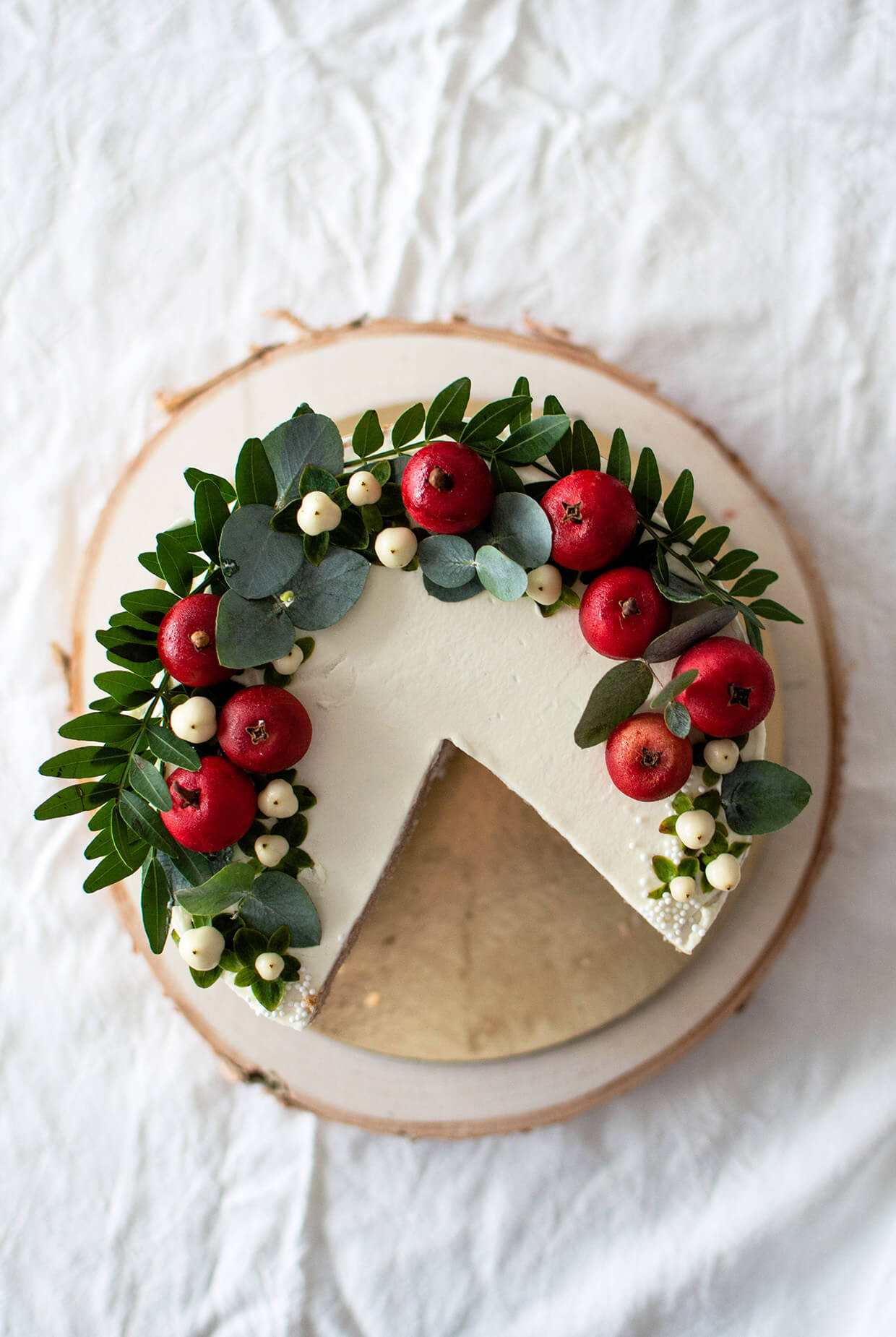 As if that wasn't enough, you have a classic mascarpone frosting sweetened with powdered sugar and more importantly maple syrup! There isn't that much syrup in this, but just enough to give the frosting that light maple sweetness. 
I've gotten compliments on this cake with family saying it tastes like Christmas. Now, they may be biased, but I don't think so. It really is that good and it's what I want to bake year-round not just from September to December.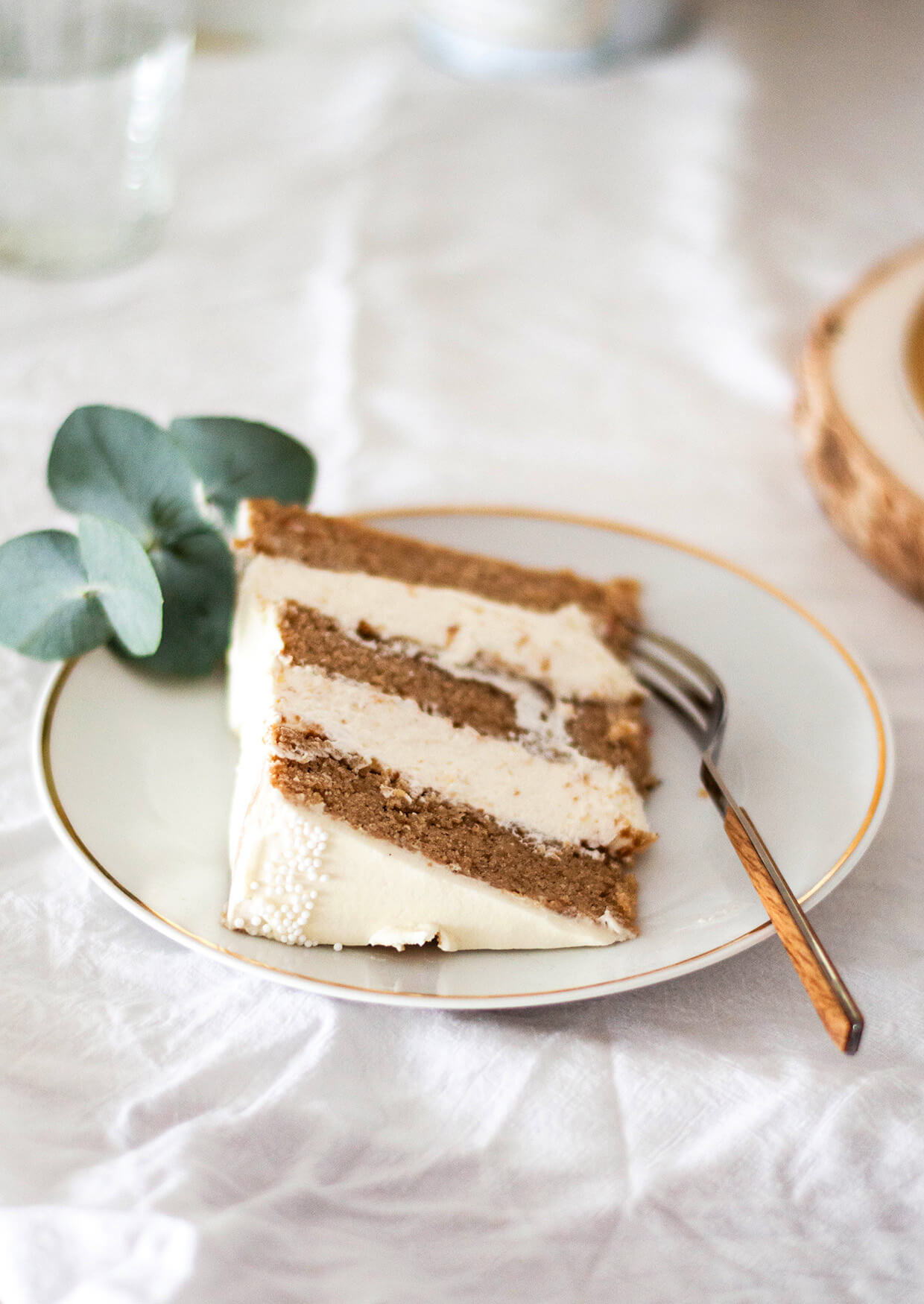 Now, this isn't just any apple cider cake with maple mascarpone frosting. It is topped with really beautiful red marzipan apples that I am so in love with. I'll be sharing a tutorial for these but gosh… I just love marzipan. I used to just nibble on it (that was after years of hating it, ha) but now I also want to make decorations all the time. It's so much easier than it looks, as long as you stick to simple shapes, haha! 
Whatever you're baking this season, I hope this apple cider cake finds a place on your table.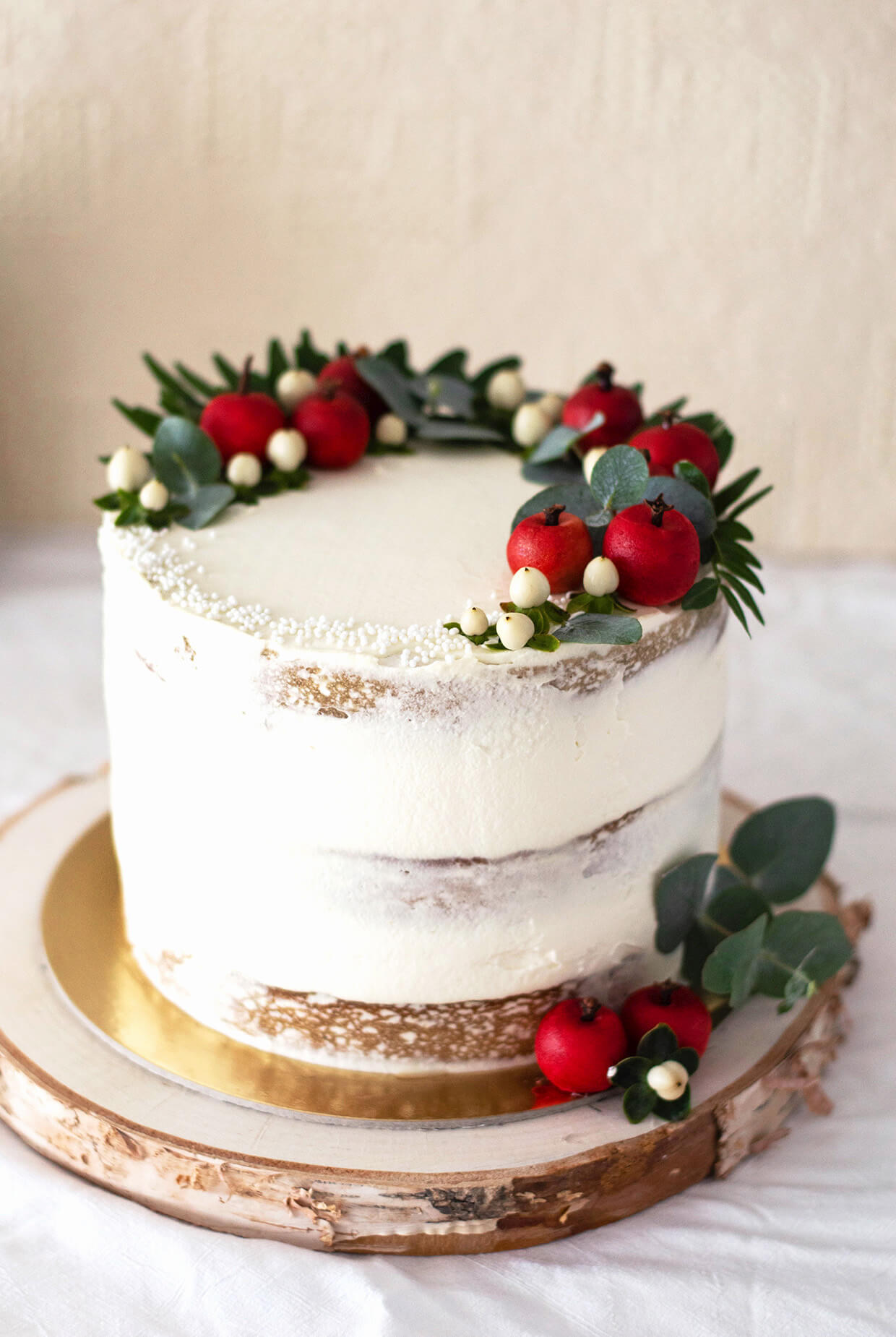 Print
Apple cider cake with maple mascarpone frosting
A wonderful spicy cake packed with apple flavor and wrapped in creamy mascarpone frosting!
Author:
Yield:

8

servings

1

x
Category:

Dessert
Cake
2 1/4 cups

(

11 oz

|

310g

) all-purpose flour (+ extra for the pans)

4 teaspoons

baking powder

1 1/2 teaspoons

ground cinnamon

1/4 teaspoon

ground nutmeg

1/4 teaspoon

allspice

1 1/2

sticks (6 oz | 170g) unsalted butter, softened (+ extra for the pans)

1 cup

(

7.5oz

|

210g

) white granulated sugar

1/2 cup

(

4oz

|

110g

) light brown sugar (or Demerara)

1/2 teaspoon

vanilla extract

1 teaspoon

sea salt

4

large eggs, at room temperature

1 cup

(

240

ml) apple cider

1/4 cup

(

60

ml) apple sauce
Frosting (see notes for ingredient details)
16oz

(

450g

) mascarpone cheese, at cold temperature – straight from the fridge

2 cups

(480ml) heavy whipping cream, at cold temperature – straight from the fridge

2 tablespoons

(30ml) maple syrup, at cold temperature

3/4 cup

(

120g

) powdered sugar
Instructions
Preheat oven to 350°F (175°C) and butter three 7-inch (18-cm) cake pans. Dust all three with flour, shake out excess and set aside.
Sift flour, baking powder and spices in a medium bowl and set aside. Cream butter in another bowl, add the sugars and beat until fluffy. Beat in vanilla and salt, then eggs one at a time until incorporated. Whisk in 1/2 of the flour mixture until incorporated. Next, whisk in apple cider and sauce. Once incorporated add the rest of the flour and whisk until no dry patches are left.
Divide batter evenly between the pans and bake for 20-30 minutes, until a toothpick inserted in the center of each cake comes out clean. Cool cakes in the pans for about 10 minutes, then flip upside down on a clean kitchen towel and let cool completely. At this point you can wrap each cake and store all three in the refrigerator for a few hours or overnight, as that makes the cake easier to assemble.
When your cake layers are completely cool, make the frosting: Cream mascarpone in a bowl with a spatula. Pour over whipping cream and beat with a hand mixer (or in a stand mixer) on medium-high speed until soft peaks form. Add maple syrup and sugar and beat for another minute or two, until the frosting is smooth and form firm peaks. (Do not over-beat!! The frosting has to be smooth and it should hold its form when you grab some with a spoon, but know that it'll harden even more as the cake chills).
Assemble cake: Place one cake layer (bottom-side down) on a cake plate. Using an offset spatula, top the cake with about 1/3 of the frosting, then add another layer and another third of the frosting. Top that with the last cake layer (bottom-side up) and the remaining frosting. Spread it over the top and around the sides of the cake, make it as smooth as possible. Transfer cake to the refrigerator and chill for a few hours or overnight.
Decorate cake right before you are ready to serve it. I use a mix of white sprinkles, greenery and homemade red marzipan apples. Store leftover cake in the refrigerator and eat within 2-3 days.
Notes
About the frosting: How mascarpone is packaged depends on the brand. In Europe, specifically in Slovenia, mascarpone is packaged in 250g (8.8 oz) and 500g (17.6 oz) containers, which is what I use. I noticed that in the USA, container sizes vary between 8oz or 16oz (225g or 450g), but you can also find 17.6oz (500g) containers (Galbani brand). Both 16oz and 17.6oz containers are fine, use whichever you can find. If you can find both, go for the 17.6oz container. Heavy whipping cream has a fat content of at least 36%. Not every country differentiates between regular and heavy whipping cream, my advice is too look for cream that has at least 35% fat content. Another important thing: keep all frosting ingredients cold! Cream whips best when it's cold and mascarpone won't curdle when it's mixed with ingredients of the same temperature (sugar being the exception here). Which is why you need to make sure all of these ingredients are chilled before you start baking. You can use 8-inch (20-cm) pans if you don't have 7-inch ones. Alternately, you can use two 9-inch (23-cm) pans instead, for a more classic cake. If you want a stronger mascarpone flavor, you can use less whipping cream in the frosting. A favorite combination of mine is using 16oz (450g) mascarpone and 1 cup (240ml) whipping cream. This 2:1 ratio produces a frosting that is still fluffy and smooth but even richer in flavor. Do keep in mind that you need less sugar for this and that you'll end up with a smaller amount of frosting. How to make marzipan fruit: You can find marzipan in well-stocked grocery stores, usually in the baking section, or in specialty stores for bakers / pastry chefs. Take a block of marzipan and add some red food dye. Knead it until the color is evenly incorporated, then roll it in a log. Cut it into pieces and roll each into a ball the size of a hazelnut. Press a clove into each one to act as a stem. Then brush each apple with more red food coloring to create a more lively apple. Let dry overnight. These will keep for a long time, store them in container at room temperature.