If you're looking for just one cocktail to celebrate the festive season with, pick these apple cider margaritas. A smooth and gorgeous drink, it's made with mellow Reposado tequila, a splash of orange juice, agave nectar, cinnamon and wonderful apple cider. It's light and tasty, perfect for cozy celebrations and dark Winter nights.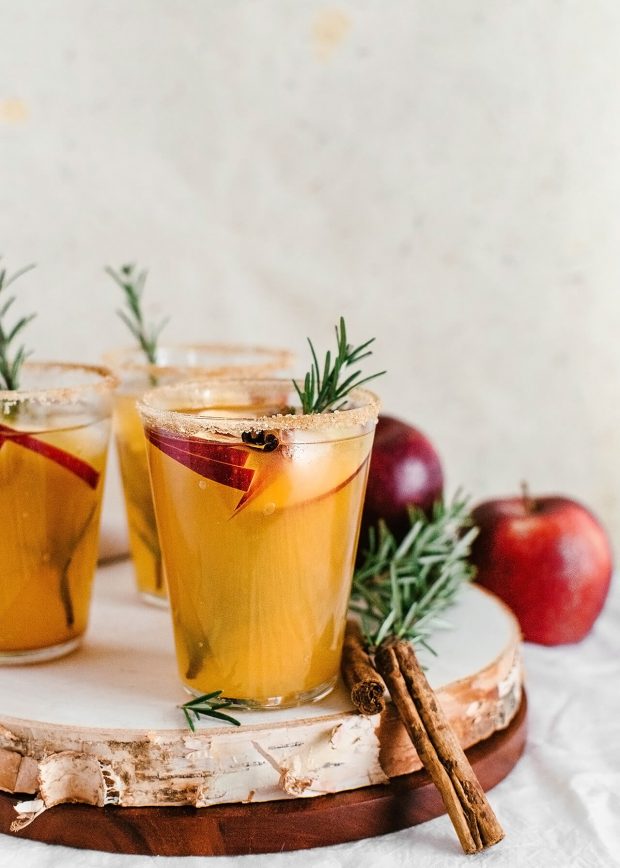 As we approach the end of the year I am much more in the mood for all things festive. I wish we could somehow stop time or make it run slower. These last few months of the year are my favorite, but I feel like they always go by way too fast.
So, I try to make the most of it. Take some time off, consciously slow down and cherish each moment. I don't always succeed and weeks run by me, but I have discovered that making a good cocktail is a good way to stop time. Does that sound dramatic?
But really, look at these apple cider margaritas. They're so simple, a really easy cocktail to make, but they're just a tad bit special… enough for me to hit pause (as opposed to gulping down coffee mid-work) because I want to actually enjoy one, over snacks or dinner with people by my side. And cats, can't forget about those.
What exactly is an apple cider margarita?
Well, she's basically a fall/winter sister of a classic margarita. A more mellow, warmer version of the very popular (sometimes even frozen) margarita. Now, a few things are the same. We do have citrus, tequila and agave nectar, but we're using different varieties.
The citrus I am using comes in the forms of oranges. You can easily use limes too, if you want, but with the mix I created, orange juice is a better choice.
Next up, we have Reposado tequila. Reposado tequila comes in the most gorgeous amber color. Unlike your classic, blanco tequila, this one is rested. What that means is that they store it in oak barrels (or other oak vessels) from 2-12 months and this results in a smoother, mellow taste. It makes Reposado perfect for any cocktail and especially for these apple cider margaritas.
And apple cider is the other key ingredient.
I'm sure many of you know what exactly apple cider is, but to avoid any confusion, let me just explain it. Apple cider is 100% unfiltered, unsweetened pure apple juice and it's made by pressing the apples. That is why it has a muddy appearance compared to the filtered apple juice which is completely clear in appearance.
It's important that you know what it looks like, because the name of it differs from country to country. In our part of the world grocery stores usually sell apple cider simply as "unfiltered apple juice". However in the States and Canada, many know it simply as cider or soft cider.
But don't confuse cider with hard cider (or just cider in some countries, e.g. "cidre" in French). Hard cider is an alcoholic apple beverage. We, Slovenes, actually call this type of beverage "apple wine" or even "apple cider" sometimes (see what I mean by confusion?), as do the Germans who call it "apfelwein". Hard cider is always alcoholic and tastes like apple champagne and beer at the same time.
You can make apple cider at home by yourself, if you can't locate it in your area. Or if you don't like the muddy look of apple cider anyway, you can also just use apple juice in the recipe. But apple cider, the pure apple juice really offers that pure apple flavor, slightly sweet and slightly tart.
I also made a (maybe controversial) decision with these apple cider margaritas.
When you read through the recipe you'll see I'm not using nay salt! The salt you would typically press into the rim of the glass. I've decided to skip it as I don't think this recipe needs it. Instead, the rims of the glasses are dipped in a mixture of cinnamon and sugar, as these flavors work better with the flavors inside the drink.
For extra aroma, I add a pinch of cinnamon to the drink too. And to be as extra as possible, I also include it as a garnish. You don't have to use as many garnishes as I do, but I love adding sliced apples and cinnamon sticks to the mix. Rosemary is purely optional, but it does make this apple cider margarita look more holiday-like. You could also add orange peels or star anise, basically anything that you have on hand and works with apples.
All in all, if you want a quick cocktail that's normally loved by everyone and looks really pretty, then you cannot go wrong with these gorgeous apple cider margaritas. And if you want to up your apple cider game even more, try this jaw-dropping apple cider cake.
Apple cider margaritas
Sweet and mellow margaritas, packed with flavors of Fall and Winter. 
Ingredients
Margaritas
8

fluid ounces

(

240

ml

)

Reposado tequila

1

cup

(

240

ml

)

apple cider

1/2

cup

(

120

ml

)

fresh orange juice

1/4

cup

(

60

ml

)

agave nectar

1

pinch

ground cinnamon
For serving
1

teaspoon

ground cinnamon

1/4

cup

(

50

g

)

granulated sugar

(brown sugar is great too)

1

orange

(cut into wedges)

1

apple

(thinly sliced)

4

cinnamon sticks

fresh rosemary

ice cubes
Instructions
Combine all ingredients in a pitcher (or ice-filled cocktail shaker). Stir (or shake) well.

Mix cinnamon and sugar on a plate. Run an orange wedge (or lime or even use apple cider) around the rim of 4 glasses. Dip them into the sugar mixture. Fill each glass with ice (as much as you like) and pour in the drink. Garnish and serve. 
Notes
Apple cider is 100% pure, unfiltered apple juice made only from apples. Not to be confused with alcoholic hard cider, also known as apple wine, which is a bubbly alcoholic apple drink. 
Calories per serving:
222
kcal
Email recipe
Pin Recipe