If there's one Fall cocktail that we all need, it's this apple cider margarita. It is smooth, spicy and inviting with a cinnamon sugar rim and a mix of apple cider and Reposado tequila that make it golden and gorgeous.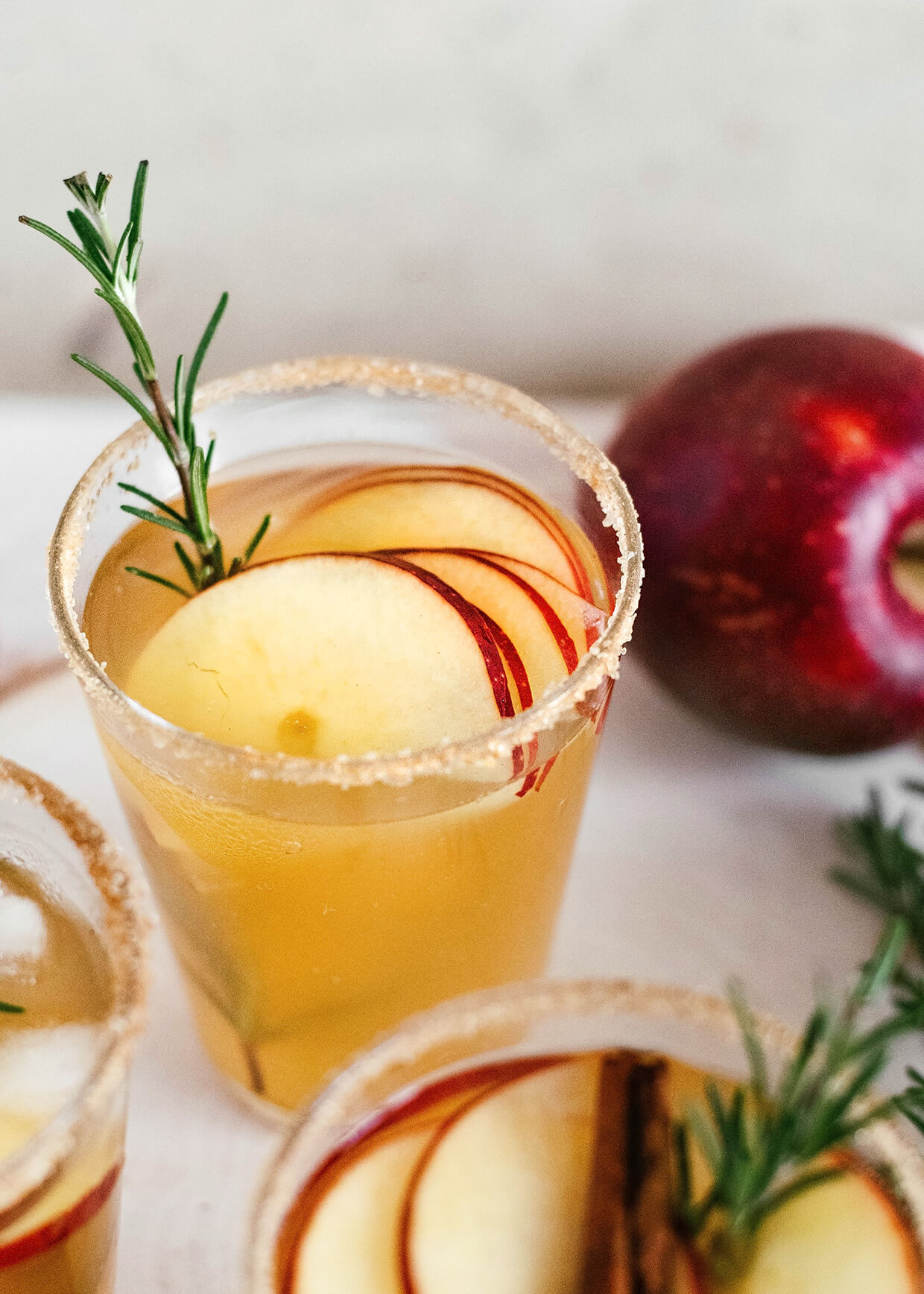 I wish I could make the days from September to January run slower, I love this time of year so much. I've discovered now that making a cocktail is a good way to stop time for a bit. And as much as I like pumpkin flavored things (like this pumpkin brioche I dream of every night), I love apple cinnamon the most. So making apple margaritas makes absolute sense.
Classic Margarita vs Fall Margarita
An apple cider margarita is basically an autumnal version of a classic margarita. It is warm, cozy and mellow (especially because I skip triple sec). 
A classic margarita is made with fresh lime juice, tequila and agave nectar and this spicy apple version builds on that. The biggest difference is in the tequila I'm using. Because the only way to make the best apple cider margarita is to use Reposado tequila, as it comes in the most gorgeous amber color.
Unlike your classic blanco tequila, this one is rested. What that means is that they store Reposado tequila in oak barrels (or other oak vessels) for 2-12 months and this results in a smoother taste that can be smoky or vanilla-like. (Eater wrote a nice tequila buying guide that you might like.)
The second important addition is cider. Tequila and apple cider work together really nicely. The cider has a rich, sweet, apple taste that pairs beautifully with the warm, spiced, honeyed tequila. To amplify those flavors, and make this even more like candy, I also add orange juice instead of limes and a pinch of cinnamon.
The difference between apple cider, apple juice and hard cider 
As you're gathering your ingredients, make sure you're getting the right cider.
Apple cider is 100% unfiltered, unsweetened pure apple juice and it's made by pressing the apples. That squeezed pulp is why it has a muddy appearance. In contrast, apple juice is filtered and thus completely clear in appearance. But both taste like apples.
Personally, I think apple cider has more of a pure apple flavor, slightly tart and mostly sweet, like how a good apple would taste. I love it so much, I actually mainly drink it on its own. But making apple cider cocktails is fun too.
It's important that you know what apple cider looks like, because the name of it differs from country to country. In my part of the world, that is Central Europe, grocery stores usually sell apple cider simply as "unfiltered apple juice". However in the United States and Canada, many know it simply as cider or soft cider. 
Hard cider is an alcoholic apple beverage. Sometimes it's simply called cider, without the "hard" prefix. We, Slovenes, actually call this type of beverage "apple wine" or even "apple cider" (see what I mean by confusion?), as do the Germans who call it "apfelwein". 
Hard cider is always alcoholic and bubbly.  It tastes like apple champagne and beer at the same time. And if that's something you want, you could make a hard cider margarita instead. Otherwise stick to delicious unfiltered apple cider.
Next to mulled wine, apple cider margaritas are a staple holiday cocktail. To make them extra festive and true Fall margaritas, I love to use some rosemary, fresh apple slices and cinnamon sticks for garnish. I dip the rims of glasses in cinnamon sugar instead of salt, to create a sugar rim and really play on that spiced apple flavor.
And if you want, you can make this cocktail for a crowd by making a margarita pitcher instead. It'll glow on the table like fire in a fireplace. Add sliced red apples straight to the pitcher and make sugar rims on all glasses beforehand, so serving is super easy once you get to it.
More amazing apple recipes
Apple cider margaritas
Sweet and mellow margaritas, packed with flavors of Fall and Winter. 
Ingredients
Margaritas
4

fluid ounces

(

120

ml

)

Reposado tequila

1/2

cup

(

120

ml

)

apple cider

1/4

cup

(

60

ml

)

fresh orange juice

2

tablespoons

(

30

ml

)

agave nectar

1

pinch

ground cinnamon
For serving
1

teaspoon

ground cinnamon

1/4

cup

(

50

g

)

granulated sugar

(brown sugar is great too)

1

orange

(cut into wedges)

1

apple

(thinly sliced)

4

cinnamon sticks

fresh rosemary

ice cubes
Instructions
Combine all ingredients in a pitcher (or ice-filled cocktail shaker). Stir (or shake) well.

Mix cinnamon and sugar on a plate. Run an orange wedge (or use some apple cider) around the rim of 2 glasses. Dip both glasses into the sugar mixture, fill them with ice (as much as you like) and pour in the drink. Garnish and serve. 
Notes
Apple cider is 100% pure, unfiltered apple juice made only from apples. Not to be confused with alcoholic hard cider, also known as apple wine, which is a bubbly alcoholic apple drink. 
Email recipe
Pin Recipe