Aromatic and super flavorful, these chunky apple soft oatmeal cookies are a real treat. Easy to make, they combine apple chunks with oats and plenty of brown sugar, cinnamon and honey. They are soft and chewy, perfect to have at any time of the day. You can keep raw cookie dough in the refrigerator and freeze scooped cookies to bake at a later time. 
I have this memory from my childhood of eating soft apple muesli cookies. They were small, about the size of a walnut and soft, almost cake-like. Packed with oats, they tasted like apples and cinnamon. The worst part about this otherwise great memory is that they aren't making them anymore. And I cannot for the life of me figure out what exactly they were called or what the brand was. But I just remember loving them so much. 
This recipe for chunky apple soft oatmeal cookies is my substitute for the lost cookie of my childhood. They're chewier, bigger and more buttery, but they're a damn fine replacement I must say.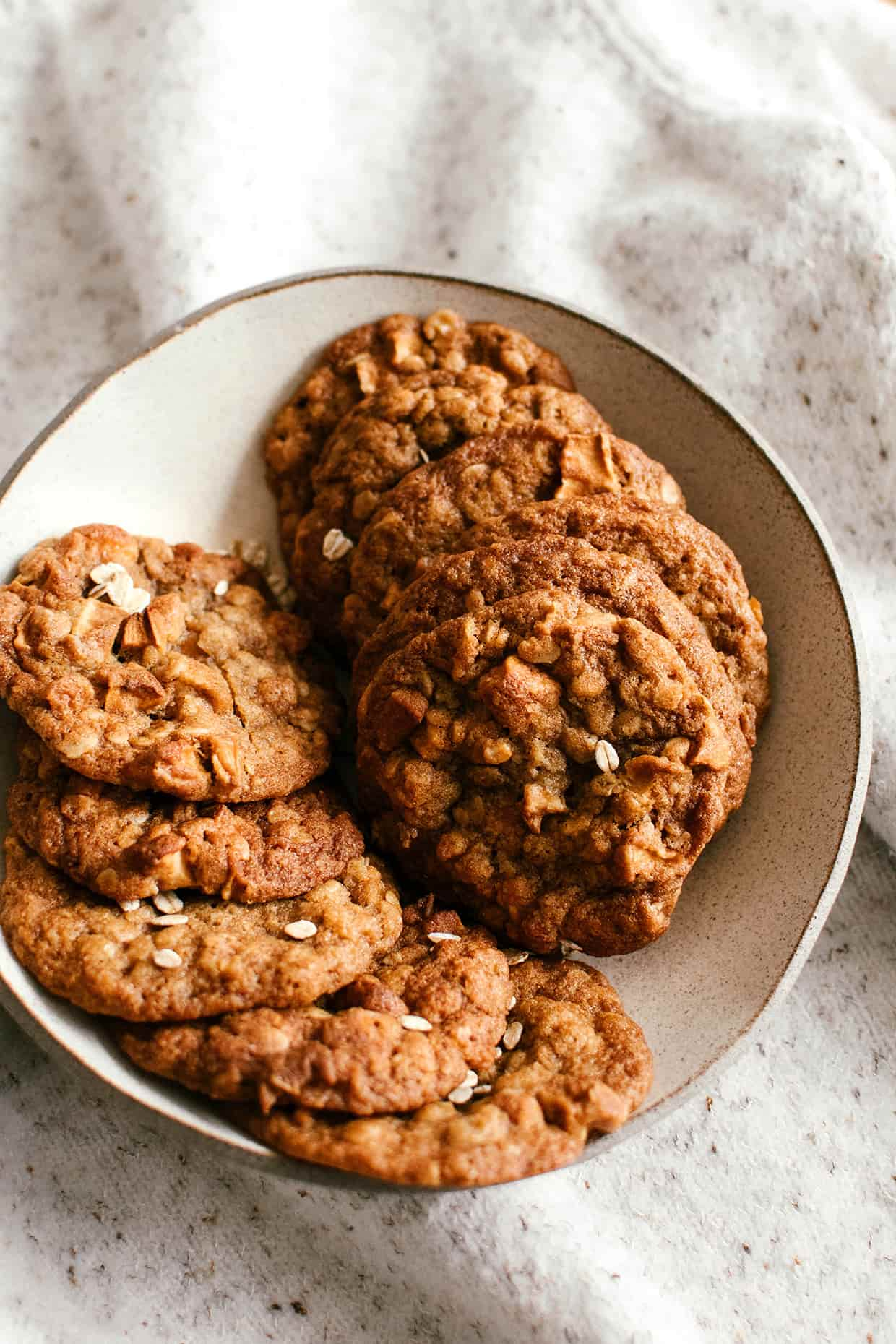 About these chunky apple soft oatmeal cookies 
I know people have strong opinions about oatmeal cookies. Thin and crisp, soft and chewy, chocolate chip, raisin… probably many more. I love them all.
These apple oatmeal cookies are the chewy kind. I also like to call them chunky cookies. I make them with a generous amount of chopped dehydrated apples which give them a unique chewy texture. 
These bits of apples are mixed with crunchy oats, all hiding in a shell of buttery cinnamon goodness. I add a touch of honey to the batter, along with a mix of brown and white sugar. All three make a sweet cookie, of course, but also a very rich tasting cookie. Perfect for cold days. 
I like to bake these long enough that the edges get crisp. I love that contrast of a crispy frame and a very chewy and soft middle.
Dehydrated apples vs apple chips 
Dehydrated apples or apple chips make a great healthy snack and I love adding them to granola or cookies for some extra flavor.
I'm using dehydrated apples in this recipe. They are sometimes sold as dried apples too, but there's a difference between these and apple chips. 
Dehydrated apples come peeled, in wedges or rings. They are pale in color, soft to the touch and have a chewy texture. Their appearance reminds me of marshmallows in a way, although dehydrated apples are much chewier and not as soft as marshmallows.
Apple chips however are crispier. They aren't always peeled. They can look wavy, are thin and dry to the touch. And if you bite into one, they're dry and crisp.
You want to use the soft and chunky kind of apples for this recipe. They will give you more flavor and a softer, chewier texture. 
How to make cookies ahead of time and for later 
This recipe makes a generous amount of cookies. I'm using a cookie scoop with a volume of about 2 tablespoons, so the cookies themselves are of a pretty good size. Not too big, not too small. 
The total count of cookies you get is 26-28 cookies. If you're making them for a crowd, that's perfect. But I totally get that it might seem too much if you're baking solo. The good thing is that you can easily freeze these.
Cookie dough or scooped cookies keep well in the refrigerator for up to 4 days. This can make the whole baking process really easy, as you can make and scoop the cookies one day and then bake them the next. As these chunky apple soft oatmeal cookies are made with a lot of butter, they need to be chilled well prior to baking. 
I like to scoop cookies onto a 9×13 inch (23×33 cm) baking sheet, one next to the other and chill them overnight. They're super hard the next day, which makes placing them onto a baking sheet easy. They spread out as they bake, so you can only bake a handful at a time. 
Placed on a baking sheet like this, they're really easy to freeze too. Once frozen, you can place all of the balls in a single bag or container. When you are ready to bake some cookies, bake them frozen. They will need a few extra minutes, but will taste just as amazing as freshly made and baked cookies. 
These chunky apple soft oatmeal cookies are chewy and packed with flavor. A mix of dehydrated apple chunks, old-fashioned oats, honey, brown sugar and cinnamon makes them chewy, soft and incredibly aromatic. Can be made ahead of time or frozen raw. For a special treat, try breaking one into a bowl of yogurt, it's delicious!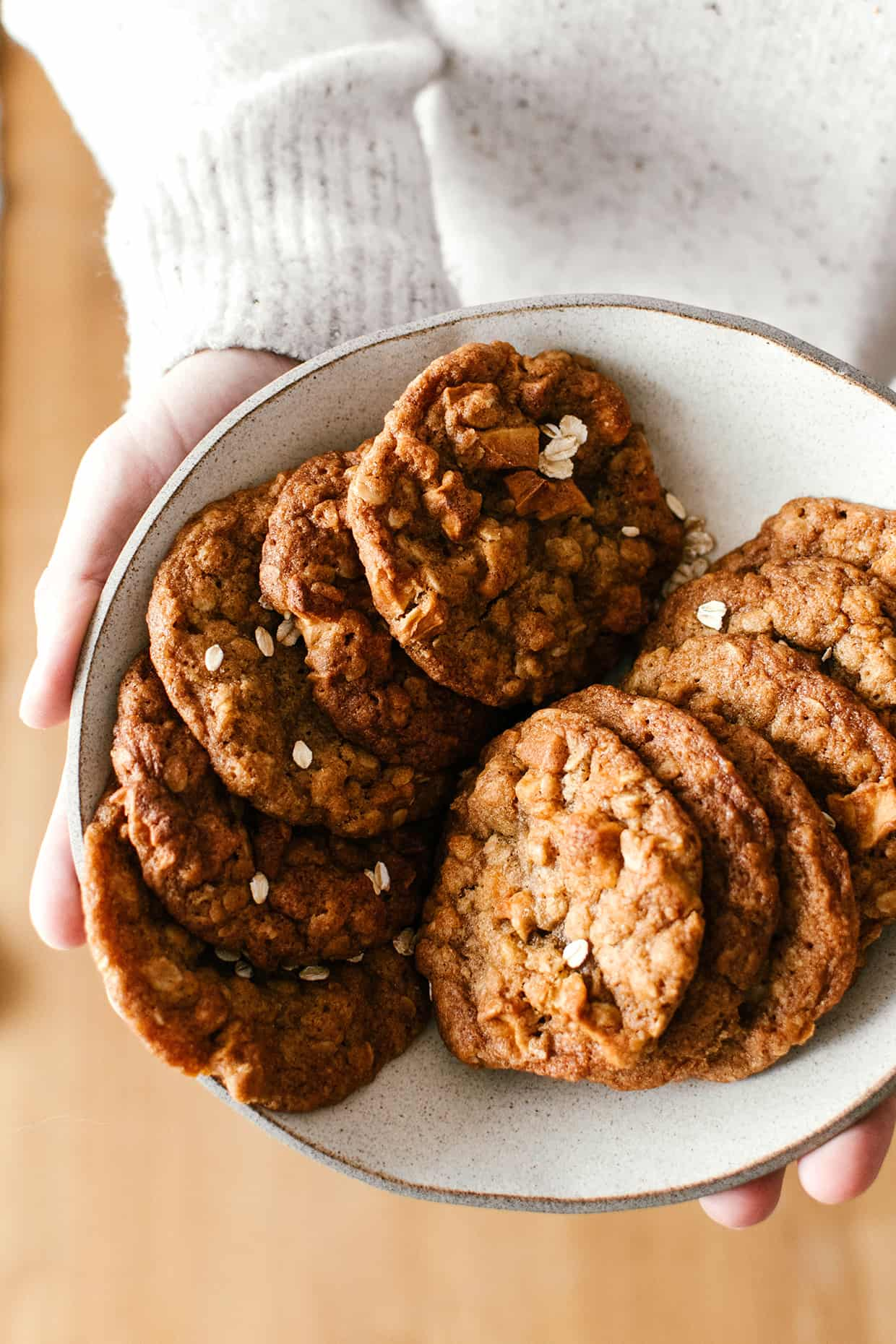 Chunky apple soft oatmeal cookies
Chewy cookies packed with apple chunks and oats. Easy to make and wonderful to snack on.
Ingredients
1 1/2

cups

(

200

g

)

all-purpose flour

1

teaspoon

ground cinnamon

1/2

teaspoon

baking soda

1/2

baking powder

1

teaspoon

fine sea salt

2

sticks

(

225

g

)

unsalted butter

(softened)

1

tablespoon

honey

1

cup

(

160

g

)

packed light brown sugar

1/2

cup

(

125

g

)

white granulated sugar

2

large eggs

1

teaspoon

vanilla extract

1 1/2

cups

(

165

g

)

old-fashioned oats

1 1/2

cups

(

100

g

)

chopped dehydrated (dried) apples
Instructions
Make dough: Whisk flour with cinnamon, baking soda, baking powder and salt in a medium bowl. Set aside. In another large bowl, beat butter and honey until smooth. Add both sugars and beat until incorporated and fluffy, 2-3 minutes. Beat in eggs one at a time, then vanilla. 

Scrape down the sides of the bowl. With speed on low, mix in the flour mixture just until combined. Fold in oats and apples in 2 batches, to distribute them as evenly as possible. Cover the bowl with foil and chill in the refrigerator for 30-60 minutes. 

Preheat oven to 350°F (175°C). Line a baking sheet with parchment paper. Using a cookie scoop, scoop cookies (2 tablespoons each) onto your baking sheet about 2 inches (5 cm) apart.

Bake in the middle of the oven for 13-15 minutes, until the edges are crisp but cookies are still soft in the middle. Remove from oven and allow to cool on the baking sheet for 20 minutes before transferring to a plate.

Repeat process for remaining dough. It's easiest if you scoop cookies onto a 9x13 baking sheet, one next to the other and chill them in the refrigerator. This way you can take out as many as can fit on a baking sheet to bake, while the rest keep chilling in the refrigerator.
Notes
Dehydrated apples are sometimes sold as dried apples. They're peeled, soft and chewy, pale in color. Do not confuse these with dried apple chips, those are crunchy and thin. You want the soft kind. 
I use a 2-tablespoon scoop to make these cookies. If you use a different size, adjust the baking time. 
Calories per serving:
175
kcal
Email recipe
Pin Recipe