A mix of dehydrated apple chunks, oats and cinnamon is what makes these soft apple oatmeal cookies such a treat. The chunky and chewy bits are enrobed with a buttery, honeyed brown sugar dough that will melt in your mouth. They offer the perfect mix of textures and Fall flavors and are possibly the easiest apple cookies you could make.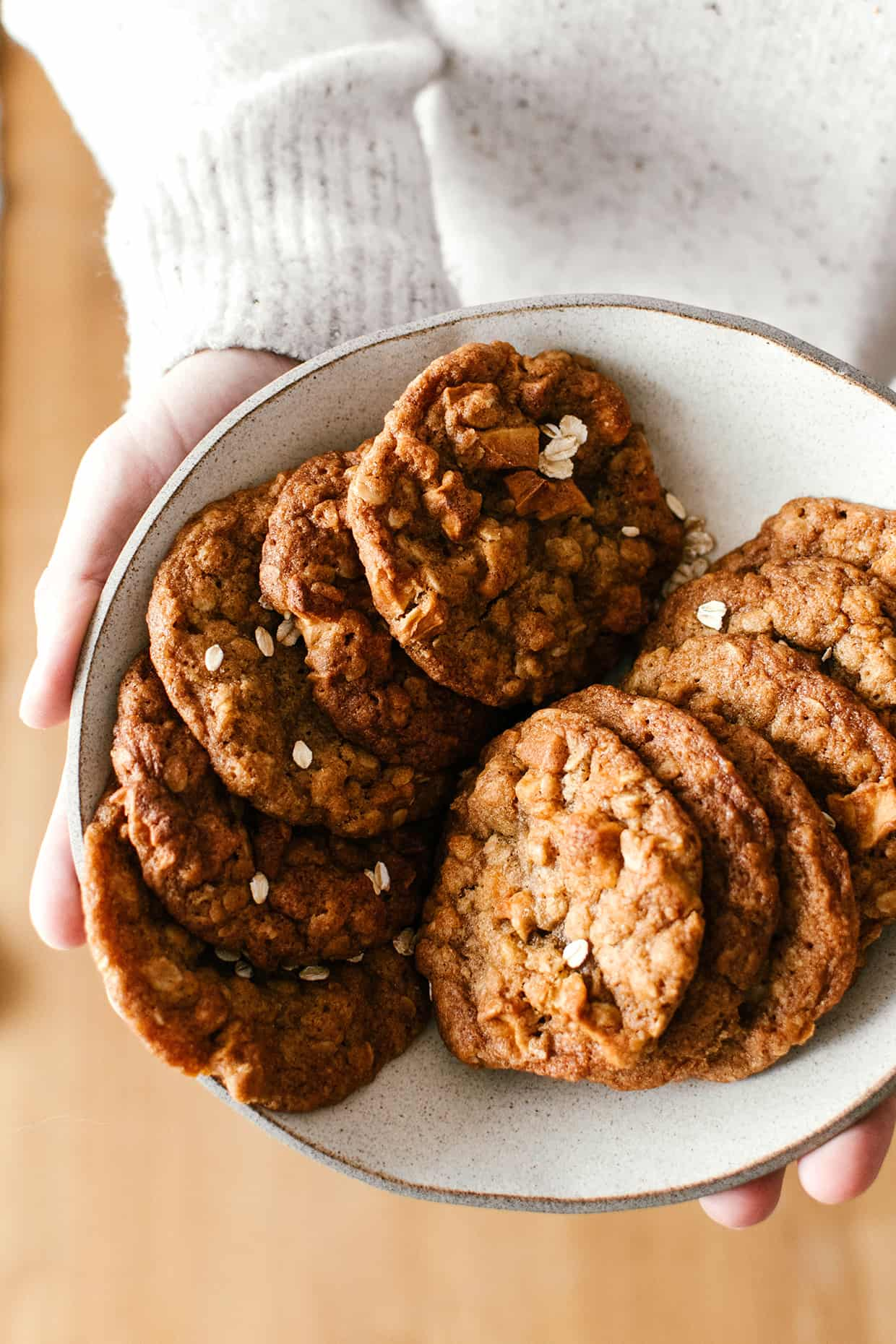 I have this memory from my childhood of eating chewy muesli cookies. They were small, about the size of a walnut and soft, almost cake-like. They were packed with oats and tasted like apples and cinnamon. The worst part about this otherwise great memory is that they aren't available anymore. By the time I was a teen, they'd disappeared and now all I'm left with is an intense memory and craving of biting into a soft apple cookie.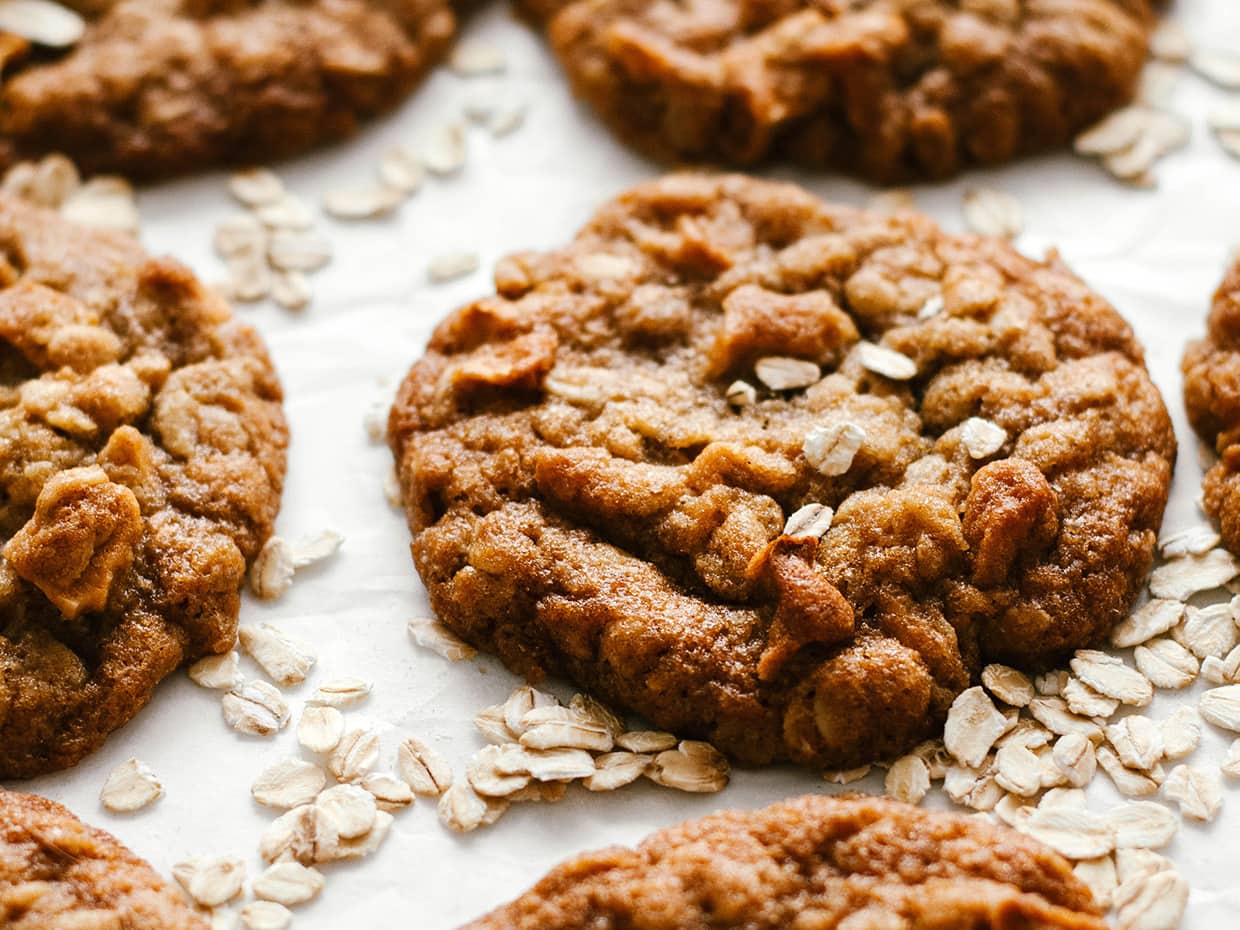 This recipe for soft oatmeal cookies with apples is my substitute for the lost cookie of my childhood. I make them chewier, bigger and more buttery. And I use brown sugar and honey in addition to regular sugar. The deeper flavors of molasses and honey make them so warming and so rich tasting, they were an instant hit when I first made them.
And I don't like to use the term "best" too much, because I'll find a new "best" for everything. But these are honestly the best apple cinnamon oatmeal cookies ever. 
Dehydrated apples vs apple chips 
I'm using dehydrated apples in this recipe. They are sometimes sold as dried apples too and they make great apple and oat cookies, as an alternative to baking with fresh apples. I love both dried apples and apple chips as a snack, but there is a difference between the two.
Dehydrated apples or dried apples come in wedges or rings. They are usually peeled. If you squeeze them, they are soft to the touch. They can be pale in color and have a chewy texture. Their appearance reminds me of marshmallows in a way, although dehydrated apples are much chewier and not as soft as marshmallows. Some people even describe them as gummy, which doesn't sound that appetizing. But they're actually really good. 
Apple chips are crispy. They aren't always peeled. You can snap them between your fingers. They can look wavy, are thin and dry to the touch. And if you bite into one, you'll feel how brittle they are. 
You want to use dehydrated, chewy dried apples for this recipe. They're better than fresh apples, because you don't have to worry about excess liquid. They will give you just as much flavor, if not more, and a perfect chewy texture. And making amazing soft apple cookies is the goal here.
How to store and freeze cookies 
This recipe makes a generous amount of cookies.I'm using a cookie scoop with a volume of 2 tablespoons, so the cookies themselves are of pretty good size. Not too big, not too small.
The total count of cookies you get is 26-28 cookies. If you're making them for a crowd, that's perfect. But I totally get that it might seem too much if you're baking solo. The good thing is that you can easily make these last.
Store in refrigerator
As these apple oatmeal cookies are made with a lot of butter, they need to be chilled well prior to baking to prevent overspreading (that is when the soft butter melts too quickly, resulting in a really flat cookie). 
Scoop cookies onto a 9×13 inch (23×33 cm) baking sheet, lined with parchment paper, one next to the other and chill them overnight or up to 4 days. Cookie dough or scooped cookies keep well in the refrigerator for up to 4 days.
Freeze cookies
Once you have your cookies scooped on a baking sheet, you can place them in the freezer instead of the refrigerator. Once frozen, transfer all the cookie balls in a single bag or container. When you are ready to bake some cookies, bake them frozen. They will need a few extra minutes in the oven, but will taste just as amazing as freshly made cookies. 
More cookie recipes I love 
Soft apple oatmeal cookies
Chewy soft oatmeal cookies, made with brown sugar and dried apples. A perfect mix of Fall flavors in every cookie.
Ingredients
1 1/2

cups

(

200

g

)

all-purpose flour

1

teaspoon

ground cinnamon

1/2

teaspoon

baking soda

1/2

baking powder

1

teaspoon

fine sea salt

2

sticks

(

225

g

)

unsalted butter

(softened)

1

tablespoon

honey

1

cup

(

160

g

)

packed light brown sugar

1/2

cup

(

125

g

)

white granulated sugar

2

large eggs

1

teaspoon

vanilla extract

1 1/2

cups

(

165

g

)

old-fashioned oats

1 1/2

cups

(

100

g

)

chopped dehydrated (dried) apples
Instructions
Make dough: Whisk flour with cinnamon, baking soda, baking powder and salt in a medium bowl. Set aside. In another large bowl, beat butter and honey until smooth. Add both sugars and beat until incorporated and fluffy, 2-3 minutes. Beat in eggs one at a time, then mix in vanilla. 

Scrape down the sides of the bowl. With speed on low, mix in the flour mixture just until combined. Fold in oats and apples in 2 batches, to distribute them as evenly as possible. Cover the bowl with foil and chill in the refrigerator for 30-60 minutes. 

Preheat oven to 350°F (175°C). Line a baking sheet with parchment paper. Using a cookie scoop, scoop cookies (2 tablespoons each) onto your baking sheet about 2 inches (5 cm) apart.

Bake in the middle of the oven for 13-15 minutes, until the edges are crisp but cookies are still soft in the middle. Remove from oven and allow to cool on the baking sheet for 20 minutes before transferring to a plate.

Repeat process for remaining dough. It's easiest if you scoop cookies onto a 9×13 baking sheet, one next to the other and chill them in the refrigerator. This way you can take out as many as can fit on a baking sheet to bake, while the rest keep chilling in the refrigerator.

Store leftover cookies covered at room temperature and eat within 4 days.
Notes
Dehydrated apples are sometimes sold as dried apples. They are soft to the touch and are usually peeled. Do not confuse these with dried apple chips, those are crispy and thin. You want the soft kind. 
I use a 2-tablespoon scoop to make these cookies. If you use a different size, adjust the baking time. 
Raw cookie dough keeps in the refrigerator for 4 days. You can scoop the cookies and freeze them raw for up to 2 months. Bake them frozen for about 15 minutes. 
Email recipe
Pin Recipe
Last updated: September 27, 2023