These mini egg thick chocolate chip cookies are big and soft with a bit of candy crunch and plenty of chocolate. The classic chocolate chip flavor is upgraded with the sugary shells of mini eggs which give these a unique and festive flavor. I take advantage of Easter candy every Spring and make these huge cookies, some to eat right away and some to save for later, because the dough freezes really nicely.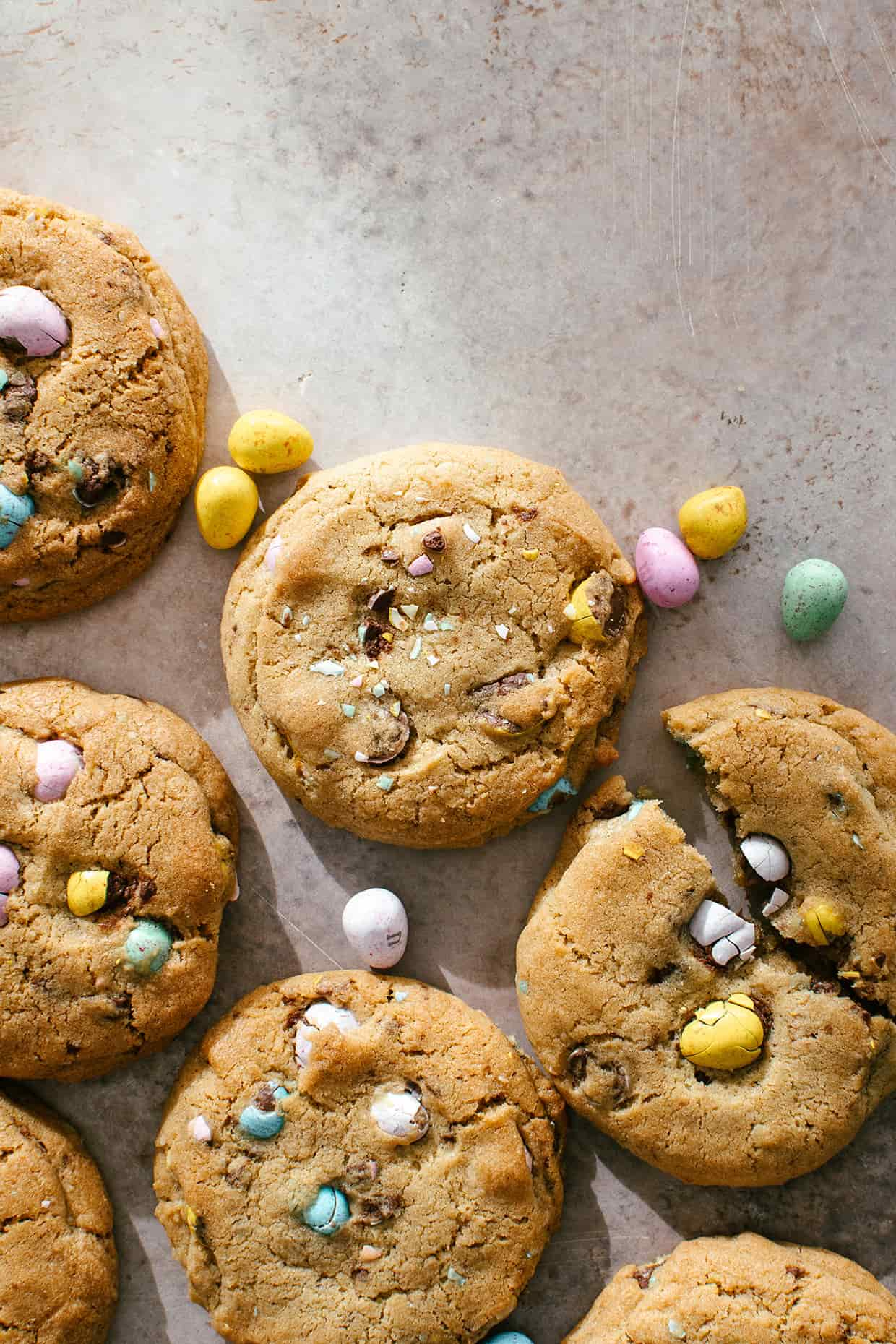 Spring is that time of year when I go crazy for chocolate eggs. Maybe there's something in the air, maybe it's the sight of cherry blossoms and dandelions and primrose growing on newly awakened forest grounds that make me all excited for anything colorful and fun. Or maybe it's the rows of Easter candy looking at me from every corner of the grocery store. But whatever it is, in my mind I equate Spring with handfuls of chocolate eggs.
As I've grown older, chocolate eggs have grown bigger. As a child I was obsessed with Kinder eggs and I still have a box of Kinder-egg toys packed in the basement somewhere. But now the eggs are so big you could fit a Barbie in them. And to keep the egg company, you can find 2 pound (1 kg) Lindt bunnies, all sparkly and gold, just waiting to be picked up… and picked apart.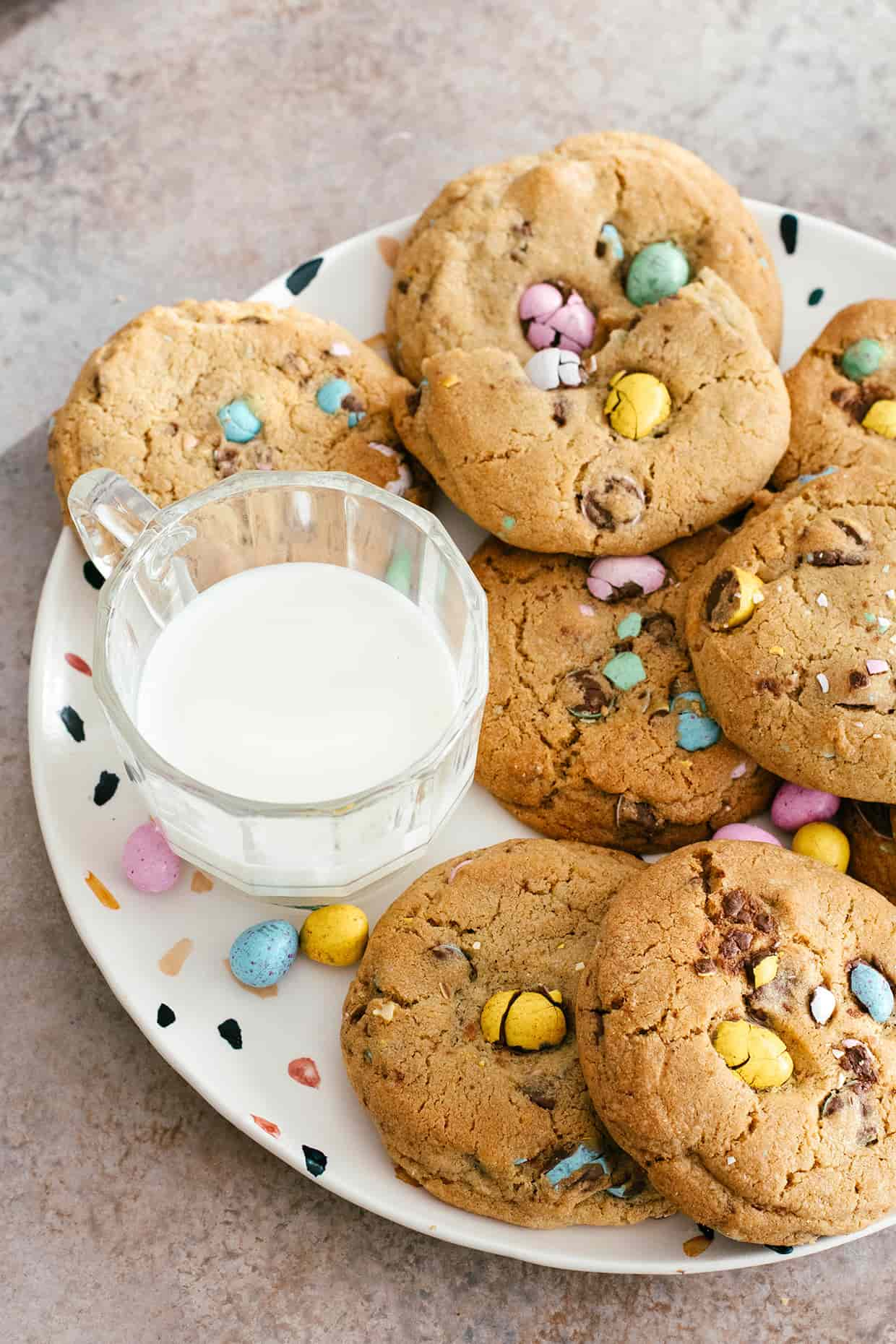 But as fun as the big eggs are, all screaming loudly for attention, I can't pass up the small ones. Either the chocolate-only eggs, wrapped in colorful foil that seems impossible to get off. So much so that I've probably eaten some in my life accidentally. Then there are the brightly colored mini eggs, with their sugary shells that crack between the teeth. They all taste the same, but pink ones are still my favorite.
And then come the cookies
These Mini egg thick chocolate chip cookies combine my love for both the mini eggs and chocolate chip cookies. They are big, so big they cover the palms of my hands. And they are thick and soft yet surprisingly crunchy at the same time. And despite being "just" chocolate chip cookies, they are still unique. The candy shells give them a very specific flavor, the kind that takes you to another world.
Mini egg thick chocolate chip cookies – tips and tricks
This is one of those recipes that's easy to throw together, but preparation is important. Mesaure out all of the ingredients before you start baking. Make sure your butter is softened. And take your time cutting the eggs.
How to cut mini eggs
Please watch your fingers as you do this! As easy as everything else is, this part is the hardest. Those sugary shells that I adore so much are really difficult to cut through because eggs are oval and the knife will just slip down the sides.
I like using a small steak knife, the kind that's sharp and serrated. I slice the eggs one by one in two or three parts, by sticking the knife in the egg first, then pressing down to cut it.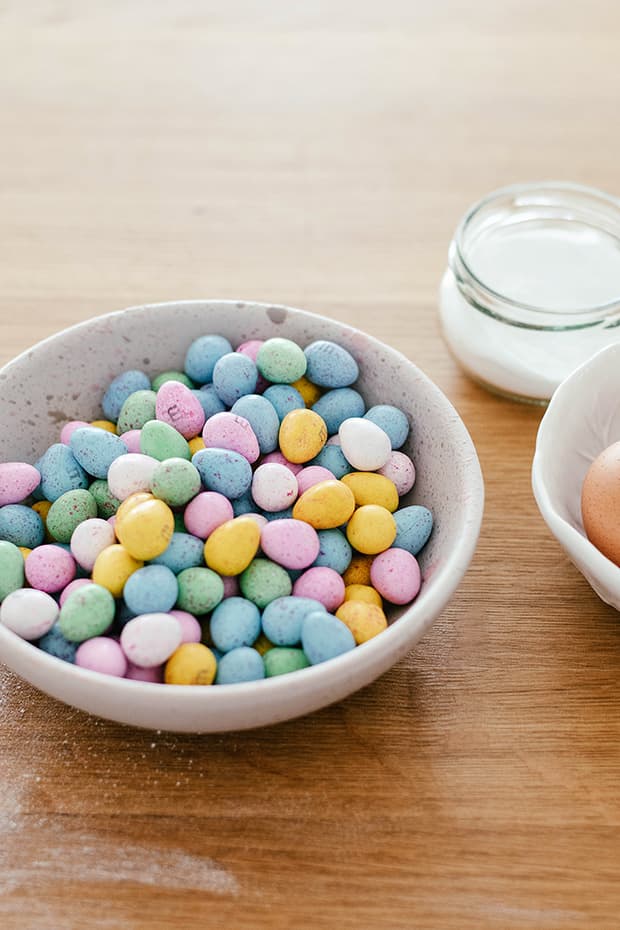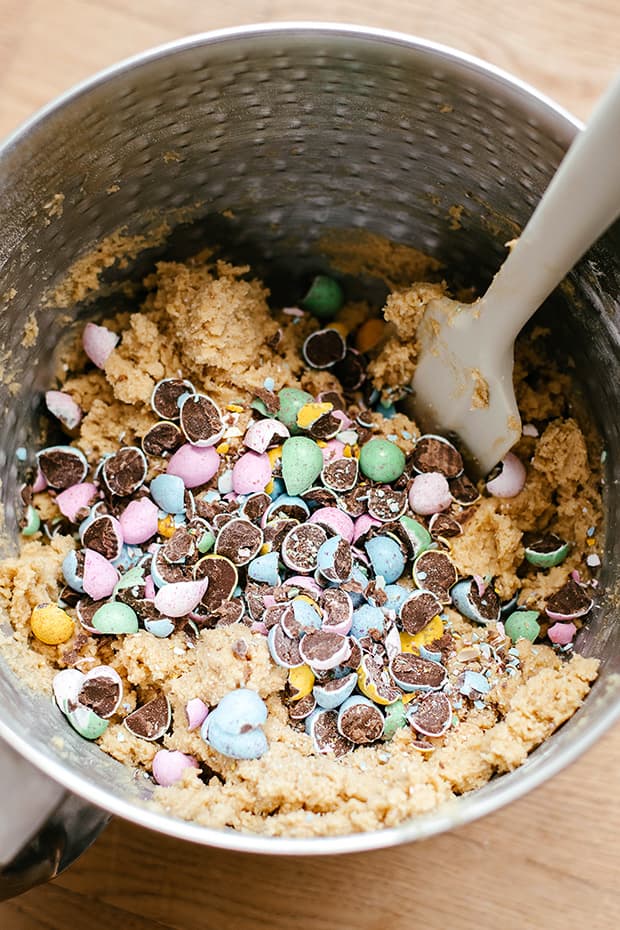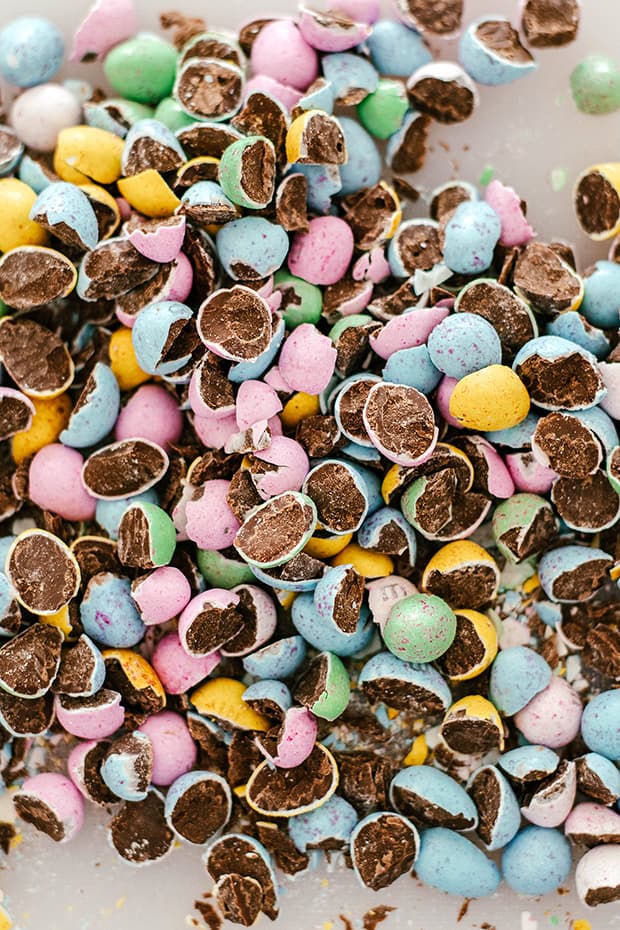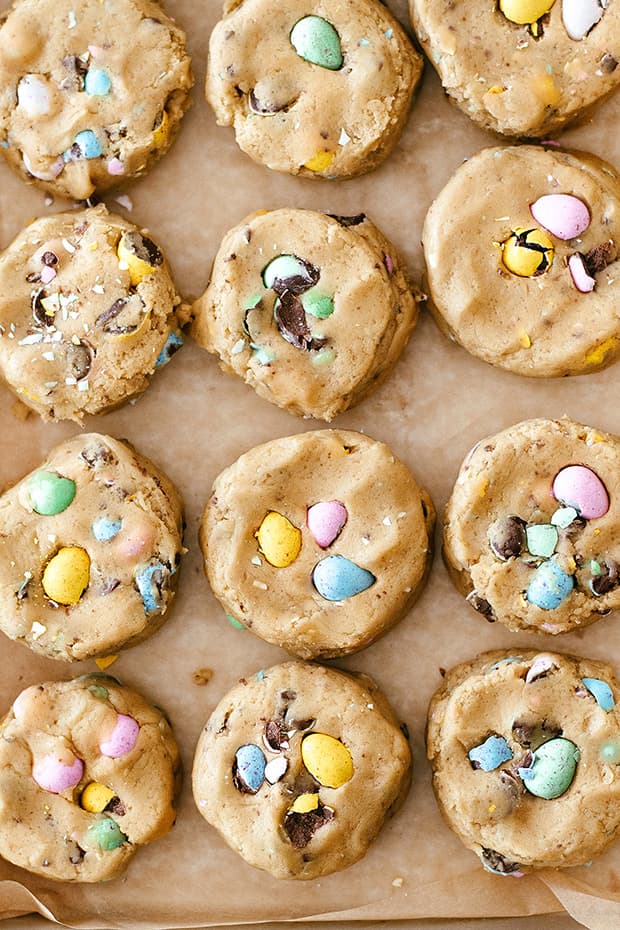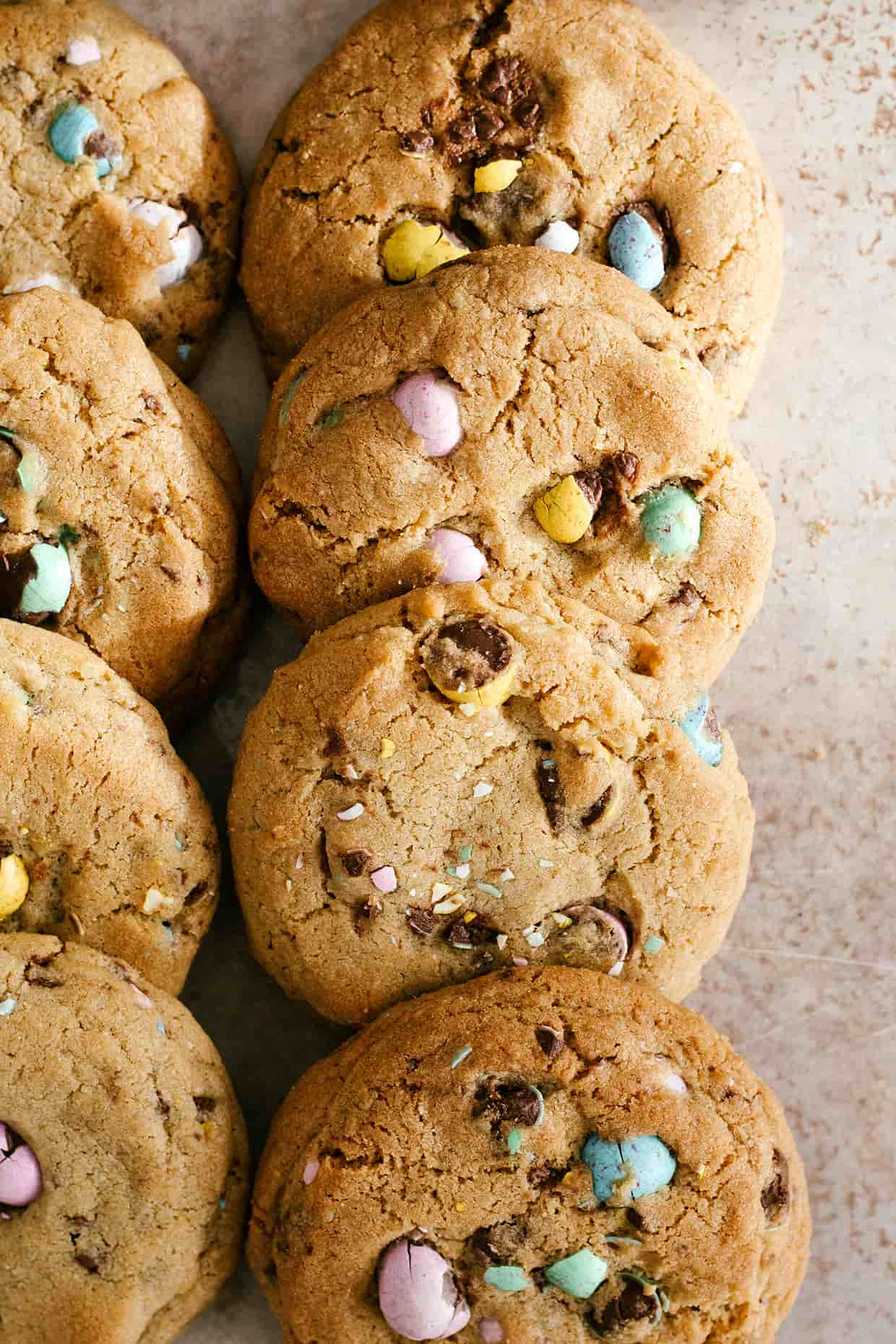 Step by step
Cut the eggs first as this takes the longest time.
Cream butter and sugars, then add the egg, the yolk, soda and salt.
Mix in the flour, just until everything is combined.
Fold in the eggs with a spatula. The dough will be thick, so do this by hand and not with a mixer.
Scoop out large balls (4 tablespoons per cookie), then pat them into disks and chill in the refrigerator.
Once the cookies are hard, bake them at 350°F (175°C) for 16-18 minutes. The have to be golden brown but not burnt. Freshly baked cookies will be very soft, so give them time to properly cool.
Enjoy!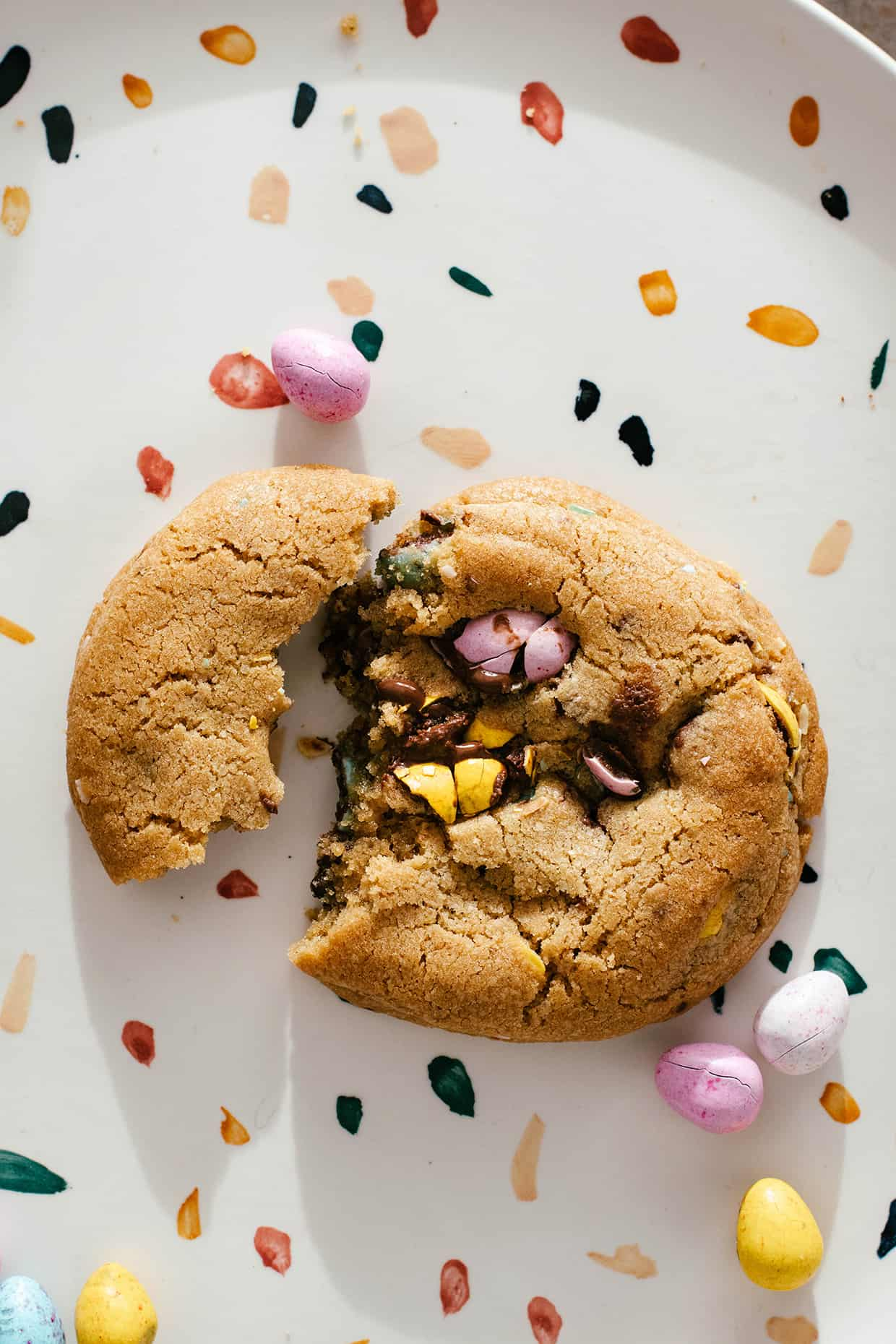 These mini egg thick chocolate chip cookies are big, delicious and very filling. Make extra to freeze for later as you will want them. 🙂 And if you just want a Spring cookie, these rose water lemon crinkles and the rose pistachio shortbreads are my absolute favorites. And speaking of Spring, here's a selection of the best cherry blossom cities in the world.
Mini egg thick chocolate chip cookies
These cookies are big and soft, with a light crunch (thanks to the candy shells). The recipe makes 14 really big cookies (that you can easily turn into 28 normal-sized cookies).  
Ingredients
2

sticks

(

225

g

)

unsalted butter

,

softened

2/3

cup

(

150

g

)

packed light brown sugar

1/2

cup

(

100

g

)

granulated sugar

1

large egg

1

large egg yolk

3/4

teaspoon

baking soda

3/4

teaspoon

fine sea salt

3

cups

(

400

g

)

all-purpose flour

2

cups

(

320

g

)

mini eggs

,

roughly chopped

a handful of mini eggs for decoration
Instructions
Prep: Line a small baking sheet with baking paper (small enough to fit in your refrigerator), set it aside. 

Make dough: In a large bowl or bowl of your stand mixer, cream butter and sugars together until light and fluffy. This takes a few minutes. 

Add egg and egg yolk and mix until well combined. Whisk in salt and baking soda, then mix in flour (using low speed) just until combined (you don't want to overmix). The batter will be very thick. Fold in chopped mini eggs with a spatula. 

Using a cookie scoop (see notes for size), scoop the dough into 14 large balls and place them on the prepared baking sheet one next to the other. Pat each one down so that you get disks instead of balls, each one about 2 inches (5 cm) wide. Take the few extra mini eggs, slice them in half and stick them on top of the cookies. Place the cookies in the refrigerator and chill until hard, about one hour. 

When you are ready to bake, preheat your oven to 350°F (175°C). Place cookies on a parchment-lined baking sheet, about 3 inches (8 cm) apart. Bake in the middle of the oven for 16-19 minutes, until the tops and sides look golden brown. (You will have to bake several trays because of the size of the cookies.)

Remove cookies from the oven and allow them to cool on the sheet for 10 minutes, then transfer them to wire racks to cool completely. They will be very soft when hot from the oven, but will set as they cool. Keep cookies in an airtight container at room temperature. 
Notes
On size and shape 
I use a 2-tablespoon cookie scoop for this recipe. Two scoops make one cookie (I first scoop one cookie, then place the second scoop right on top of that one to make one large thick cookie). You can also use a 4-tablespoon cookie scoop instead. If you don't have that,  use a 1/4 cup (60 ml) measuring cup to get that same size and then shape the cookies by hand.
Instead of shaping the cookies into balls, I shape them into disks (like hockey pucks). These cookies are thick and big and I find that the hockey puck shape gives me the best results.
The batter is thick but soft, so getting the right shape is easy. Once you shape them, add extra egg halves on top. Then chill the cookies. This prevents them from spreading too much during baking. (One hour of chill time is enough in my refrigerator, but you might need less or more time.) 
As the recipe makes really big and filling cookies, you might not want to bake all at the same time. Frozen cookie dough keeps for a few months if stored properly. 
On chopping mini eggs
I use a serrated steak knife to slice these and I cut the eggs one by one. It takes some time but is the safest way to do it. Please watch your fingers! The candy shells are very slippery. 
Email recipe
Pin Recipe