Italian crunchy almond cookies, also known as Castagnelle or Italian Christmas cookies are crunchy diamond shaped cocoa cookies that taste like orange, cinnamon and chocolate. Made with a handful of ingredients, they're easy to put together and hold up for weeks. Great for sending through the mail!
It's no secret that I love Italian food. And how could I not, when I live so close to Italy. I think these peach cookies are my number one obsession, as they are as Italian as they are Slovenian. But there are plenty of other things I love, namely pasta (such a cliché I now) and anything sweet.
What I have here for you are Italian crunchy almond cookies. They are like a well kept secret, pretty old school and insanely delicious. In Italy they call them Castagnelle. That is because their shape is supposed to resemble chestnuts (castagna in Italian). But they make them without chestnuts!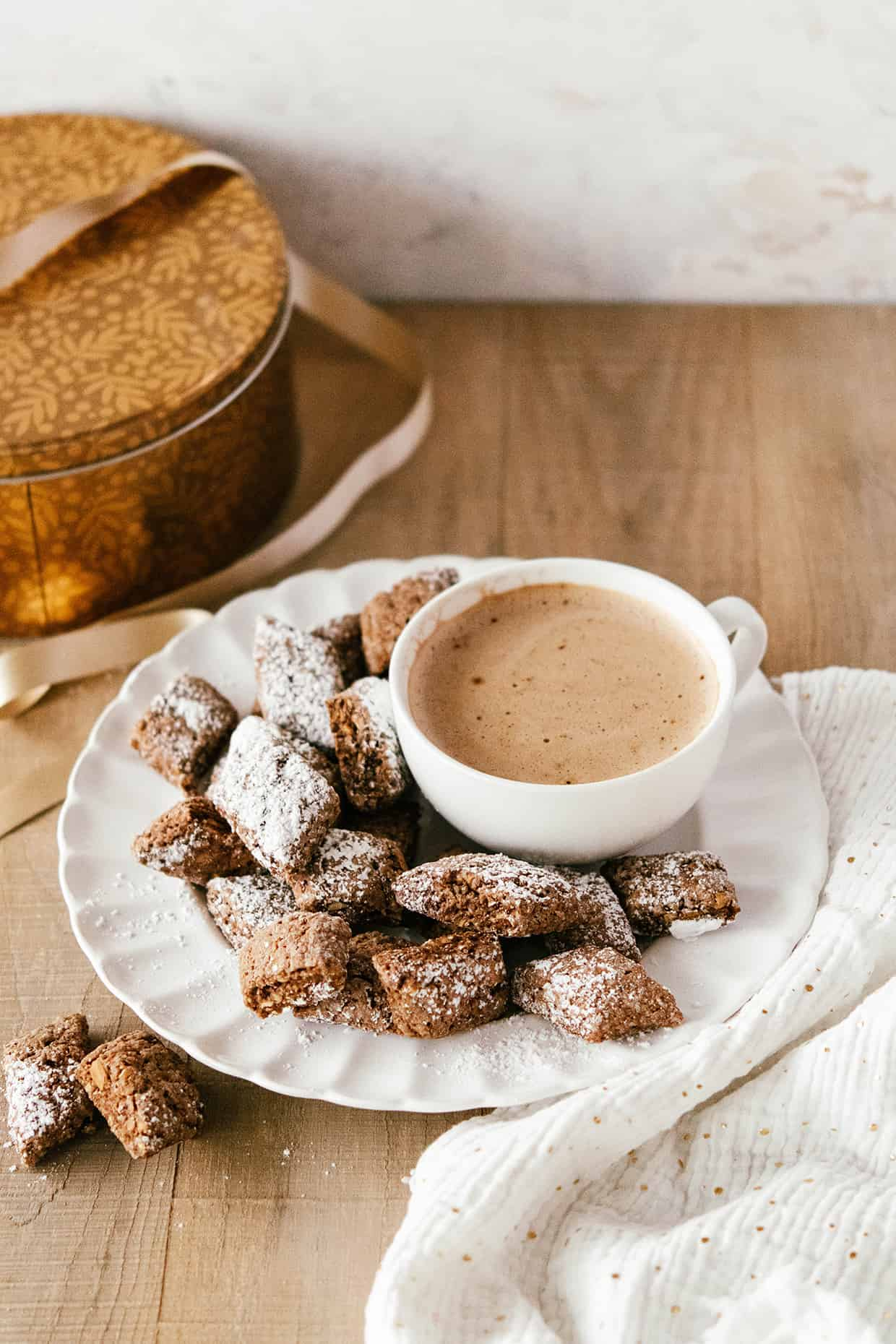 What are Castagnelle
Also known as Italian Christmas cookies (or Italian crunchy almond cookies as I call them), they originate from Puglia, a region in southern Italy (the heel of the boot, if you can picture it).
People traditionally make these around Christmas, to be enjoyed as a sweet treat. Although their name might make you think they're made with chestnuts, they're mainly made from almonds. You could easily call these almond delights, as they are truly delightful. But what's more interesting about the cookies is that they're vegan without being obviously vegan.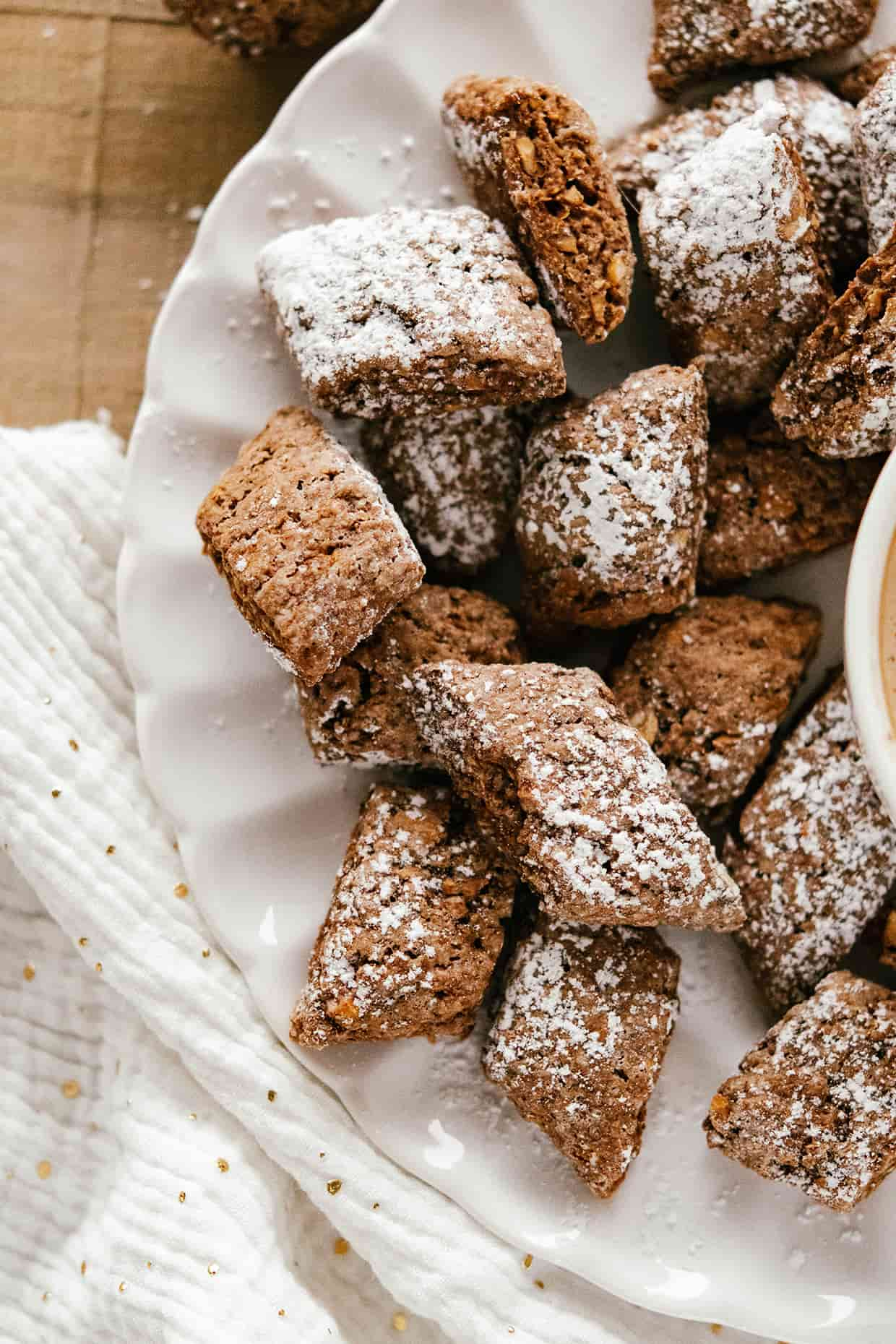 Next to using toasted almonds, you also make these brown little diamonds with with cinnamon, orange zest and cocoa. Despite their rustic-looking hard exterior, they are soft in the middle and insanely crunchy.
How to make Italian Christmas cookies
These are so easy to make, you'll never want to try another cookie again. With less than 10 ingredients and less than an hour of time, you can make about 3 dozen cookies which is a great payoff if you ask me.
You make Castagnelle without butter or eggs. (If using non-dairy milk, they can be completely vegan.) Both seem to be really important ingredients in cookie-making, but they're entirely irrelevant for this recipe. You won't miss them at all.
Step by step instructions
The first thing you need for these crunchy almond cookies is a dry base of flour, sugar, baking powder, cinnamon and cocoa powder.
2. To this you add toasted and chopped almonds and the zest of one orange.
3. And then you add the coffee and a splash of milk (dairy or non dairy). I know not everyone is a fan of coffee, but you can't taste it in the final product. It's here to intensify the flavor of cocoa powder.
4. You then knead this dough into a ball. Bear in mind this is a stiff, grainy (because of the almonds) dough. It will seem like you can't possibly do it, but just keep kneading until you get a lump of dough without any dry spots.
If you find that there are flour patches that just won't go away and your dough is crumbly, add coffee (or milk) tablespoon by tablespoon and knead before each addition. You don't want dry patches and you don't want sticky dough.
5. Divide this lump of dough into 4 equal parts. Dust your fingers with flour. Roll each part into a thin long log, about 10 x 1 inch (25 x 2,5 cm) long. I like to roll them out on a piece of parchment. It helps if you make a mark of where the 10 inch (25cm) line is, so you can roll them out perfectly.
Once you have that log, tap it down so that it's flat and rectangular. Imagine you're making a really long candy bar.
And then you cut the log diagonally, into about 1 to 1 1/4 inch pieces. You'll be left with 4 trimmings that you can pinch together in another odd-shaped cookie. The rest of the cookies should have sharp sides.
6. Bake cookies 1/2 inch (1-cm) apart for 12-15 minutes. They should be set on the outside, dry to the touch but soft in the middle. If you press down a cookie, it should indent.
7. Allow cookies to cool on a baking sheet or cookie rack and dust them with sugar before serving. That's it.
A few extra notes
You can toast and chop almonds ahead of time. Store them in an airtight container. And if you don't like almonds, you could try making the cookies with other nuts. But almonds are the traditional choice.
For coffee, you can use instant unsweetened coffee.
The milk is optional, you can just add more coffee or hot cocoa. Hot cocoa is also what I would add instead of coffee, if you are 100% sure you don't want it. Traditionally, water is an option to use instead of coffee, but I prefer a bit more flavor.
Store the cookies in an airtight container at room temperature for up to 2 weeks. They could possibly last longer, since the ingredient list is very safe, but we always eat them super quickly.
Castagnelle or Italian crunchy almond cookies are a real treat, rustic and beautiful and quick to make. Made with modest ingredients, they are a perfect union of flavor and texture. Their sugar dusted shell hides a crunchy and soft interior – a fragrant mix of toasted almonds, cocoa, orange zest and cinnamon. They are the perfect holiday cookie, to be enjoyed with coffee or hot cocoa.
Italian crunchy almond cookies (Castagnelle)
Soft yet crunchy cookies, a mix of almonds, cinnamon, orange and cocoa, they are delicious and perfect for cookie boxes! 
Ingredients
1

cup

(

125

g

)

raw almonds

1

cup

(

135

g

)

all-purpose flour

1/2

cup

(

100

g

)

granulated sugar

1

teaspoon

baking powder

1

tablespoon

unsweetened cocoa powder

(Dutch processed)

1/2

teaspoon

ground cinnamon

zest of 1 organic orange

1/4

cup

(

60

ml

)

fresh hot coffee

1

tablespoon

(

15

ml

)

milk

(dairy or plant based milk both work)

powdered sugar

(for dusting)
Instructions
Prepare almonds: Preheat the oven to 350°F (175°C) and place almonds on a baking sheet lined with parchment. Toast on the oven until fragrant, 15-20 minutes. Remove from oven and finely chop. 

Meanwhile make the dough: Combine flour, sugar, baking powder, cocoa and cinnamon in a bowl. Stir in chopped almonds and orange zest. 

Make a well in the center and pour in coffee and milk, whisking slowly. Keep mixing and kneading until you get a lump of dough without any dry patches. (If you have crumbs of flour that won't stick add 1 tbsp of coffee or milk. If it's too sticky add more flour.) You want a stiff lump of dough that isn't sticky or dry. 

Divide dough into 4 parts. Dust your fingers with flour and roll each one into a thin log, about 10 x 1 inch (25 x 2,5 cm) long. Cut each one on the diagonal into about 1-inch (2.5 cm) shapes. Place them on a lined baking sheet about 1/2 inch (1 cm) apart.

Bake at 350°F (175°C) for 12-15 minutes, just until they are set and dry to the touch, but still soft (if you press one it has to indent). 

Remove from oven, allow to cool to room temperature and dust with powdered sugar. Store in an airtight container for up to 2 weeks (possibly more but they never last that long for us). 
Notes
The coffee isn't noticeable in baked cookies and is used only to intensify the flavor of cocoa. You can use decaffeinated coffee or hot cocoa instead. 
You can use lemon zest instead of orange or a mix of the two. 
This recipe is adapted from the cookbook Southern Italian Desserts, by Rosetta Costantino and Jennie Schacht.
Text recipe
Email recipe
Pin Recipe
Recipe first published in December 2014, revised and completely updated in December 2020.