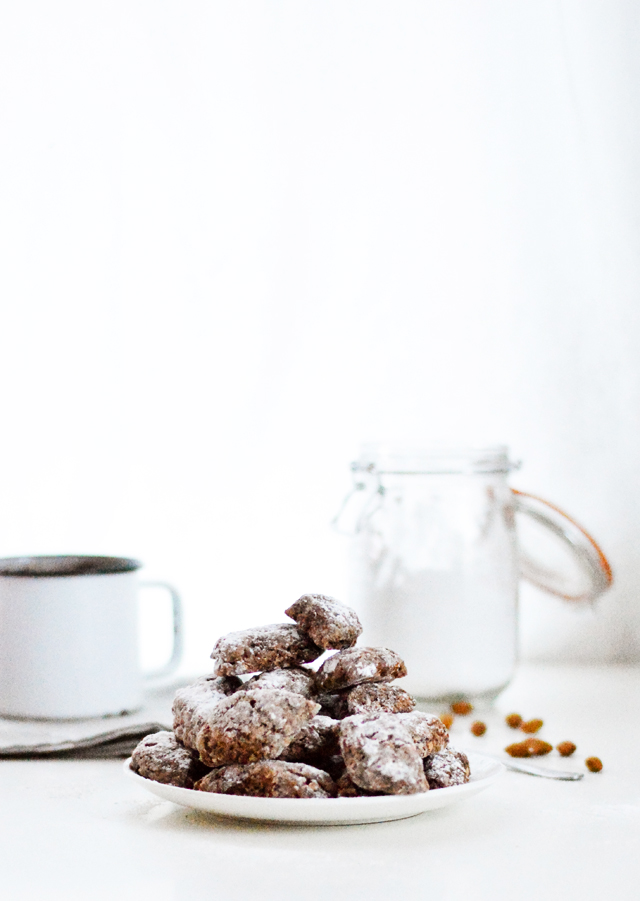 A few days ago, I mentioned how hectic December is around here and I wasn't kidding. I'm already feeling it this week, the typical December. I have a cold and I haven't gotten enough sleep in all week.
Oh, but the good outweighs the (not so) bad, right? I did have a great birthday and after about two weeks of rain and grayness we've finally gotten some sun, so that alone makes me feel a lot better.
The power that the Sun has is just amazing. While I notice the difference in my mood easily, observing it in animals is really fascinating. My cat trio gets kind of sad whenever the weather is bad. And then the minute the sun comes out, they all get crazily happy, they run around, roll on the bed and the floor and they seem to be less needy, which is great for them and me.
But apart from the weather, you know what changes the mood instantly? Cookies. The smell of fresh baked cookies that rolls out of the kitchen and fills every room in a home. And a consequential jar of cookies on the coffee table.
Cookies are just really comforting and you can find a type for every mood. I don't actually bake them that often (mushroom cookies being my last), but it's December and that's a good excuse. Lately, I've been in the mood for cookies that go well with tea or coffee. Something chocolaty, without actually being dipped in chocolate, and with cinnamon, but not too strong. A cookie that's bigger than one bite and is rich in taste, but is still very simple.
These Italian crunchy almond cookies (Castagnelle) are the answer to all of that.
The name Castagnelle comes from the Italian word castagna which means chestnut. But these aren't made with chestnuts, they just kind of resemble them in their shape (or, that's what they say). But what's more interesting about the cookies is that they're vegan without being obviously vegan.
They're made without eggs, milk or butter, which are all very common cookie ingredients, but not used in this recipe. And they're not missed either. The coffee and toasted almonds give so much power to the cookies, you'd really never guess the ingredient list is actually as simple as it is.
This simplicity shows what Puglia, the area in Italy where the cookies originate from, is all about. The recipes there were developed by simple folks who had limited supplies, yet they made creative, delicious desserts.
And this is why I love Castagnelle. They're rustic, crunchy, chocolaty and for some reason they remind me of gingerbread cookies, even though the only spice used is cinnamon. They definitely belong on the December cookie table. And if you're one of those people that bake all month long and do have a cookie or dessert table to show, I applaud you. It's hard work, rewarding, but it definitely takes effort.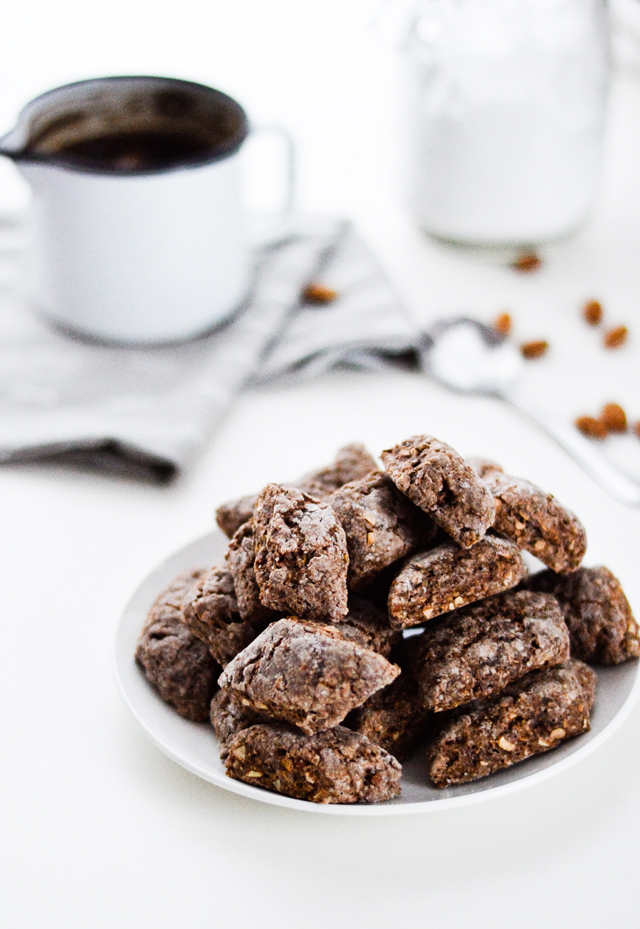 Print
Italian crunchy almond cookies (Castagnelle)
Crunchy, chocolaty cookies that you would've never guessed are vegan!
Author:
Yield:

50

-

60

cookies

1

x
Category:

Cookies

Method:

Baked

Cuisine:

Italian
Scale
Ingredients
250g

(

1 1/3 cups

|

8.8 oz

) almonds

330g

(

2 cups

|

11.6 oz

) all-purpose flour

325g

(

1 1/3 cups

|

11.5 oz

) white granulated sugar

2 tablespoons

unsweetened Dutch-processed cocoa powder

3 teaspoons

baking powder

1 teaspoon

ground cinnamon
Finely grated zest of 1 lemon
About

240

ml (

1 cup

) brewed strong coffee, espresso or water
A few tablespoons powdered sugar, for dusting
Instructions
Preheat the oven to 180°C (350°F), with rack placed in the middle of the oven. Line 2 baking sheets with parchment paper (or silicone baking mats) and set aside. Line a smaller baking sheet with parchment paper, add almonds and toast them for about 10 minutes, until fragrant. Remove from oven (keep the oven on) and cool for a few minutes. Coarsely chop the almonds and set aside.
In a big bowl, stir together the flour, sugar, cocoa, baking powder and cinnamon. Lastly add almonds and lemon zest. Make a well in the center and add 1/2 coffee. Start stirring the dough and the rest of coffee. Mix until dough starts to form. Continue kneading the dough with your hands in the bowl until a stiff dough forms (you want the texture of modeling clay). Divide the dough into quarters.
Slightly flour your working surface and roll a piece of dough into a 50 x 2,5 cm (20 x 1 inch) rope. Press down to slightly flatten the rope. Using a sharp knife (or bench scraper) cut it on the diagonal into 3 cm (1 1/4 inch) diamond shapes.
Arrange the cookies on the prepared baking sheets, leaving at least a 1,5 cm (1/2 inch) space between them. Repeat with the remaining dough. Bake until the cookies feel set, but still somewhat soft, about 15 minutes. The tops will crack, but the cookies will not darken any further.
Transfer the baking sheets to a wire rack to cool. Once the cookies are cool enough to handle, transfer them directly to the racks ad let cool completely. Generously sift powdered sugar over the cookies. Store cookies in airtight containers for up to two weeks.
Notes
As mentioned above, you can use water instead of coffee in this recipe. However, coffee gives the cookies that nice brown color and it also intensifies the flavor of cocoa. This recipe is only slightly adapted from the wonderful cookbook Southern Italian Desserts written by Rosetta Costantino and Jennie Schacht.