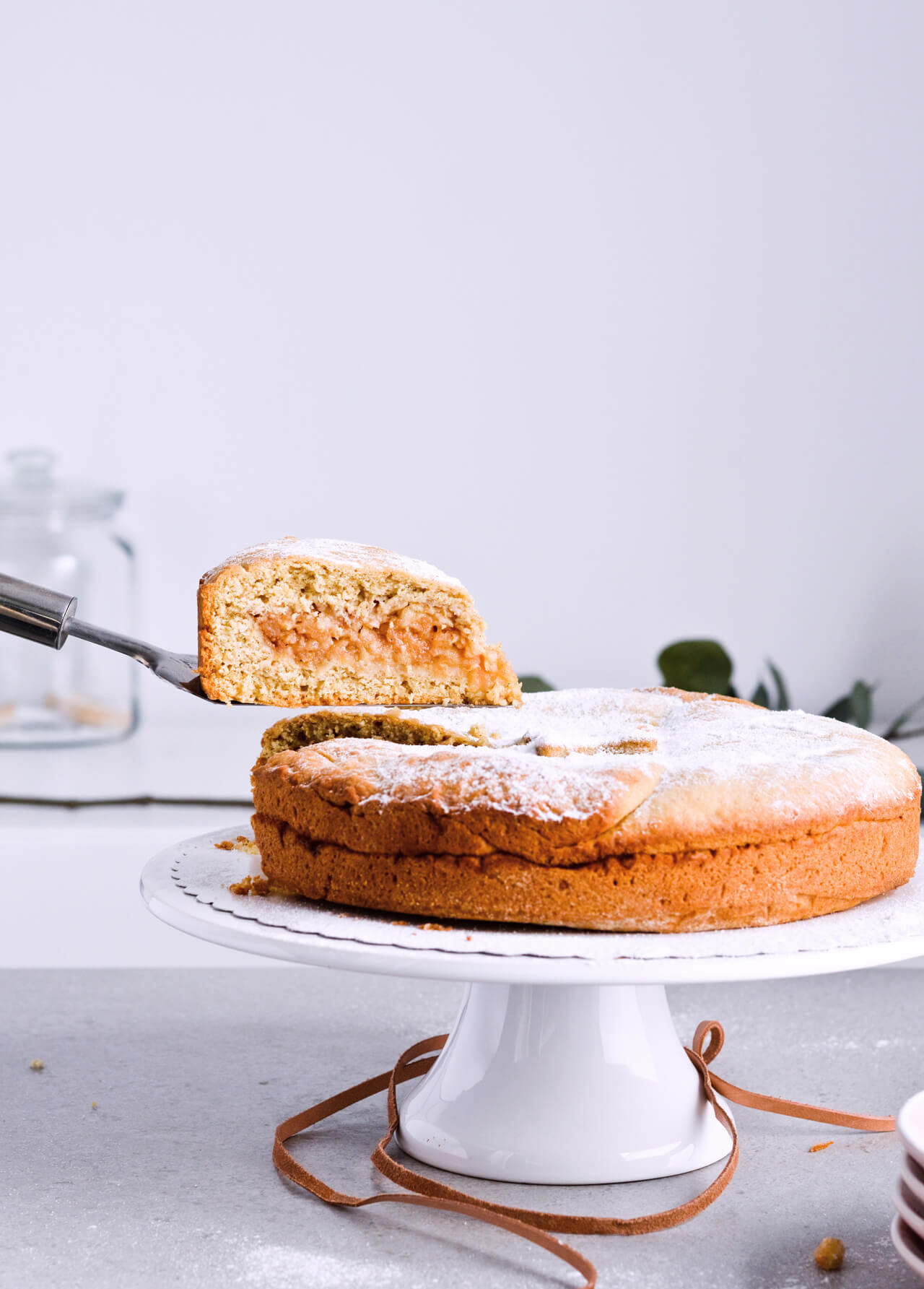 If there's one thing that I need to bake during the autumn and winter months it's apple pie. There's just no way around it. It's Slovenian apple pie, to be more specific, although I'll take anything with apples, including strudel and muffins and most definitely apple sauce.
I usually eat apple sauce with a spoon straight out of a jar. That's probably the best way anyway. Do any of you do that too?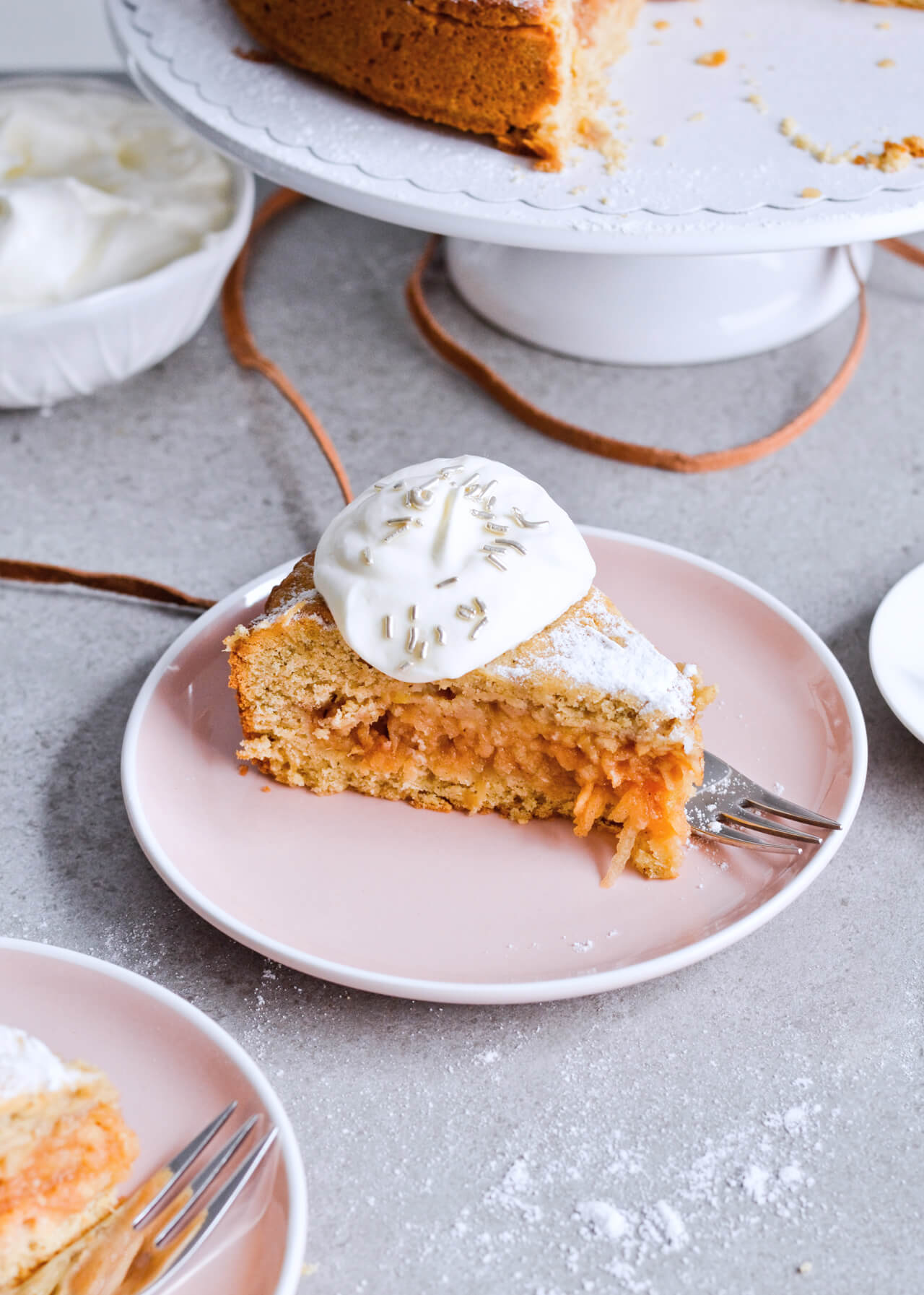 Before I jump into the recipe, I need to tell you that it's not new. This post is an updated version of my original post from 2014, but at the end of the day those are just dates… the pie is as good as ever.
As the name suggests this is a Slovenian apple pie and it's very different from what most of you probably think of when you think of apple pie. It's the kind of apple pie we eat around here.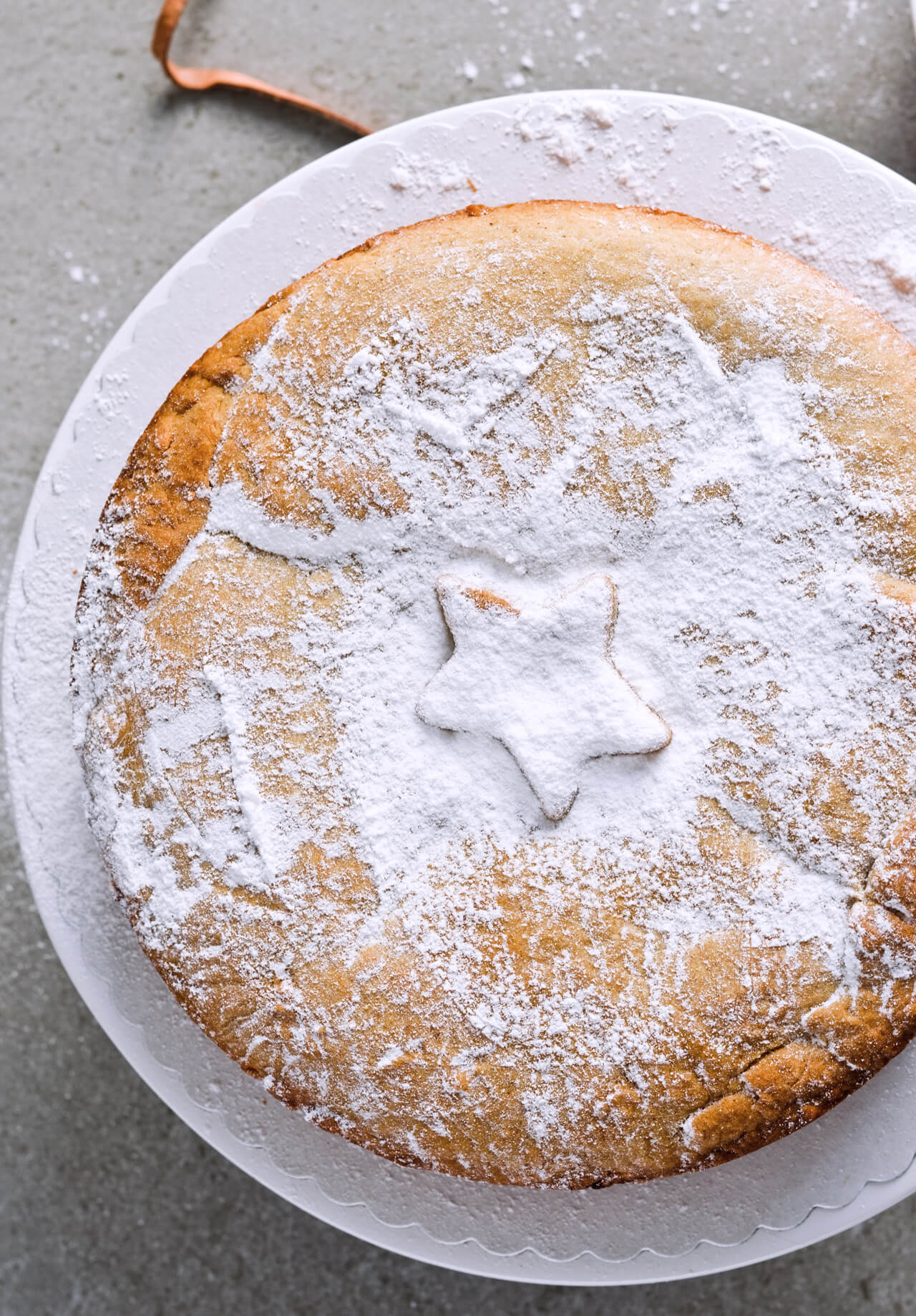 In an old German book I have, a variation of it is called Steyrischer Apfelkuchen, which is a type of apple pie made in Styria, a region both in Slovenia and in Austria, so this is another one of those foods we have in common.
Which is to be expected, after all, we did belong to the same countries at some point in history – there was the Habsburg Monarchy, which later became the Austrian Empire, followed by the Austro-Hungarian Empire; all placing Slovenia and Austria within the same borders.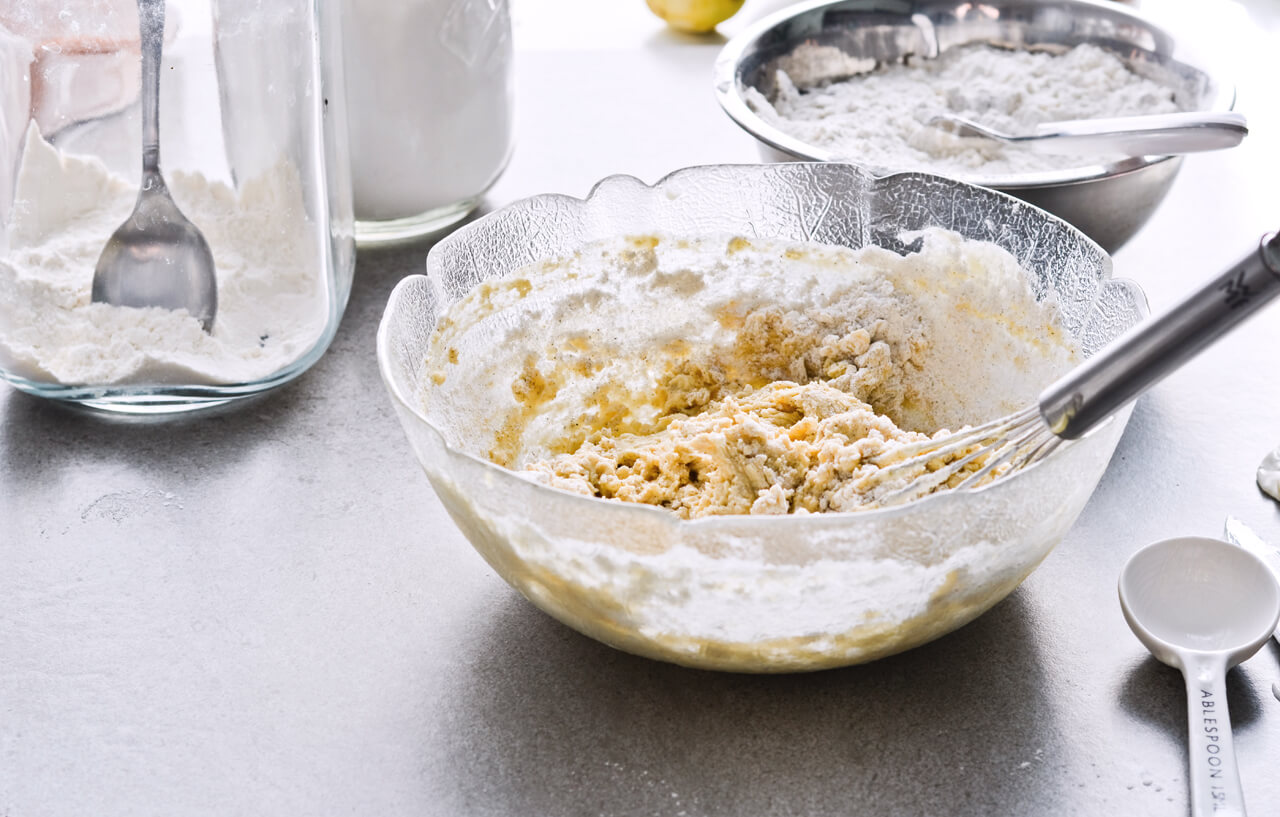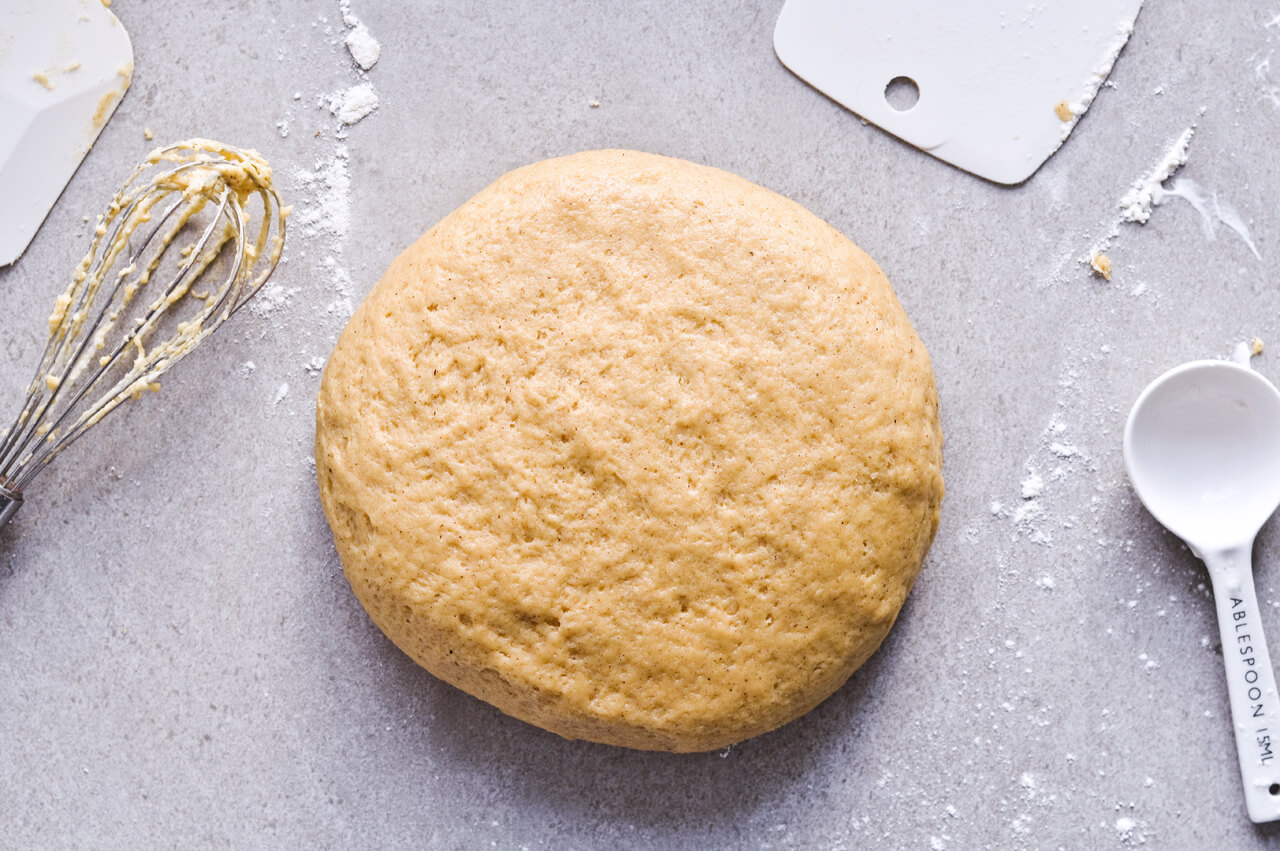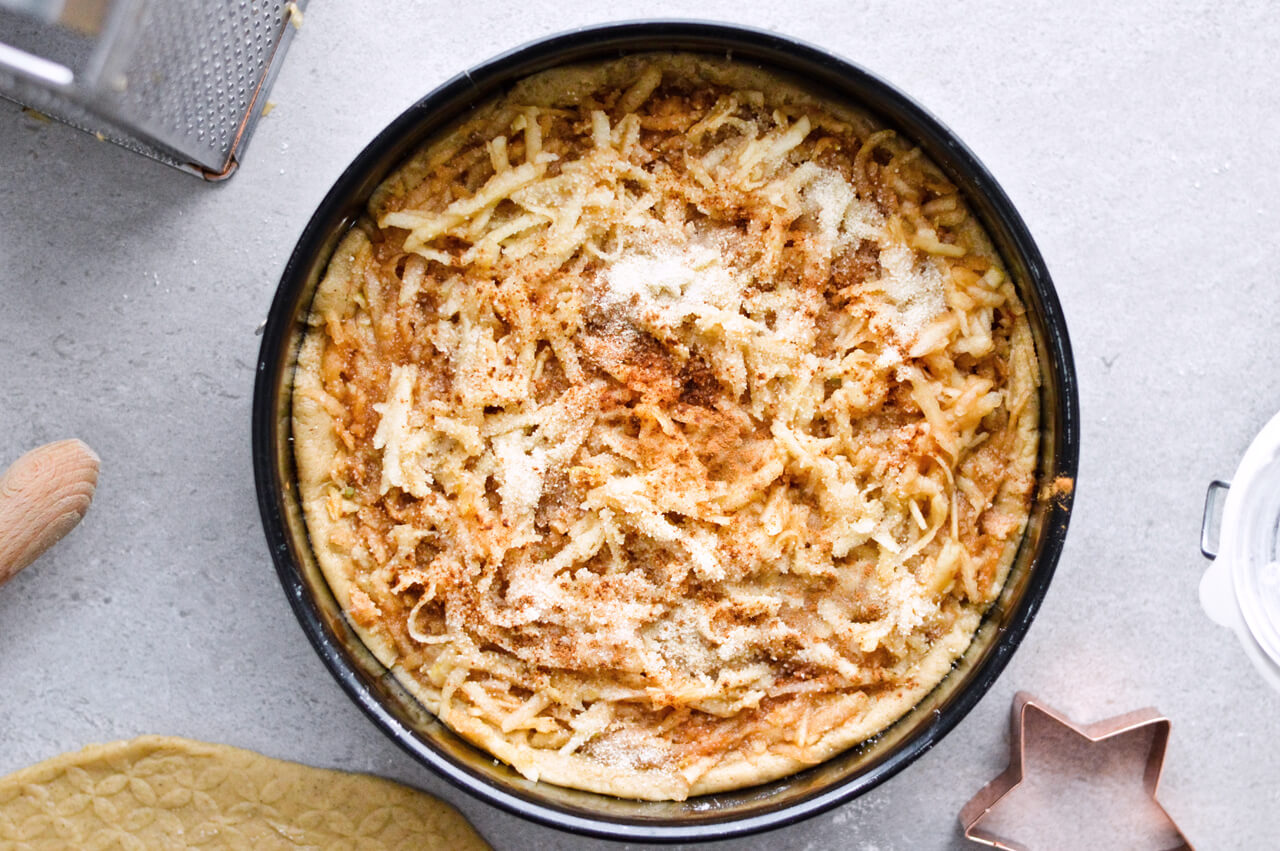 So, it makes sense that we eat similar things, right?
History lesson over. Let's call this Slovenian apple pie the cousin of the Steyrischer Apfelkuchen, because while the recipes people use vary slightly, the finished product is always very similar.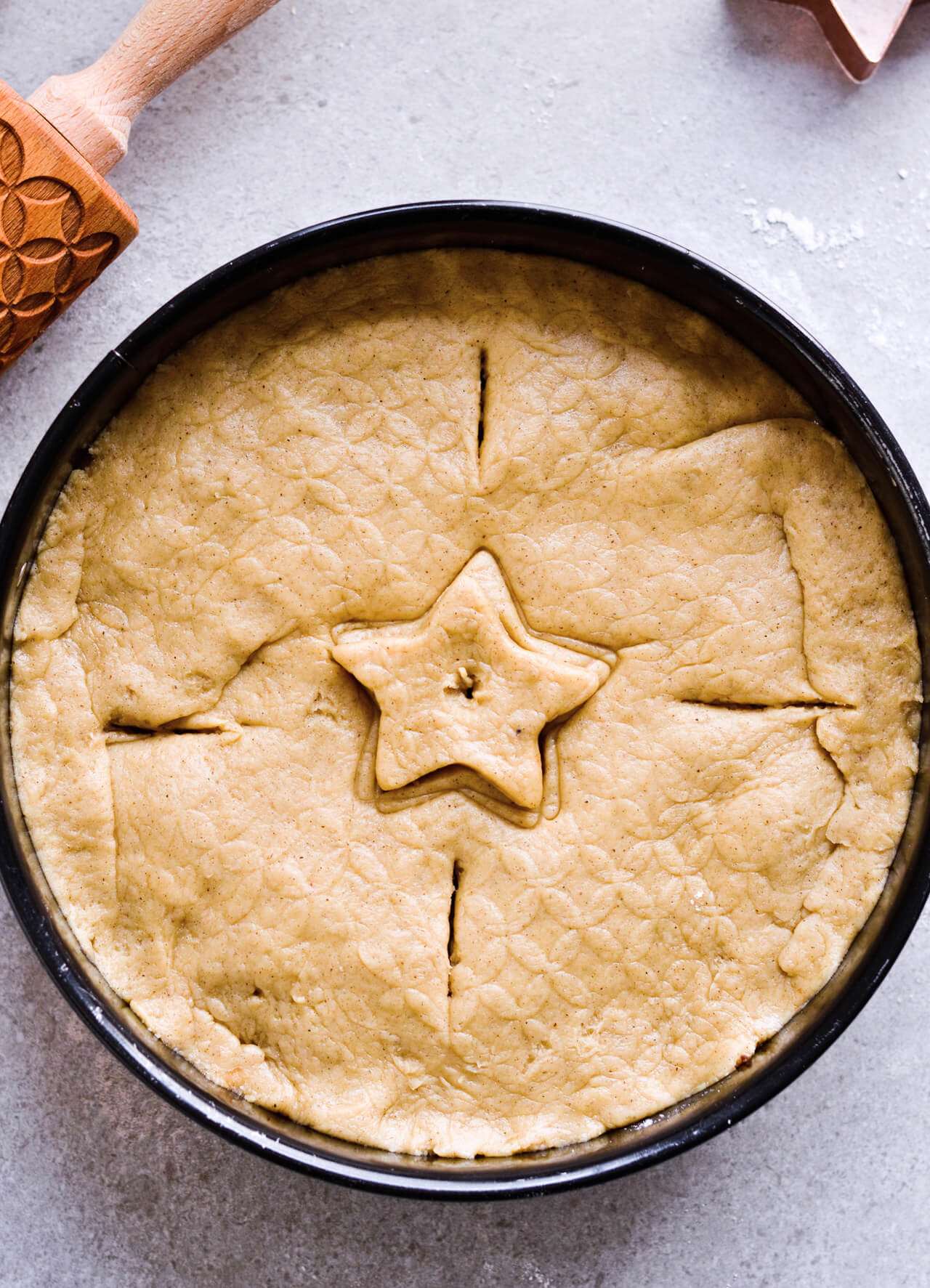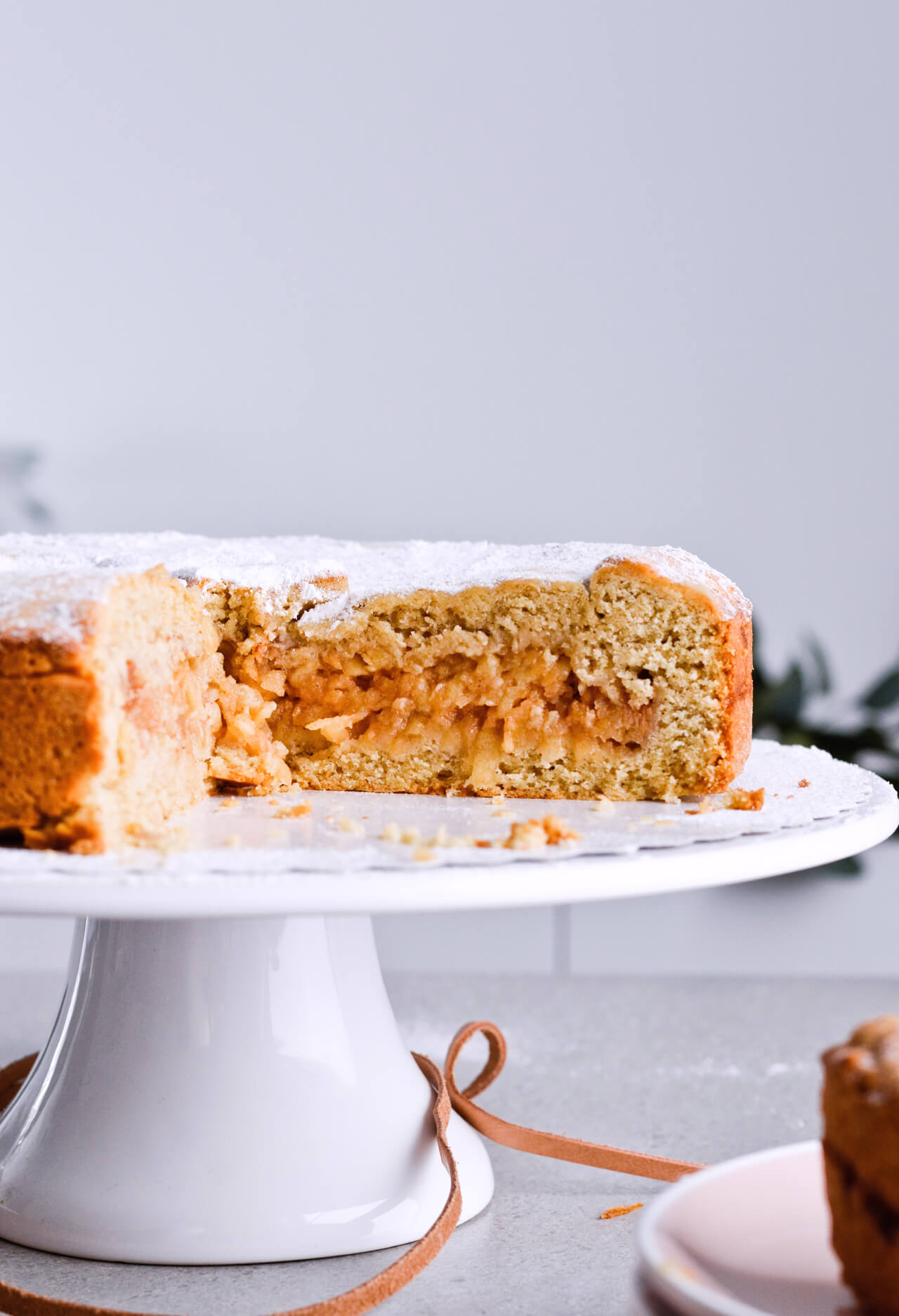 The dough of this pie is made with baking powder, egg yolks and sour cream, which is different from the typical butter crust. The end result is a crumbly, soft crust that almost tastes like a cookie. I love this crust because it's so forgiving. You only have to roll it slightly, then just push it into the pan. And if you tear it, you just patch it back together and it'll still bake beautifully.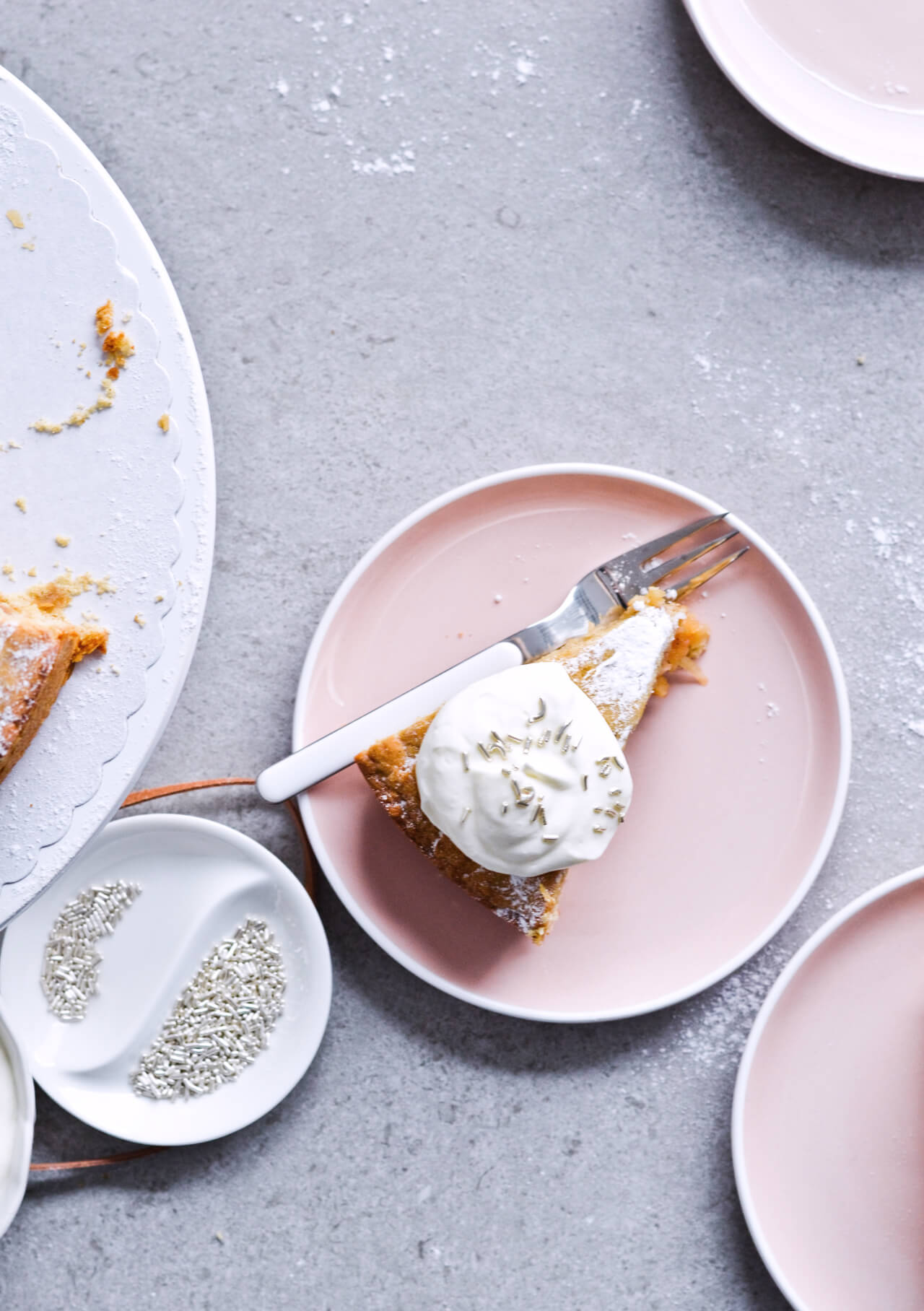 The filling is made with grated apples, which again is very different from a typical American apple pie. These grated apples are tossed with come sugar, cinnamon, lemon zest and a tiny bit of breadcrumbs. The latter soak up some of the juices.
The top crust can be whatever you want. Some people just scatter bits of dough all over, some make a lattice crust and some do what I did. I just roll out the dough and cover the pie with it.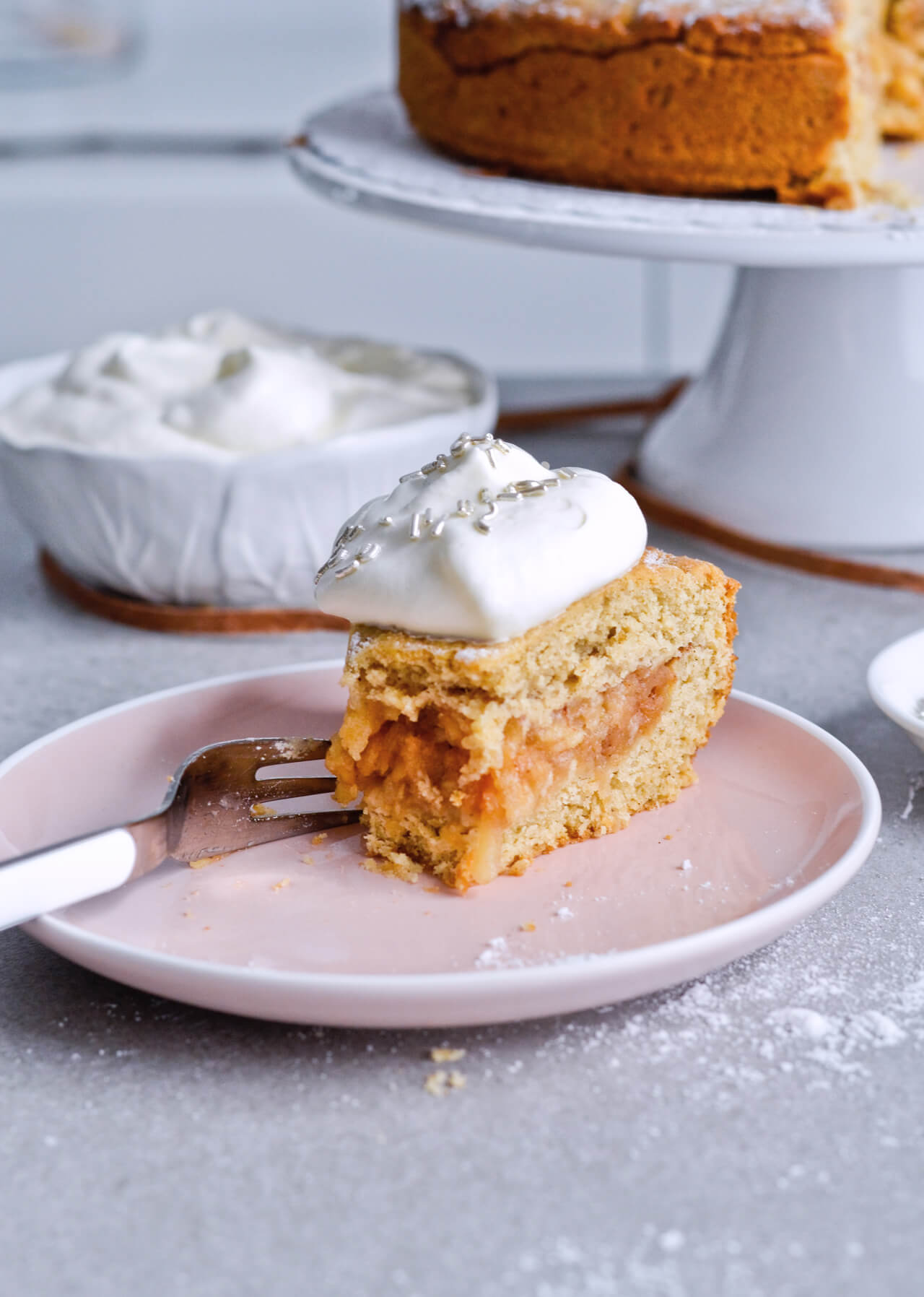 My favorite thing about this Slovenian apple pie is that it's so easy to cut and it keeps for days. Because the filling is made with grated apples, they stick together when you cut the pie so you can get perfect cake-like pieces.
In reality, this pie is as much a pie as it is an apple cake and it is definitely a favorite in our home. I adore the juicy filling and cookie-like crust, which gets softer as the days pass by and I end up eating the pie for breakfast. Oops.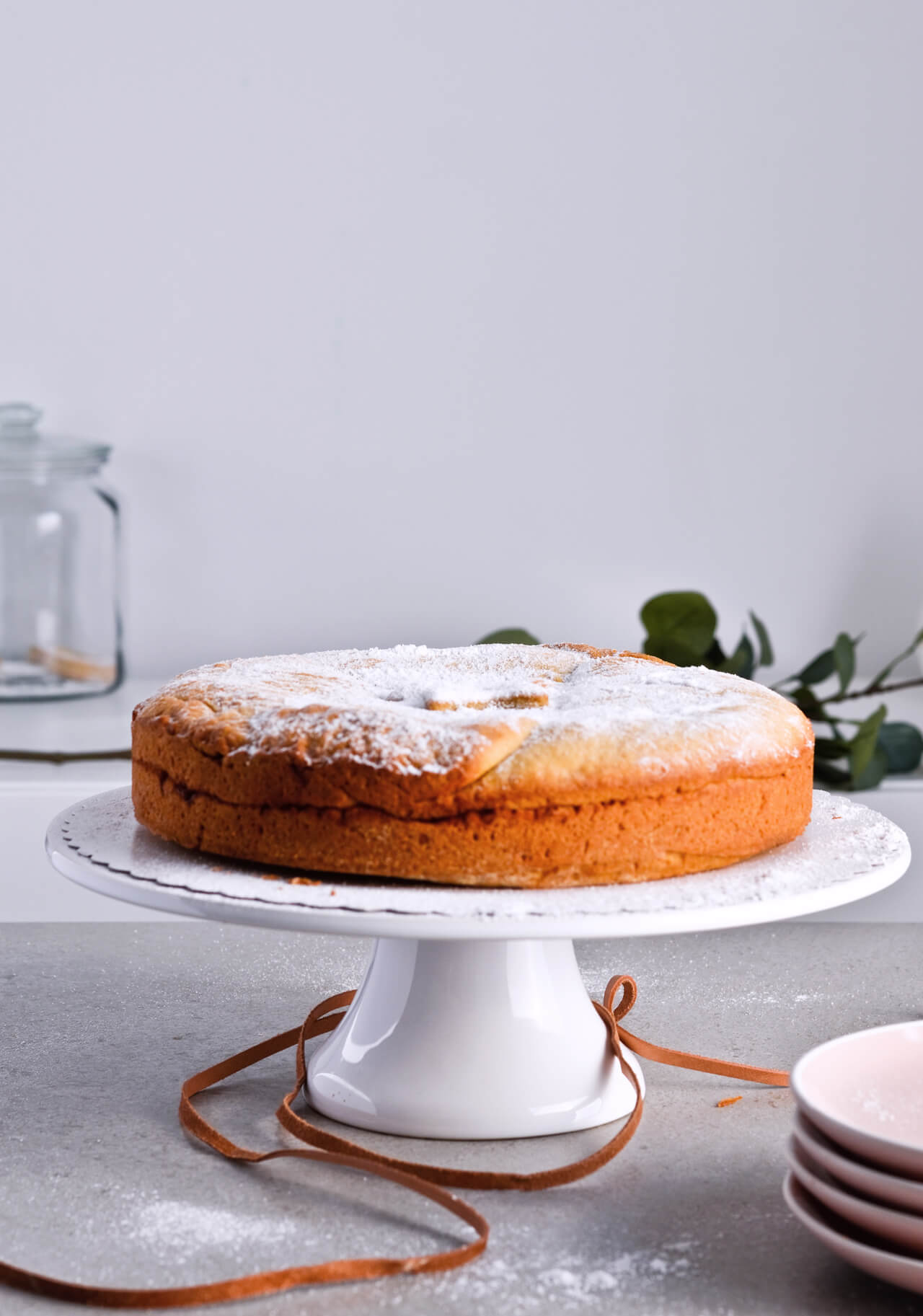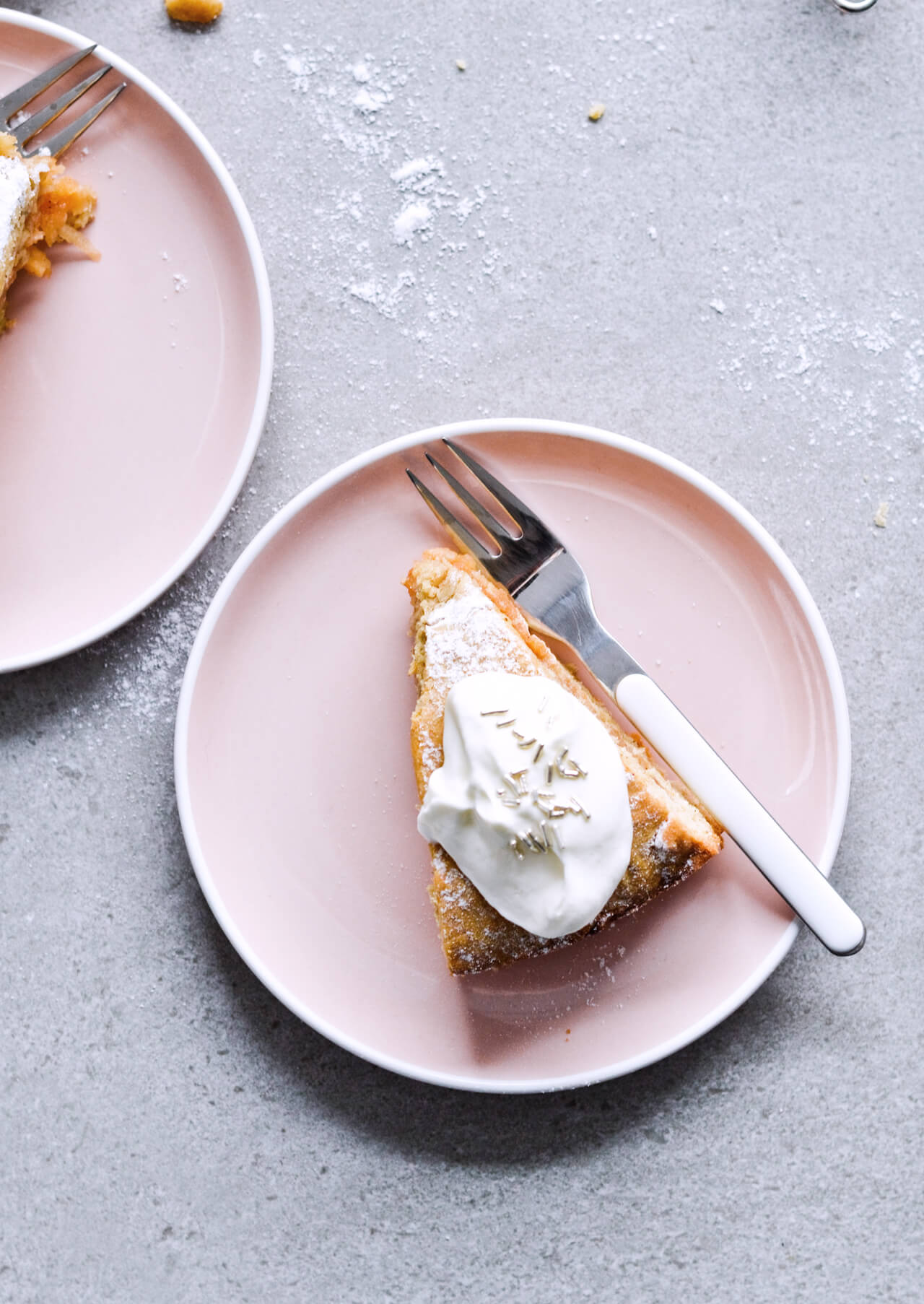 Print
Slovenian apple pie
A pie that's almost a coffee cake, buttery, soft and packed with apples. Recipe makes one 23-cm | 9-inch pie.
Author:
Prep Time:

20 min

Cook Time:

40 min

Total Time:

1 hour

Yield:

8

pieces

1

x
Category:

dessert

Cuisine:

Slovenian
Crust
355g

(

2 1/2 cups

) all-purpose flour

2 teaspoons

baking powder

1/4 teaspoon

sea salt

120g

(

3/4 cup

) powdered sugar

155g

(

1 1/3

sticks) unsalted butter, room temperature

2

egg yolks

1/2 teaspoon

vanilla bean paste

85g

(

6

TBSPs) sour cream
Filling
700g

(

1 1/2

pounds) apples (about

3

very large apples)

50g

(

1/4 cup

) white granulated sugar

30g

(

2

TBSPs) Demerara (light brown) sugar

1

–

3

TBSPs breadcrumbs

1 teaspoon

ground cinnamon

1 TBSP

fresh squeezed lemon juice (from about

1/2

small lemon)
+Powdered sugar for dusting
Instructions
First make the crust: Sift flour, baking powder, salt and powdered sugar in a medium bowl. In another large bowl beat the butter and egg yolks until creamy. Add vanilla paste and sour cream and mix until combined. Add flour in 3 additions, beating well after each one. You'll end up with a well formed, but soft dough. At this point transfer it to a working surface. If it's sticky add a few pinches of flour. Flatten the dough, wrap in plastic wrap and store in the fridge.
Meanwhile, peel and grate the apples with a box grater. Transfer to a bowl, add the sugars, breadcrumbs, cinnamon and lemon juice. Toss to coat the apples completely; set aside.
Set oven to 180°C (356°F) and line the bottom of a 23-cm | 9-inch springform pan with parchment paper. Lightly grease the paper and the sides of the pan.
Take dough out of the fridge and split it in two parts, one slightly bigger than the other.
Roll out the bigger half on a floured surface and transfer to the pan. Gently press into the bottom and about 2cm (1 inch) up the sides. Top with the filling (but discard any water left by the apples in the bowl) in an even layer, smooth top with the back of a spoon. Roll out the smaller half of dough and place it over the pie. Tuck it in at the sides and make a few slices in the top crust.
Bake pie for 40-45 minutes, until the top is golden brown. Cool for at least 15 minutes before removing from the pan. Run a thin knife around the sides of pie, then remove from pan and sprinkle with powdered sugar.
Serve as is or with a side of vanilla ice cream or, as in my case, with whipped cream and sprinkles.
Notes
The reason why my pie has a beige color is because I used vanilla bean powder instead of vanilla bean paste. If you use powder, whisk it into the flour and not into butter. If the dough tears, as you're putting into the pan, simply pinch it back together. To make the star in the center, roll out the dough for top crust, cut out a star and set aside. Transfer dough to the cake pan, tuck it in and then top with the star cutout. This time, I used a mix of Gala and Granny Smith apples. I often make this with Golden Delicious, Jonagold and Idared apples too. If you're using a very sour variety, add more sugar to the filling. Pan sizes: you can make this exact pie in a 20-cm | 8-inch square pan too. Double the recipe to make a larger rectangular pie. Pie keeps for up to 3 days, stored airtight in the fridge.