When you want all those lasagna flavors, but don't feel like spending too much time arranging everything neatly, make this lasagna-style zucchini spinach pasta bake. This vegetarian baked pasta makes a really great dinner. And you'll love the leftovers just as much as the freshly baked thing (if you even have any).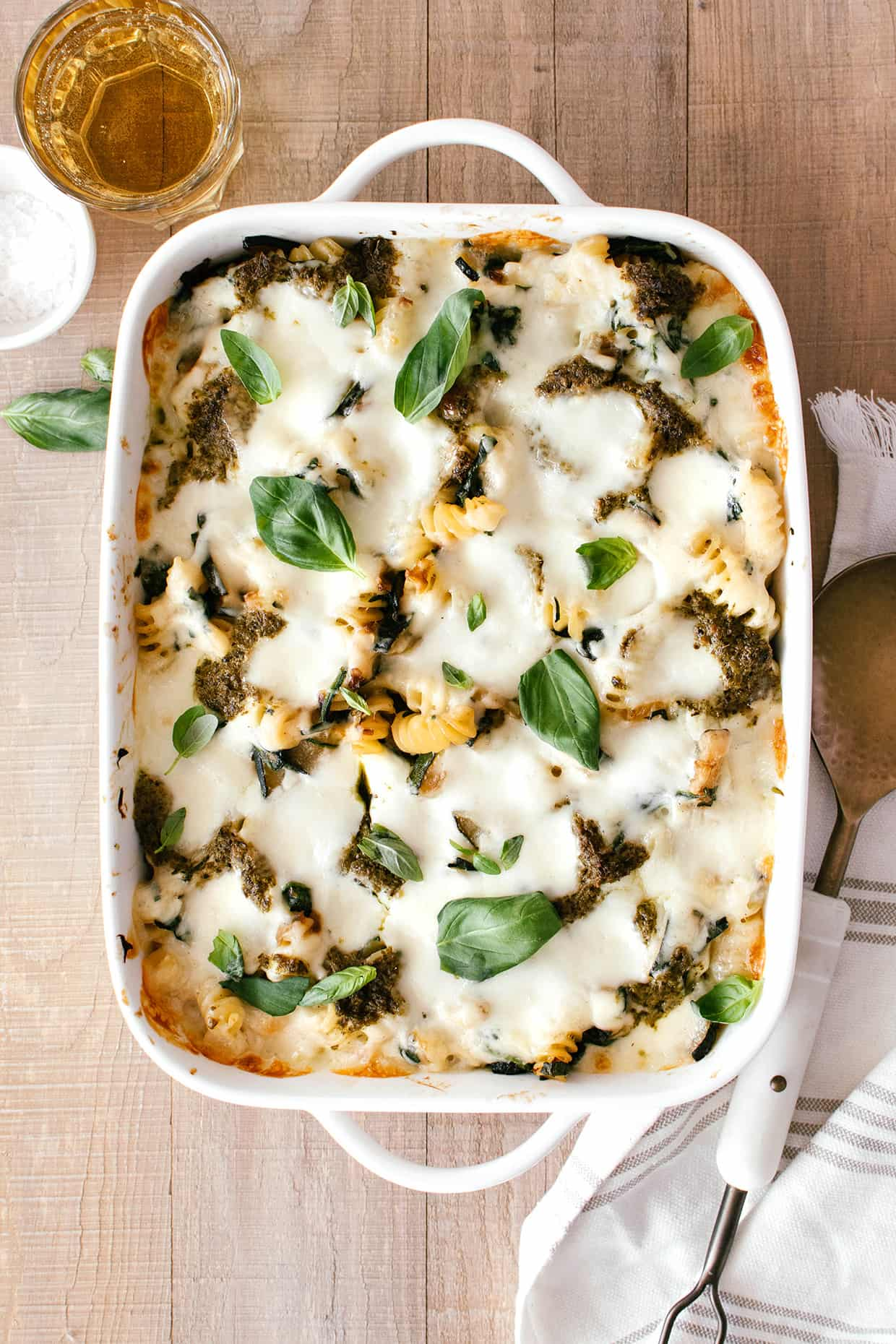 At its base , this is a very simple pasta bake. We could also call it a lasagna casserole, as it's made with a good amount of vegetables, some béchamel (white sauce) and cheese. And pasta, of course! I first made it one day when I was craving lasagna, but had no desire to work for it. So I sautéed some vegetables from the refrigerator that had to be used up, added some pasta, basil pesto and mini mozzarella balls.
At that point this was just a pasta bake and I realized it was a bit dry. After all, pesto isn't something you can add in copious amounts. And the spinach-zucchini mix wasn't making up for the lack of sauciness.
So I thought of béchamel and this lasagna-style spinach zucchini pasta bake was born. I know a lot of people think of ricotta not béchamel when making lasagna, but I guess I'm just more old school. Of course I love ricotta, but I have a hard time making lasagna without its delicious, creamy, milky béchamel.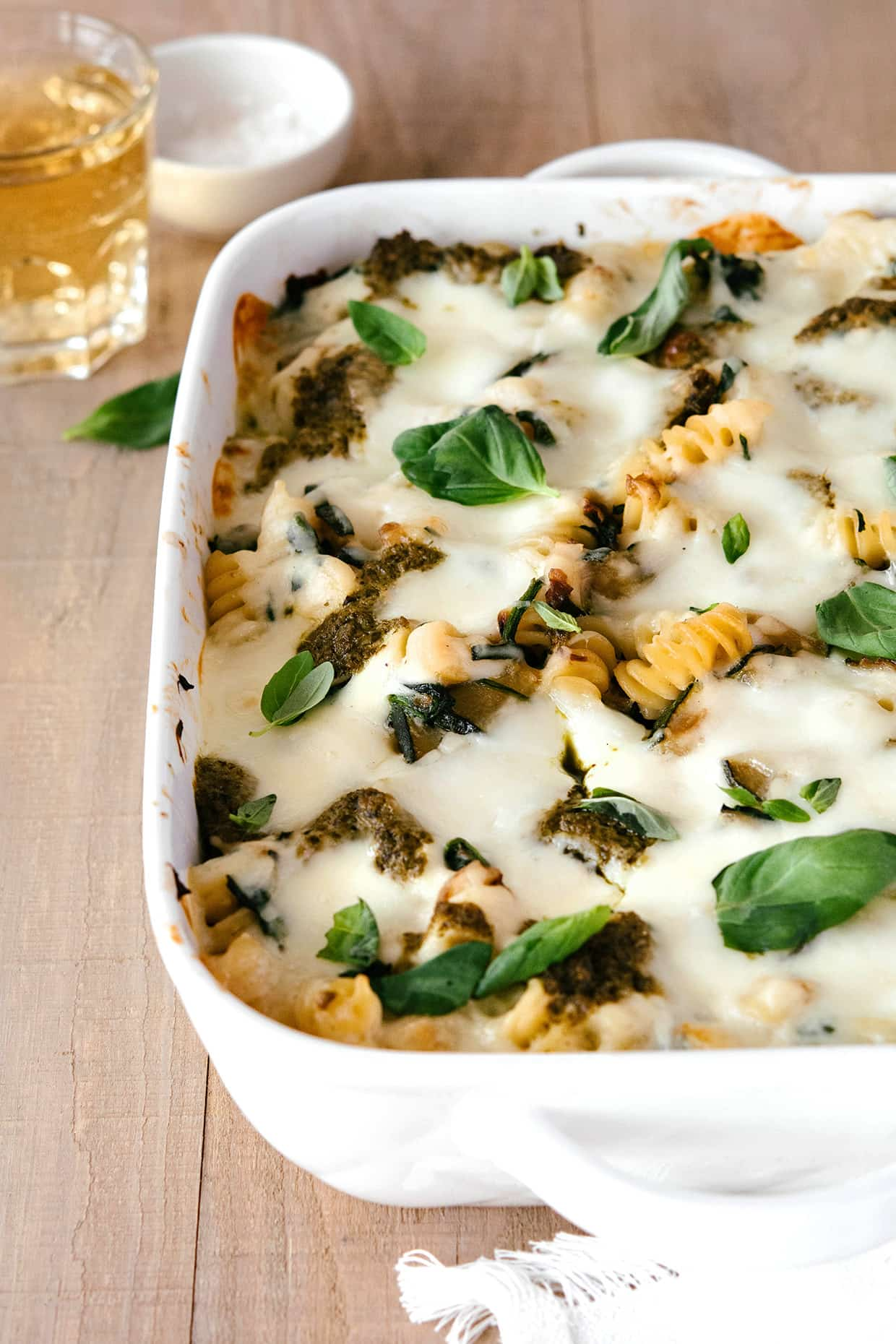 This is a very simple dish. It doesn't have to be as carefully arranged as a lasagna, but it does involve a few (albeit easy) steps:
The pasta
Use any short pasta you like. Personally I really love fusilli in this recipe, because the sauce really clings to the shape and they're just so satisfying to bite into.
The vegetables
The base is made with sliced zucchini and baby spinach sautéed with onions and olive oil. If you don't have baby spinach, swiss chard would be amazing too. I let the zucchini catch some color as I cook them and it's those golden and brown bits that add so much flavor.
The béchamel (white sauce)
All you need are butter, flour and milk and you get the most amazing, rich sauce. Season it well with salt, some freshly ground nutmeg and black pepper. It's milky and creamy, with sweet hints of nutmeg and goes together great with both the vegetables and the pasta.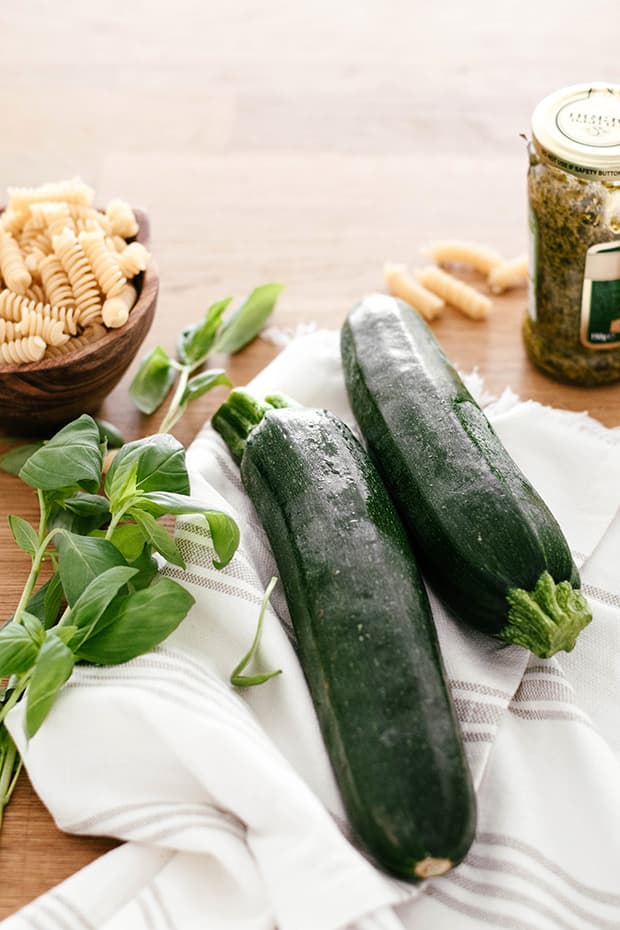 The cheese
I usually use two types of cheese here. First, I like to add some parmesan on top of the pasta, just to add some extra saltiness and flavor to the milder white sauce.
And for the very last, top layer I use mozzarella. To save some time, I'm using mini mozzarella balls instead of grated mozzarella. You could also use pre-shredded cheese, but personally I'm not a fan of that and I always like to grate it myself. But having mini mozzarella balls on hand is such a life-hack. You get all the flavor without all the work. And a completely equal amount of cheese everywhere on top. It's a win-win.
The pesto
I love pasta with pesto. Actually I love anything with pesto and I frequently add it to my sandwiches, my pizza, eggs or toast. It's a great way to add more flavor to a dish, so I'm using it as the last topping in this baked pasta.
This flavor-packed, vegetarian lasagna-style zucchini spinach pasta bake is one of my favorite things to make during Spring and Summer. It's comforting, but not too heavy. You can use swiss chard instead of the spinach and play with other pesto flavors, to get some variety if you make it often. And if you do want the real, amazing lasagna, try this chickpea bolognese variation or a mean green spinach lasagna.
Lasagna-style zucchini spinach pasta bake
Vegetarian and packed with vegetables, this is a hearty dish that's not too heavy. Perfect for a crowd. 
Ingredients
1

pound

(

450

g

)

short pasta

fine sea salt

3

tablespoons

olive oil

1

medium onion

(finely chopped)

1

pound

(

450

g

)

zucchini

( ends trimmed, thinly sliced )

6

oz

(

170

g

)

fresh baby spinach

(roughly chopped)

4

tablespoons

(

55

g

)

unsalted butter

7

tablespoons

(

55

g

)

all-purpose flour

2 1/4

cups

(

540

ml

)

milk

(very warm)

freshly ground nutmeg

freshly ground pepper

(to taste)

1/2

cup

(

30

g

)

freshly grated Parmigiano Reggiano

((optional))

10.5

oz

(

300

g

)

mini mozzarella balls

4-8

tablespoons

basil pesto

fresh basil

(for serving)
Instructions
Preheat your oven to 350°F (175°C) with a rack placed in the middle. Lightly oil a casserole baking dish and set it aside. 

Bring a large pot of salted water to a boil. Add the pasta and cook it for 10 minutes or until al dente. Drain and return the pasta back to the pot. 

Meanwhile warm up oil in a large skillet. Add the onions, cook them for a few minutes over medium heat until the onions are tender. Add the zucchini and 1/2 teaspoon of salt. Cook, stirring occasionally, for about 20 minutes or until the zucchini is tender and falling apart. Allow some pieces to get brown. 

Remove the skillet from heat and toss in the spinach. Keep stirring and folding the spinach until it wilts (the warmth of the zucchini will do this).

Lastly, make the white sauce. Melt butter in a medium saucepan set over medium heat. Whisk in the flour, to make a paste. Slowly pour in the very warm milk while whisking constantly to prevent lumps from forming. Season with fresh nutmeg, 1/2 teaspoon of salt and pepper and cook until the mixture thickens, but is still pourable, like a thick soup. 

Reserve about 1/2 cup of the white sauce and pour the rest into the pot with the drained pasta. Stir to combine, then transfer the pasta to the prepared baking dish.

Sprinkle with parmesan. Top with the zucchini-spinach mix, as evenly as possible. Add dollops of reserved béchamel all over the top of the vegetables. Next, top with the mozzarella balls in an even pattern. Lastly, add dollops of basil pesto in between the mozzarella balls. 

Bake for 20 minutes or until the mozzarella is melted. Remove from the oven and allow to rest for about 10 minutes, then serve, with fresh basil on top. 
Notes
You can use swiss chard instead of baby spinach. 
If you don't like basil pesto or simply want to change things up, use any other type. 
Keep leftovers in the refrigerator and eat within 1-2 days. Reheat them in the microwave or in the oven (set to 350°F (175°C)) and covered with aluminum foil. 
Email recipe
Pin Recipe