Vegetarian chickpea lasagna Bolognese is the ultimate comfort food.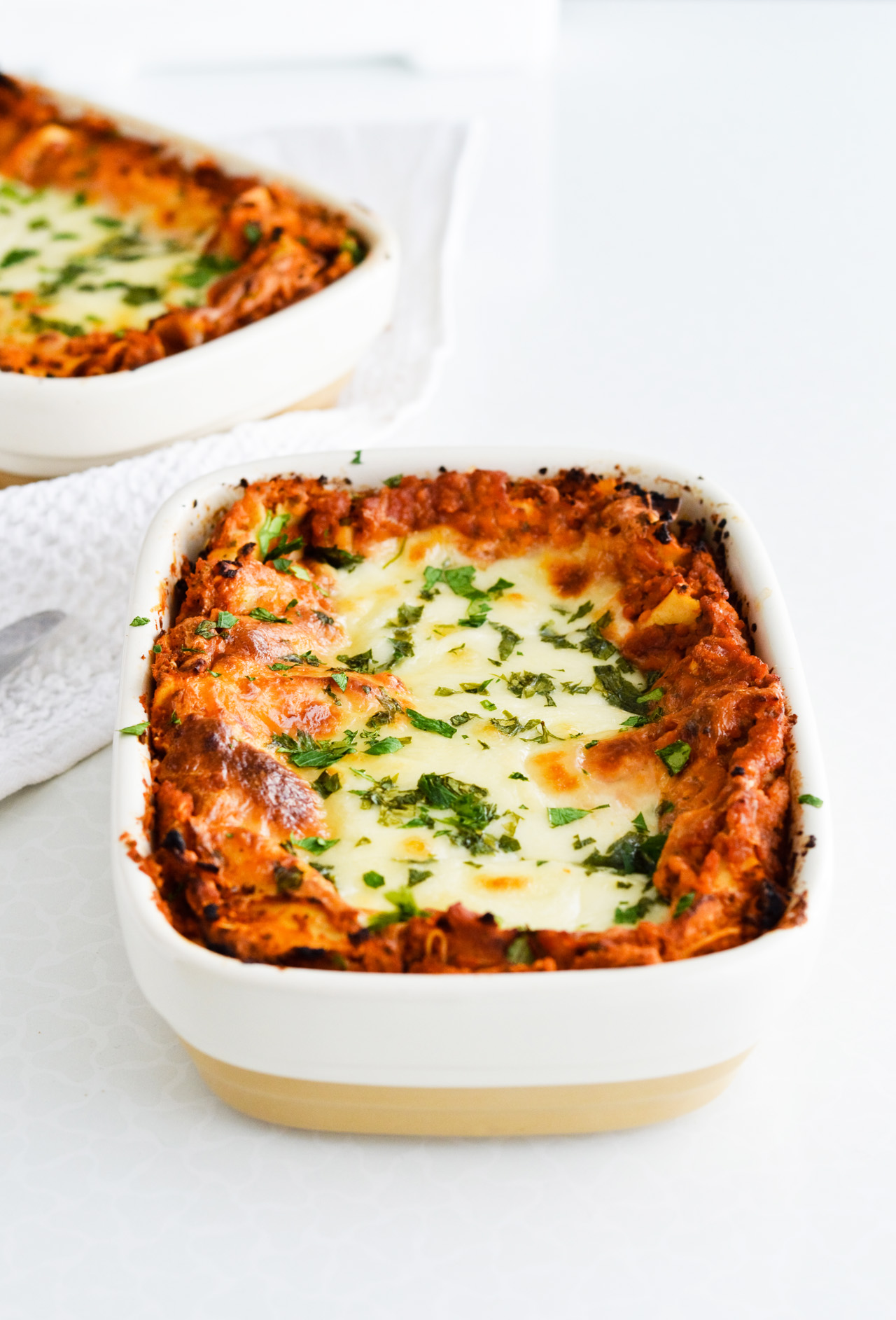 Back when I posted the cauliflower pesto recipe, I mentioned that my mom's spaghetti Bolognese was my favorite dish, well one of many. While I don't miss eating meat, I do really miss my mom's cooking. And one of the things she did best was a  lasagna Bolognese, obviously very similar to spaghetti Bolognese, but with a lot more cheese.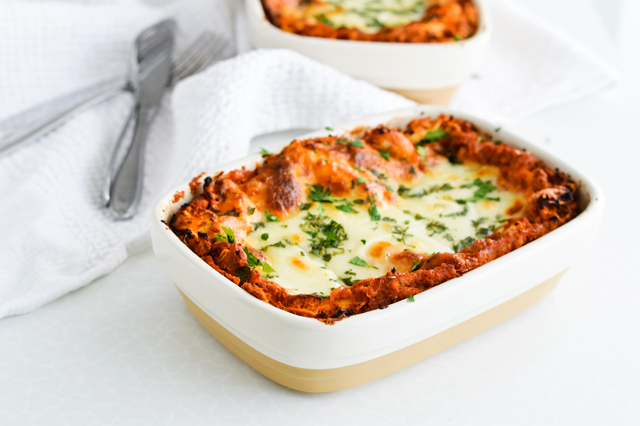 Every layer in her lasagna was perfection – she was absolutely picky when it came to meat and so the Bolognese was always amazing, the béchamel was creamy without any lumps, the pasta layered just perfectly and she never got skimpy with cheese. And the best part was that she always made a lasagna so big, plenty was left for later. And honestly, leftover lasagna quickly heated in the oven or microwave tastes divine, although I also always stole a few bites while it was still cold too.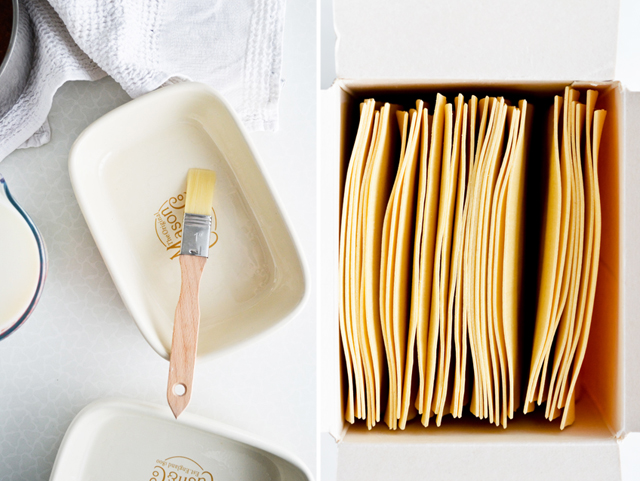 As mentioned before, I don't really miss meat and  I'm not too crazy about meat substitutes either. And it's a shame, but there are things you can't even really find a substitute for, like beef tartar, Karst prosciutto or Baccalà Mantecato.
Bolognese sauce is one of those rare foods that holds a special place in my heart because of my mom. And so when certain days come when I feel nostalgic and a bit gloomy and I want a big plate of something comforting, I think of this lasagna.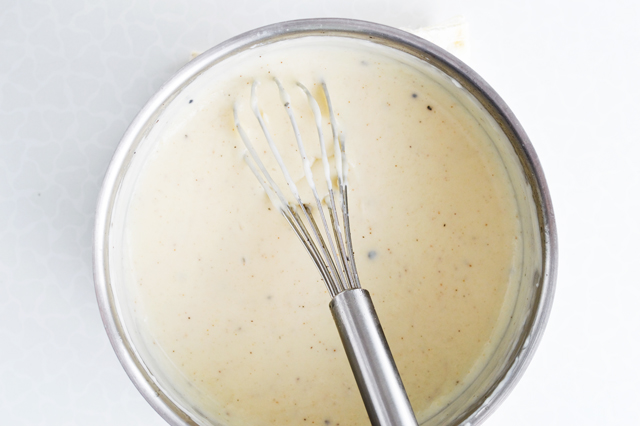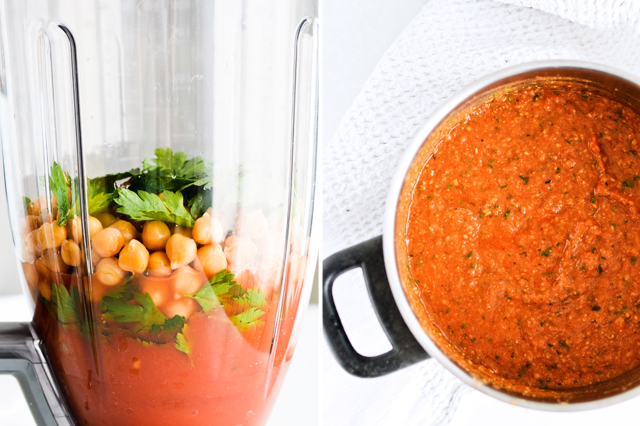 I'm calling this a vegetarian lasagna Bolognese because it tastes and looks a lot like a regular lasagna alla Bolognese. I wasn't trying to make it taste like meat, but overall it comes close to the classic flavors. The basic sauce is made of chickpeas and whole peeled tomatoes, which gives a texture and flavor similar to bolognese. The rest of the ingredients are the same as in any other classic lasagna – pasta, cheese, béchamel sauce.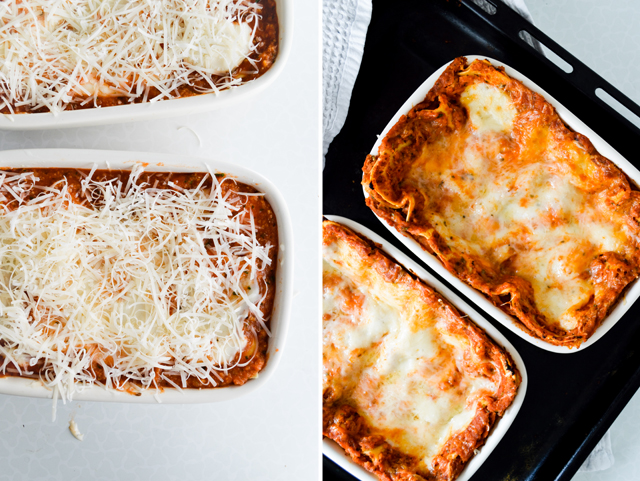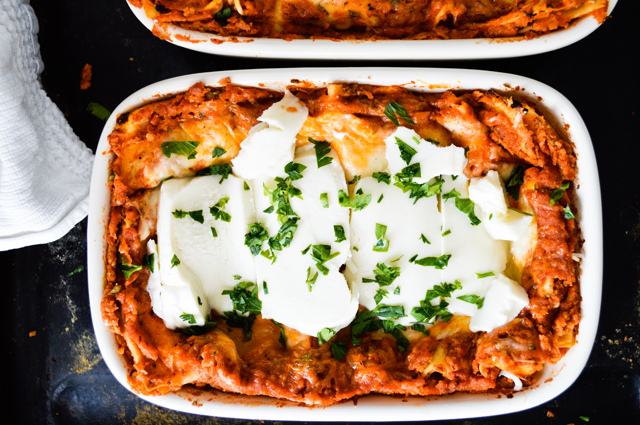 And on the topic of béchamel, I'm definitely a béchamel gal, if there is such a thing! I've seen a lot of lasagna recipes online over the years which call for ricotta mixture instead of béchamel and I always find this interesting. I have to admit I've never made a lasagna with ricotta before, because I really feel béchamel is as important as the other layers, a real classic, and I just don't have the heart to skip on it. And when prepared well, it makes all the difference and any lasagna truly amazing.
My mom always made her lasagna twice as high as these individual lasagnas, with more layers and I often do that when I make a spinach lasagna. But for this version, I really prefer the smaller size served in stoneware pans, I feel they make the lasagna look even more comforting and each portion easy to reheat.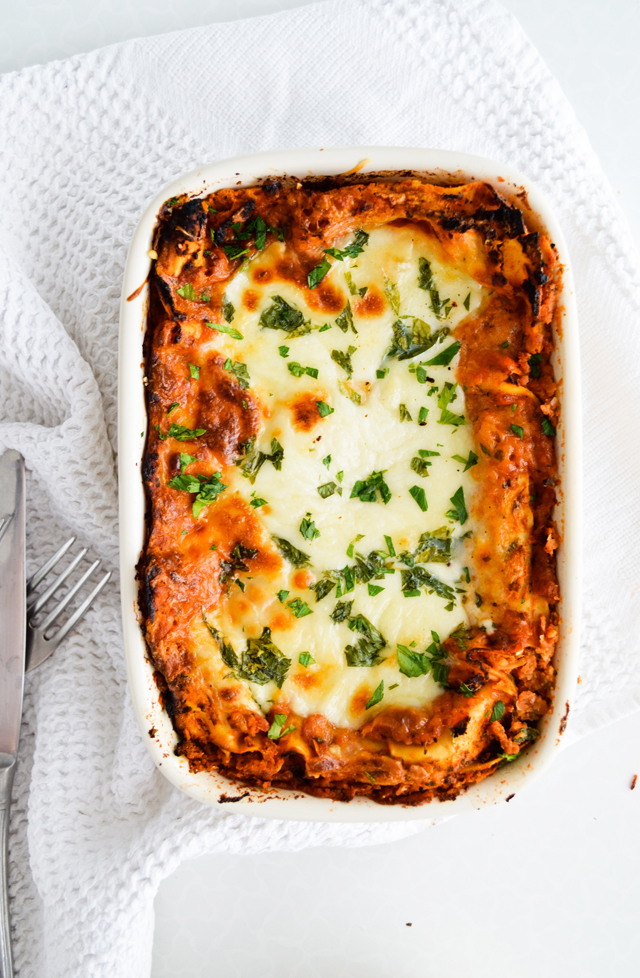 It really hardly gets better than this Vegetarian chickpea lasagna Bolognese. Being the ultimate comfort food, you'll wish you had room for more after you eat a serving.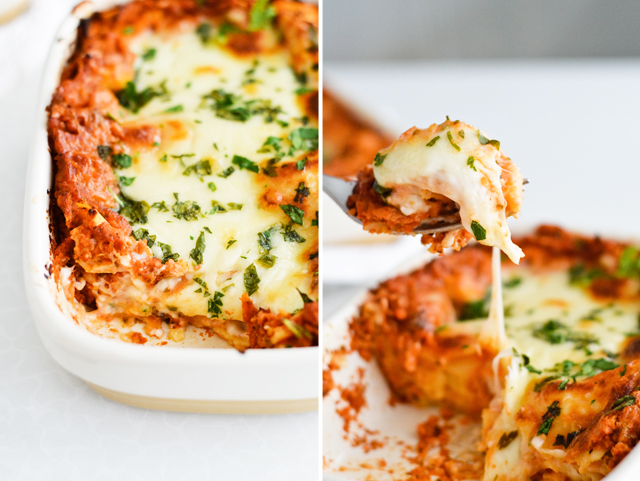 Print
Vegetarian chickpea lasagna Bolognese
This recipe makes two lasagnas and serves two people very comfortably, but can be split into 4 portions.
Baked in two 20x14x5 cm (7.8×5.5×2 inch) stoneware rectangular dishes.
Author:
Prep Time:

20 min

Cook Time:

30 min

Total Time:

50 minutes

Yield:

2

-

4

servings

1

x
Category:

Main course

Cuisine:

European, Italian
"Bolognese"
300

gr (1 cup) cooked chickpeas

400

gr (14 oz or

1

small can) whole peeled tomatoes

10

–

15

grams (

1

bunch) of parsley and fresh basil (or

one

of the two)

1 teaspoon

olive oil + more for greasing the pans

1/4 teaspoon

dried oregano leaves

1 teaspoon

sugar

1 teaspoon

sweet paprika

1/4 teaspoon

ground nutmeg

1 teaspoon

salt
Bechamel
40

gr (1/3 stick) unsalted butter

40

gr (1/4 cup) all purpose flour

400

ml (1 2/3 cups) very warm milk

1/4 tsp

salt
freshly ground black pepper

1/4 teaspoon

ground nutmeg
The rest
10

uncooked pasta sheets

1 teaspoon

salt

2

–

4

tablespoons freshly ground Parmesan

100

gr aged (low moisture) mozzarella

1 tablespoon

fresh chopped parsley
Instructions
Preheat the oven to 200 degrees C (392°F). Grease two baking dishes with oil and place them on a baking sheet. Set aside.
First prepare the "bolognese":
In a blender combine the tomatoes, chickpeas, parsley and basil. Pulse until the chickpeas are crushed and crumbly, but not completely mashed. You want the sauce to have texture.
Warm a saucepan over medium-high heat. Add a teaspoon of olive oil, once warm add the oregano and cook for 30 seconds. Then add the tomato chickpea mixture and mix in the paprika, nutmeg, salt and sugar and bring to a simmer. Set aside.
In a large pot, bring salted water to a boil. Set aside.
Make the béchamel:
In a small saucepan melt the butter. Immediately add the flour and whisk until you get a smooth paste.
Slowly add the warm milk, stirring constantly.
Let the béchamel cook for about 5 minutes, keep on stirring. Season it with salt, nutmeg and few grinds of black pepper.
Once it thickens up set it aside and start preparing the lasagnas.
Assemble:
Put 4 pasta sheets into the pot with hot water. This will soften them and make them easier to handle. (After about 30-60 seconds take them out. )
Put a few teaspoons of the bolognese and béchamel on the bottom of each pan. Put two pasta sheets into each one. Top with a few tablespoons of bolognese, gently spread it over all pasta, then add 2-3 tablespoons of bechamel and top again with the pasta; and so on. Top the last pasta layer with any leftover sauce and béchamel, sprinkle parmesan on top and bake for 20 minutes.
Remove the baking sheet with the pans from the oven and top each lasagna with sliced mozzarella and sprinkle with parsley.
Bake for another 10 minutes until the cheese is completely melted and bubbly.
Serve immediately or keep covered with aluminum foil until you are ready to serve.
(optional) Sprinkle with additional chopped parsley or basil.
Notes
I always make the "bolognese" with both parsley and basil, but if I don't have one or the other on hand I just use whatever I do have. Basil does add a special kick to the tomatoes, but parsley alone is just as great too.
I do use pasta sheets that do not need to be cooked prior to using. But I still prefer to soak them in hot water for up to a minute, just to soften them up and make the pasta easier to handle and fold if necessary.
This individual lasagnas only have a few layers. I use exactly 5 pasta sheets per pan, 2 on the bottom and then 1 1/2 for the second and third layer. If you want more pasta you can easily add more, you can also make more layers. If making a bigger lasagna, double the ingredients for the bolognese and béchamel and know that the baking time will be longer.
The easiest way to assemble the lasagna is if you lay everything in front of you – the pans, the pasta, the bolognese, the béchamel and cheese. Then you can just work in an order and not skip a step.
To test if the pasta is cooked, use a cake tester or sharp thin knife and pierce the lasagna all to the bottom of the pan. If the knife slides in, all the sheets are cooked. If they're still raw, you'll know immediately.
The béchamel thickens as it cooks and once it's cooked it'll keep on thickening. If you notice it's gotten too thick while you're assembling your lasagna, thin it out with a tablespoon (or more) of really warm milk. I always warm my milk in the microwave as it's fast and easy.
If you feel this recipe uses too much cheese, feel free to skip either Parmesan or the mozzarella, whichever you prefer.
Grated Edam cheese is great too, if you don't have Parmesan or mozzarella on hand.
If you don't have a blender or food processor, you can finely chop all the ingredients needed for the chickpea bolognese.
Once it's done a lasagna will stay warm for up to an hour. It can be easily reheated in the microwave or in the oven set to 180°C. Store it in the fridge for up to two – three days, if you manage to stay away for that long.
Keywords: holiday recipes, dinner party,