This easy cheesy mushroom baked ravioli is not only insanely satisfying, it is perfect for so many occasions. A mix of cheesy ravioli, crazy good mushrooms sauce and cheese; this dish is almost like a lasagna, without all the work. Easy and quick to make, this recipe is ready in under an hour, making it perfect for weeknight dinners. It's hearty and vegetarian, therefore a great choice for holiday parties. As a main course, this will keep people full for hours. You can double or triple the recipe if needed, as the ingredients are so simple, you can't mess this up in any way.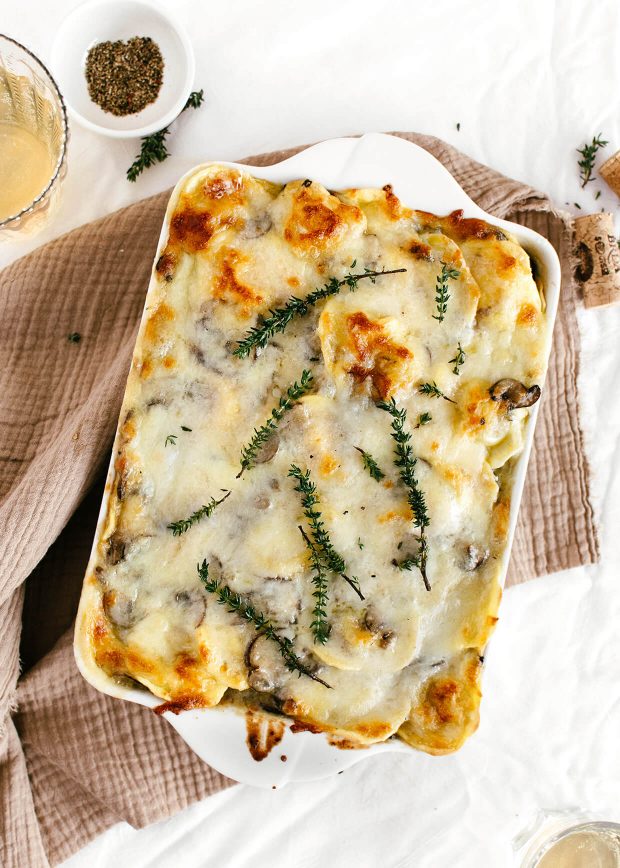 I don't know if it's the cold outside or the holiday season, but I've been craving pasta a lot more lately. Out of everything that I like to cook, baked ravioli (or simply "ravioli bake") is one of my favorite things to make. To me baked ravioli is that perfect cross between the very simple (stovetop) pasta with sauce and a crazy thick lasagna. And I adore lasagna so much (like this spinach one or this chickpea lasagna), but lasagna takes some time to make.
On the other hand, baked ravioli is super simple and this easy cheesy mushroom baked ravioli is the perfect example. With food there are certain pairings that work no matter what, like avocado and limes, strawberries and cream and of course mushrooms and cheese. Or mushrooms and pasta or pasta and cheese. Whew, I'm getting dizzy. But truly, you put the three together in a recipe and you have an instant winner.
So, let's talk about this easy cheesy mushroom baked ravioli:
This dish is made of a few different layers, which is why I keep comparing it to a lasagna. We have two layers of ravioli, two layers of mushroom sauce and plenty of cheese on top. The latter is my weakness. That cheesy crust on top is a thing of dreams and my absolute favorite thing to eat.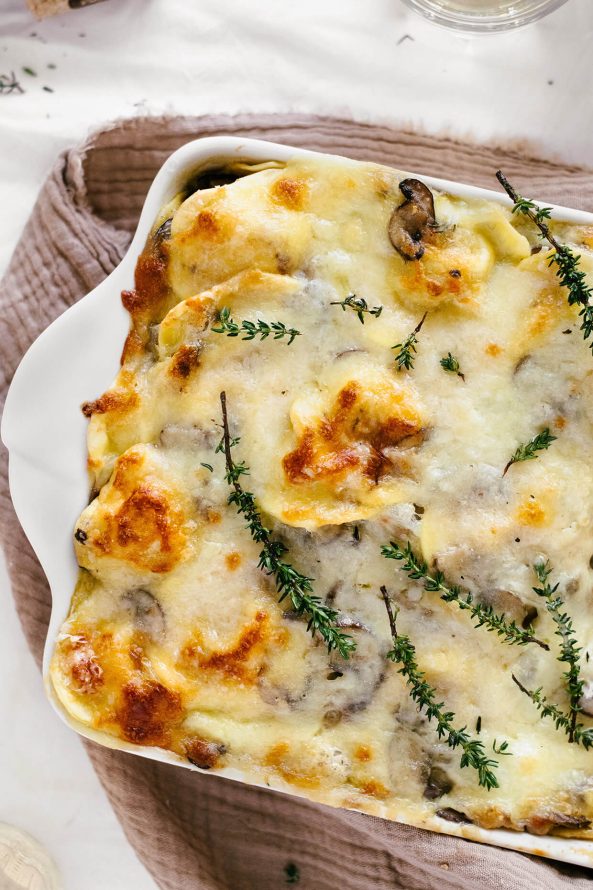 Even though this is a ravioli dish, it seems fair to start with the mushrooms, as these are what makes this recipe so insanely flavorful. I'm using cremini mushrooms, also known as baby bella or brown button mushrooms. They're often sold right along white button mushrooms as they are basically the same thing. The only difference is that cremini are older, which apparently makes their flavor a bit more complex. Here's what Cook's Illustrated have to say . As for this recipe, you can use either or both, whichever you can find.
With that said, I have to say that you can also use wild mushrooms. In fact, if you can get your hands on porcini, even chanterelles, please use those. I do use quite a lot of mushrooms in this recipe and porcini mushrooms aren't cheap, so even 1-2 porcini would be a fantastic addition.
What about dry mushrooms?
Even though I'm using fresh mushrooms, you can use dried mushrooms. Either all dry or in combination with button mushrooms. If I had to decide, I do actually prefer fresh mushrooms for this recipe. But an addition of dry mushrooms, especially their soaking liquid, would greatly enhance the mushroom flavors of this dish.
Chunky or smooth mushroom sauce?
This is a very important question. It's crazy because as much as I love the flavor of mushrooms, I actually hate the texture. I've written about this before and it still holds true. I cannot stand thick, large chunks of mushrooms. It may make me childish, I'm aware, but I can't help it. This is why I often don't order mushroom based dishes when dining out, because they are often rather chunky.
So, how do I avoid this in my own recipes? By slicing the mushrooms very thinly and small. That's it. It's quite simple, really, but I know that not everyone is as nit-picky as I am. Any large mushroom caps I cut in halves or quarters and then slice those as thinly as I can.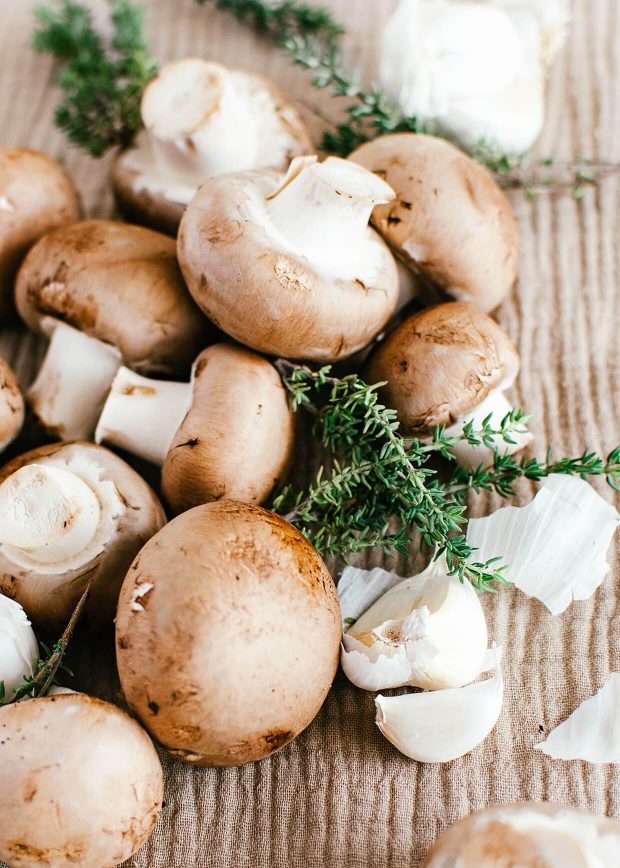 Besides not having super large chunks in your otherwise delicious and smooth sauce, there's another advantage to this method. It cuts the cooking time. When you throw mushrooms into the pan, you have to let them sweat. They're like little sponges and you have to get the water out of them. I find that thinly sliced mushrooms sweat faster and are cooked quicker. They also just taste better.
Okay, so that's that. My one rule. Slice mushrooms thinly. It's quite possible that this isn't enough for you. Sometimes it's not enough for me either. Whether it's the aesthetics or texture or something else that bothers you, know that you can also make a super smooth sauce. If you read through the recipe you'll see you start by cooking onions and garlic, then you add the mushrooms. Once these release their water, you add some wine and then some vegetable stock. It's all very traditional up to this point.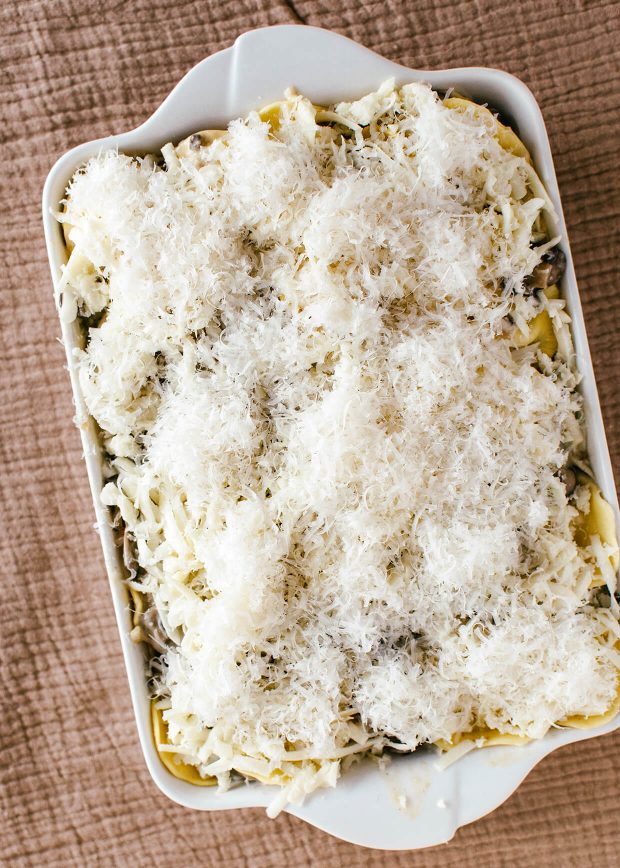 And it is exactly at this point that you have to make that decision. If you don't mind the look of sliced mushrooms, proceed with the recipe. If however you want a smooth sauce, this is when you take the mushrooms and all the liquid out of the pan. Puree the mixture in a blender until completely smooth and then return back to the pan and proceed with the recipe. It's not complicated at all, but it does add en extra step.
Whatever you do, you should have a very delicious sauce in the end. And now all you have to do is combine it with the pasta. I'm using 4-cheese ravioli in this recipe. I like the flavors that a mix of cheese gives. If you can't find 4-cheese ravioli, you can use any other kind. I think spinach-ricotta ravioli would work really nicely, as both ricotta and spinach generally play well with mushrooms.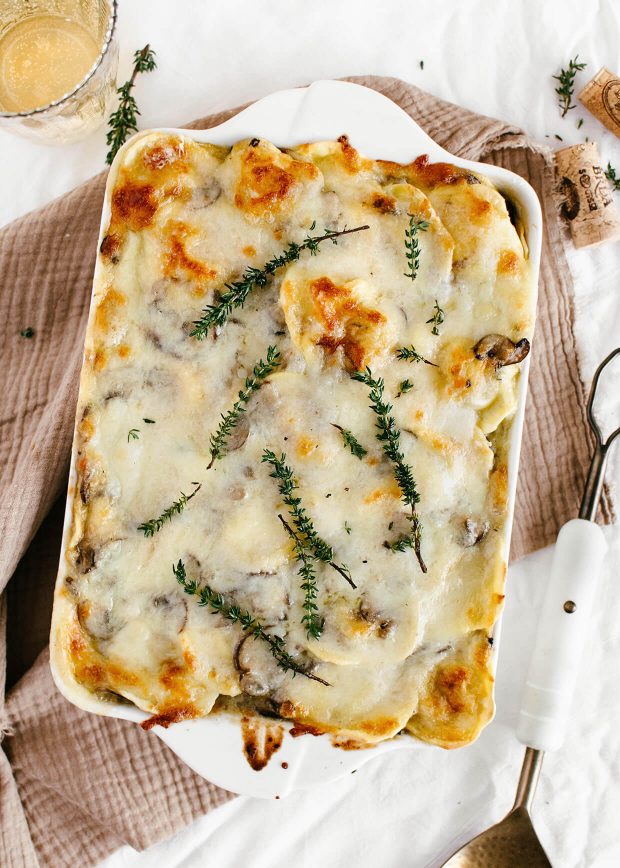 A quick note about the amount of ravioli I'm using.
18 ounces equals 510 grams, which isn't what I put in the ingredients list. I purposely wrote that you need 500 grams instead, which amounts to two 250g bags, which is how I normally find and buy ravioli in our stores. In the US, ravioli is often sold in 12oz, 16oz, 18oz, etc. bags… so 18oz is the best possible size.
All in all, we're talking about minor differences here, a few ravioli and nothing more. A few less or extra does not affect the end result, it's still enough to feed 4 people. But I do think that my "conversion" makes this recipe a but more approachable as I don't want any of you to worry over a few grams of ravioli. The very same could actually be said for cheese. A few grams, an once, all minor things in a dish that is baked ravioli.
I do have to stress though that I'm more careful with those recipes that require exact measurements (usually some sort of a dessert / baking recipe). With those I'd normally tell you to pull out a scale as that's the easiest way to check if you have the right amount of whatever you need. But this ravioli recipe isn't one of those. This ravioli bake is a simple, easy dish. Just how I like it.
Last note about ravioli for this easy cheesy mushroom baked ravioli
If you can't find ravioli, you can use other types of cheese-stuffed pasta (like tortellini). I get mine in the refrigerator section at my store and only cook them for 1-2 minutes. Just so they're not completely dry but also not entirely cooked. I do this because the mushroom sauce isn't very watery (compared to tomato marinara) and it wouldn't be enough to fully cook ravioli in the oven.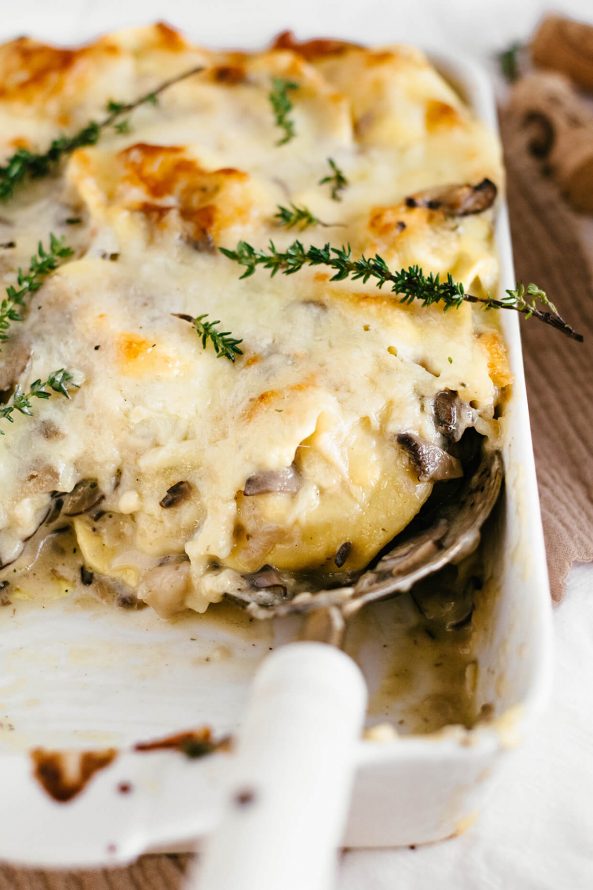 And last but not least – the cheese
The recipe name alone can tell you that this is a very cheesy dish. You'll see I'm using both mozzarella and Parmigiano Reggiano. If you want to cut down on all the cheese, you can use less of both or simply skip the parmesan. The amount of mozzarella used is enough to create a really nice not-too-thick crust on top, so I would keep that. It also acts as a lid to prevent the pasta from drying out.
All in all, this is such an easy recipe to make and so hearty and cozy you'll want seconds AND thirds. The last time I made it, I ate cold leftovers a few hours after dinner. Imagine me – fork in hand, standing behind the counter, eating cold pasta straight out of the baking dish. I wasn't even hungry, this easy cheesy mushroom baked ravioli just hit the spot. So much.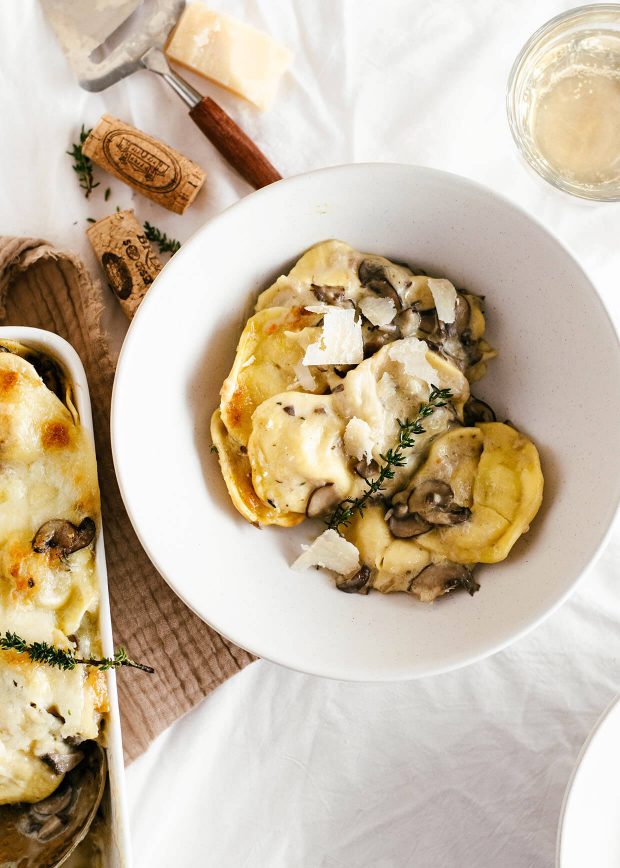 Easy cheesy mushroom baked ravioli
A hearty vegetarian main course, this is easy to make and is done in less than one hour. 
Ingredients
Mushroom sauce
2

tablespoons

olive oil

(plus more for baking)

1

medium yellow onion

(finely chopped)

2

large garlic cloves

(grated or minced)

16

oz

(

450

g

)

cremini mushrooms

(cleaned, trimmed and thinly sliced)

1/2

cup

(

120

ml

)

dry white wine

(I use Pinot Grigio)

1 1/2

cups

(

360

ml

)

vegetable stock

1

tablespoon

all-purpose flour

2

tablespoons

(

30

g

)

unsalted butter

(plus more to taste)

1/2

tablespoon

chopped fresh thyme

sea salt and pepper

(to taste)
The rest
18

oz

(

500

g

)

cheese ravioli

9

oz

(

250

g

)

low moisture mozzarella cheese

(grated)

2

oz

(

60

g

)

parmigiano-reggiano cheese

( finely grated)

fresh thyme or fresh chopped parsley

(for serving)
Instructions
Make the sauce: Heat oil in a large sauté pan, set over medium heat. Add the onions and cook for a few minutes, until translucent. Stir in garlic, just until fragrant. Toss in the mushrooms, along with about 1/2 teaspoon salt. Increase heat to medium-high and cook mushrooms, stirring occasionally, for about 10 minutes. Just until they release all of their water and become soft.

Lower heat to medium and add the wine. Cook until most of it evaporates. Pour in 2/3 of vegetable stock and bring to a simmer. Add butter and fresh thyme, stir until completely melted.

Meanwhile, whisk the rest of stock with flour. Add this to mushrooms and cook until the sauce begins to thicken. Remove from heat, taste and add salt and pepper as needed.

Preheat oven to 350°F (175°C). Bring a large pot of water to a boil. Add in the ravioli and cook for 2 minutes, just until it's softened but not fully cooked. Drain ravioli.

Lightly drizzle the bottom of a medium baking dish with olive oil. Add 2/3 of the ravioli, spread out evenly over the dish. Top with 2/3 of the sauce. Add the rest of the ravioli, then the sauce, then mozzarella and lastly parmesan cheese. 

Bake until the cheese is bubbly and completely melted, about 20 minutes. Remove from oven and let sit for 10 minutes before serving. (Optional: sprinkle with parsley or thyme before serving.)
Notes
Cremini mushrooms, or baby bellas, are the brown sisters of the white button mushrooms. You can use either or a mix of both, whatever you can get your hands on. If you can find some porcini mushrooms, use those in combination with the button mushrooms to enhance the flavor of the dish.
Parmigiano-reggiano is optional and you can use as little or as much as you like. 
I use 4-cheese ravioli but any cheese stuffed ravioli will shine in this dish. If you want a lighter option, spinach-ricotta ravioli would be a nice choice too. 
Email recipe
Pin Recipe