Recipe for my favorite simple oatmeal banana pancakes, a healthy-ish twist on your regular pancakes! They're fluffy, packed with flavor and incredibly easy to make. 
I've been thinking about what to cook lately, what to have for breakfast as I fight this never-ending cold, what to do… period. It all comes back to these amazing simple oatmeal banana pancakes. You know by now that I eat a banana pretty much every morning and you know how much I love oatmeal, so these pancakes are really the best of two worlds.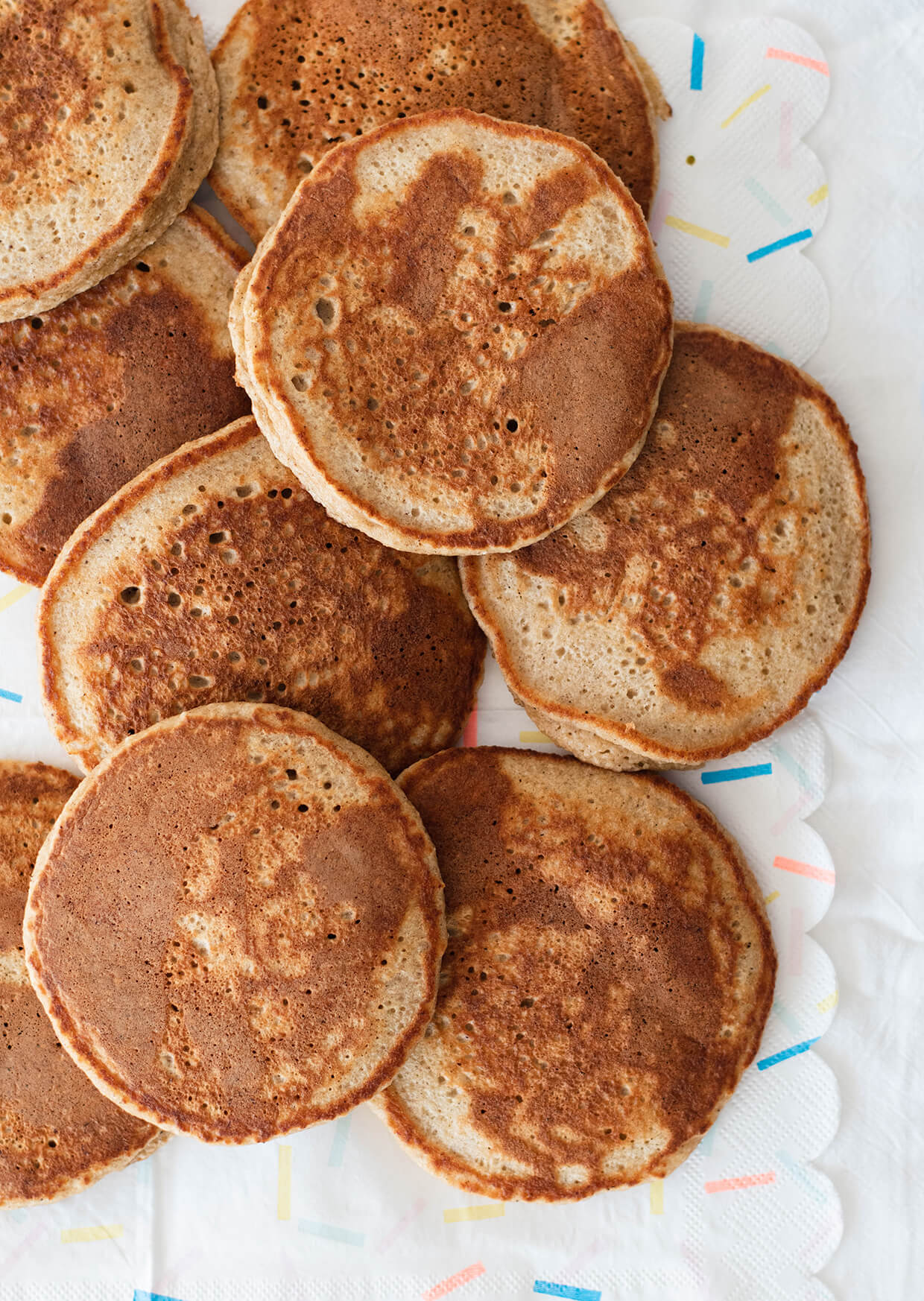 Bottom line, these simple oatmeal banana pancakes are my favorite in here is why they should be yours too:
Quick to make, especially with a hand blender!

Super flavorful! Bananas, oats and cinnamon are very much a winning combo.

And filling!

Also healthy-ish! No regular flour in these, just oat flour, which is a great choice for breakfast.

Taste great warm or cold. (You can easily wrap one or two to go!)
Next to banana bread, this is my favorite recipe to use ripe bananas in. I don't like to eat bananas that are too ripe and sweet, but they are great in baked recipes. Or cooked, in this case, but the effect is the same.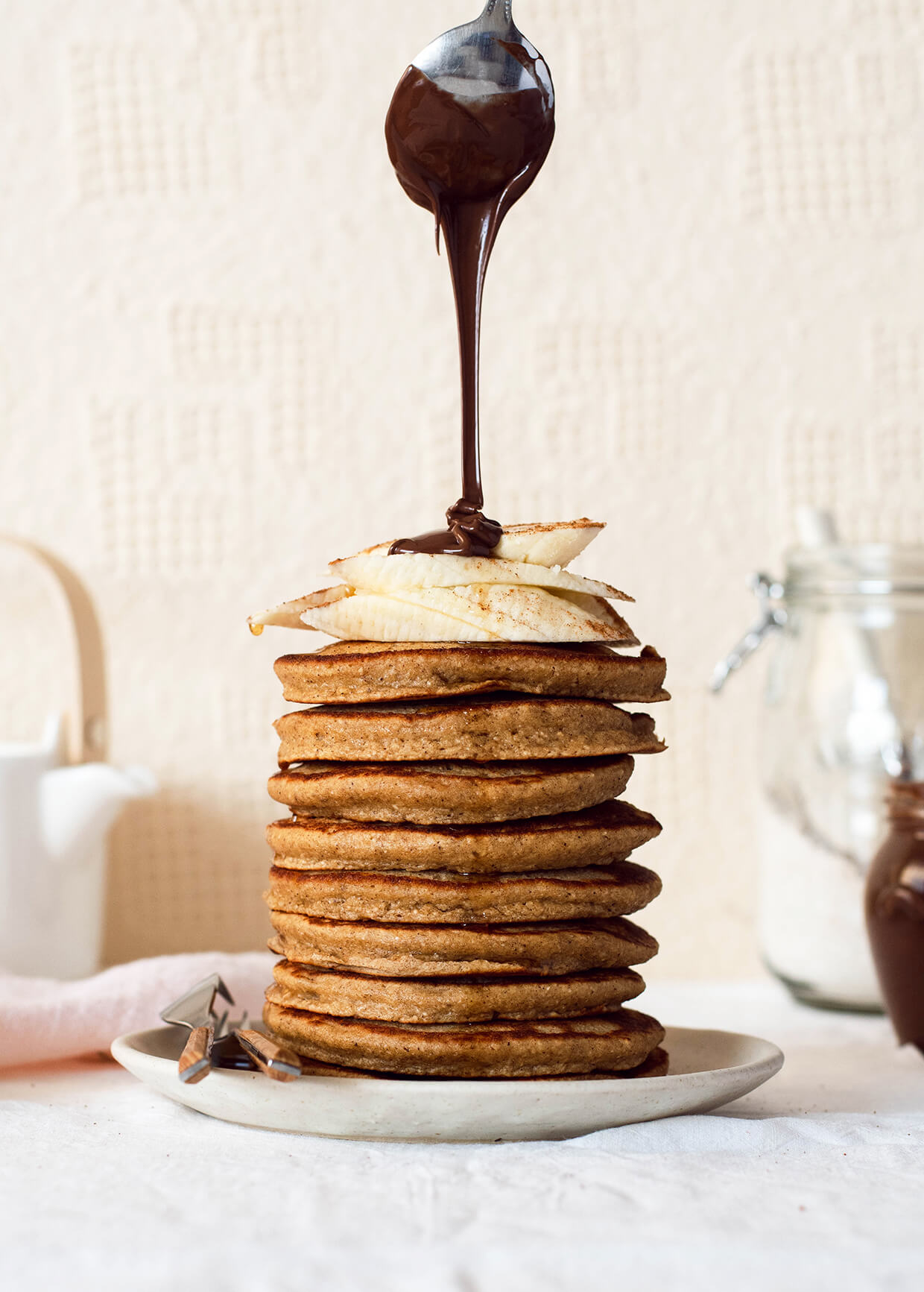 As you read through the recipe, you'll see how I tell you to use a hand (immersion) blender or just a regular blender to make these banana pancakes. That's because I think that produces the best result. I've tried making these by mashing bananas with a fork and while the end result is still delicious, I really prefer perfectly blended pancakes.
Fork-mashed bananas leave chunks in the batter. Which isn't a deal breaker, but that does affect the pancake texture. You might have some juicier bits in a pancake and the form won't be as uniform as a regular pancake, so keep that in mind if you mash bananas with a fork. I do think those banana bits produce a more intense flavor.
With a blender, however, you're completely pureeing bananas with other ingredients. This will give you a smoother batter, which creates more uniform, prettier pancakes. And I do find they're easier to cook. However, the overall banana taste is a bit milder than with mashed banana batter.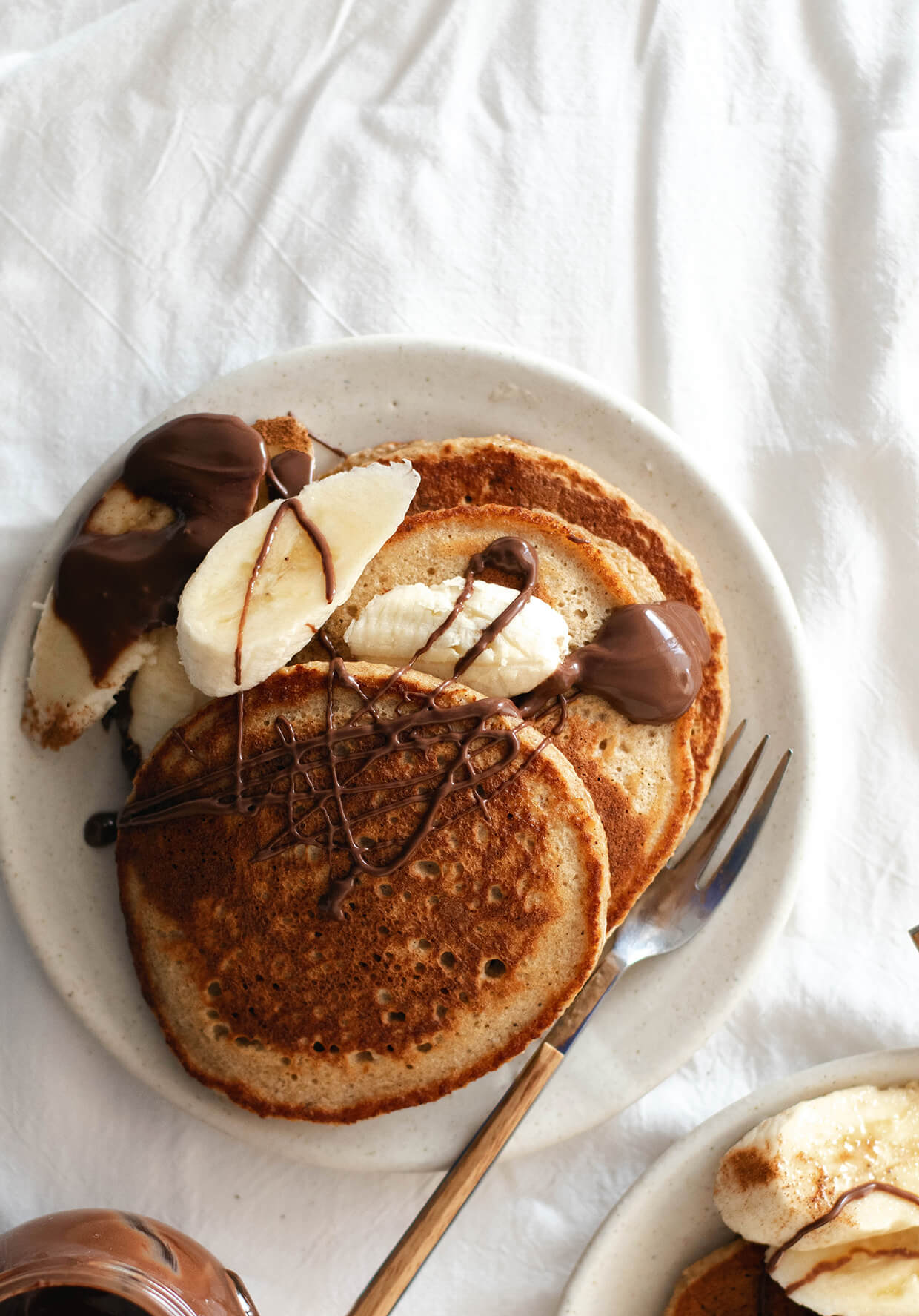 I love to serve these with a few extra slices of bananas, however you can do other fruit as well. Both blueberries and strawberries are a great choice. On top of that, I always serve these with a dash of cinnamon and some maple syrup or chocolate sauce (or spread). A combination of all three is delicious as well! Of course that would be more on the indulgent side, but sometimes I just need that, you know?
Simple oatmeal banana pancakes
A healthier take on traditional pancakes!
Ingredients
3

medium bananas

((unpeeled weight about 13oz | 370g))

1/2

cup

(

120

ml

)

milk

((of your choice))

1/2

tablespoon

maple syrup

1

teaspoon

vanilla extract

1/4

teaspoon

fine sea salt

2

large eggs

1 1/3

cup

(

150

g

)

oat flour

2

teaspoons

baking powder

1/2

teaspoon

cinnamon

oil or butter for cooking
Instructions
Place bananas, milk, maple syrup, vanilla extract and salt in a mixing bowl and blend until smooth (I love using an immersion mixer for this, you could use a classic blender too). Whisk in the eggs. Sprinkle mixture with flour, then baking powder and cinnamon. Then whisk the dry ingredients into the wet, until the mixture is smooth and there are no lumps. 

Heat a non-stick pan (or a cast iron skillet or a griddle) over medium heat. Lightly drizzle it with oil. Once you feel the heat from the pan (if you hoover your hand over the pan), pour about 1/3 cup of batter onto the pan (cook a few at a time if you have a big pan or griddle). Let the pancake cook on one side for 3 minutes, until you see bubbles forming on the pancake. 

Flip the pancake with a spatula and cook for another 90 seconds or so, until the pancake is golden brown on both sides.  (At this point you may need to adjust the heat. If the pancake is browning too quickly, lower the temperature. If it's taking forever to cook through, rise the temperature.) 

Continue with the rest of the batter. Serve pancakes warm, with some extra bananas (or other fruit, if you want) on top and a drizzle of maple syrup or chocolate sauce. 
Notes
If you want to serve pancakes a bit later, but keep them warm, lay them on a baking sheet and keep them in the oven, set to about 200°F (90°C).
Make your own oat flour by placing 3 cups of old-fashioned oats in a blender and blending on high speed until the oats turn into a powder (which will still have some texture). Store leftover flour in an airtight container or jar and use it in smoothies or the next time you are making these pancakes!

 
Email recipe
Pin Recipe